Best Nail Color for Blue Dress! Color Ideas & Nail Polish
Little blue dresses are the new LBD. In addition to a good hair day, a clean manicure elevates your style like no other. Not just your hands, but a set of well-painted nails completes the look.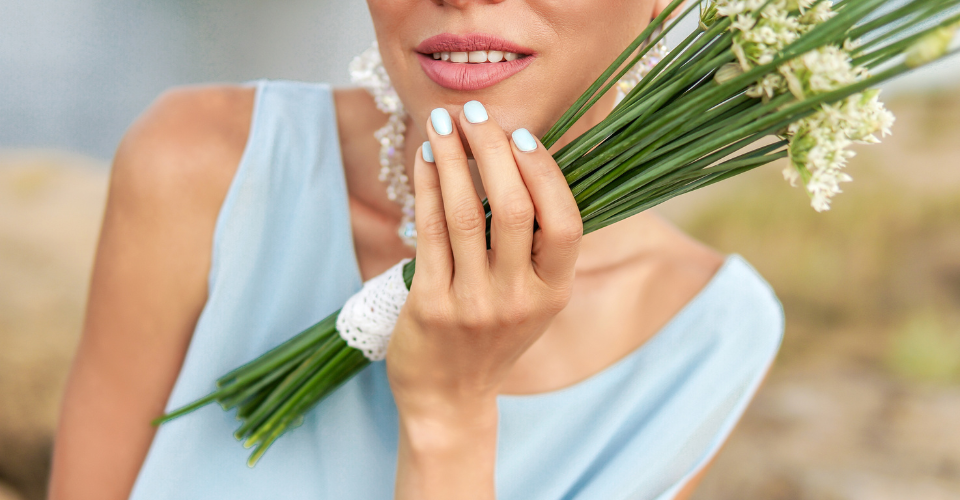 I know you are looking for a nail color for blue dress. It adds style and a touch of plush. However, there are specific nail colors for blue dresses that work and others that don't.
But fret not! This list has ideas for nail colors for navy blue dresses, light blue dresses, and other shades of blue. So if you have an event coming and you're wondering what color nails go with a navy dress, I got you covered.
Nail Color for Blue Dress – Versatile, Like You
It is crucial to keep an eye on the color wheel when choosing a nail color for blue dress. There are endless shades of blue, as we know. While I discuss the shade ranges later, here I explain certain shades of nail polish that pair well with any blue dress. The following shades make for elegant nails for a blue dress. Let's dive in.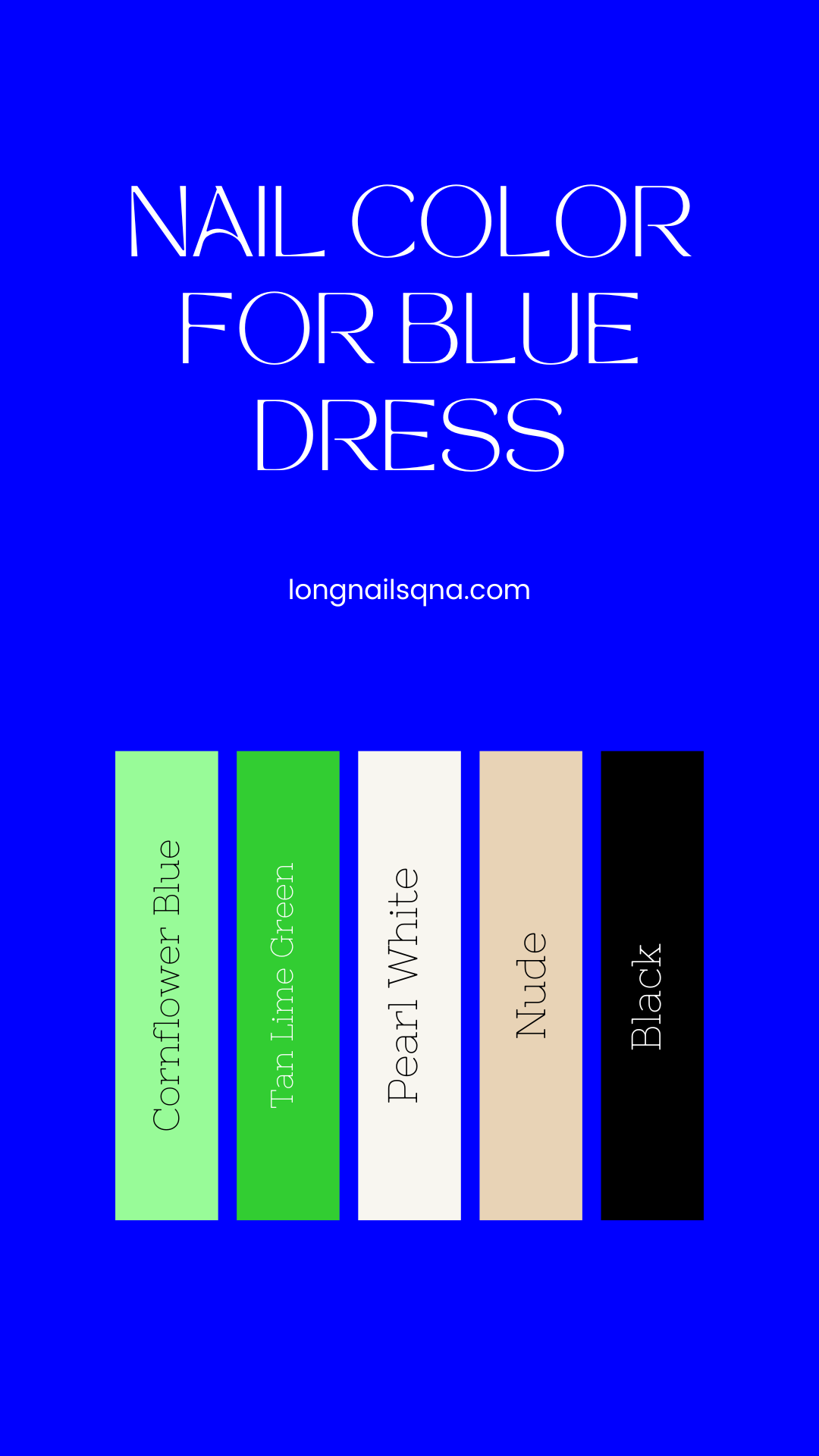 This post contains affiliate links. Read our disclosure for more information.
1. Cornflower Blue
Blue nail color for blue dress may sound odd. But the aim of the game is choosing the right shade. From deep blues to lighter, pastel shades of blue, this cornflower blue shade makes nails that go with a blue dress. Any blue dress! Best of all, this blue nail polish complements all skin tones, so you can rest assured all eyes will be on you.
2. Tan Lime Green
If there is one green nail polish versatile enough to pair with blue dresses, it is this one. Tan lime green is neither too light, nor too dark. It is just the right shade that captures the blue well and enhances it.
3. Pearl White
Pearl white nail polish is a contrasting shade on blue dresses. Not only does a pearl white shade add some bling, but it also makes some eye-catchy homecoming nails for a blue dress. In addition to this, you can add some rhinestones for more glam.
4. Nude
Nude nail paint is perfect for elegant nails in a blue dress. Be it a party or a day at work, nude nail polish is the way to go. You get clean-looking nails without being too bold. To complete the look, add a pair of heels and a bag that comes close to the shade of the nail polish.
5. Black
Looking to turn heads? Black nail polish is the sure-shot, fool-proof way of doing that. My recommendation is a matte finish. To up the glam, don't forget to add some chunky gold accessories, and you have a rocking outfit ready.
Nail Colors for Navy Blue Dress – The Game of Contrasts
Navy blue is among the deeper shades of blue. As always, opposites look great when paired together. So in this section of the article, you will find what color nails go with a navy dress. Get ready to kick some blues.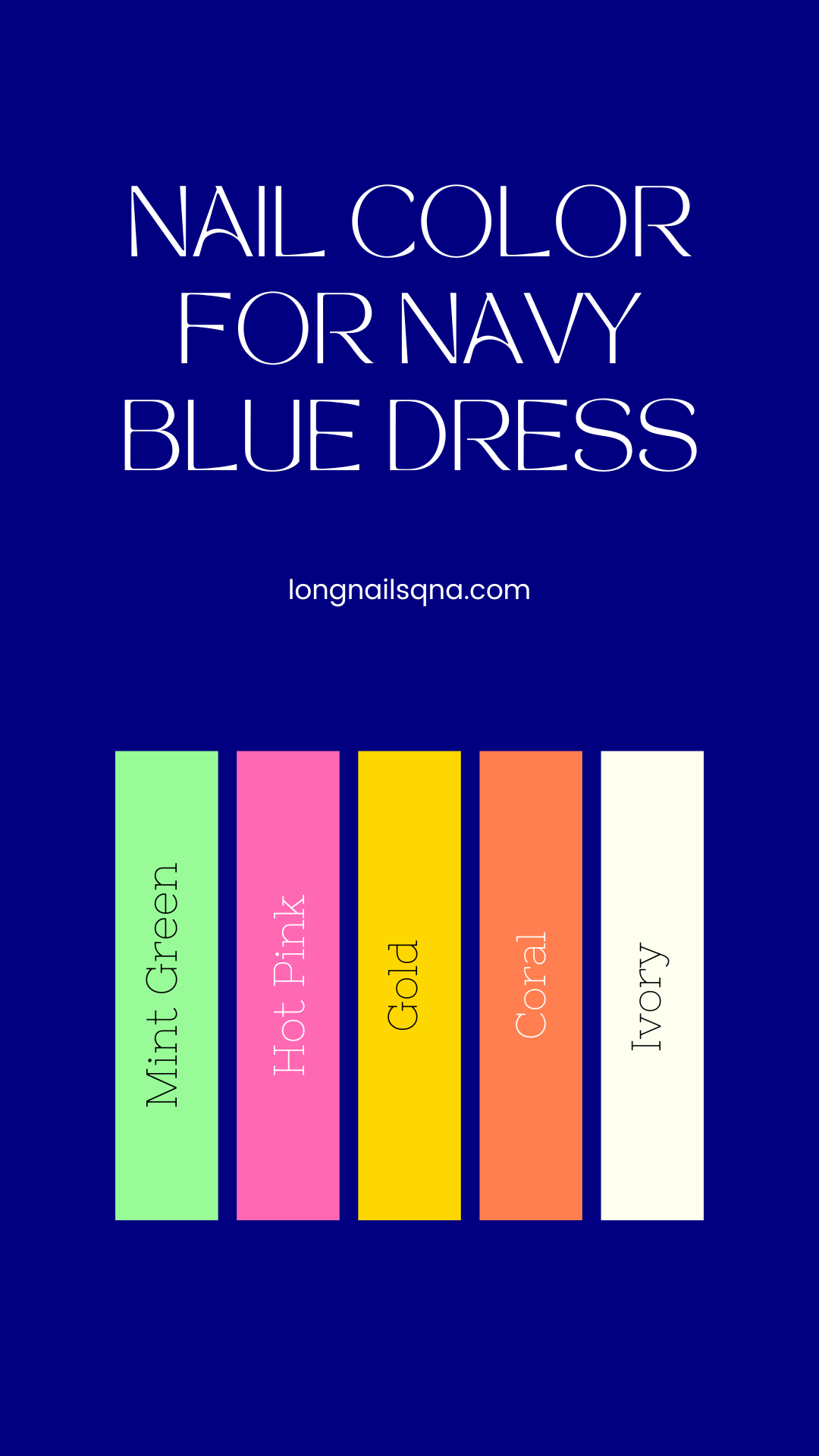 1. Mint Green
Mint green nail polish pairs beautifully with navy blue dresses. Jazz it up with some nail art stripes using white nail polish and a nail art brush. Seal it with a top coat that adds a beautiful shine. All eyes will be on you gorgeous!
2. Hot Pink
Hot pink nail polish will make the outfit stand out even more! I know so, because hot pink is vibrant, while navy blue is bold and deep. When paired together, they don't just match seamlessly but also uplift each other.
3. Gold
Gold nail polish with a navy blue dress? Chef's kiss! You could simply paint all nails gold and add blue rhinestones. Or go the extra mile, add black nail art tape diagonally on all nails. Make this look professional by adding a gold belt to your dress.
4. Coral
How is it that contrasting colors look compelling together? Both coral and navy blue have cool undertones. They leave a soothing feel visually. Hence, as elements of an outfit, the two shades stand out. I incline towards flower nail art or butterfly nail art.
5. Ivory
Ivory is a shade of white nail polish with a pale, yellow undertone. Putting your navy blue dress under a different light, I visualize this with lighter shades of blue nail art. Clean, trimmed cuticles and smooth nails with a nail file and nail buffer makes them look professional.
Nail Colors for Light Blue Dress – For Easy Breezy Looks
Following the rule of contrast and the universal color wheel, here are some prom nails for a light blue dress. Primarily, I have added darker, cooler colors. In my opinion, blue is beautiful. The color of bliss. But my favorite is shades of light blue. Here, you'll find my personal favorites.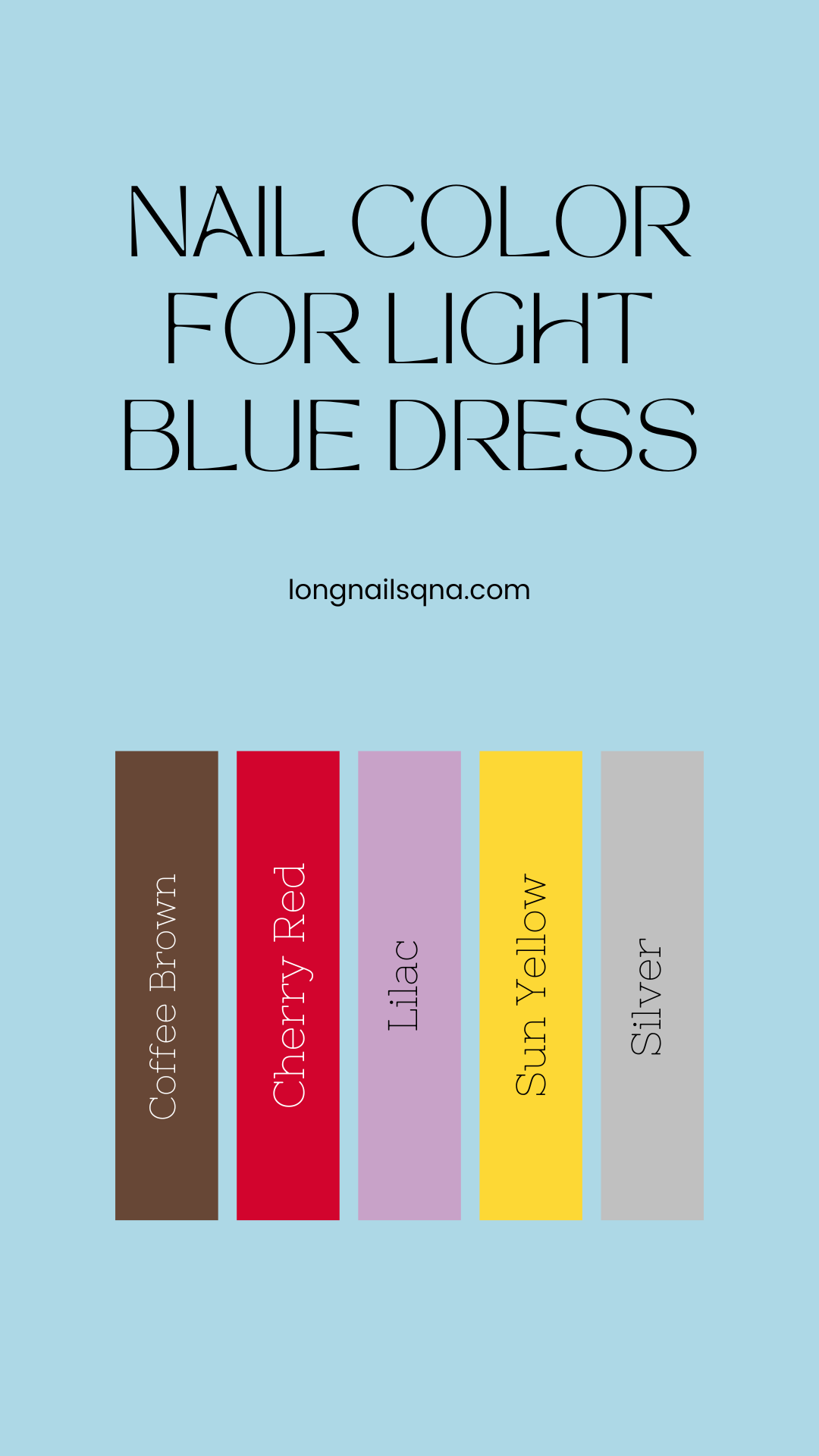 1. Coffee Brown
Brown and pink nail art with a light blue dress is a sight for sore eyes. If you want a quick manicure to pair up with your light blue dress, then press-on nails and nail art tape stripes are essentials to create mesmerizing nail art. I would suggest here a flower nail art. The entire manicure can be brown or you can add pink as accent nails.
2. Cherry Red
Red nail polish is bold. It looks supreme, so royal. Red nail art too! Imagine white nails with red flower nail art and a glossy top coat. This cherry red shade is what I recommend. It looks popping against lighter shades of blue dresses.
3. Lilac / Violet
My go-to for butterfly nail art is lilac, and violet nails are contrasting shades of the same color family. These highlight the beauty of light blue dresses. To balance the look, add a mustard yellow bag and shoes, and you're good to go off to brunch!
4. Sun Yellow
Light and bright blues with vibrant yellow nails! Can it get any better? Sun's out and so are you. This pairing with bright yellow nails is sure to keep you gleeful all day long. Get ready to capture some Instagram-able pictures.
5. Silver
Silver nail polish balances out the subtle shades of a light blue dress. Silver has an attractive glittery glam that can make the most basic light blue dresses or t-shirts look fancy. I recommend this look with a black mini-skirt, a beige bag, and some silver jewelry.
Nail Colors for Dark Blue Dress – Chic Nail Palette
The following section discusses examples of elegant nails for a blue dress. I have shared shades that I think look best, with some art designs using nail color for blue dresses. There are alternatives to using nail art tools too.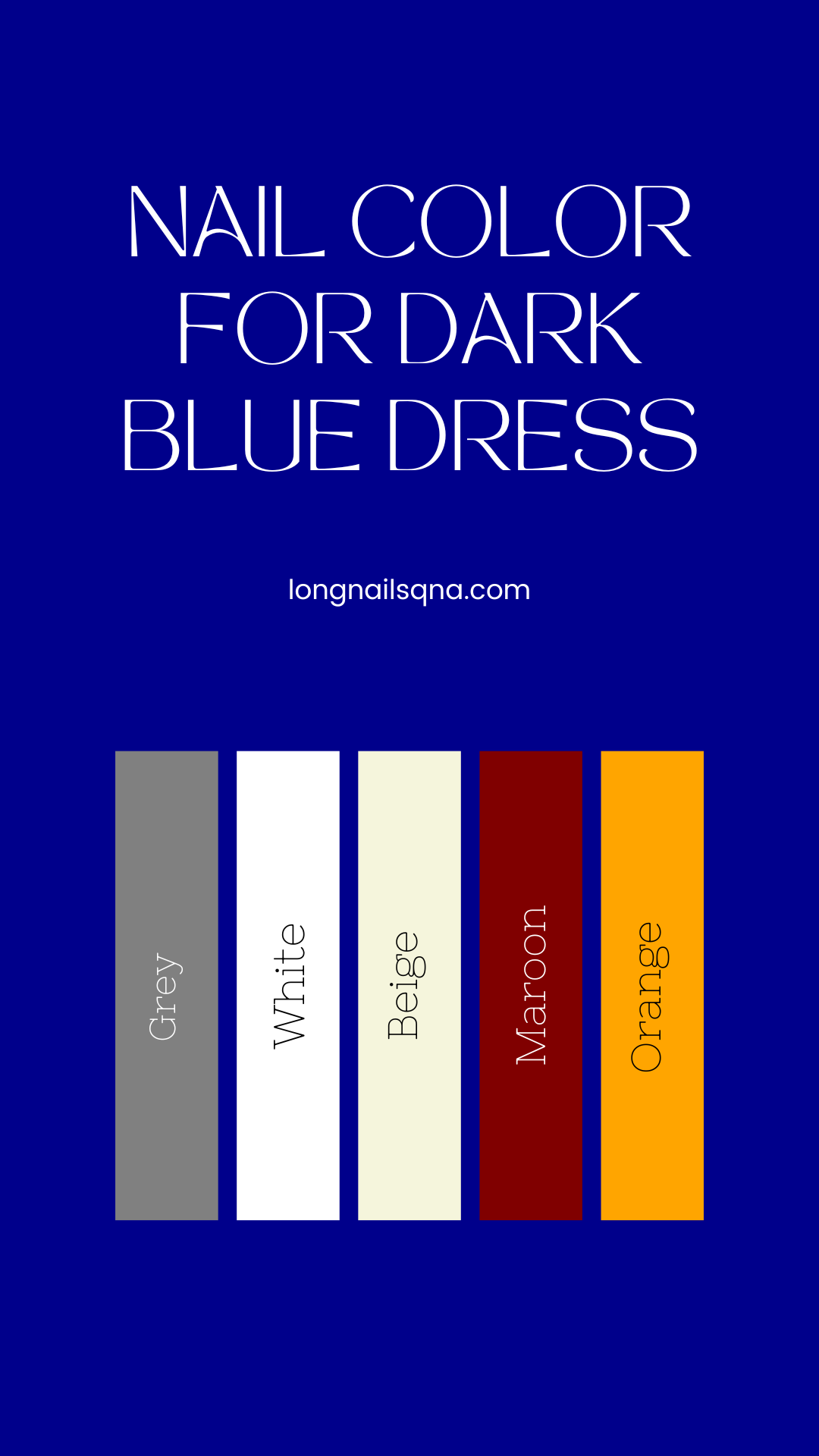 1. Grey
Nails that go with a blue dress include smoke or graphite gray. I recommend the gray nail lacquer from OPI. Not only do they create some visual curiosity, but gray nails pop against all skin shades. To make elegant nails for a blue dress, add some rhinestones at the center of each nail.
2. White
Milk white is the perfect nail color for a blue dress. White is the color of peace and it somehow ties everything together. White is definitely a color that goes with most others, but choosing the right shade is the goal, and milk white is perfect for homecoming nails for a blue dress.
3. Beige
As beige is a neutral color, it is excellent as a nail color for blue dress. Keep in mind, the beige needs to be warm-toned to maximize how beautiful it looks. To amp up the look, I suggest adding black nail art tape stripes. French tips with white nail polish would look good too.
4. Maroon
Do you know maroon as a nail color for blue dress works exceptionally well? It has a deep but cool undertone. For casual and formal settings, use press-on nails, as they add convenience. Keep it simple with a gold or white accent nail. Alternatively, flower nail art with the same colors would slay the look.
5. Orange
As mentioned above, coral is a great nail color for a navy blue dress. When it comes to dark blue dresses, a sunset orange looks better in comparison. Black nail art with stripes or polka dots would look great. Try to keep in mind the pattern of your dress when deciding between stripes and dots.
Nail Colors for Royal Blue Dress – Regal Radiance
Color theory is your best friend to find the nails that go with a blue dress. Royal blue, as the name suggests, is a plush, mighty shade. There are certain do's and don'ts when it comes to painting your nails when wearing a royal blue dress. I love muted, analogous shades. Let's discuss them.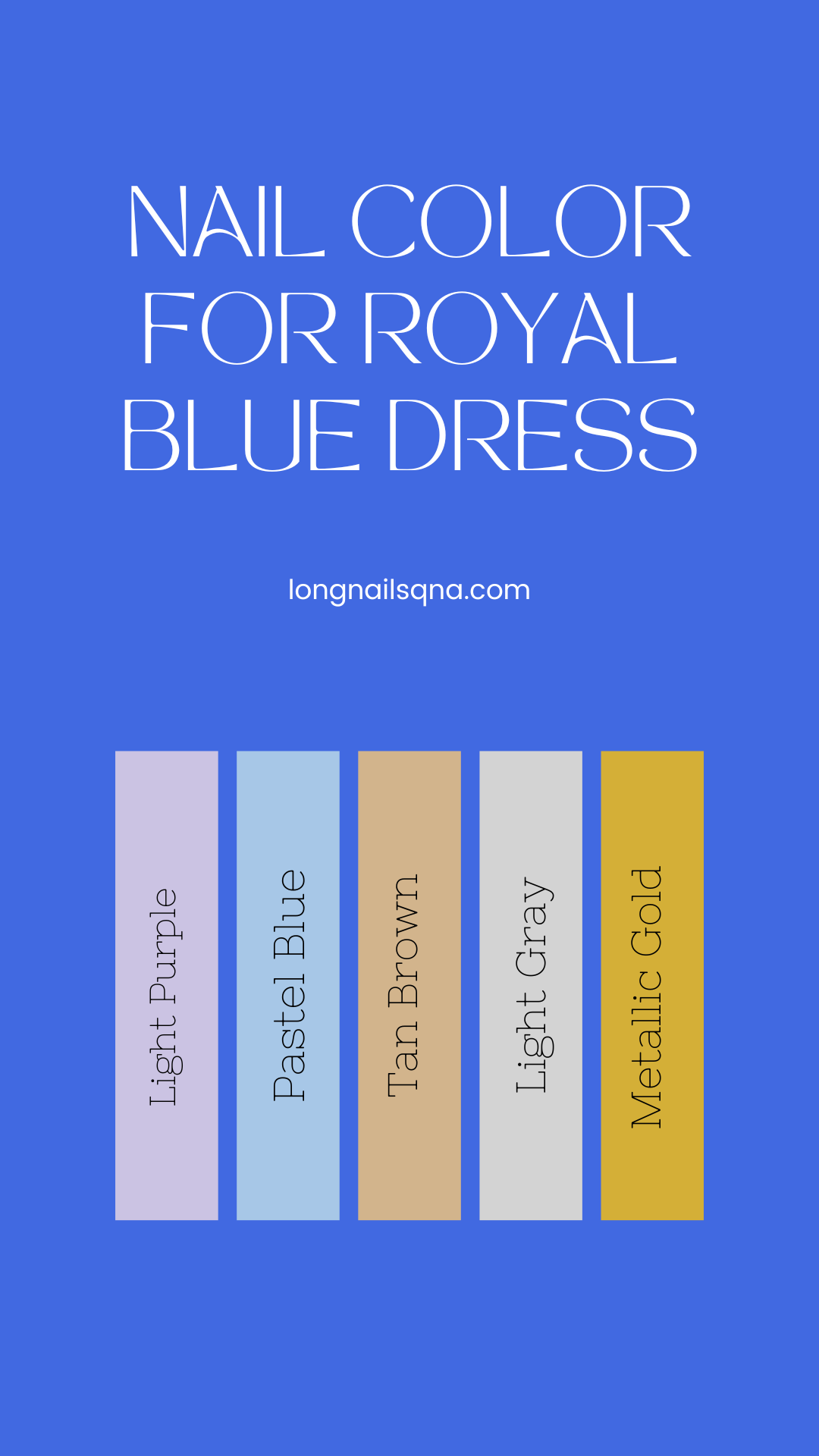 PS:- Analogous shades are those that are placed next to each other on the color wheel.
1. Light Purple
A light shade of purple as nail color for blue dress is fairly pretty. My suggestion is to add black and silver stripes on the accent nail. Rhinestones or nail stickers would make the perfect addition. Not just easy to recreate, but this look is super versatile.
2. Pastel Blue
In addition to whites, pastel blue nail color for blue dresses works as well. There is a wave of monochrome generated when royal blue is paired with pastel blue. In my opinion, a matte top coat would look better than a glossy one. You can alternate the finish for a more professional look.
3. Tan Brown
I saw an interior designer add blue curtains and walls in a room with tan furniture. This inspired me to pair the tan nail color with a royal blue dress, and it was a hit! I added ruby rhinestones on accent nails, with some dainty gold jewelry.
4. Light Gray
Following the same concept as smoke gray with blue, the lightness of this gray balances out the depth of blue. I love nail art tape stripes as a faux French manicure on the tips. And I am using this light gray shade from Essie expressie.
5. Metallic Gold
Metallic gold as nail color for blue dress is the glam you need. This is the simplest, cleanest elegant nail shade for a blue dress. Ensure your nails are equal in length with a nail buffer and file, and seal this goodness with a glossy top coat!
Wrapping up:
Now that you have an idea about the color wheel and how shades work to create visual pleasure, you can create multiple looks. Blue is one of those colors you can mix and match, and still arrive at a beautiful-looking result.
My top tip would be to have an idea of the undertone shades. Try to pair cool undertones with cool, and warms with warms. From pinks and purples to oranges and browns, you now have a better idea of what color nails go with a blue dress.
I hope you had an informative read. Share your thoughts and recreations with us in the comment section below!
Read related: