35 Cute Butterfly Nail Art Designs for 2023
Just a dumb caterpillar munching the leaves and suddenly, boom! An amazing creature flutters out! Yes, a butterfly! They are nature's confetti, a celebration of life and transformation. And to me, as a nail art enthusiast, butterfly nail art is one of the fascinating ways of capturing the beauty of life and flaunting it through my nails.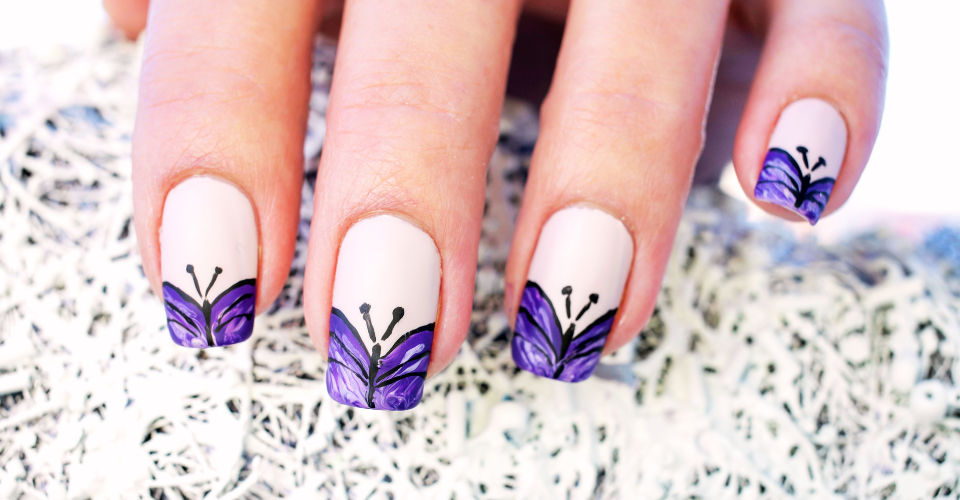 Butterflies by their sheer beauty have inspired us to express the same in each and everything. Be it dresses, tattoos, hair accessories, jewelry, home decor, and whatnot! In that line comes the nail art – the butterfly nail art!
Going down into doom and then rising again to the prettiest creatures that nature has bestowed – butterflies give us the hope to keep on moving in our lives. For this reason and due to their untamed beauty, butterflies enthralled artists all the time.
So if you want something to be stunning, butterfly it. Nail artists on their minuscule worksheets have worked a lot to bring cute nail designs with butterflies. Butterfly nail art leads you to the sunny side of life – like sunshine and flowers, beauty and power.
I know you are looking for some trendy butterfly nail inspo for 2023. And I have got you lots of surprises this time by bringing to your notice a total of 35 cute butterfly nail art designs for 2023. So without further ado, I will take you to the world of butterfly theme nails. Let's fly into them!
35 Cute Butterfly Nail Art Design Ideas for 2023
Butterflies gracefully perch on flowers, which is another cutest gift of this nature. Until a butterfly comes to rest on your hand, here are 35 butterfly designs for nails to enchant your love for butterflies and feel special.
1. Butterfly to the Stars
Colorful nails with butterflies design of pink and blue flying merrily in the violet sky, reaching out to the stars! This skillful butterfly nail art and minute detail stand as a symbol of excellency.
2. Butter Half!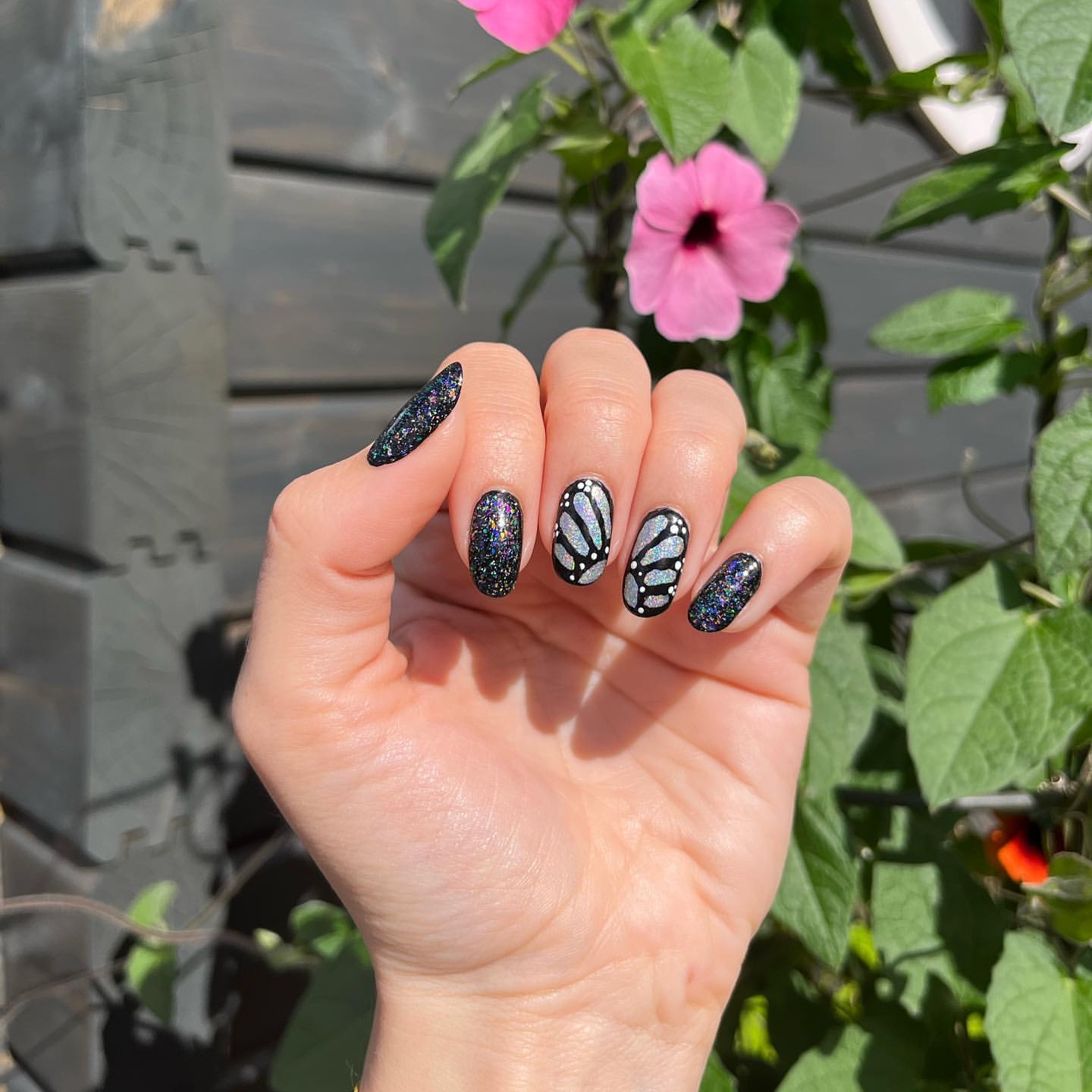 Bring out the partying vibes through this celebrated cute butterflies nails! The striking combination of black and butterfly is so classy with its black glitter glam. Try this, and no doubt, that you are the super chic in your gang!
3. Just Wing it!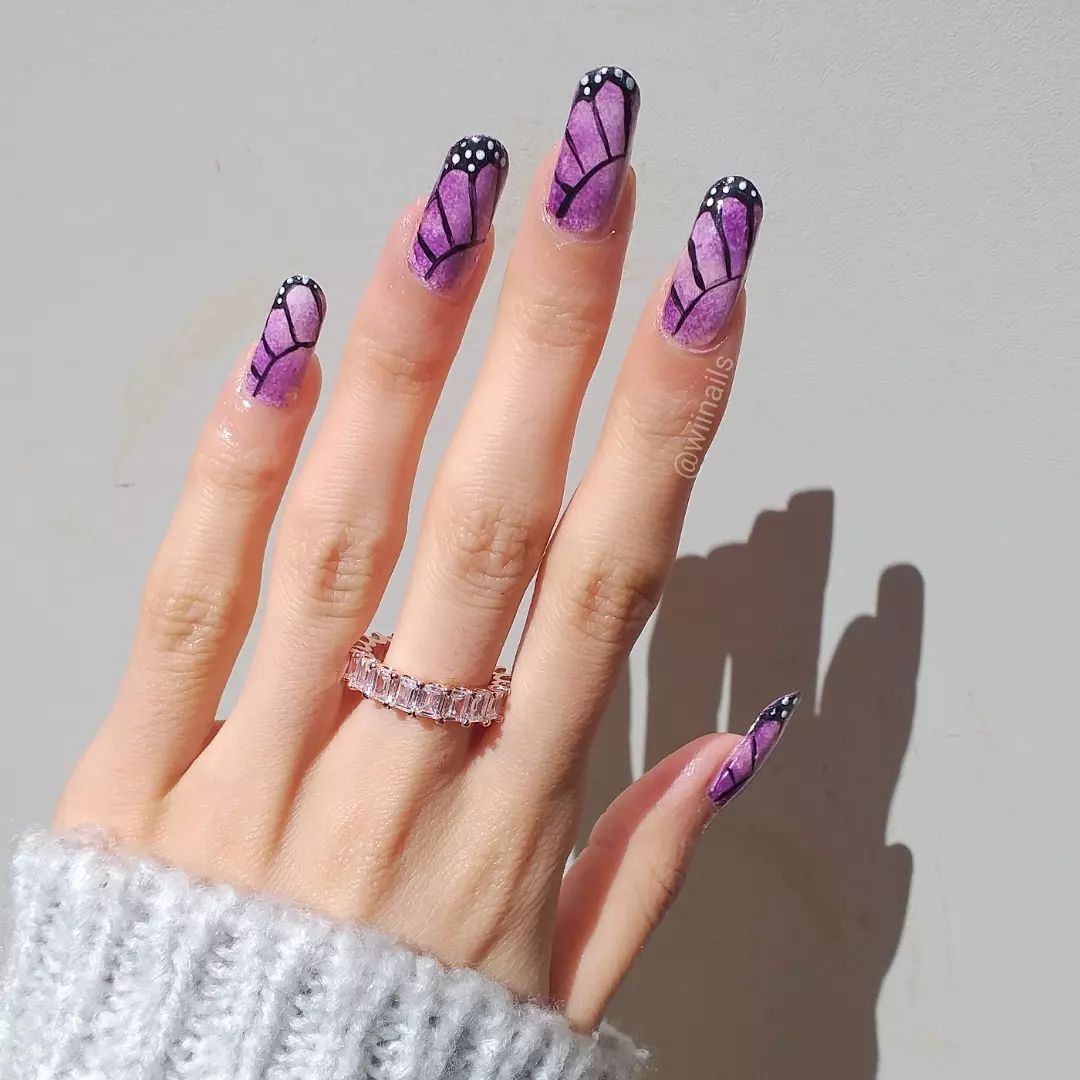 If you are a beginner in nail art and not sure of where to start, then have a look at this gorgeous yet easy butterfly nail design. The violet wings bordered with black and white dots give a literal sense of elegance. Color the wings and fly high!
4. Sweet as Nectar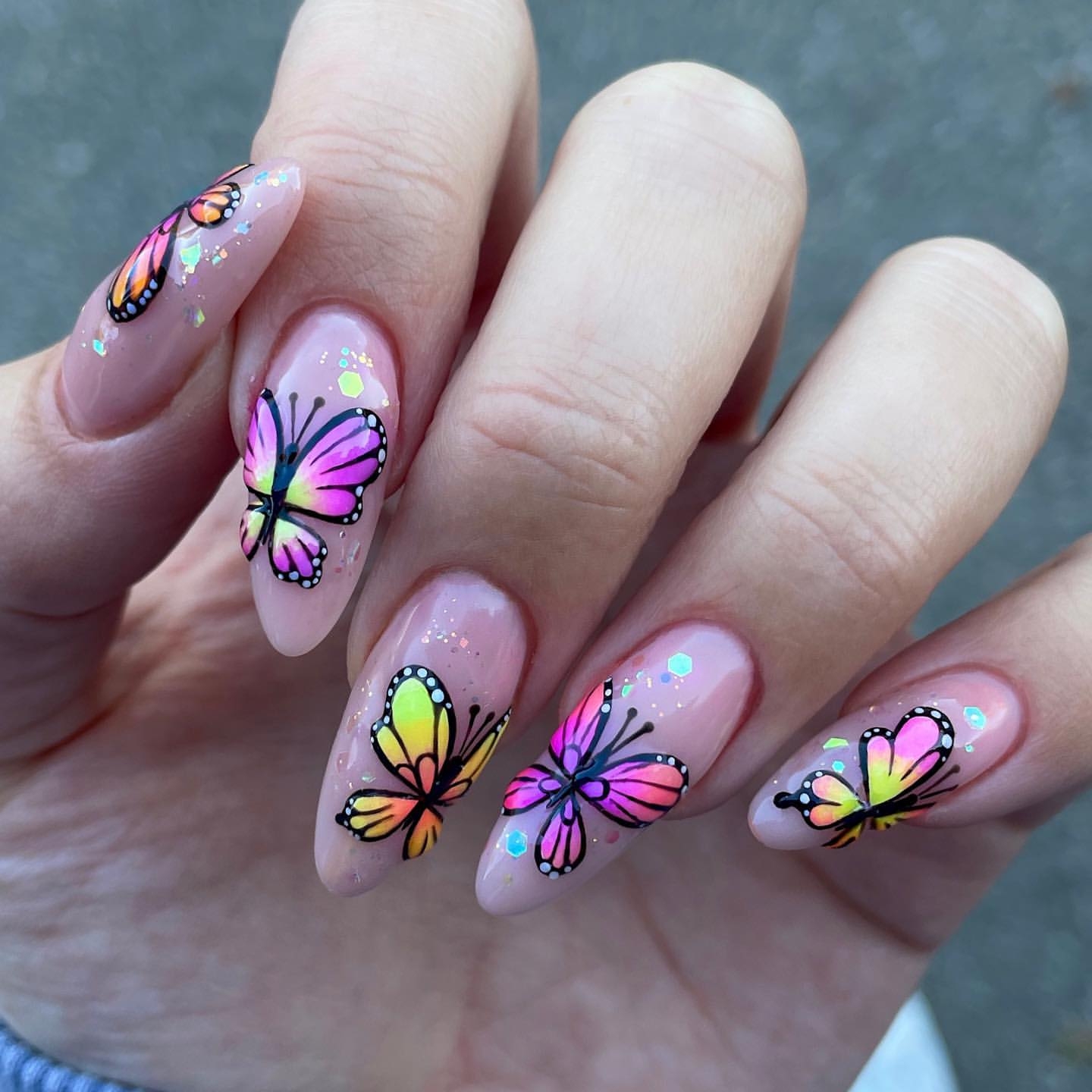 Do I even have to describe this surreal beauty? The neon-colored nail design with butterflies on the shiny pink garden stone surprises us. Besides, you can adorn your nails with butterflies when your girl gang gets together!
5. Make it Flutter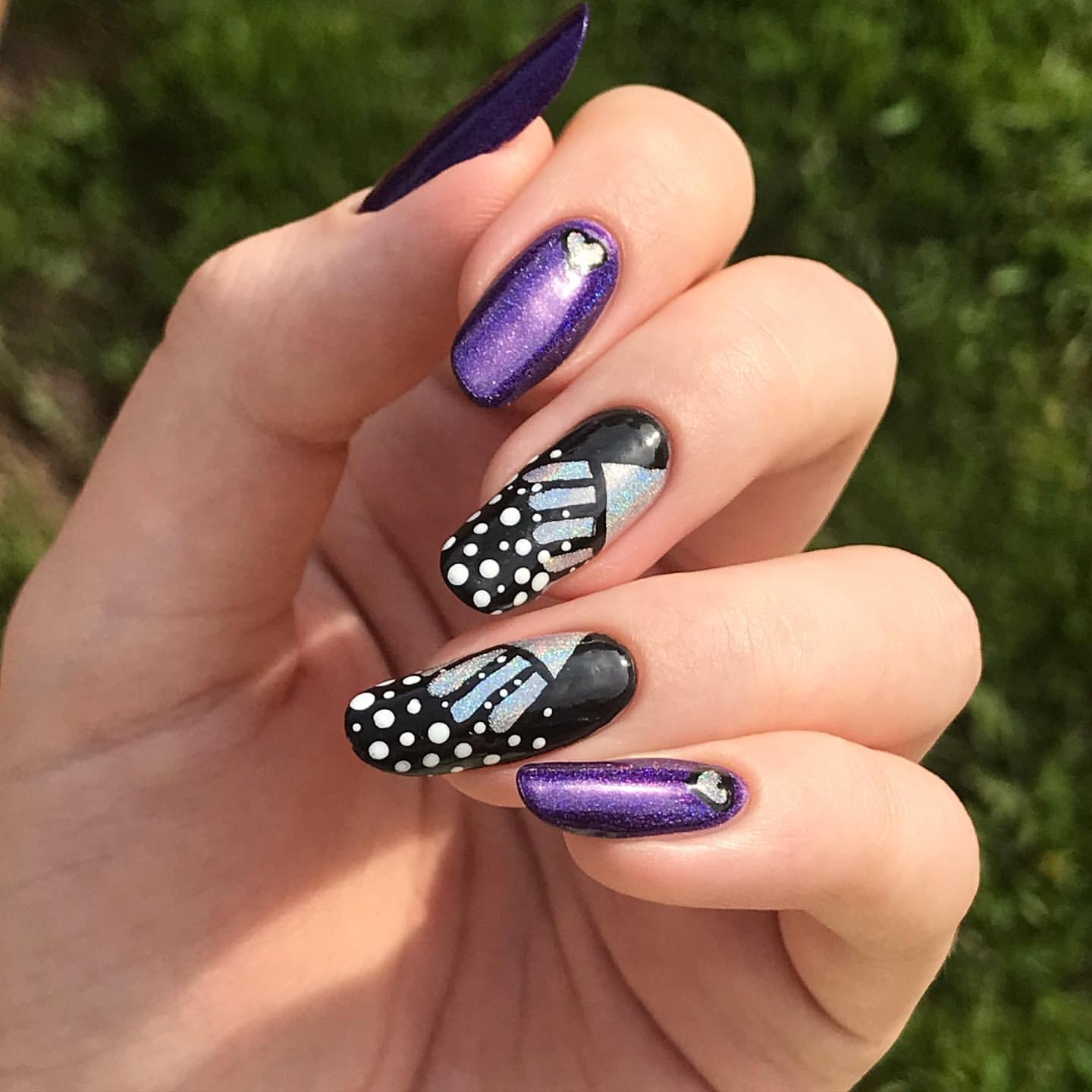 The royalty and extravagance with which purple escorts the black nails with butterflies sends a different feel. The tiny hearts placed at the core are giving a prominent dashing look to this butterfly nails inspo.
Post You May Like: 7 Best White Nail Polishes in 2023: Perfect for Mani Lovers
6. The Pink Rose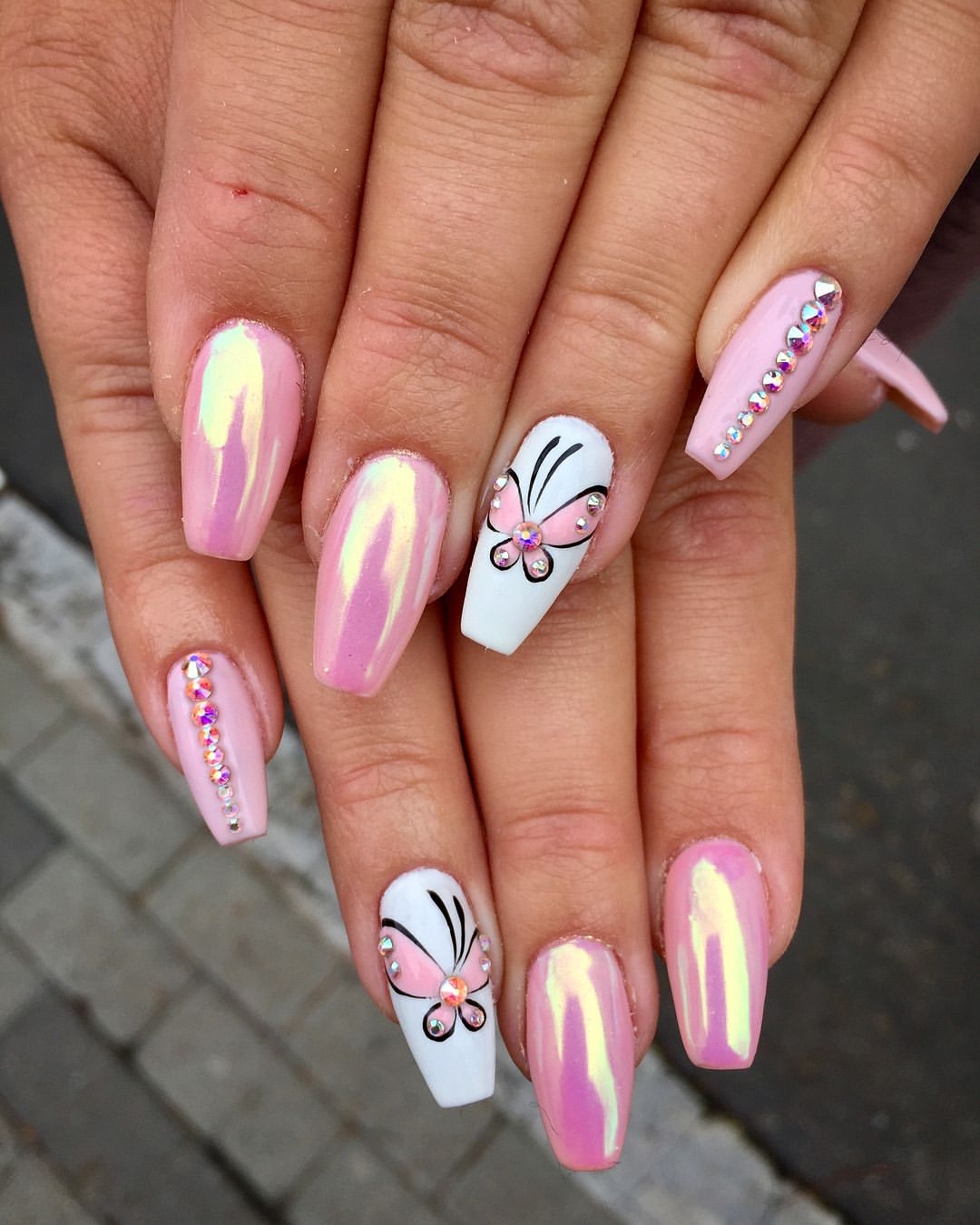 As if the gods of pink summoned this beautiful art! You can bookmark these pink nails with butterflies for your engagement or reception as you join hands with the man who gives you butterflies! Embrace your creativity and choose pink nail colors from OPI to recreate this special masterpiece.
7. Flutter Your Way!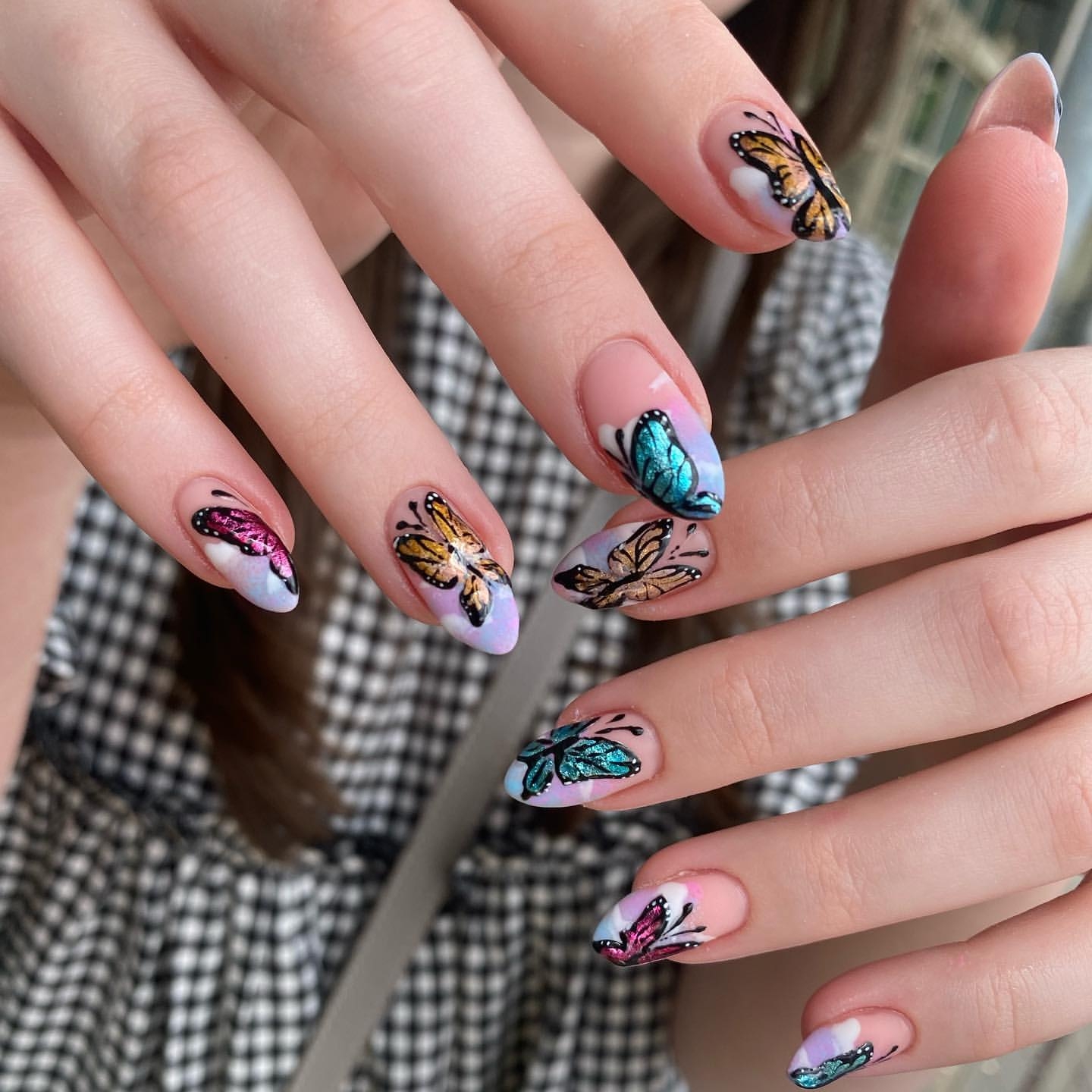 This butterfly nail art embarks on the original nature of butterflies. The French tip nails with butterflies and high-school-like art suit uni students. You can see the negative space adding classiness to the nail art.
8. Magic of Mauve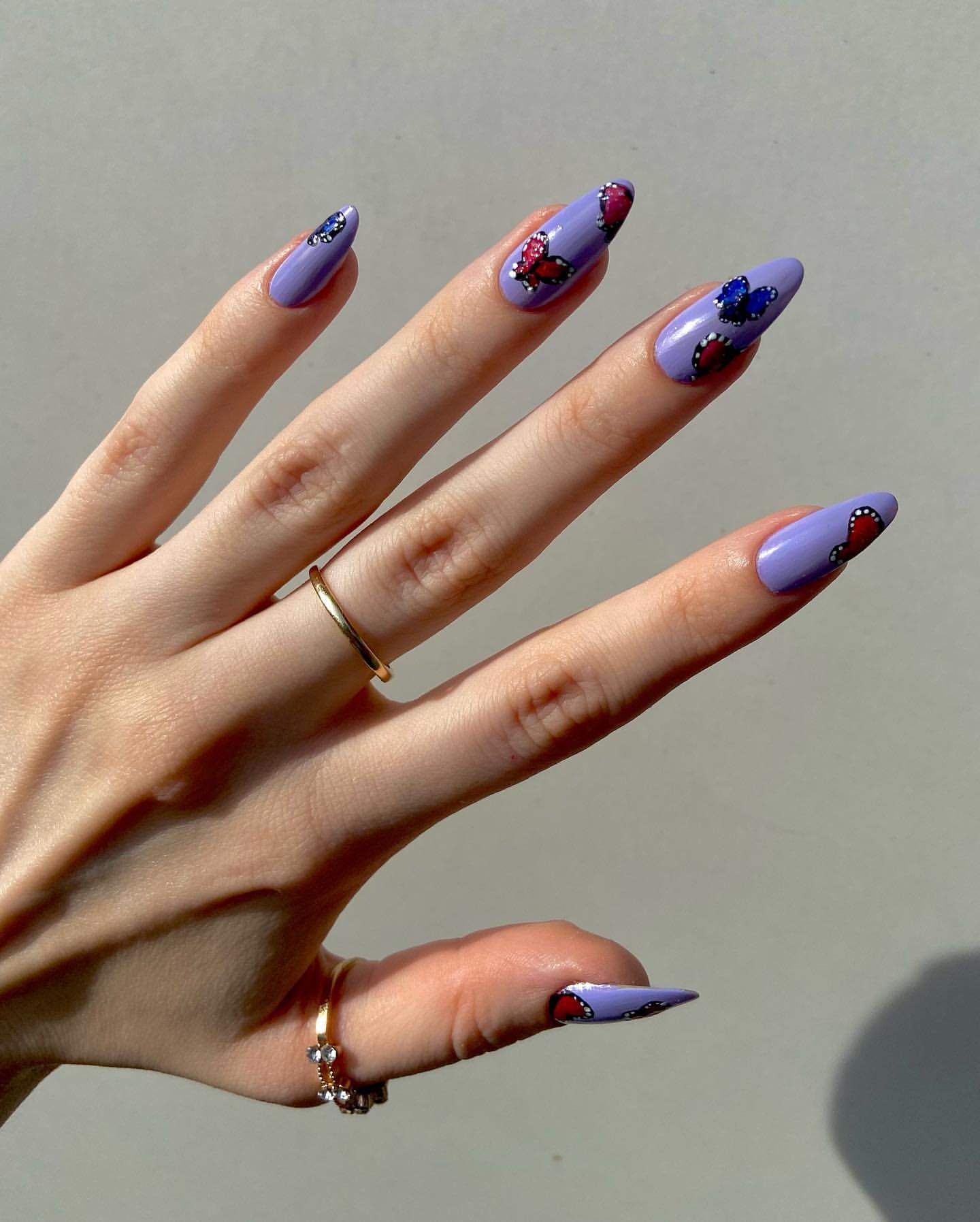 The audacious mauve with its hand-printed butterflies is wondrously amazing. As you accept and gear up for each phase of life, butterflies on nails remind you to fly gracefully like butterflies!
9. Lost in Lilac
The coalescence of the color of dawn and dusk in the lilac garden with butterflies winging here and there is a treat to the eyes. The floral designs accompanied by long-lasting gel nail polish set the aura for the day!
10. Let's Butterfly!
Are you cocooned in a bad phase and looking for positivity? Then you can try these authentic French nails with pretty pink creatures to set your spirits high. For a polished and eye-catching look, buff your nails with an 80-100 grit nail buffer during the preparation process.
11. Fly With Flamboyance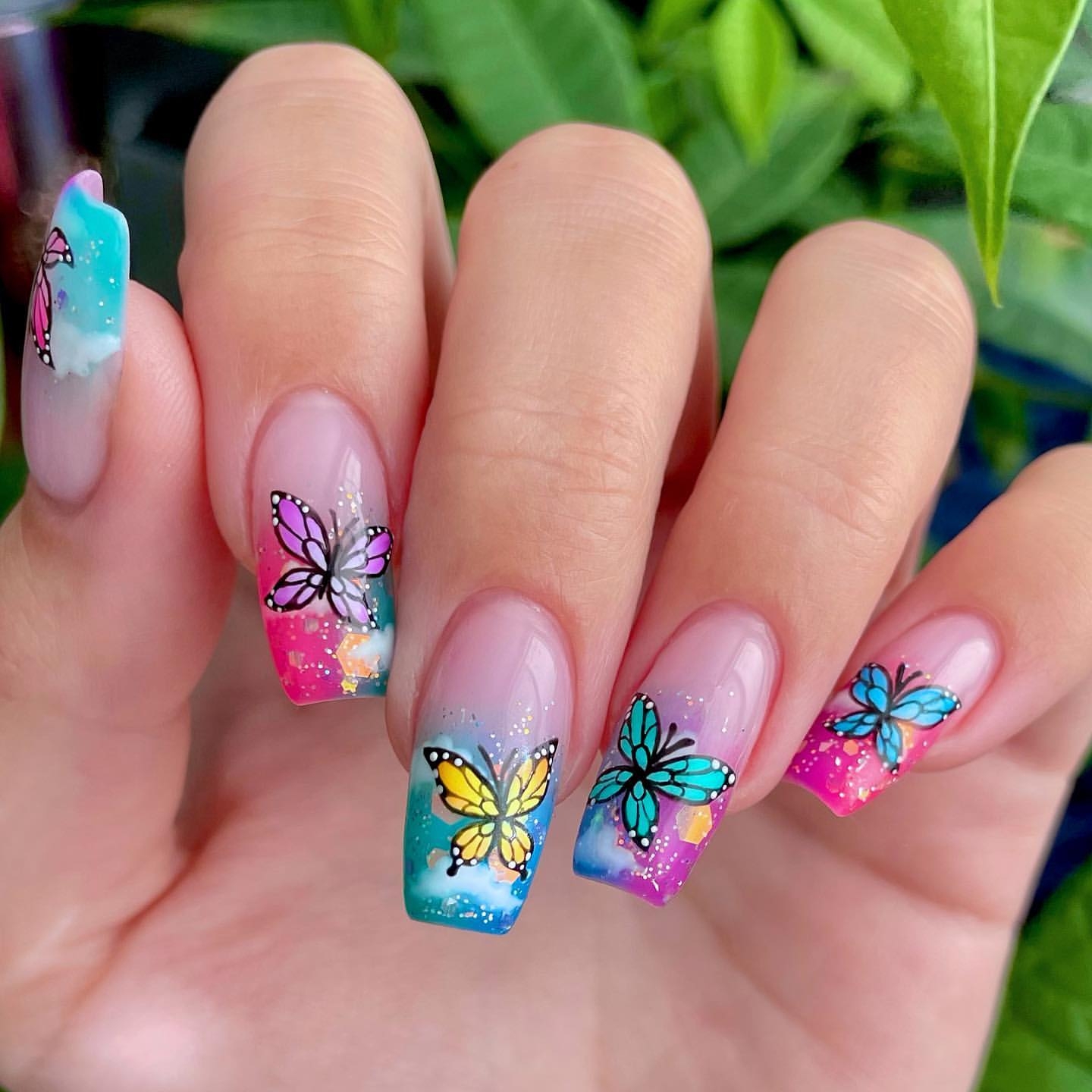 When nature touches you, you become one of these cutest beings! These French tip butterfly nails of rainbow colors with picturesque features have scintillating butterflies that hover over your nails.
12. Be a Monarch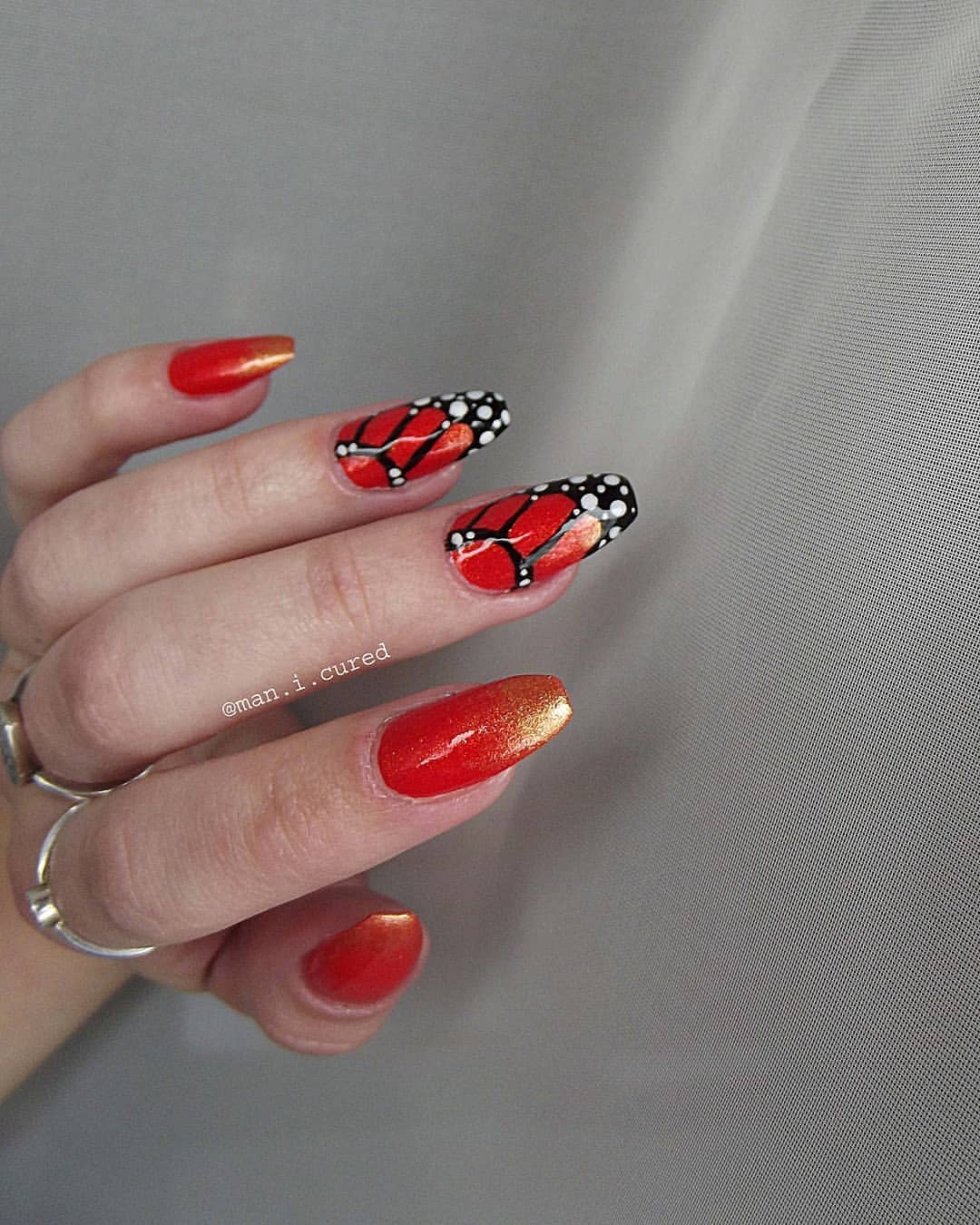 Replicate nature's monarch butterfly just like that with this nail art. After you get the perfect shade of shiny orange, add the black wings delicately with a suitable nail art brush and dot the white with a preferable dotting tool.
13. Divine Touch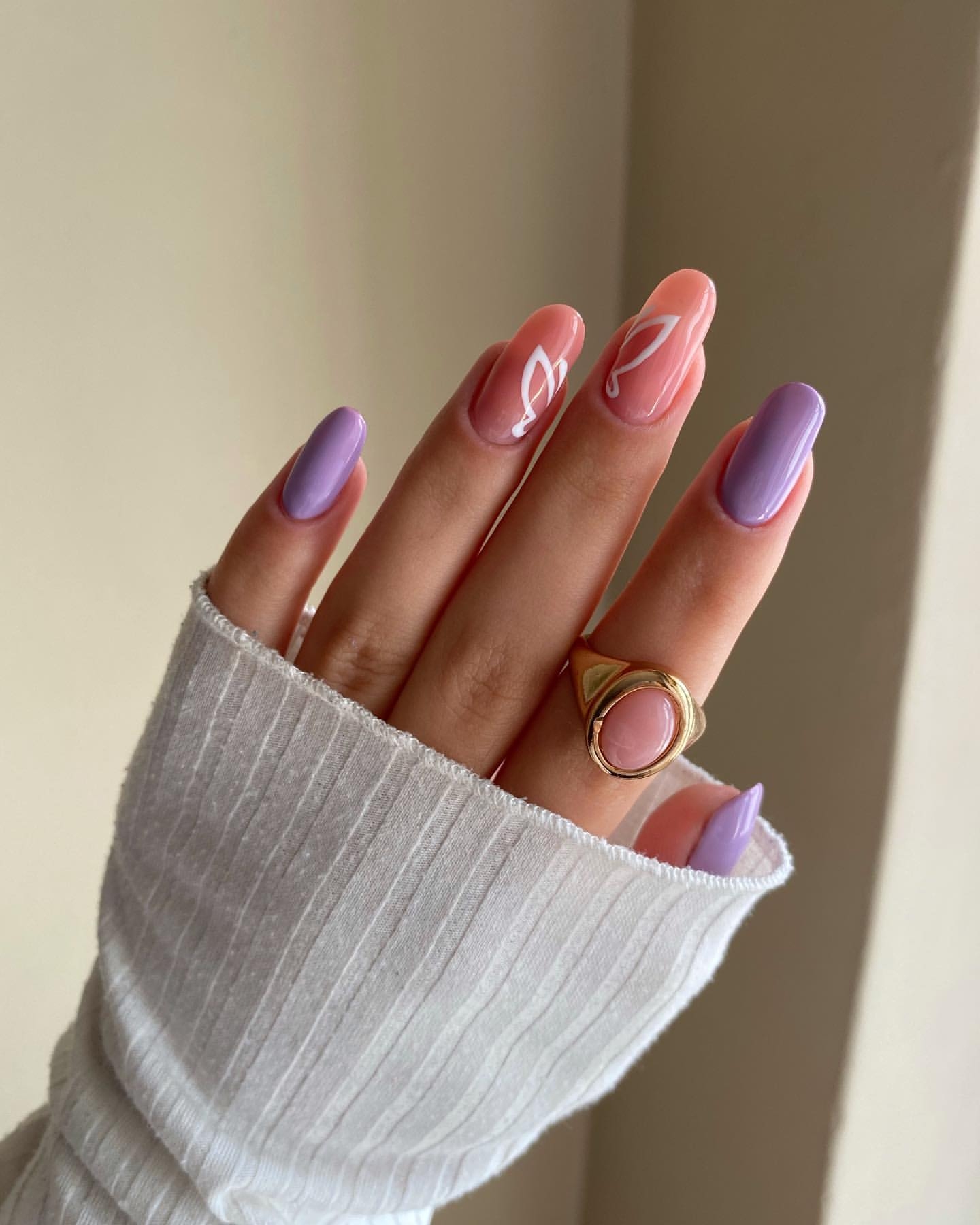 What is more soothing than the light shades of coral pink and mauve with celestial butterfly wings? You can try these heavenly yet easy butterfly nail designs paired up with any trendy outfit. Have butterflies on your nails and flit about!
14. Bridal Butterflies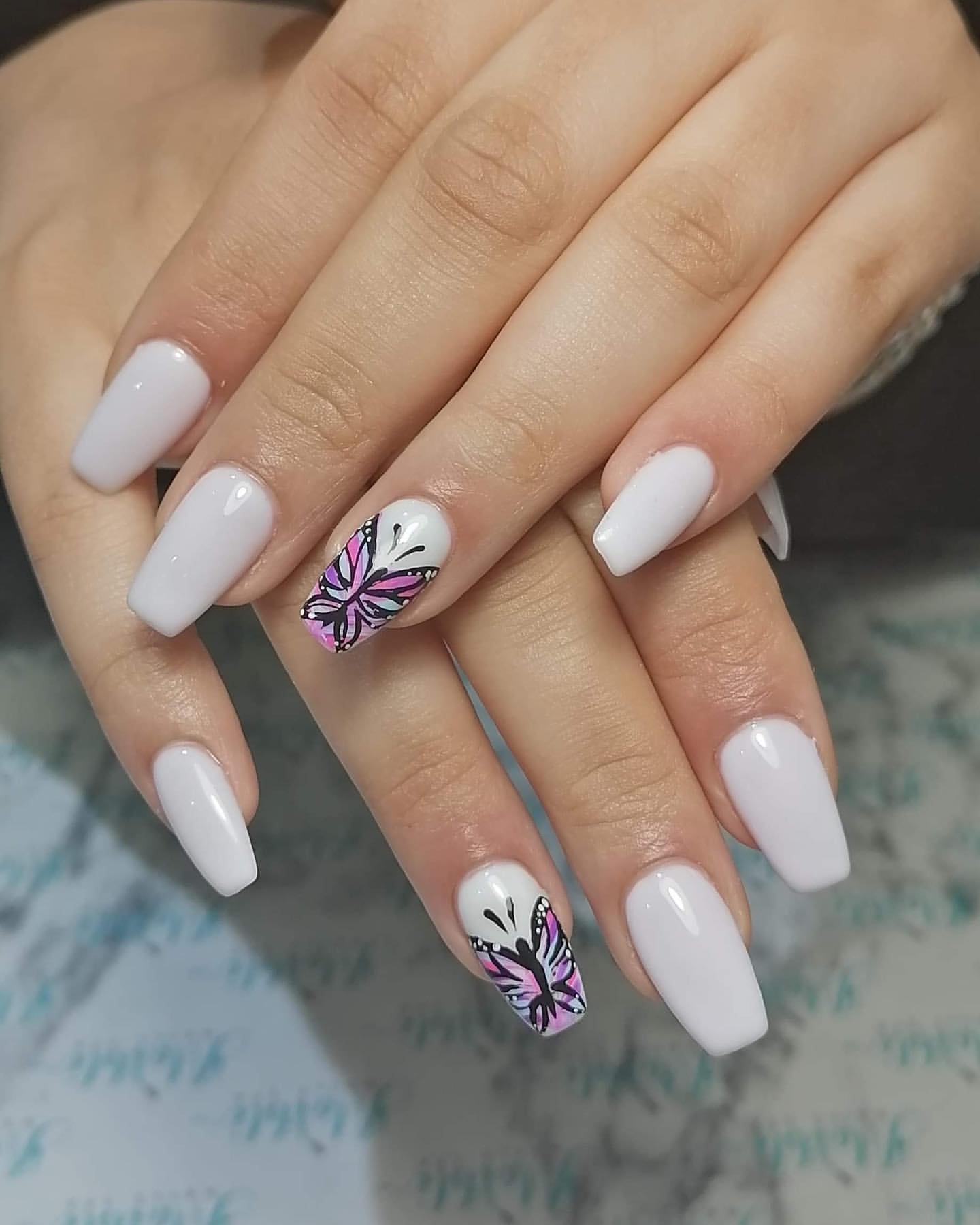 Perfect wedding white nails with a butterfly design other than this never exist! You can take note of this nail art encompassing the exquisite butterfly on the ring finger while other fingers match your wedding gowns perfectly.
15. Angel's Kiss from Heaven!
A green butterfly signifies love and abundance. Don't you desire to be a lovely soul out here? The color contrast in this butterfly nail art is dashing and makes you an instant bundle of love. I highly recommend you try these cute butterfly nails in 2023.
16. Dazzle Like a Diamond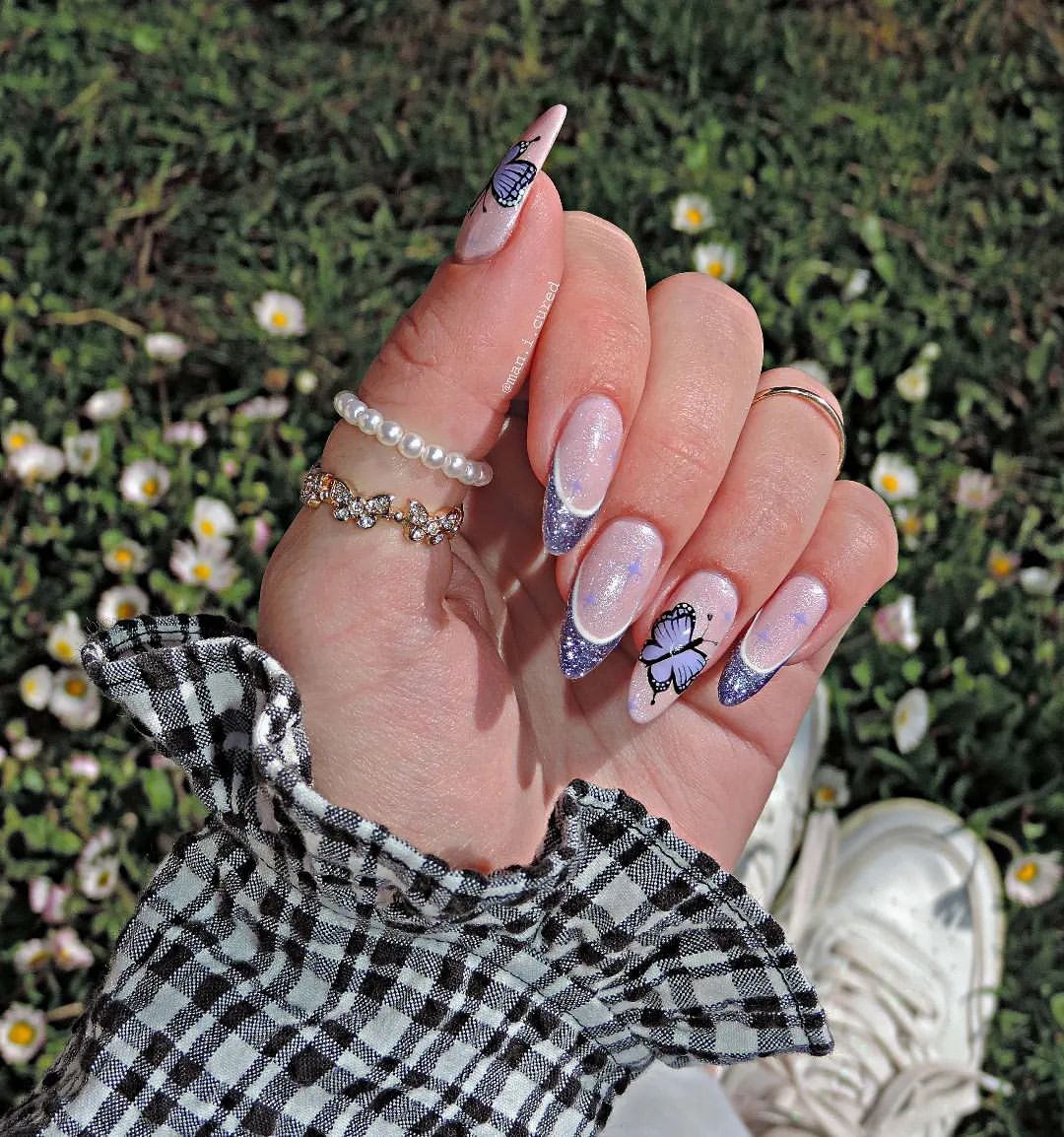 The dazzle and shine of a butterfly that has entered a beautiful lively life shedding its mundane life need to be celebrated. To all those ladies, celebrating themselves, have a try on this lovely butterfly manicure.
17. Princess of Butterflies
Are you looking for a rich and magnificent look incorporating a butterfly theme? Check out this butterfly nail art with rhinestones! Live life like none and get such long butterfly acrylic nails like none!
18. Wings of Happiness
College students out there, have a look at this. The shimmering holographic white nails with butterfly has a place for all your craziness. In just a few minutes, you can easily recreate this look using butterfly nail art stickers.
19. Make the Heart Melt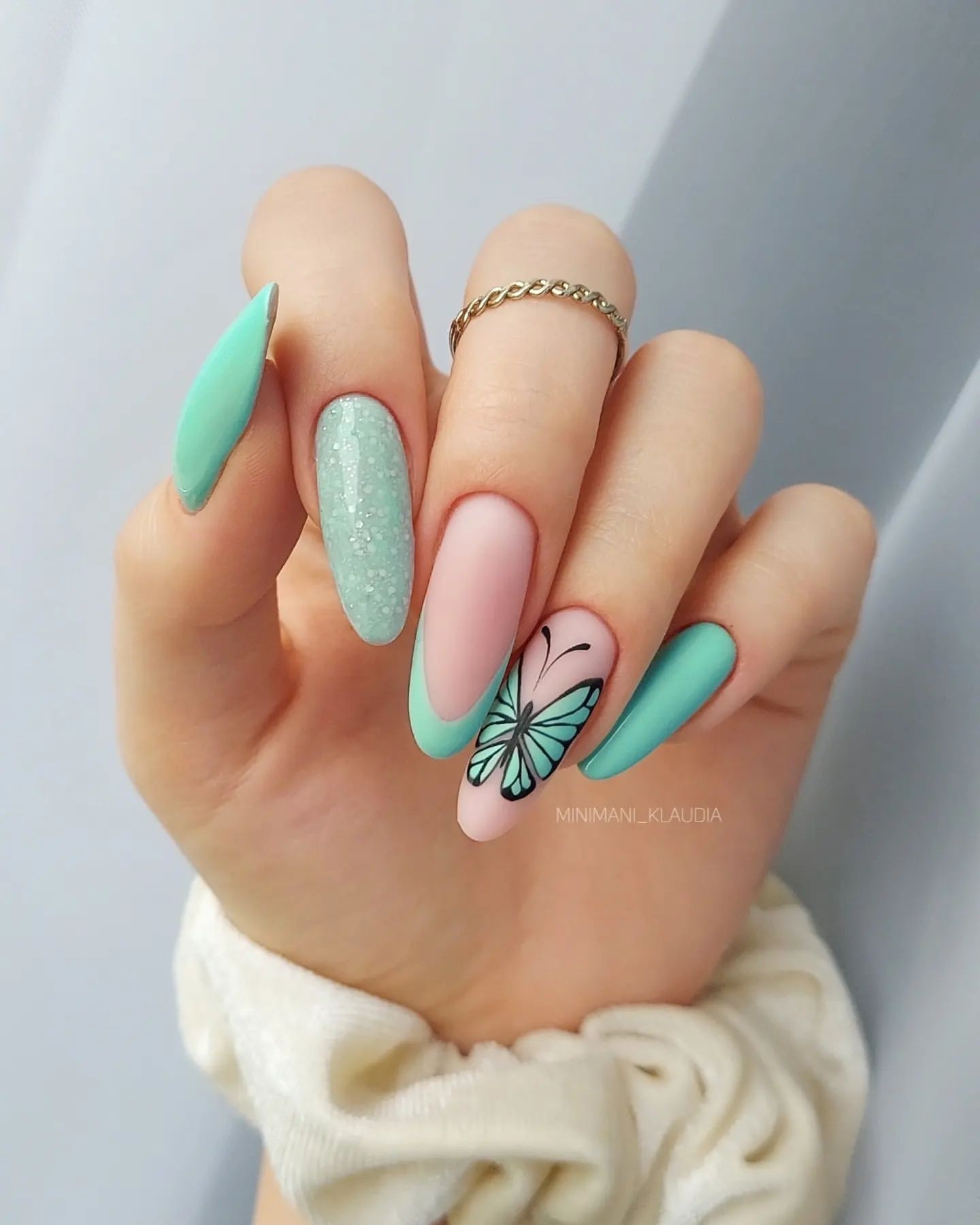 The different levels of sea green shades and the pastel pink shade are stunning shows of art. These spring nails depict the deep silence before the bang. The silence in which you grow and come out later in flying colors like a butterfly!
20. Purple Mischief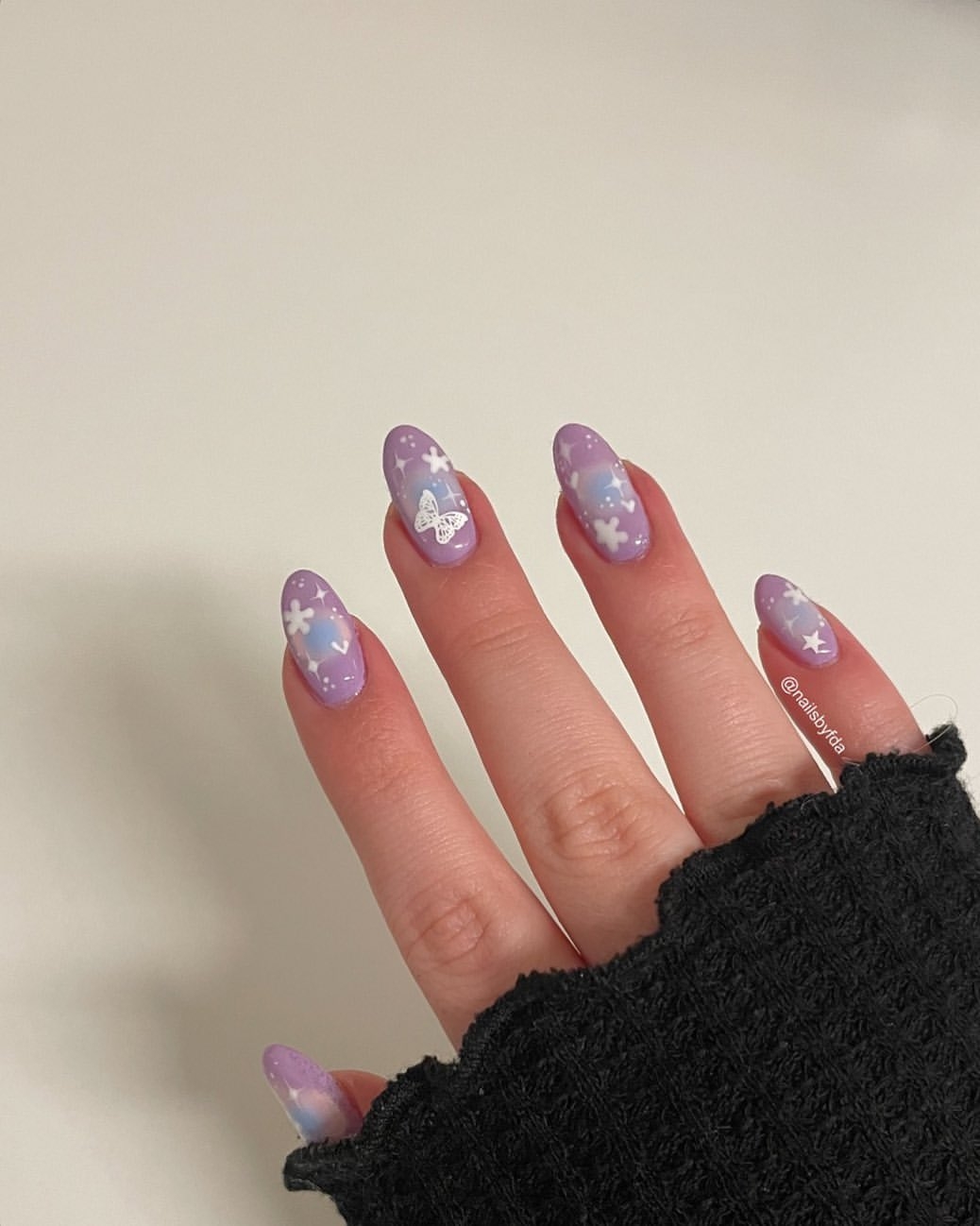 What is more satisfying than incorporating all you love in nail art? Paint all the cutest things you like – such as stars, hearts, flowers, and butterflies – celebrate life as it comes!
21. Break the Cocoon!
This butterfly nail art of glowing butterflies and shiny rhinestones is an instant formula for merrymaking and partying. For night outs and other parties, this nail art befriends you.
22. Both a Bomb and a Butterfly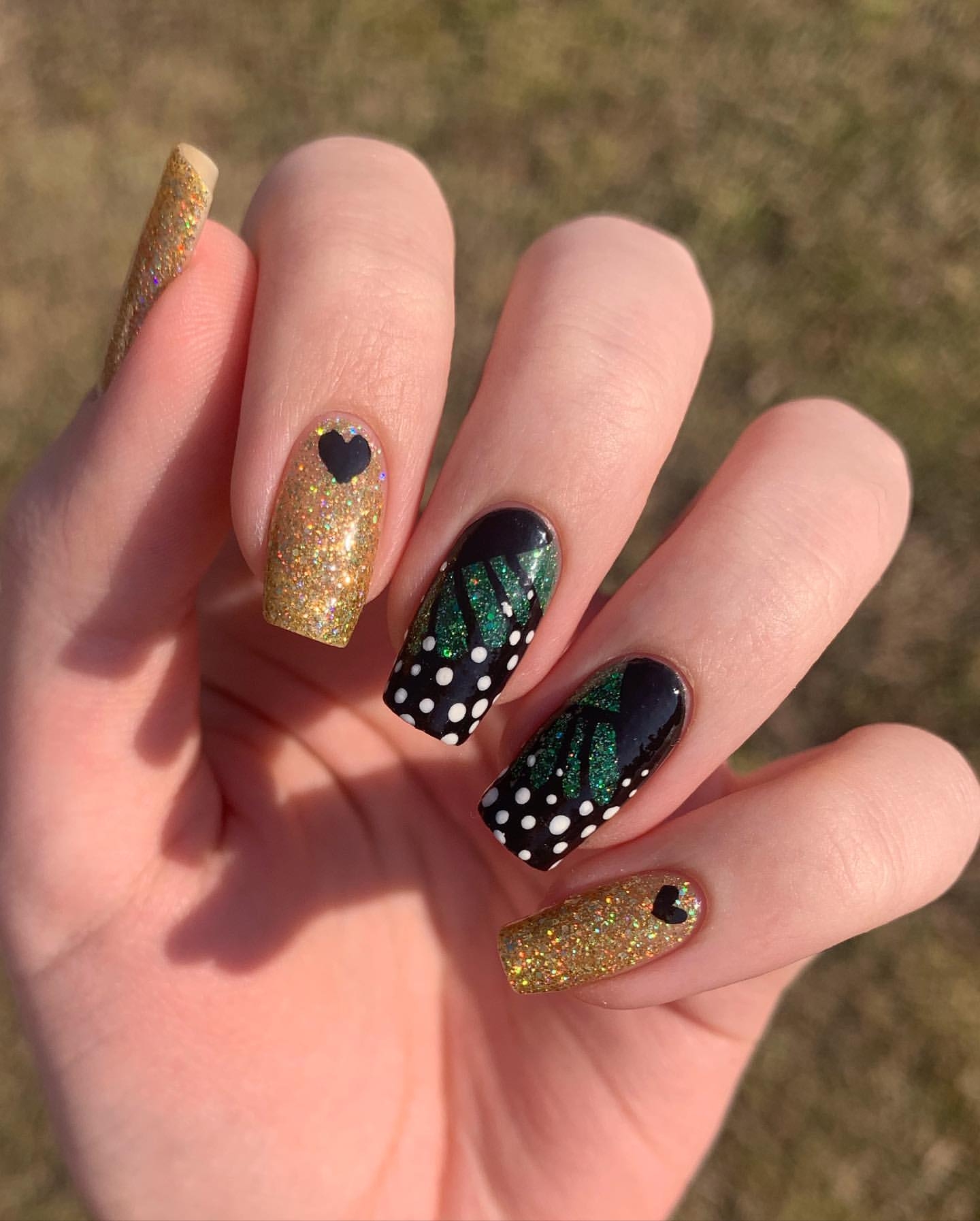 I am falling in love with this piece of gothic nail art! There is nothing that this butterfly nail art fails to make. The glitter nails, the effervescent color, and the butterfly – all steal my heart.
23. Ethereal Spirits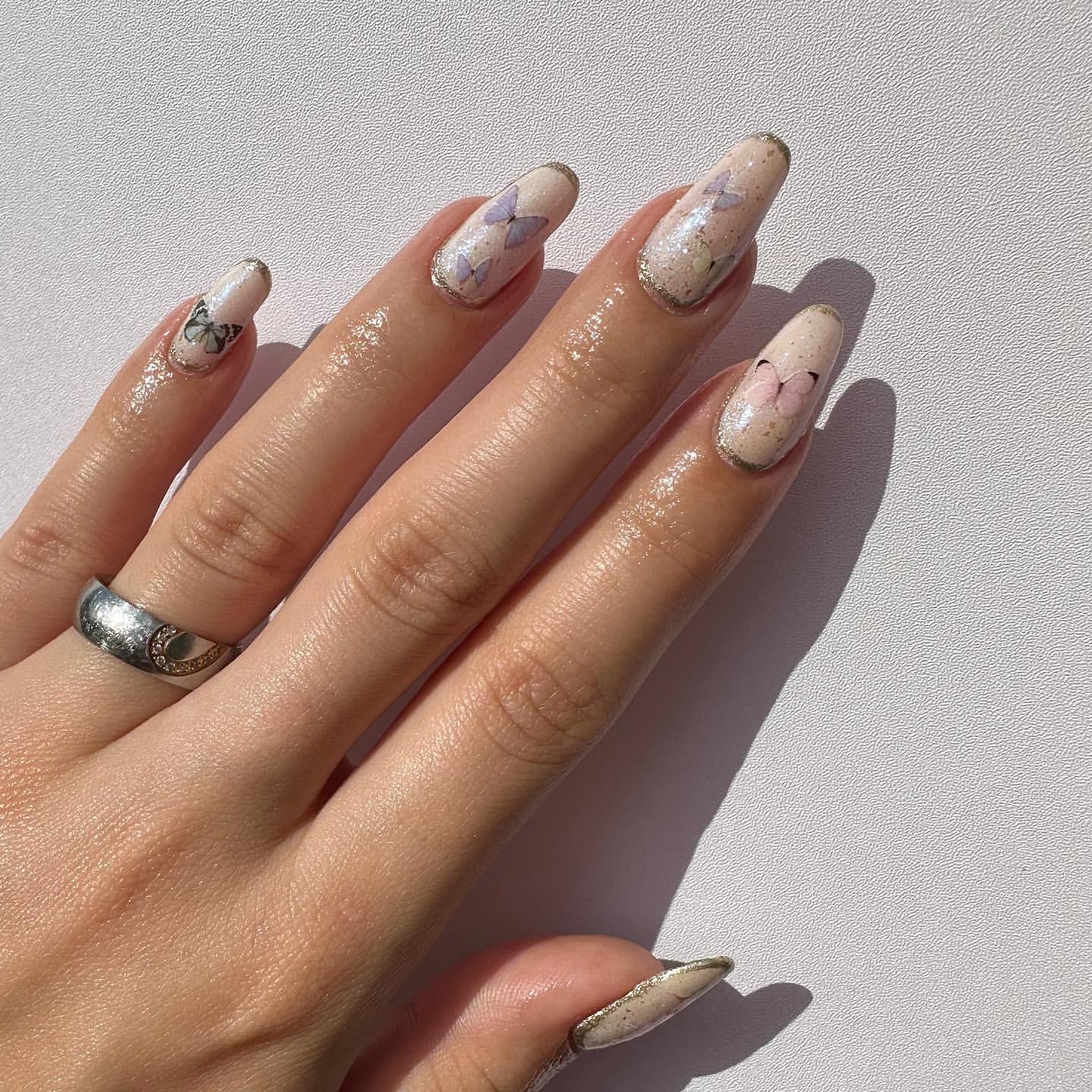 If the word aesthetic has a picture form, then this butterfly nail art has a place! Not a big fan of lustrous colors? Well, go with these soft pastel colors. The top coat sealing keeps it fresh as ever!
24. Fly Higher!
As you wake up to the sight of butterflies on a bright sunny day, you know how blessed to be alive is! If you are a carefree person, and take life as and when it comes, then this is a little something for you.
25. Magic Moves!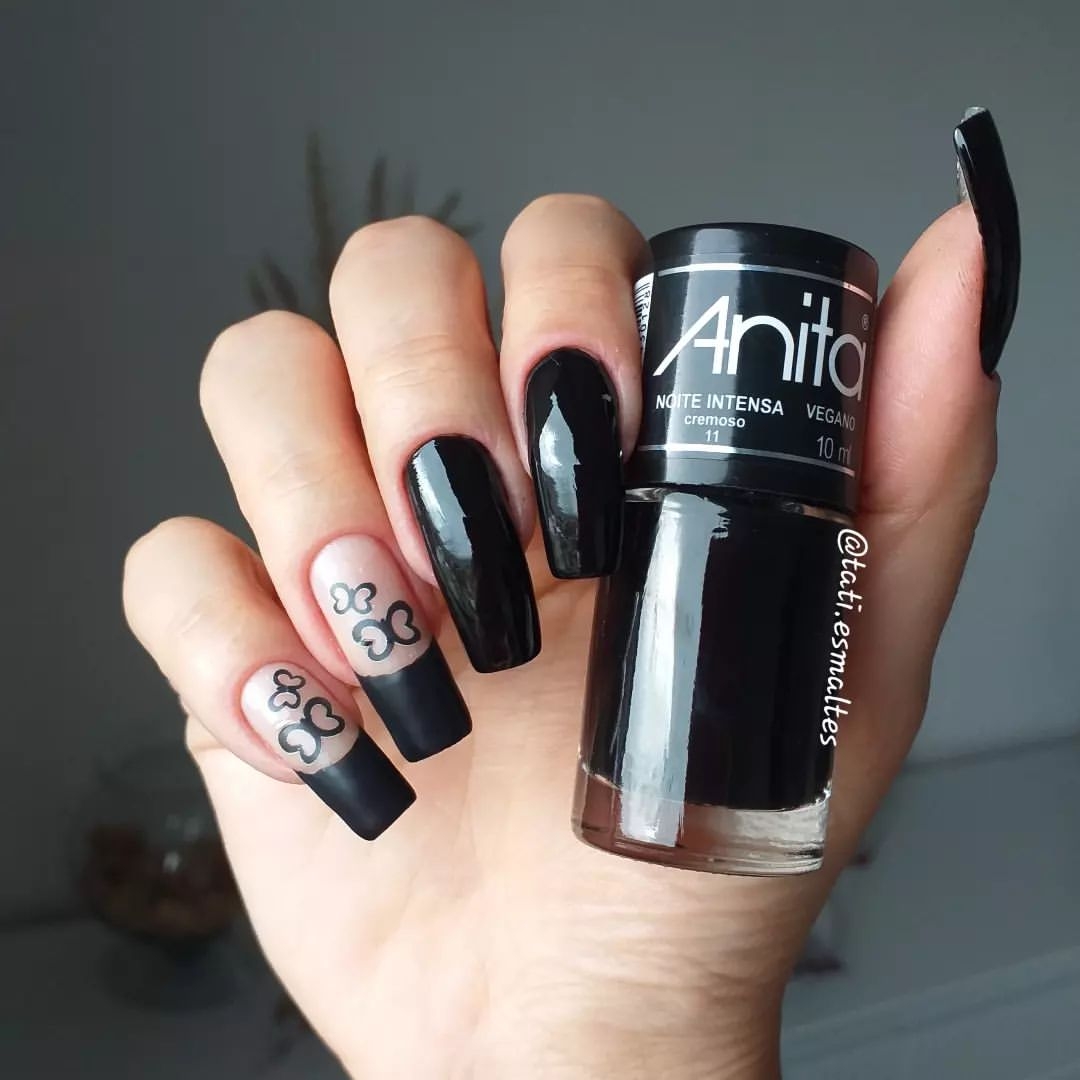 Black butterflies rarely occur in nature. So why don't you try this butterfly nail art and be a gorgeous black butterfly that flutters by prettily? You need nothing except glossy and matte black nail polish and the finest nail brush for this nail art.
26. The Butterfly Effect
These ombré nails are light and minimalistic. But the effect of beauty that brings along with this nail design with butterflies is magnanimous and incapable to handle. You can also bring in some energy with red nail polish for a vibrant look.
27. Blue, Butterflies, and Boom!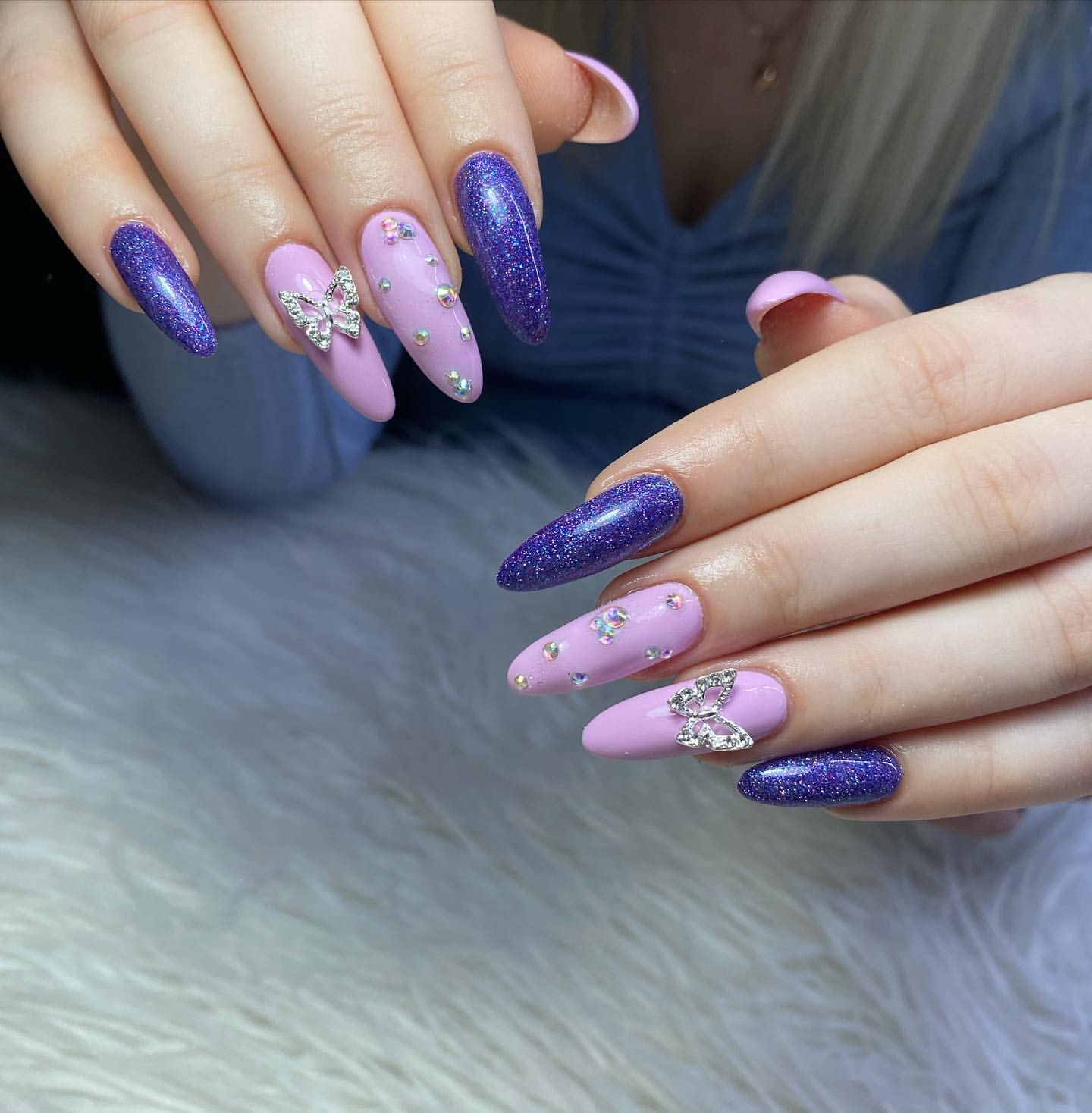 Is it the starry night revelation or the deep sea secret or both? You never know. But you can try these blue butterfly nails with sublime nail jewels. I think it is the glittery blue nail polish with mauve that makes this 3D butterfly nail art completely alluring.
28. Butterfly Stroke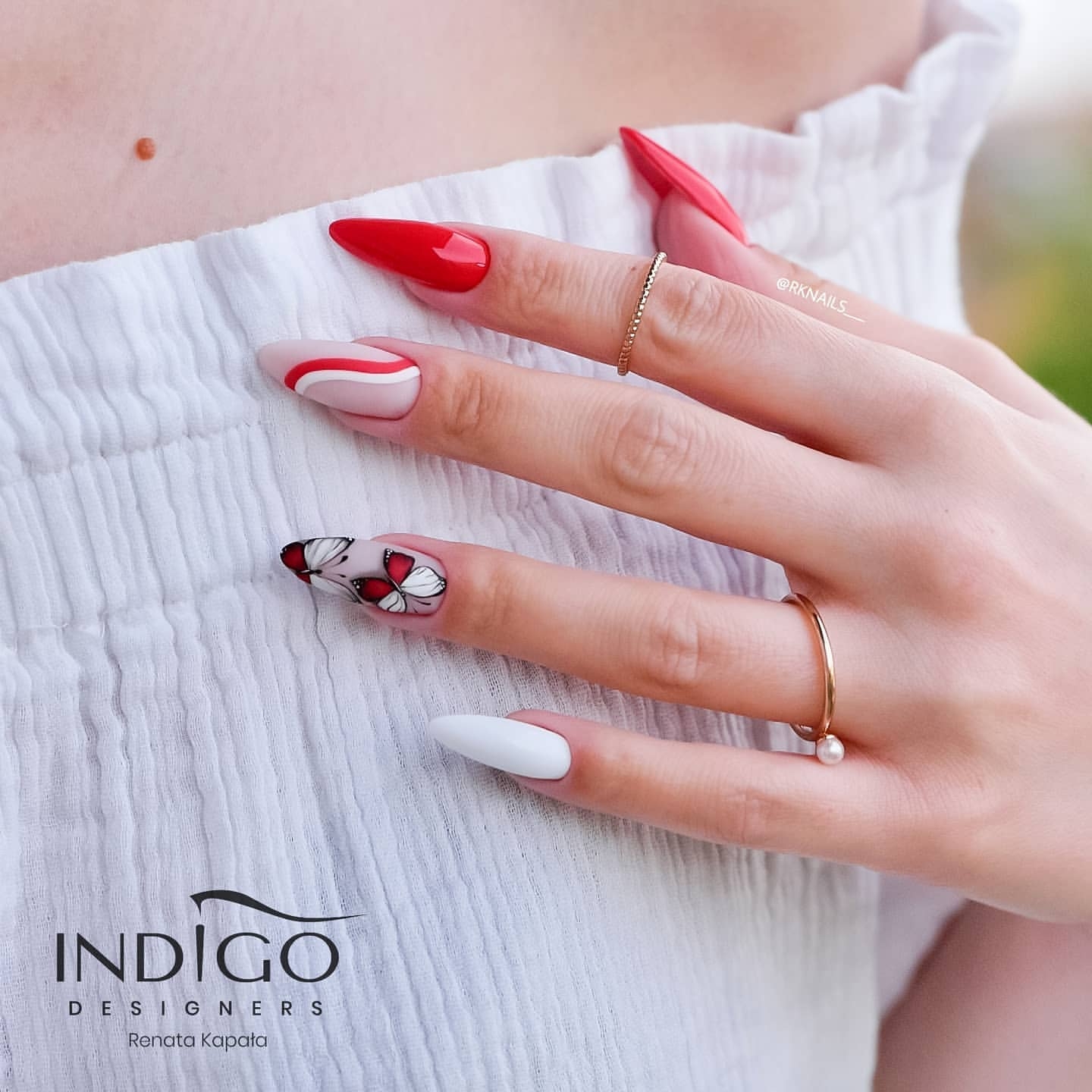 Red hearts and red nail designs with butterflies are both the same, except that the former beats for life, and the latter beats for love. Have a look at these red butterfly nails taking a dive in the white nail polish. This poses a different angle to this butterfly theme!
29. Majestic Mumbles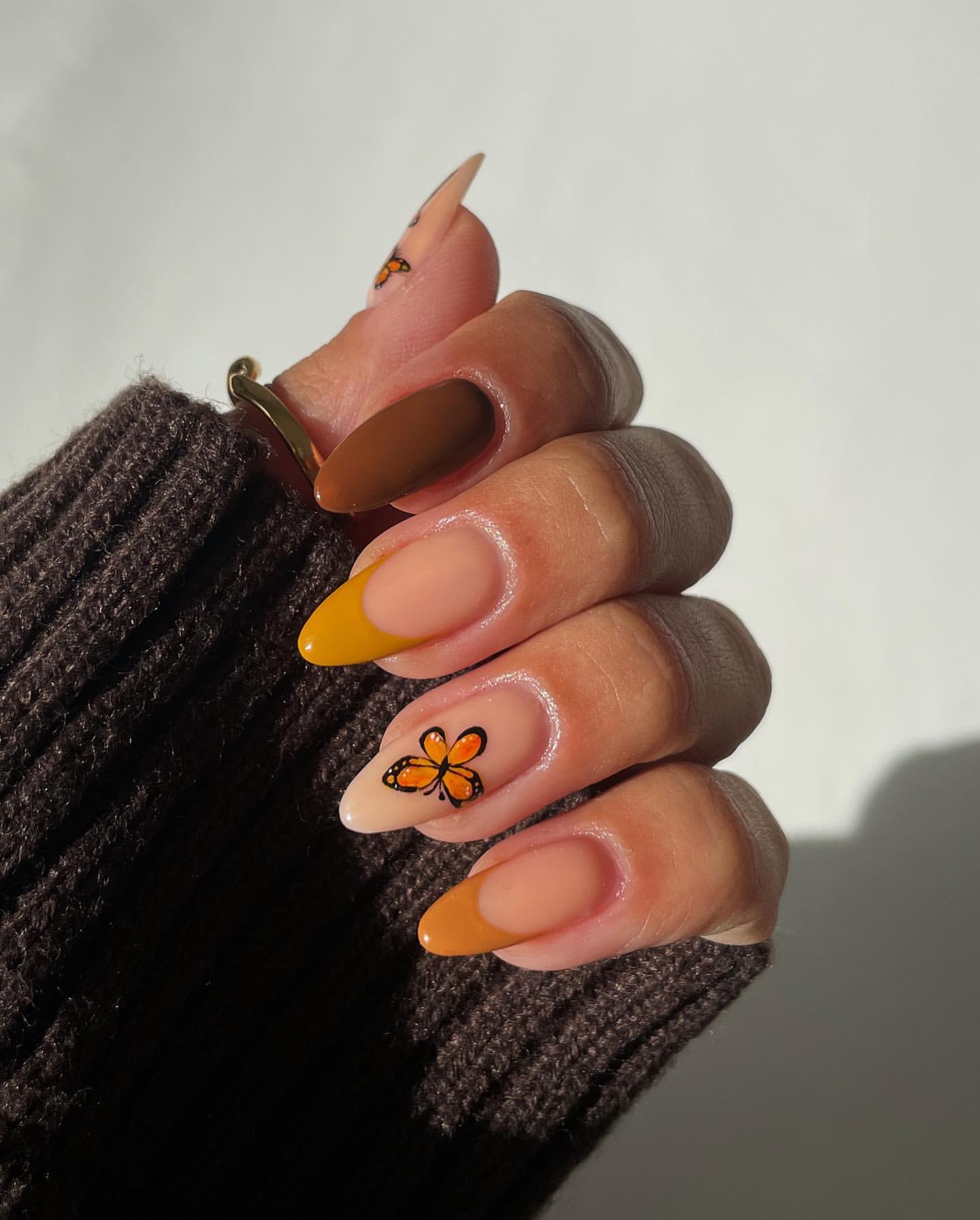 Another lively color that has not been covered so far! The dandelion gradient nails filled with a charming butterfly – what else is needed for complete summer butterfly nails? Such butterfly nail ideas are in the trends of 2023.
30. Alive and Awesome
These nails are so tranquilizing. The sense of awesomeness just from the fact of being alive is about enjoying these beautiful nail designs with butterflies. Taking the time to properly prep your nails and apply a base coat will help ensure that these beautiful butterflies stay on your nails for as long as possible.
31. The Witch Butterfly
This is one of the finest nail ideas with butterflies, having everything that a fabulous nail art needs in place. The incorporation of butterflies with glittery wings and serene green lights up any dark or boring day.
32. Peachy Pink of Passion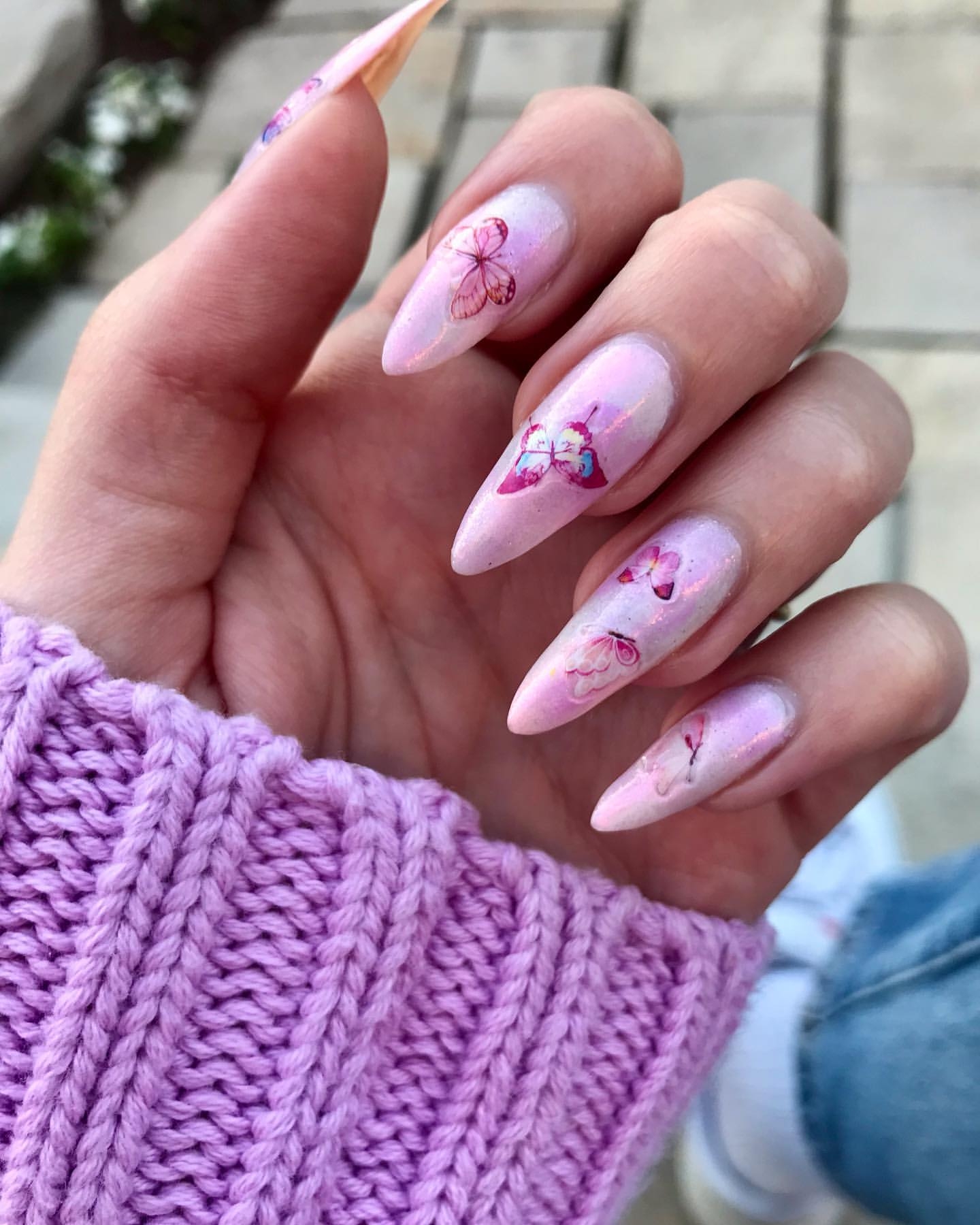 The holographic light pink nail polish goes well with the soulful butterflies there. You can also try doing a French manicure of red at the tips to artistically alter this look. The secret to achieving flawless-looking nail art is in the preparation process. Be sure to use a fine nail file to make the perfect nail shape.
33. Butter It Up and Fly
Just butter up the pale pink and place two butterflies. The mere presence of a blue butterfly is just heartwarming and lovely. Such simple butterfly nail art goes with any attire. To add a little extra pizzazz to your nails, try using nail art tape stripes to design some patterns.
34. Be the Butterfly
Are your nails aren't long enough? Looking for short butterfly nails? Then this butterfly nail art, offering a stylish yet trendy option to embellish your short nails can be an ideal pick. Also, if you don't want to abide by the concepts of drawing butterflies or sticking decals, then just integrate the whole mass of butterflies with comforting colors.
35. Catch a Butterfly!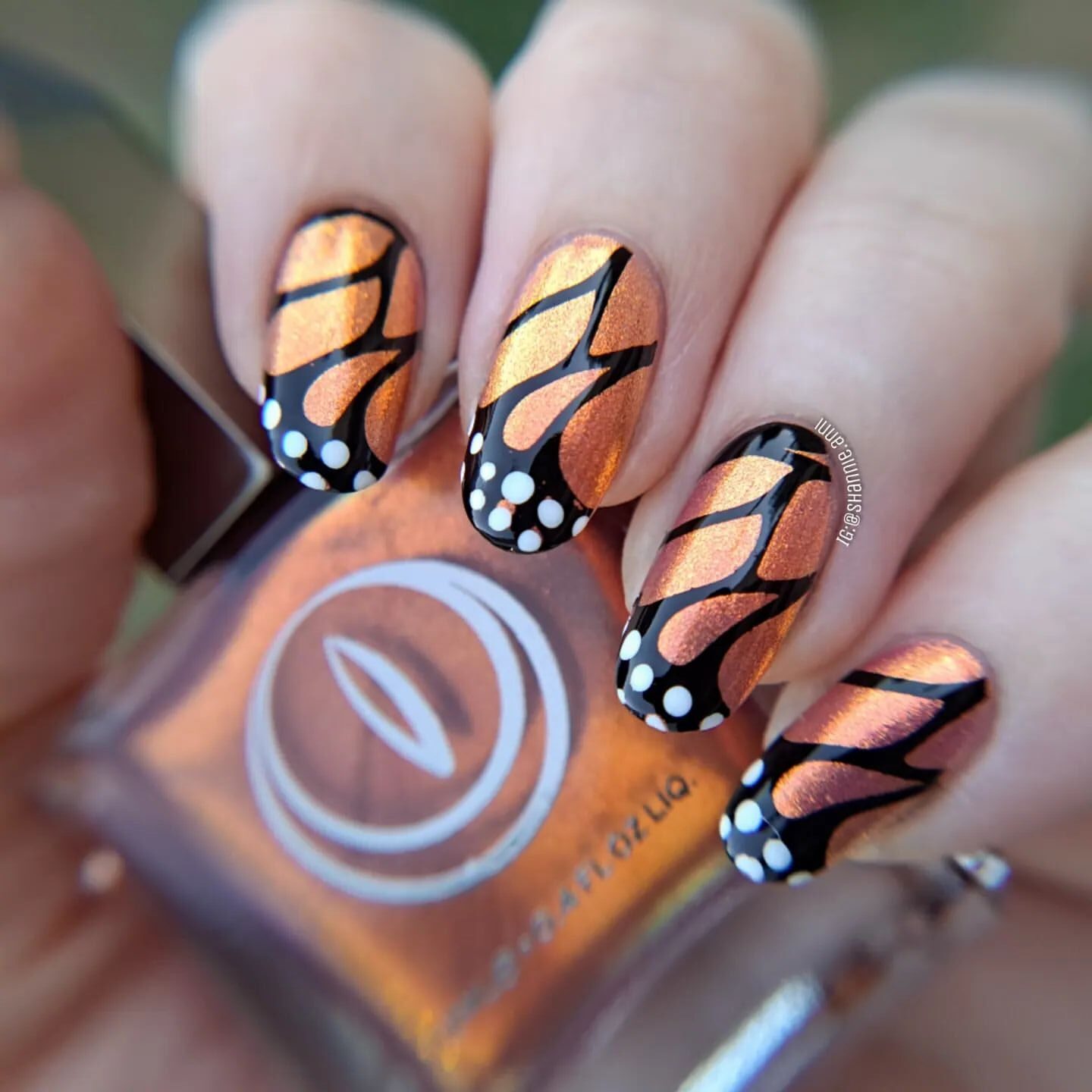 The marmalade shade mixed with charm and ecstasy will draw all eyes in the town towards you. If you can't be a butterfly by nature, create butterflies on your nails and flap your wings vibrantly!
Wrapping up:
Butterflies do not know how beautiful they are. It is the on-lookers who stand jaw-dropped by its mere presence. And now it is your butterfly nail art that is going to cast an attention spell on the audience.
Butterfly designs on nails are the latest 2023 trend. The cute butterfly nails have a new vibe that remains unmatched by one another. I must confess, nail art designs No. 19 and No. 22 have captured my heart.
Nevertheless, I'm pleased to have helped you with your search for cute butterfly nail art ideas for 2023. These nail art don't require any auspicious day to be manifested. Just a normal day at work or college can even be hyped by these cute nails with butterflies.
Go through your transformation phase patiently, and when your time comes to break open the cocoon, do it. With colorful wings and the ability to fly, you will be the happiest person on earth! Enlive like a butterfly with these butterflies on your nails! Happy fluttering!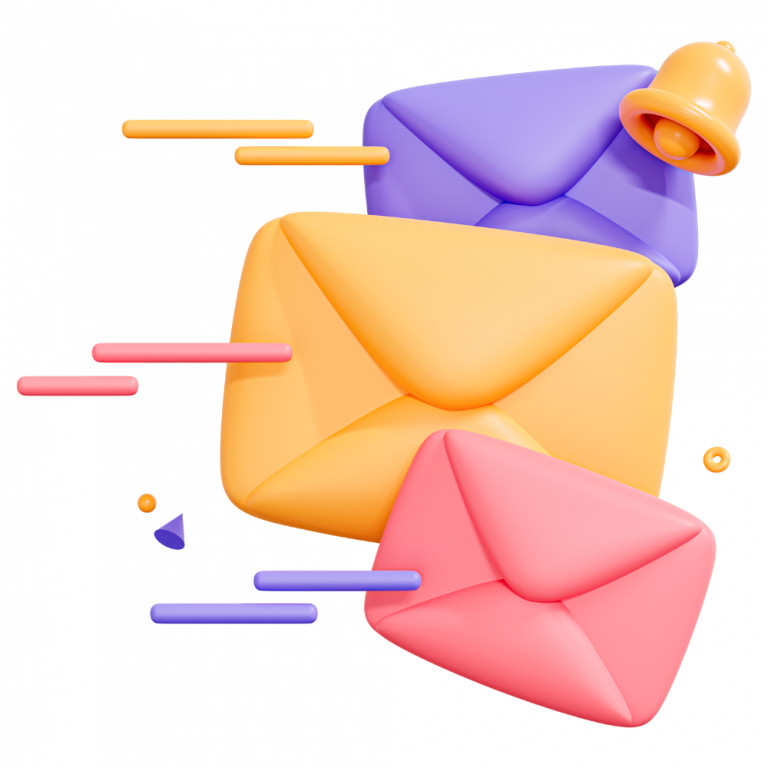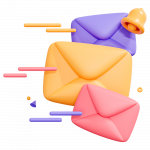 Read related: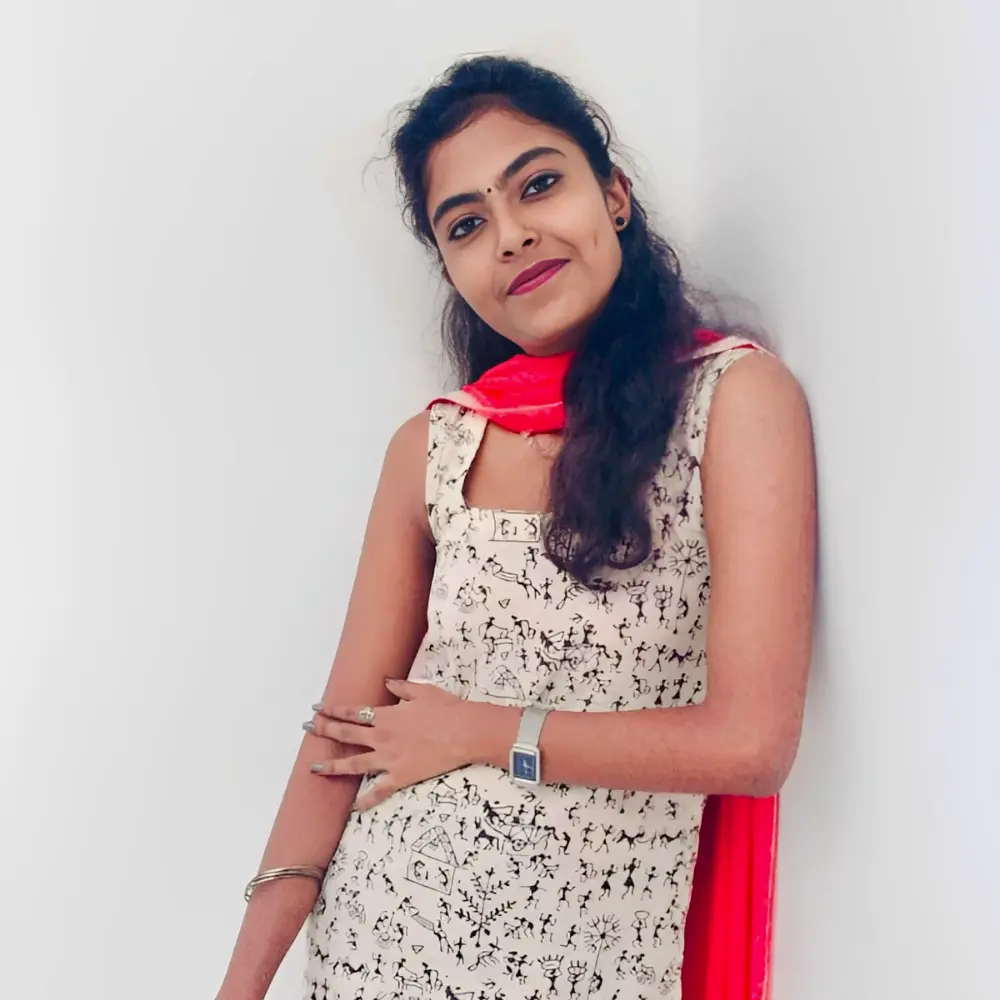 She's a nail enthusiast and fashion blogger who believes nail art is one way of adding colors to life. She learns new methods of manicures and provides content on the same.