55 Cute Valentine's Day Nail Art Designs for 2023
I am sure choosing designs for Valentine's Day Nail Art should be easy as there are hearts and cupids in reds and pinks primarily. In short, anything that has hearts on it automatically becomes Valentine's Day theme. It's alright if you're confused about how to set those hearts in reds and pinks; I have got you covered.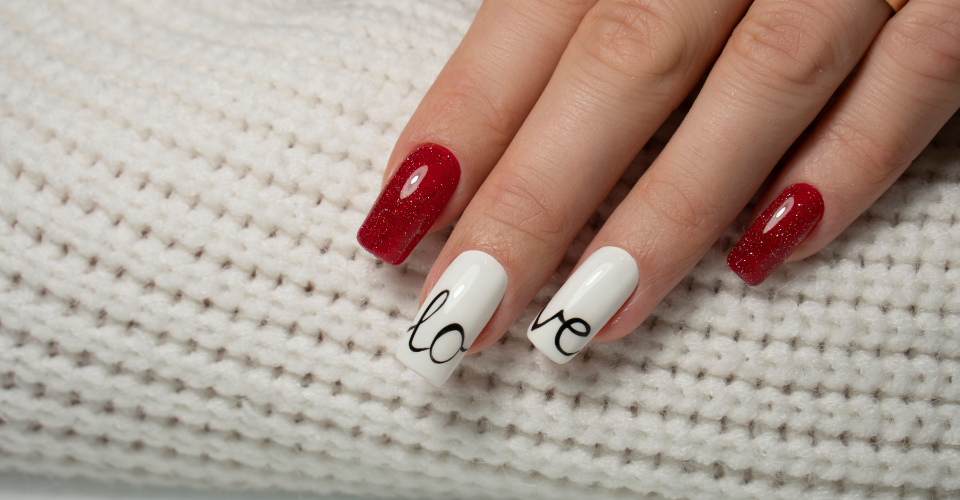 From rosy pinks to bold reds, I have curated a list of unique and quirk Valentine's Day Nail Art to try this Valentine's Day 2023. From DIY to nail artistry options, you need not search for Valentine's nail ideas anywhere else. There is something for everyone in the nail art ideas I have curated in this post. Screenshot away your favorites, so you're prepared well in advance.
Moreover, not everyone is obligated to try only if they have Valentine's Day plans. You can be your own Valentine and get yourself hearts on the account of self-love. You don't need to have plans to try Valentine's Day nail art designs.
55 Cute Valentine's Day Nail Art Design Ideas for 2023
From brunches to Galentines to night outs, find some captivating and outstanding designs to beautify your nails and get noticed anywhere and everywhere you go!
1. Triple Treat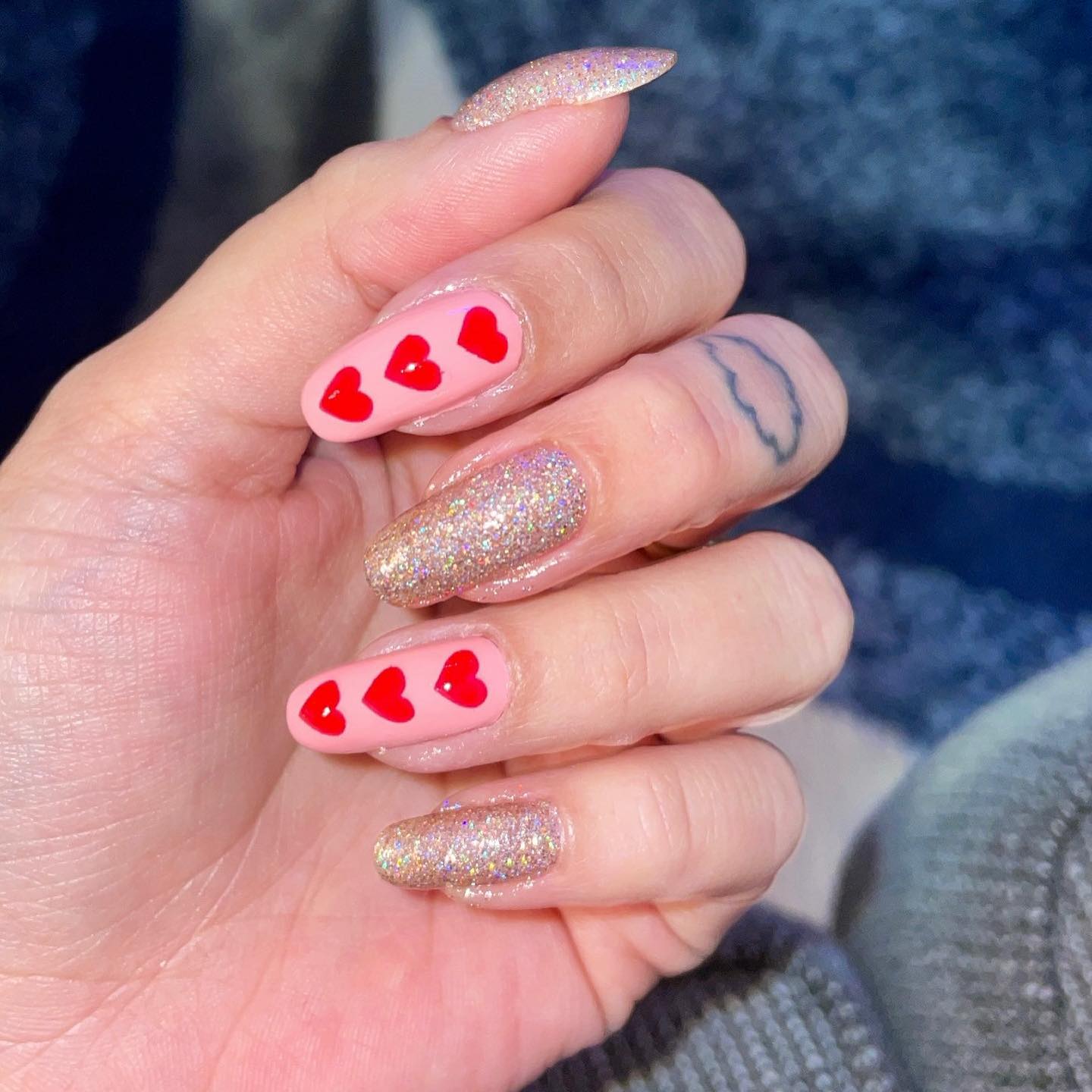 A glitter nail and nail art with a heart. Sorted for Valentine's Day to shine on and trust that it's as glittery as your nails. Red hearts on pink situations will match aesthetically while complimenting the gold nails.
2. Lilac Dream
Lilac is pretty much the color of the year, might as well make the most of it. Lilac nail art with hearts for Valentine's Day is the perfect place to get started on that note.
3. Quirky Love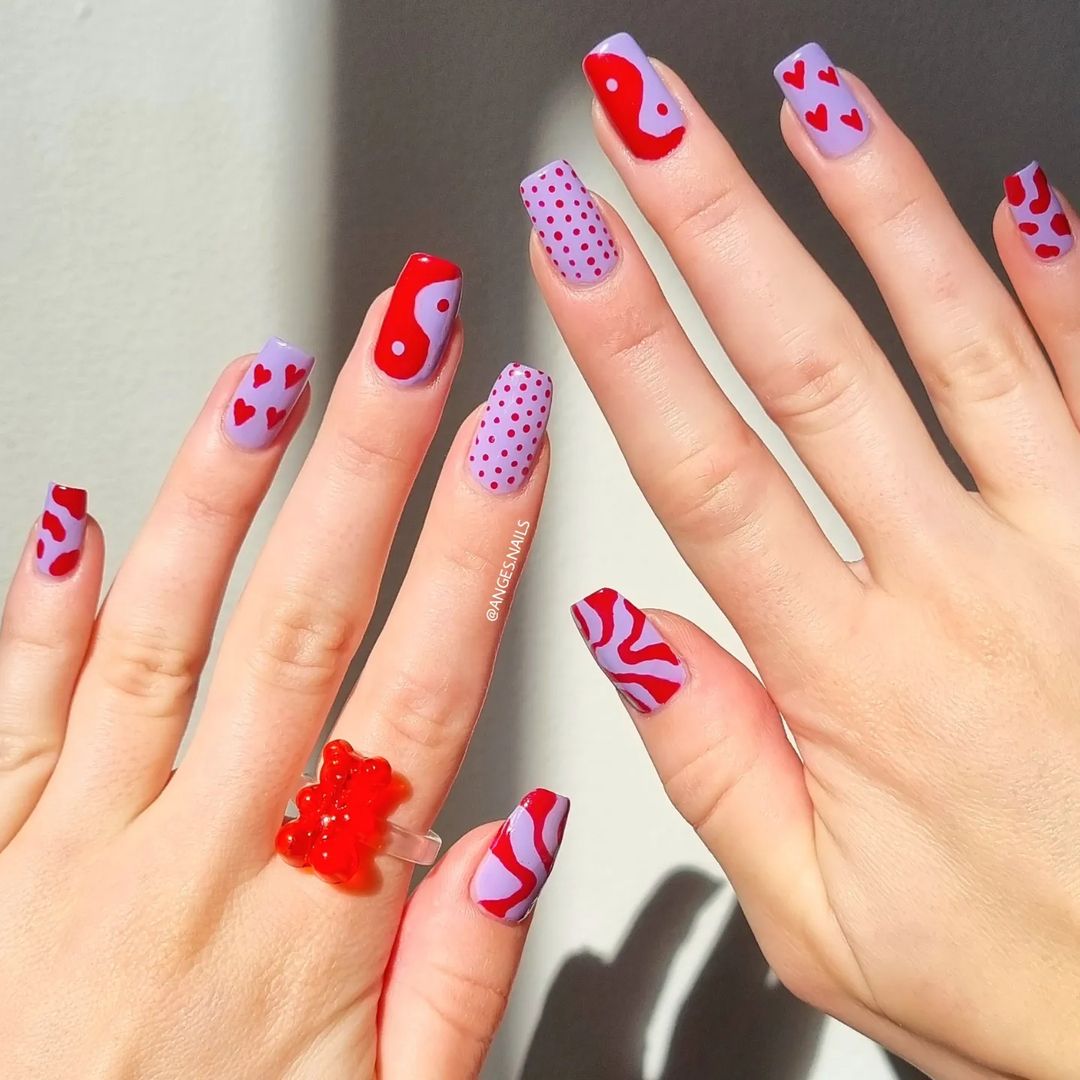 Amongst all Valentine's Day nail art ideas, this is what I call "all in." From hearts to trippy patterns to yin and yang, this design has it "all" to steal the show.
4. Dark Paradise
Here's to being on the darker side of things, presenting maroon Valentine Nails. I love the neutral shades complementing maroon. The big heart is a great idea to try for someone with long nails.
5. Smile for Love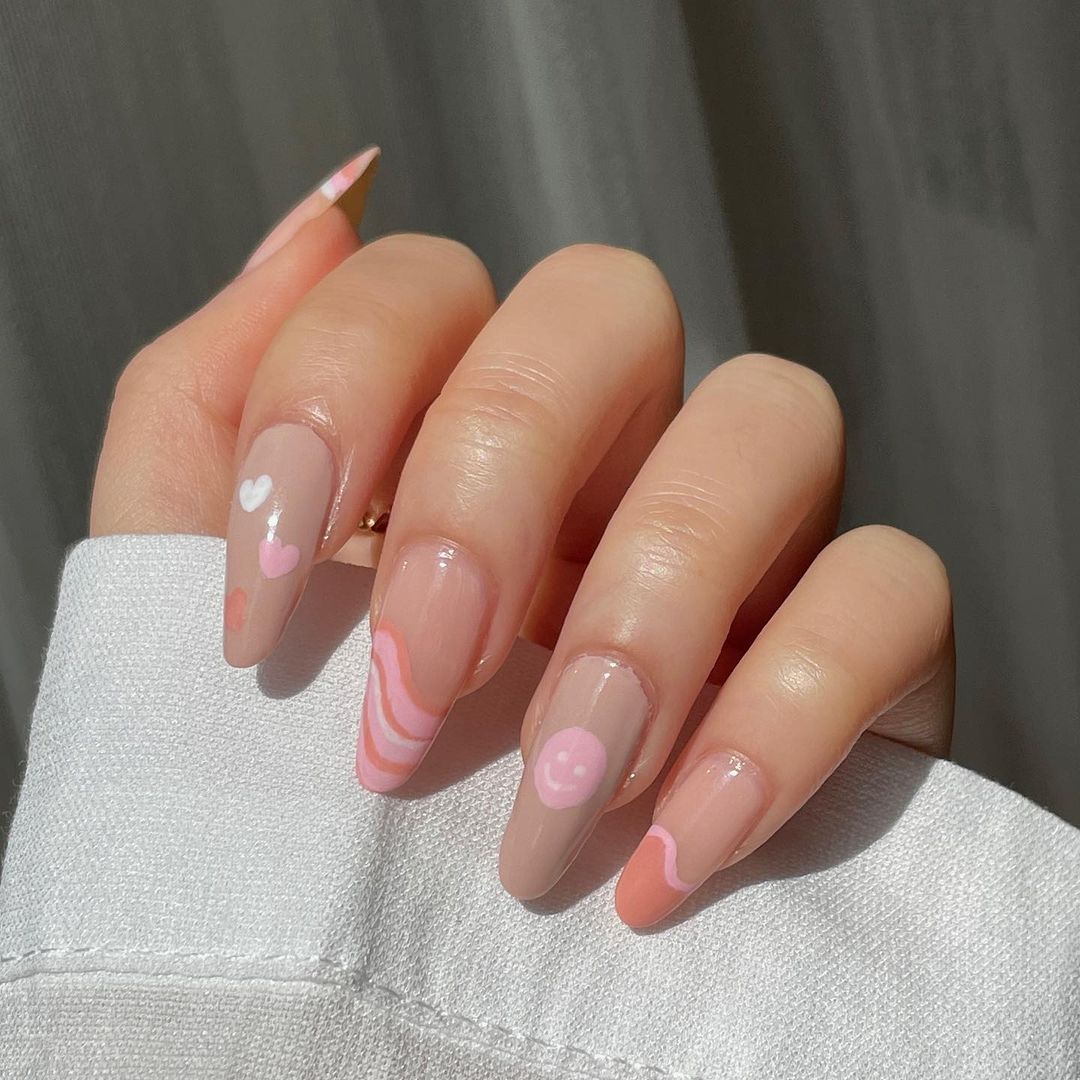 That smiley face on the ring finger wins for me. Considering all the heart nail designs for Valentine's Day nail art, this one's a fresh take on including something other than hearts.
Post You May Like: When to Get Nails Done Before the Wedding?
6. Tips for the Heart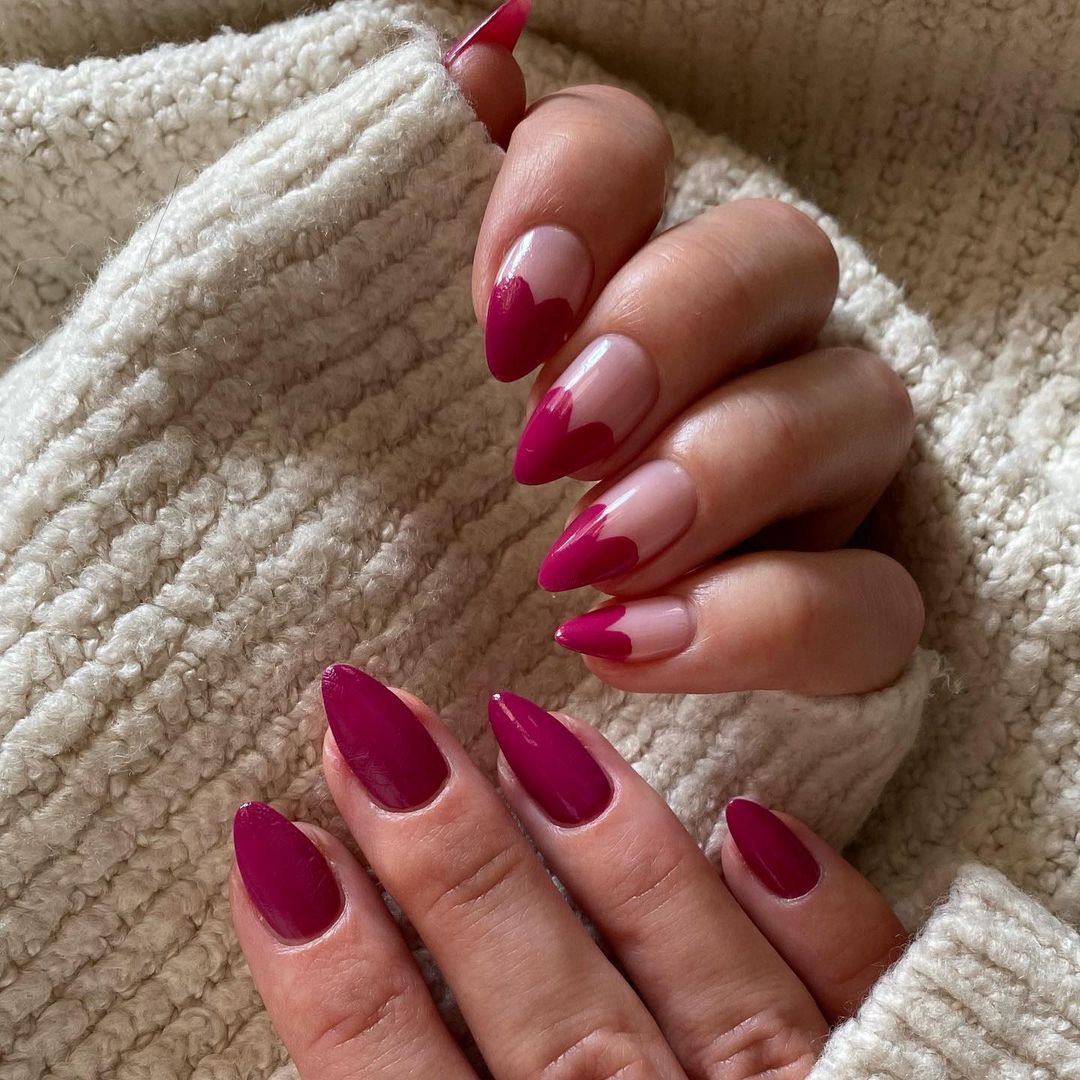 For the fancy Acrylic Valentine's Day nails, here's the winner. Hearts in place of the usual classic French manicure give an alluring countenance. Grab the Essie Glossy Nail paints to get this gorgeous look, and get ready for your Valentine's brunch date.
7. My Butterfly Heart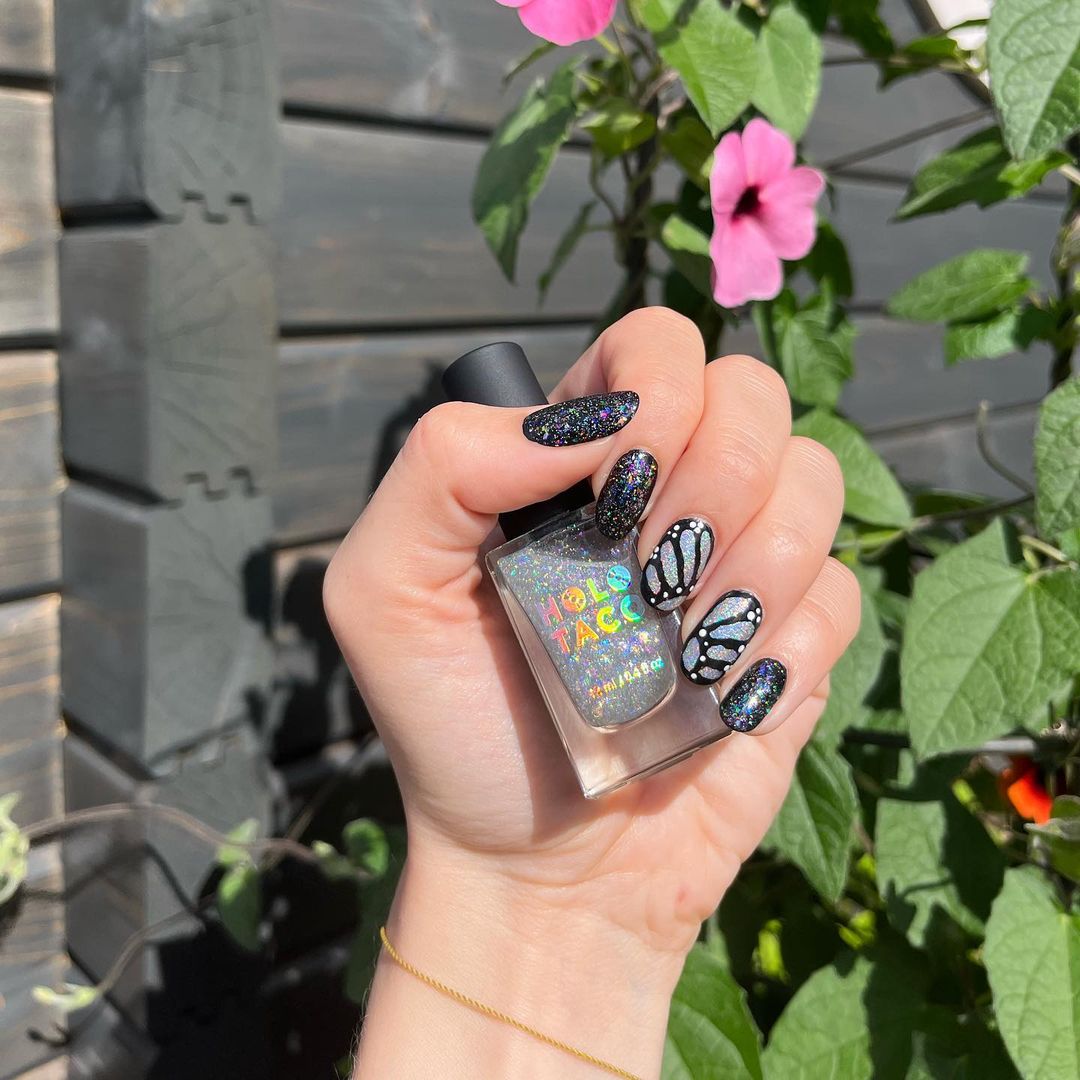 If you wish to take a break from hearts, pinks, and reds, consider this Valentine-themed black nail design for 2023. I love the illusion of a butterfly wing pairing black nail polish with the shimmery HOLO Taco glitter polish.
8. Shiny Hearts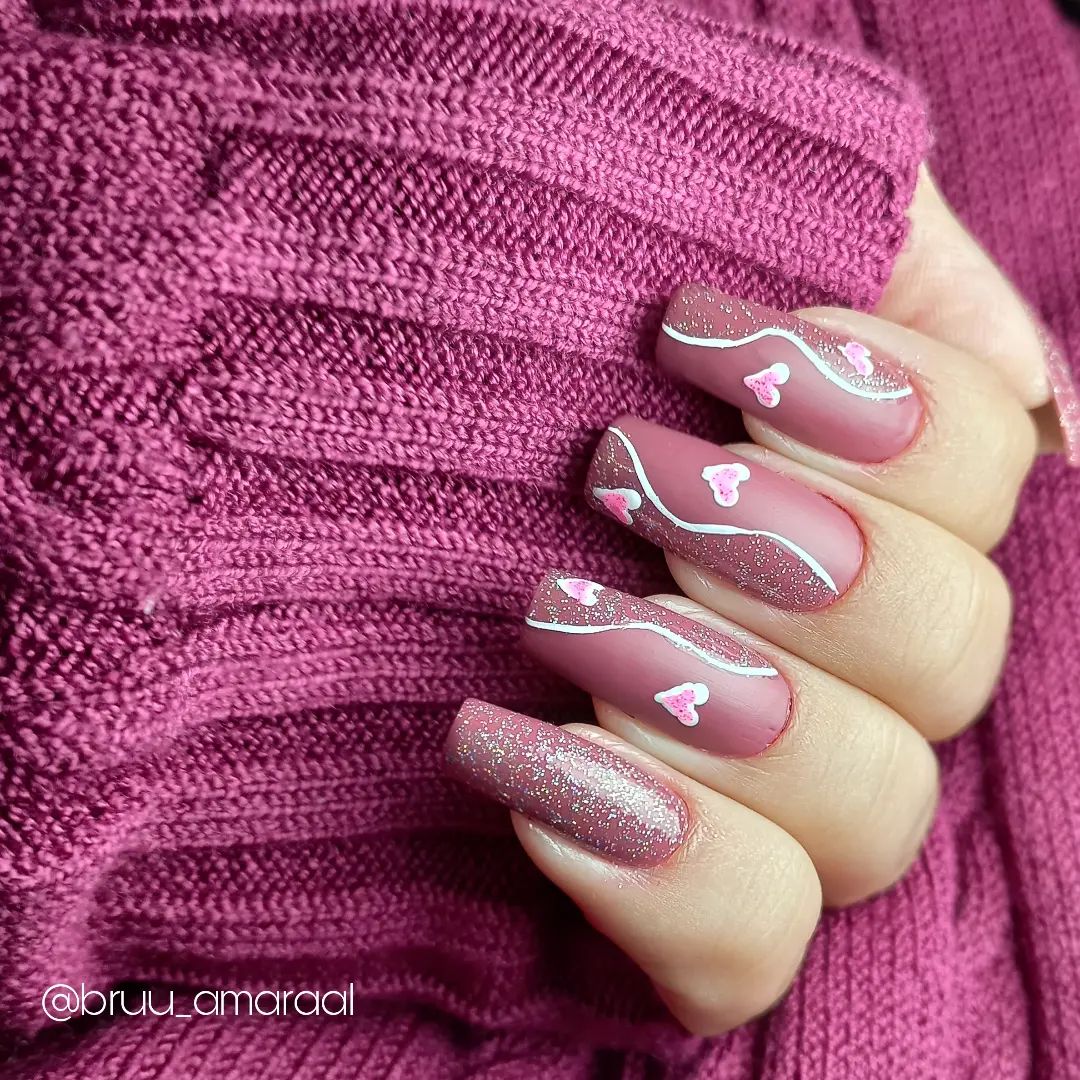 For the love of nail art with heart, it hits the perfect balance of Valentine's Day Nail Art. Tiny Hearts have my heart, and it only gets better with the OPI pink glitter nail polish.
9. Classic Red
To not go wrong with nail art with heart, this is a safe design to choose. The classic blood-red nail polish and mini hearts on white nails are easy to recreate as well.
10. I See You
Taking a break from simple heart nail designs, you can consider this fascinating evil eye design. To protect your love this year from evil, pick this design for the same. 😎
Post You May Like: 25 Cute Mother's Day Nail Art Designs for 2023
11. Lilac Hearts
Apart from pink and red Valentine's Nails, lilac is the rage. If Valentine's Day Nail Art with nail art brushes is not an option, you can opt for heart nail art stickers this Valentine's Day.
12. Mini and Cute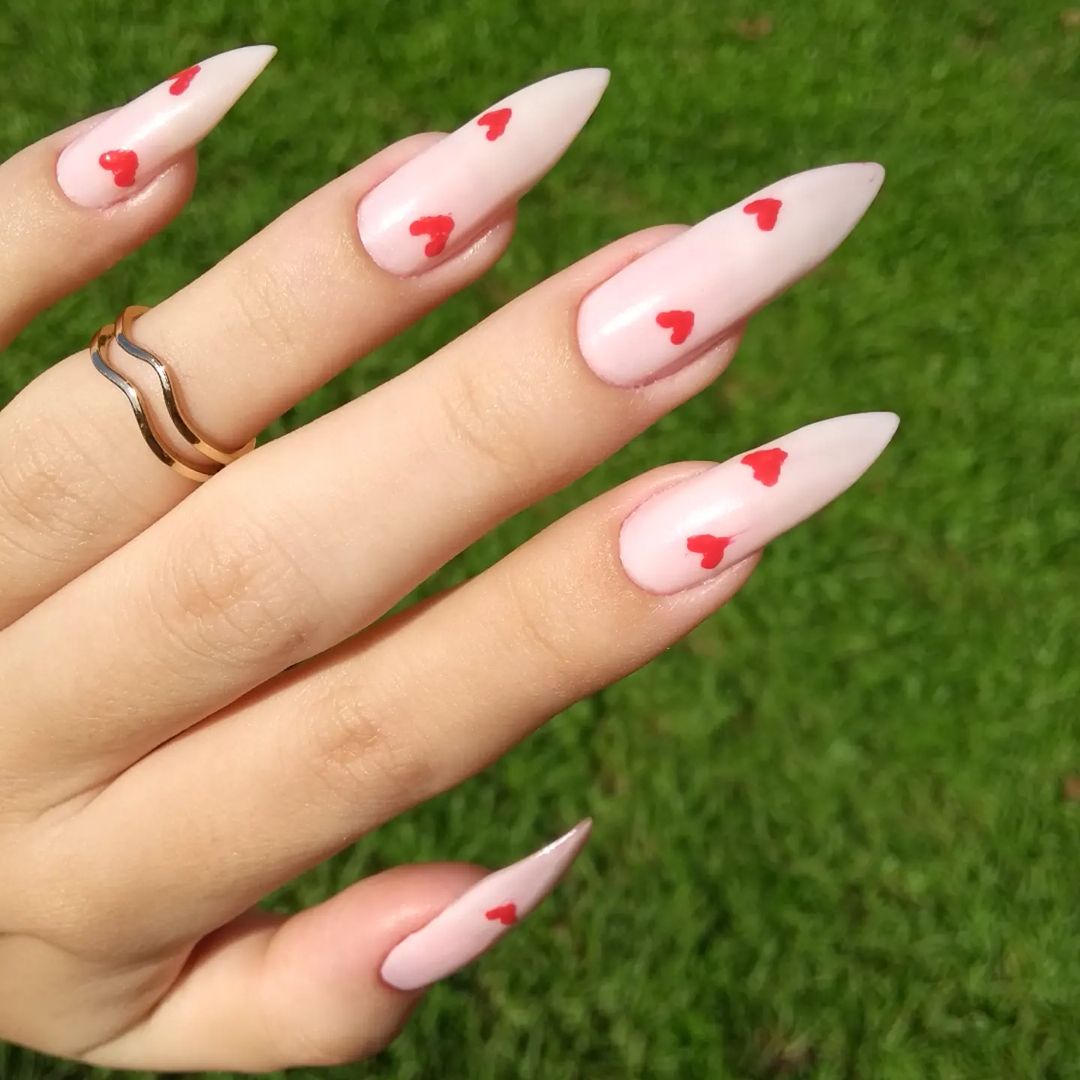 Amongst all the above nail art with hearts, I found this to be the cutest. It's a simple DIY design; just grab some bobby pins or a dotting tool to make dots and join them with a toothpick. Voila! You've now Valentine-ready nails.
13. Dancing Hearts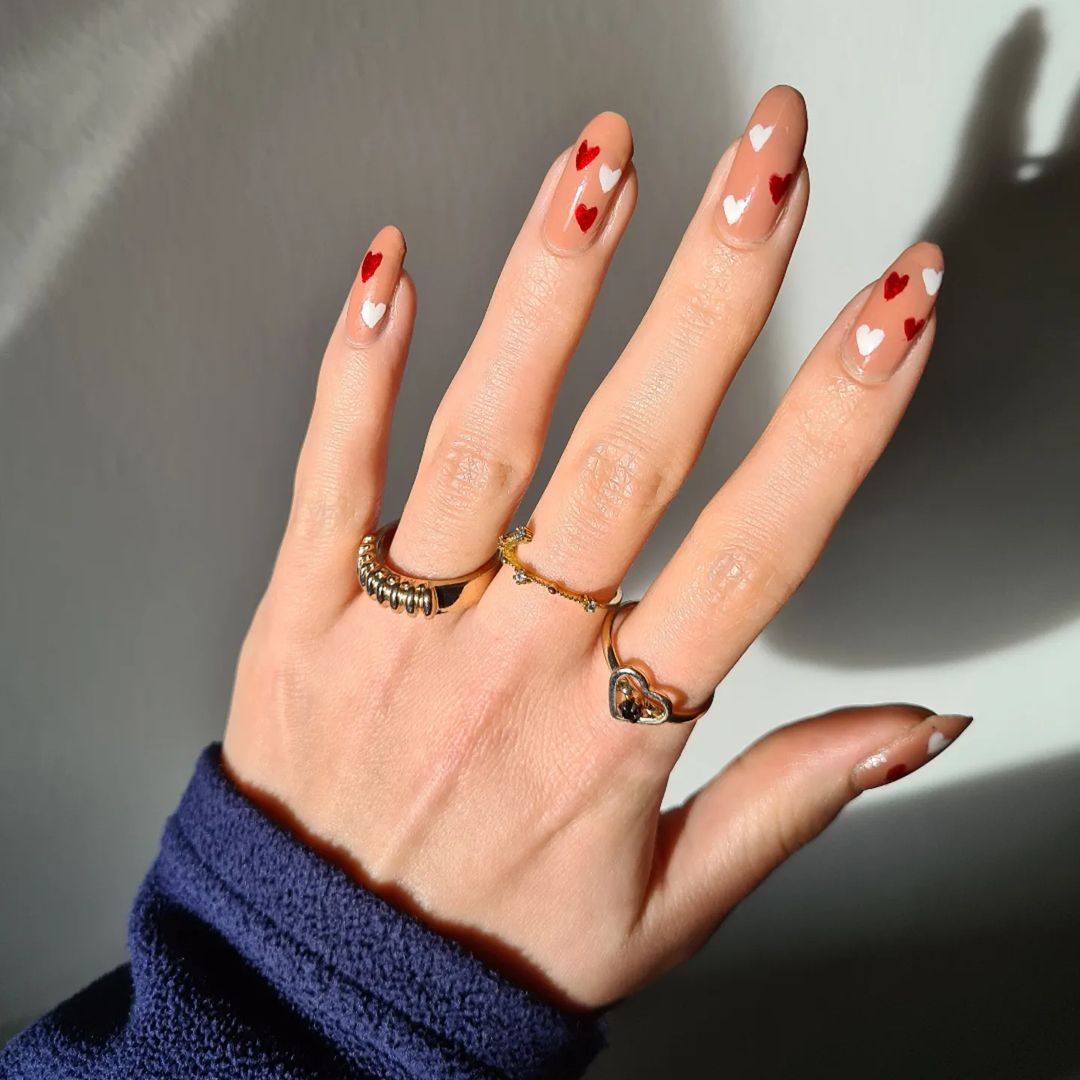 I have seen red, pink, lilac, and black Valentine's Nail designs so far. If that wasn't your jam, maybe art on nude nails is. Since nude goes with anything, you can always pick subtle designs just like this.
14. Zigzag Hearts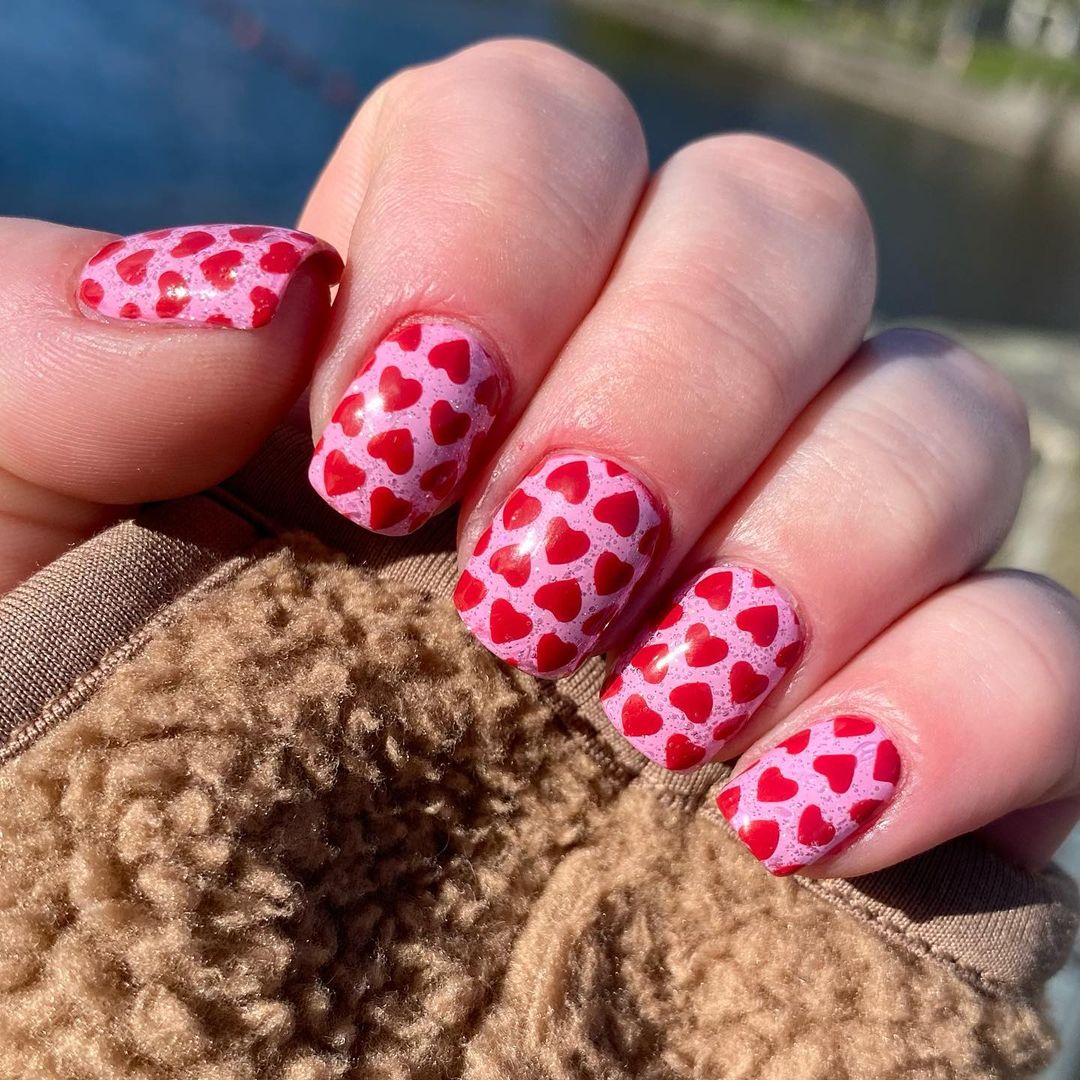 Continuing the saga of nail art with heart, grab a nail art sticker & apply the nail stickers directly to your nails. If DIY hearts with bobby pins or brush is a task, this will be a life savior.
15. Cutesy Hearts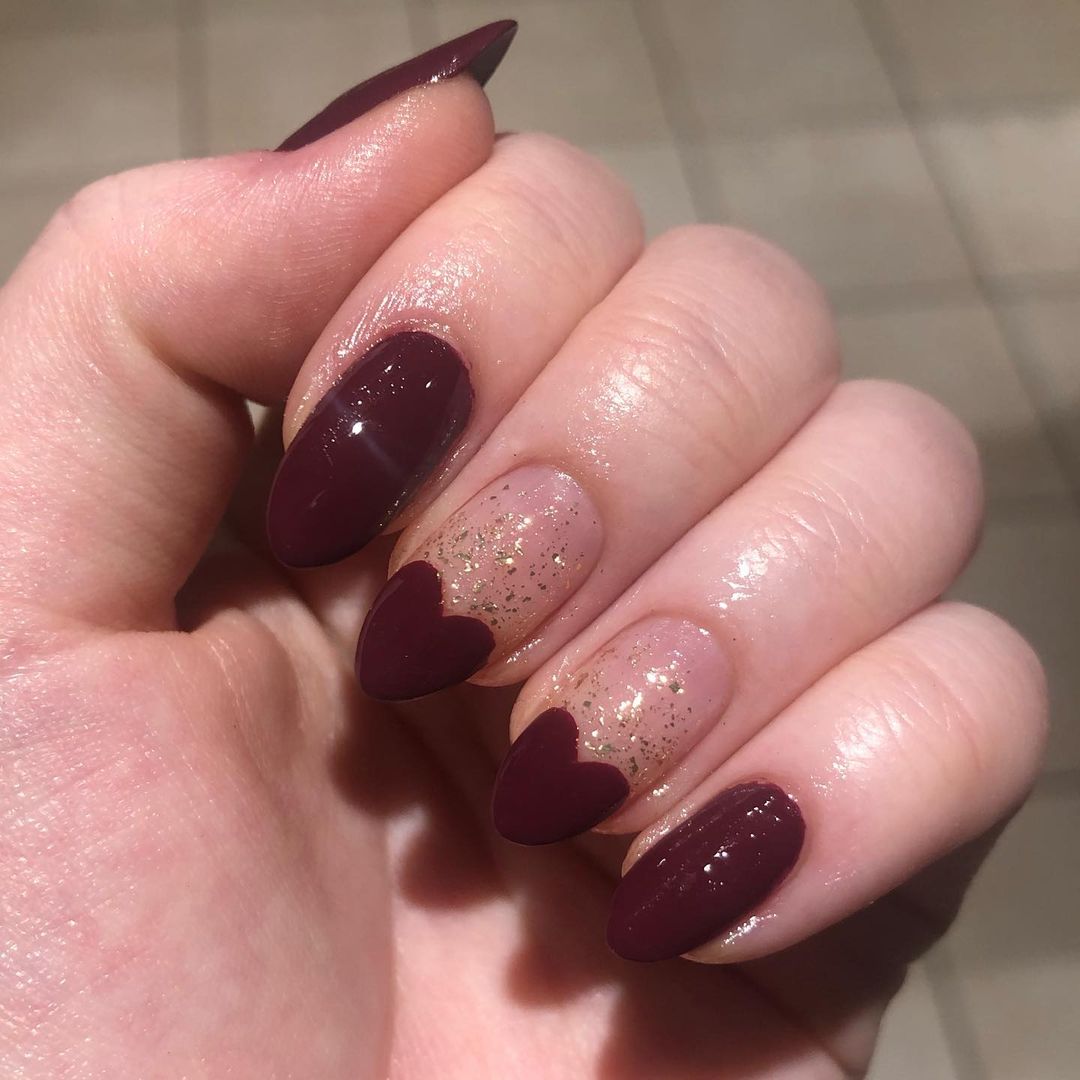 If you loved No. 6 on this list, you would also love this. You can consider the same in pink heart nail tips as well. Get some Essie glitter polish to finish the French Heart tips.
Post You May Like: 51 Beautiful Wedding Nail Art Designs for Brides in 2023
16. Elegant Hearts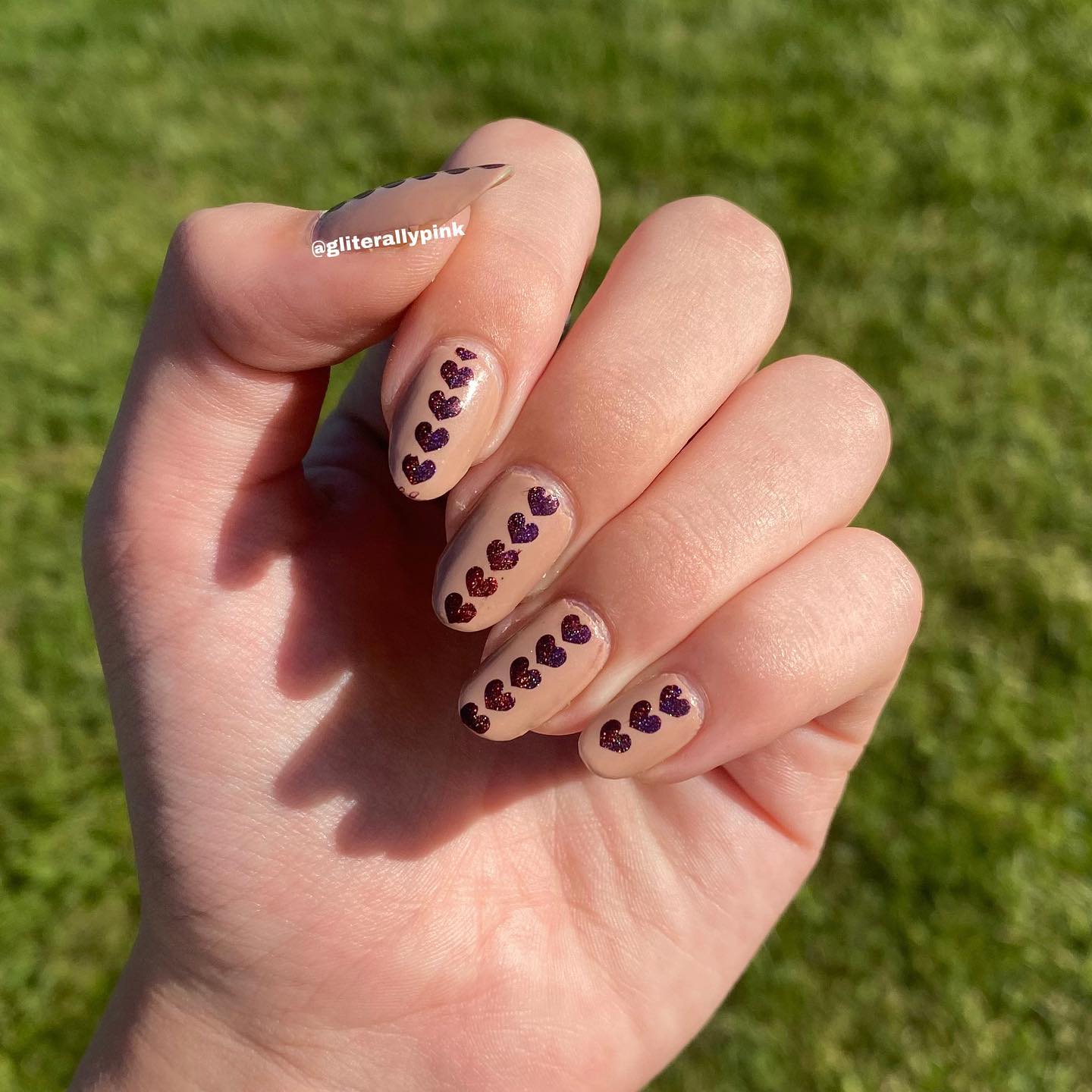 Tiny hearts always make for cute Valentine's Day nails. The series of hearts in one line gives such an elegant & neat look to the nails. You can get this look with nail art stamps easily.
17. Lovey Dovey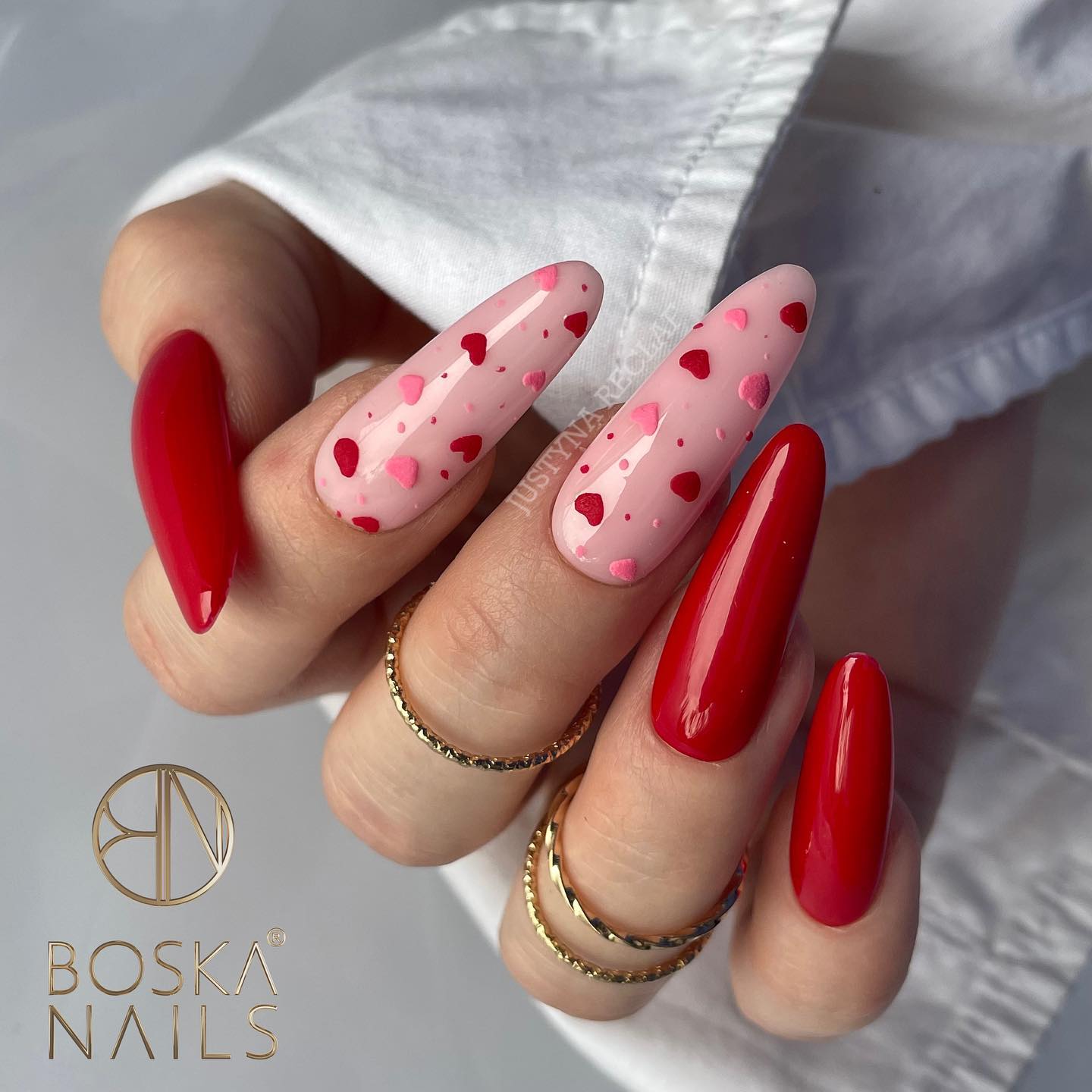 A mixture of pink and red Valentine's Nails is exactly what you need. If you are looking to match the occasion with a cliché design, this is your pick for Valentine's Day Nail Art.
18. White Heart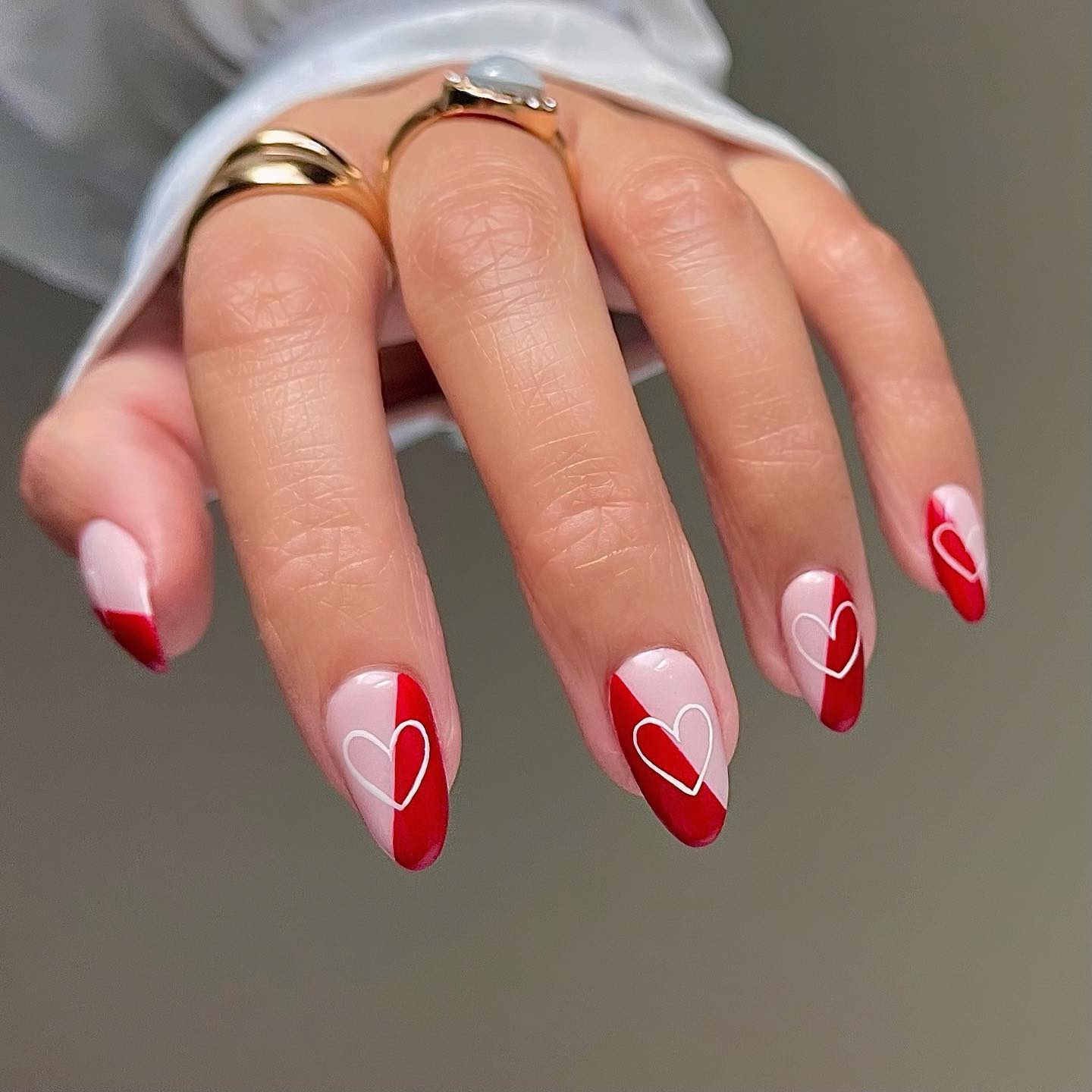 From all the easy Valentine's Day nails, here's another of the same with a distinctive appearance. Grab some nail art tapes and stick on some Valentine's Day special nail art stickers to achieve your fuss-free Valentine's Day nails.
19. Love Letter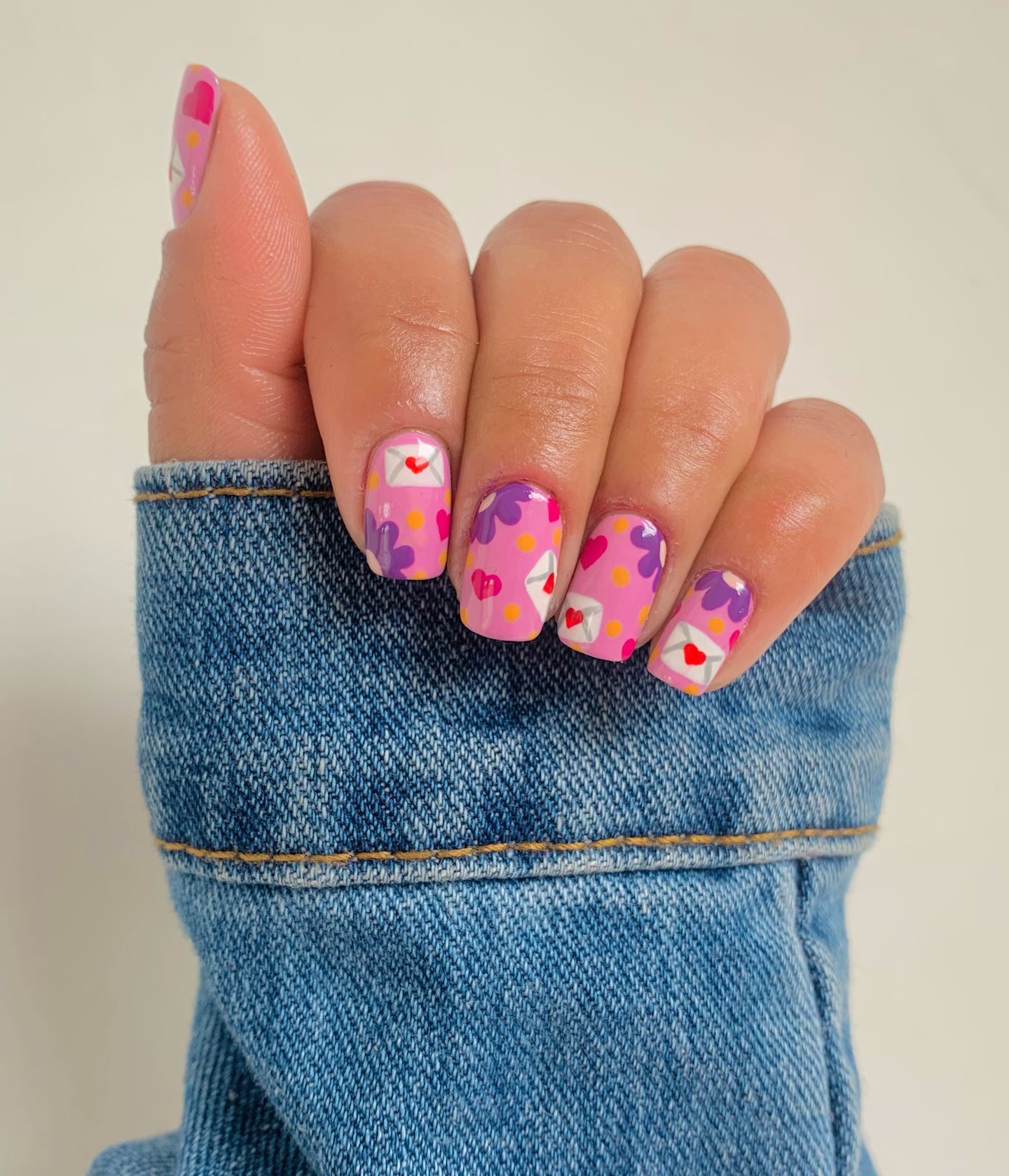 For the love of flowers and purple Valentine's Day nails, I love the extra Valentine's element added to this. The love letter emoji says it all. 💌
20. Holographic Fun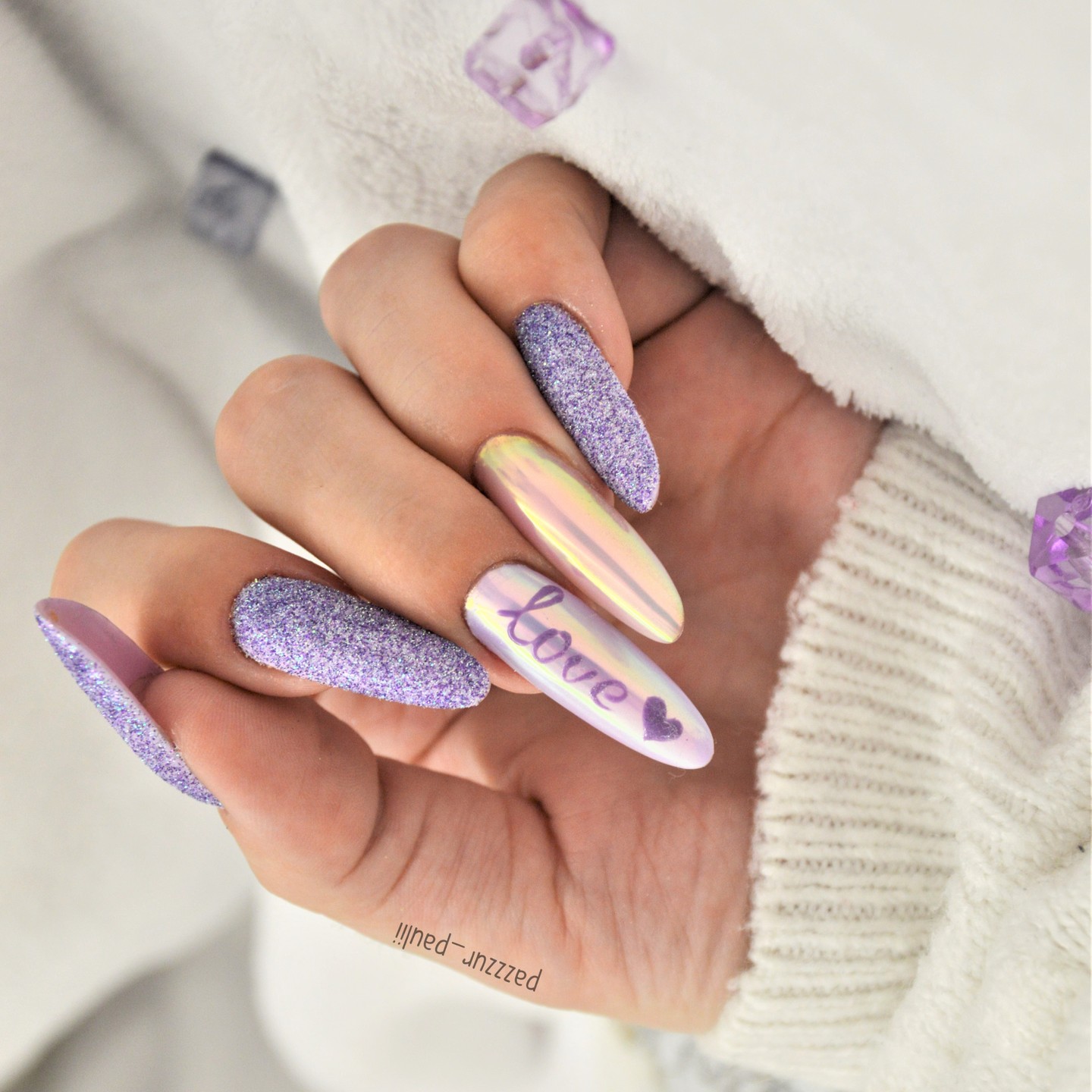 This is a fun V-day nail idea. Holographic was all the rage and looks like it's never going out of style. Pairing OPI Holographic polish with glitter polish will be enough for creating this Valentine's Day Nail Art.
Post You May Like: 51 Stunning Red Nail Art Designs for 2023
21. Multicoloured Tips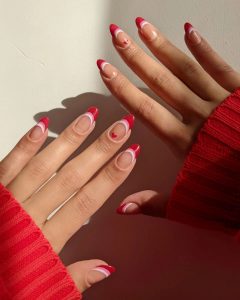 If you've tried anything and everything under the sun, there's a high possibility you haven't tried this. Get these 'Multicoloured Tips' for Valentine's Day nail art for long nails, and let your lover start the first conversation by complimenting your nails.
22. Powder Pink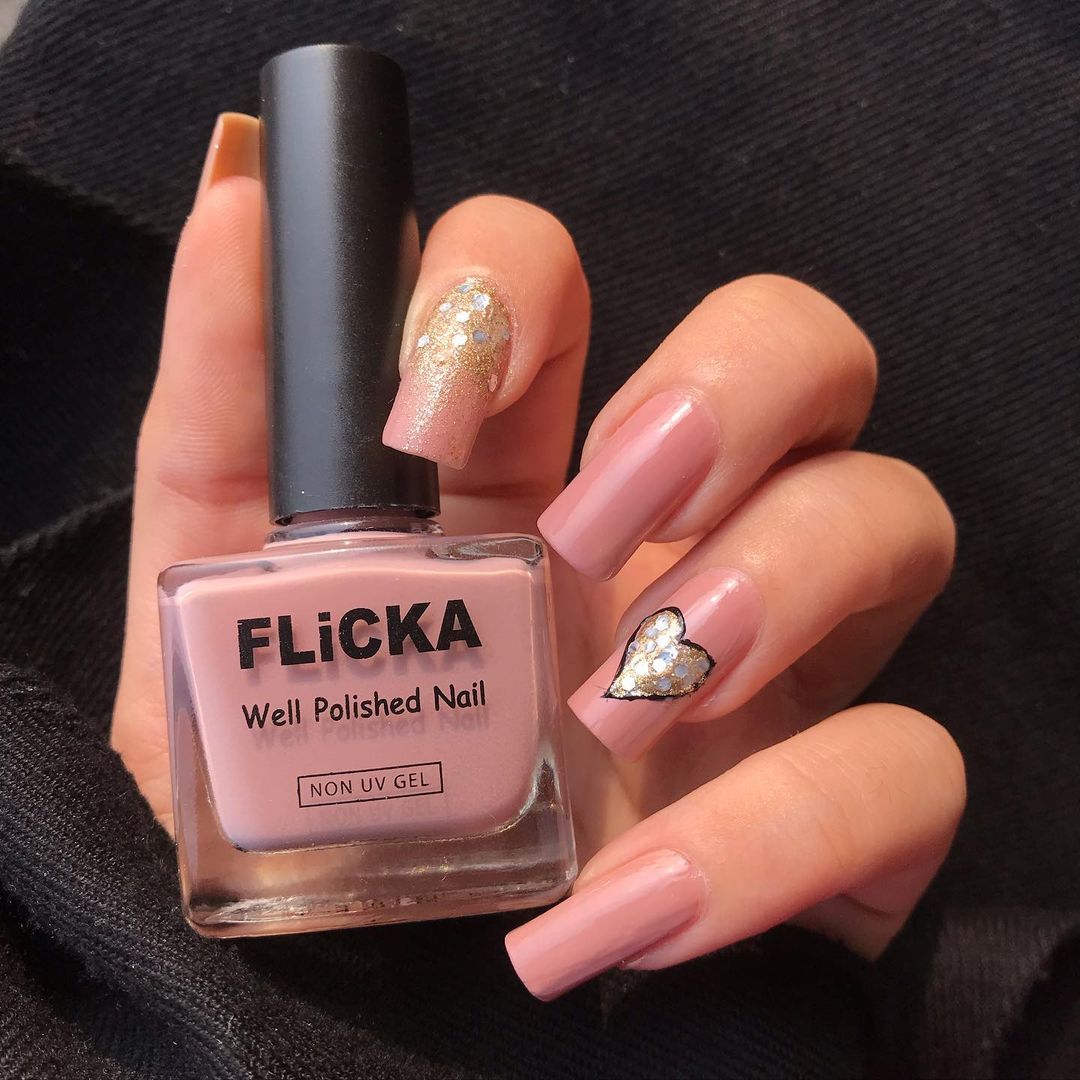 Light pink nail art looks cute irrespective of the length of your nails. Try powder pink for short Valentines' nails or long as well, and just feel yourself. Grab some nail beads or pearls to add that extra pop. Of course, add a heart. 💝
23. Rainbow on Nails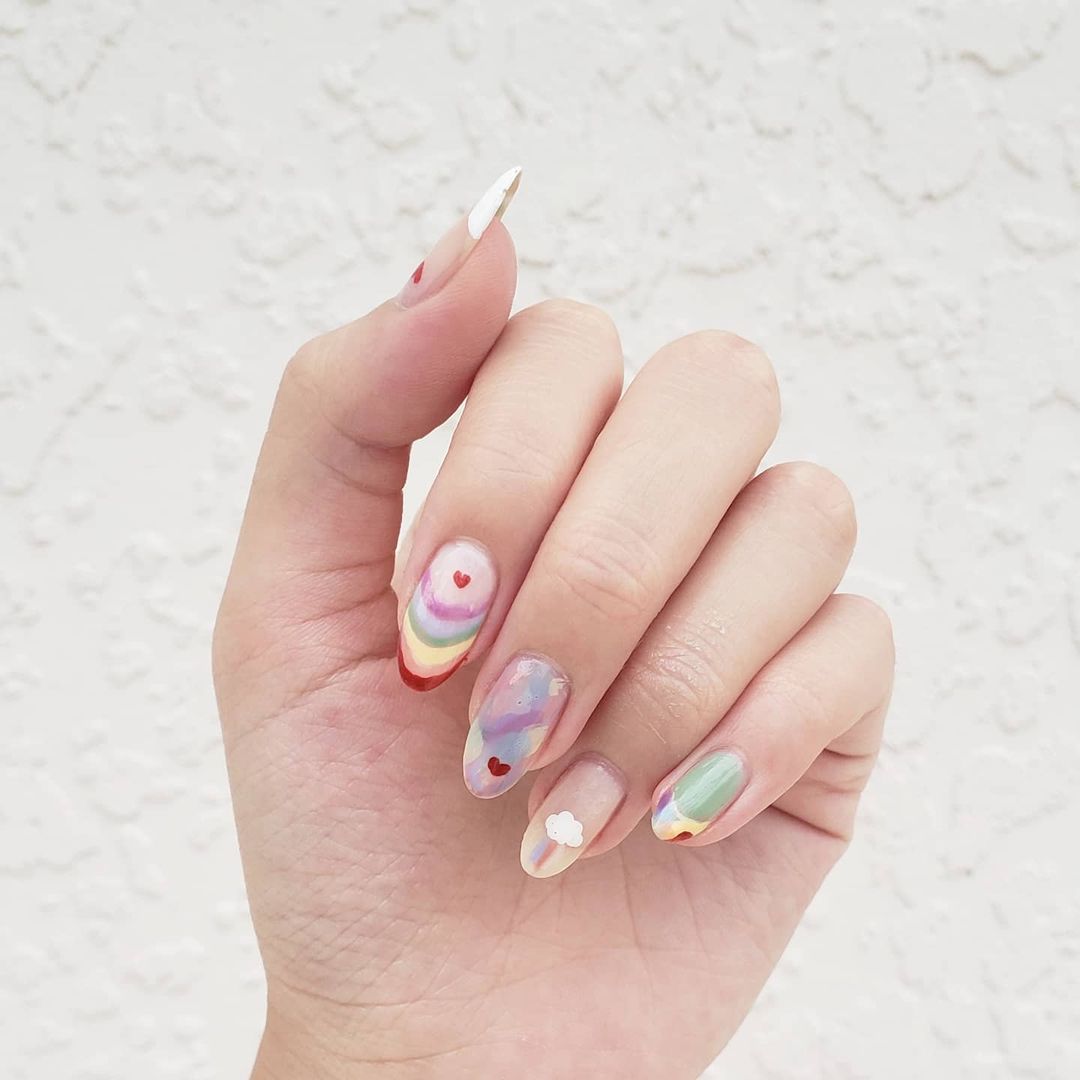 Rainbows and unicorns, all things cute and adorable. Each nail has its unique touch. Furthermore, there's a tiny cloud on the ring fingernail to complete the look. Feel the colorful vibes each day in Valentine's week with this Valentine's manicure.
24. Cupid Valentine Nail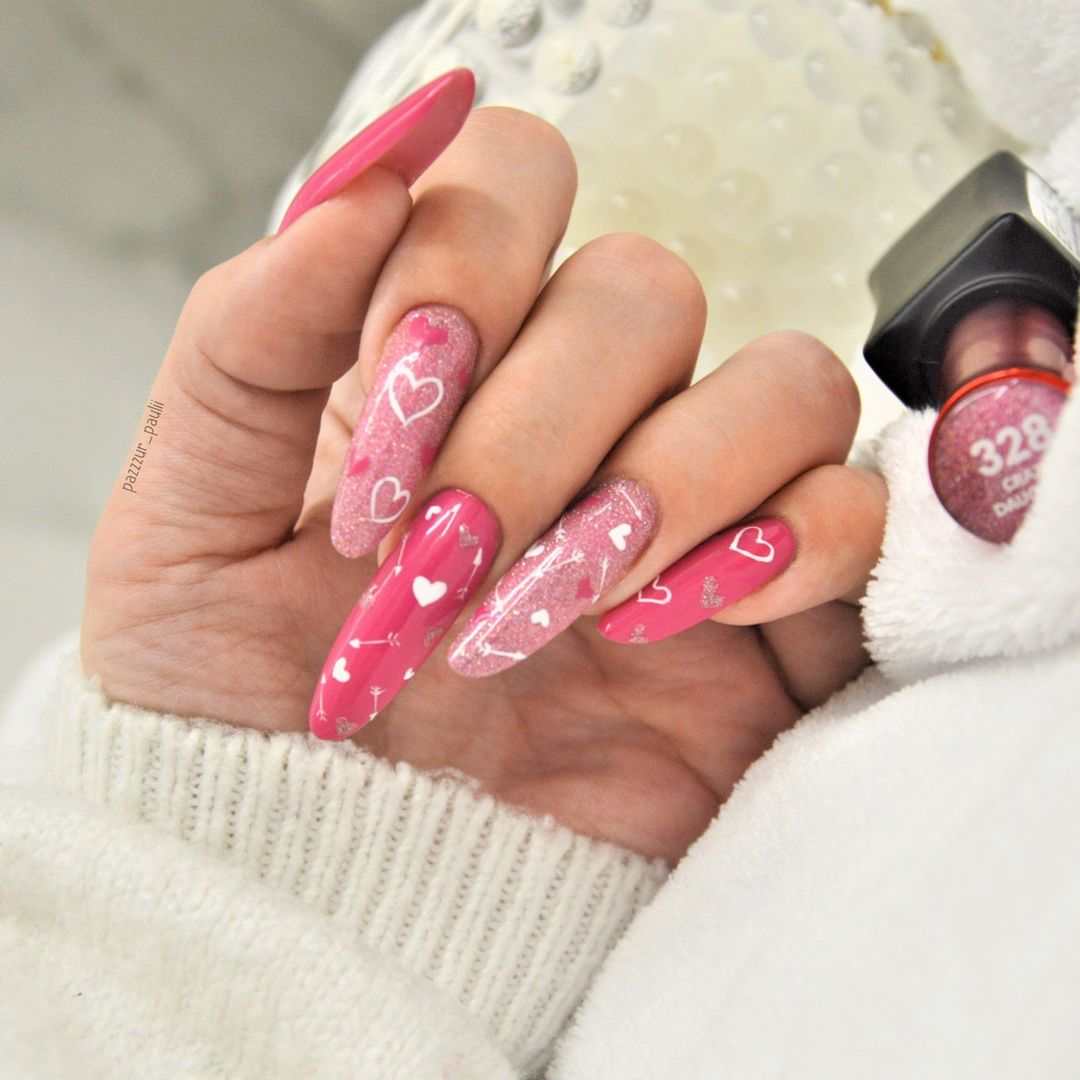 Valentine's can't be without a cupid. If you ever played Cupid to someone, appreciate yourself by getting Cupid's bow manicure. It's time to stand out and acknowledge the part you played with this ravishing nail art.
25. Glitter Valentine Nail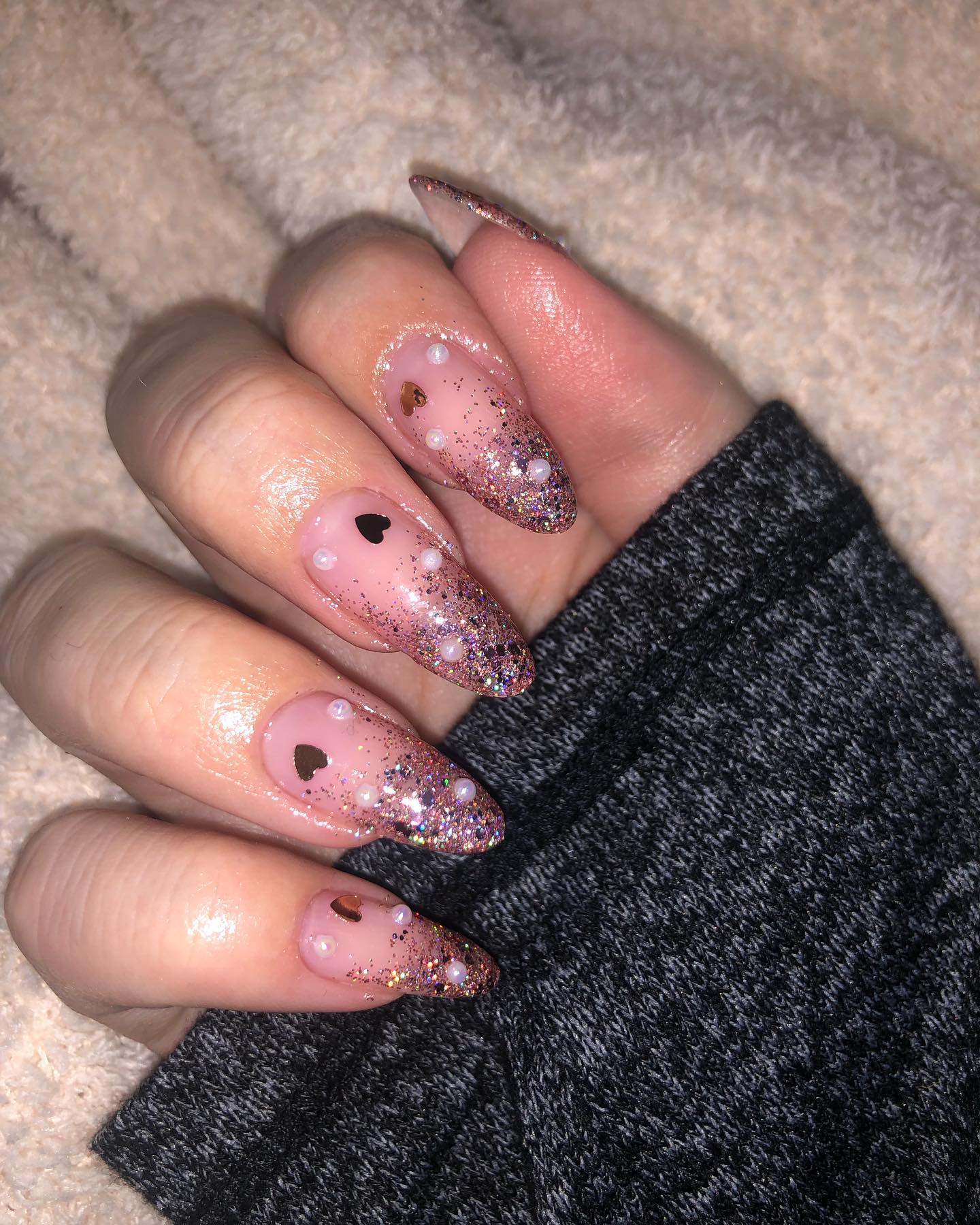 This one's for the sleepover plans you might have. If you are planning or attending a Galentine's, get nail beads, pearls, and glitter for a fun DIY Valentine's Day Nail Art session with your girls!
26. Series Valentine Nail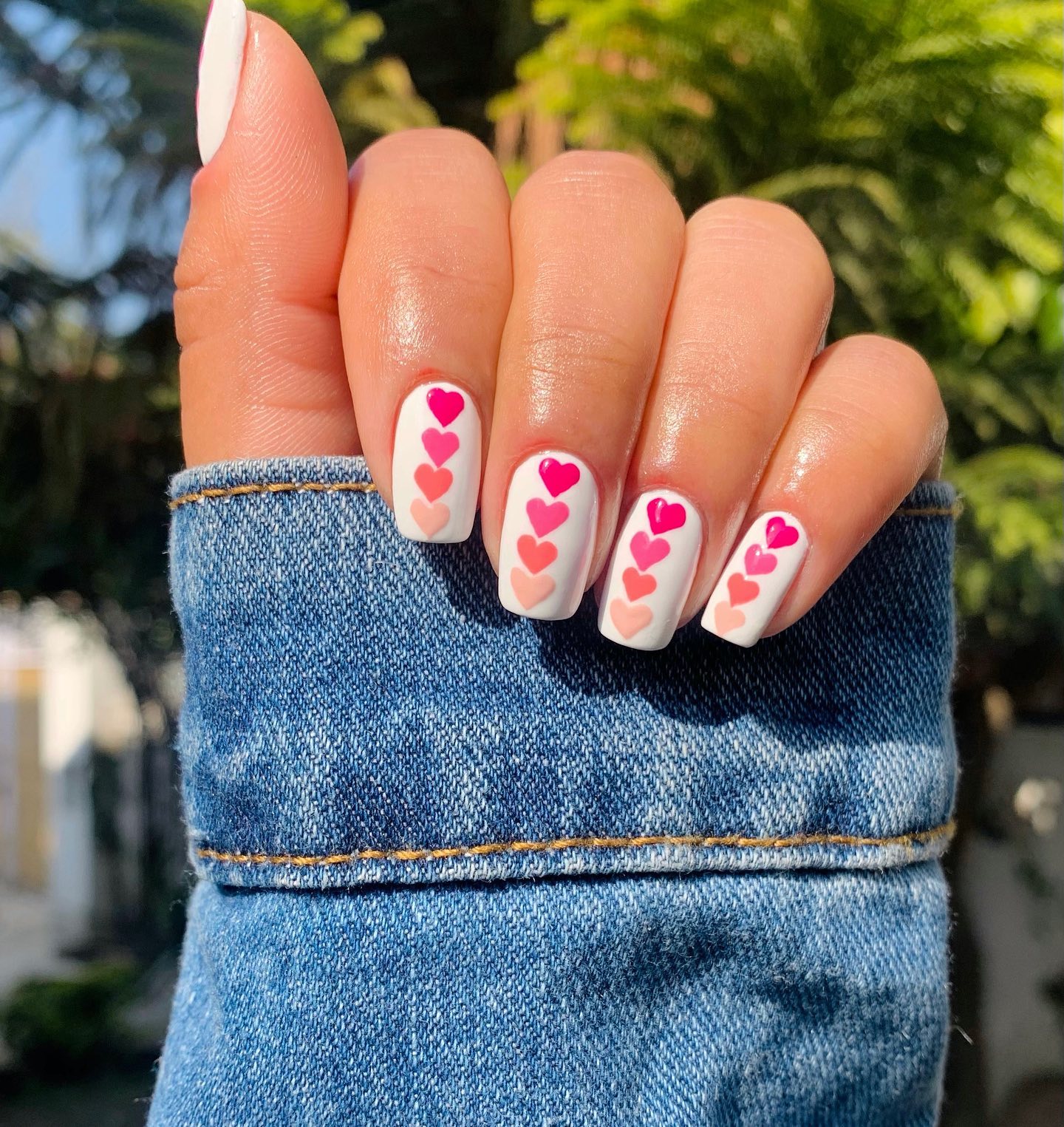 Something similar to No.16, this nail art is elegant+chic+adorable at the same time. The combination of all the warm colors on a white base will be your go-to look, irrespective of Valentine's Day!
27. Hoofing Hearts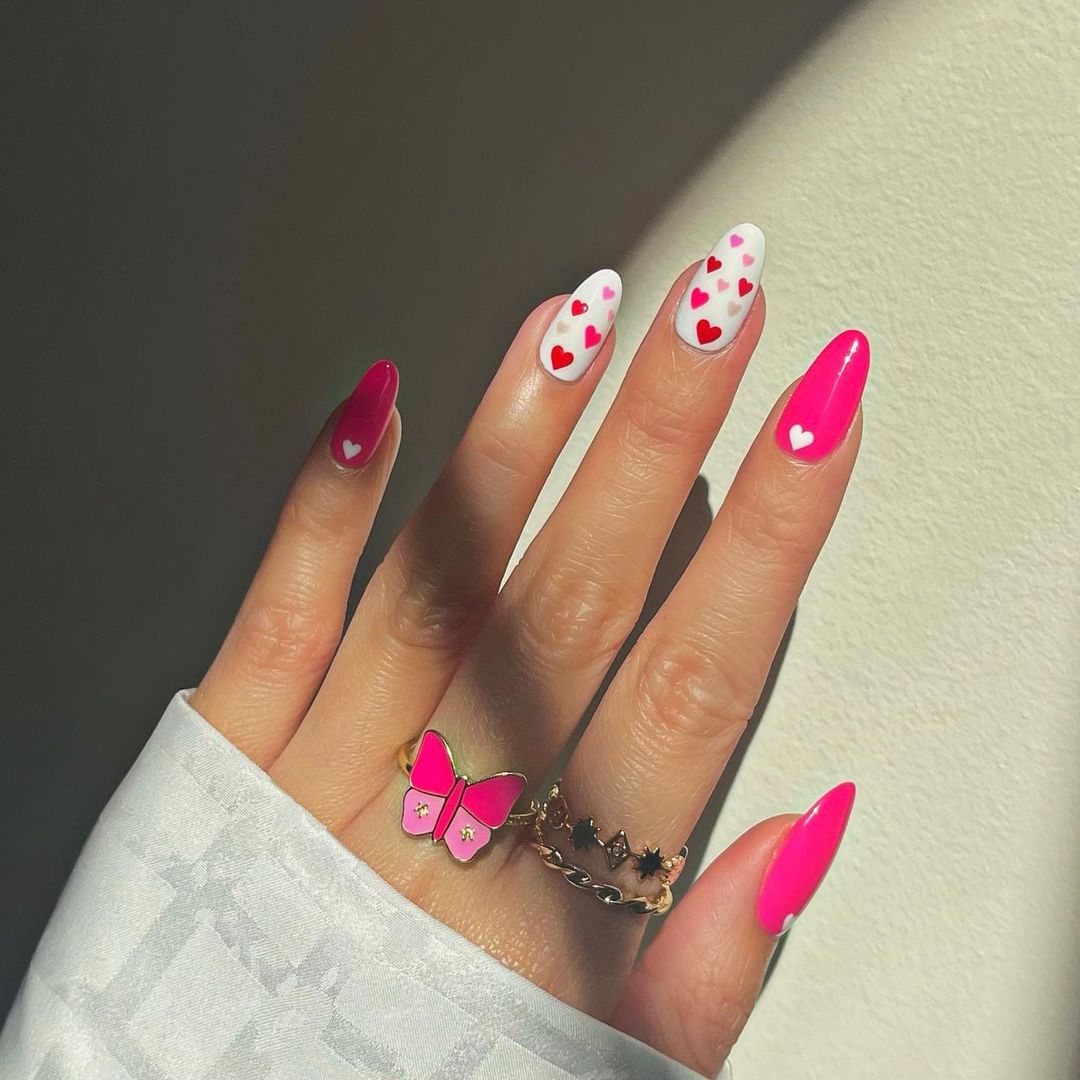 If you made it till here, I wouldn't say a word more for tiny hearts. You know by now that they will add up the cuteness factor of your manicure to the desired level.
28. Metallic Valentine Nail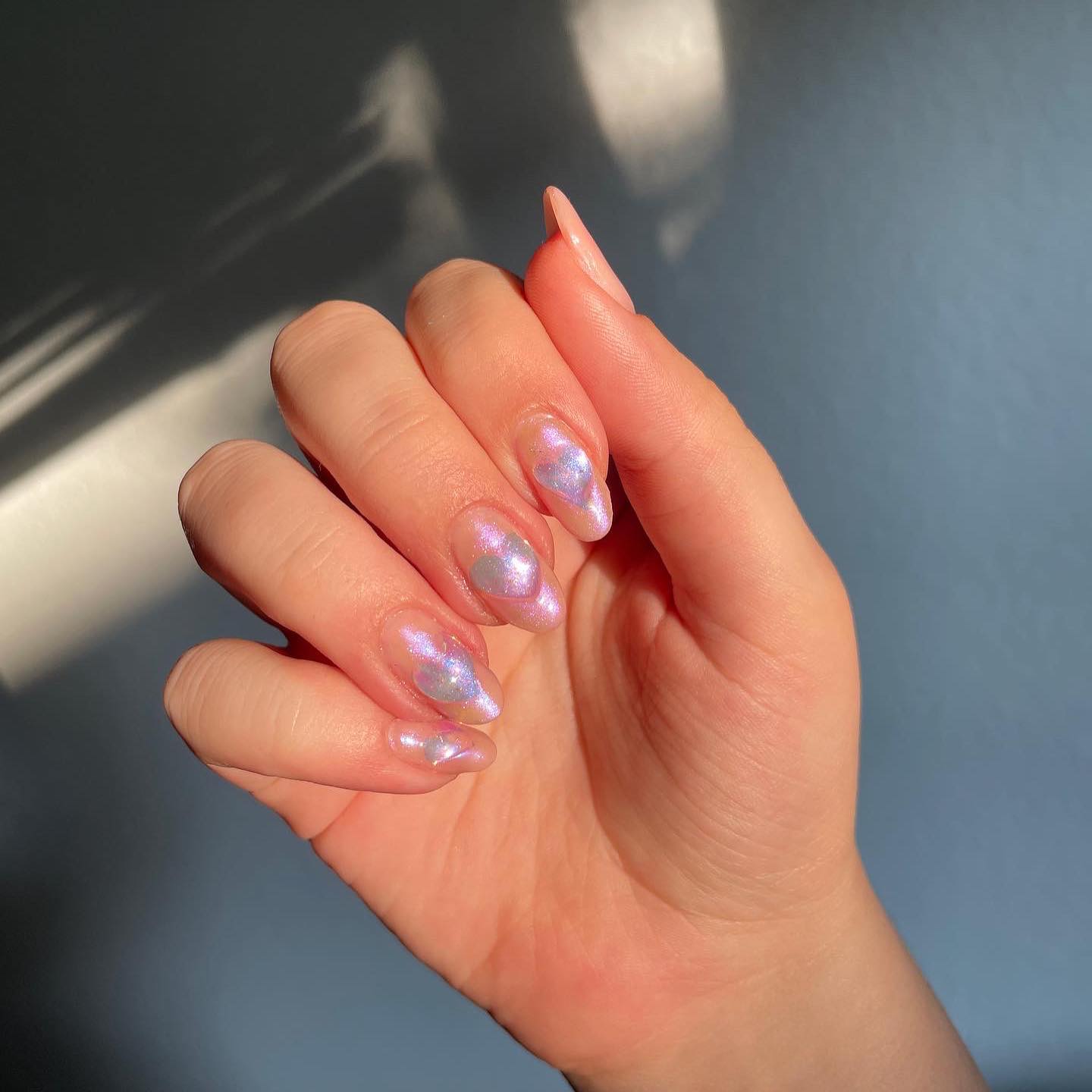 3D metallic hearts? Yes, please! Pairing these Valentine's Day Nail Art with a poppy pink or red outfit for the Valentine will give you the shimmer and glamor you are looking for a night out! Besides, these nails remind me of the trendy glazed donut nails that Hailey Bieber came with.
29. Textual Nail Art
By the looks of it, it is a fun partner activity. Apply your favorite light pink & ask your partner to write "I Love U" with a brush dipped in red nail paint! And that's obviously the cutest way to begin Valentine's celebration. 💕
30. French Valentine Nail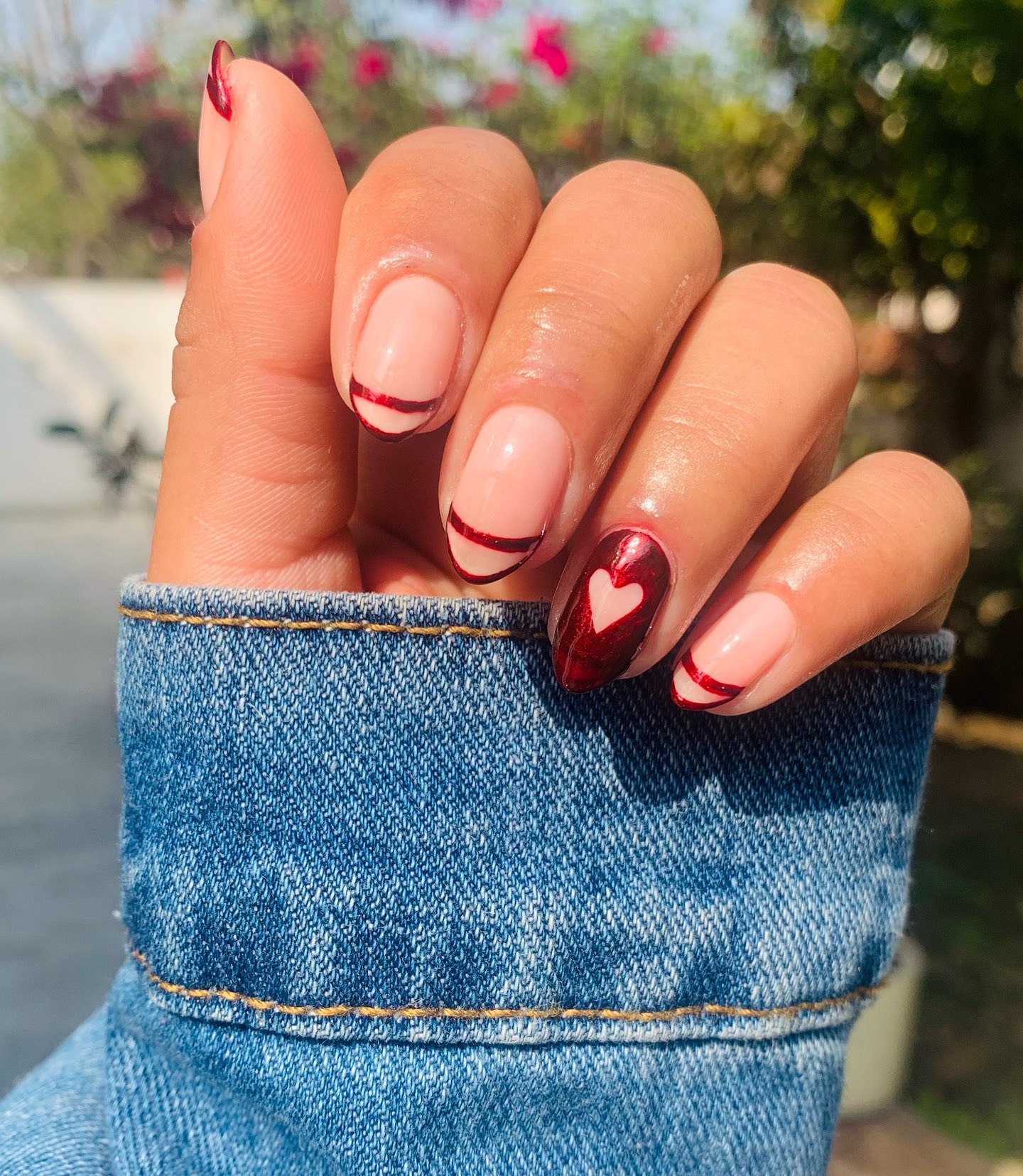 We have already seen French heart tips & layered multicolored tips; check out these faux nail tips. The inclusion of a heart on the ring fingernail and the illusion of a French tip on the rest make this nail art a perfect Valentine's Day Nail Art.
31. Stripes & Hearts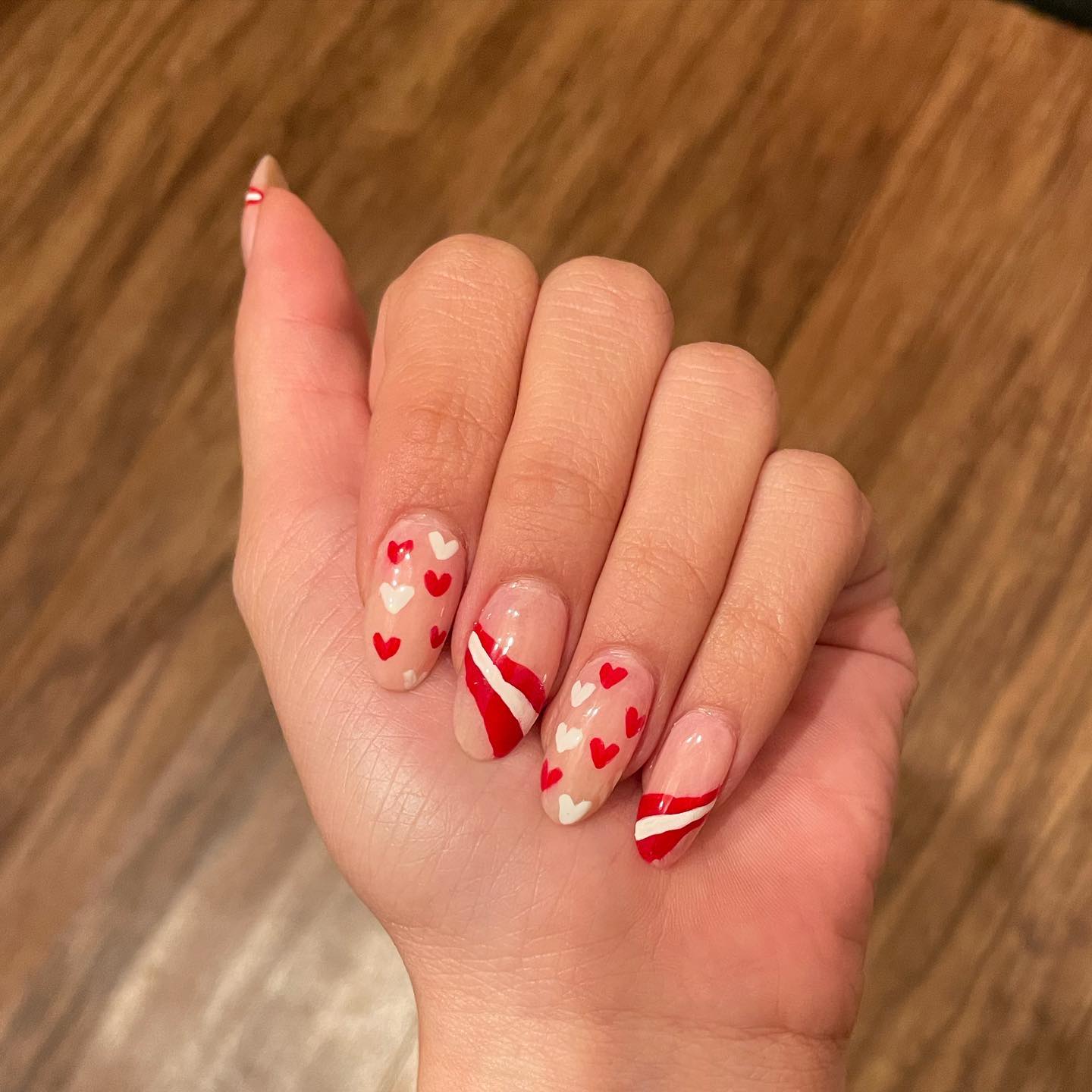 Another fun DIY nail art for V-day using stripping tapes or nail brushes. No fancy glitter or colorful patterns, just plain old red stripes and hearts. Simple and Sober!
32. Heart Emoji
Let's be a little creative with heart emojis to overdraw the glimpse of the Valentine's Nails. If you're planning to go for a coffee date, why not try a coffee brown manicure to match the occasion?
33. Popping Hearts
There's no color that won't go with white. You can never go wrong with a colorful theme on white, and this nail art right here is the perfect example. Get multicolored heart nail art stickers, and you have the look!
34. The Powerpuff Girls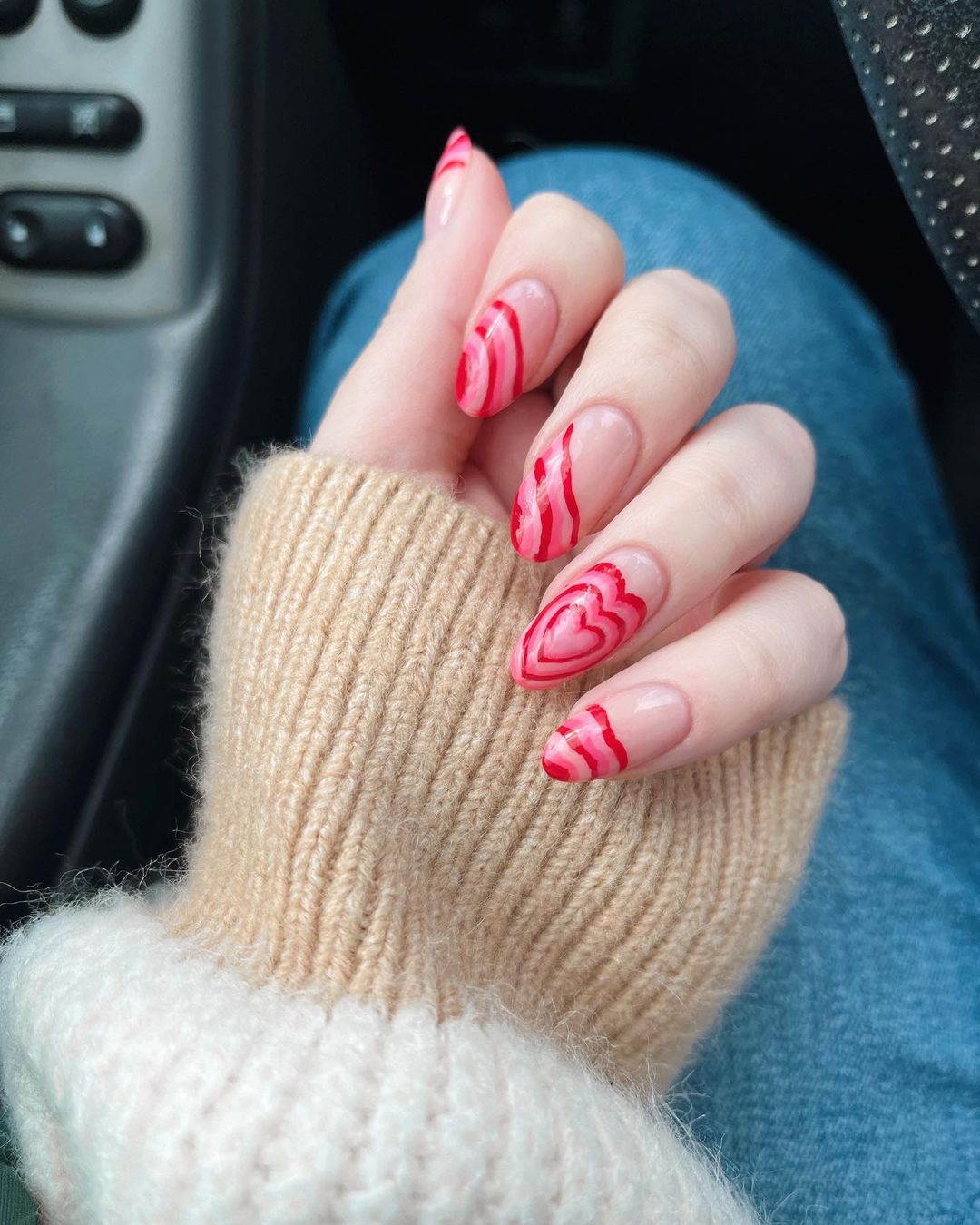 The ring fingernail design reminds me of the theme of "The Powerpuff Girls." It might require a lot more patience than the normal striped nails, but I am sure it's going to be worth it in the end.
35. Heart in Clouds
Bored of plain hearts? Grab a nail sponge to create this sponge effect on the nails for the extra glam that you are looking for! You can give this a try with some nail glitter too!
36. Simply Swirly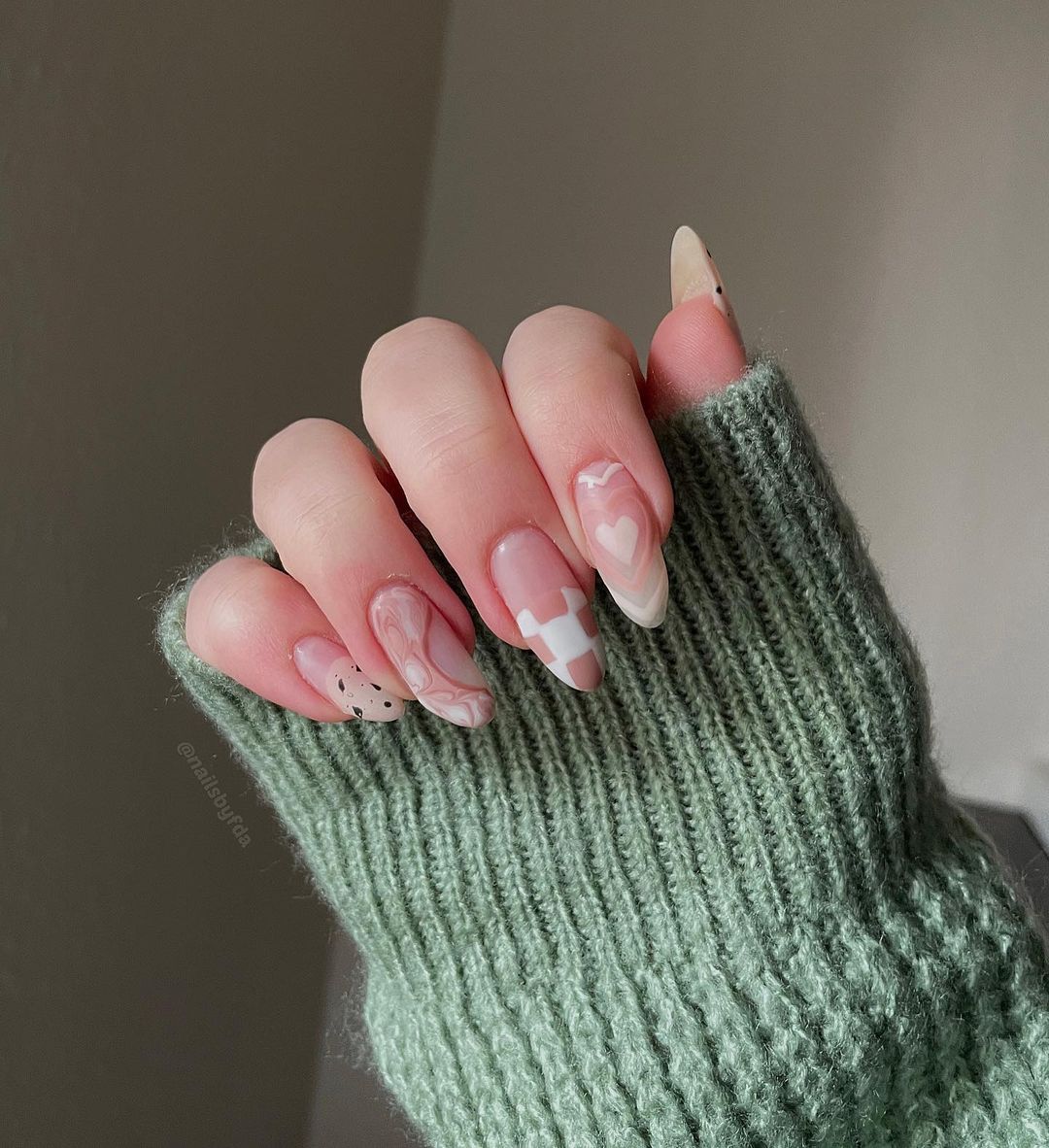 Keeping up with the trendy patterns, here's another take on the same. The swirly marble patterns with a trippy heart work pleasingly and deliver a premium touch to your nails, making you ready for the perfect Valentine's date.
37. Butterfl(y)ower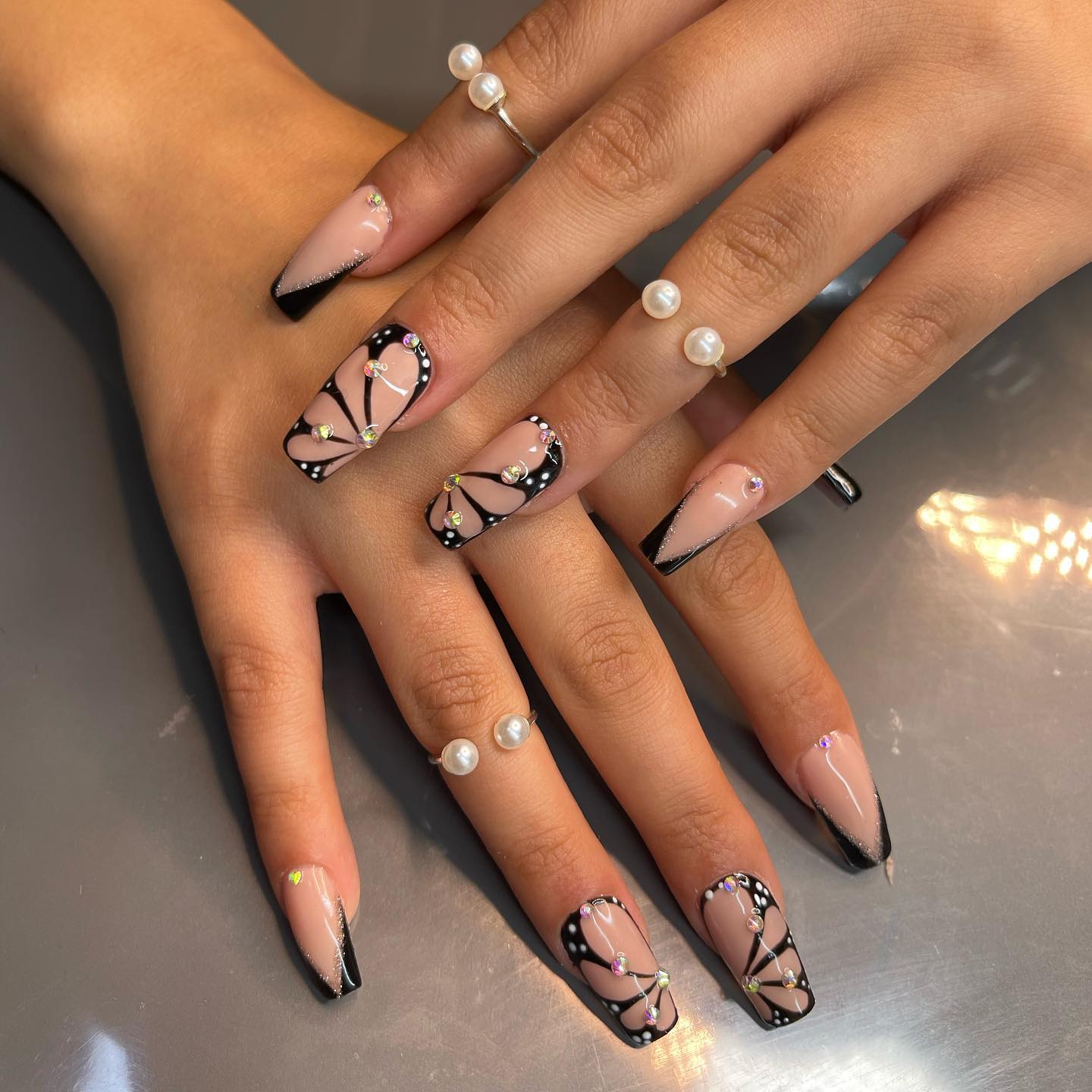 From the entire list, this has to be the fanciest one to try out. Butterfly wings and rhinestones with slight glitter lines on the tips are all the glam you need for Valentine's Day Nail Art.
38. XOXO Gossip Girl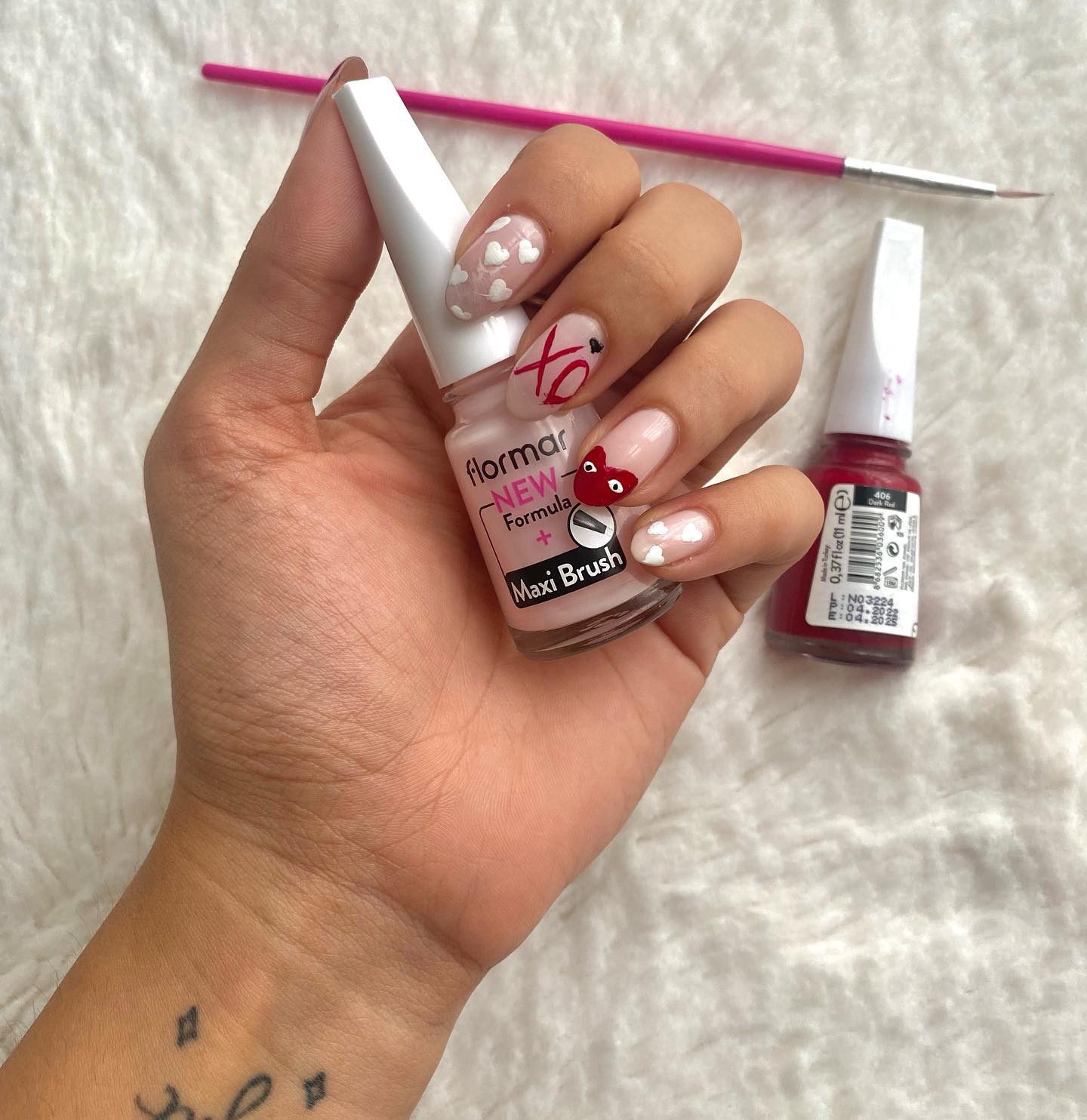 Of all things I have discussed so far, this design has it all. From tiny hearts, red color, Valentine's theme patterns, and the evil eye, undoubtedly, this design is the complete set for Valentine's Day special.
39. Green Little Riding Hood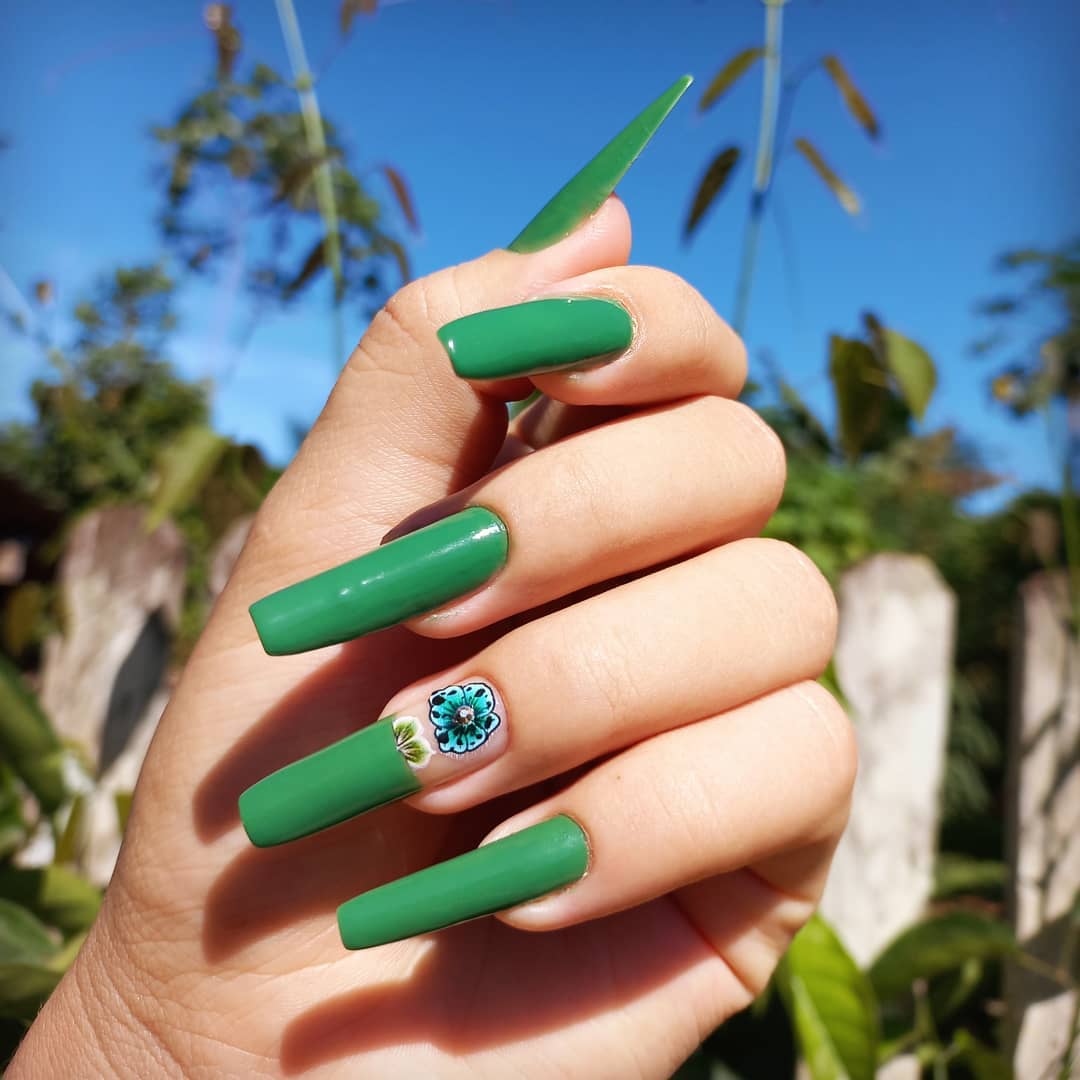 I don't know why but I feel this green nail art is so lovin' and might be because of the attractiveness of the long nails. I'll surely try this design once my nails grow that long. This is for the nature lovers out there if your Valentine this year is your houseplants. That could be a thing, right? 🌼
40. Swirly Red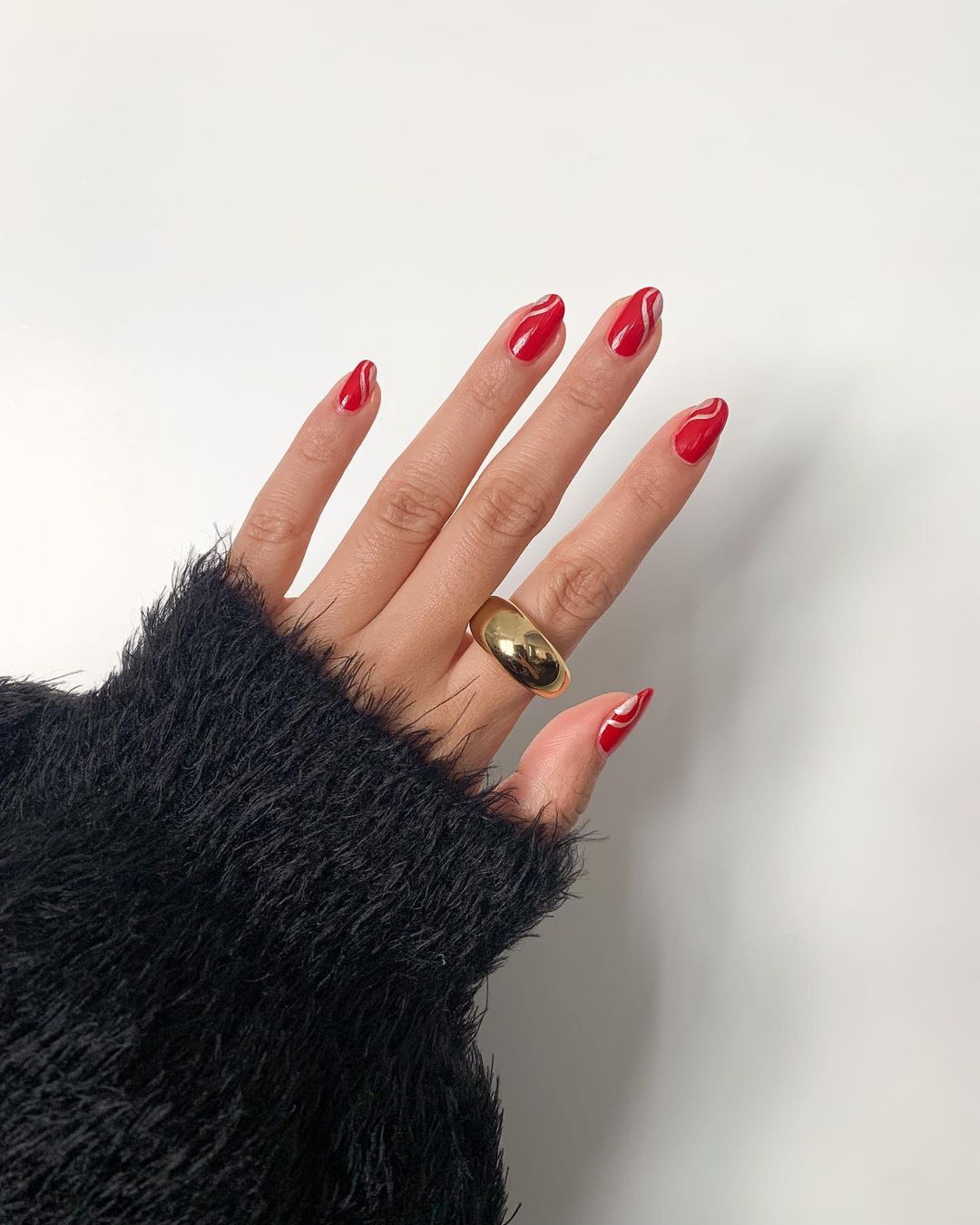 Pearl metallic swirls using a tiny detail brush on classic bold red nails. Random lines and swirls have become increasingly popular, given the free flow and easy look it gives to the nails.
41. Popping Hearts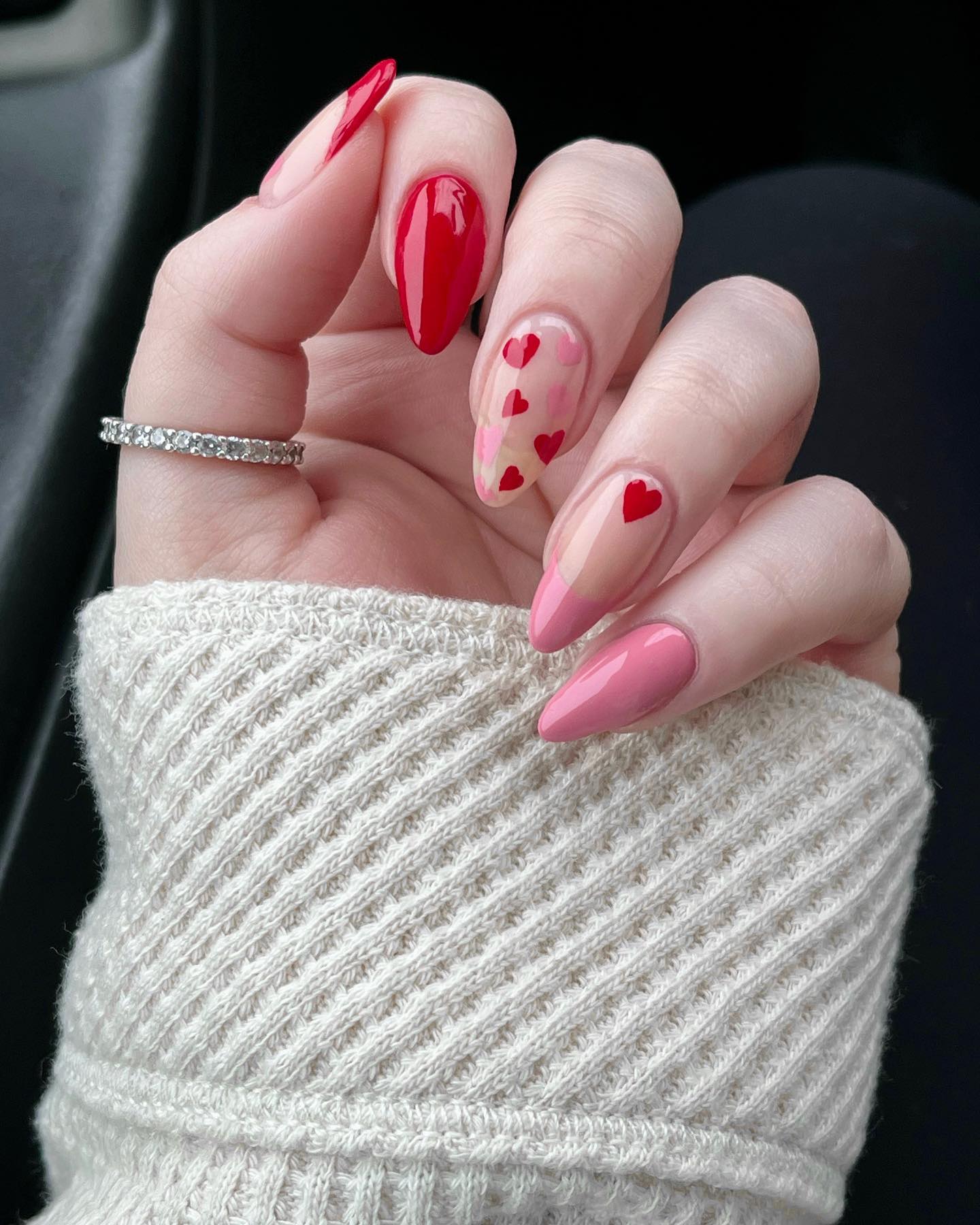 A perfect Valentine's inspo nail art. The red, pink, and every cute thing present in this nail art is enough to bring a busy day full of compliments.
42. Chaotic Romance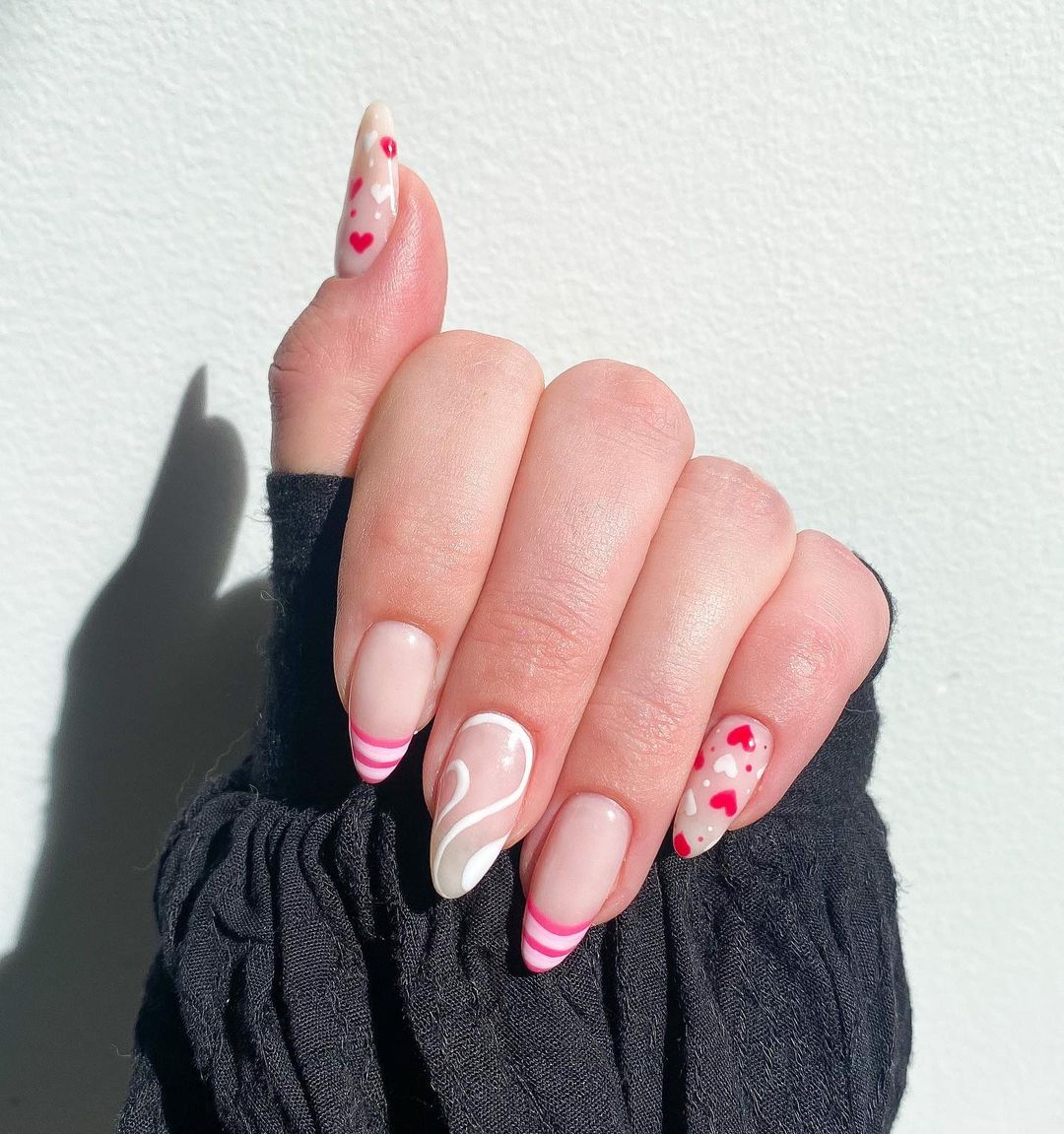 From swirl to French tips magnified with nail art tape strips and then hearts in red and white color, don't you think you got all you need for your Valentine's Day?
43. Love in Gradient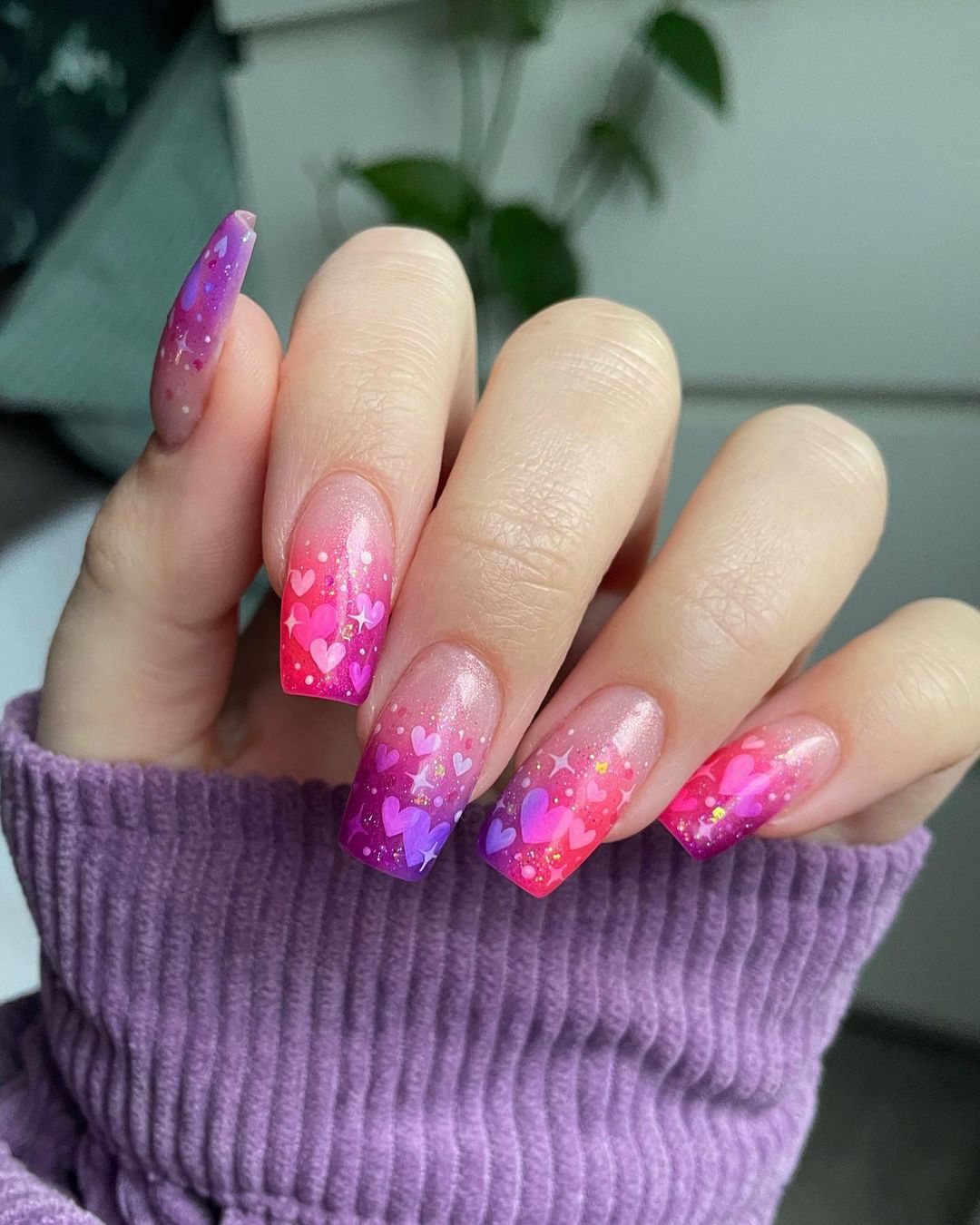 An eye-catching Valentine's special nail art for acrylic lovers. The square nails will fit the theme. The gradient finishing in the nail art can be achieved with a nail art airbrush.
44. Chocolate love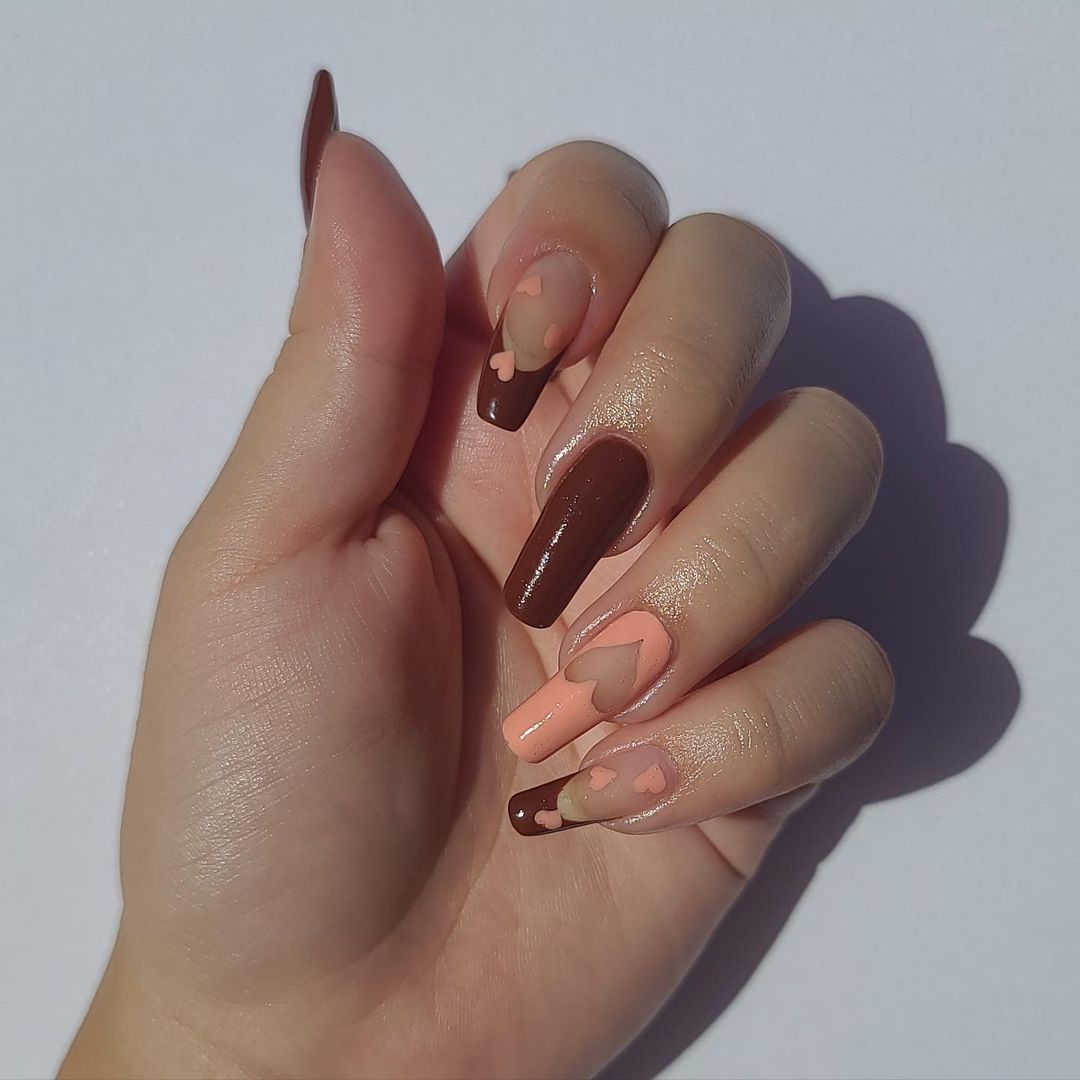 This is a perfect DIY and free-hand nail art idea for completing your Valentine's Day look. Place a paper heart on your ring finger followed by a base coat application, after painting, remove the heart and finish the art with a top coat.
45. Heart Tips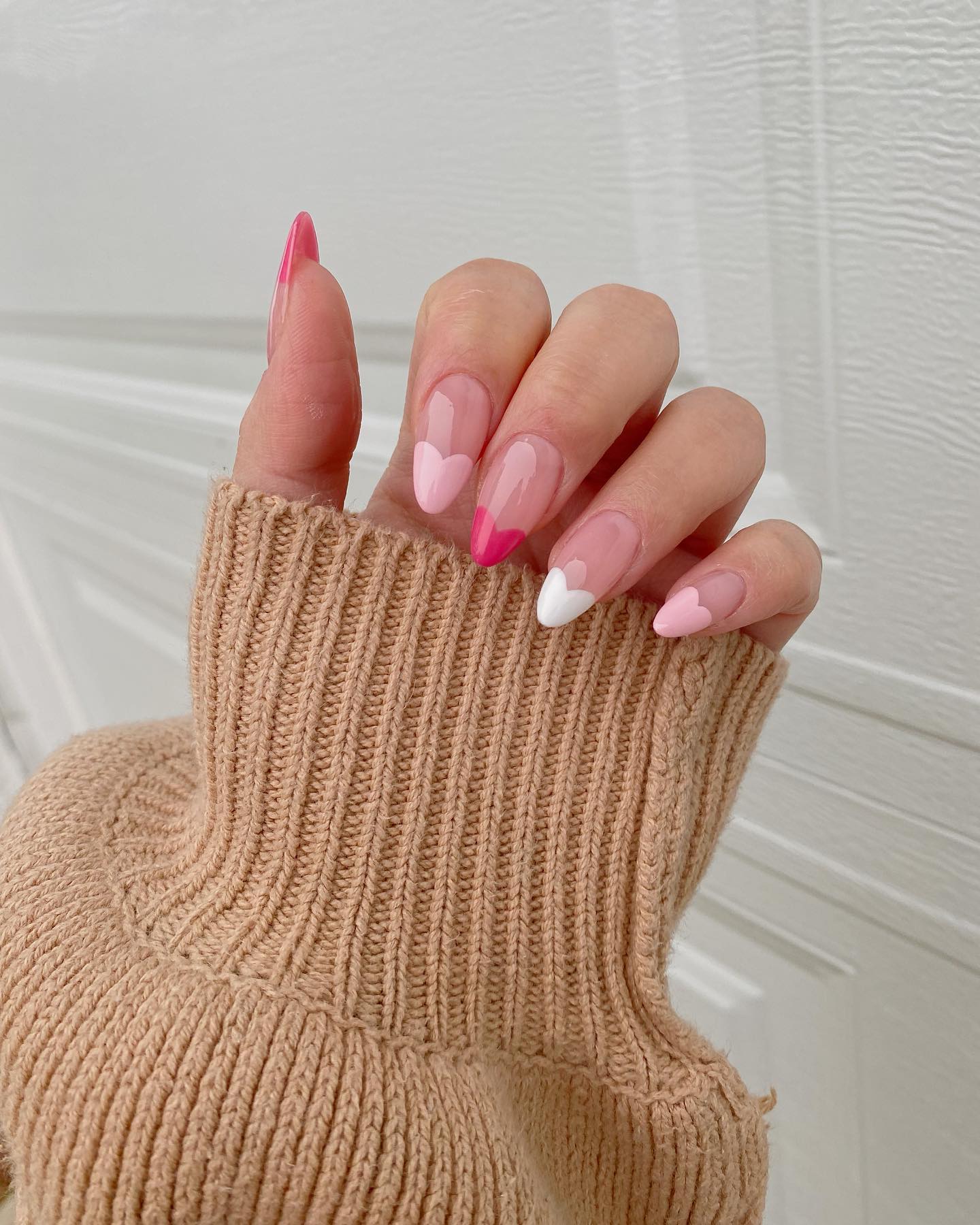 The best nail art pick for Valentine's Day for all almond nails lover! Unlike French tips, in this nail art, the tips are perfectly filled with colorful hearts giving the nail art a perfect look for swaying with the vibe of Valentine's Day.
46. Purple Heart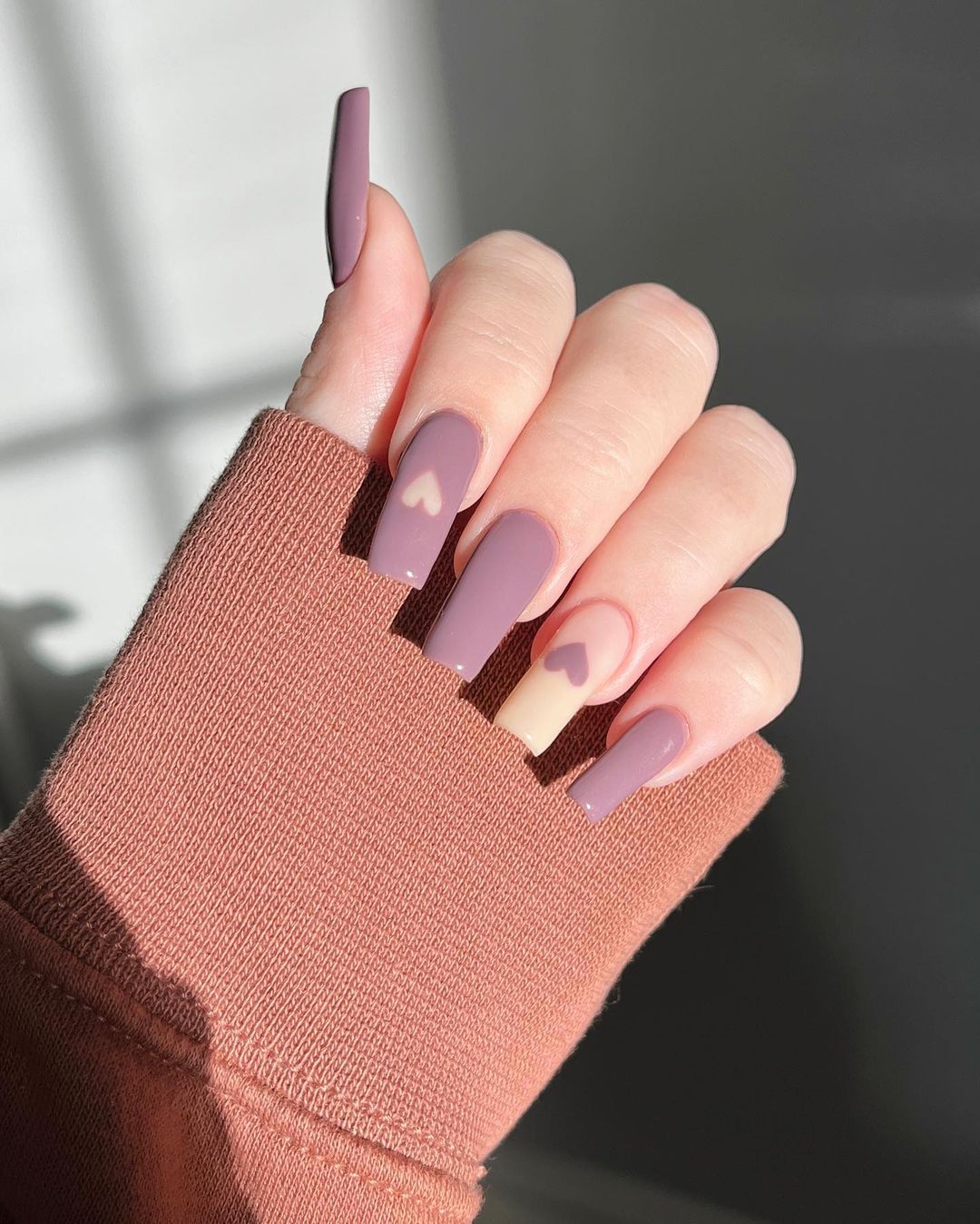 If you aren't so much into red and pink or want to try a new color for Valentine's inspo, you can certainly go with purple. Though you can create the same nail art in red or white but purple will super aesthetically embellish you for this Valentine's Day.
47. Cutesy Red Tips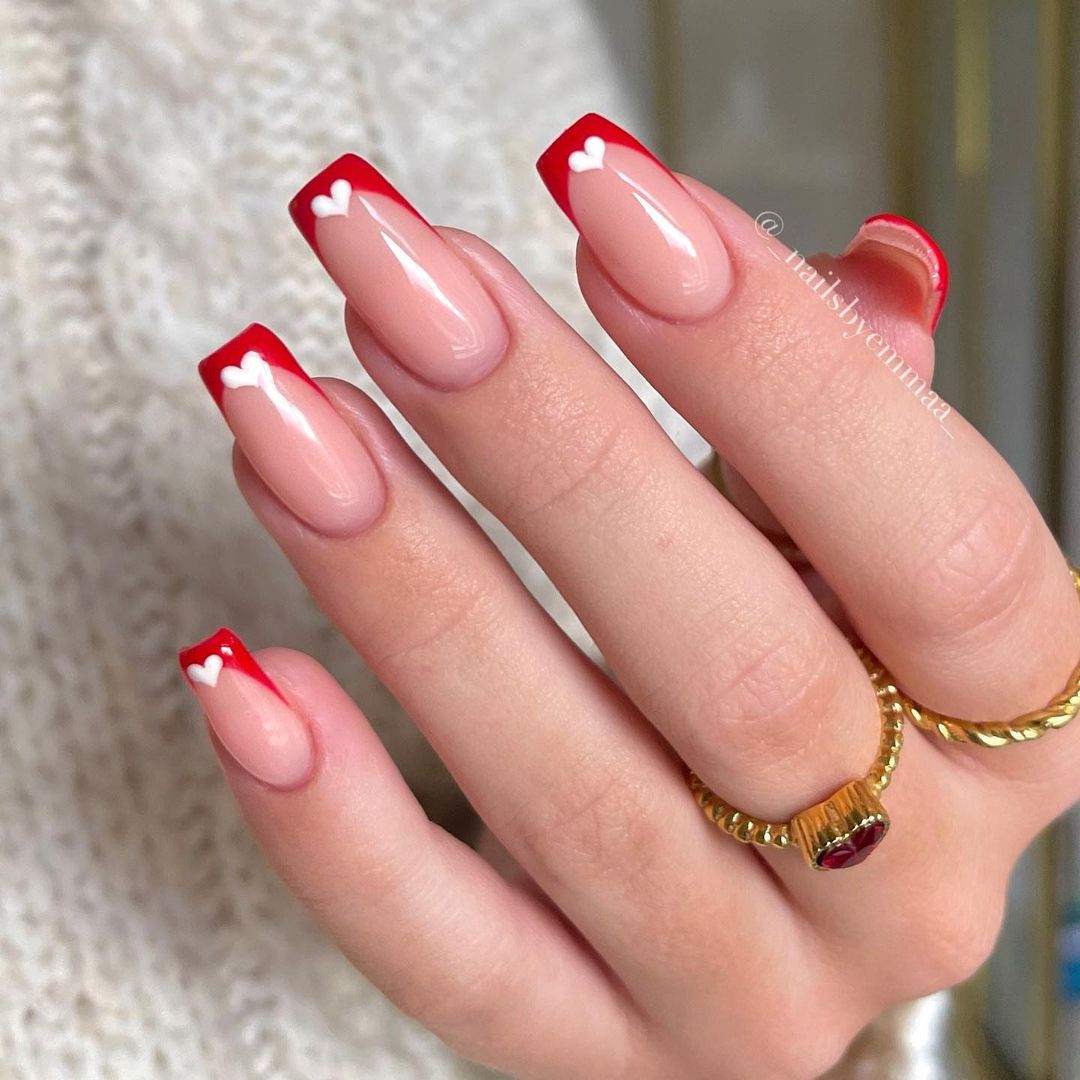 Gone are the days when nail tips used to be only white. This design has brought a whole new idea where tips are painted red and hearts just on it painted white. Get fiesta red for that exquisite pop out and seal the nail art with a high glossy top coat.
48. Valentine's in B&W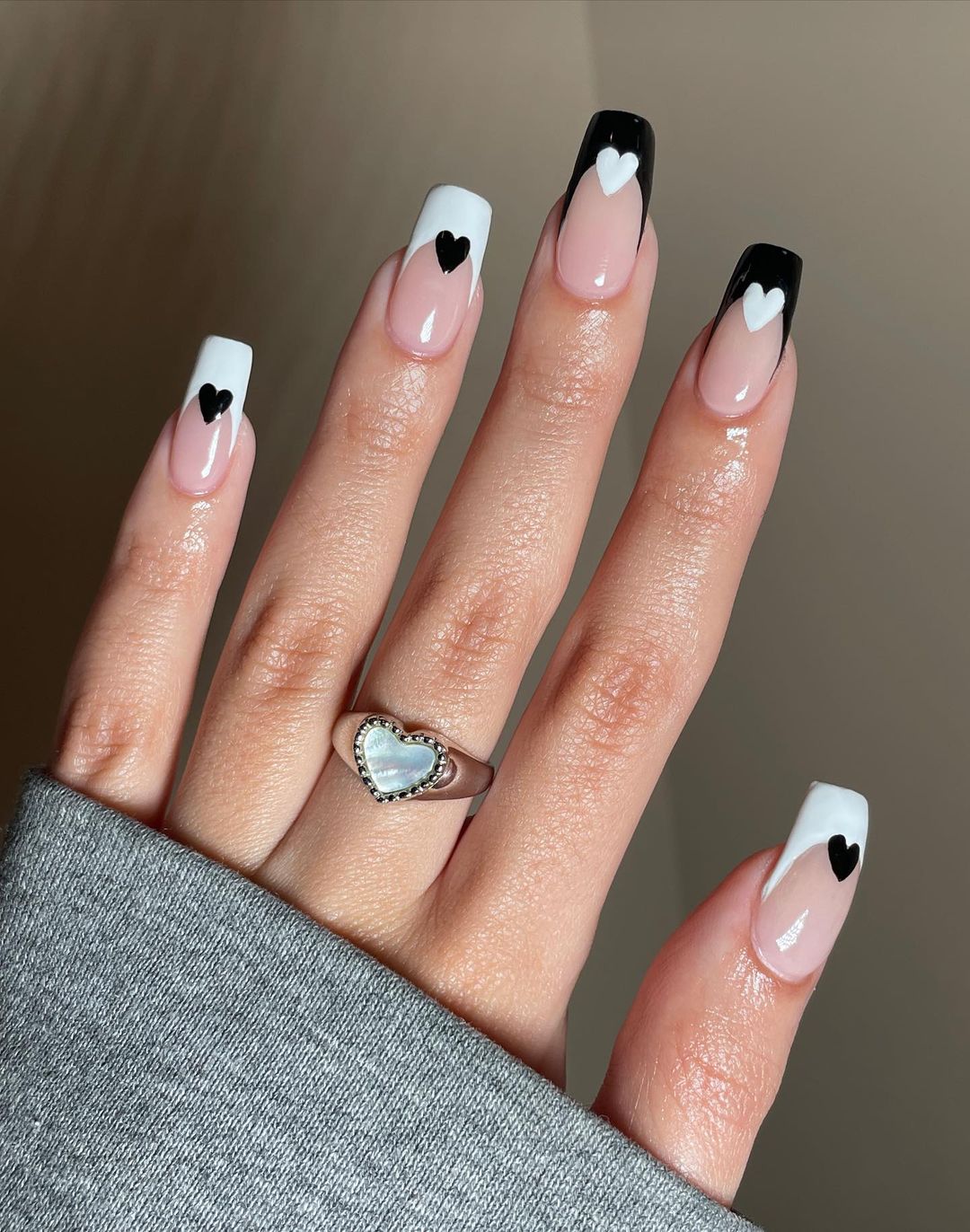 I bet this nail art will make you stop for a second. Love it? Create it! Similar to the previous one, you can achieve this Valentine's special nail art with white and black nail polish.
49. Sparkly Hearts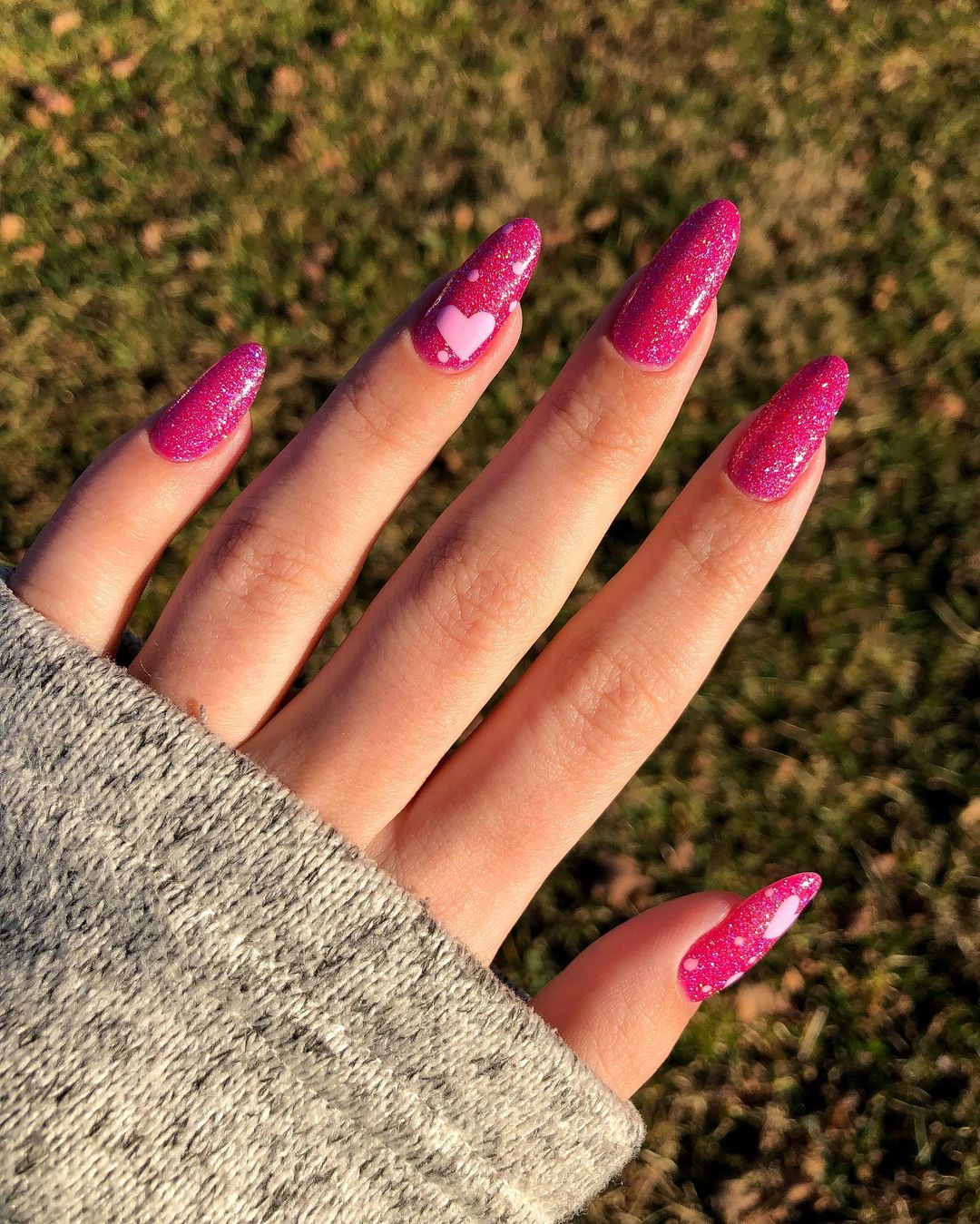 So far after riding through all Valentine's Day nail art ideas in 2023, I feel this nail art is one of the cutest where the hearts seem like sparking and that's of course due to the shimmery red nails.
50. Love is Young!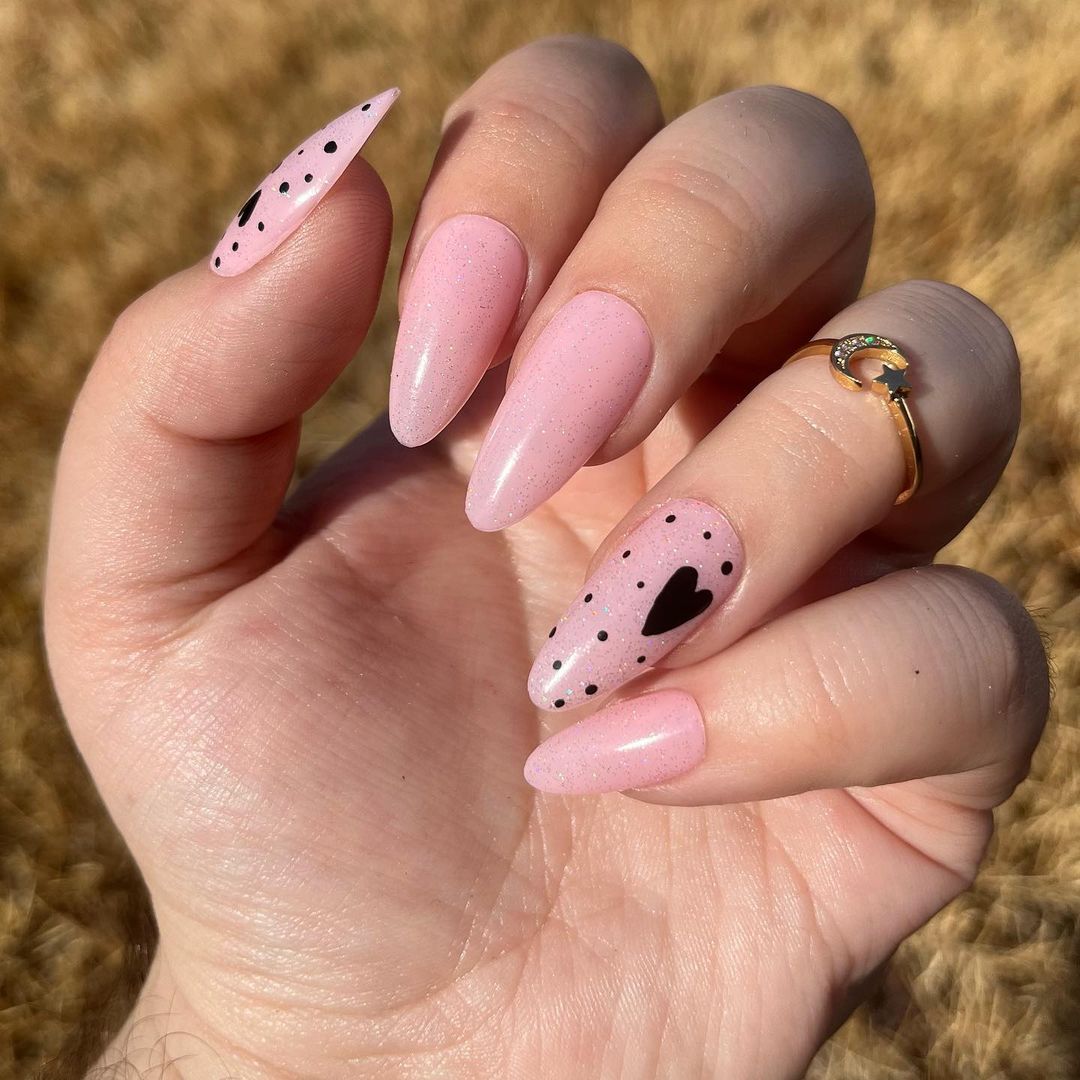 Almond nail lovers, here you go with another sizzling nail design for Valentine's Day! Create the black dots with a dotting tool on the ring finger to support the "heart" to overdraw your look.
51. Glazed Donut Swirls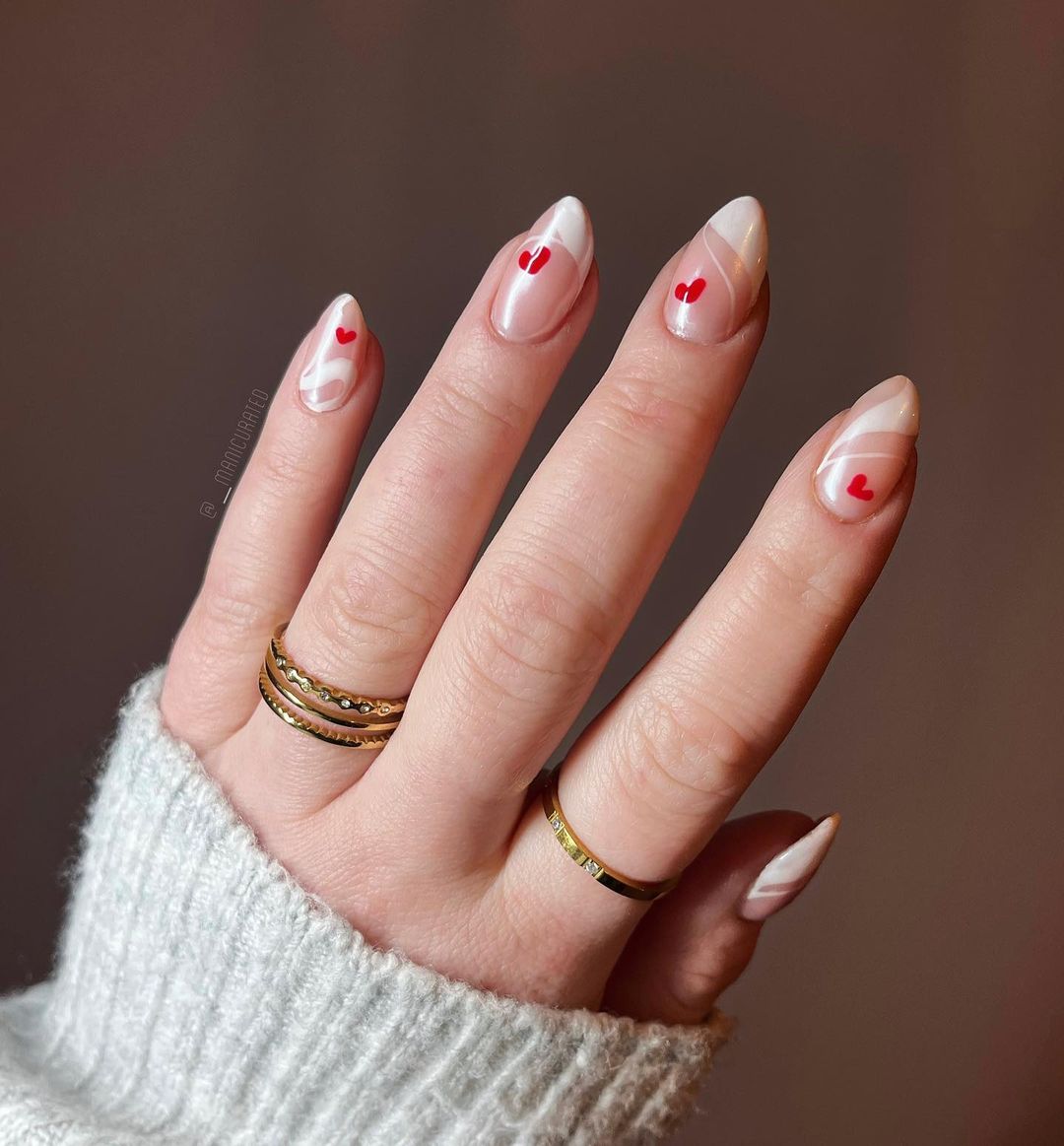 You already know that Hailey Bieber's Chocolate Glazed Donut Nails has brought a storm into the manicure world. After that nail artists started to create a lot of new looks out of it and this Glazed Donut swirl is one of those that you can pick for this Valentine's Day.
52. Galaxy Hearts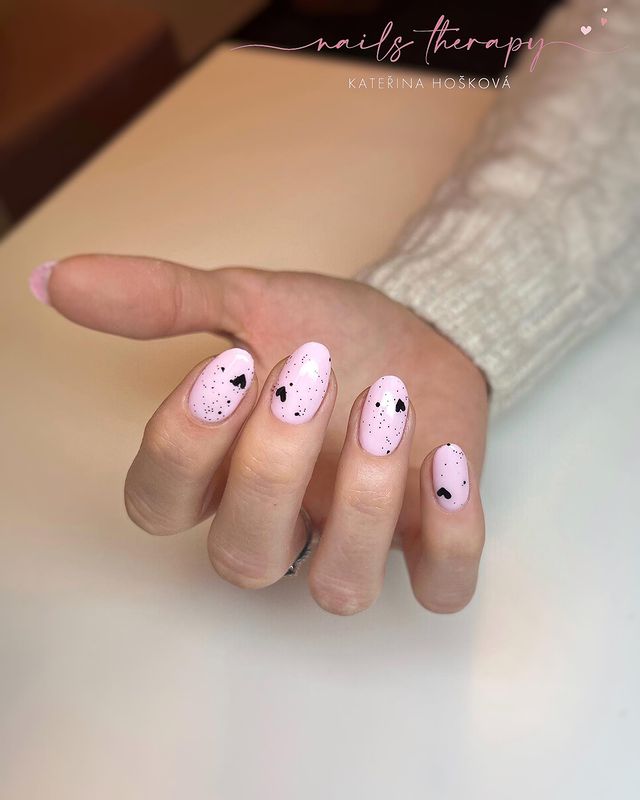 Got short nails? No problem! Look at this gooey Valentine's Day nail art. Bring the galaxy in your nails and make the hearts the biggest stars.
53. Arty-Crafty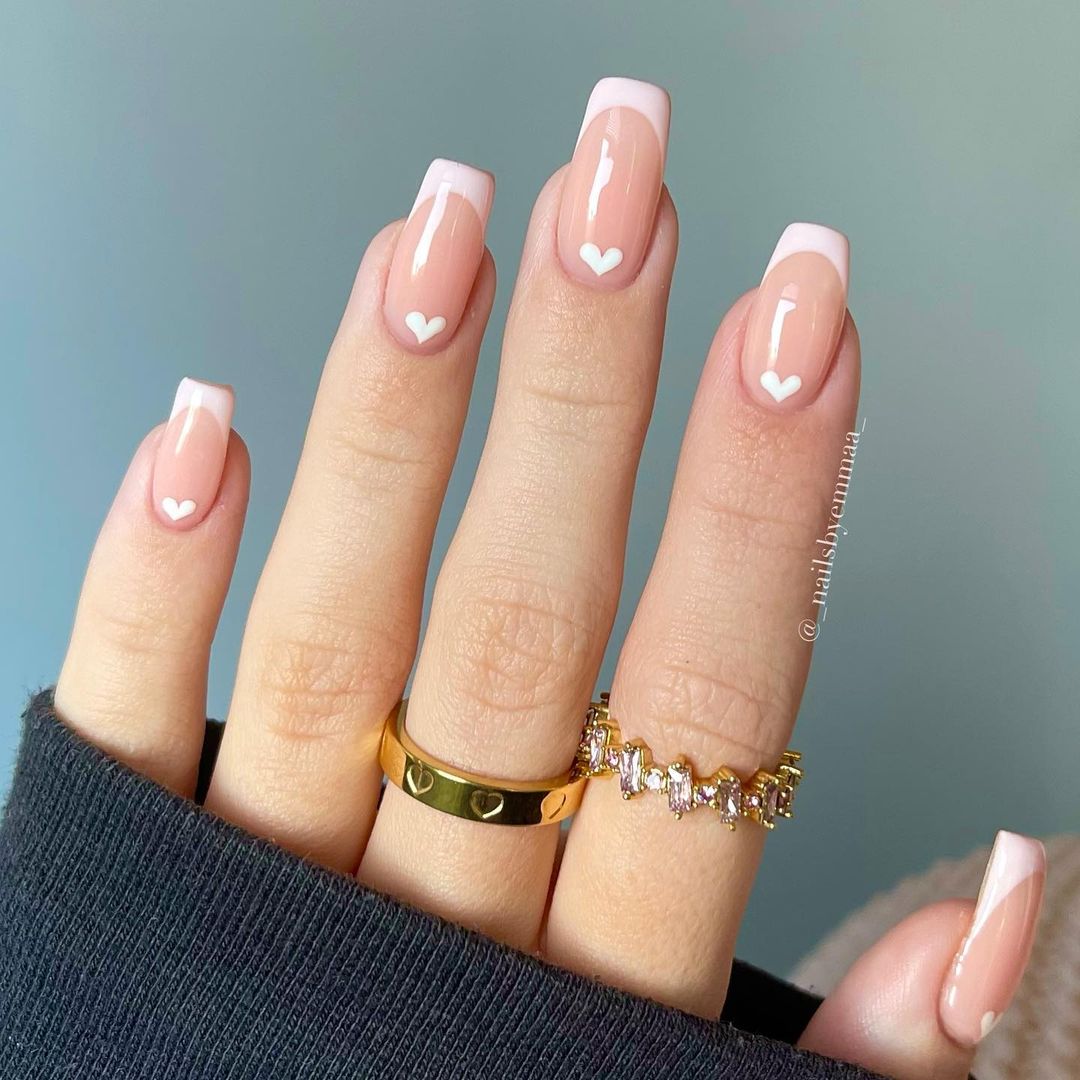 We have seen similar nail designs previously where the hearts were just in the tips. But this one has brought another drippy look keeping the hearts just close to the bottom area!
54. Love is Set!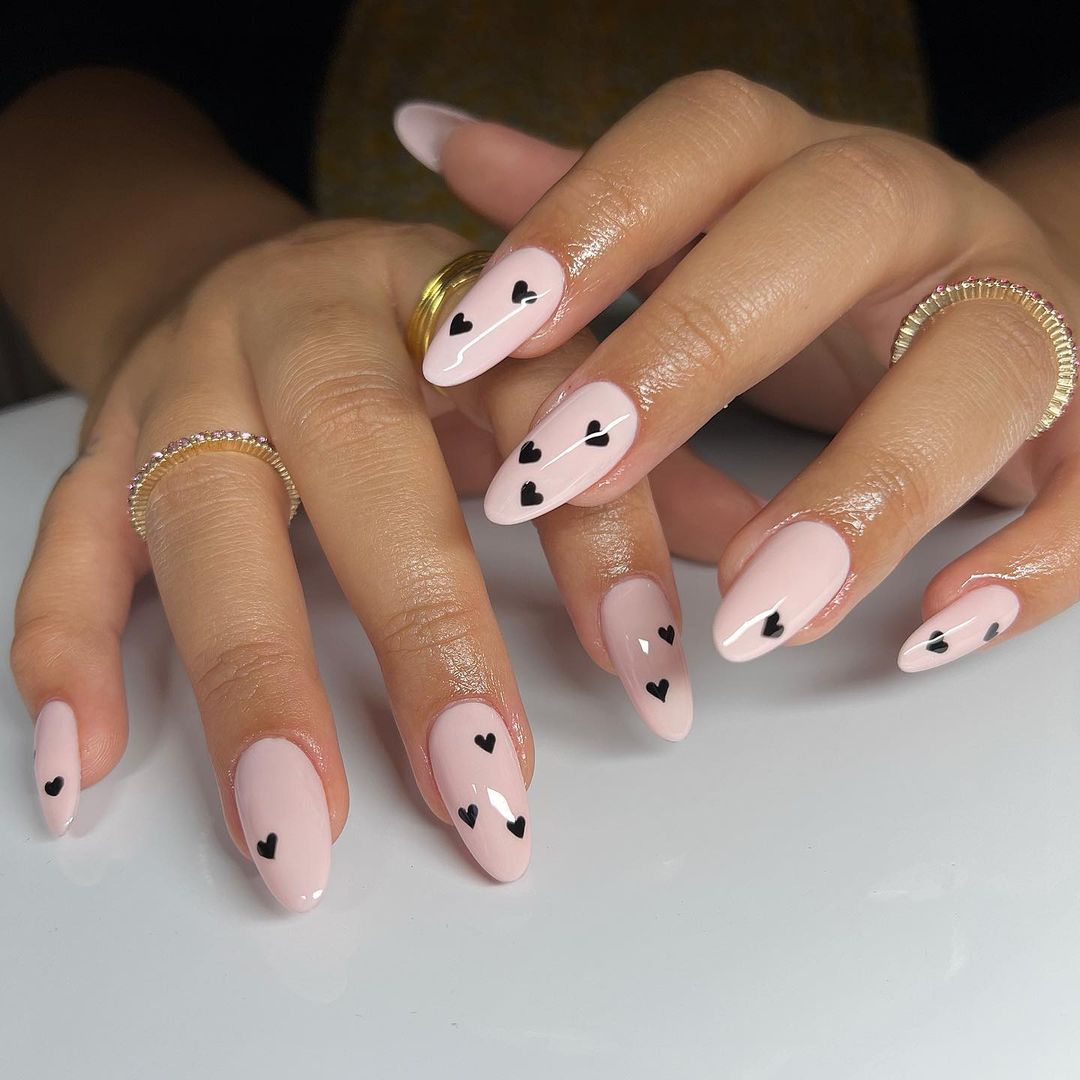 The glossy finish of the light pink shades makes those cute black hearts the cutest. I'm sure this super charming glaze of this nail art is enough to complete your Valentine's Day look!
55. Hopeless Romantic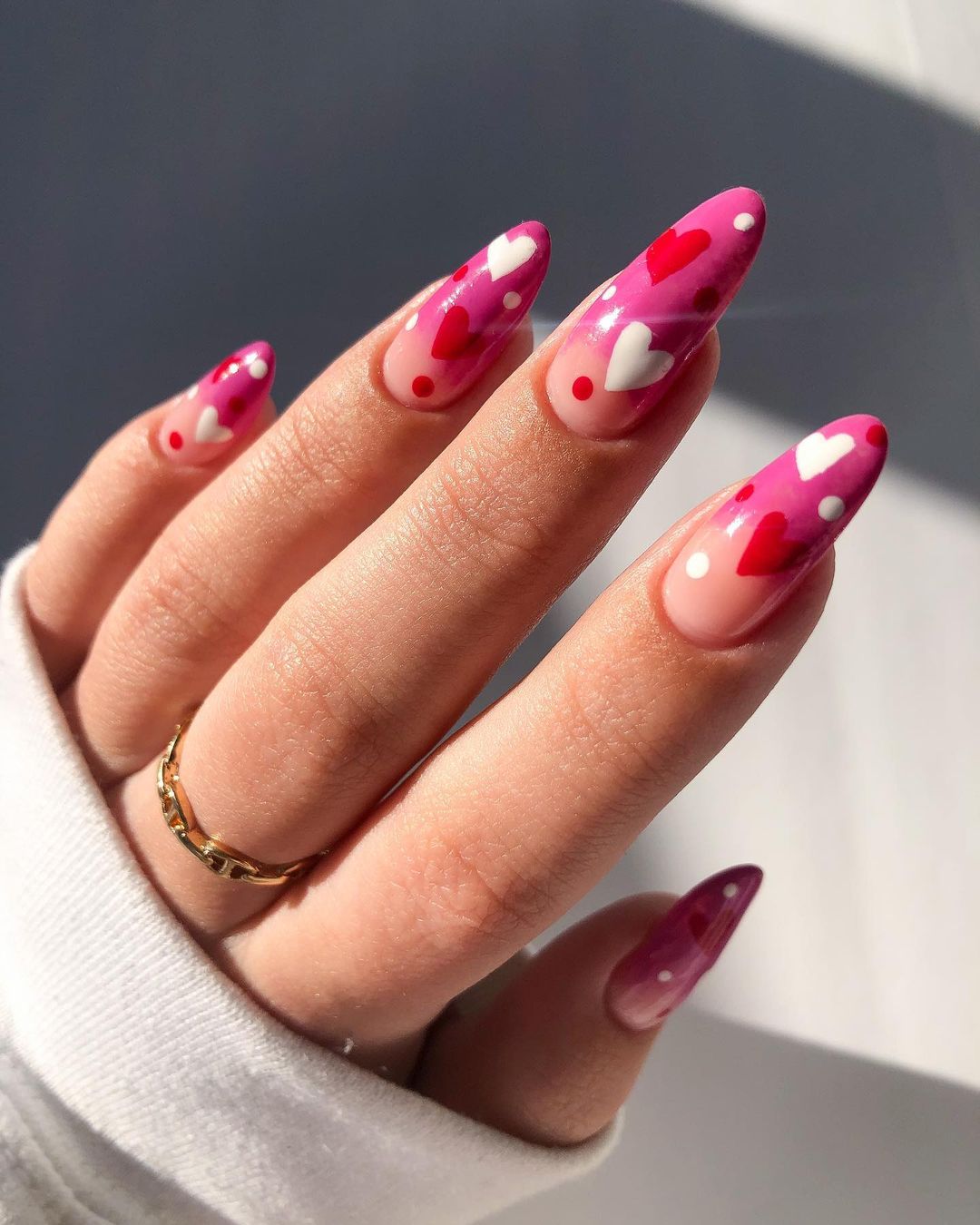 This generation needs something vibrant! The rose-colored nails with white and red popping hearts and dots! Just the nail art I am looking for this Valentine's Day! 💘
Wrapping up:
To sum it up, after going through so many Valentine's Day Nail Art designs, I might as well get it now. Irrespective of Valentine's Day, I have always picked heart options for my manicures. I fall short of designs often but end up getting the same tiny hearts.
I hope you aren't one of me and would go ahead with the experiment considering all the curated options in the list above. You wouldn't know what you might end up loving until you try it once. Maybe this is part of the versatility of fashion that there can never be just one pattern or theme, or color to stick to.
If you ask for my pick amongst all the 55 Nail Art Designs, I will pick No.26 and No.27. I am all in for pink and neat designs as long as I can pull them off. Happy Choosing!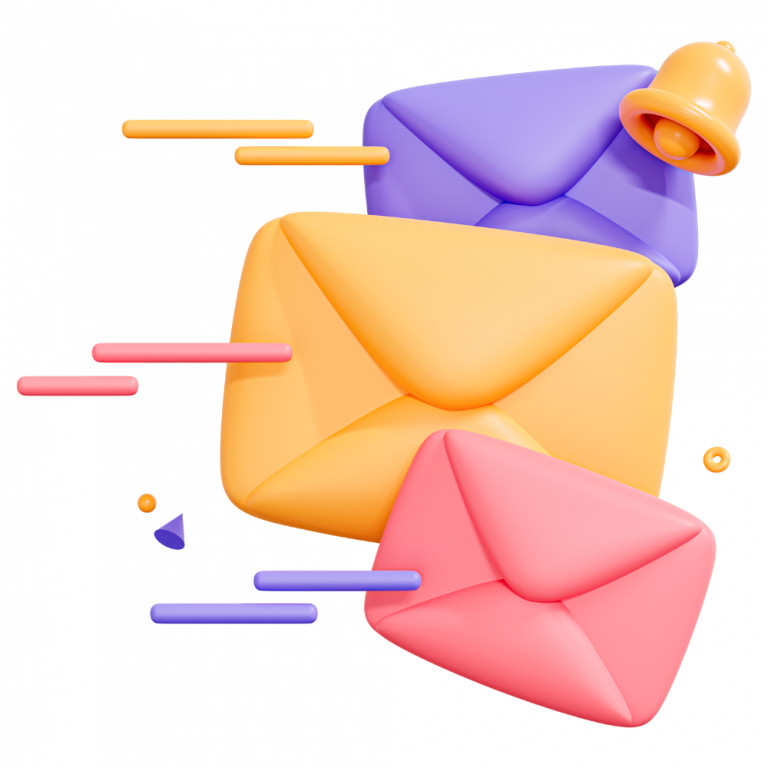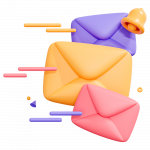 Read related: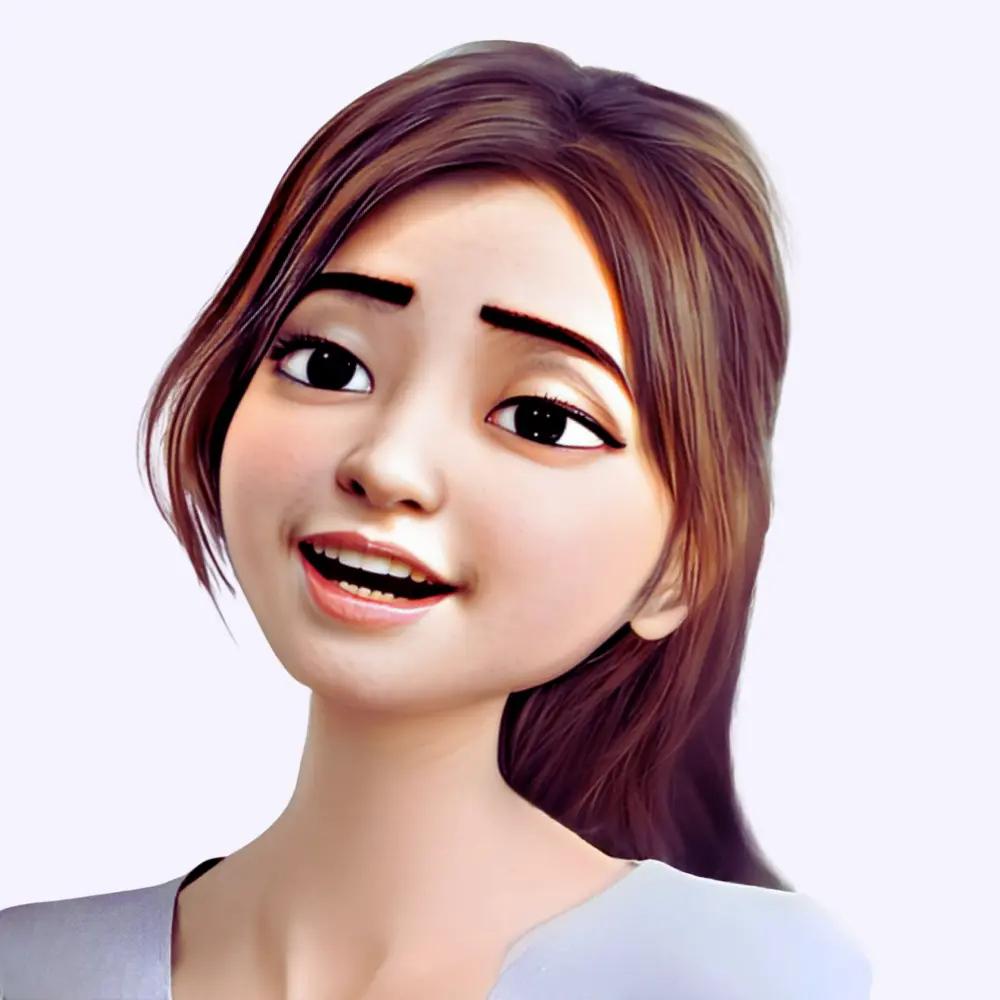 Hey there! I'm Raizy, a makeup, beauty, and manicure enthusiast. My passion for nail art and manicures knows no bounds; it's something I can't quite put into words. Every day, my goal is to dive into the world of manicures and nail art, and I'm thrilled to share my thoughts and expertise with all of you.