41 Elegant Flower Nail Art Designs for 2023
Spring is here! It welcomes flower nail art, in addition to all things pretty and happy. Manicures are simple yet impactful. From short nails to long and oval or even squoval, there is at least one floral nail art inspiration for everyone.
And if you're on the hunt for some classy simple flower nail art, let me present to you my list. This holds 41 flower elegant nail art designs for 2023. There are spring flower nail designs with quick, no-equipment instructions and ones where you would need to bring your best players to the field. 
In this list, you will find pastel nails, butterfly nails, and a variety of whimsical flower nail designs. If you keep up with trends, you know pink is everywhere. Rest assured, this list of floral nail art inspiration is as vibrant as a rainbow. From pink nail polish to black and everything in between, I got your back. 
In this list of nails with flower designs, you will find minimalist DIY flower nail art, bold blues and reds, subtle nudes, and a lot more. Rest assured, you will keep looking lovingly at your manicure. But so will others!
Whether you're a nail art pro with seventeen nail art brushes and dotting tools or a novice starting out this journey of creativity, my list of nail designs with flowers is here to guide you. Warning! You will definitely be tempted to wear all these tropical flower nail designs. And lucky for you, spring lasts long enough to try them all!
41 Delightful Flower Nail Art Ideas for 2023 to Blossom Your Style
Discover 41 stunning and awe-inspiring nail art designs showcasing beautiful flowers that will effortlessly enhance the grace and charm of your manicure.
1. Color Me Floral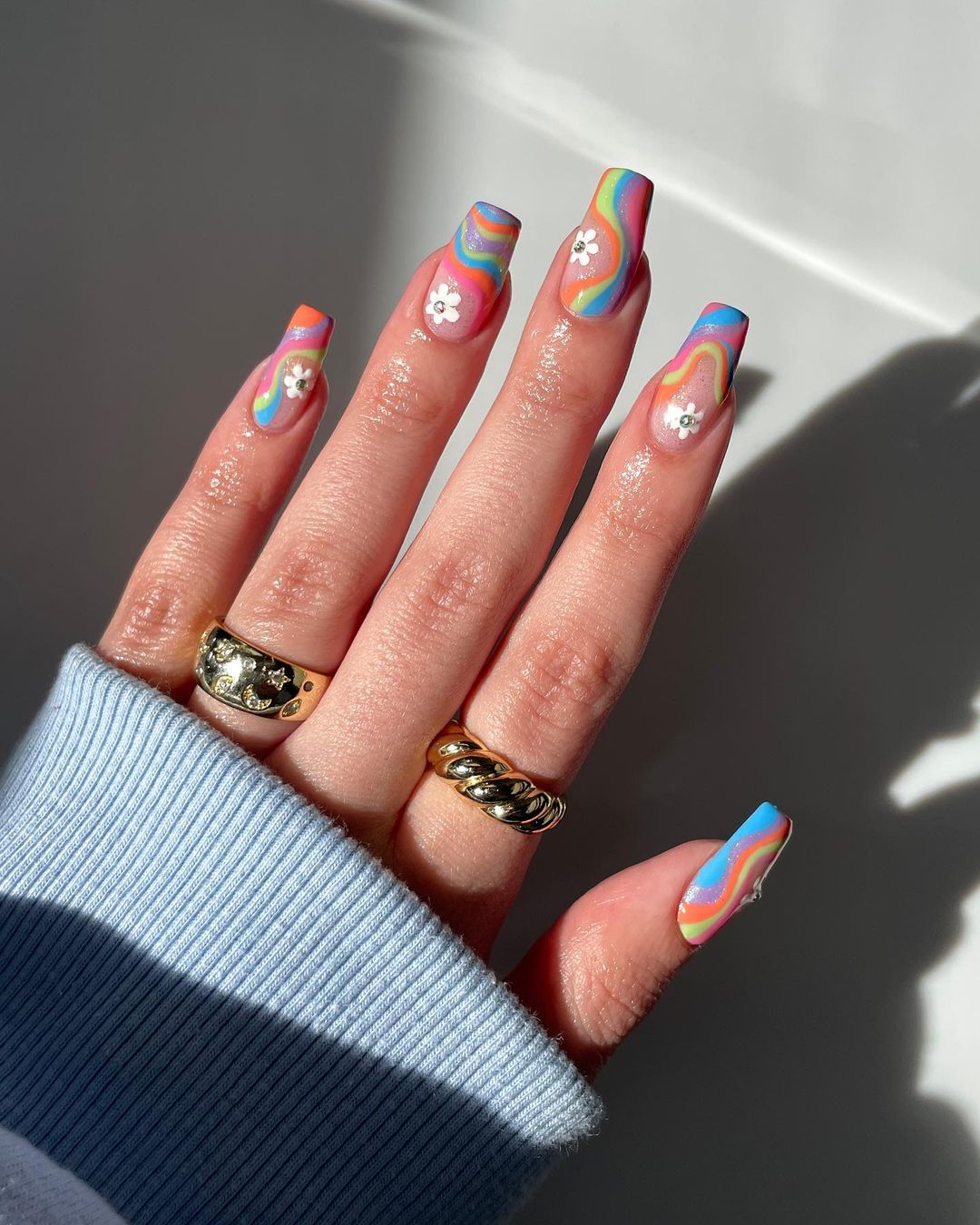 One of my favorite whimsical flower nail designs, this has a bit of everything. There are rainbow swirls made using the water marble nail art technique. For the flower, white nail polish has been used. Finally, rhinestones are placed in the center.
2. Blue Bliss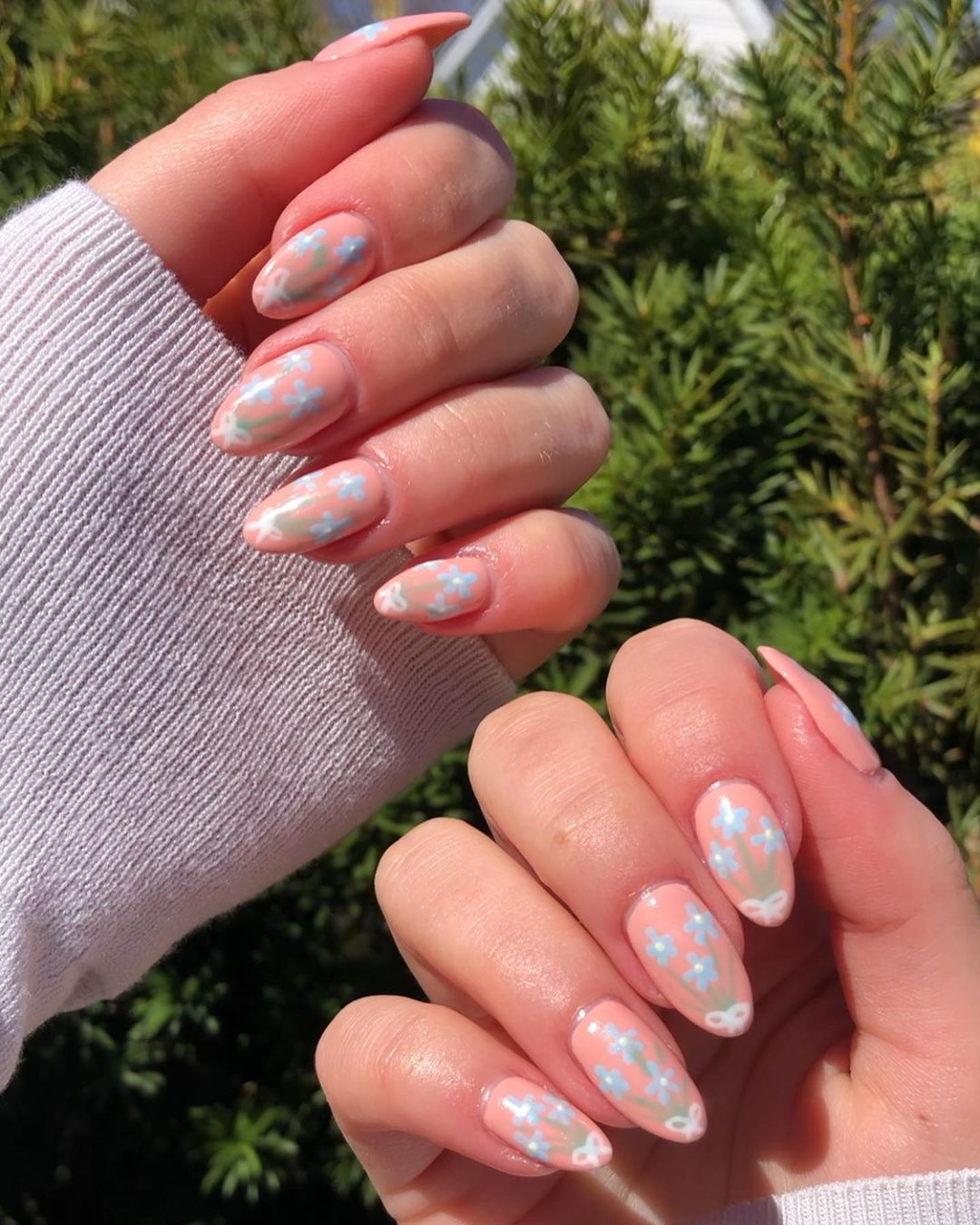 This elegant flower nail design makes the perfect pair of wedding nails. For the base coat, light pink nail polish is used. It is topped with dainty blue nail polish flowers made using a nail art brush.
3. Peachy Petals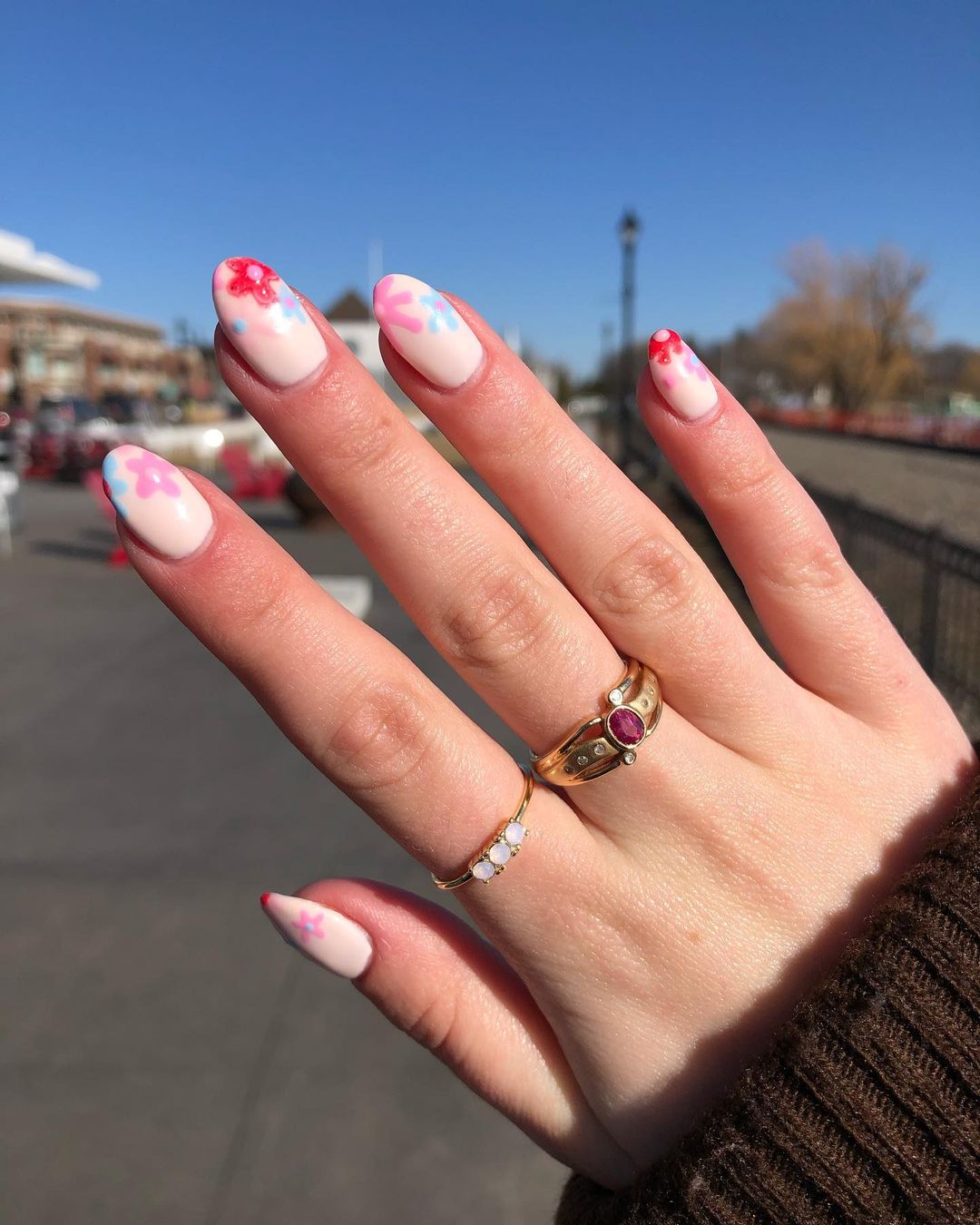 Elegant but subtle. This flower nail art is versatile enough to wear anytime, for any occasion. It has hints of pink and red nail polish. There are splashes of cool-toned blues too.
4. Hello Hibiscus!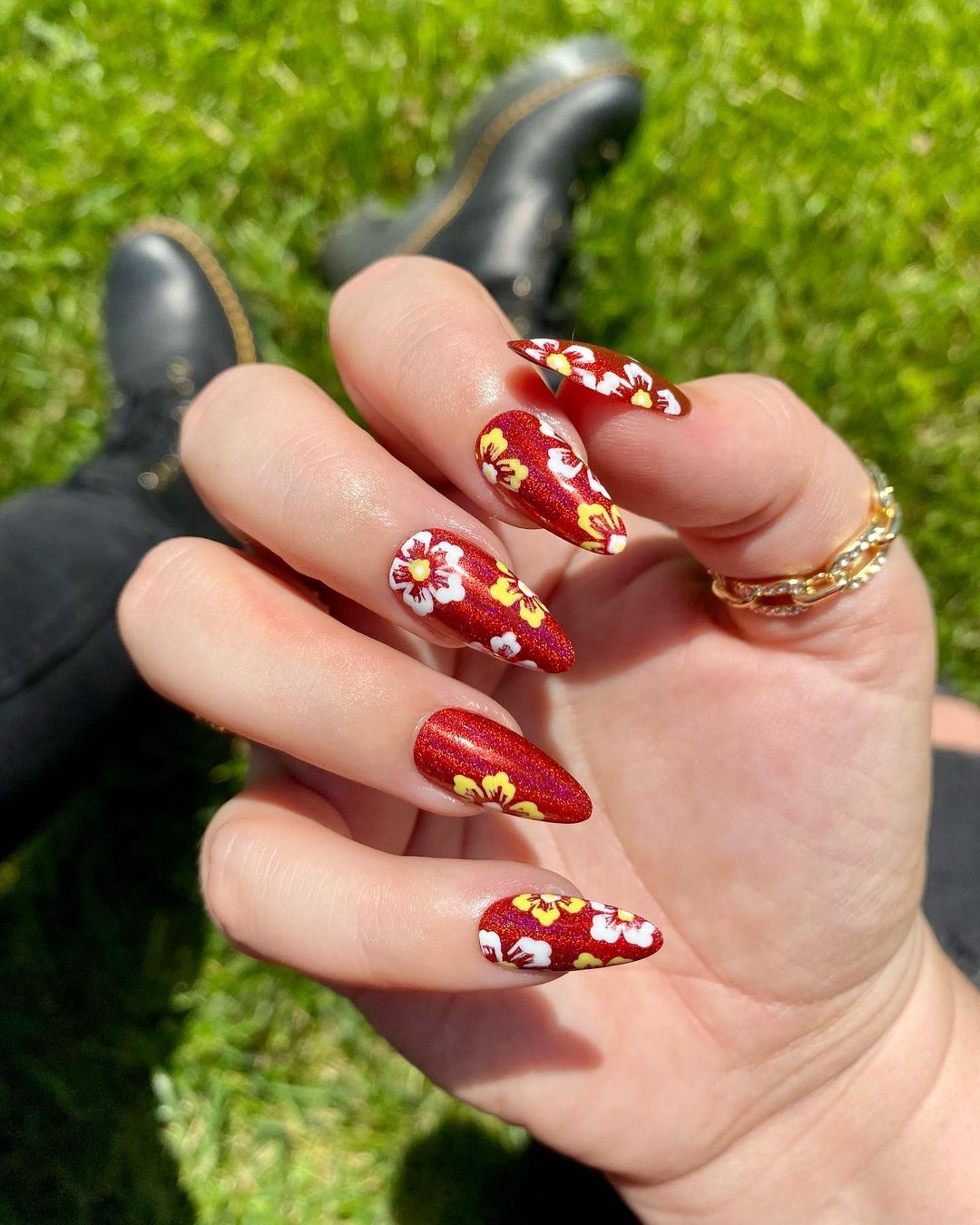 On a base of maroon glitter nails, we have contrasting white and yellow flower nail art. Be ready to have all eyes on your nails, whenever you wear them.
5. Falling for You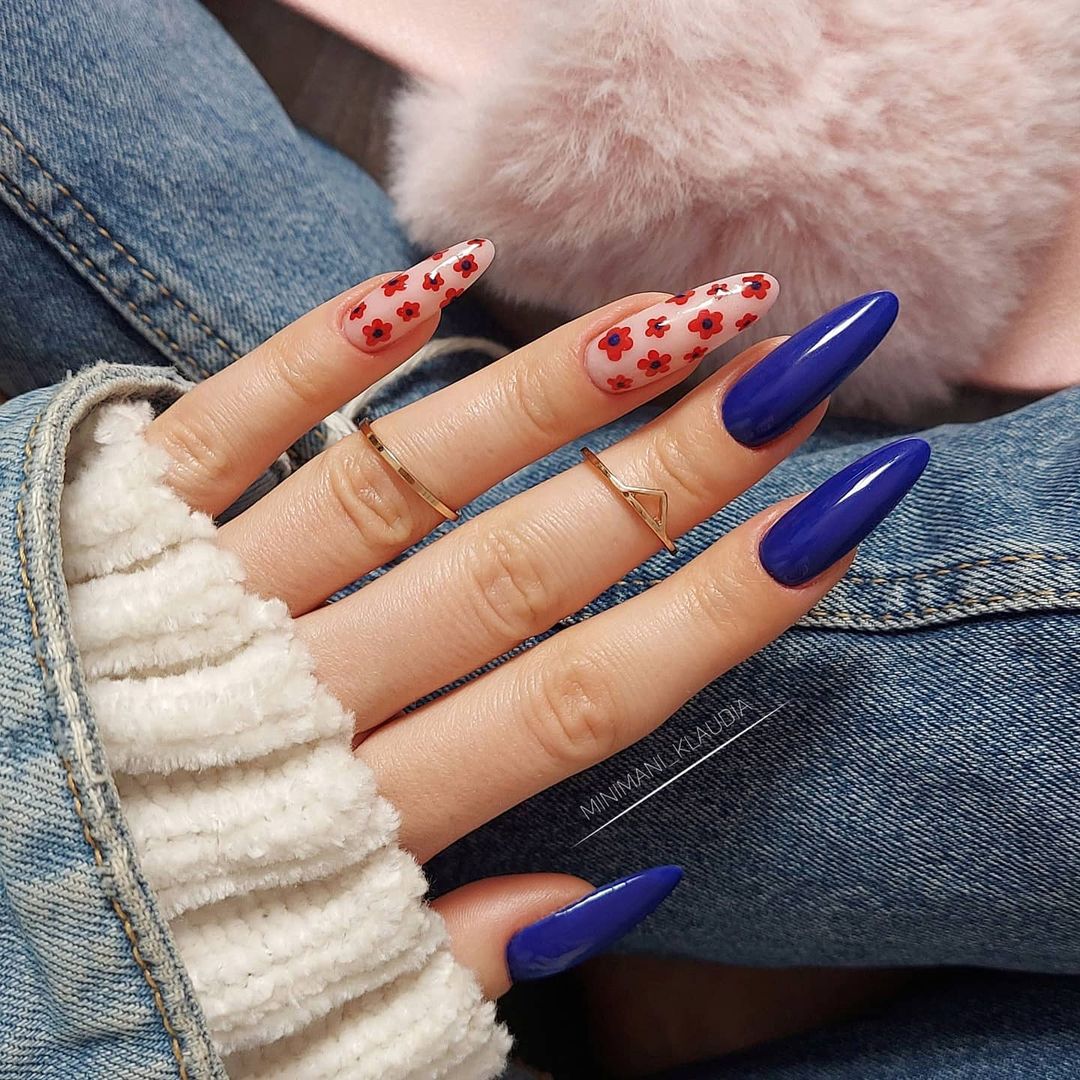 With bold blue nail polish, the accent nails have a simple flower nail design. Pink nail polish as a base coat and red nail polish for flowers, this is beautifully basic.
6. Nice n' Nude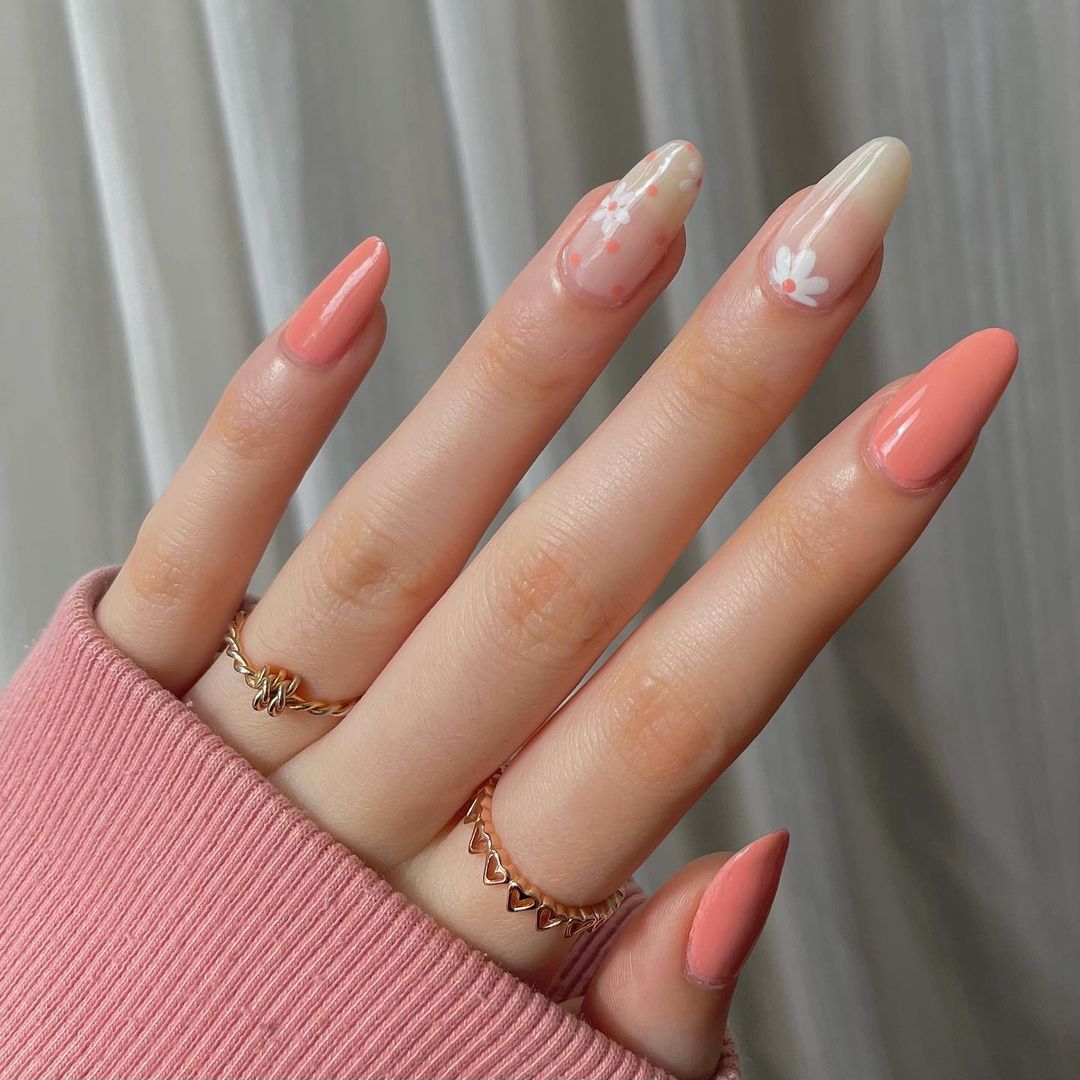 Flowery nail art is what you want? Check out this visually appealing flower nail art. It has miniature flowers and polka dots, all made using one nail art brush. Don't forget to add a top coat for shine!
7. Brown Baddie
One of my recommended simple flower nail designs, this suits outfits like jeans and t-shirts. With minimum equipment like a nail buffer, base and top coat, and a nail art brush, you will have this elegant nail art with flowers ready.
8. Trippin' on Blue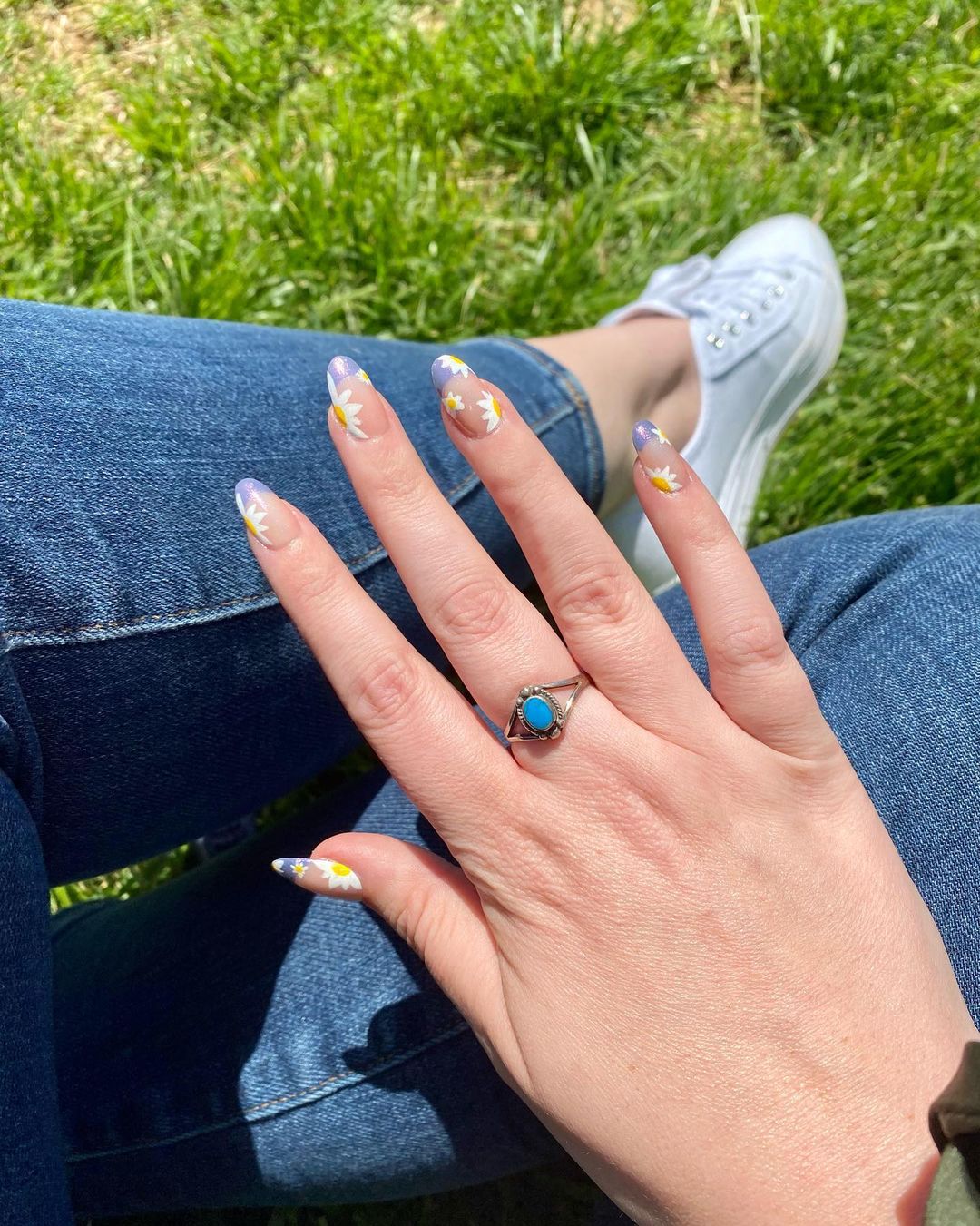 This flower nail art will have all eyes locked on you. One look is not enough to comprehend the beauty of this floral nail art. Press-on nail lovers, it is also possible to replicate this particular design on press-on nails.
9. Attitude of Gratitude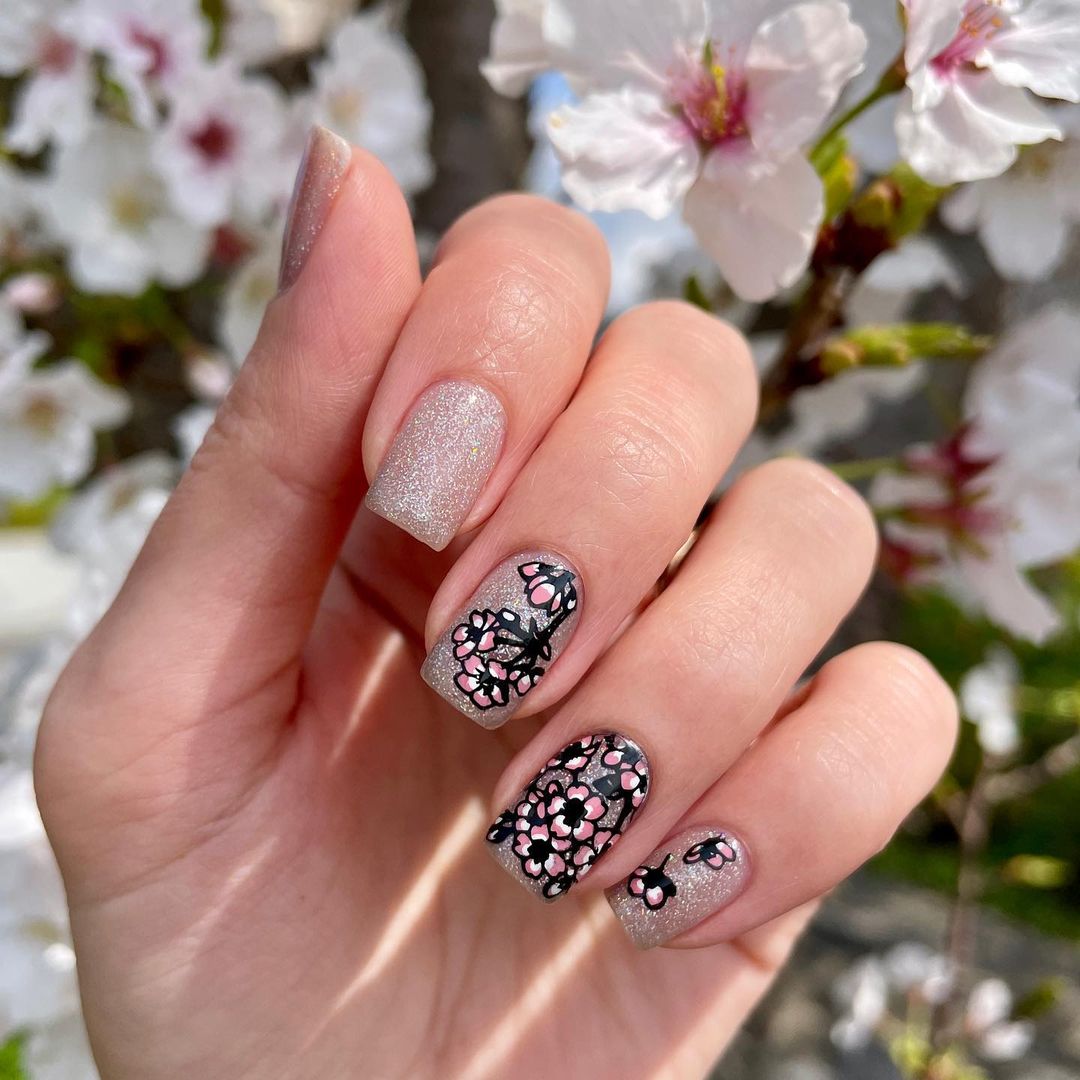 Springtime events? These wedding nails feature the perfect flowery nail art. The glitter nails enhance the appeal of the flowers made with black nail polish. Seal it with a top coat to keep the gloss in place.
10. Summer Fling
Ensure a uniform nail shape using a nail file and nail buffer. With preferred rainbow colors and nail art tape stripes, start swirling and drawing tiny flowers with white nail polish.
11. Pop of Color
Among my top nail flower designs, this has a touch of elegance with some fun. The accent nail is a white tip French manicure with confetti-like flowers of rainbow colors surrounding it.
12. Gold Glam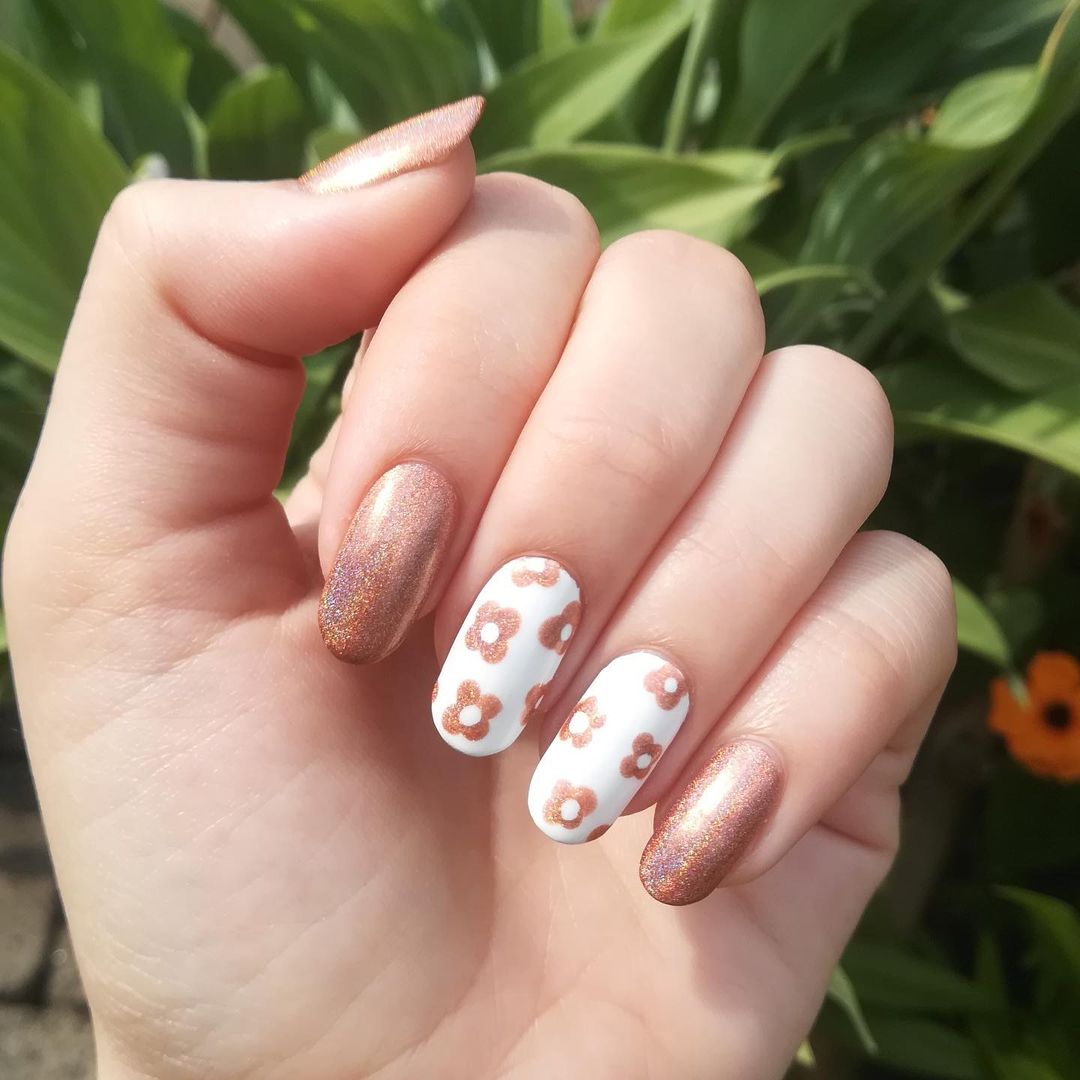 Gold nail polish makes the glitter nails pop. For enhanced visual appeal, white nail polish is the base coat with golden flowers. These are a collection of dots from the back of a nail art brush.
13. Pretty Pastels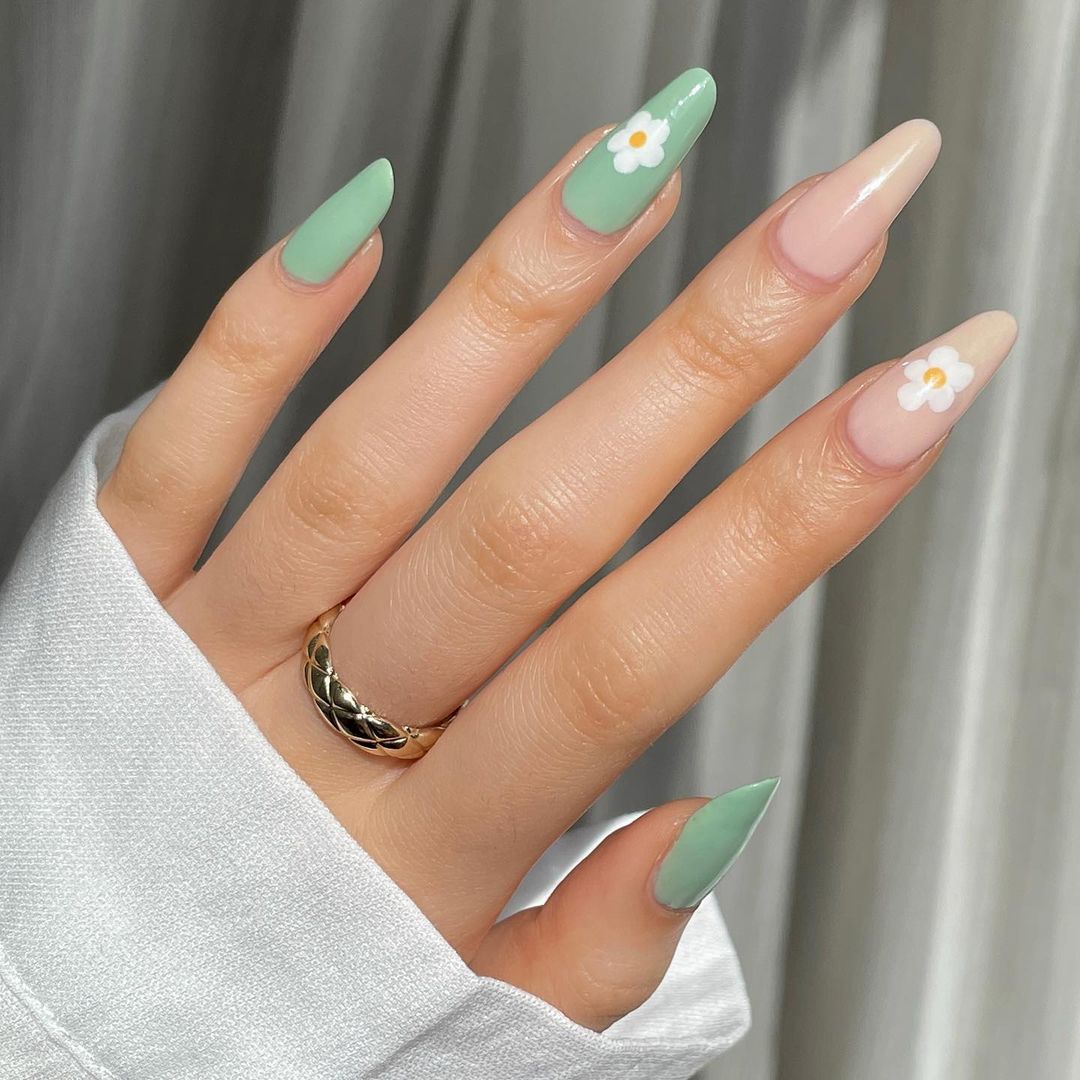 This flower nail art has green and pink pastel colors. You can use press-on nails for convenience and ease. For the nail flower design, keep it simple by adding white flowers.
14. Moonwalking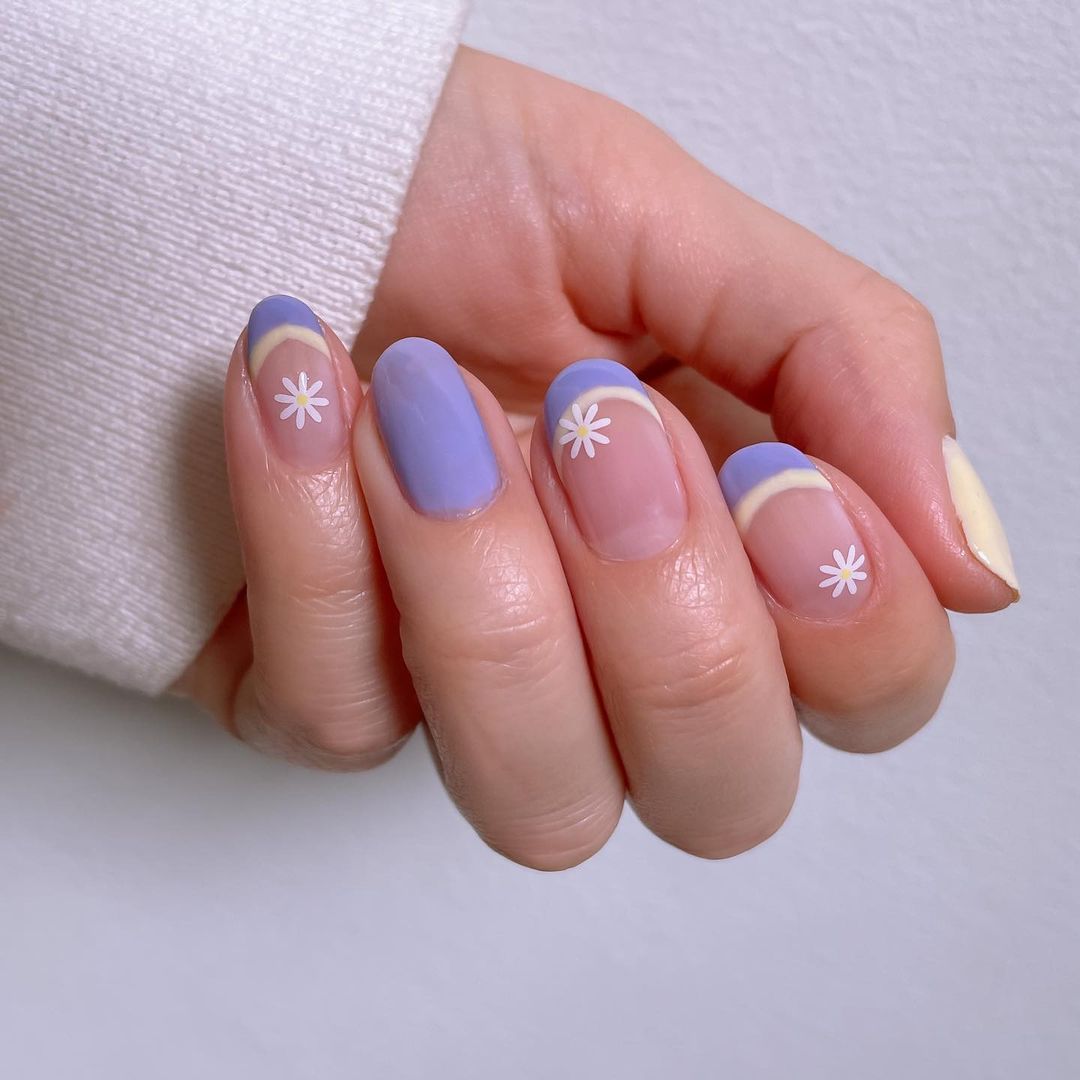 Continuing with the theme of pastel colors, this floral nail art inspiration is apt for wedding nails. With blue nail polish taking the lead, there are hints of yellow and white.
15. Cute Contrasts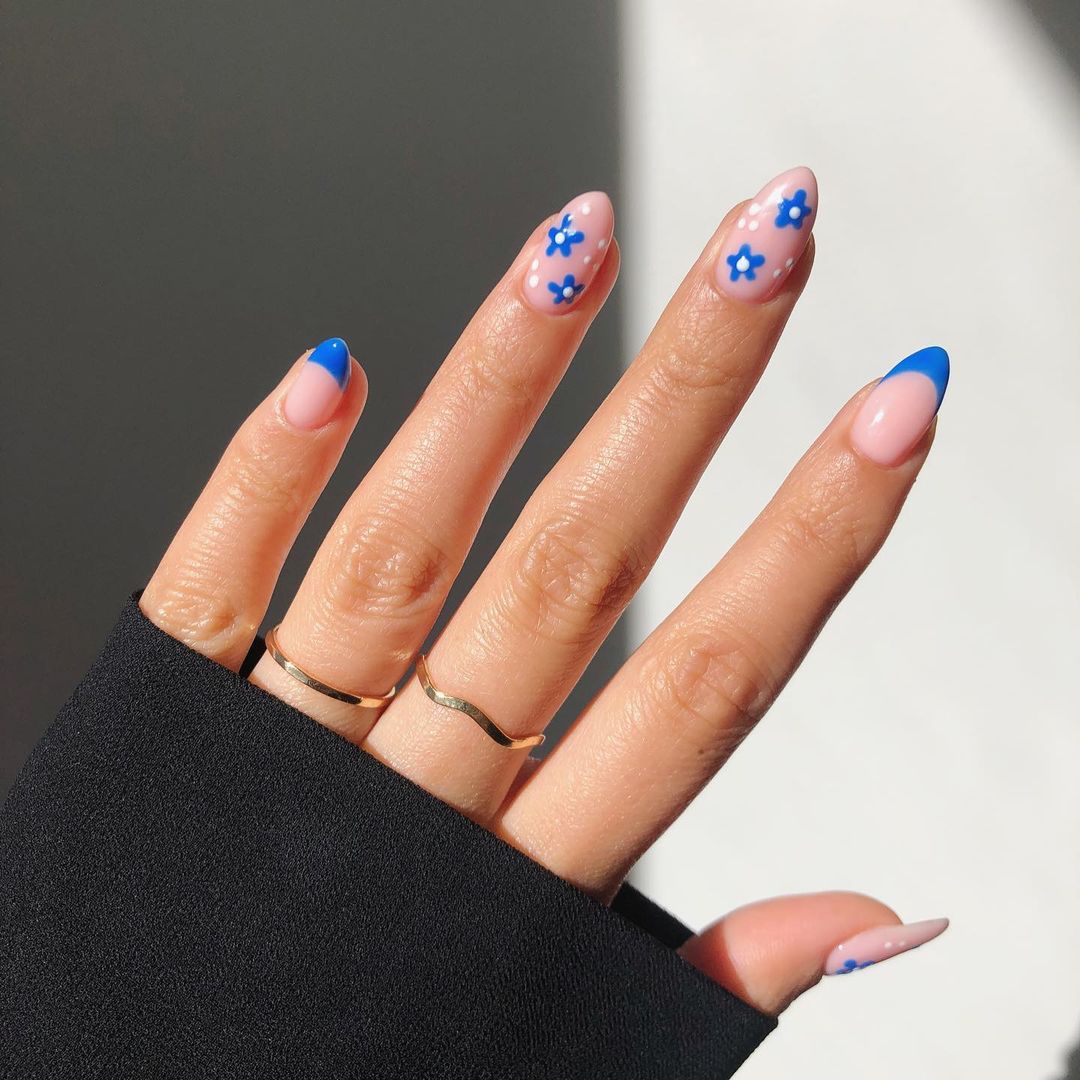 Who said blue is for boys and pink for girls? Presenting to you, vine nails that pair up both like a dream. A dotting tool is a must. Alternatively, you can also use the back of a nail art brush to create the flower nail art.
16. Pretty Please?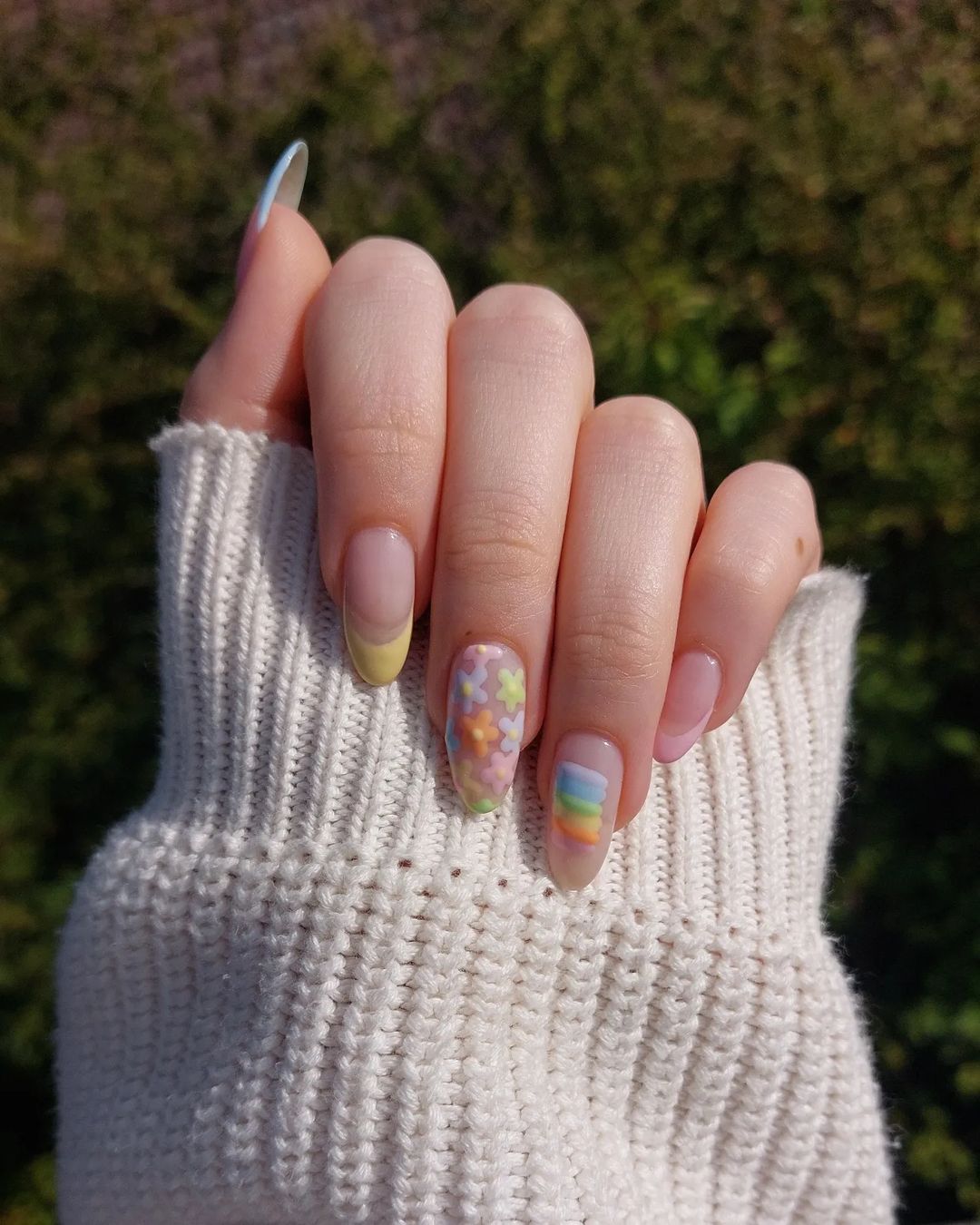 Pastel colors met rainbow colors and came into existence with this beautiful yet simple flower nail design. This DIY flower nail art can be easily recreated using minimal tools.
17. Earthy Emotions
White, brown, blue, and green nail polish is what you need. Swirl the brush gently to create smooth strokes. Dot some white flowers on this flower nail art and voila! You're done.
18. Re(a)dy or not?
This set of flowers nail features the family of red nail polish. To create contrast, add flowers and stripes with white nail polish. Add nail jewels for extra bling.
19. Range of Orange
Summer flower nail designs are written all over this nail art. With orange nail polish as the base, blue flower designs add a pop of color. From college to work and brunches – this flower nail art is a must-try.
20. Flower Power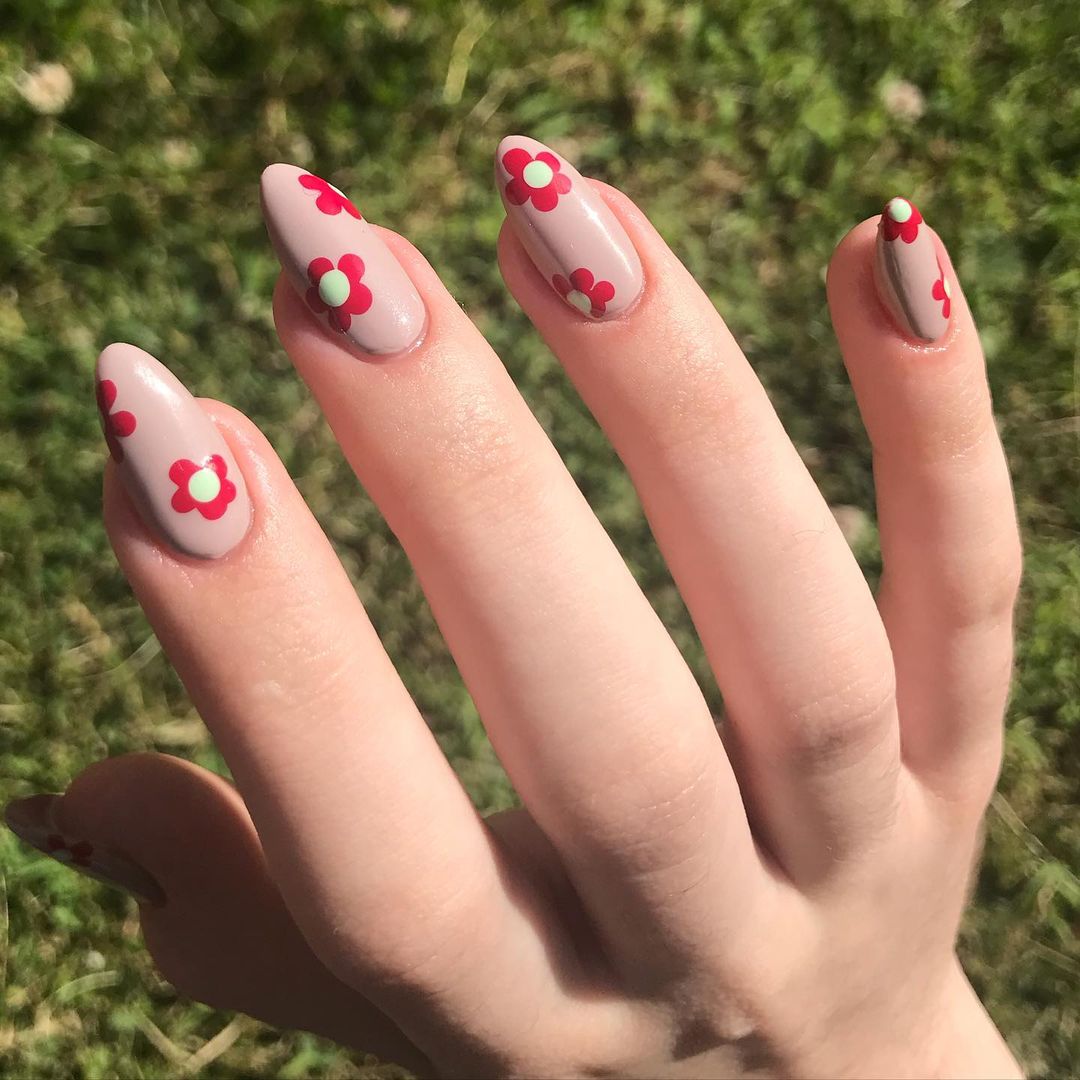 Elegant flower nail designs that are so simple, you can't help but fall in love, this is exactly that. The brown base coat uplifts the red flowers, and all elements marry beautifully.
21. Rosy Reds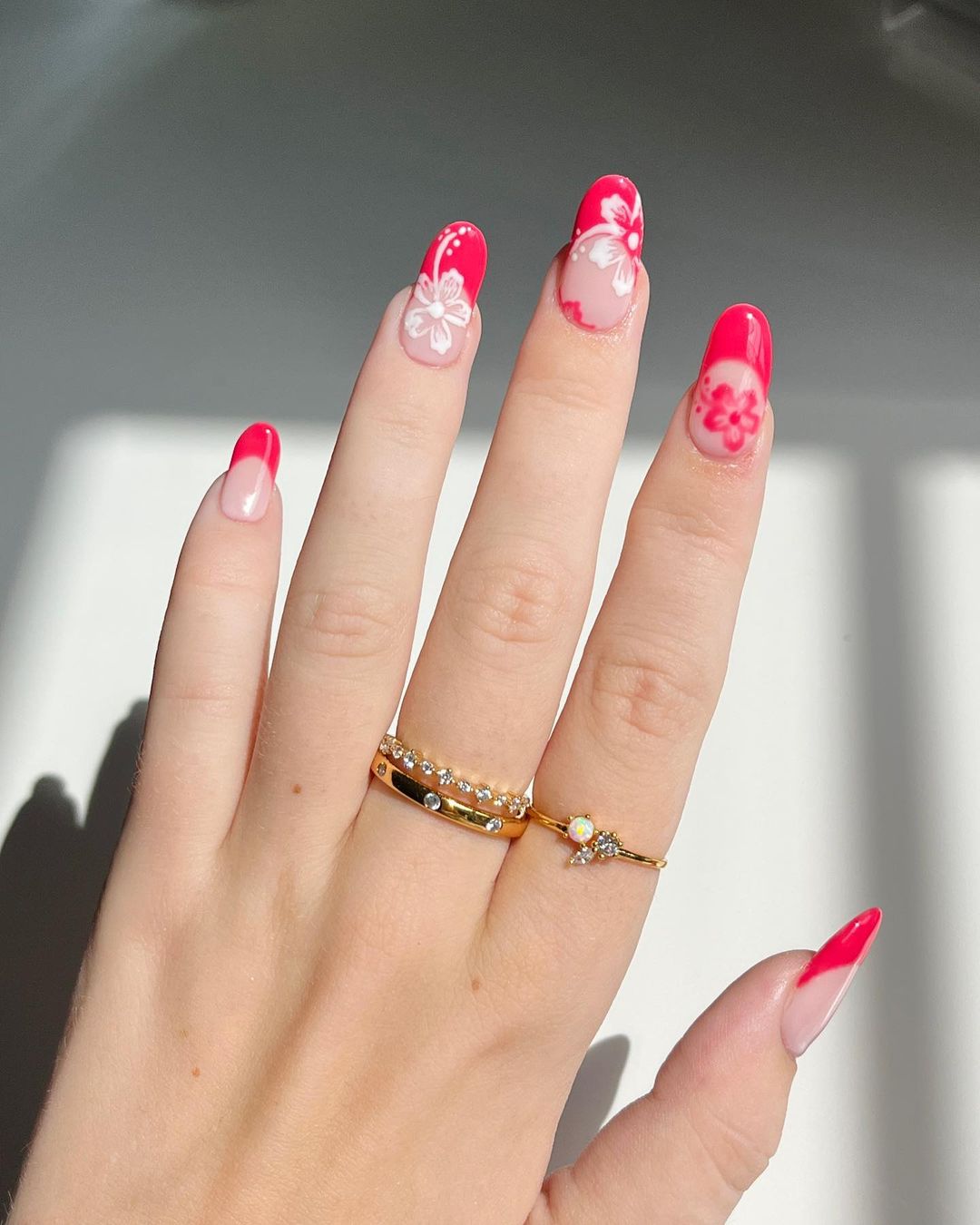 This flower nail art signifies beauty at best. The red roses pop against the transparent base coat. From flowy dresses to formal wear, this nail design fits all perfectly.
22. Glitter Goddess
Glitter nails with a flowery design? Yes, please! This simple flower nail art is easy on the eyes owing to the shade range chosen. With a glittery pink, this is the perfect set of wedding nails.
23. Peaches in Georgia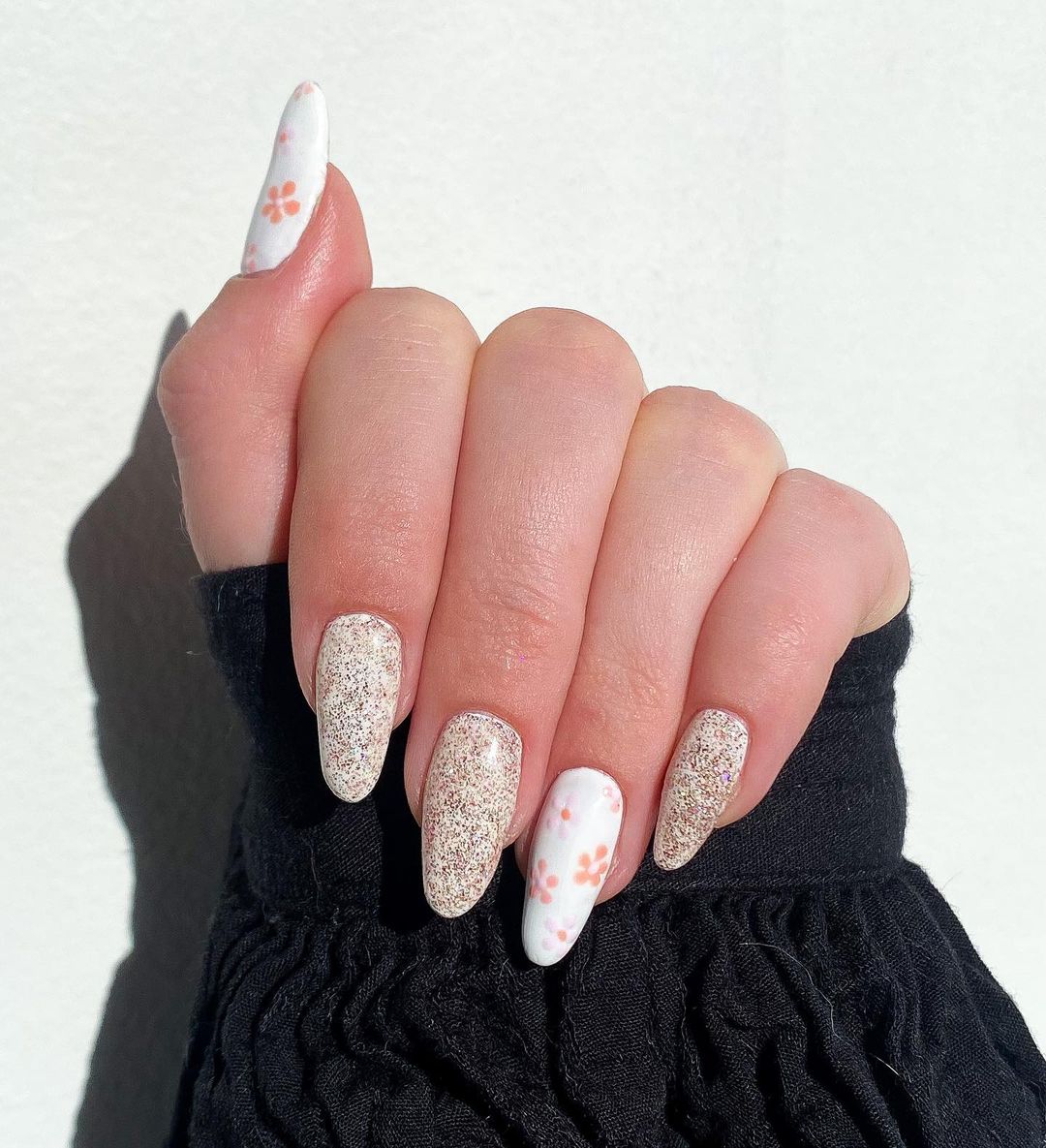 Wedding nails? Check. Flower nail art? Check. A hint of glitter nails? Check, check, and check! This subtle nail art design is super easy to create but easier to flaunt.
24. Cheery Cherry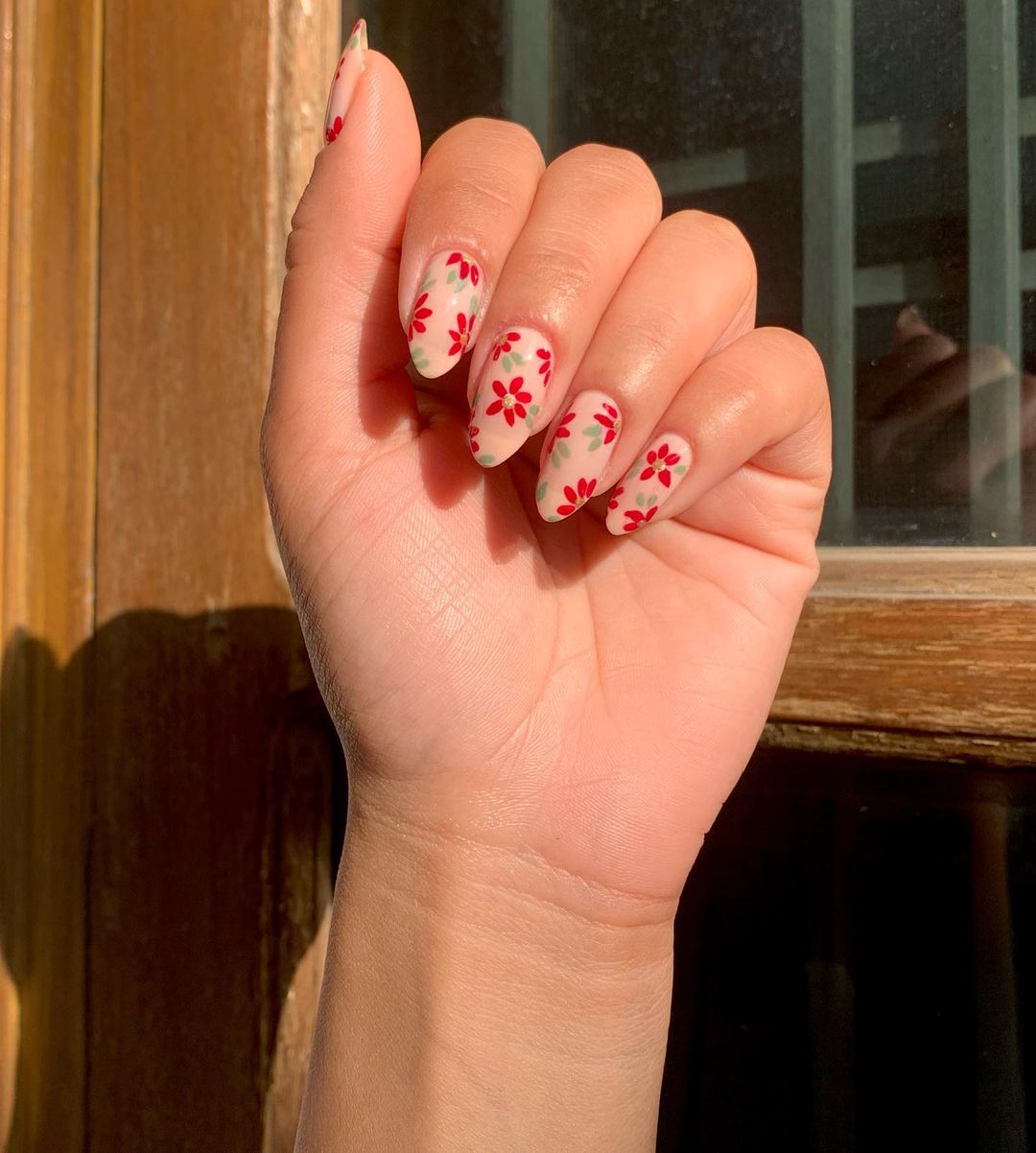 One of the quickest to create, this flower nail art design is a sight for sore eyes. Pink nail polish is the base coat followed by dainty flowers made of red.
25. Blew You Away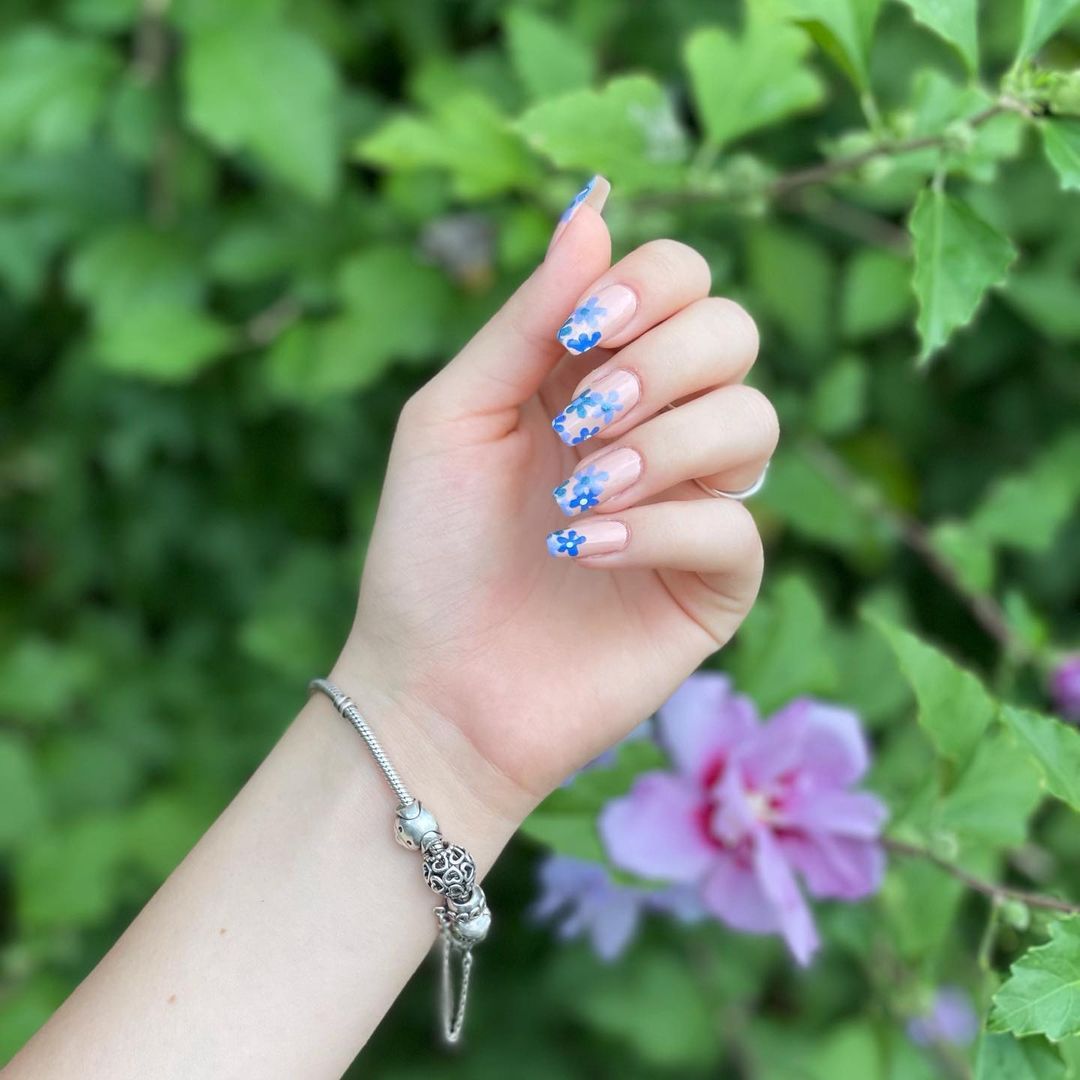 One of the best things to happen to blue nail polish was this flower nail art. The base coat is nude which enhances the pop of blue.
26. Olive You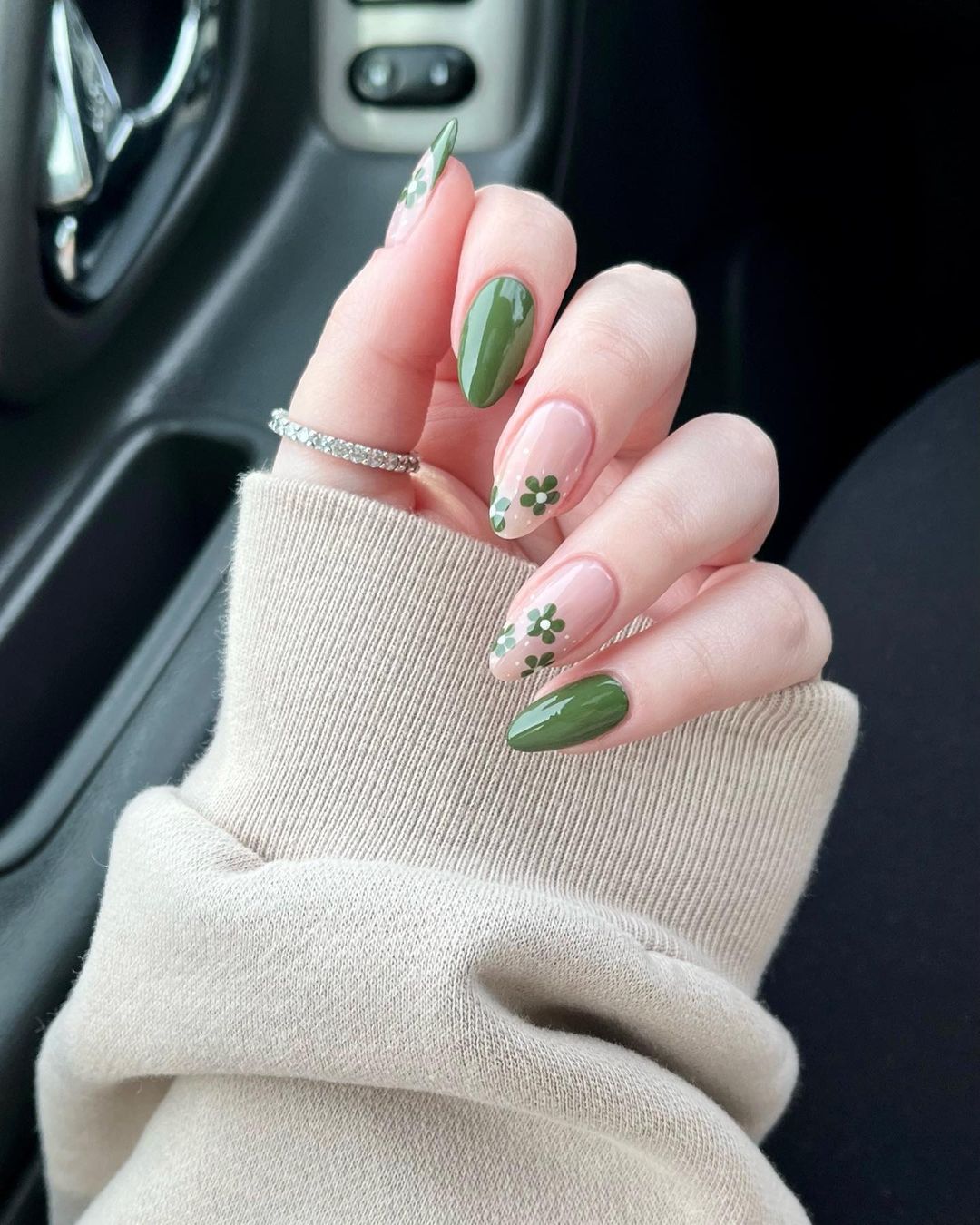 Keeping up with the theme of the nude base, I have another cult favorite. This uses olive nail paint as the accent nails with flowers of the same shade. Seal it with a top coat to uplift the shine.
27. Life is Colorful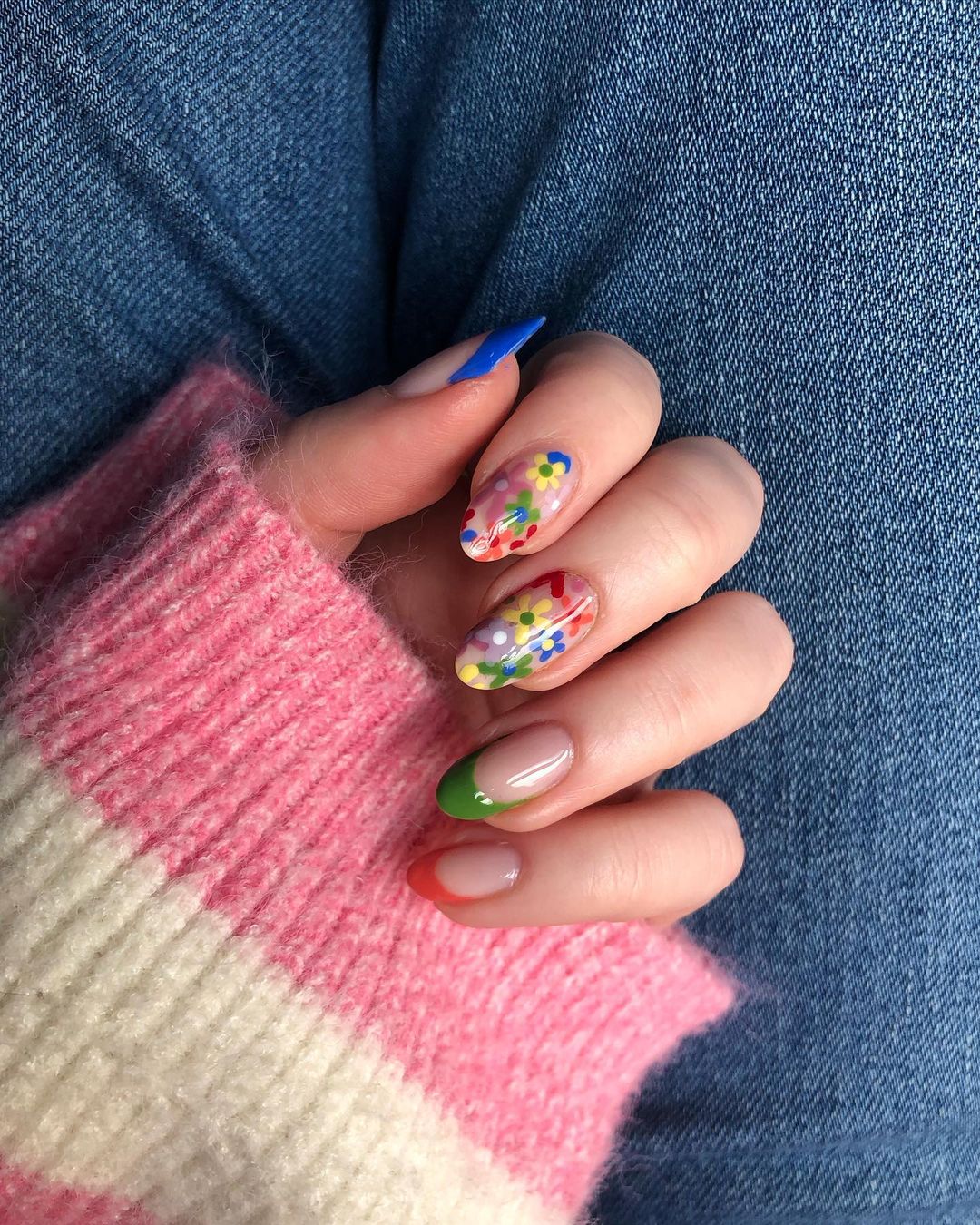 With rainbow color French tips, the accent nails feature a pretty floral design. To achieve this flower nail art, simply take a dotting tool or the back of a nail art brush, and start dotting away.
28. Tropical Beauty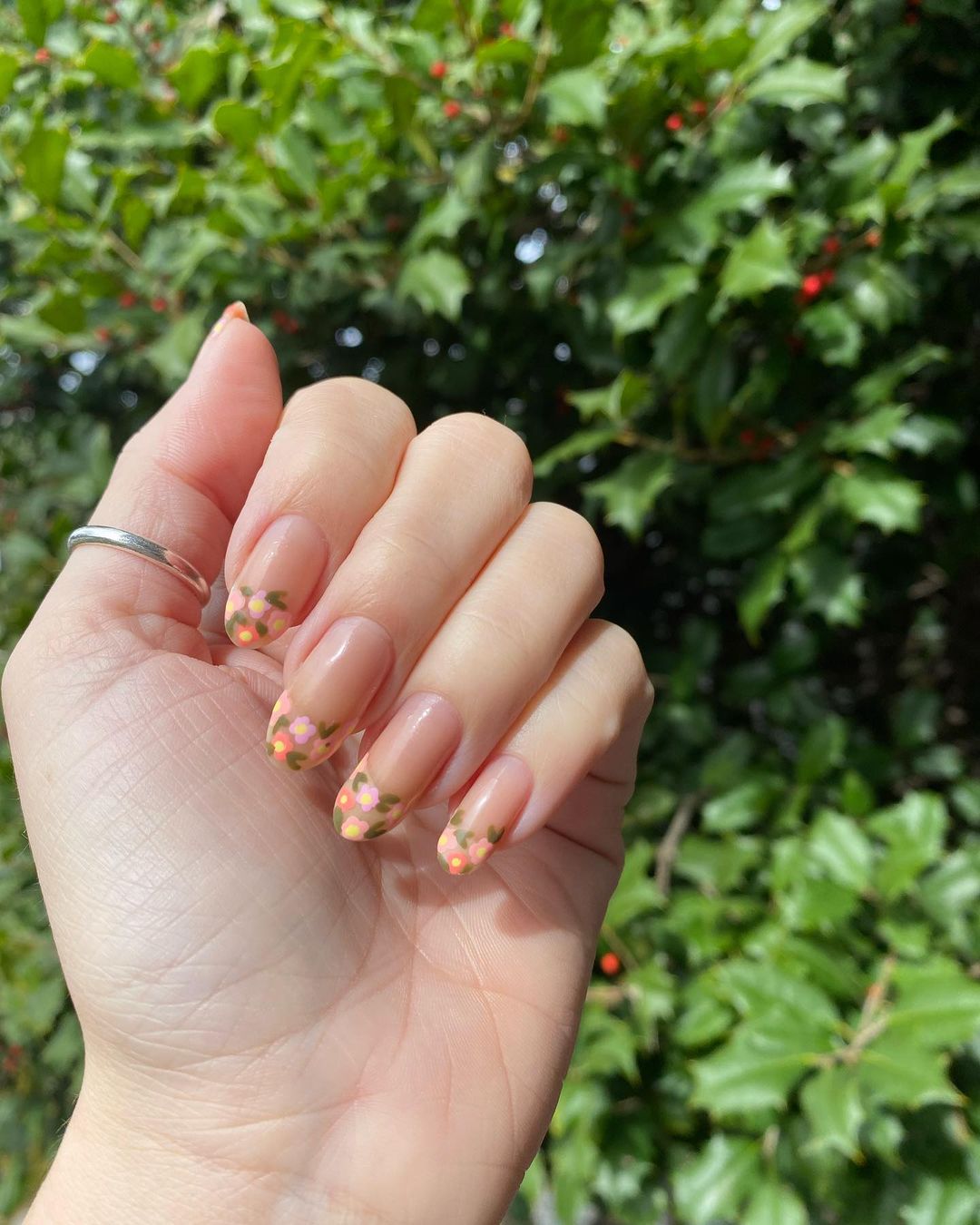 This tropical flower nail art is simple to create but also very versatile. From weddings to office parties, from vacations to brunches, and everything in between, this nail art design must be tried.
29. Grey Goose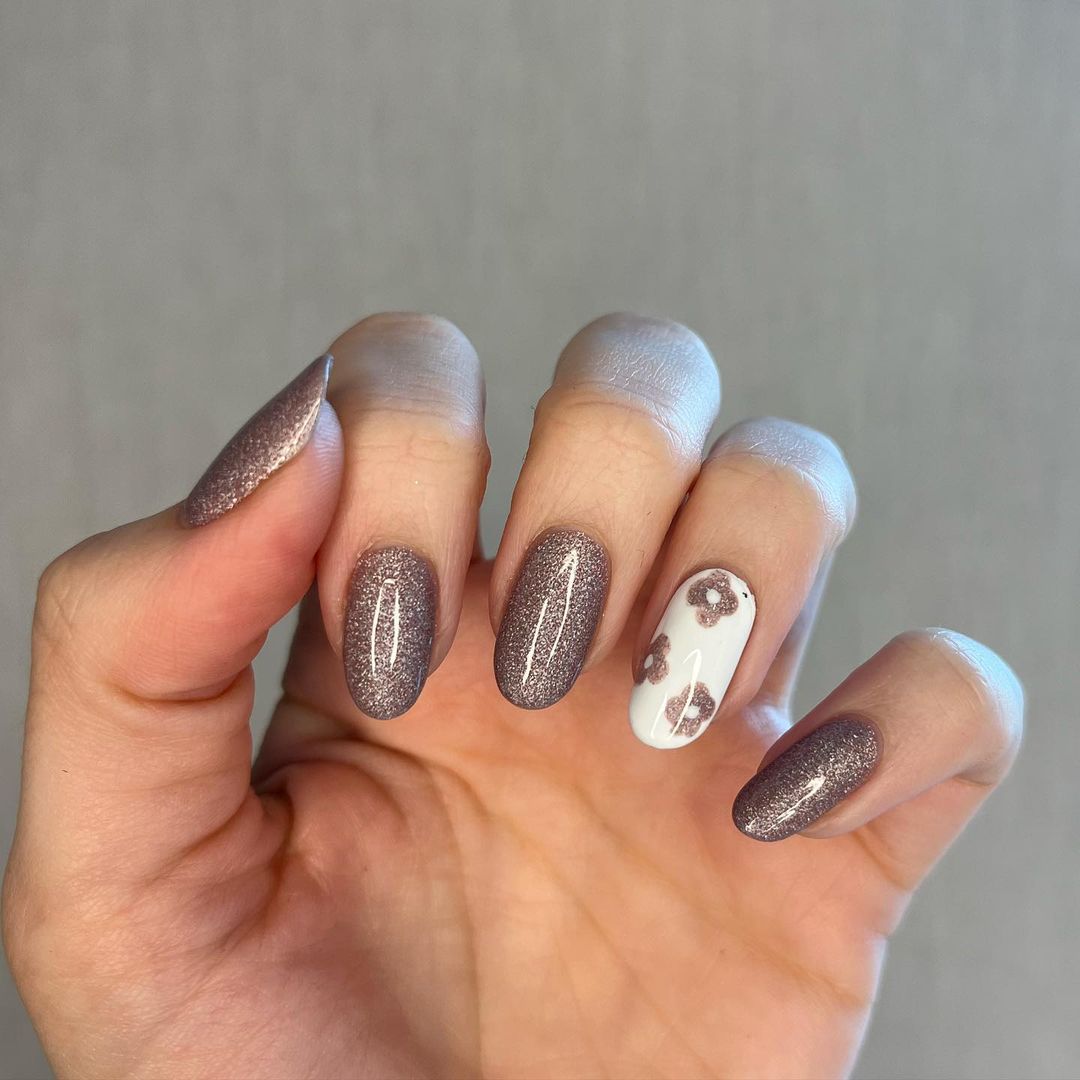 Another shade of glitter nails, another pleaser! All that is needed is white nail polish, grey glitter nail polish, and a dotting tool. Start by applying an opaque coat, followed by dotting the flowers. That's it!
30. Barbie's Pink
With two contrasting shades of pink nail polish, this flower nail art is sure to get conversations starting. It has solids with flowers drawn using a lighter pink that add liveliness.
31. Pretty In Pastels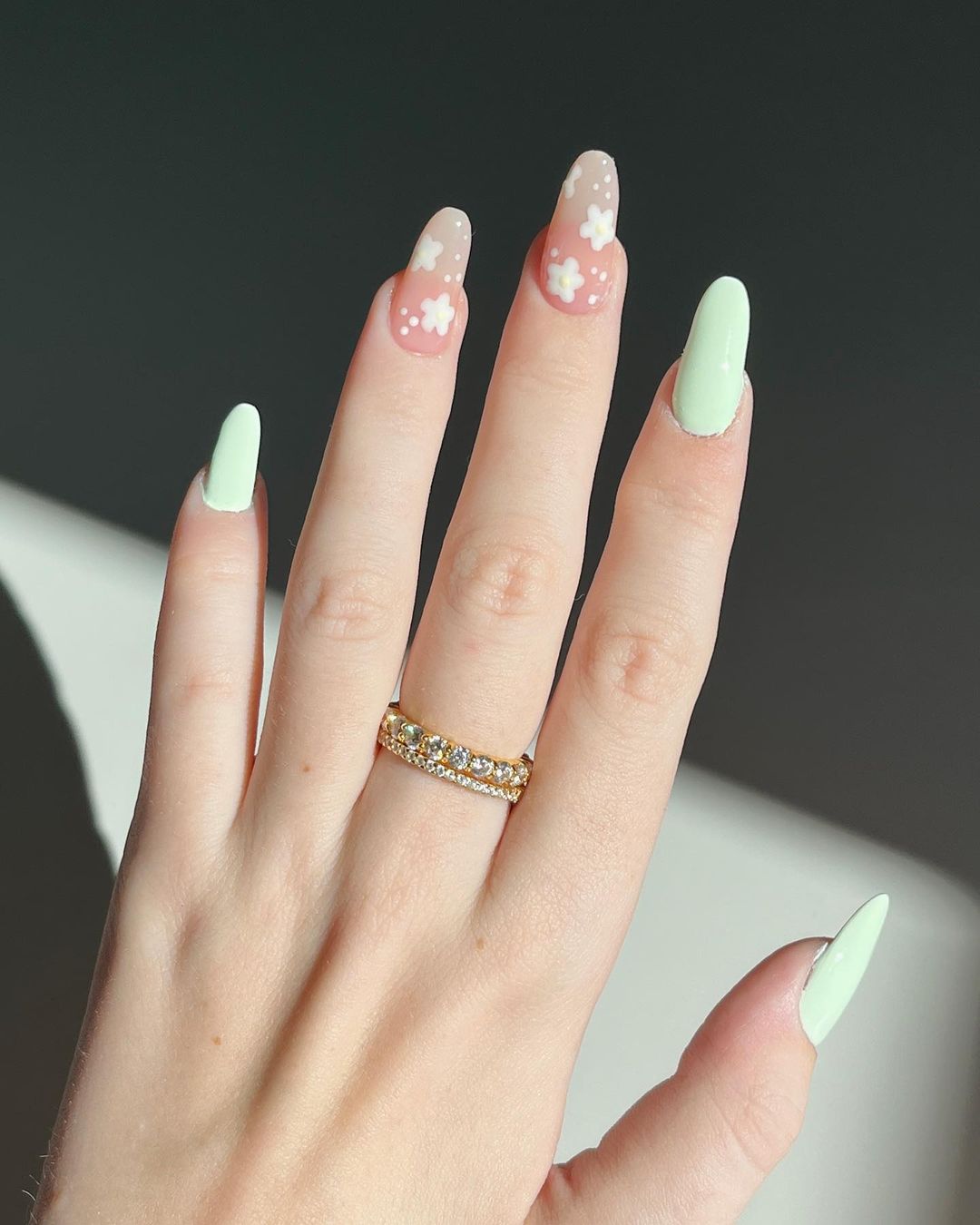 The perfect balance between solids and floral, this flower nail design works best with press-on nails. I would recommend this pattern on coffin-shaped nails. You can play with shades of pastel too.
32. Green Grass
The neon green nail polish adds a pop to the tips making this simple flower nail art design more appealing to the eyes. With white flowers, the look is enhanced to the extent that you will get compliments.
33. Glitter Me Up
One of my go-to elegant flower nail designs, these glitter nails have a touch of softness in them. Bronze glitter uplifted with contrasting white flowers, these nails are perfect as wedding nails.
34. Tumbling Over Tulips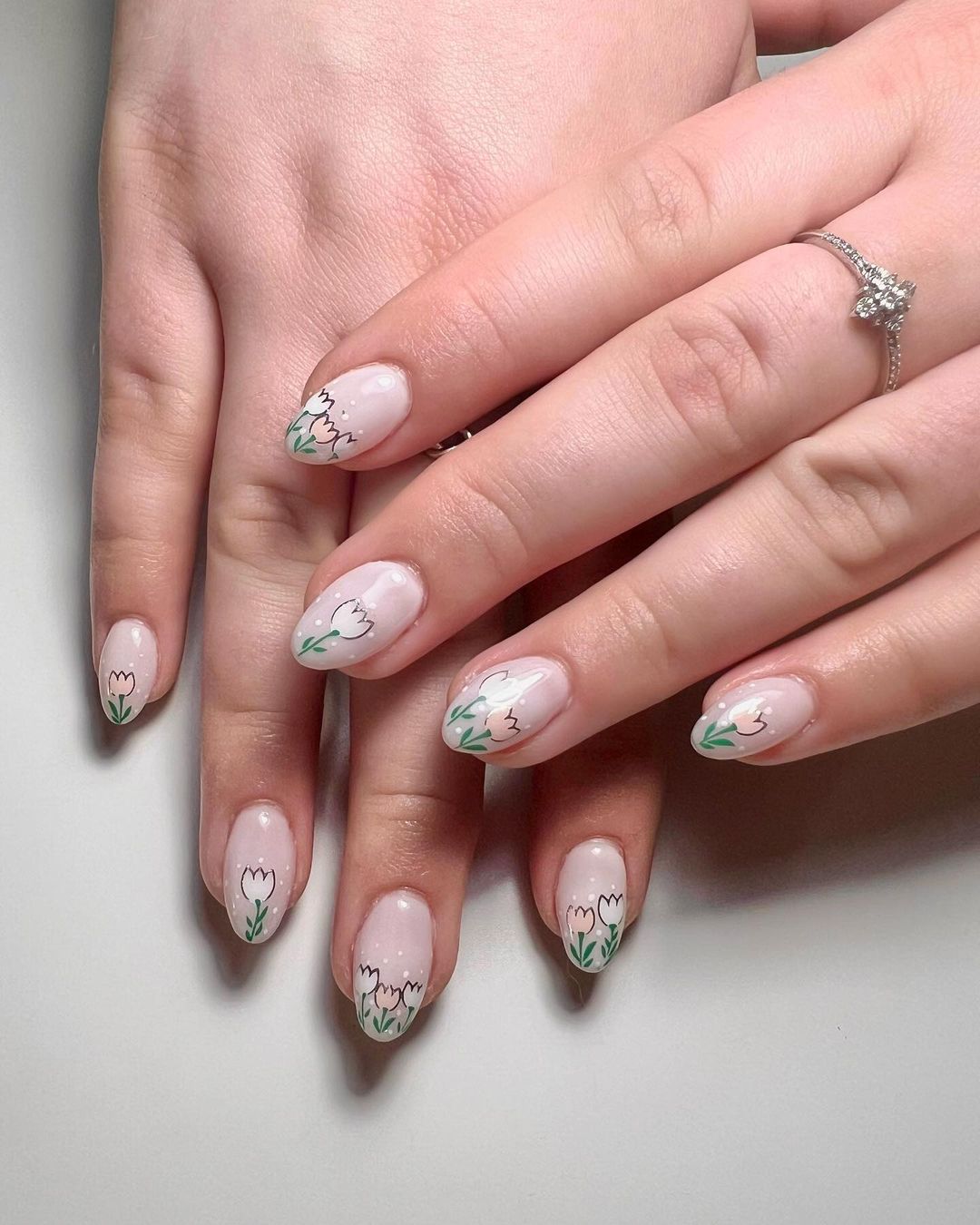 The uniform base coat in this simple flower nail design makes it look more plush. The regular French tips are replaced with tiny tulips that give it a detailed intricacy.
35. That Boho Girl
An upgrade on the classic French tip nail art, this flower nail design has patterns on the tips. A glossy base coat, with white tips, enhanced by deep blue bohemian prints. Are you excited to try this?
36. Beautiful Browns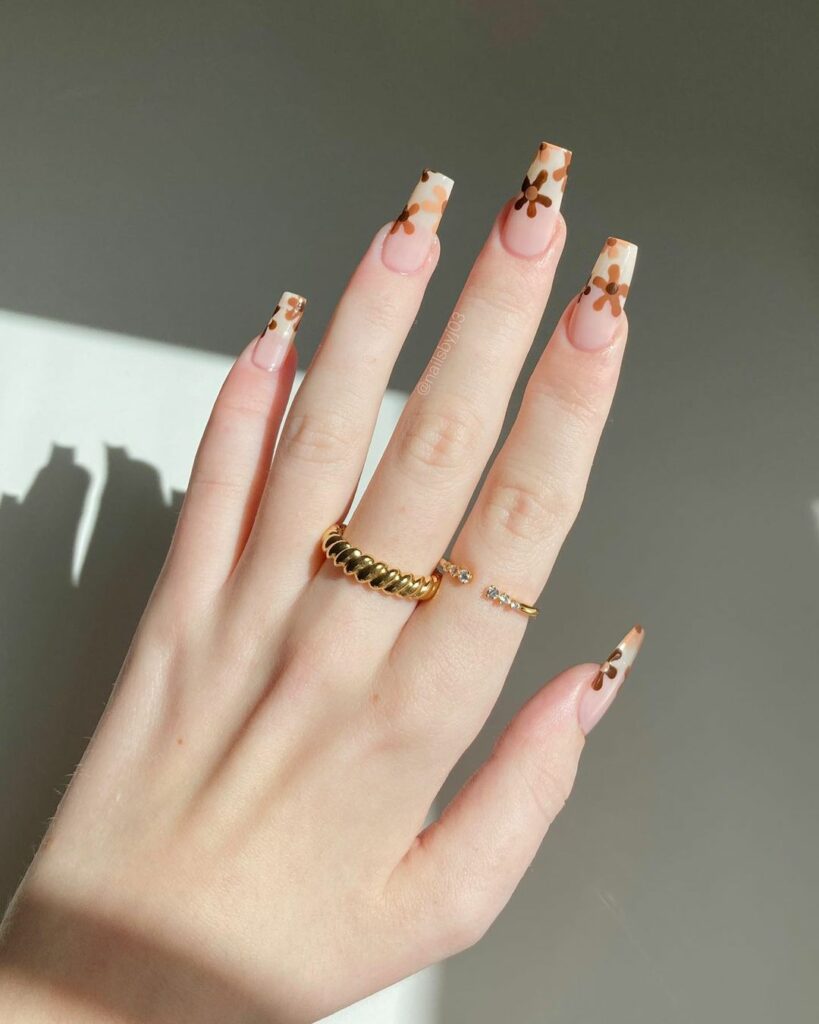 What I love most about this tropical flower nail design is the fact that it is subtle but powerful. There are earthy shades of brown, but the mix and match is what makes it stand out.
37. Purple Princess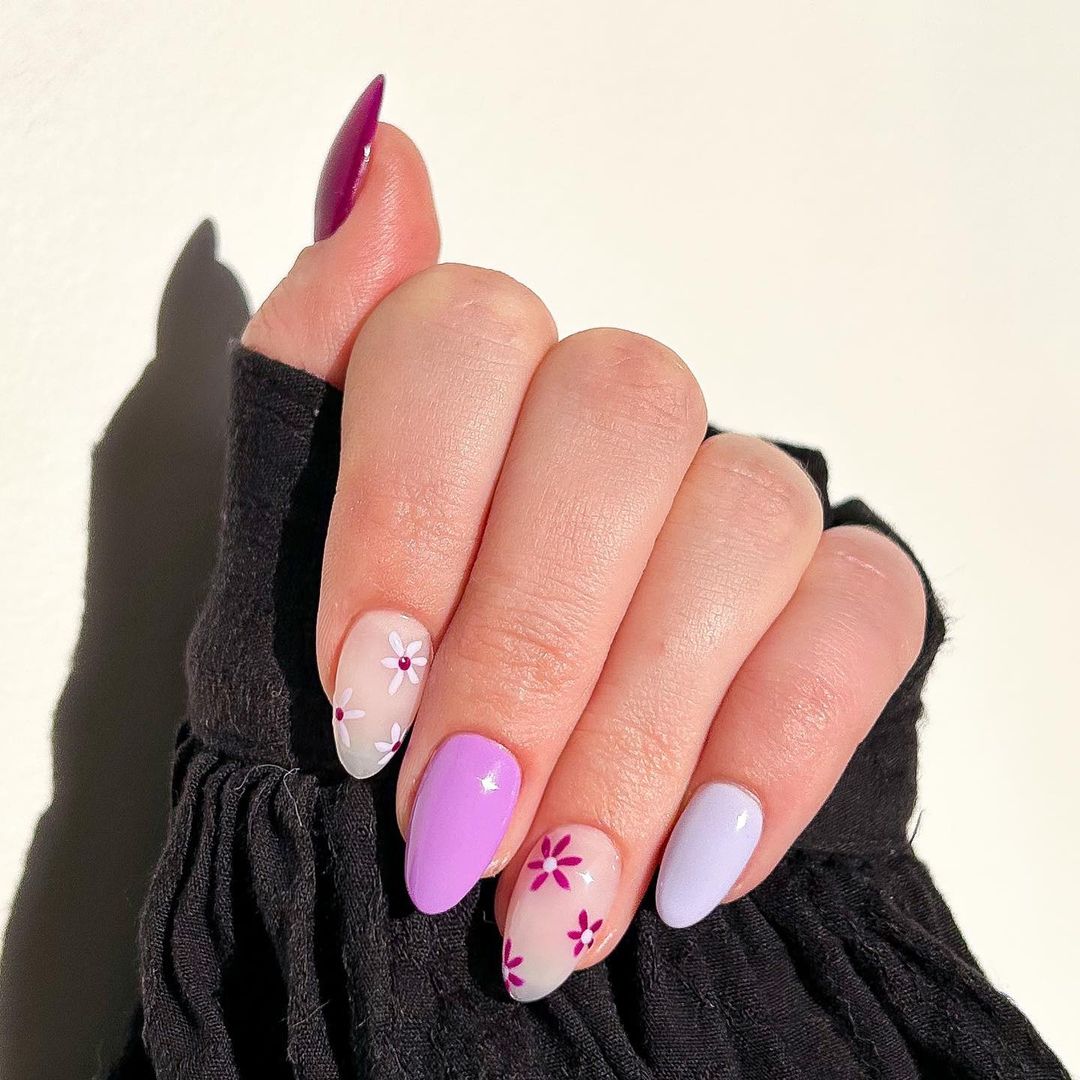 A mix and match of solids with flowery nail art, I am in awe of the shade range used here. It creates an ombré effect across the hand, which generates more interest for the eyes. You could switch between glossy and matte top coats.
38. Feelin Fine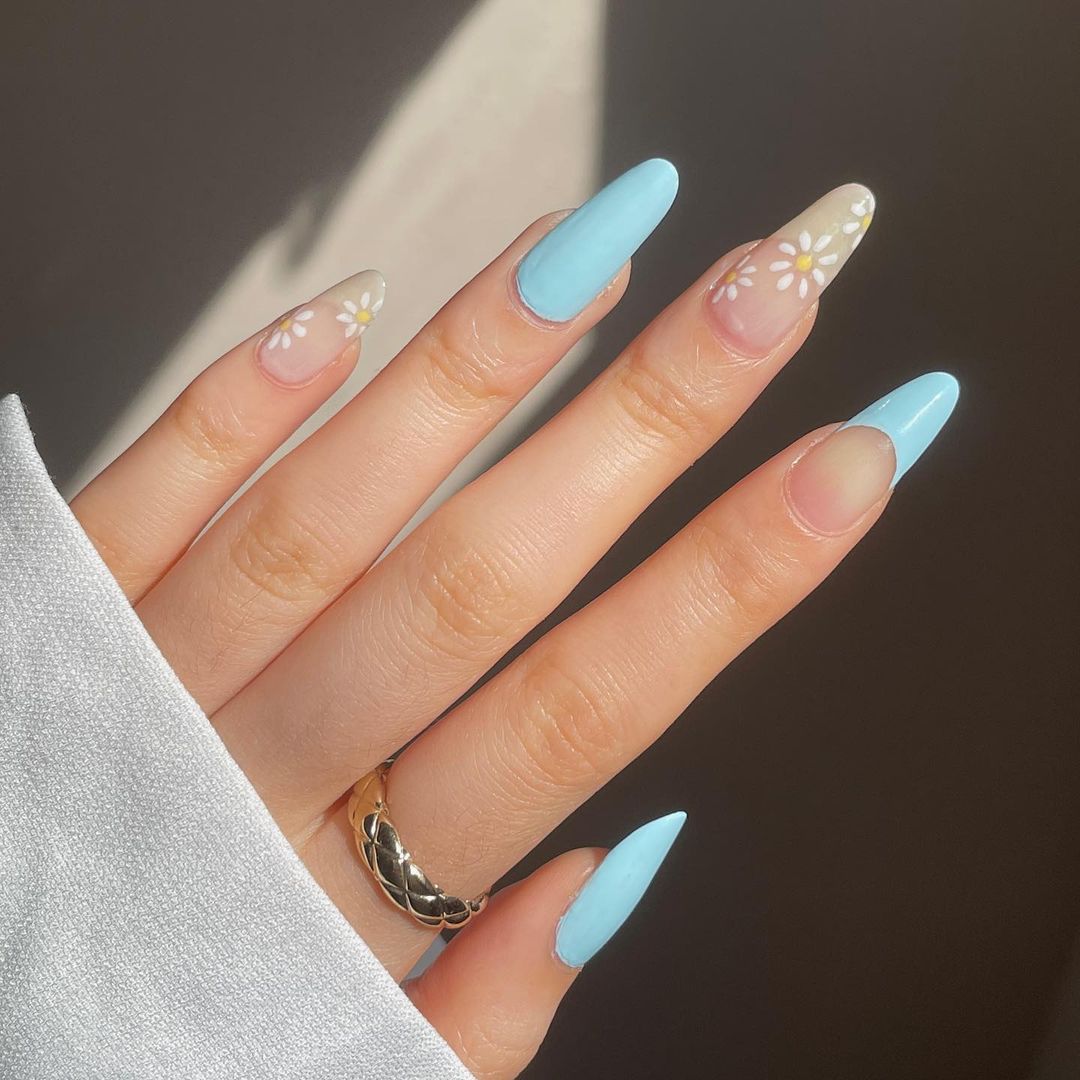 Sky blue and white – this combination of colors is a match made in heaven. And this tropical flower nail art is visual proof. It uses a blend of nail art styles like French manicures, and dotting, among others.
39. Purple Lines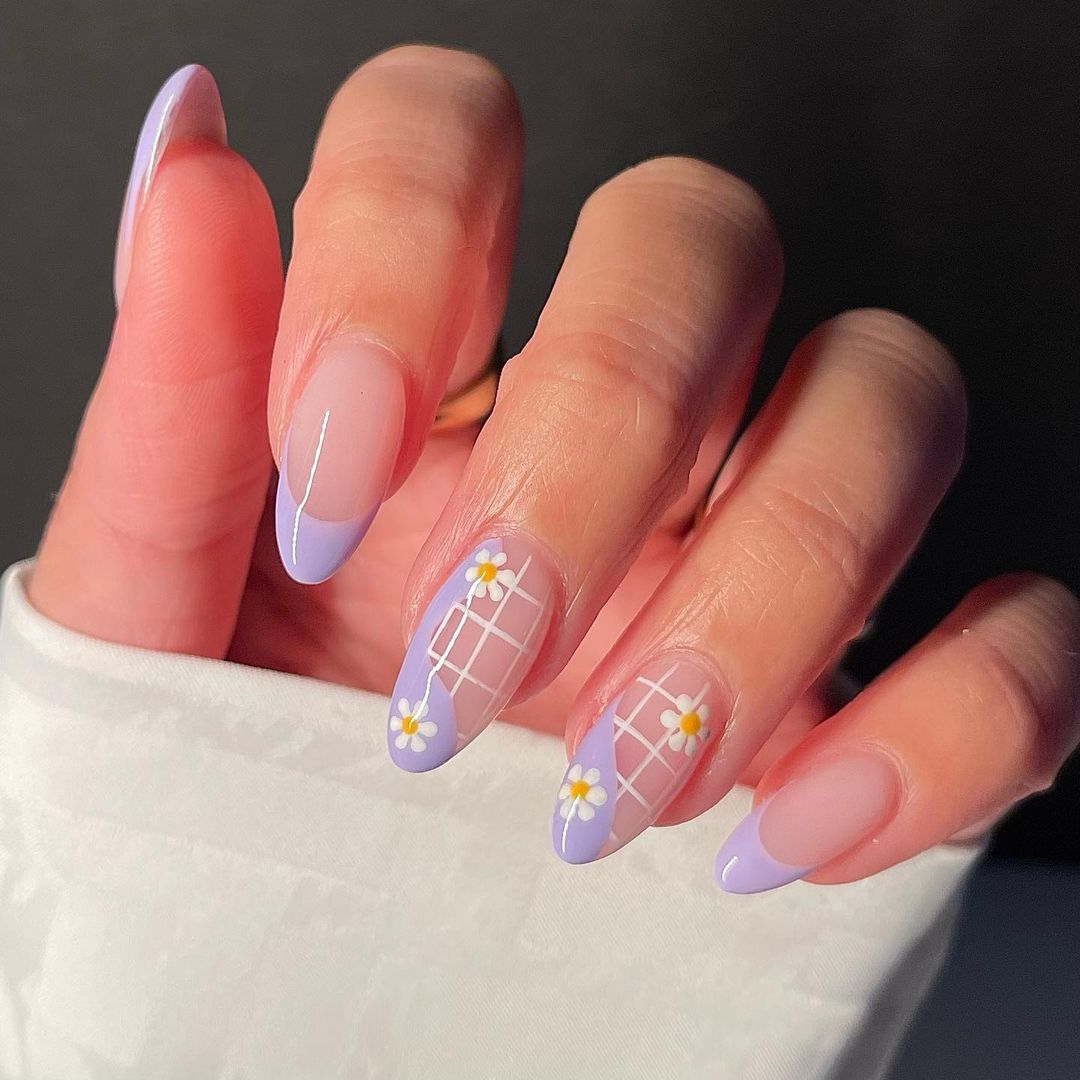 If you love checkered prints, this nail art is for you. Start with a purple pastel color. For white lines, use a thin nail art brush. Add some vibrancy with yellow. That's all you need to create this beauty.
40. B and W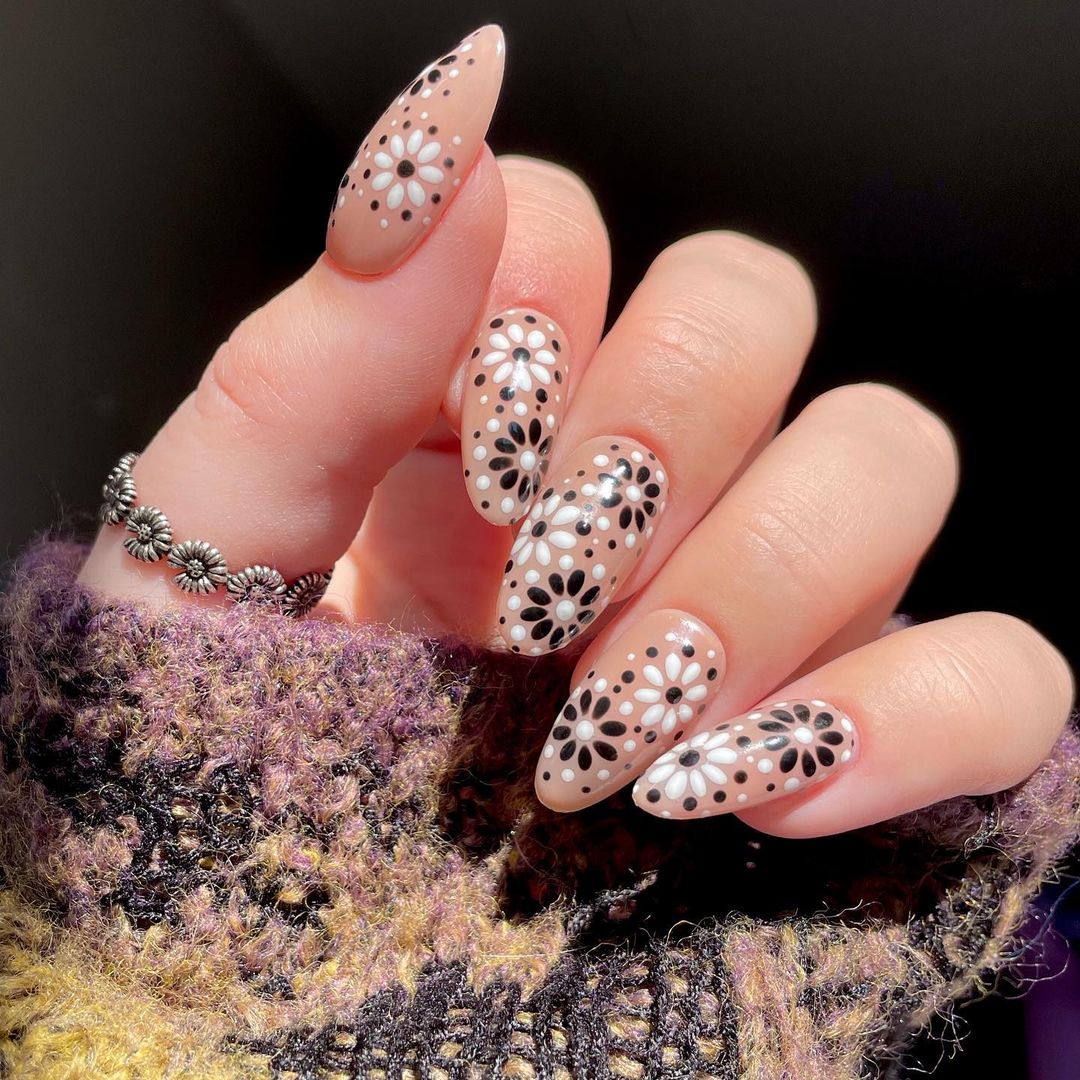 A whimsical flower nail design I cannot wait to recreate, this has the classic black and white combination. It has round, bold flower patterns. The best part? You can make dots as you please because there are no rules.
41. Subtly Superb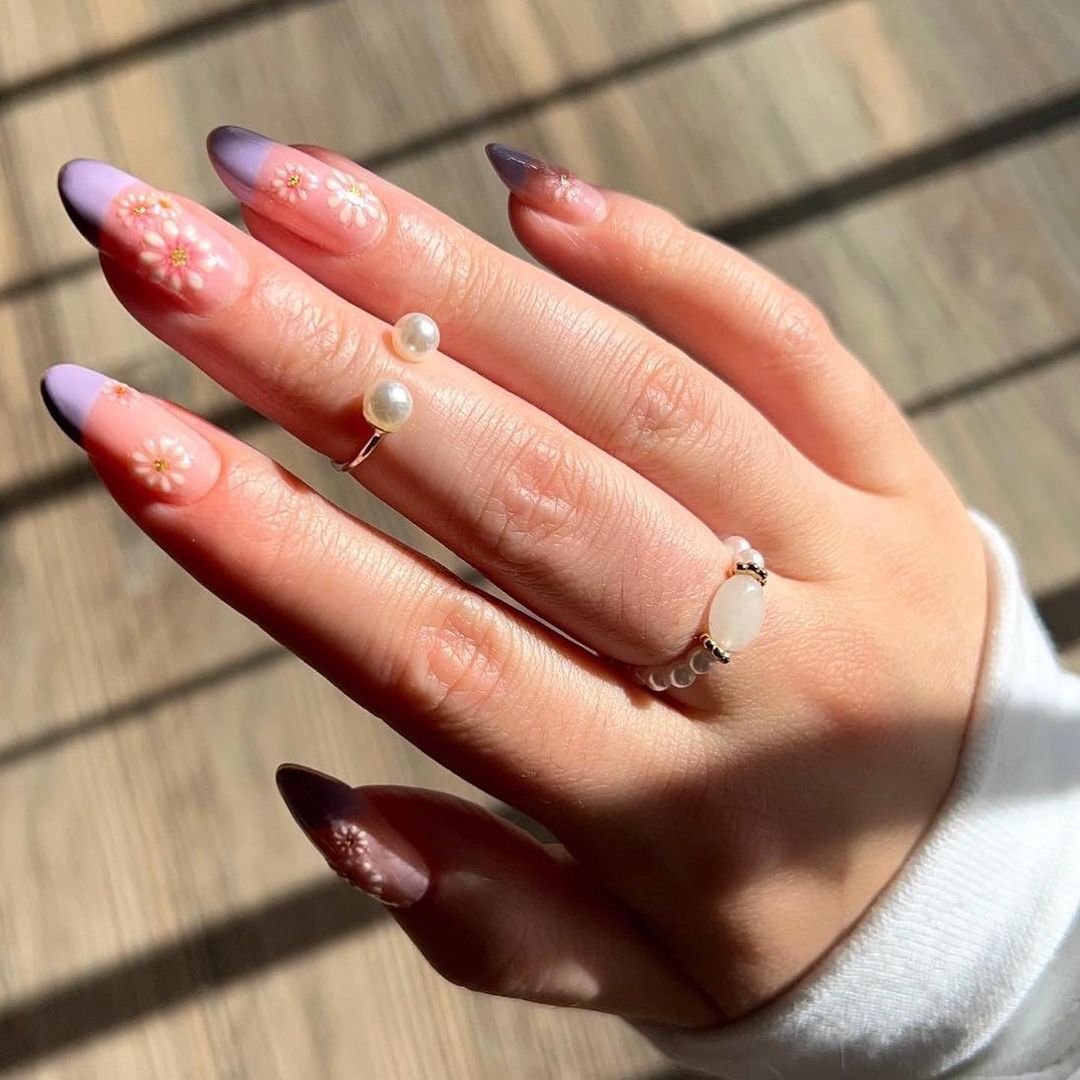 Another take on French tips, here we have some pleasing pastel colors. The flowers lend some softness to the look. Add rhinestones in the center to add some bling.
Wrapping up:
Feeling flowery? Well, so do I! This recollection of flower nail art designs was so much fun to share. Before diving into my favorites and recommendations, I would like to highlight another aspect of elegant flower nail designs.
There are events when I don't have much nail art equipment on me. Other times, I have each shade of each color, dotting tools of all sizes, you get the gist. What's beautiful about this list of nail designs is the fact that it helps me create an appealing look regardless.
You want something lowkey? You got it! Something with tons of bling and nail jewels? Sorted! What about a unique nail design that uses rainbow colors? There are inspirations for that as well.
Moving to my favorites, this is a challenge. However, designs one, seven, and nine are flower nail art designs I would wear every day if I could. They match my aesthetic and personally, I think they are very Instagram-friendly. 
That's all the love I have to share today. Let me know the designs you tried or are inspired by. Share your recreations with me, and let's become besties over manicures!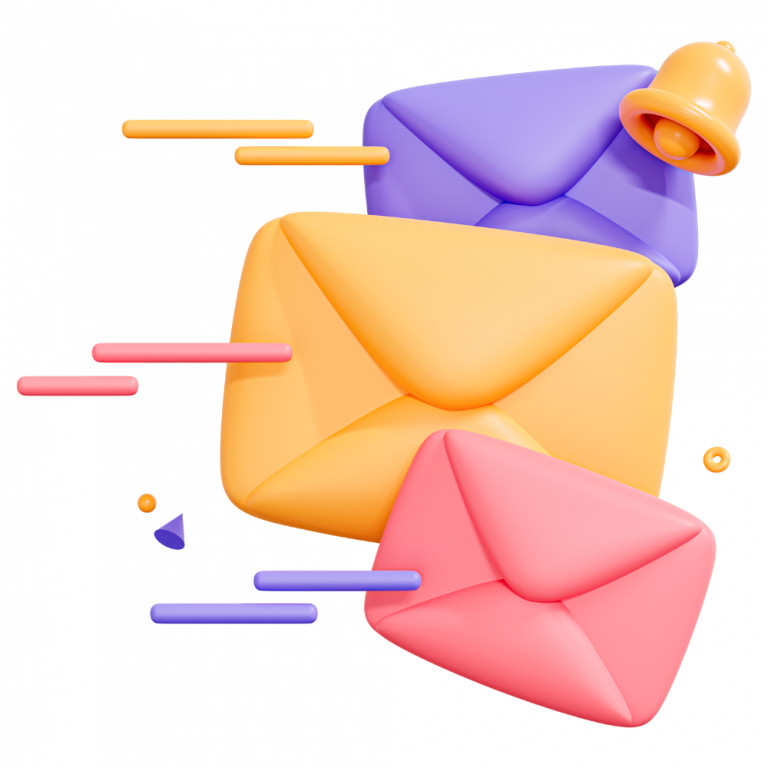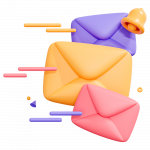 Read related: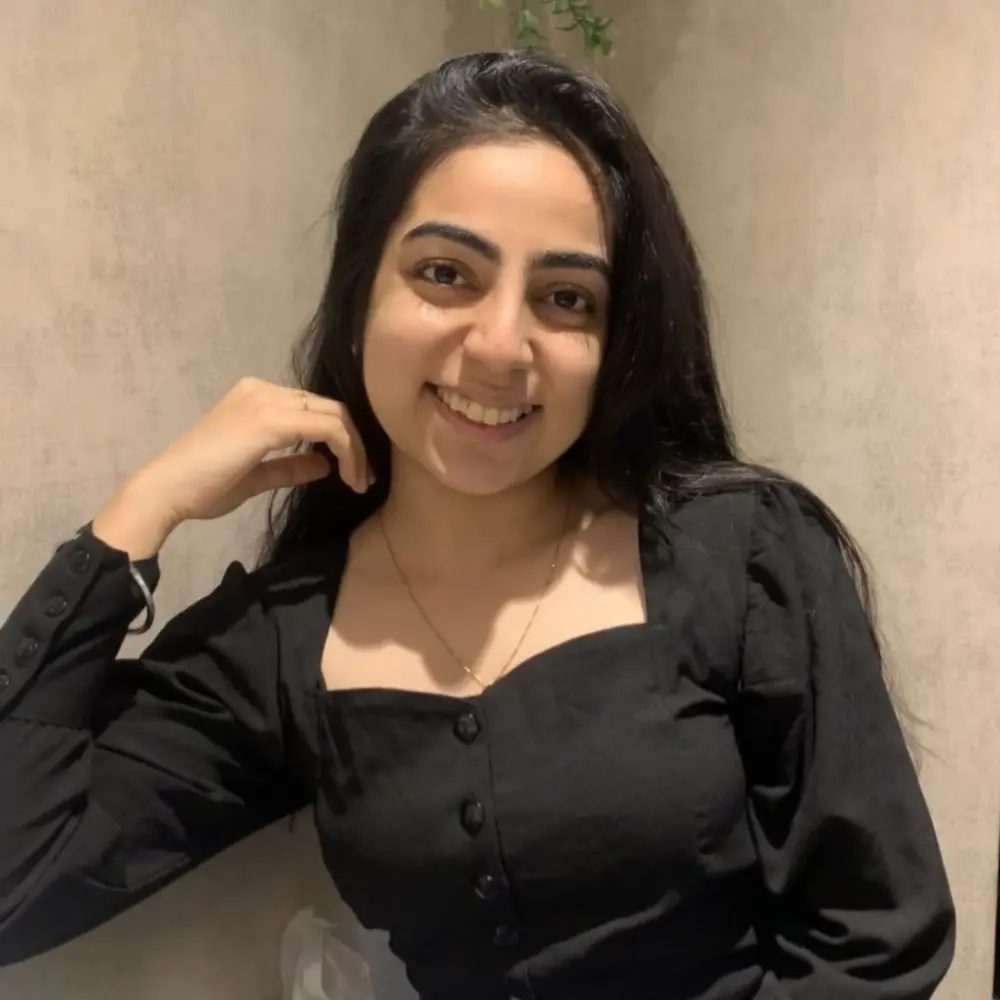 Less is more while simplicity is key – this is what Aanchal believes in. She likes her manicures like she likes her people – subtle but impactful. With a passion for all things pretty, Aanchal loves creating versatile festive nails by taking inspiration from spaces around her.