Best Nail Color for Green Dress! Color Ideas & Nail Polish
Do you know what compliments best with any green dress? It is simply the nail color you choose to wear. Your nail color has a vast role in making your attire look fantabulous! However, choosing a proper nail color for green dresses can be quite a hassle, as each and every shade of green is soul-soothing.
Every green shade has its own psychology. Out of which, the most relatable green shade is the shade of nature! If you observe a bit carefully, you will be able to figure out that the color green has a very flexible hue.
From the color theory expertise, I have provided below a bunch of detailed guides that will help you choose the right Nail Color for Green Dresses. After reading this post, you will know the best possible nail color that you can wear to enhance the look of your green dress.
Nail Color for Green Dress – Try Them with ANY Green Outfits
I know there are many shades of green available. And also I'll talk about them in the coming section of this post. But firstly here are these 5 nail colors that you can pair up with any shade of green dress easily.
These colors are easily available as nail polish, and you can lay your hands on them without any struggle. Such nail colors also give you the benefit of the freedom to paint your nails based on your mood.
This post contains affiliate links. Read my disclosure for more information.
1. Ash Gray
Ash Gray is a soft color and highly charismatic. No matter which shade of green outfit you wear, ash gray nail color is going to make you steal the crowd's attention.
While green depicts positivity, gray reflects a bossy and cultured vibe. These combinations are deadly and will make your outfit look bold and desirable.
2. Crisp White
White is supposed to reflect peace. But what if I tell you, with crisp white, it will be sassy! This shade of crisp white as a nail color speaks for itself just like coffee – strong and bitter.
When you pair it with any green dress, it makes your attire a Sureshot kickass with a little punch of sweetness.
3. Sage Green
What could be more comforting than sage green on your nails? This color has all that you need to make you the reason for the crowd. This shade has a unique aesthetic aura that blends perfectly with all shades of green.
Post You May Like: How to Remove Shellac Nail Polish at Home? 5 Easy Steps
4. Vantablack
This is the darkest shade of black you can ever lay your hands on. Its gothic shade is a perfect contrast to carry out with any green dress. While green defines inner peace, venta black is mesmerizing and opaque.
Such a strong look is quite dense to make others adore your look twice. Not only just for eye-catching black nail art, but venta black as a nail color for green dresses will also be a perfect choice.
5. Cream Holographic
To give your green outfit a mysterious look with your long nails, pair it up with a cream holographic nail shade.
Its cream base color with ivory glaze is a perfect counter to your green dress that will help you dazzle beautifully. Such a combination will boost the specialty of your outfit.
Nail Color for Dark Green Dress – Try Them for an Exquisite Glam
Green is a shade of life and peace. But do you know what the color of forest life is? Yes, it is dark green.
To me, dark green is a shade of forest soul that is simply as gorgeous and breathtaking as any dark green dress. However, to nail the look of any dark green outfit, here are the top 5 nail polish colors for exquisite glam.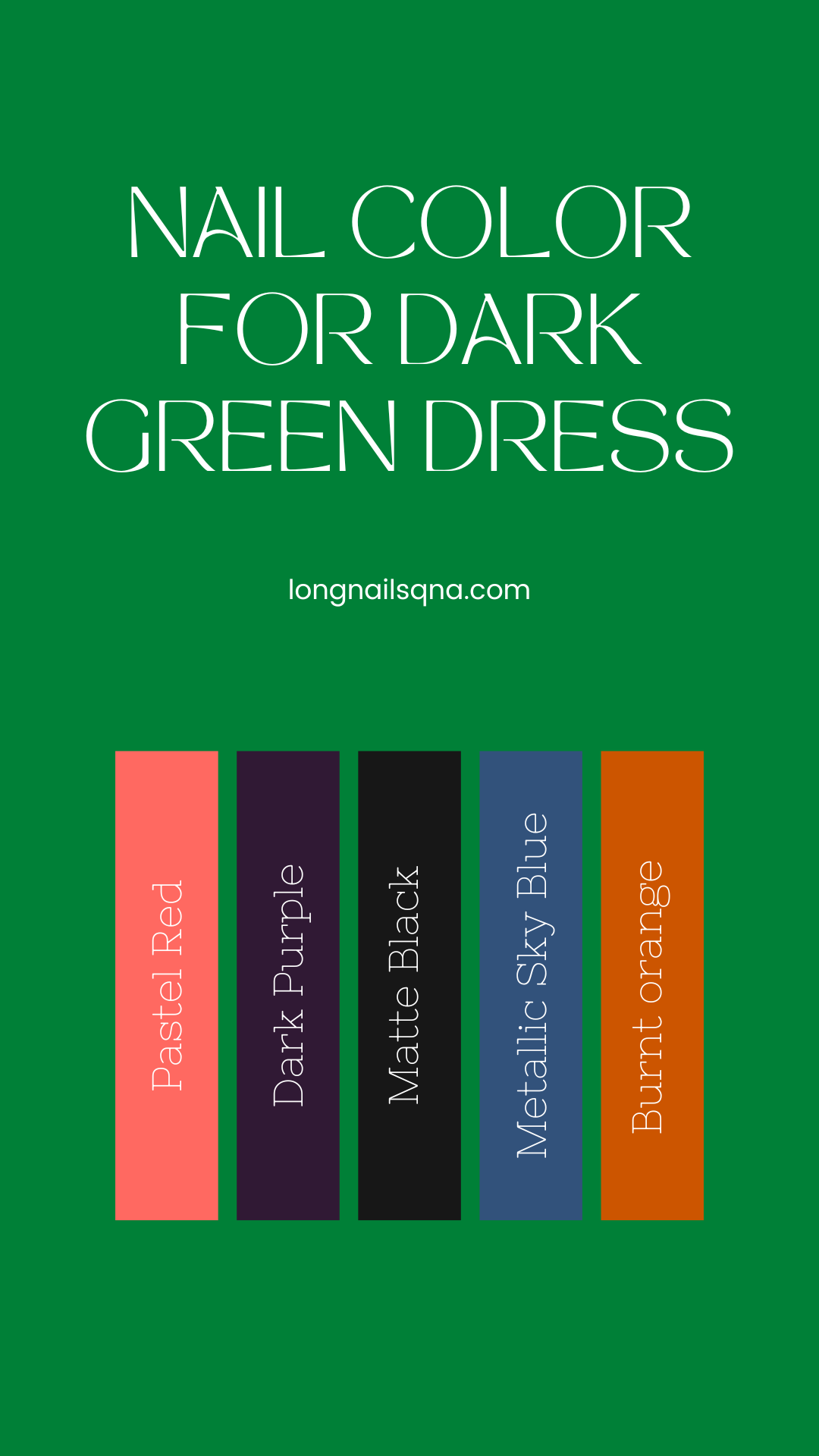 1. Pastel Red
This shade of red is soft yet dynamic, which signifies a daring personality. Its fiery nature makes it blend perfectly well with a dark green dress.
While dark green is a very dense and strong color, pastel red holds a hue of confidence and passion. These two colors together make the outfit look bold and classy. Therefore you can choose pastel red as a nail color for green dresses.
2. Dark Purple
Dark purple is a shade of royale. This color represents high standards in terms of art, culture, and creativity.
If you feel like expressing yourself as a bold persona with classy taste, try out dark purple nail color with a dark green dress. This look will make you establish your attire to be super elegant and admiring.
3. Matte Black
This shade of black is no less than a bold statement itself. Matte black, despite being a dull color, has qualities that can make you the showstopper of the night when combined with a dark green outfit.
The smooth, dense look of matte black nail color complements your dark green dress flawlessly, making your attire look sophisticated.
4. Metallic Sky Blue
Metallic sky blue is quite a creative and intellectual color that matches perfectly with any dark green attire. Its shiny and shimmery texture can make your dark green outfit dazzle even at night.
The richness of the nail color will add a strong look to your dark green outfit, making it look classy.
5. Burnt orange
If you are looking for a nail color to make your dark green outfit look fiery, then burnt orange is the right shade for you.
This color has a warm, fiery yet cozy vibe to its color that makes your dark green dress look marvelous. So to highlight your greeny look, choose this nail color for green dresses.
Nail Color for Emerald Green Dress – Try Them to Uplift the Glam
Out of all shades of green, the emerald one is my all-time favorite. This shade is highly ethnic and smooth. If there is any shade of green that I can describe as sweet, friendly, warm, and classy at the same time, it is literally emerald green.
It is quite a humble color for which I will be listing the top 5 nail colors that you must try out with an emerald green dress.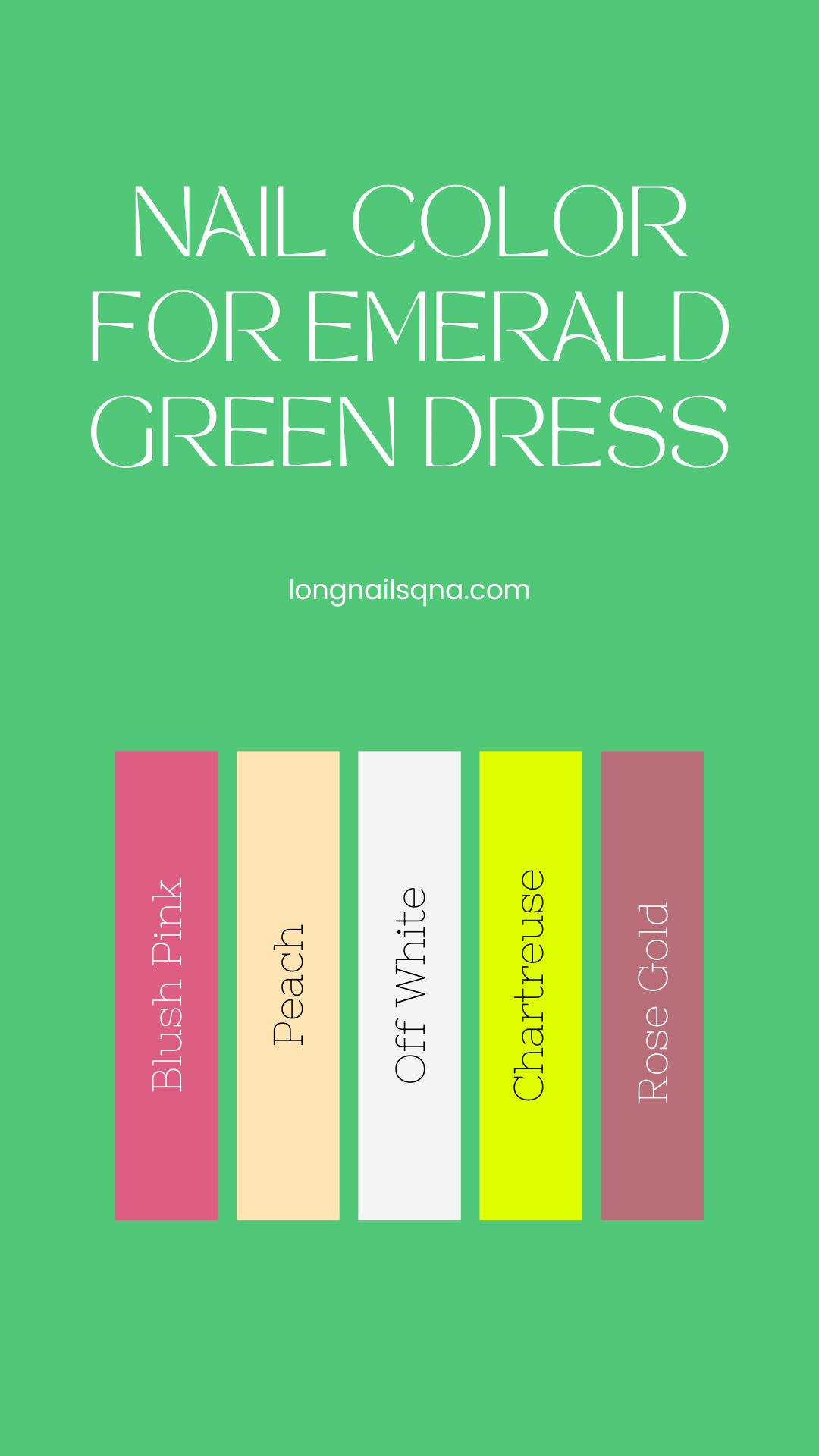 1. Blush Pink
Make your attire speak the color of shy and adorable with Blush pink. This one is a soft and warm nail color that complements well with your emerald green dress.
This combination will make your outfit look super cute, and attractive, and at the same time, your nails will be at their peak.
2. Peach
This color, despite being vibrant, is highly energetic and pleasant. Additionally, the hue of the peach also establishes itself to be a highly feminine and romantic color.
This color on your nails enhances the bubbly nature of your emerald green outfit and makes it appear extremely beautiful.
3. Off-White
If you are looking for nail color to make your emerald outfit look simple yet fashionable, then try out off-white nail color. Besides, this color is my fav nail color for green dresses.
Off-white nail color is considered to be warm, outgoing, and adorable, which will make your emerald outfit look simply jaw-dropping.
4. Chartreuse
Want to try out a unique color to give your attire a tangy look? Then chartreuse is just the right nail color for you to pair with an emerald green dress.
This shade is highly pigmented that will make your nails look fresh, enabling your emerald green attire to shine out loud.
5. Rose Gold
To make your emerald green dress live up to the meaning of its color, accompany it with rose gold nail color.
The combination of emerald green and rose gold will help highlight the richness of your look. Such a combination is simple, light, and elegant, which makes it an ideal nail color for green dresses!
Post You May Like: 7 Best Nail Polishes for Water Marbling in 2023
What Color Nail Polish Should You Wear With an Olive Green Dress?
One of the most trendy shades of green these days is olive green. This color is a combination of dark yellow and green, which makes it look quite earthy and neutral.
Based on the color theory and my personal preference, these 5 best nail shades you can try out with your olive green dress. So the next time you decide to wear your favorite olive green outfit, choose one of these nail colors and get ready to bring more compliments.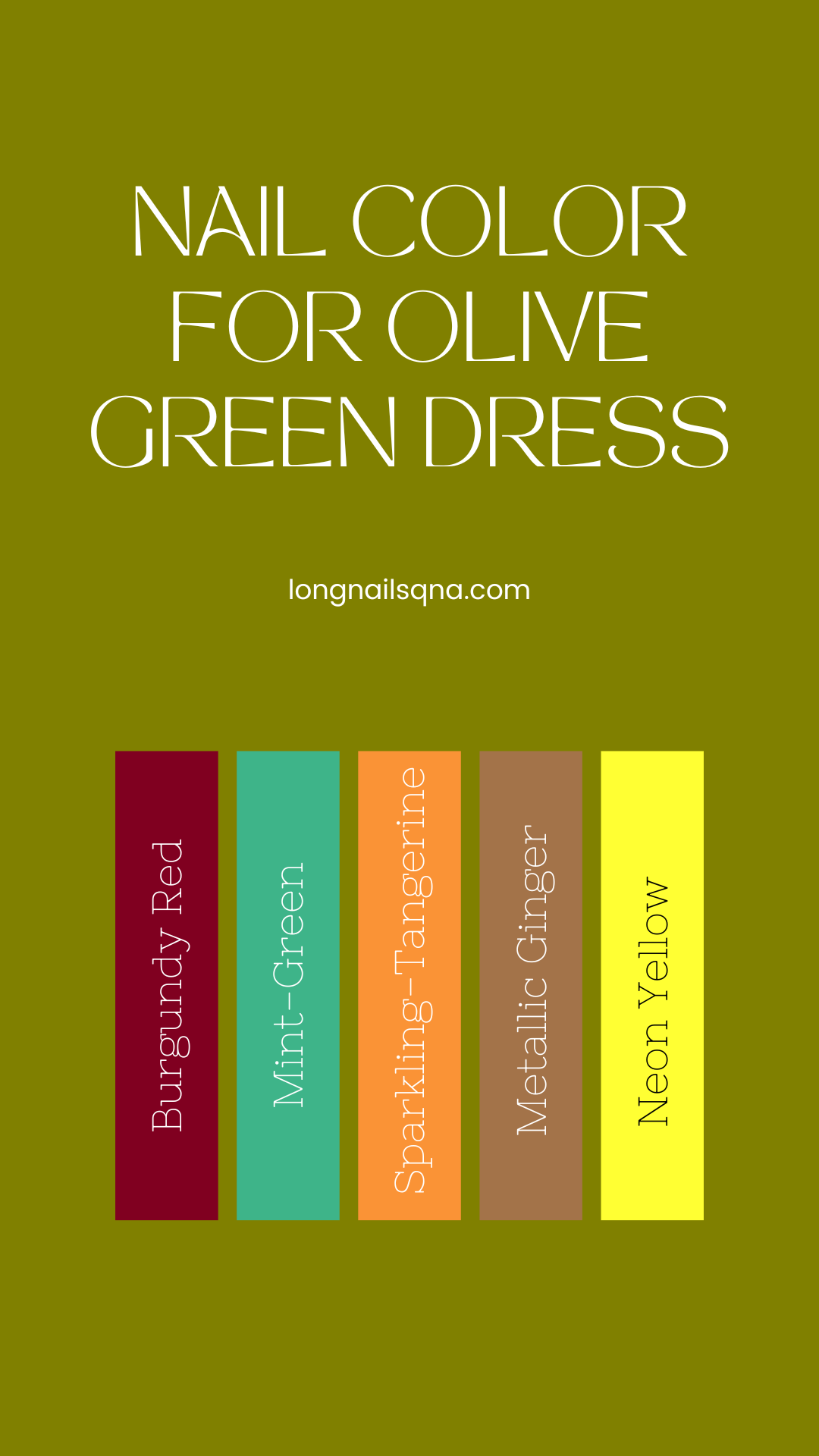 1. Burgundy Red
Burgundy red is quite a rich color which represents strong shades of red that reflects power, sophistication, and ambition. On the other hand, olive green is a color that represents empathy, wisdom, harmony, and sophistication.
These two colors together denote a very strong and compassionate character that complements well with each other. Hence, burgundy red can be an excellent nail color for green dresses.
2. Mint-Green
Mint-Green is a very happy, jovial, and friendly color that adds freshness to the attire. Due to the happy-go-lucky vibrant hue of the nail color, the attire gets a warm look that rejuvenates the hidden charm of the dress.
This helps in blending out the bitterness of the dress and adds a bright look to the outfit. Hence, mint green is undoubtedly the best nail color for green dresses.
3. Sparkling-Tangerine
The color sparkling tangerine is quite a flexible and joyful color. This shade, when combined and tried out with an olive green dress, adds youth and warmth to the look.
Sparkling tangerine helps in adding spark to the olive green-colored outfit, making it look attractive and dazzling. Undoubtedly, sparkling tangerine is the most acceptable nail color for green dresses.
4. Metallic Ginger
Metallic ginger nail color is a shade that defines your holiday mood aesthetically. Wearing such a luxurious nail color with your olive green dress will enhance your lazy, playful mood.
So the next time you want to make your olive green outfit look fantabulous, try out this nail shade for sure!
5. Neon Yellow
The neon yellow nail color is my favorite! This nail shade perfectly complements the dullness of your olive-green outfit with its shiny and bright nature.
Besides, this nail color will make you vibe in a joyous and bright mood that will completely change the look of your olive green outfit. You can consider this nail color for green dresses as well without having any doubt.
7 Best Nail Polishes That Can Match Any Green Dress
So far I have talked about nail colors that go well with dark green, emerald green, and olive green. But if all these confuse you and you are really in a rush, then here are the 7 best nail polishes, that you can try irrespective of any shades of your green dress.
1. Olive Green Sparkly Nail Polish
I like this nail polish, it's glittery with an olive-green shade. This nail polish is highly appealing, and its shimmery and vibrant nature will enhance the beauty of your green outfit.
Additionally, this shade of green looks different under natural light and strobe light which also makes it party-friendly.
2. Hot Neon Pink Nail Polish
This nail color is suitable for all your green dresses. Hot neon pink nail color has a very hot and badass nature that will make anyone drool at your green outfit.
Moreover, this nail shade blends naturally with any of your green attire, making your outfit look outstanding at the same time!
3. Rose Gold Holographic Nail Polish
Rose gold is the color of luxury and ethnicity that will contribute richness and a royal look to your green outfit. This shade of nail color is my favorite as it is quite fiery and bold to pair up with any green dress.
Its shiny and shimmery nature adds sophistication to your look, making your green outfit the new sensation amongst the crowd. Indeed this can be an ideal nail color for green dresses when you're totally confused about what to wear.
4. Gold Diamond Nail Polish
This nail color is in the shade of gold with a diamond shine. It is an excellent nail color to pair with your green outfit as its glowy and bold vibe adds classic beauty to the outfit, making you rock and roll for any event.
Additionally, this nail color is quite classy, vibrant, and shiny, which will make your green dress speak loudly in the crowd.
5. O.P.I. Big Apple Red
When I am completely confused, Big Apple Red nail polish is all I could think of to complement my green dress with a bold shade.
This shade of red gives a vibe of confidence, making the green dress the center of attraction. Plus, this shade of red will make the green dress the voice of a dense and bold statement.
6. Fuchsia Power
This pink nail polish is the ultimate game-changer for any green dress. Fuchsia power has a very simple shade which makes it highly flexible to pair up with any green outfit.
I love this shade because its simple and soft nature makes it easily wearable for everyday looks or just casual meet-ups with my besties.
7. 120 Don't Hate, Curate
Last but not least, this is my all-time favorite shade. 120 Don't hate curate is a very pretty and playful shade that will make your green dress grab everyone's attention. Its jovial and outgoing nature generates warm and soothing energy.
Additionally, the simplicity of this nail color uplifts the beauty of any green attire, making the outfit dazzle in the audience. Pick this nail color for green dresses to bring your aesthetic vibe.
Final Thoughts
The green color signifies peace and elegance. I feel no matter what shade of green you wear, accompanying it with the right nail polish is a must to transform its look. I have my wardrobe with a maximum of green outfits. Every time I try out one, I always experiment with a bunch of nail colors.
This is because I feel green is a very humble and polite color that can vibe pretty easily with any nail color. Speaking of which, my favorite shades of green are always emerald and olive green. These two colors speak my thoughts and energies most of the time.
Although black is my favorite color, the peace, and calmness I find in these two shades of green are hard to pen down. So, to complement them, I usually try out red and neon-yellow nail colors. That is what changes my outlook game, making me score 10/10!
Read related: