27 Cutesy Polka Dot Nail Art Designs for 2022
Polka Dots! They might have been the first kind of nail art we have ever experimented on our nails, all the way back in middle school! Polka Dots have emerged from being the beginners of nail art to a truly wide canvas for nail art.
Apart from being an incredibly easy design to create, polka dots can be customized for any kind of aesthetic. Polka Dot Nail Art is no more limited to boring dots on a monochromatic canvas. Just like any other kind of design, polka dot nail designs have been through their glow-up and are here to deliver!
Be it Christmas or Easter or maybe just a midday brunch, polka dot nails have something very classic about them, just like a mosaic kitchen wall. If you belong to the minimalist cult, there's a design for you too! Polka dot french nails, tiny far-placed dots, and neutral colors can be the perfect match for the minimalist in you!
Needless to say, Polka Dot Nail Art can be designed in a million ways.
Confused about your next manicure art? – Polka dots!
Want a perfect salon-like manicure at home? – Polka Dots!
Getting ready for a fancy date or party and want to look your best? – POLKA DOTS!
There must be a reason that even after centuries of fashion and beauty evolution, this simple design has outlasted many fads. Polka Dots have always appealed to the eye for their striking yet sweet pattern.
Let us dive into the world of Polka Dots to set up your next manicure appointment!
How to Do Polka Dot Nails at Home?
Although it is well established that polka dot nail art is an easy task, messing it up is also pretty easy if not done properly.
Here are a few steps to achieve the perfect Polka Dot Nail Art right at your home.
What you'll need:
Base Coat
Nail Polish of two or more contrasting colors
Top Coat
Dotting Tool of your preferred size
Nail polish remover
Step – 1: Clean, file, and buff your nails to your desired shape and size. Use acetone to clean the oil off of your nails.
Step – 2: Apply an even layer of base coat and let it dry.
Step – 3: Have a clear idea of the design you want to achieve. It's preferable to have a picture in front of you. Apply an even layer of the base color you want to each of your fingers.
Step – 4: Pick the color you want as dots. Pour a tiny amount on a flat surface so that it is easier to pick up with the dotting tool.
Step – 5: Grab the dotting tool and dip it in the color. If you are doing it for the first time, practice with the dotting tool by dotting it on a washable surface.
Step – 6: Now that you are confident, start dotting your nails according to the pattern you want.
Pro Tip: The nail polish may start drying on the dotting tool, keep cleaning it after dotting every nail with a nail polish remover. This will ensure better and consistent results.
Step – 7: Let the dots dry.
Step – 8: Make sure the dots have completely dried. Apply an even layer of glossy or matte top coat and seal the look!
27 Cutesy Polka Dot Nail Art Design Ideas for 2022
Now that you know how to create stunning Polka Dot Nail Art, let's venture through some designs!
1. Peaches N' Cream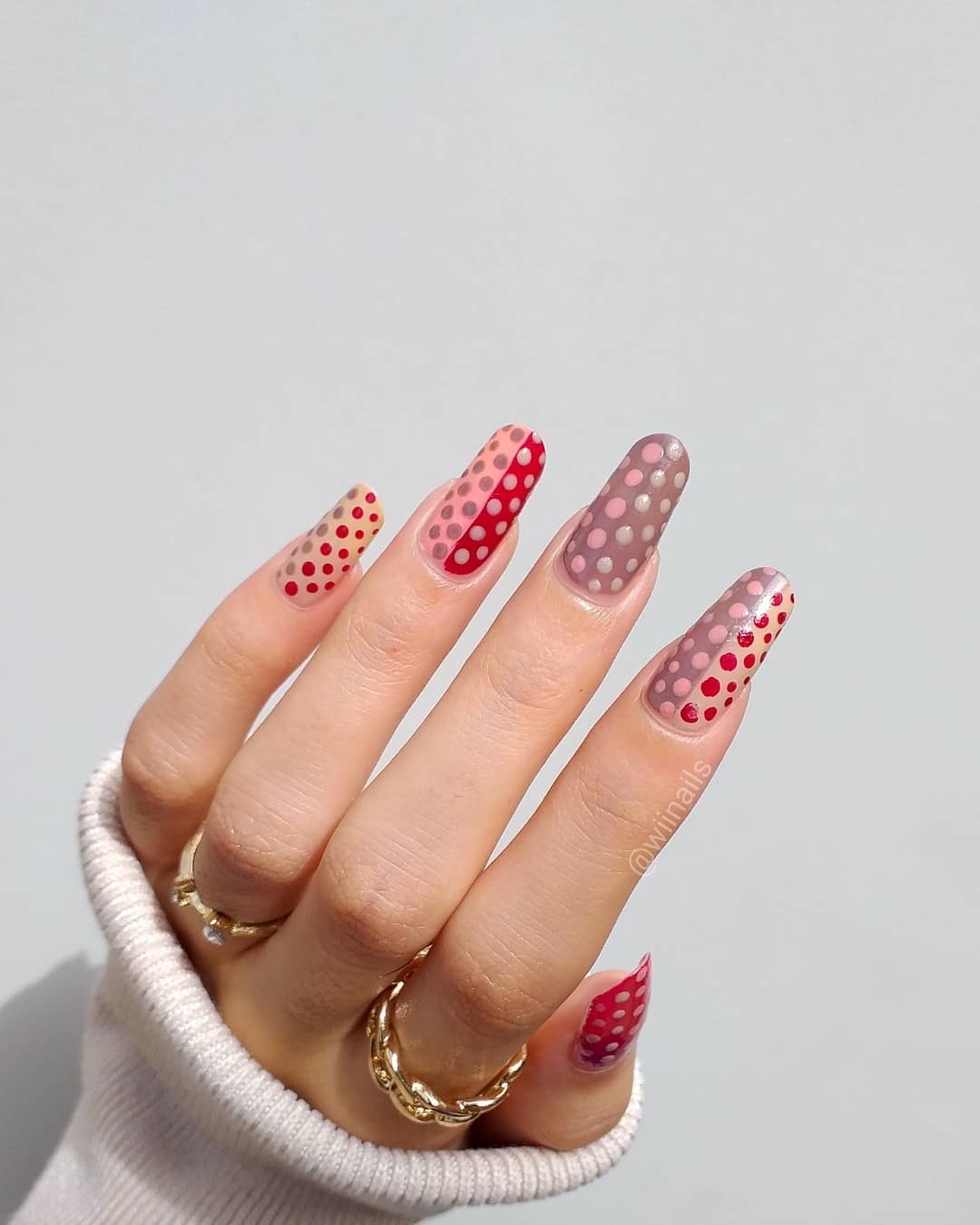 This Polka dot nail art reminds us of a freshly baked strawberry pie! The complex dotted patterns have a color scheme of nudes, reds, and pinks to create a cheeky and cute aesthetic!
2. Classic Black Dot Nails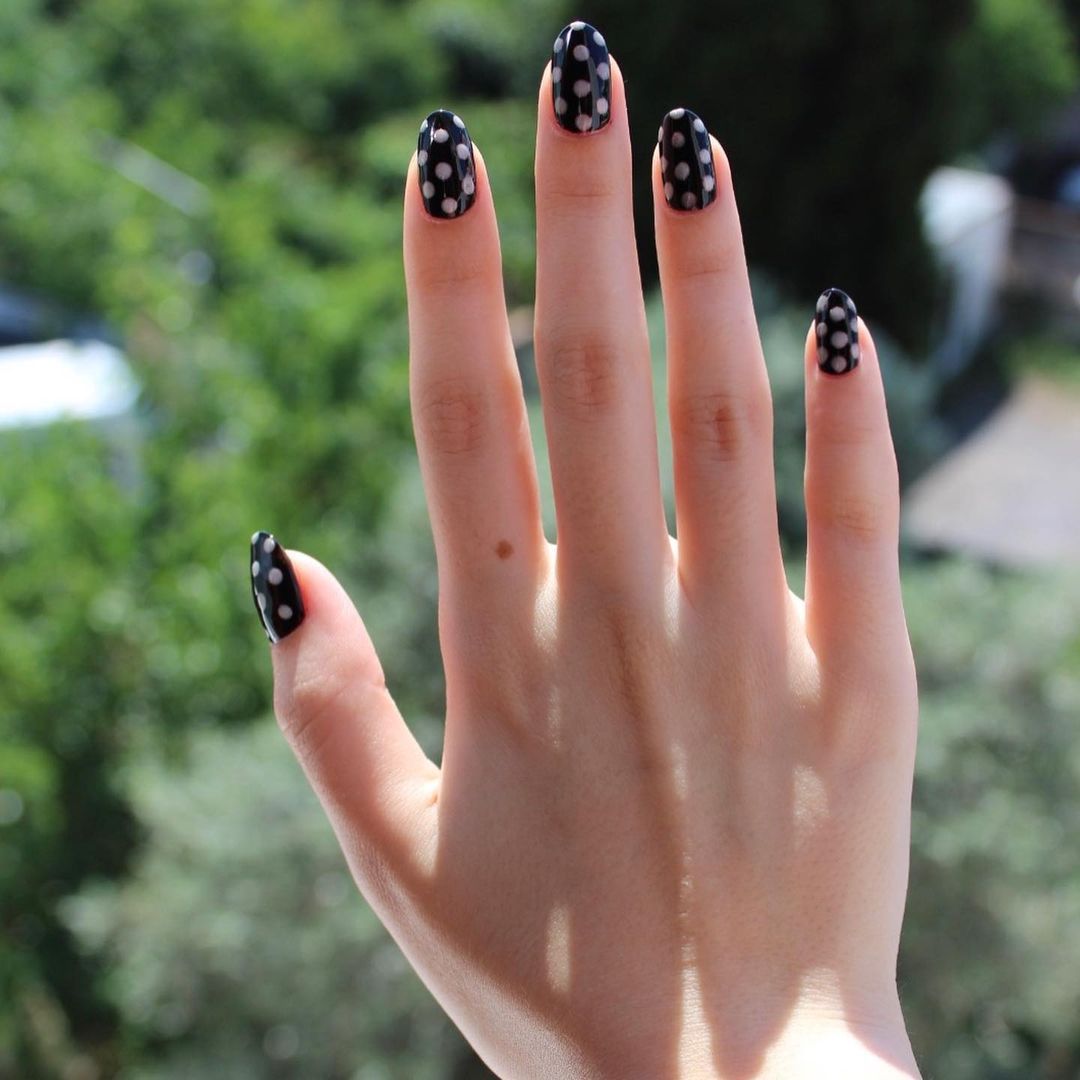 There is nothing more enticing to the eyes than a black and white combination of polka nails. This is an easy and beautiful design to create at home if you want to save the salon bucks!
3. Pastel Polka Dot Nails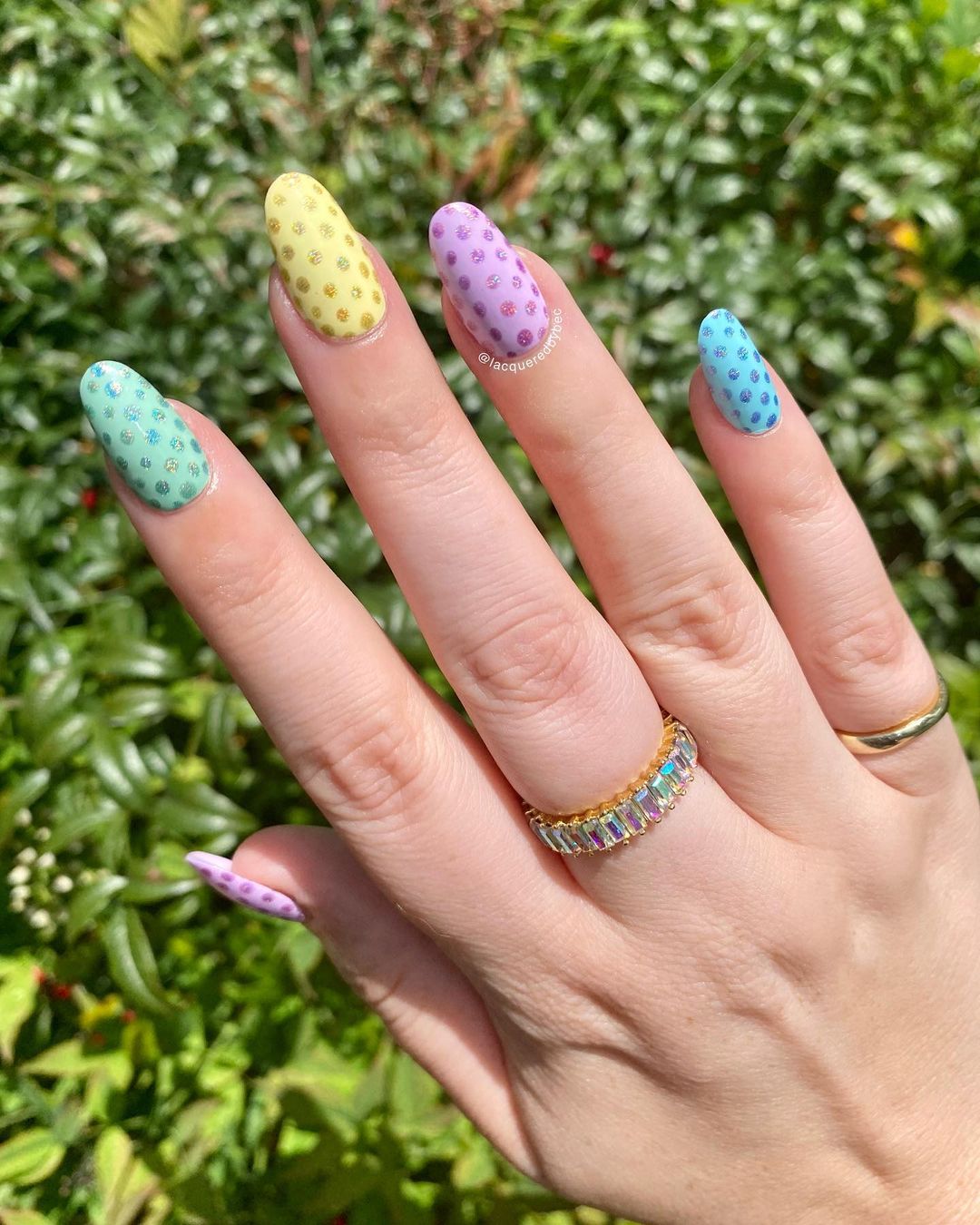 Pastel colors are for all! This cute polka dot nail art features beautiful pastel colors as backgrounds and sparkly dots for extra dazzle! Wear it any time of the year and with any outfit to get drowned in compliments!
4. Ombre Dots
The gradually increasing size of the dots and the alternate french tips and white nails with polka dots bestow a lovely complexity to a simple polka nail art design and color scheme that screams autumn!
5. 3D Polka Dots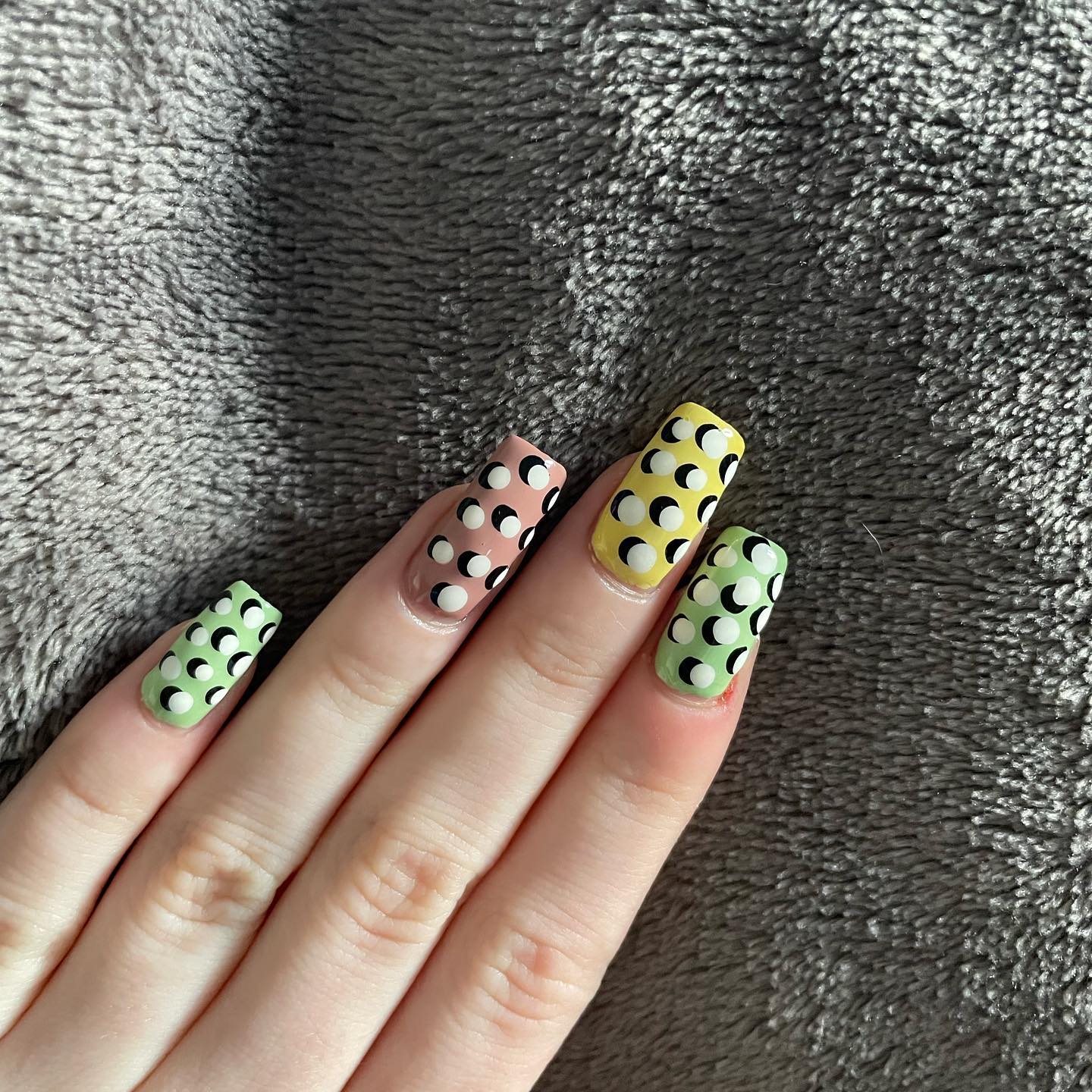 Polka Dots are taken to the next level by this polka nail art. The dots have been given shadows for a 3D look. The background colors make your nails seem like they are just out of a comic page!
6. Minimal Polka Nails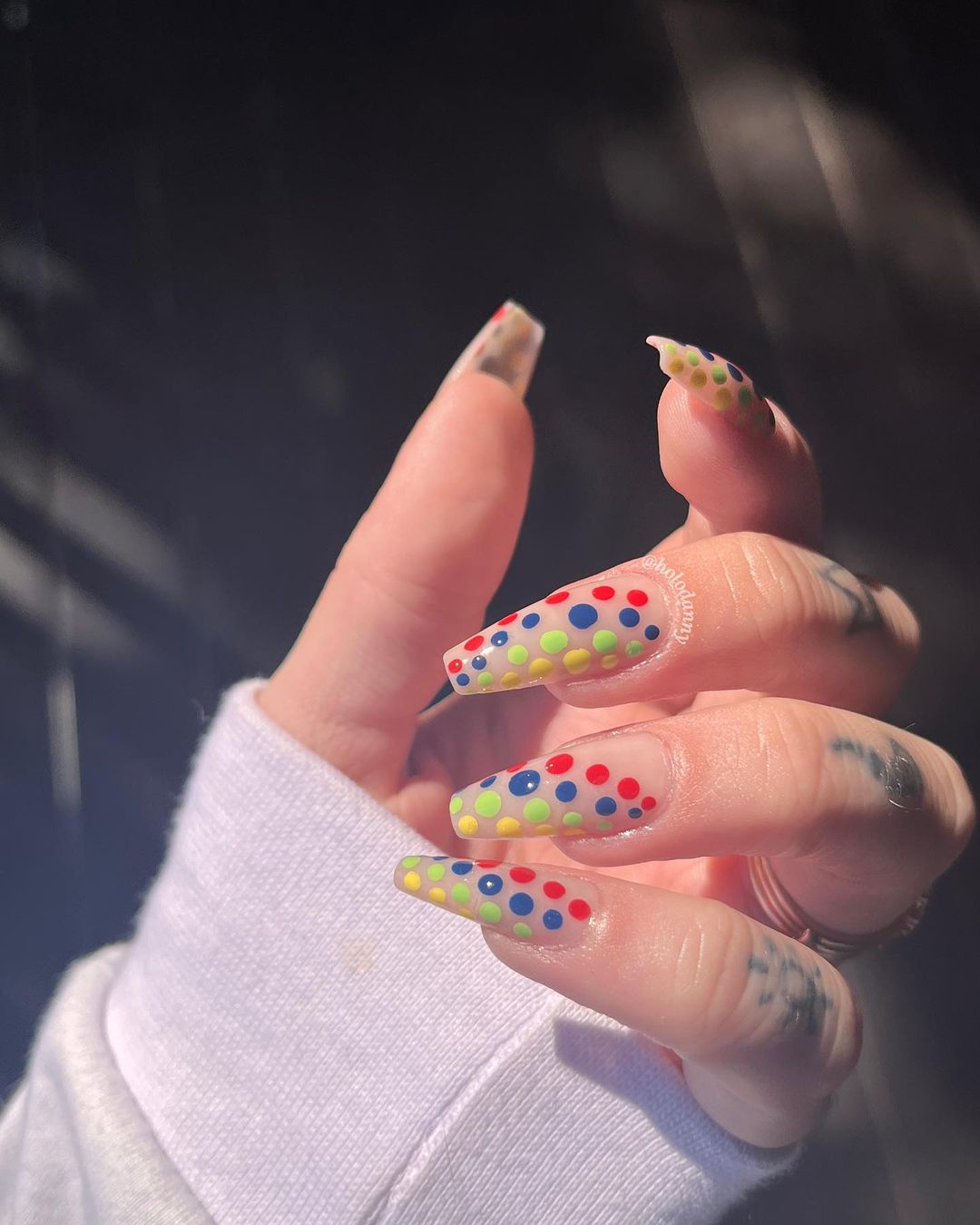 Polka Dot nails need not be flashy all the time! This polka dot nail is created on a nude base with striking colors for a subtle yet catchy look!
7. Duochrome Polka Nails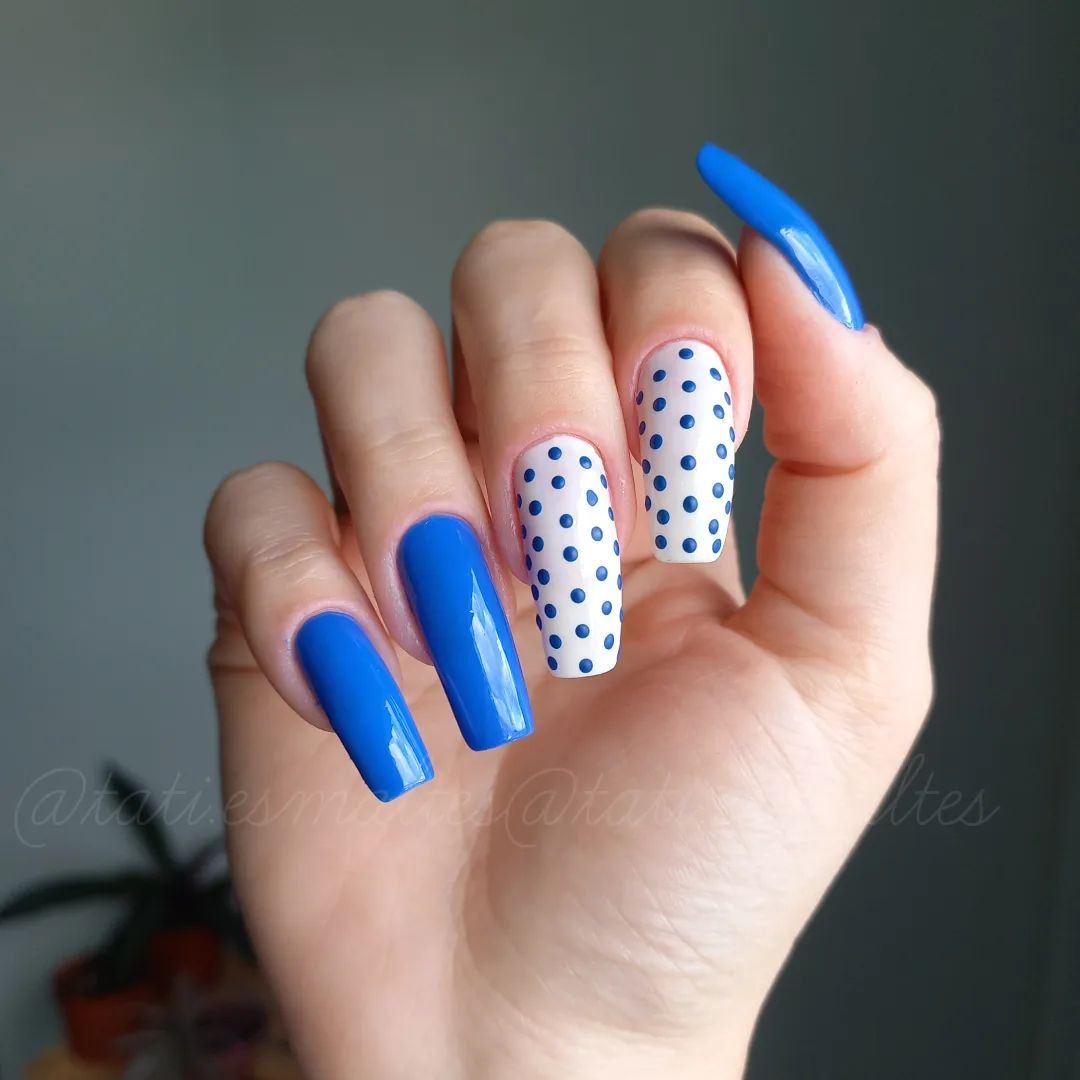 This polka dot nail art proves that duo chromatic polkas need not be boring. While three nails are painted solid blue, two accent nails are dotted with blue on a white background to create a stylish yet sophisticated look.
8. Polka French Tips!
Here's a much-awaited french tip style for the french tip girl! (we know who that is!) The red and pink look ravishing on the nude nail! Make sure to seal it with a glossy top coat.
9. Dots and Gradients
The serene blend of blues and purples added with the trendy polka dot accents has to be the manicure of the month! We are obsessed! Are you?
10. Cookie Crumbles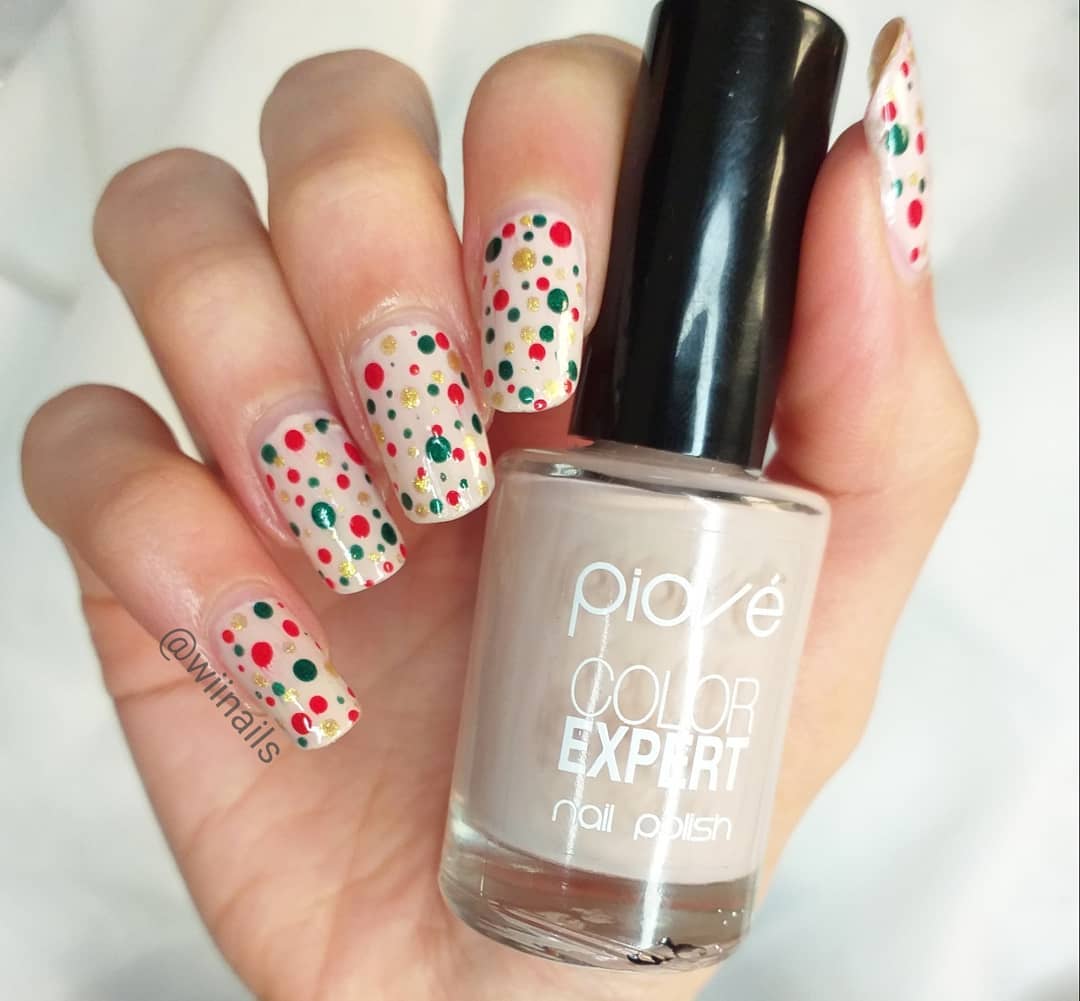 The best way to transform a basic nude is to add polka dots on it! These red, green, and gold dots are perfect for _? You guessed it – "Christmas!"
11. Mauve Queen
A perfect nail art list is never complete without some classic mauve. This polka dot nail art has a mauve, white, and black as the ruling colors. The dots are placed interestingly to elevate the look!
12. Neon Blast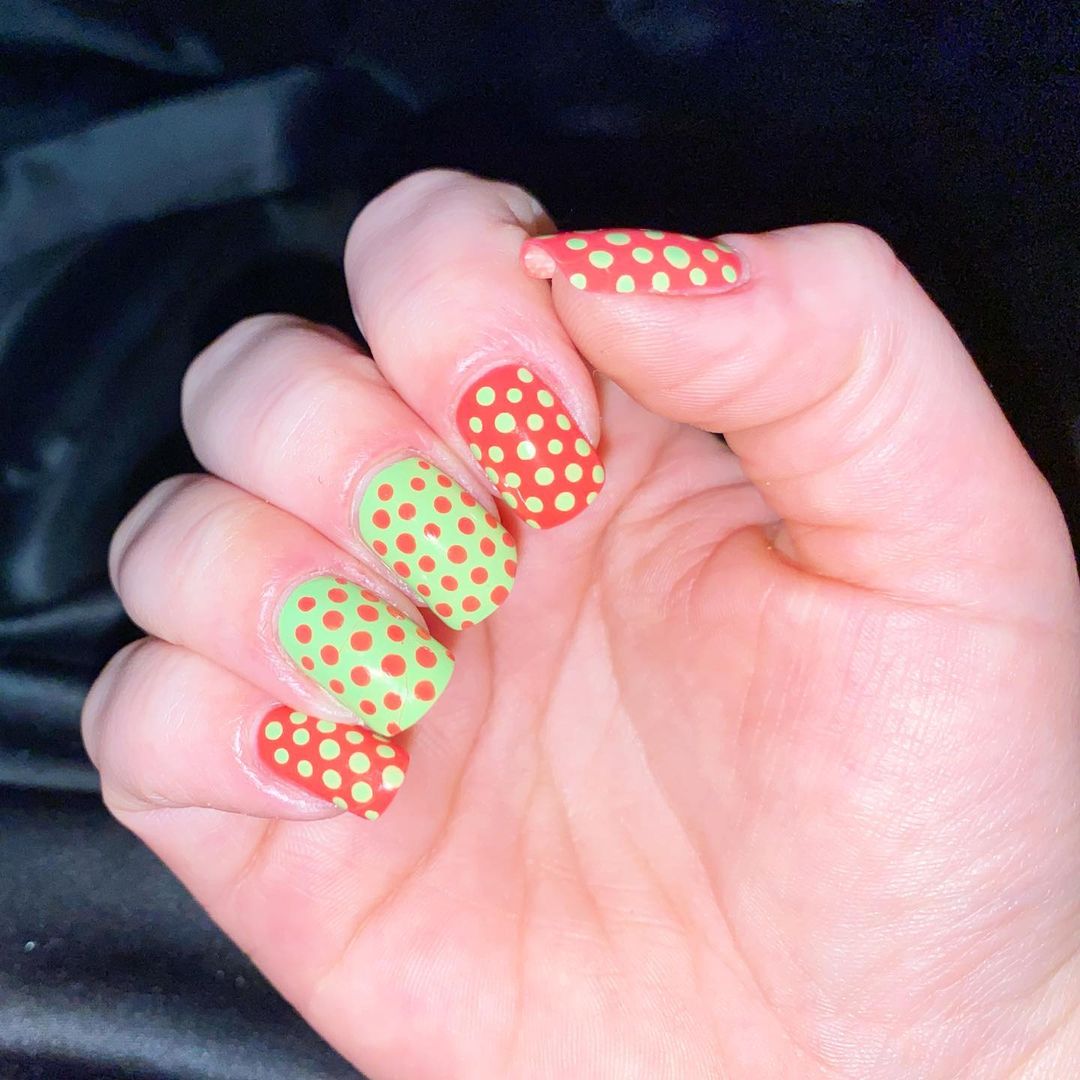 These neon polka dot nails are so bright, that you can use them as a flashlight! (Just kidding) The striking neon green and orange patterns demand a late-night rave party!
12. Fiery Dots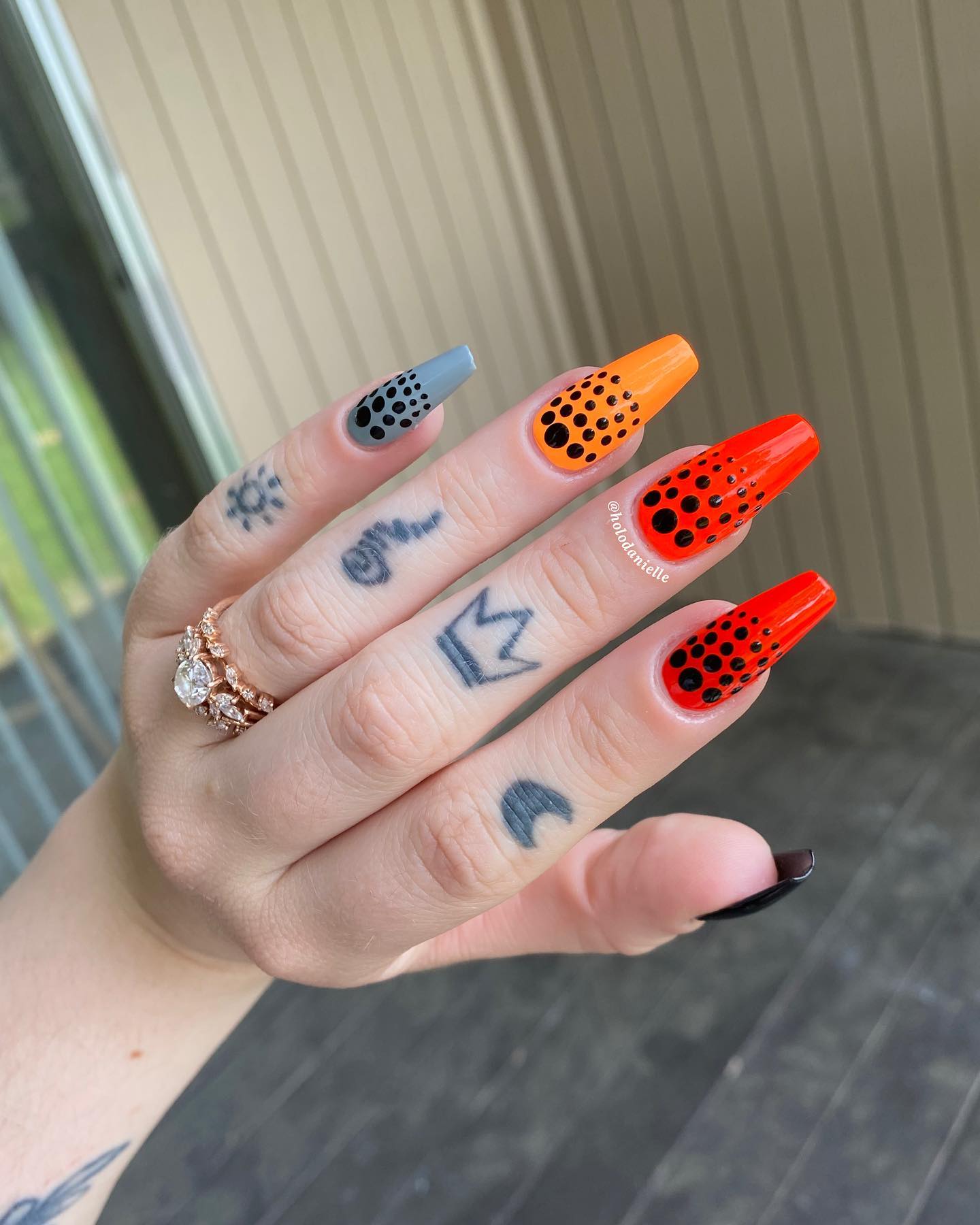 This stunning polka dot nail art creates a fiery aesthetic on your nails! The black and grey nails balance the bright yellow and orange to create a magnificent manicure.
14. Girl Next Door!
This polka dot nail art design is created by adding striking 3D dots on a bright sunset orange nail. The dots have an interesting raised look. This one's a conversation starter!
15. Flirty Nails!
Purple and pink are an undeniable match. Wear this flirty polka dot nail art with your favorite pink or purple dress for a fun breakfast date!
16. Birthday Nails!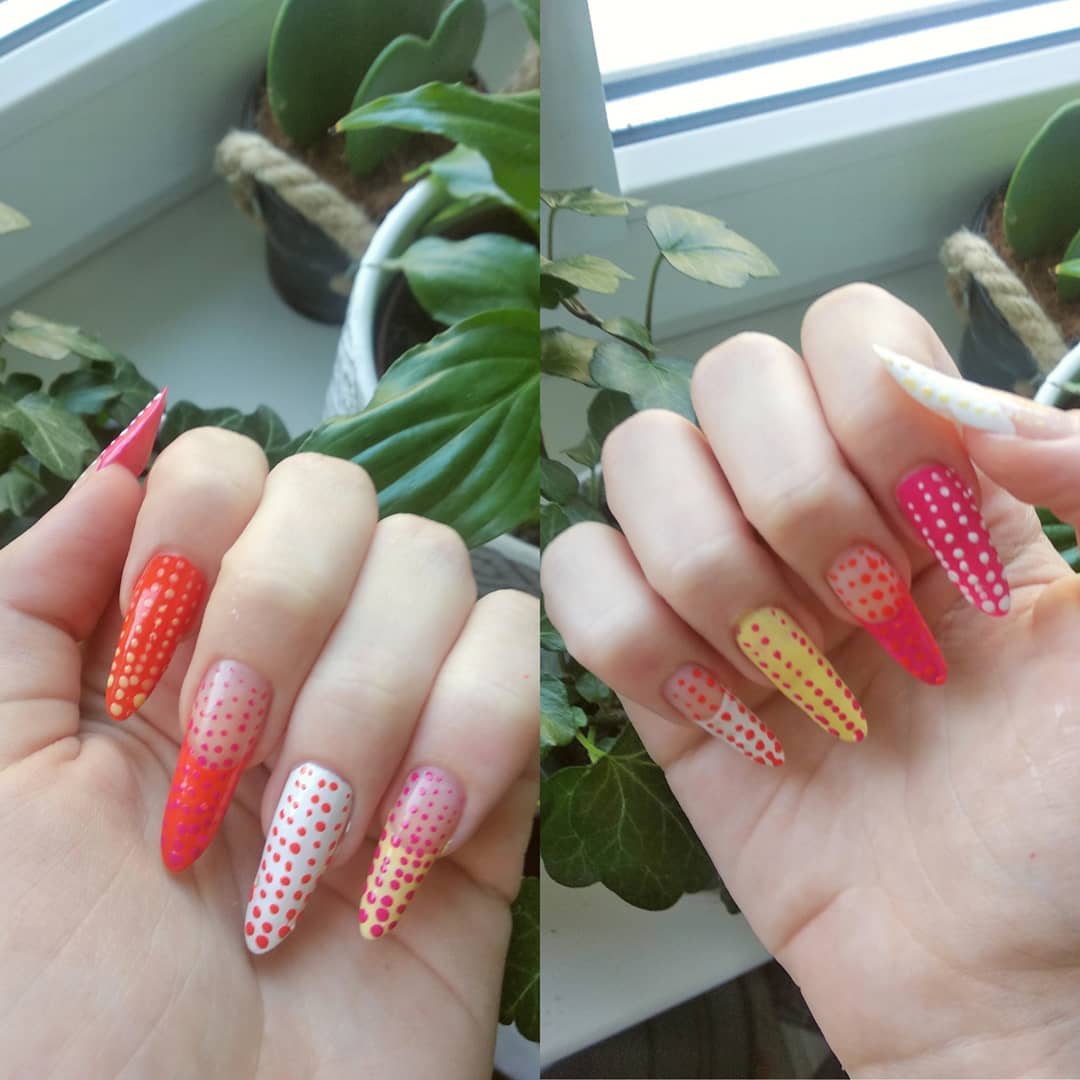 The red and white nails with polka dots are going to be the perfect match for your birthday blast! Isn't this matching with giant confetti filled with candies?
17. Floral Dots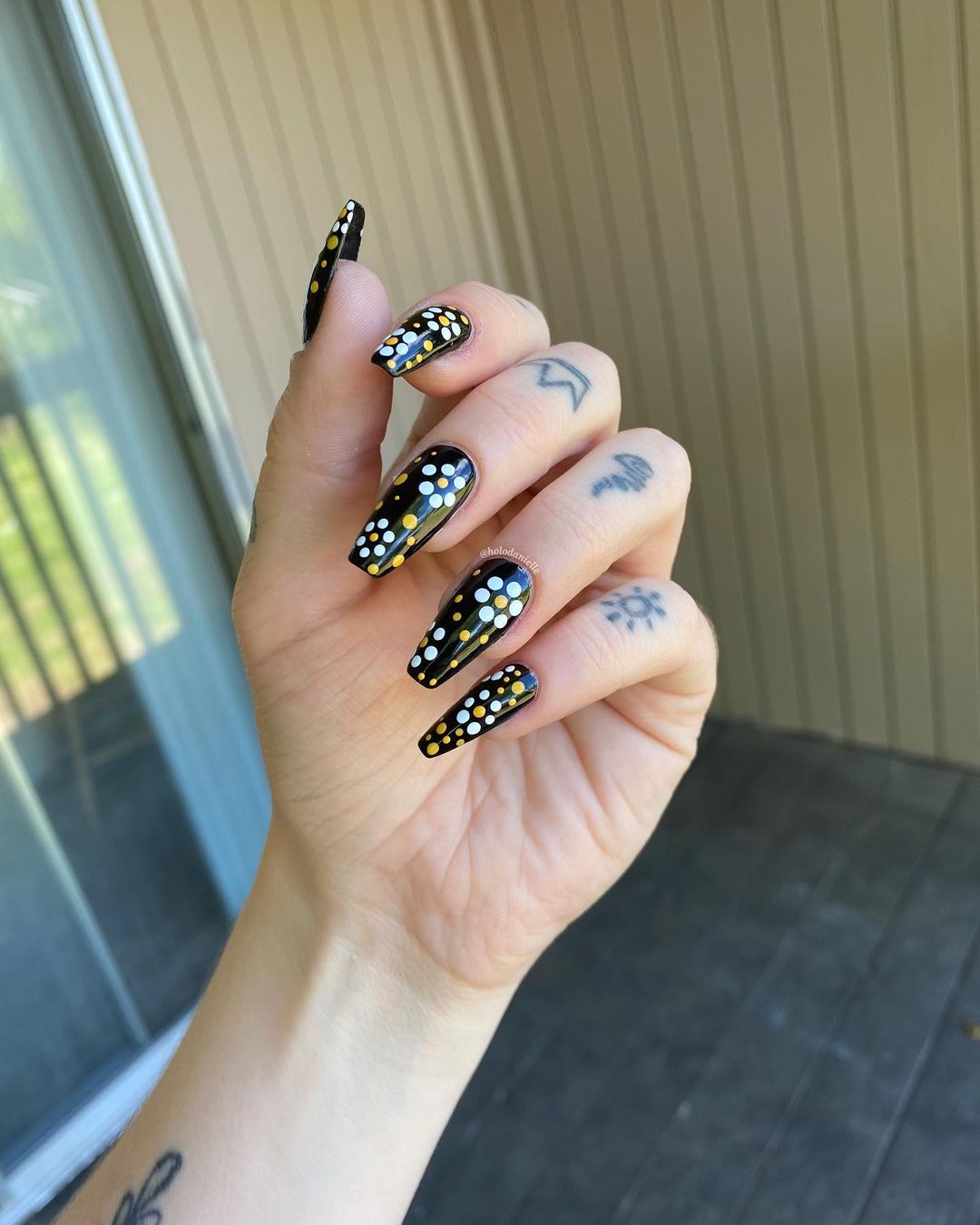 This alluring polka dot nail art has the dots arranged in a way that they resemble flowers. The black background provides the perfect medium for the white and yellow to shine!
18. High on Cuteness!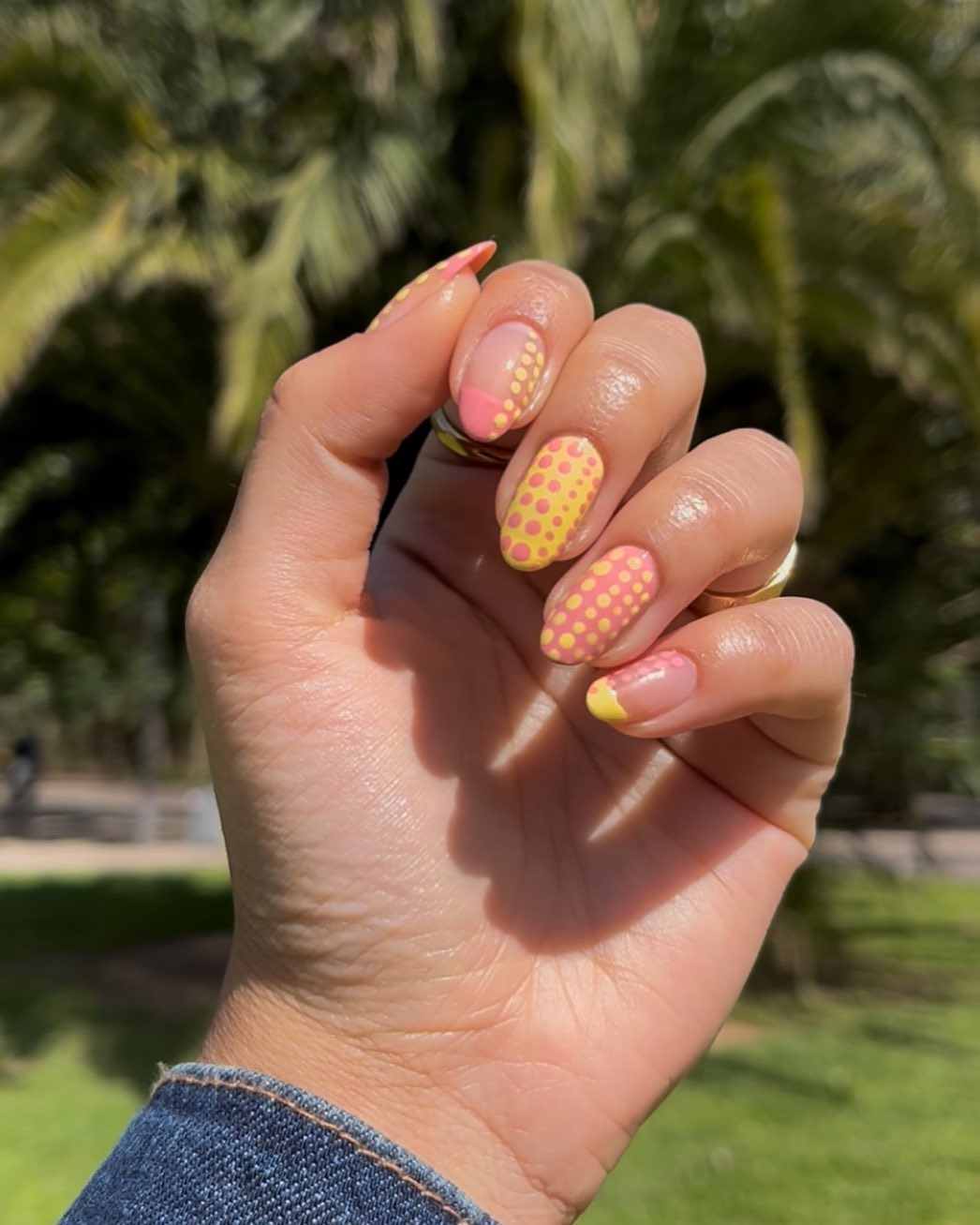 This polka dot nail art has a very interesting and catchy transition of dots. French tips, dots, and block colors come together to create this sophisticated and hypnotic nail art!
19. Half n' half
What better way to create a style quotient than to paint nails half and a half? The 3D polka dots are just a chef's kiss on this dynamic polka dot nail art!
20. Minimal blue french tips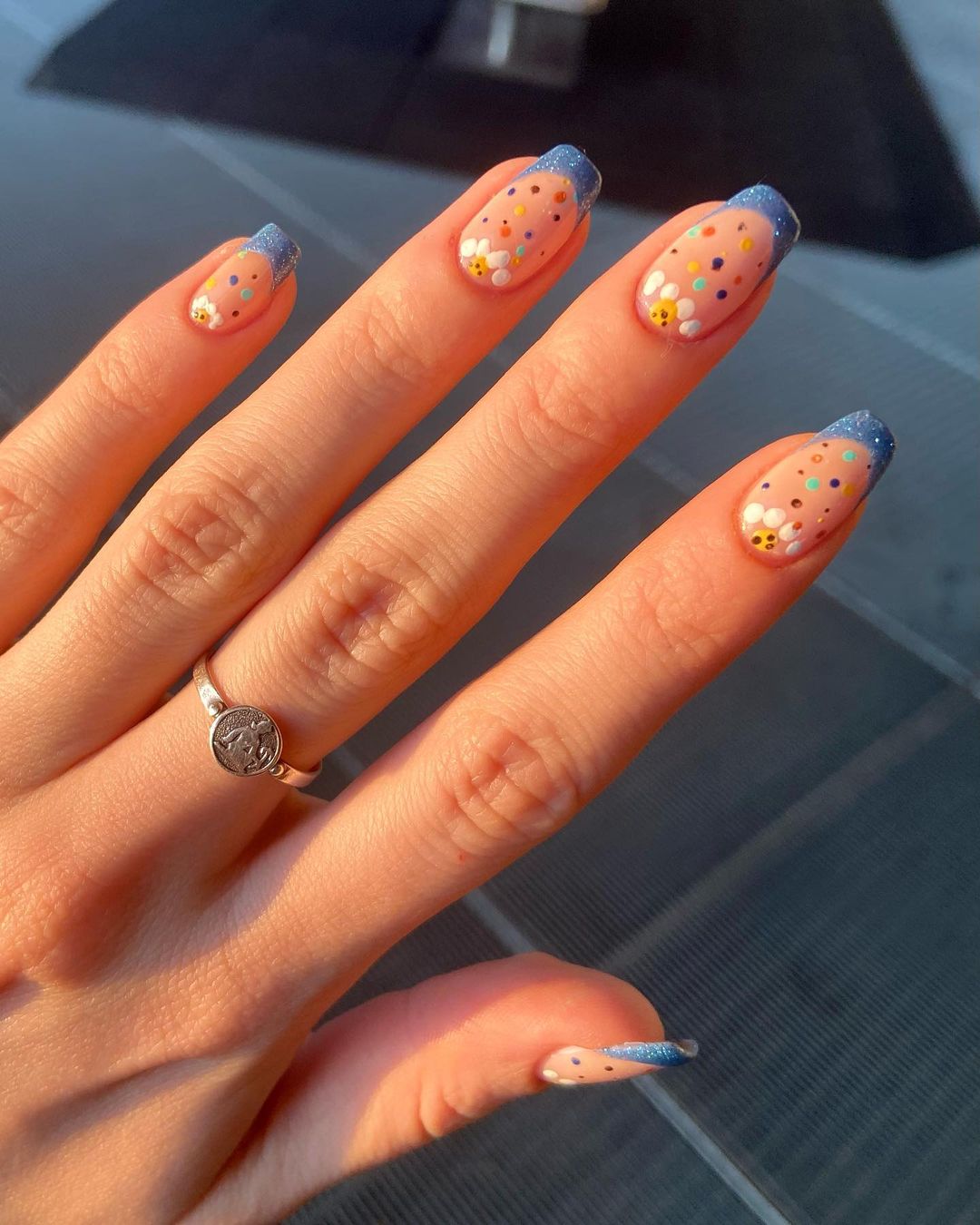 Tiny polka dots, navy blue tips, and a nude base are all we need to create the perfect polka dot nail art for the minimal junkie!
21. Classy Polka Nails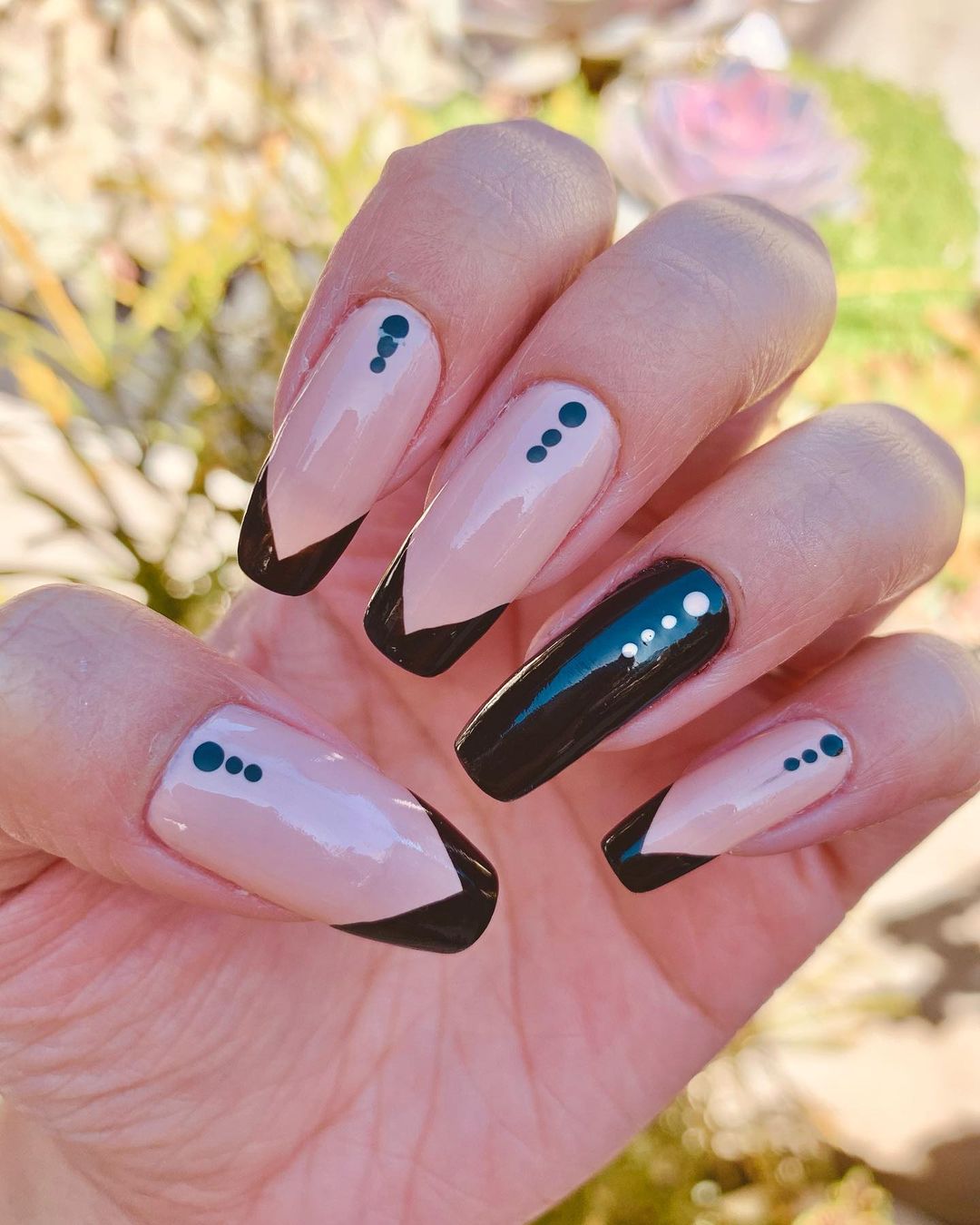 If you like to keep your nails as corporate as possible, this polka dot nail art should be love at first sight! The combination of black and nude with a little dash of ombre is giving boss lady vibes!
22. Love is in the nails!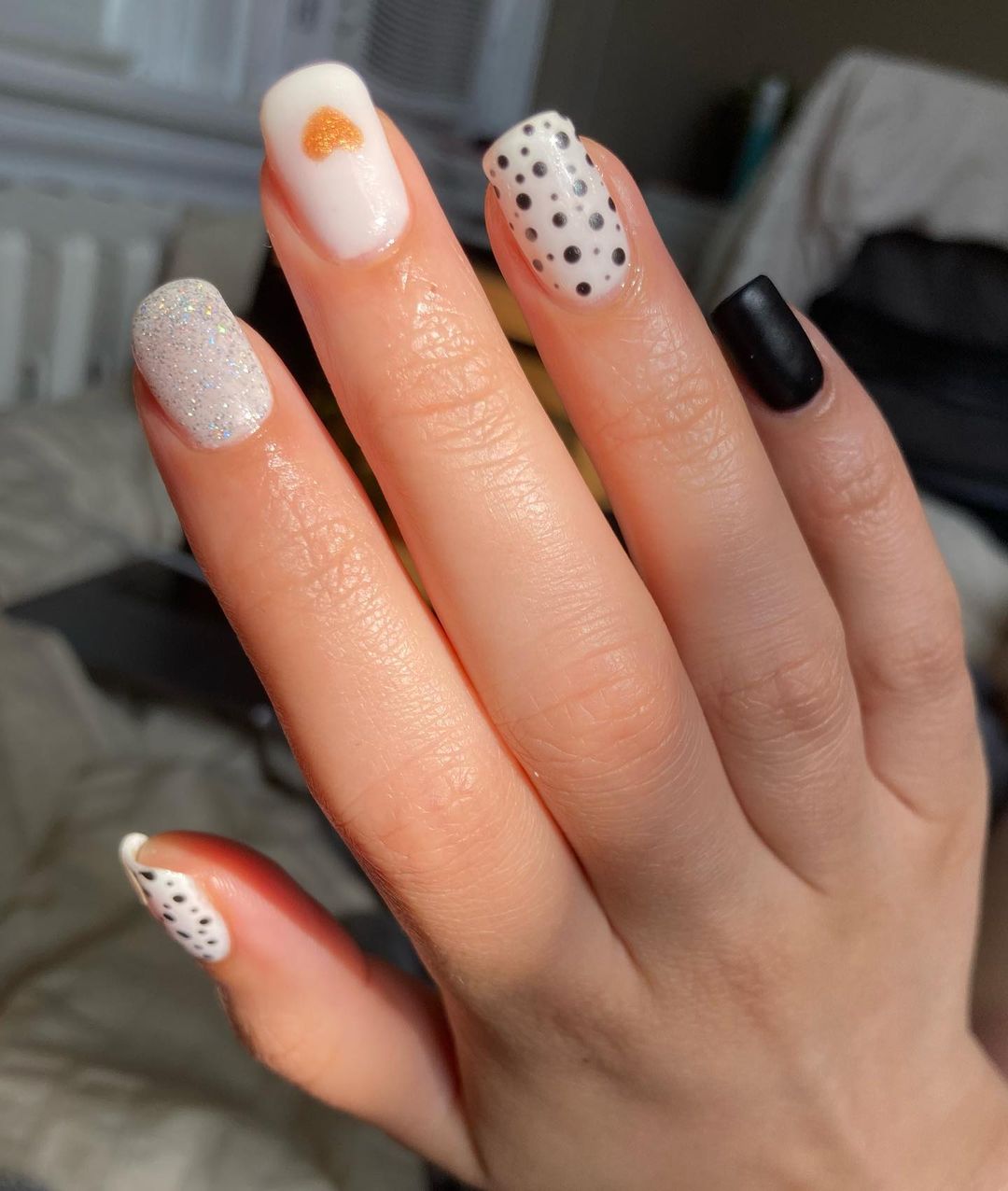 If you can't decide on one pattern (it's okay to be indecisive sometimes) this polka dot nail art brings the best of many worlds! There are dots, a heart, a glitter nail, and a black. What more?!
23. Evil-Eye!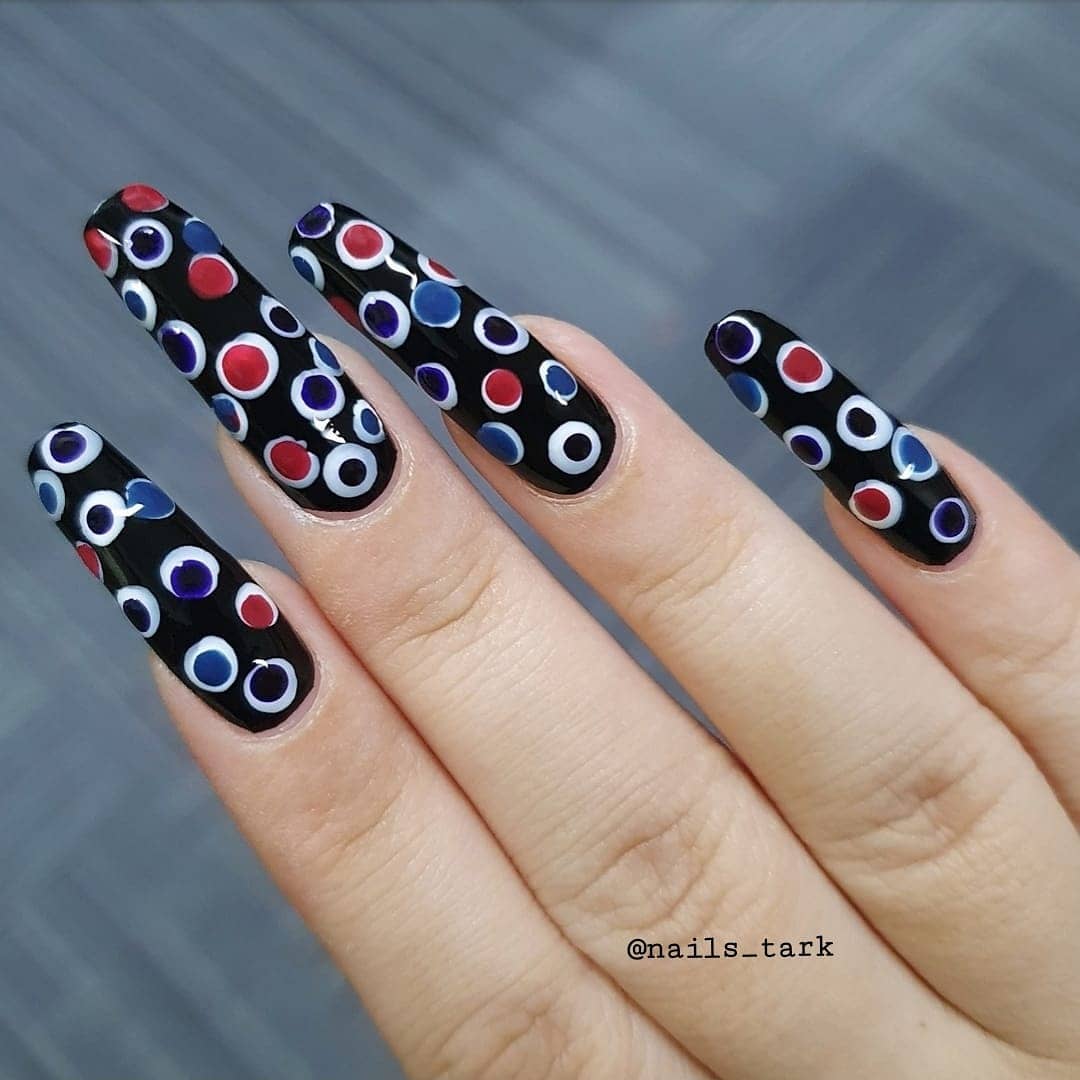 There's something about these red and black polka dot nails that is driving away the boring demon! The red, white, and blue dots exist perfectly on a dark background to create stunning nail art.
24. Autumn Sky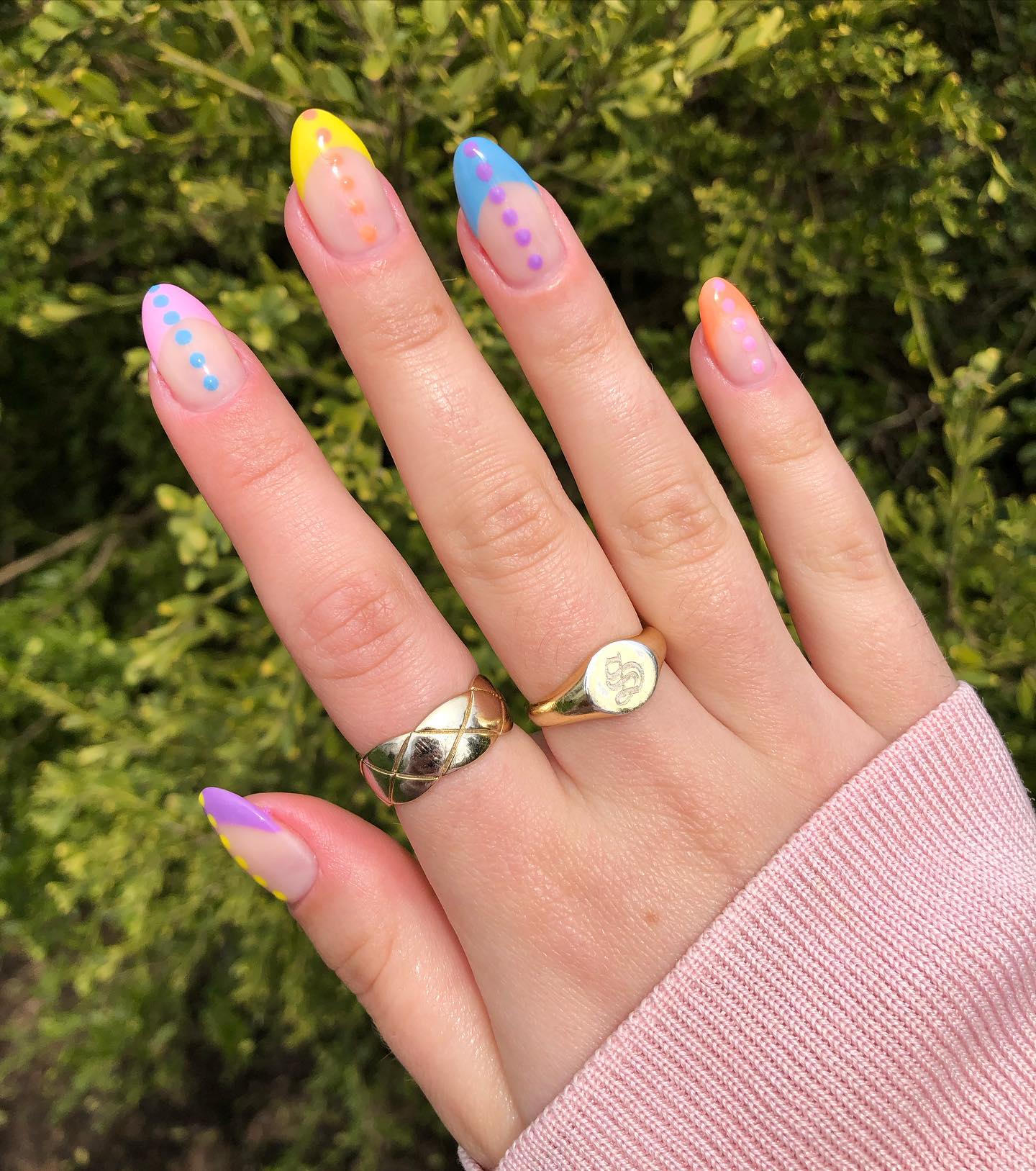 All the colors of the autumn sky have amalgamated into this minimal yet cute nail art! Grab the colors and the dotting tools and with some patience, you can achieve this colorful polka dot nails at home!
25. Snake Skin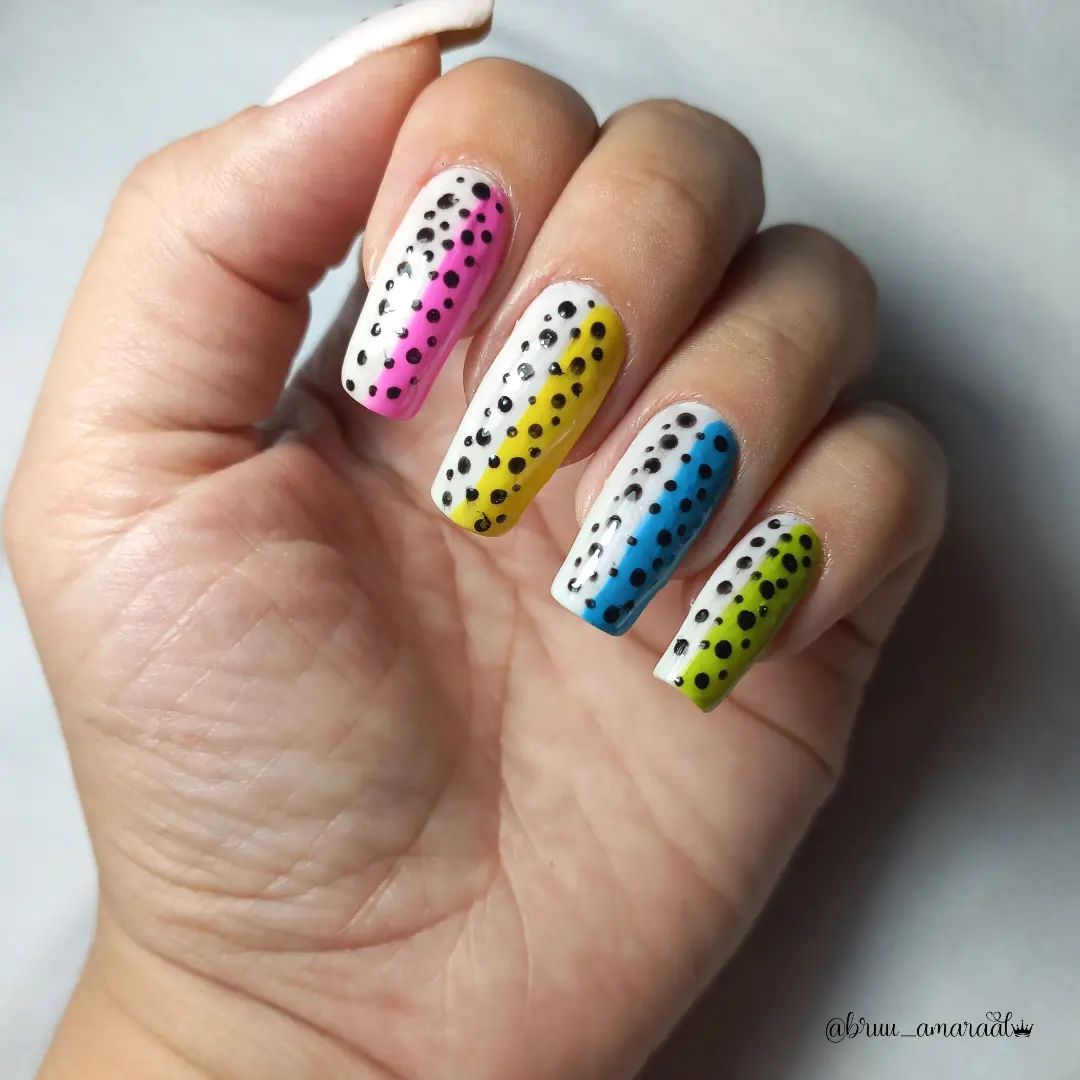 Up for a wild adventure? These polka nails can be your best friend! The bright colors add a welcome variety to a black and white pattern to create a snake-skin-like look!
26. Pink or Nothing!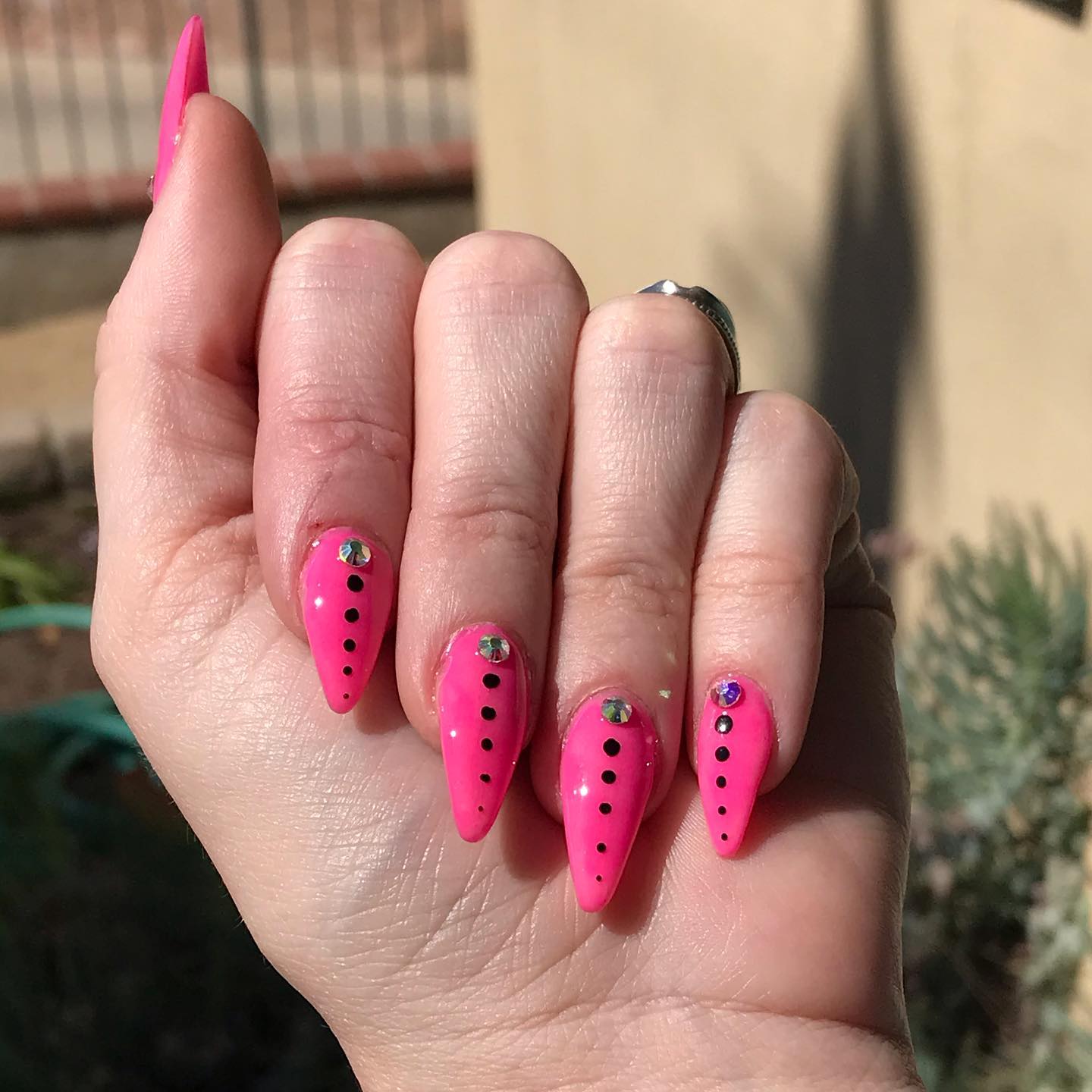 These bright neon pink polka dot nail art packs in a lot of glam in a manicure. The nail jewels complete that majestic vibe that the bright pink brings. The dots perfectly comply with the aesthetic of the nail.
27. Neon Alert!
Bold neon polka dot nails are in! This dotted nail art has two accent nails dotted with a mixture of neon and white dots to take the nail art to a professional level!
Wrapping up:
Be it a subtle polka nail or a bold neon polka dot nail art, polka dots have never failed to catch our attention.
We have hunted through miles of Instagram to bring you the best polka dot nail ideas. We hope we have solved your manicure dilemma for the month!
Perfect nail art can be a great accessory to your outfits and add a feather to your beauty hat!
Why wait? Grab your tools and get painting!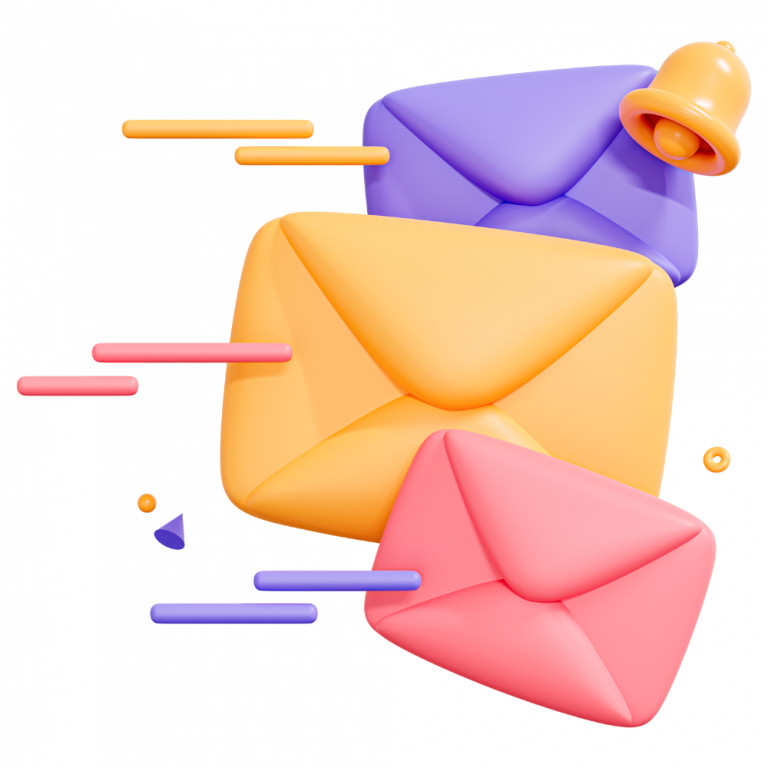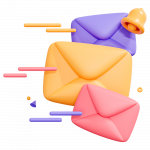 Read related:

Raizy is a Nail Technician and a Fashion Blogger. She loves traveling, exploring, reading, and of course, Disney characters.