35 Cute White Nail Art Designs to Elevate Your Style in 2023
Are you the one who is obsessed with "white" and looks for white in everything, be it your OOTD, furniture, bedsheets, curtains, or white nail art? White reflects positivity and calmness. It is a universal color that splits into VIBGYOR.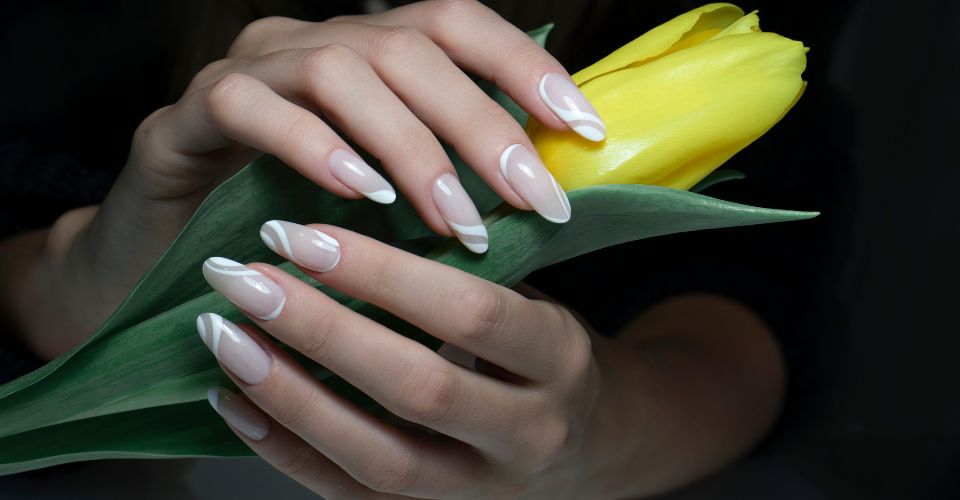 Want a white manicure but do not have enough ideas to get started? You are in the right place. The white nail art gives you an aesthetic look and is attention-grabbing. White nail polish transmits timeless elegance, purity, and sophistication.
The white sparkly nails highlight your overall look. You can pair the white nail polish with a nude base, or French tips, or make it all sparkly to reflect your personality. The white shade complements well with any color.
By now you have decided that you want a white-shade manicure, right? But how do you personalize or romanticize it on different occasions? Which type of manicure will depict your true personality?
There are various nail designs in white that will help you get a bold or chic look. I have shortlisted the most captivating and elegant nail art for you in 2023, be it bold patterns or delicate motifs, or chic or sassy nail art. I have all the white manicure designs for you.
I have researched the latest 35 white nail art designs for you that will help to outshine your personality. These designs will hype your appearance and make you the center of attraction which we all love, don't we?
These designs are a great amalgam of trend and art. I bet it will look ethereal on you and make many heads turn, leaving them in awe. So scroll down and elevate your style quotient. After all, we can't have enough whites, can we?
35 Cute White Nail Art Design Ideas for 2023
I bring to you the trendiest, sassy, and quirky white nail art. So, scroll down, take screenshots, or pin it on your Pinterest board and get started with your favorite white manicure design.
1. Mocha and Cream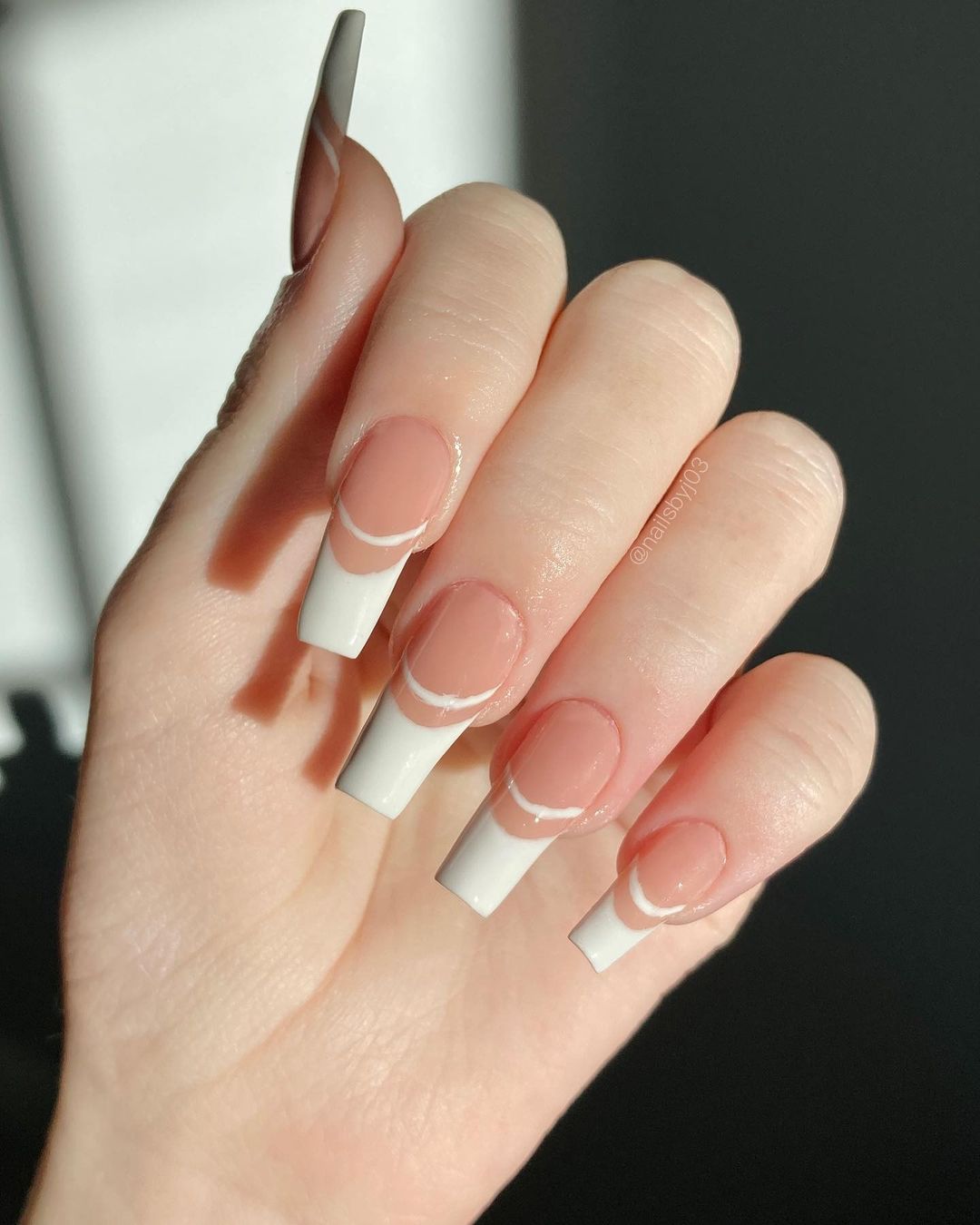 This nude gel polish with a simple white nail design is perfect for coffee dates. You can also explore press-on nails by Kiss and Dashing Diva to mimic the look.
2. Twirls and Whirls
The pearl white Gelish nail design gives a go-to chic look and is perfect for every day. It is well suited for someone who does not wish to go "high" on nail art.
3. Life is Checkers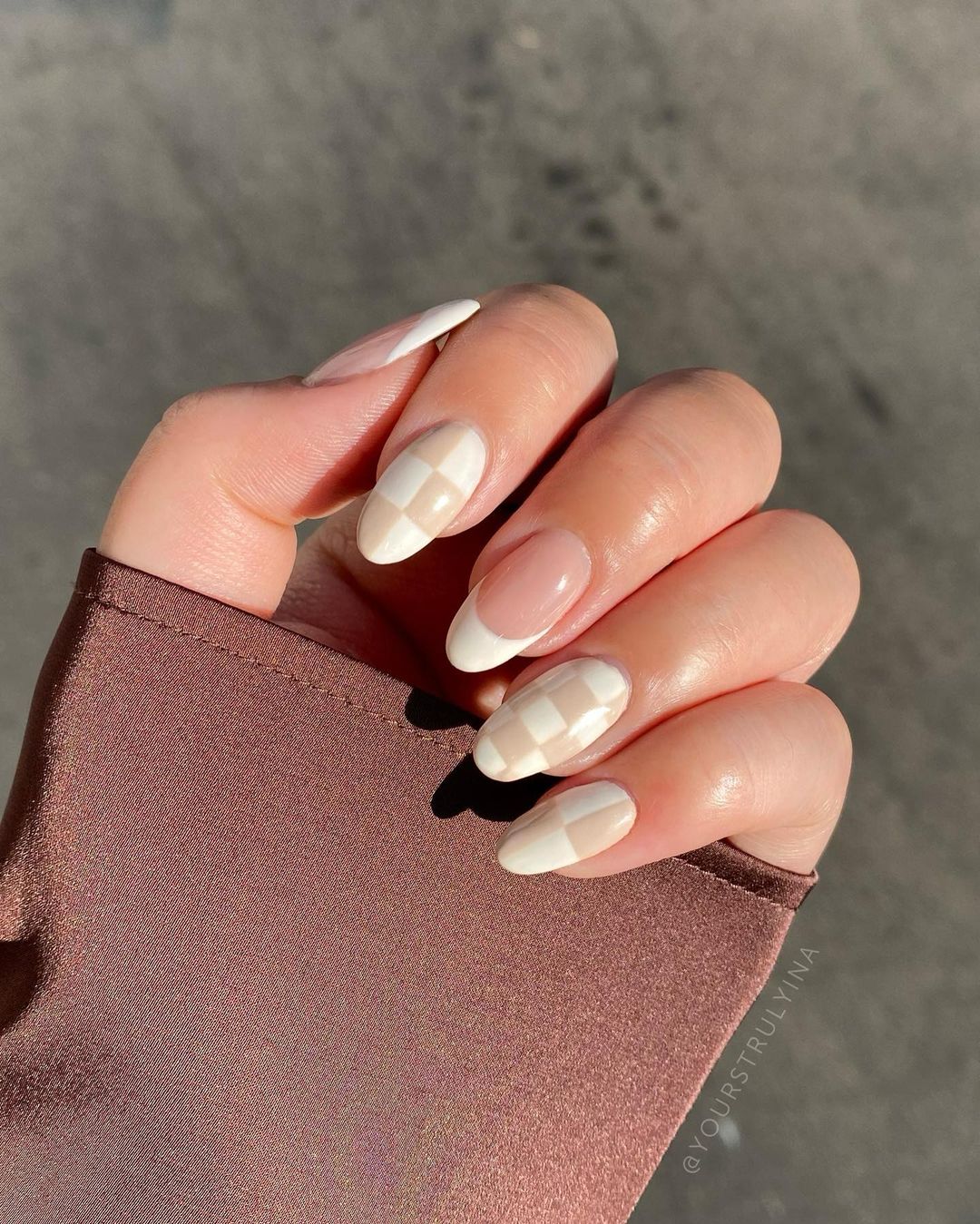 Are you a fan of alignments? This checkered white nail art design will give you the well-aligned neat, and gradient look you aspire to. You can protect it by using a top coat. I recommend Essie's chip-resistant top coat here.
4. French Vanilla Chic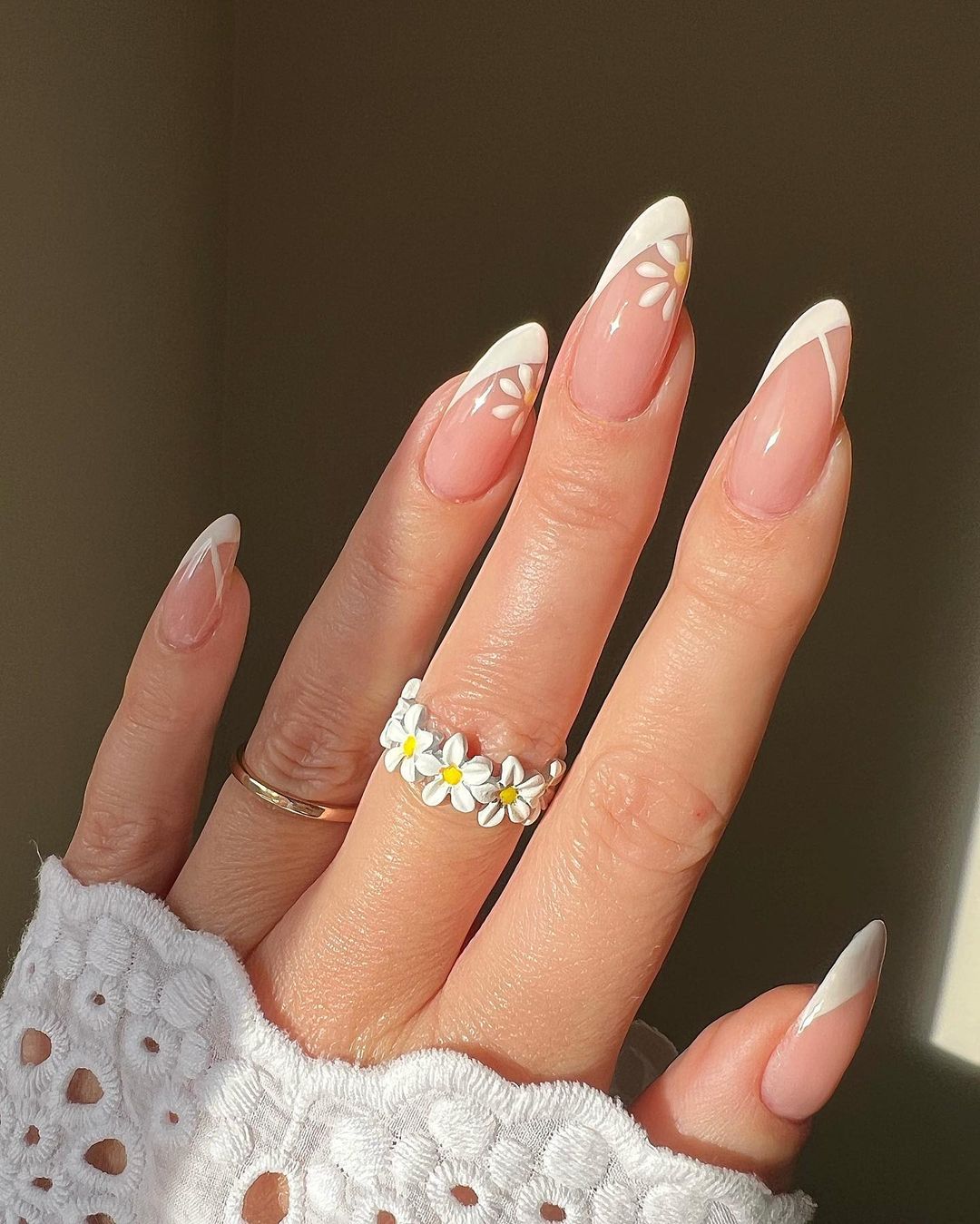 This flower nail art gives a refreshing chic look on a bright summer day. You can pair this beautiful white nail art with pastel dresses and it is perfect for a day outing.
5. Shine in White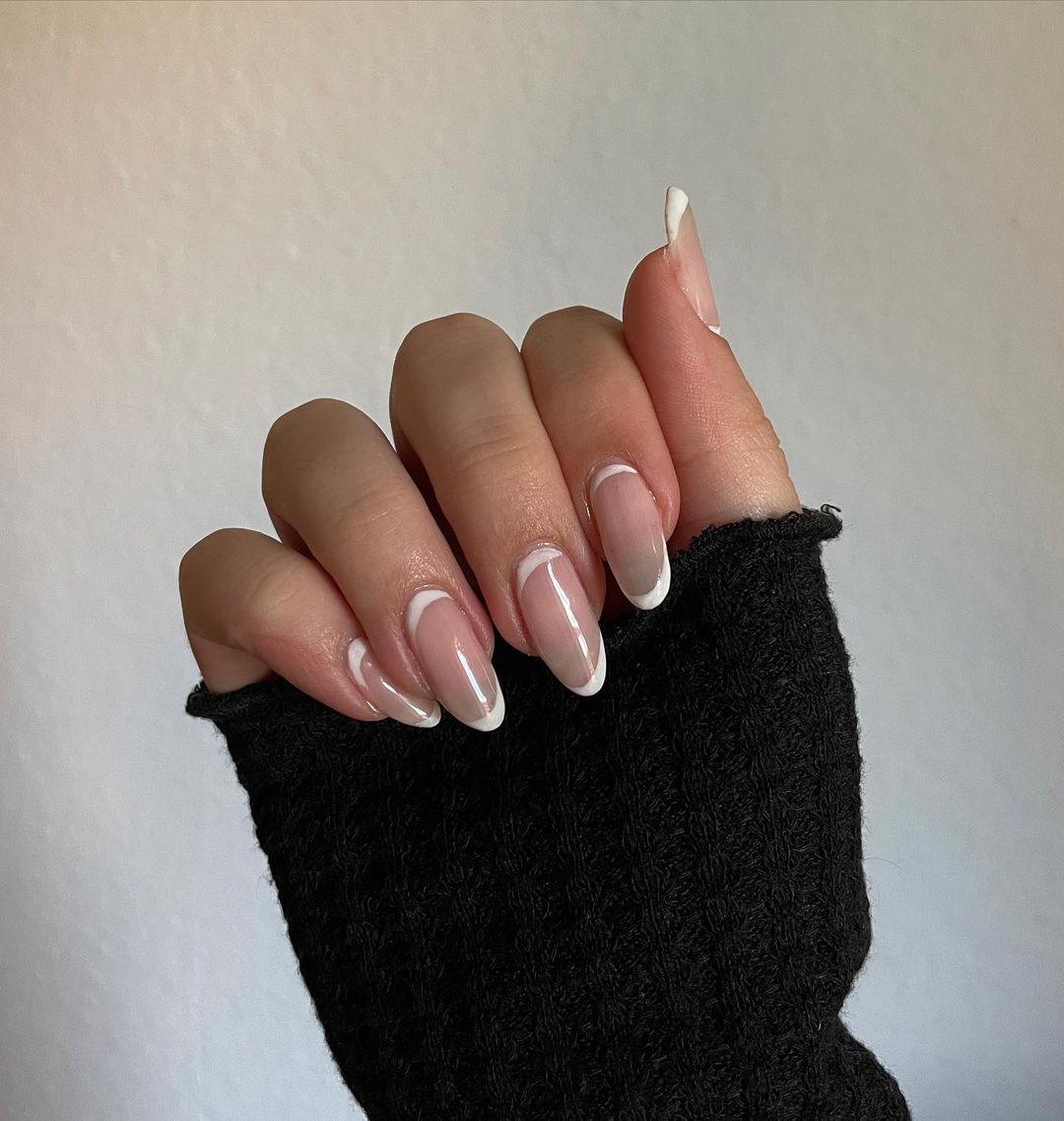 This minimalist white nail art is perfect for an everyday college look. You can use Modelones Milky White Jelly Gel Polish and pair it with bright dresses for a chic look.
6. Among the clouds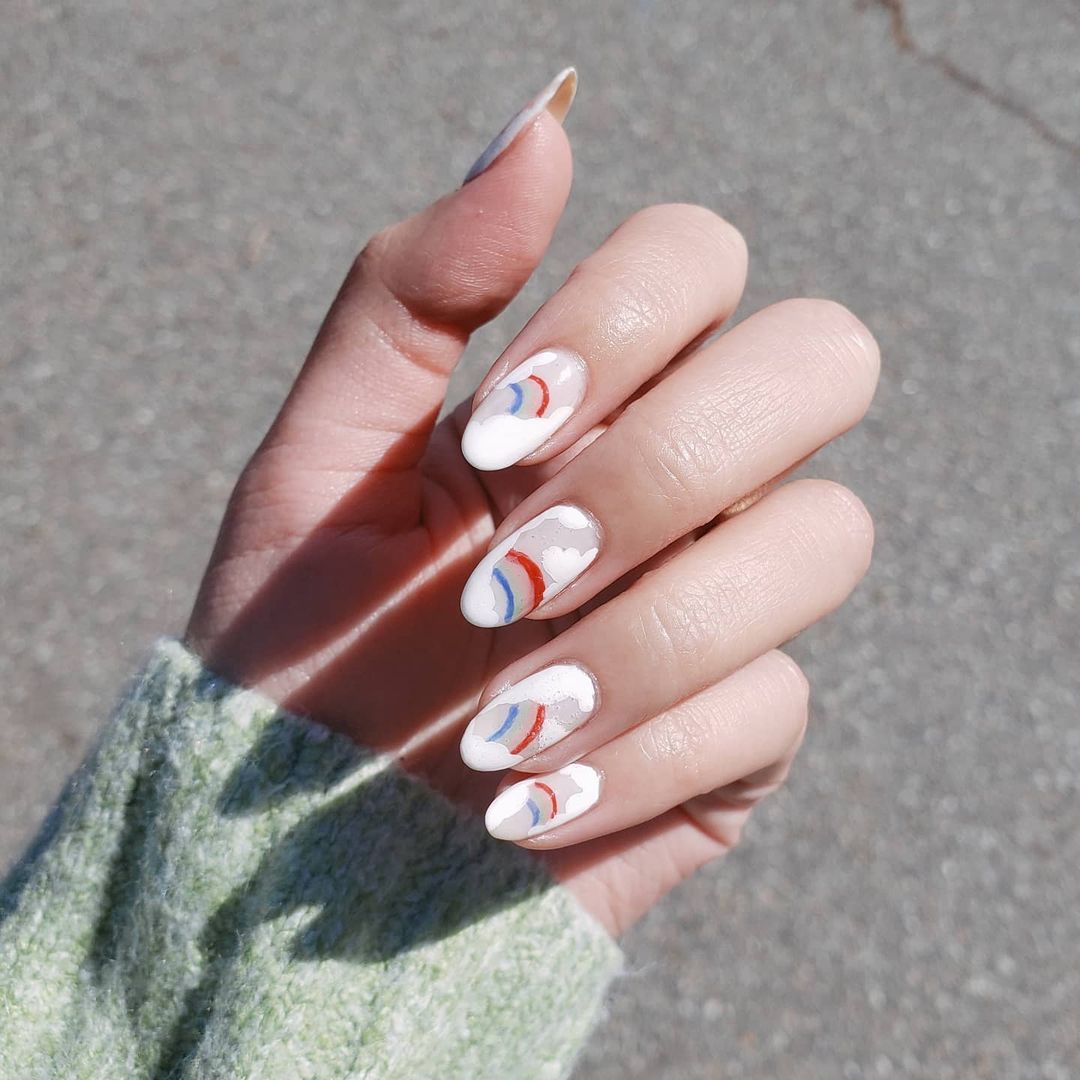 Everyone wishes to soar high, right? Depict your dreamy personality via this nail art. Got clumsy? Don't fret, you can try acetone-free nail remover pads. Explore a wide range of Ella + Mila Soy Pads.
7. Flowy with Flowers
This white nail art will complement a maxi floral dress. Use matte white nail polish and dotting tools to create this floral look.
8. Streaming in white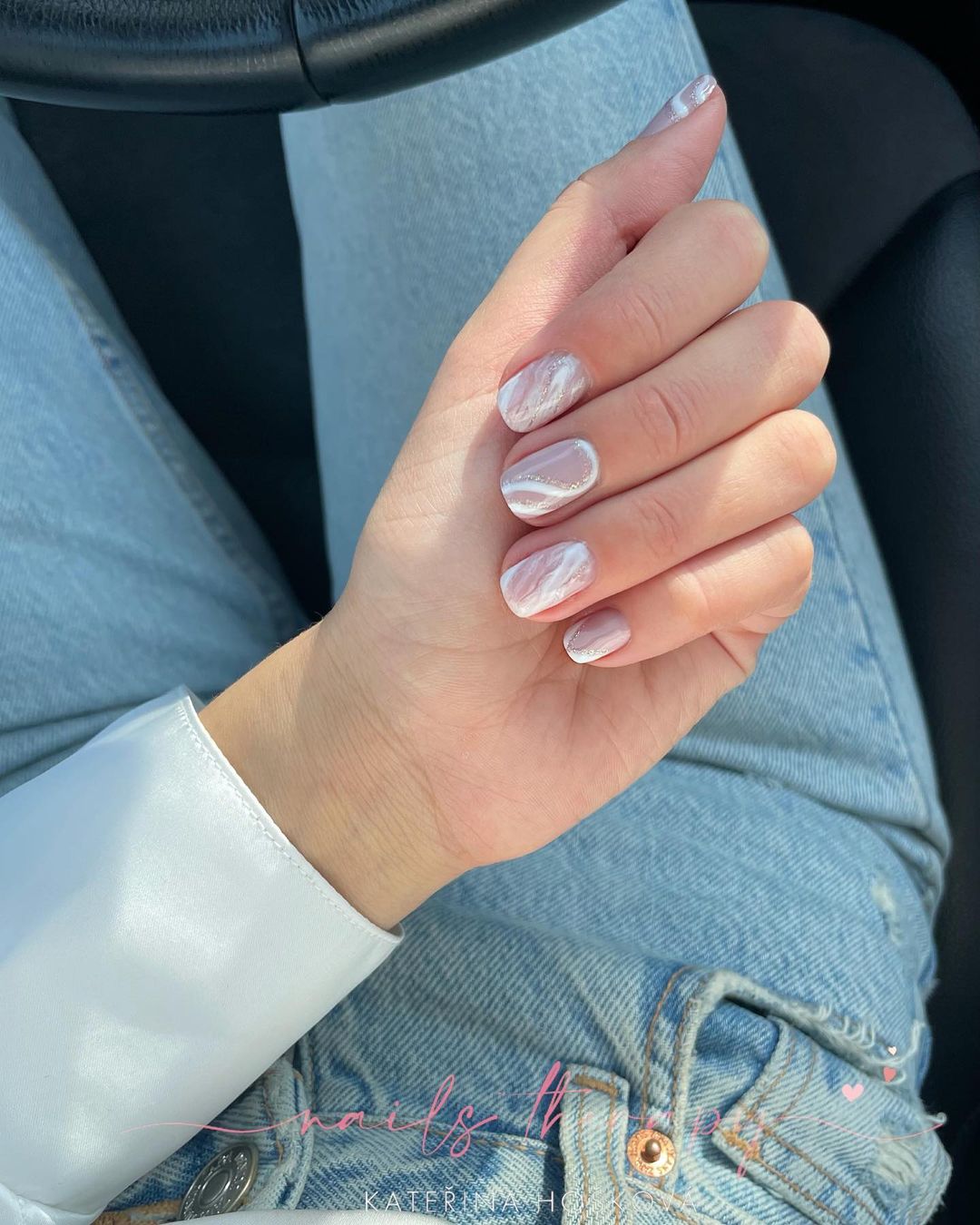 Do you love the flowy and glistening streams? If yes, use ivory white nail polish and sparkle nail paint to create this white nail inspo. Try MelodySusie gel nail polish for a glistening appearance.
9. Dazzle in Green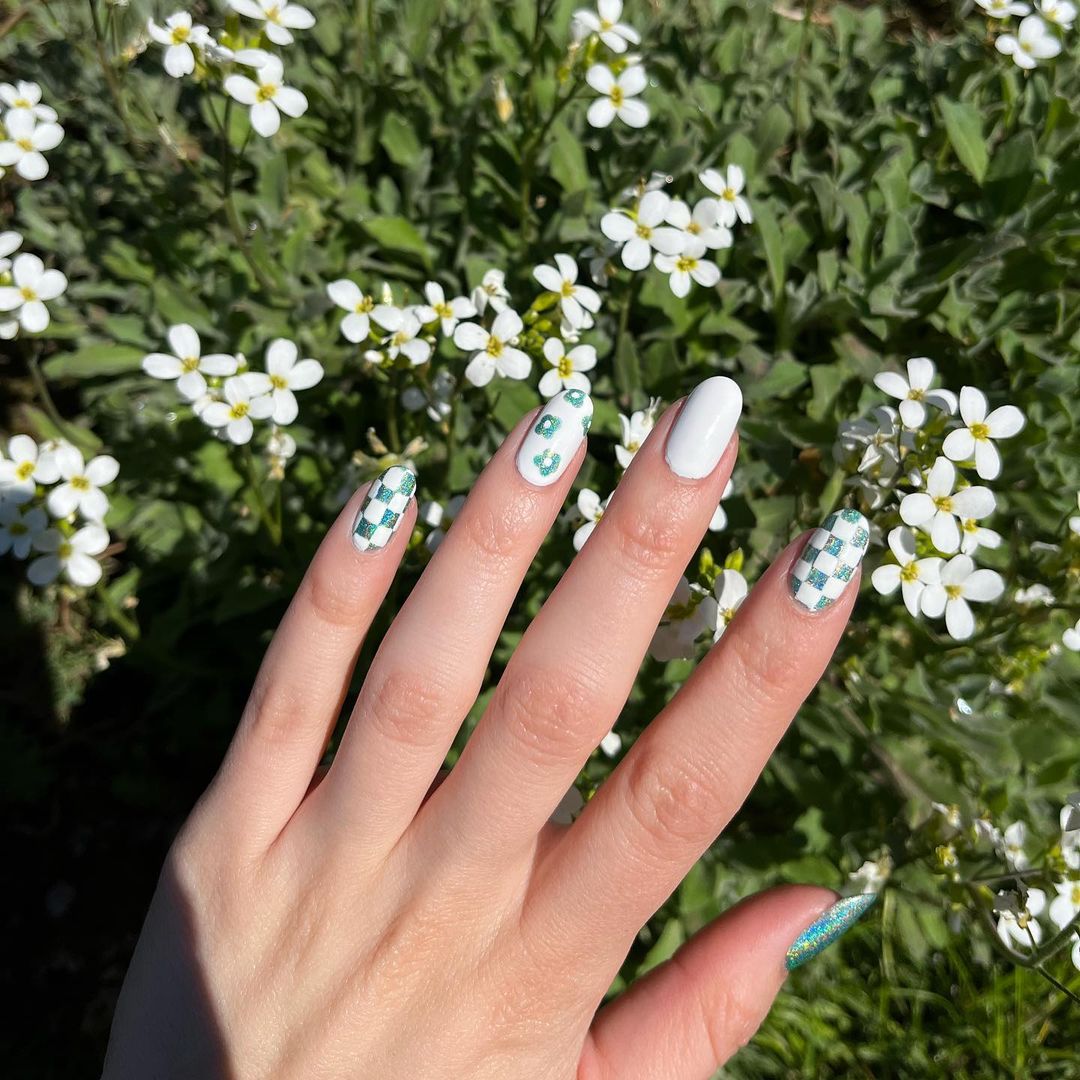 Checkers, flowers, and sparkles with white nail polish as a base. This nail art gives you a bold look and will grab attention at parties. You can beautify it further with nail jewels.
10. Everyday French whites.
This cute nail design with white nail polish gives off a girl-next-door vibe. It can complement any look. You can use heart-shaped nail art stickers to make it more attractive.
11. Chess-O-Mania
Fan of check patterns? Who isn't? This white nail art can be used for both; a casual look and brunch or dinner. You can also try press-on nails to create this look. Explore the Dashing Diva Collection and find one suitable.
12. Cobblestones All the Way!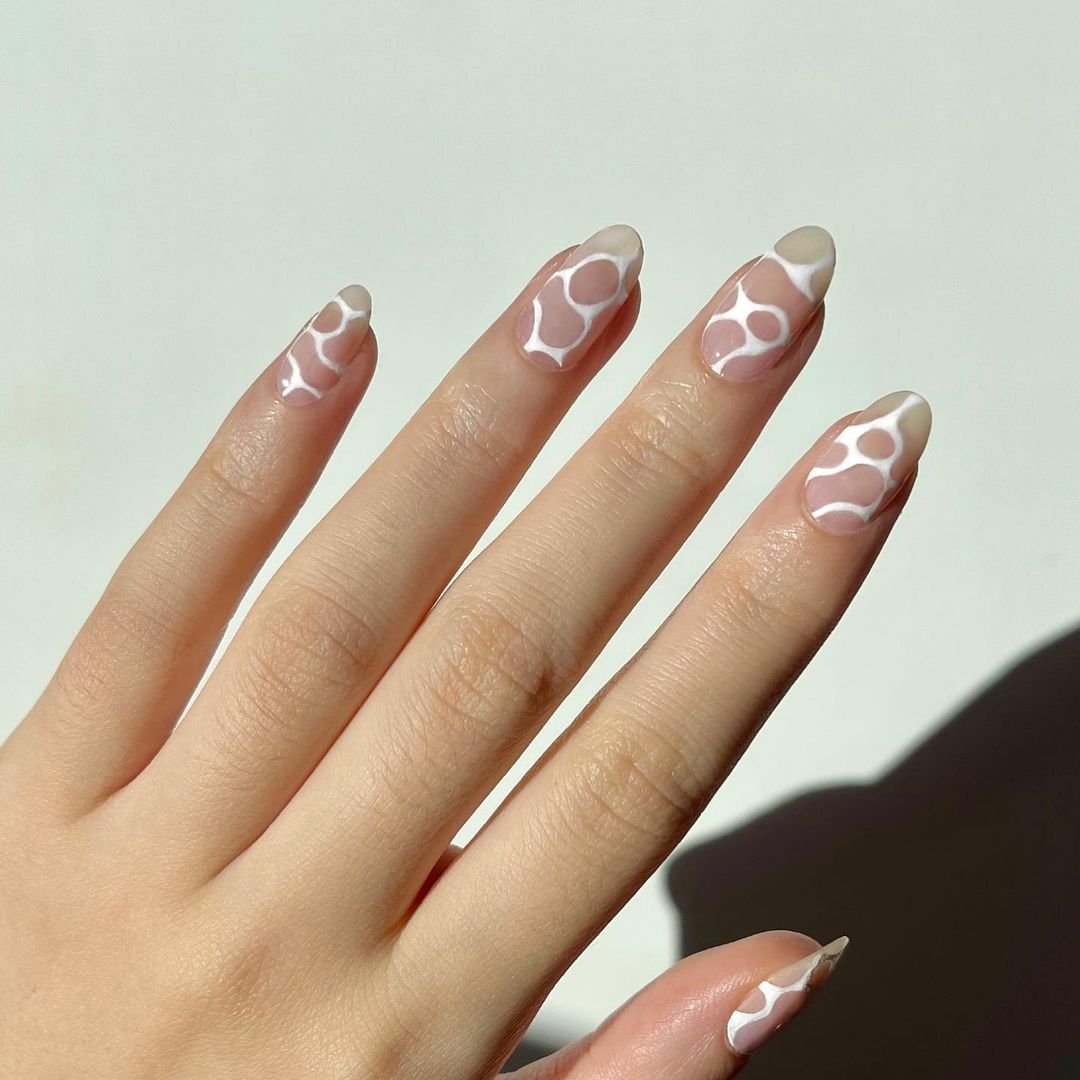 We love how aesthetic cobblestones look, right? Create this cobblestone cute white nail design for a stylish look. Don't forget to use cuticle pushers during your nail prep for a neat look.
13. Leopard-O-fun
Wanna be trendy? Who doesn't? Use red, peach, and white matte nail polish to create this leopard dramatic look. Ensure to use a good base coat prior to the manicure.
14. Starry Night
Are you a fan of French tips and love rhinestones? I have just a nail art for you. Glam up the minimal French tips with sprinkles of rhinestones.
15. Where's the Party?
This nail art with nude base color and sparkle is perfect for clubbing. You can hype the manicure by using flower nail art or rhinestones.
16. Get Pearly White
Get ready with this minimal nail art in 5 minutes. Use a white matte nail polish and draw stars over it. You can also choose blue or pink nail polish to make it more attractive.
17. Drama in Life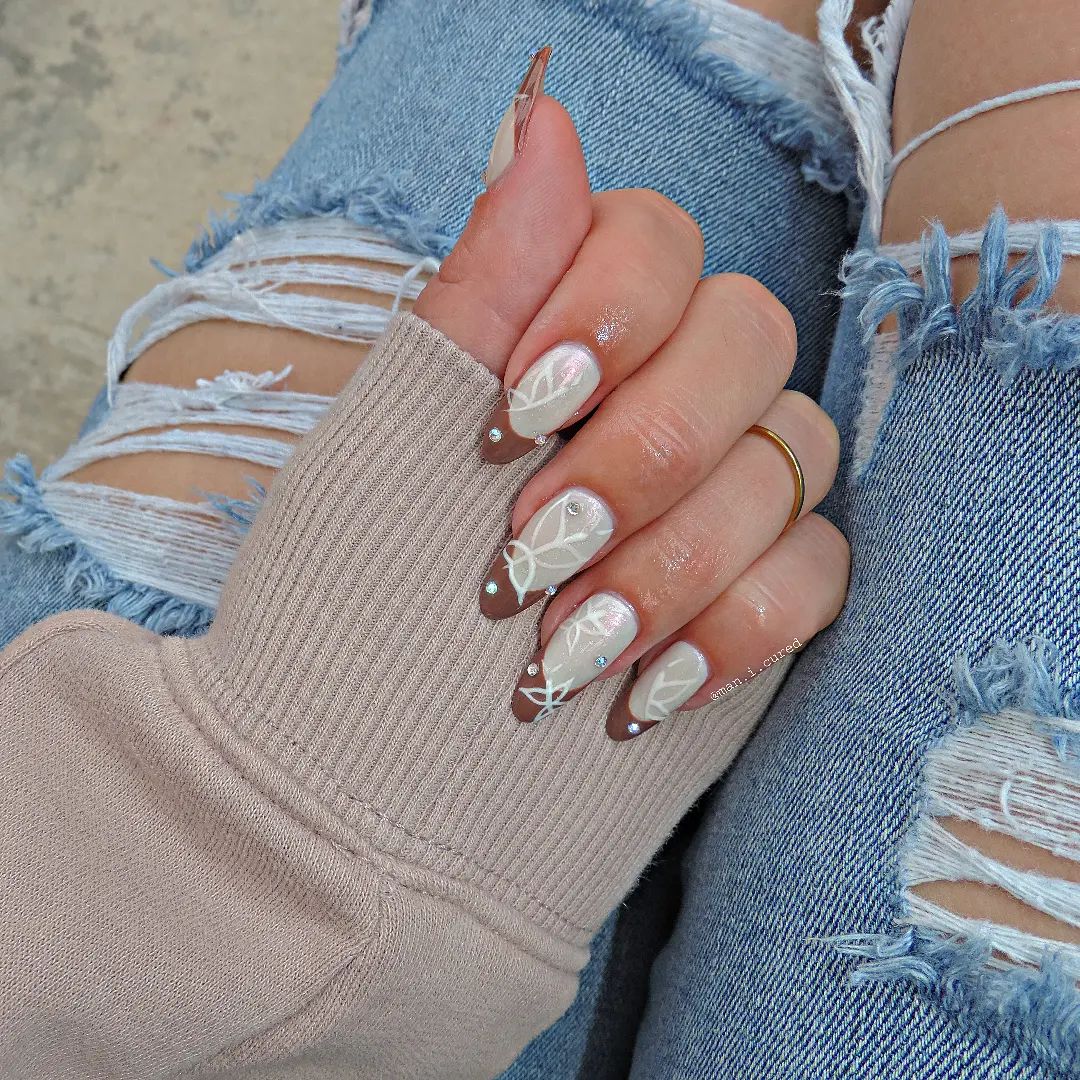 Have a dramatic personality? Express it with this beautiful nail art. This white nail art uses glossy nail paint and rhinestones for drama. It is perfect for an evening date!
18. French dem up!
Personally, I'm a minimalist nail art fan, and I love French tips. So, what is better than this nail art? This nail art will give you a clean, neat, and well-maintained look.
19. Cotton Candy Swirls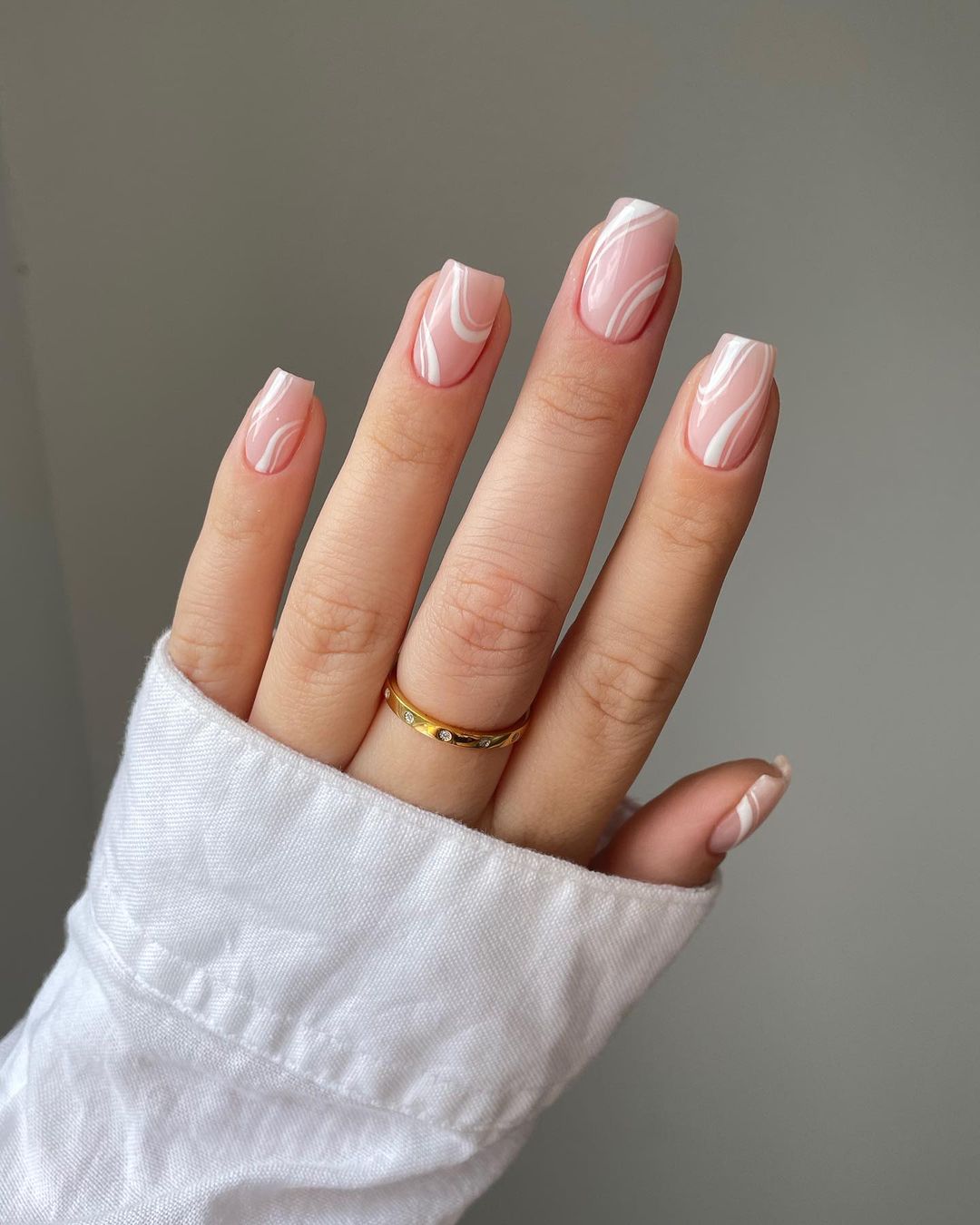 This cutesy nail art reflects the feminine nature and delicate personality. It will complement casual and oversized dresses. The nail art is perfect for coffee cafe dates.
20. Shimmer Me Up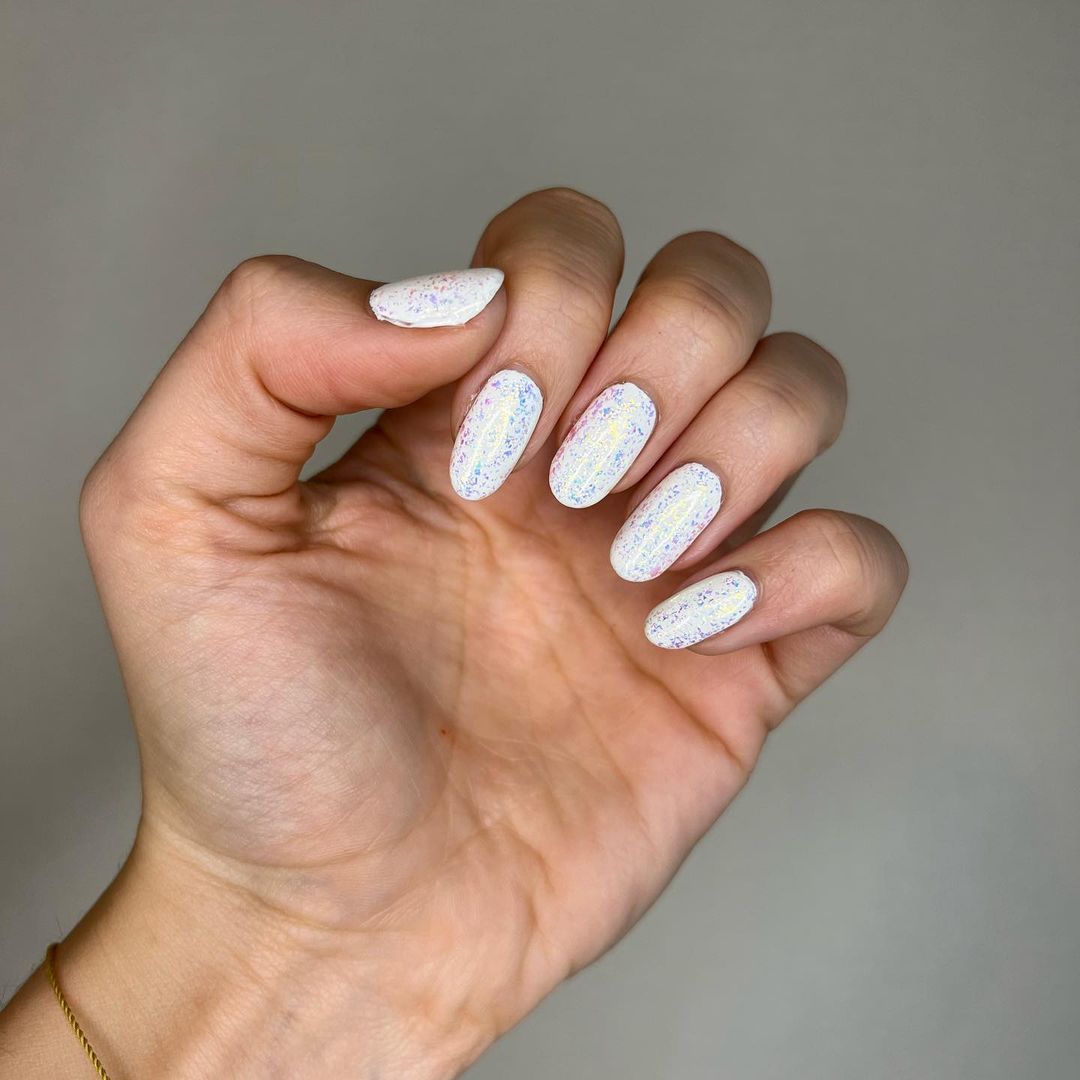 Do you love anything that shines out? Then this shimmery nail art is for you. Just grab a white nail polish and a sparkle nail paint and get going.
21. Break The Heart
Wanna make your ex swoon over you? This nail art will make them skip a beat. Use this cutesy nail art and secure it with a top coat. You can try the one by OPI.
22. Cloudy Miracle in White
This simple white nail design is just for the days you wish to wear a bright-colored outfit. It will neutralize the overall look, making you look more pleasant.
23. Dazzle in Sparkle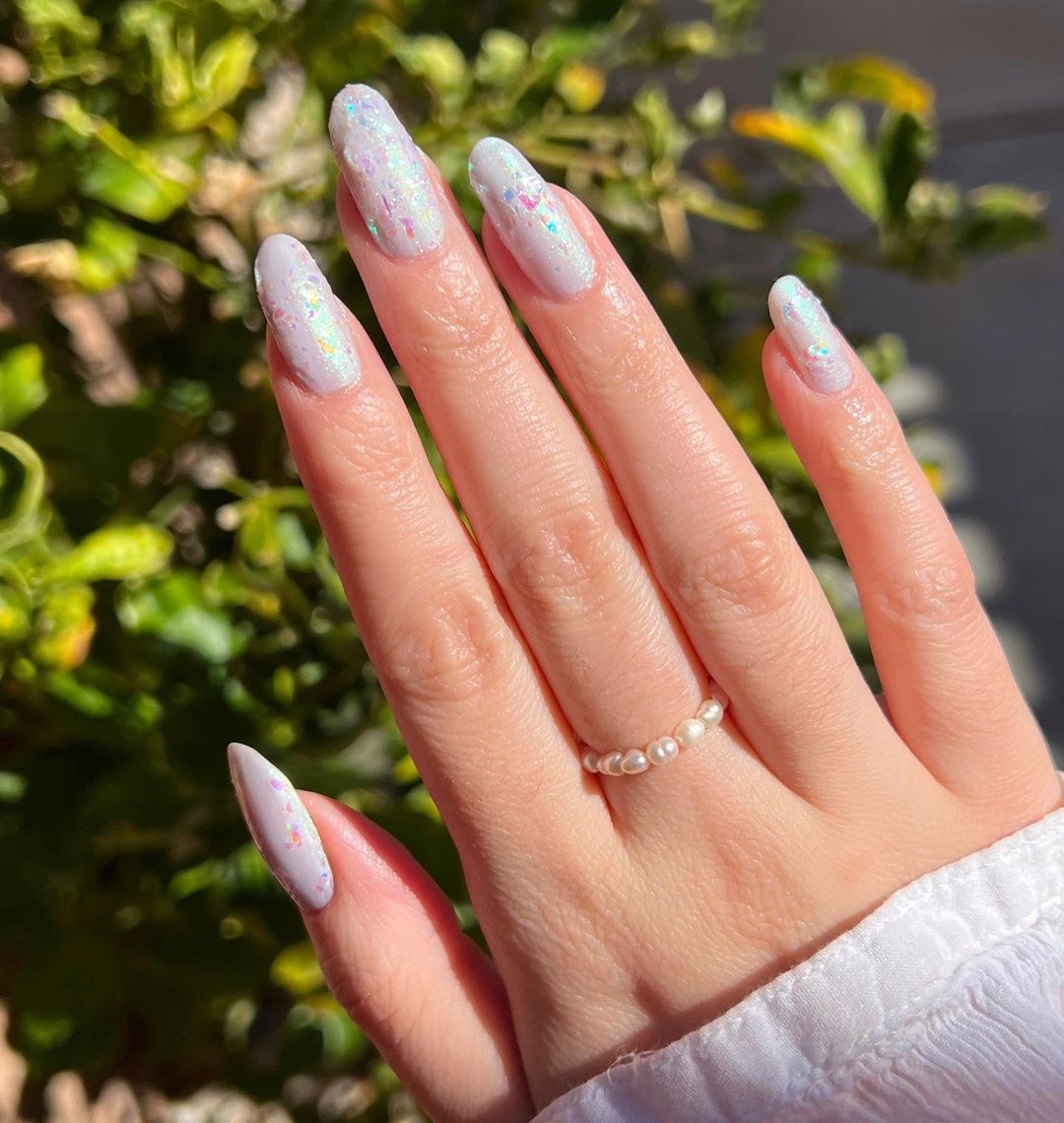 This nail art has nothing but glossy white nail paint. Wear it with blue jeans and an oversized tee. It will outshine your casual look.
24. Beachy and Blasty
This nail art with butterflies, trees, and French tips is perfect for a beach visit or a pool party. Wear it with a beach dress, and it will get you many compliments.
25. Will You Be Mine?
Get white sparkly nails with this nail art. It is an elegant yet dramatic nail art. It complements all dresses and is perfect for every occasion. Ensure to prep your nails with a nail buffer to achieve the ideal smoothness.
26. Girl on the go!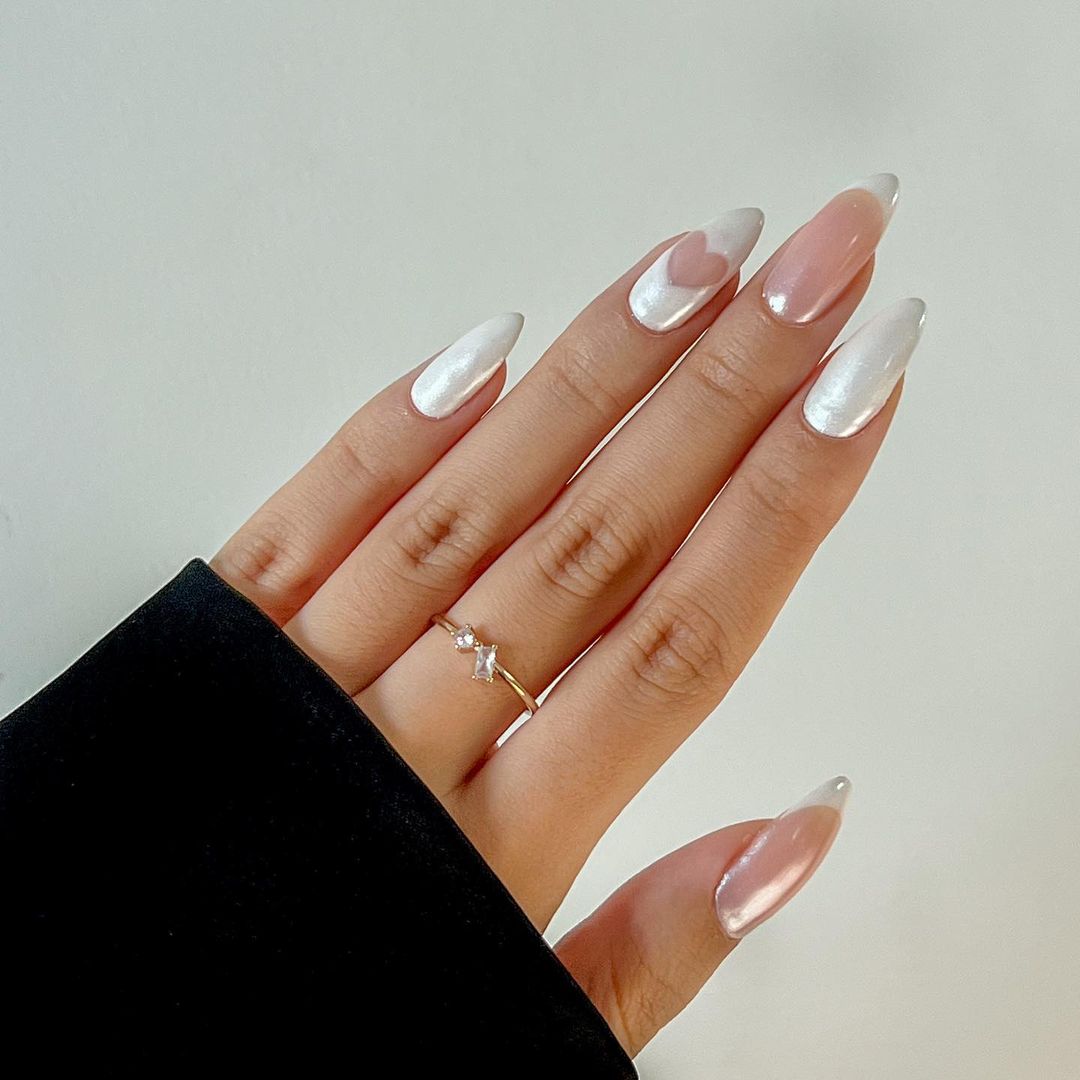 This is an easy and chic nail art perfect for the girl on the go. This nail art will attract eyes wherever you go. Don't forget to use nail files for this flawless white nail tip design.
27. Let's go out?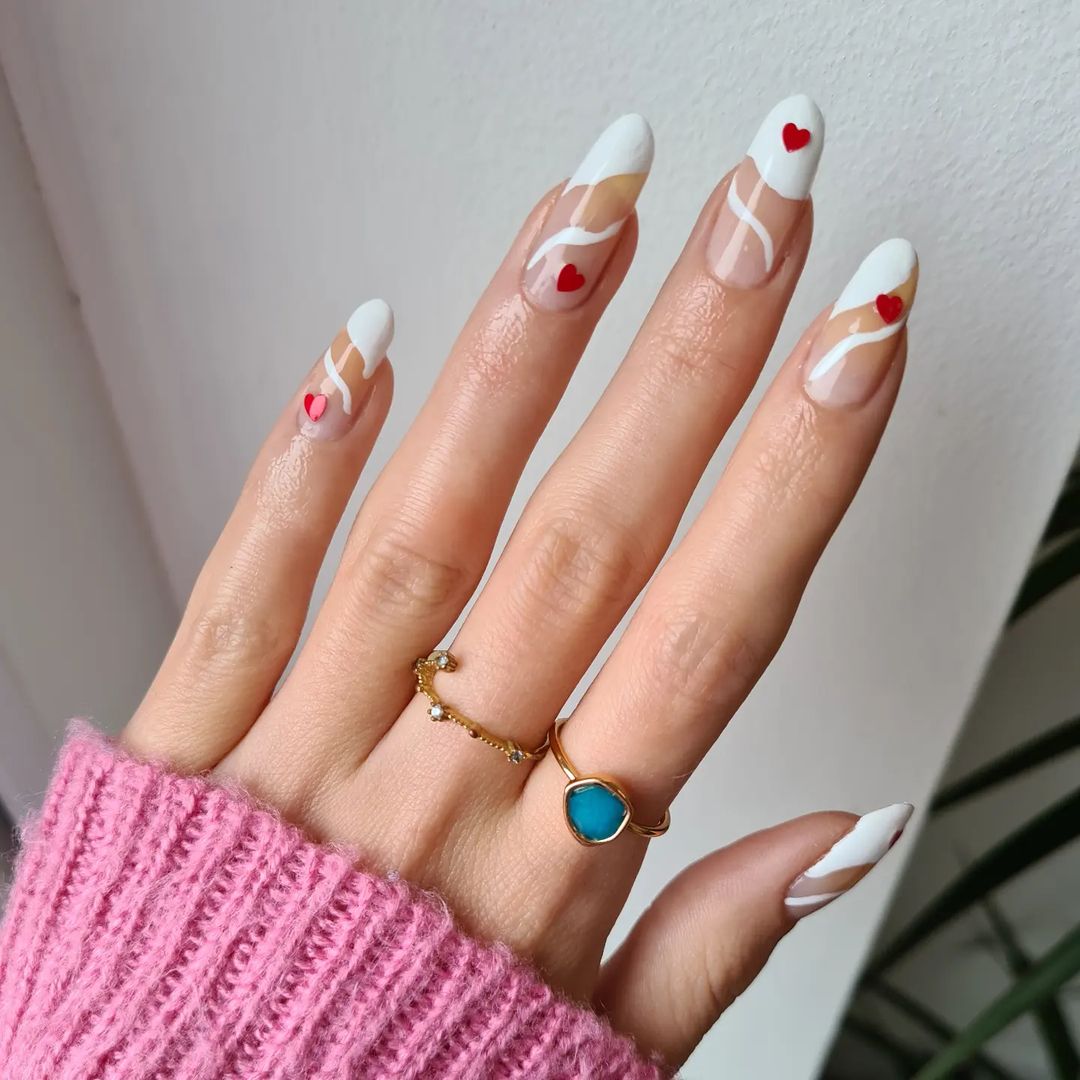 This nail art is perfect for a date with your crush, or when you want to send off a signal that you are into them. Go ahead and make your first move with this love-themed nail art.
28. Quirky Enough?
A perfect white nail art for the quirky and chirpy ones! It is easy and effortless. This simple and quirky nail art is excellent to hang out with your girlfriends.
29. Neatly Romantic Signs
I'm gushing over this nail art. It looks so adorable and attractive. Wear it with a bodycon dress or a miniskirt and high heels. Voila, you are date ready!
30. Get Flower Ready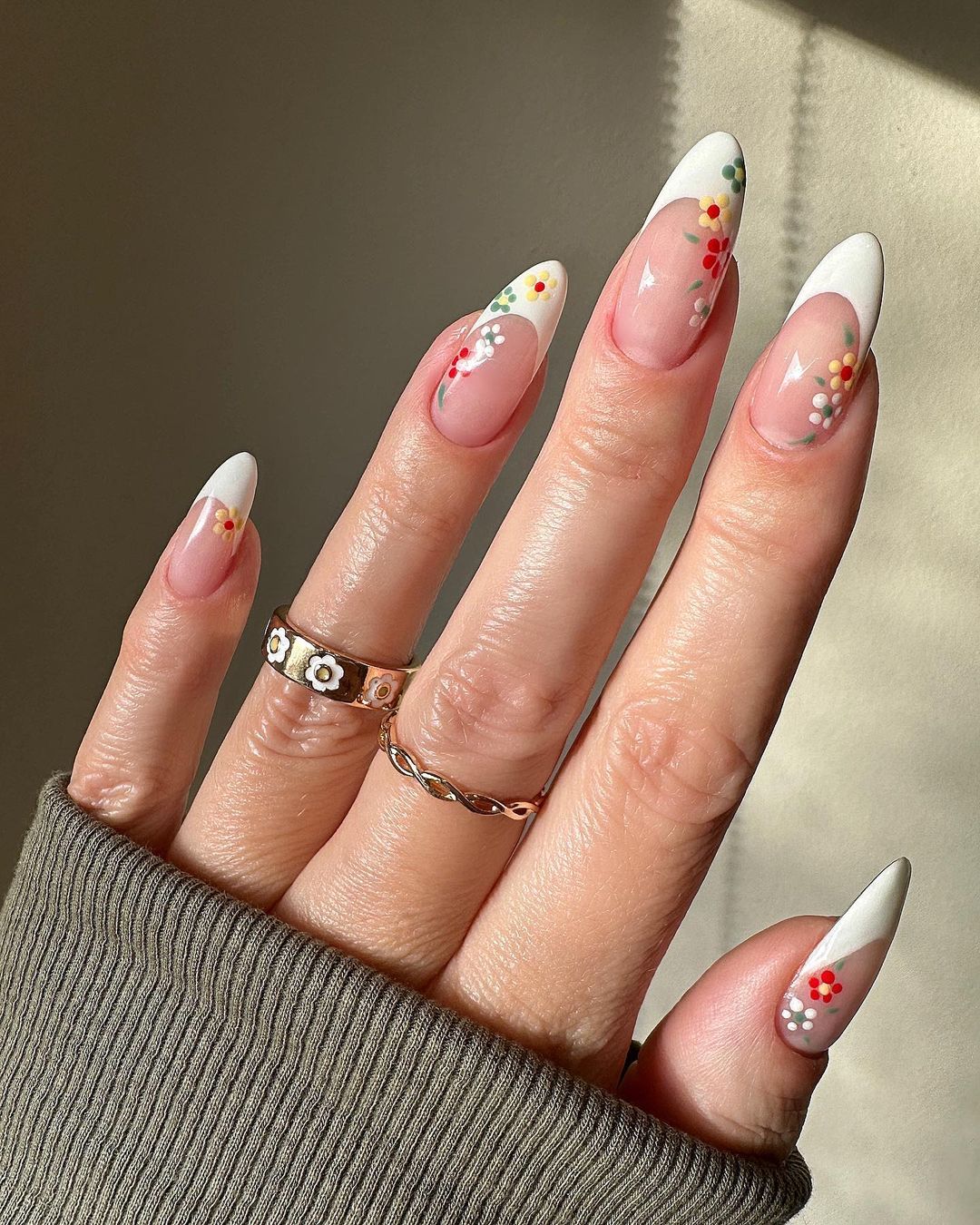 Who does not love floral nail art? Tiny little flowers along with French tips are among the daintiest nail art. Try this nail art in the spring season and make them go awe!
31. What looks like a dream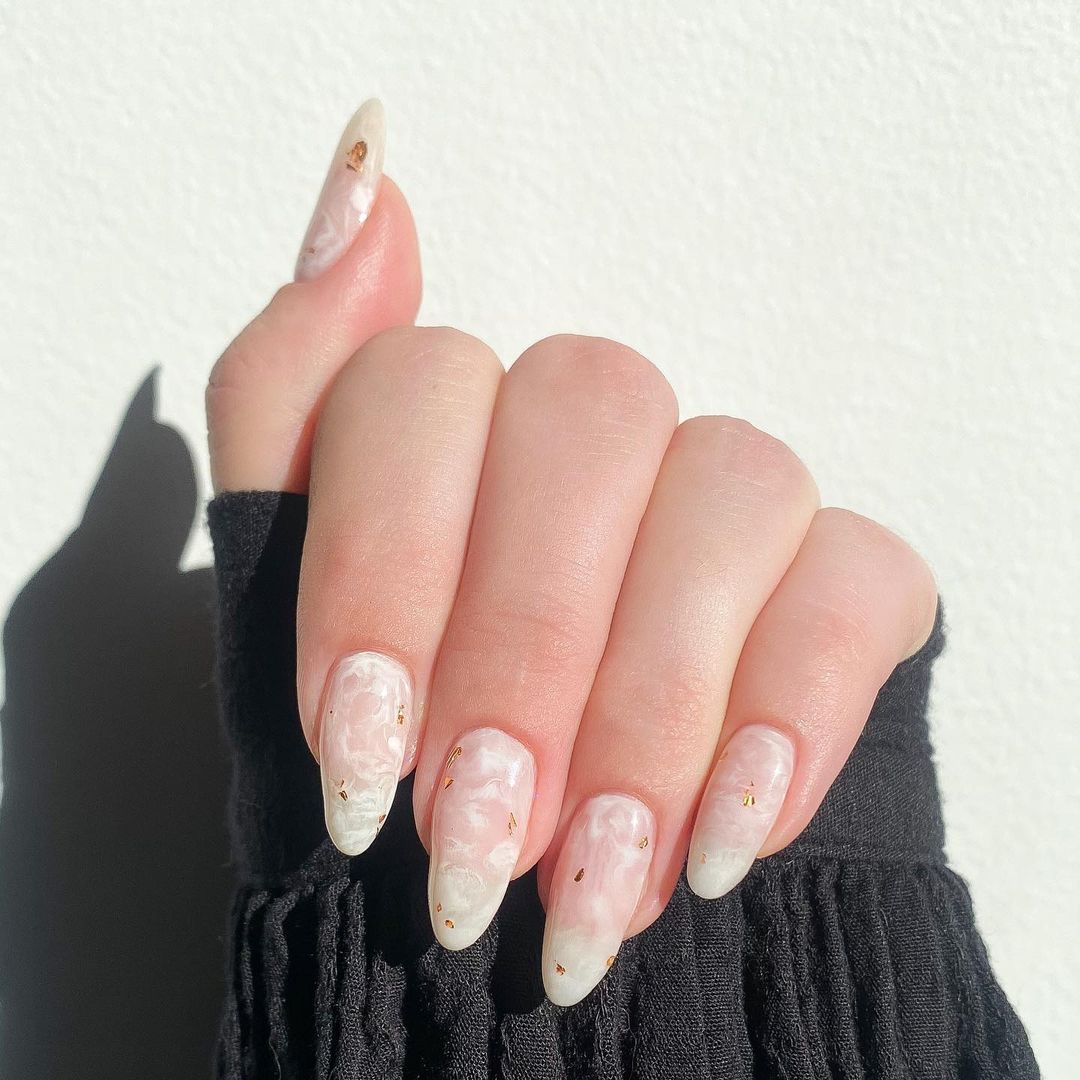 Are you a dreamer? Get this nail art to depict your dreamy personality. This is an everyday nail art that will go well with your casuals.
32. Melting White Chocolate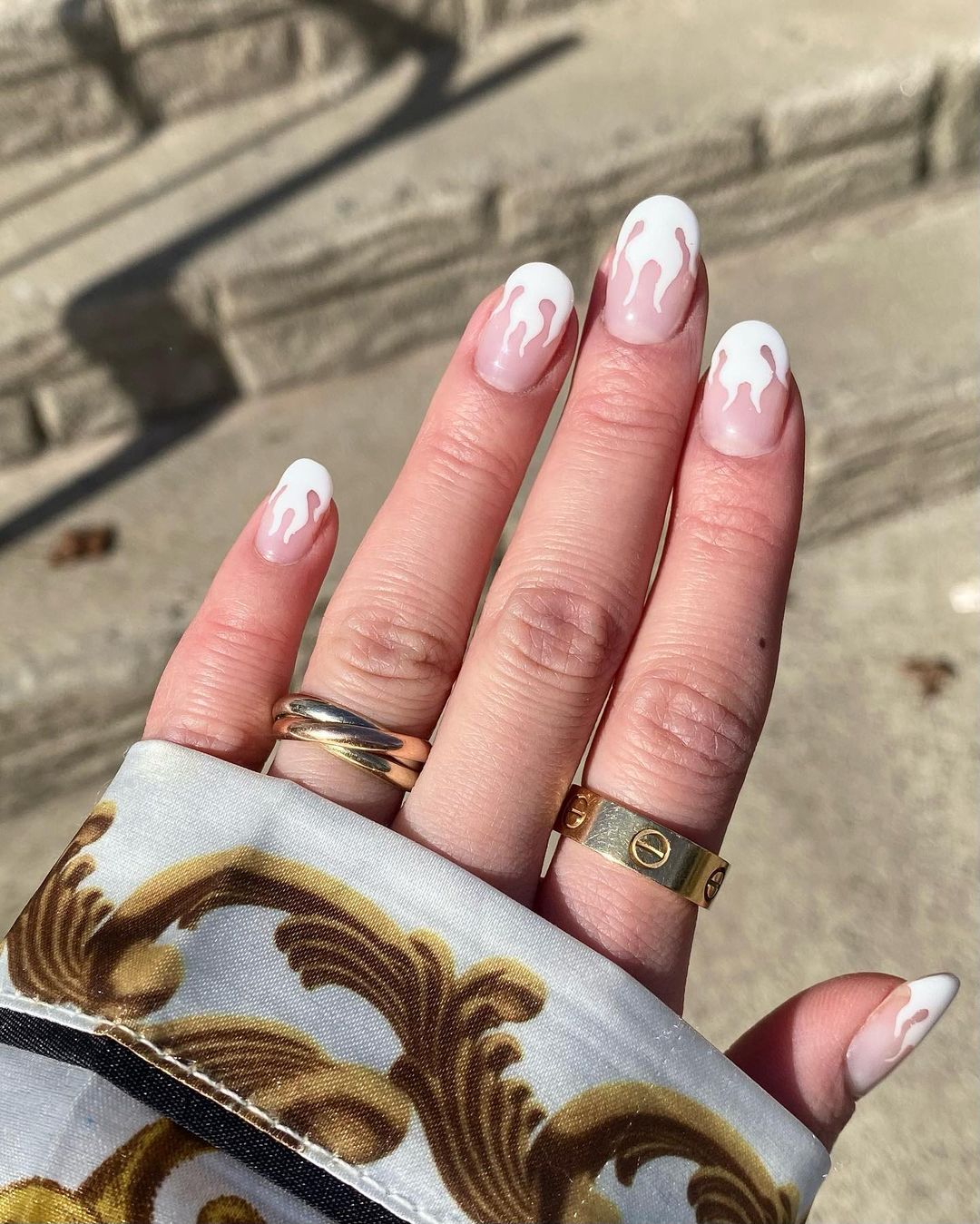 This dripping white chocolate nail art is easy and sassy. The nail art goes well with denim. Wear it when you visit open cafes with friends.
33. Classy and Dope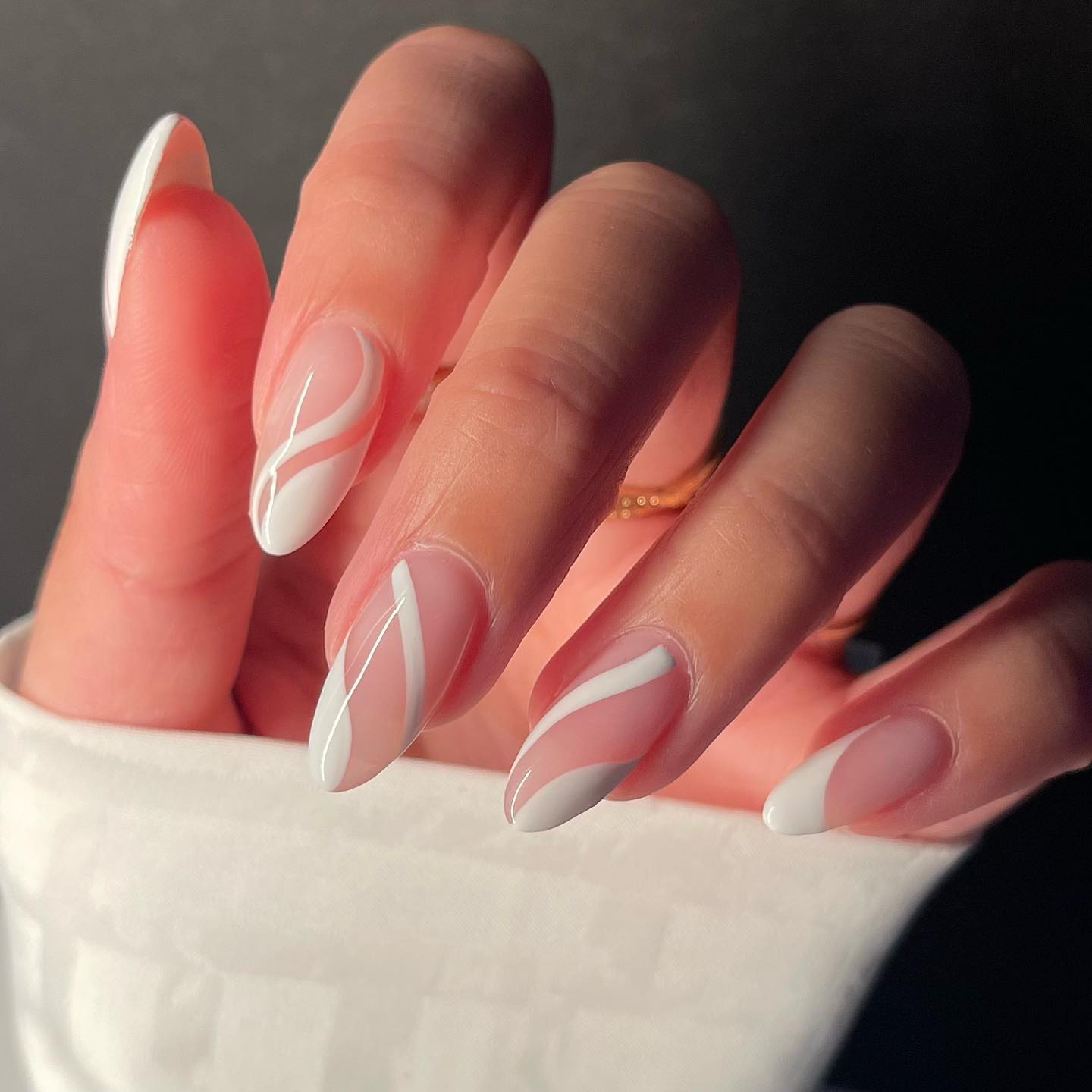 This is a tried and tested chic look. It will make heads turn and give you the confidence you desire. You can use nail art brushes to create this elegant look. Where to find it? Try one from Modelones.
34. White Matte Swirls
I'm personally a fan of swirls; they look so elegant and dreamy. You can make this nail art more chic by using a pink dot at the end with a dotting tool.
35. Love for Graphics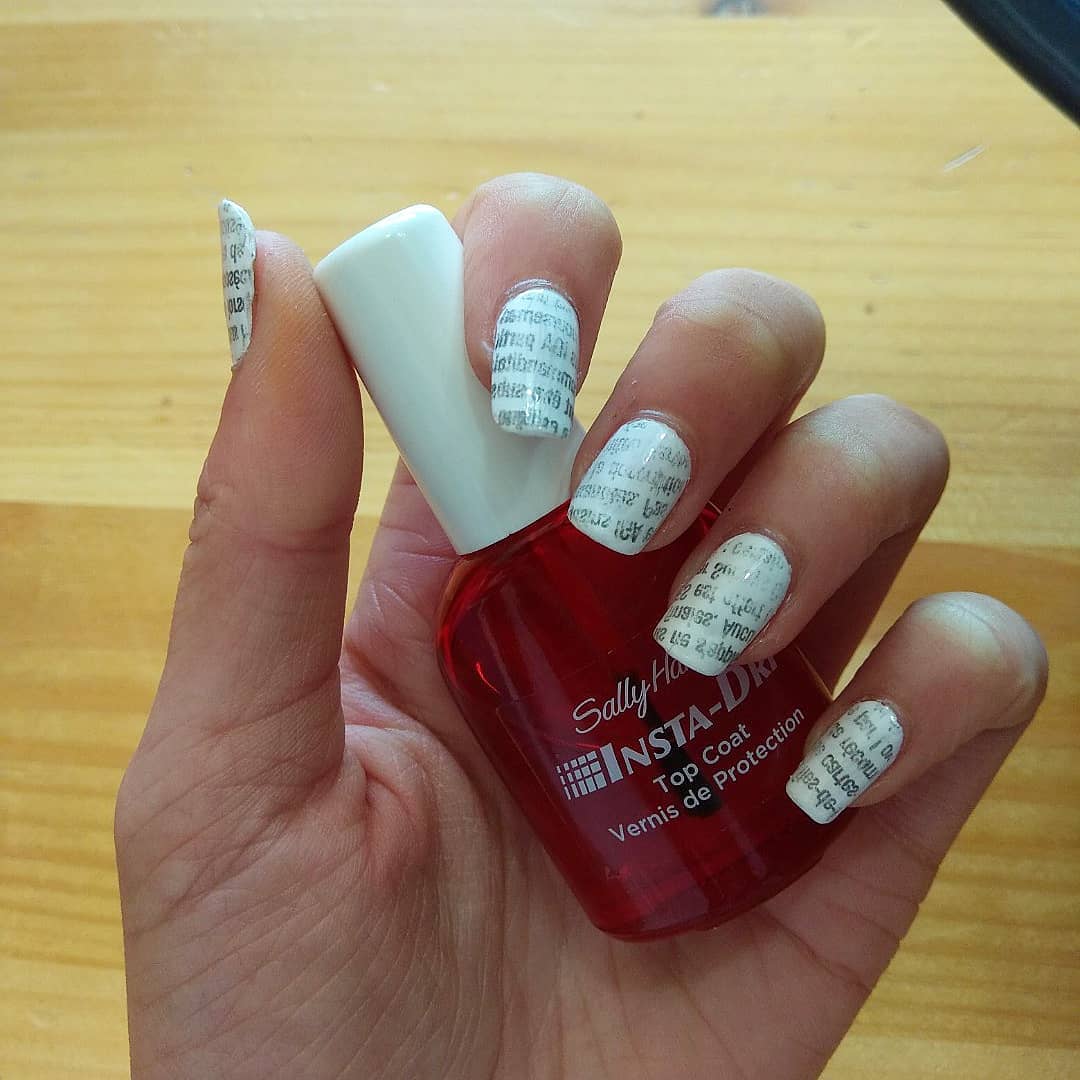 Not nerdy enough? Create this nerdy nail art for an intellectual appearance. It is perfect for conferences or office visits.
Wrapping up:
White is the color of peace and tranquility. It reflects your inner peace and calmness. It grabs attention and is pleasant to the eyes. The white color gives you a broad scope to style your fingertips in different ways, be it quirky, feminine, tom-boyish, sparkly, or minimal.
I have picked 35 white nail art designs that you can use to depict your personality and express yourself. There is one for every occasion. My personal favorites are No. 18, 29, and 33. You must have shortlisted some too, based on the occasion or your personality.
You can try cute nail art tools like brushes, dotting tools, tape, and nail files to beautify your nail art further. Ensure that you purchase quality products. Your nails are as important as your face.
You must try the aforementioned nail art designs, as "You cannot experience the beauty it holds without trying it out". These nail art designs are sure to turn heads with their style and shade.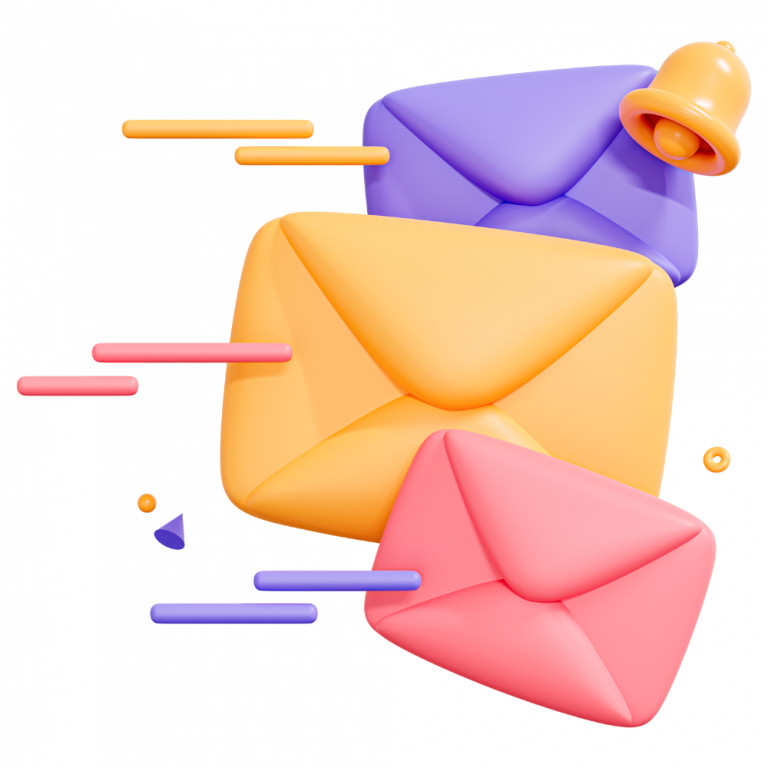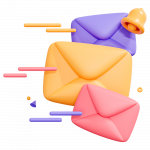 Read related: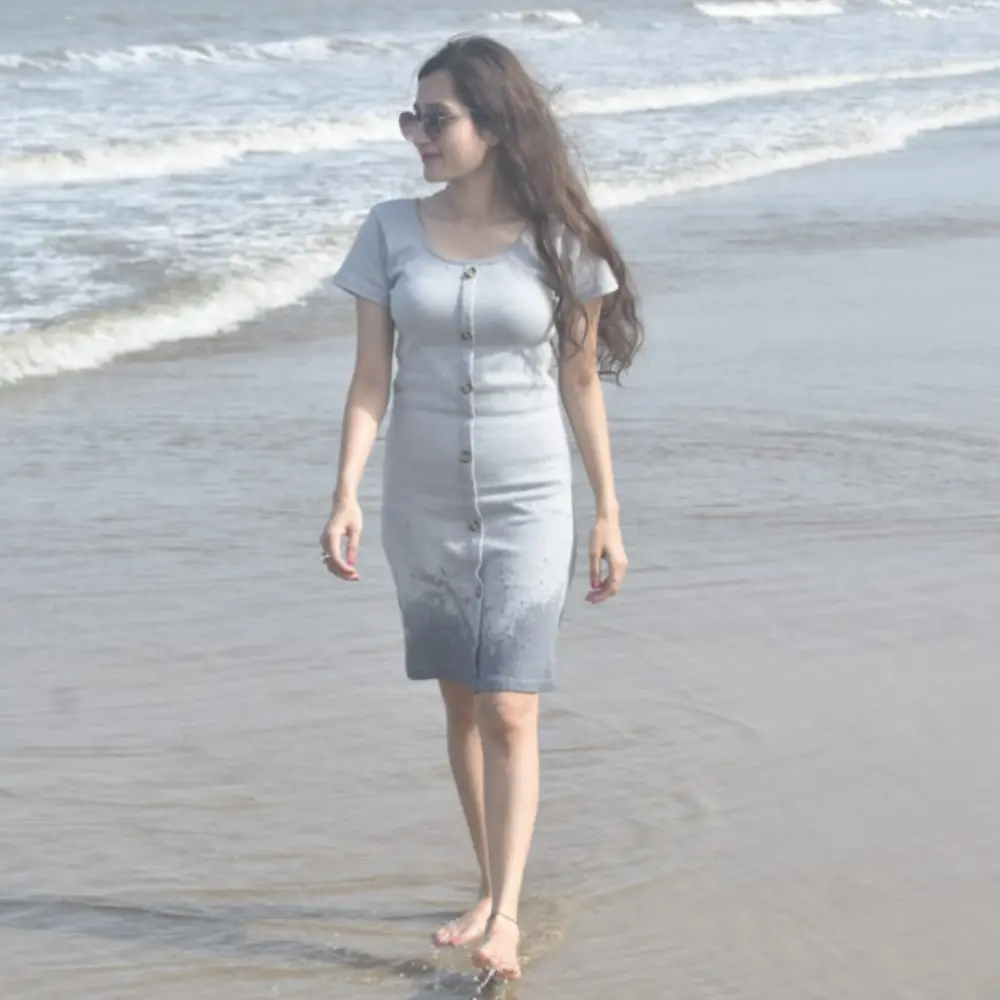 As a dentist and fashion enthusiast, Sakshee has a keen interest in both maintaining healthy nails and beautifying them. She believes that nails are reflective of one's personality, well-maintained nails boost confidence and manicures work as therapy and wellness sessions.