61 Beautiful Pink Nail Art Designs for 2023
Baby Pink, Barbie Pink, Hot Pink, Magenta Pink…! There is no shade of pink that doesn't suit the occasion. The freshness of hues and tones catches the eye and will remain a classic. Pink has been the new black for quite some time now. The best part apart from the versatility of pink color is its ability to complement the rest of the colors.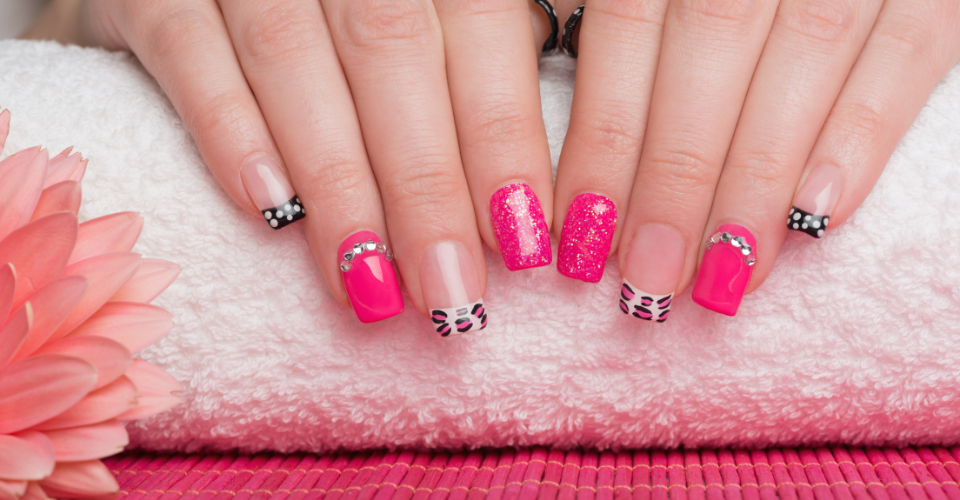 With this in mind, you can precisely never go wrong with pink. Amongst other things, choosing the perfect design could be daunting given the choices. Fret not, I have curated 61 pink nail art designs to try in 2023.
Keeping in mind the fashion trends and popular choices, here is a list of pink nail art ideas to screenshot and save to save you the time and pressure of searching them.
As far as I can remember, I have been a fan of pink color since I was 5. The color itself is easier on the eyes and lovely to look at. If you read color theories and studies amongst other colors, you will find that pink is one of the colors used by designers to give any space a pop of color.
Some colors are believed to release dopamine in our brains which, in simple language, are the "happy" hormones. And pink is one of 'em!
61 Lovely Pink Nail Art Design Ideas for 2023
All things considered, pink represents and exudes love, kindness, sensitivity, and sensuality. It's playful and romantic. If these values align with who you're as a person, pink just might be your color. The color is the epitome of love. Let 2023 be the year of love!
1. Glacial Pink!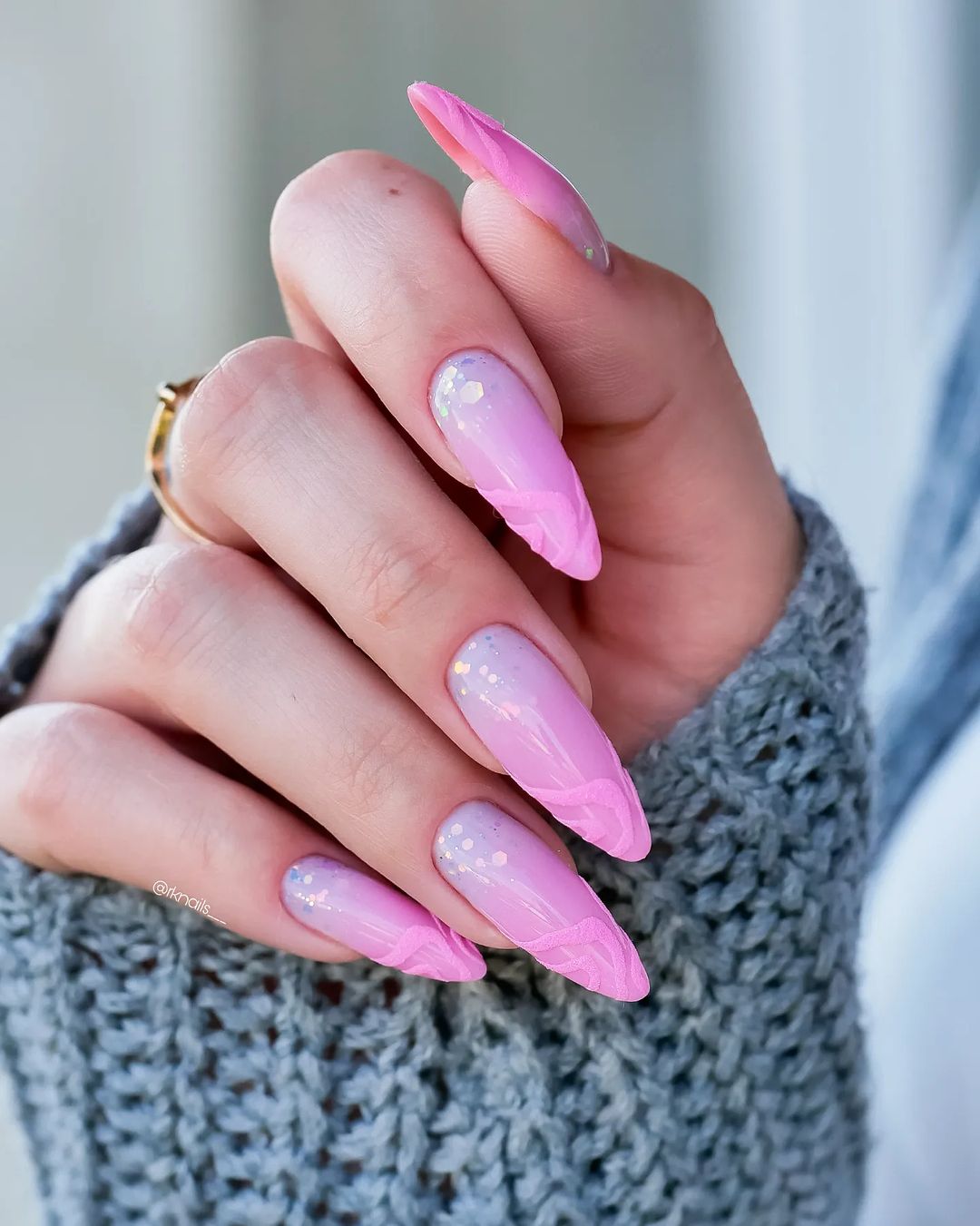 These shiny and stylish pink swirl nails are just the ones you need to go for in case you have a party to host! It screams party-wear!
2. Swirls and Flowers!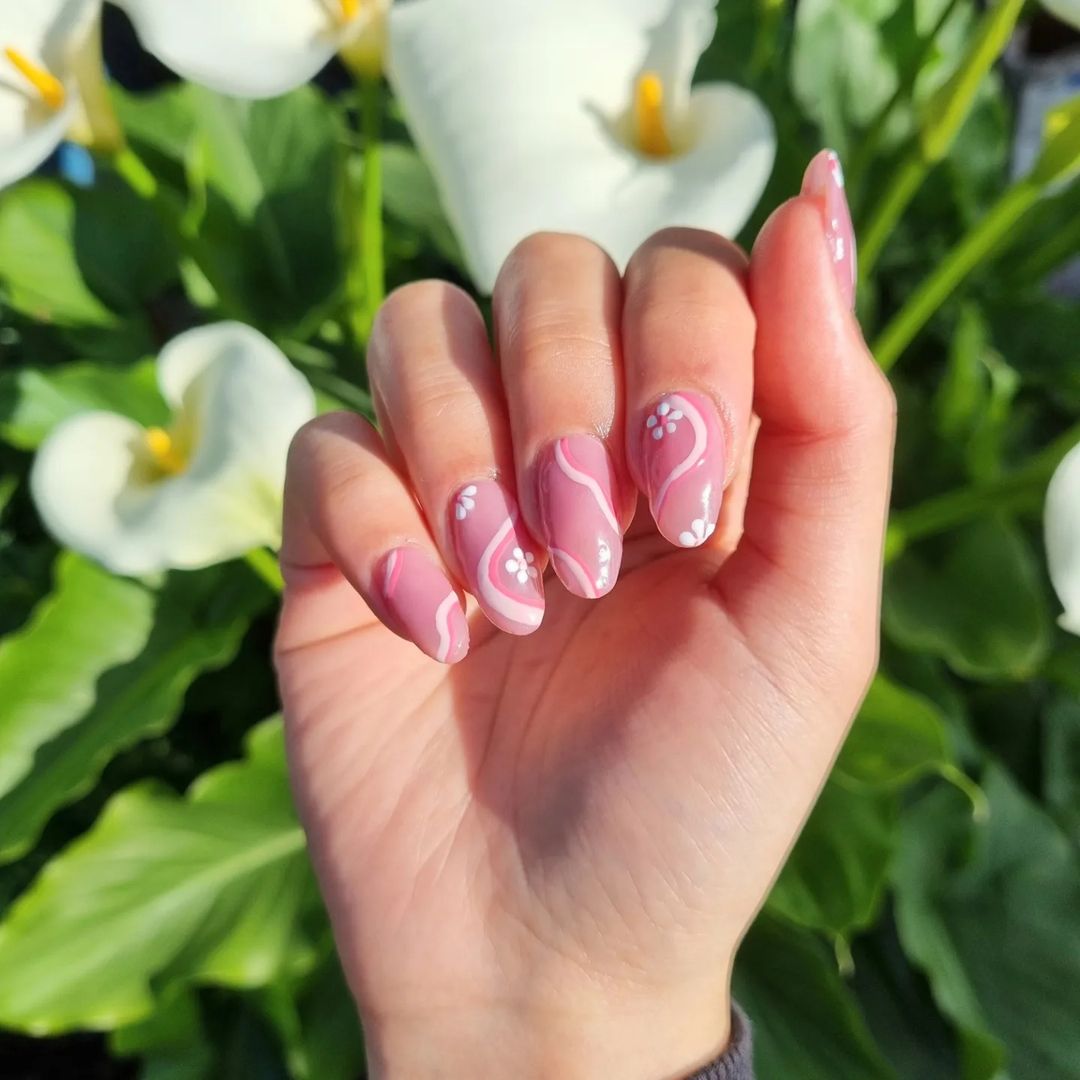 I see cute and delicate written all over it. Perfect for brunch dates or beach dates. Or just to pose with flowers to post on IG! Just get the perfect pink nail polish and let the magic happens.
3. Red Hot Tips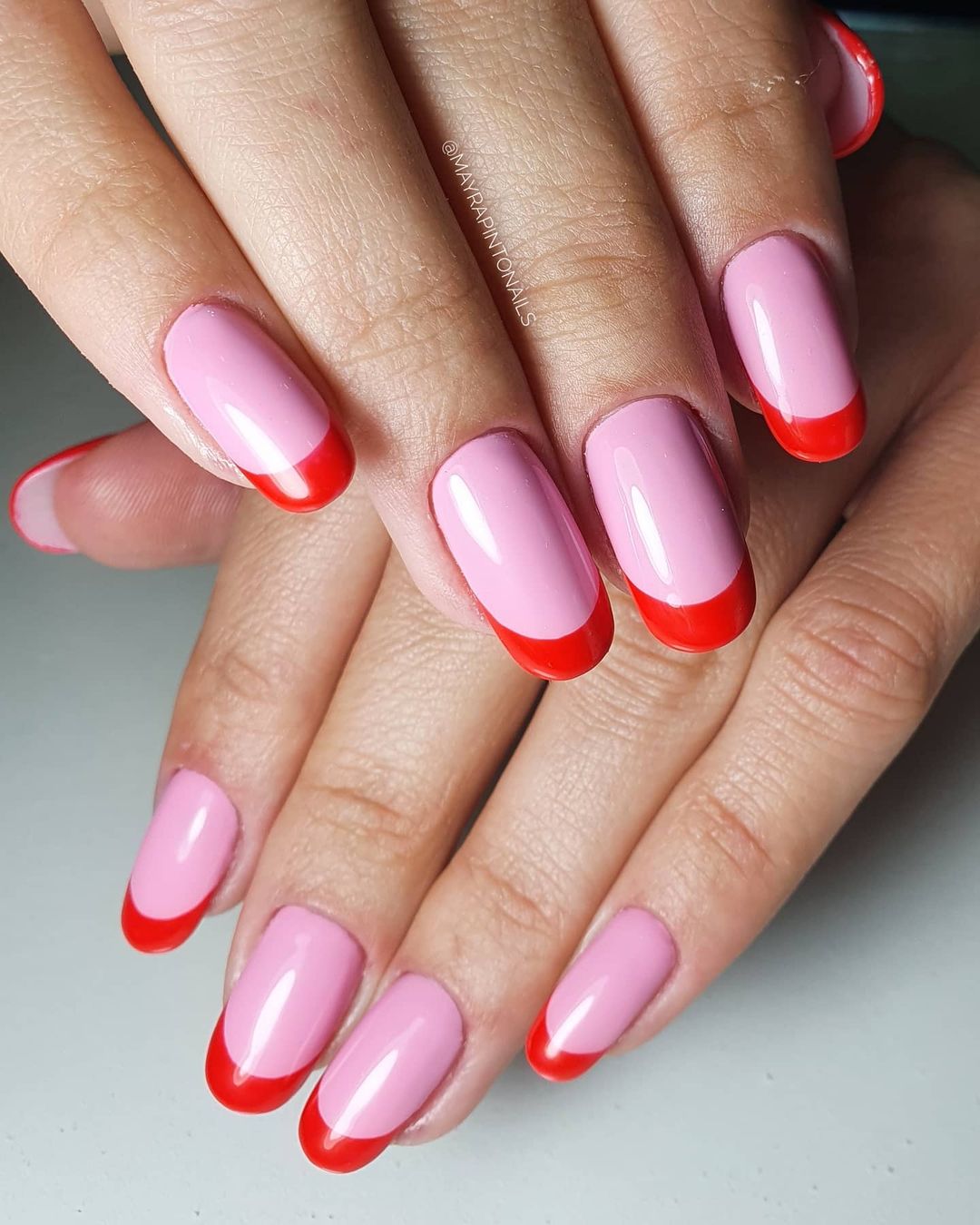 RED + PINK makes for a sizzling combination. If there's anything to go for right now, it's this dreamy manicure. Or should I say it's RED HOT?
4. Pink Manicure for Winter
I'll cut down this look for you in a simple equation. Embossed texture + Essie Pink Polish + Snowflakes nail art + White Fuzzy/Furry Sweater + Leather Leggings = Perfect Winter Look. Need I say more?
5. Glittery Pink Nails!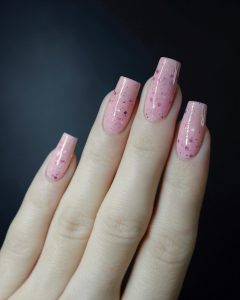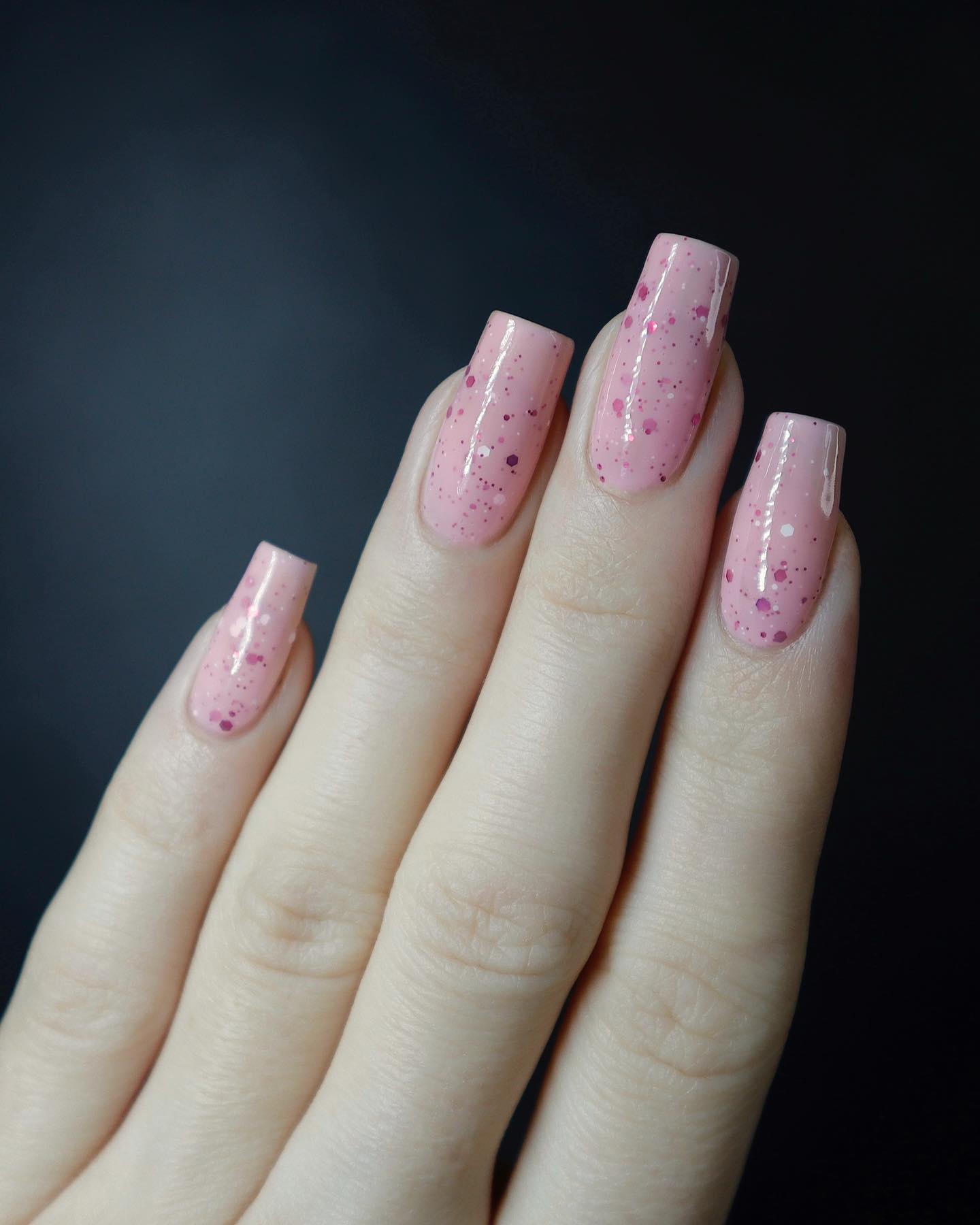 2023 is all about shimmer and shiny new beginnings. Start 2023 with pink nail art and glitter from the OPI Be Jewel Collection or your favorite glitter nail polishes!
Post You May Like: 7 Best Easter Nail Stickers and Decals for Spring 2023
6. Ombré Tips for Nails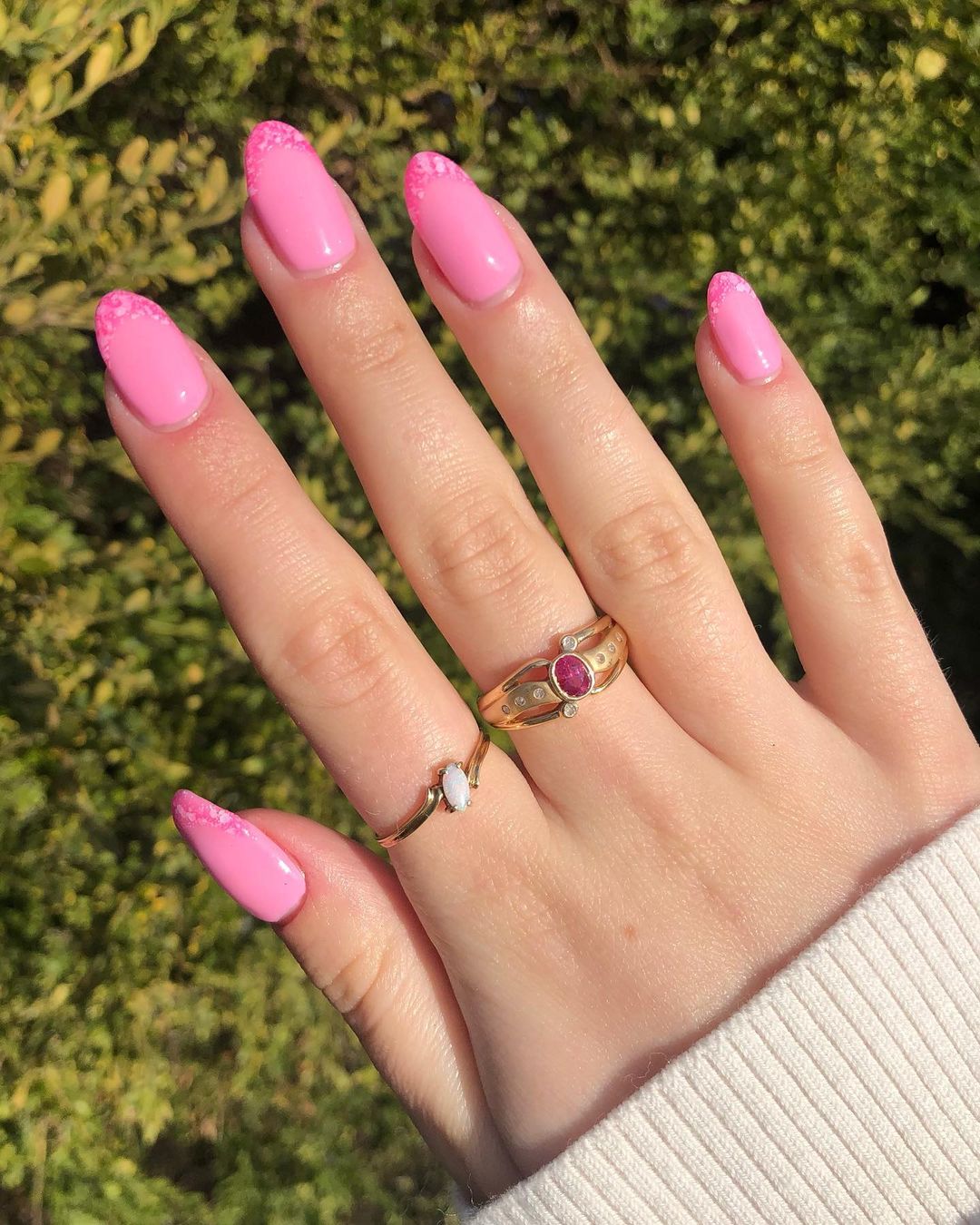 After watching a few TikTok, I am sure creating this look with a sponge won't be a herculean task. Grab your favorite shades of pink from your favorite brands and get started!
7. Leafy & Pinky!
Imagine a Zebra with Pink and Green stripes. I love the way this shade of green compliments baby pink here, makes for a new combination! For more contrast to your look, pair this nail art with a green outfit.
8. Rhinestone Game on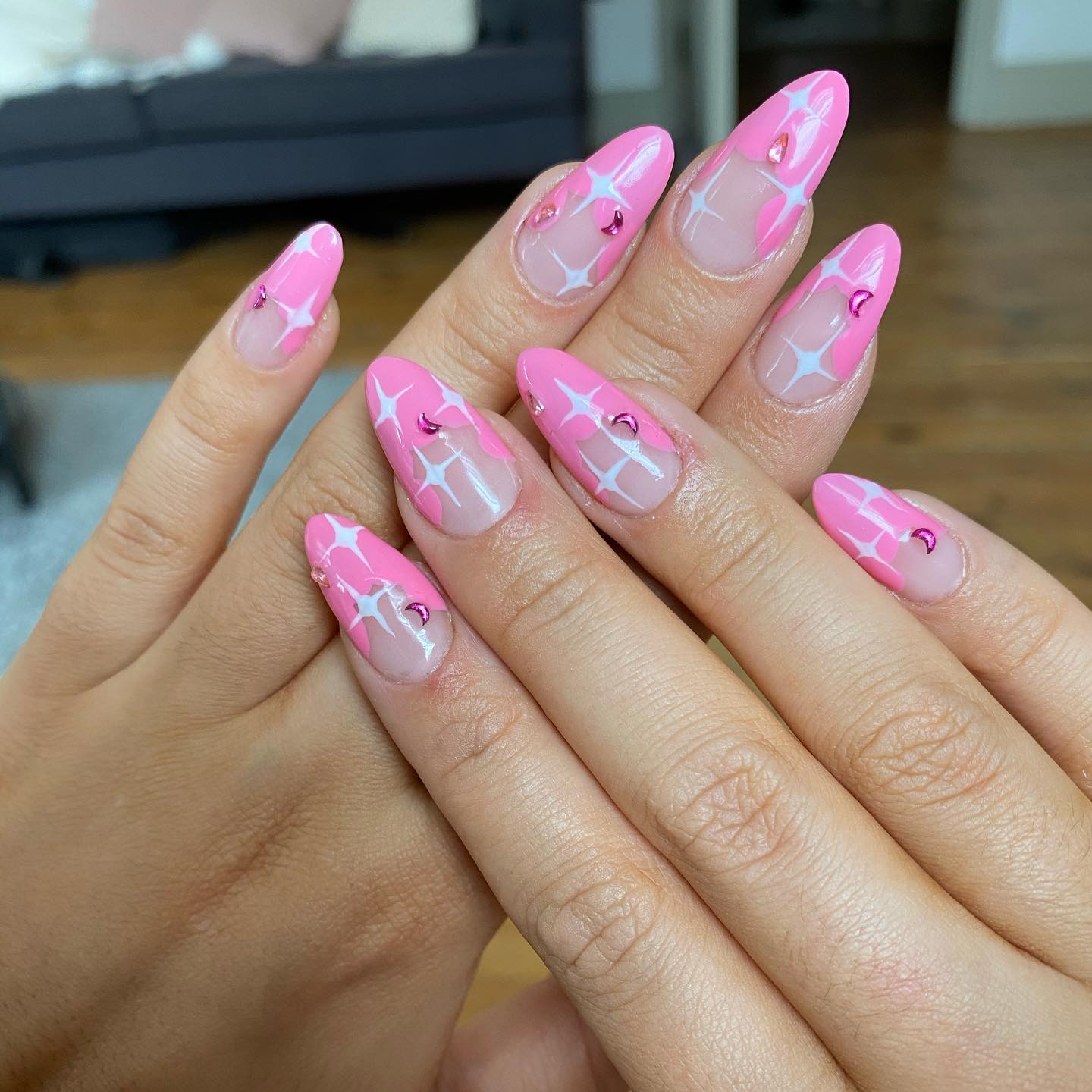 Get your glam on with pink nail art and rhinestones for your next party. Rhinestones give you the coveted Instagrammable nail set to show off!
9. Will You Be My Valentine?
Those little hearts on nails make for a good idea for your next BFF manicure. This is going to be a BFF ritual in the making, for sure!
10. Sweet and Simple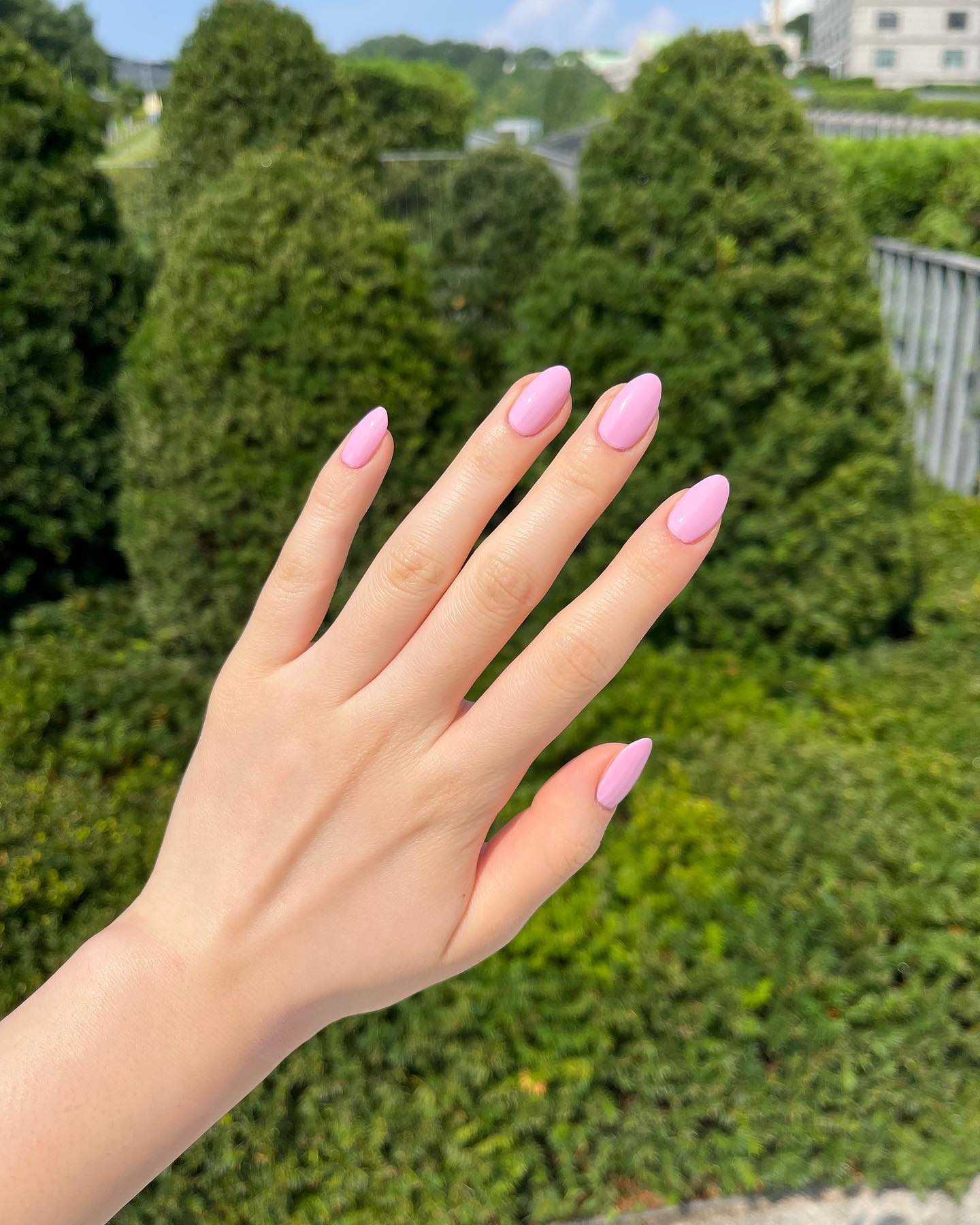 A quick dry nail polish and you have simple pink nail art for daily wear. No fancy or shimmery touches, just plain old simple pink nails. Great for officewear/college wear/anywhere, lol!
Post You May Like: How to Get Hailey Bieber's Chocolate Glazed Donut Nails?
11. Flower Girl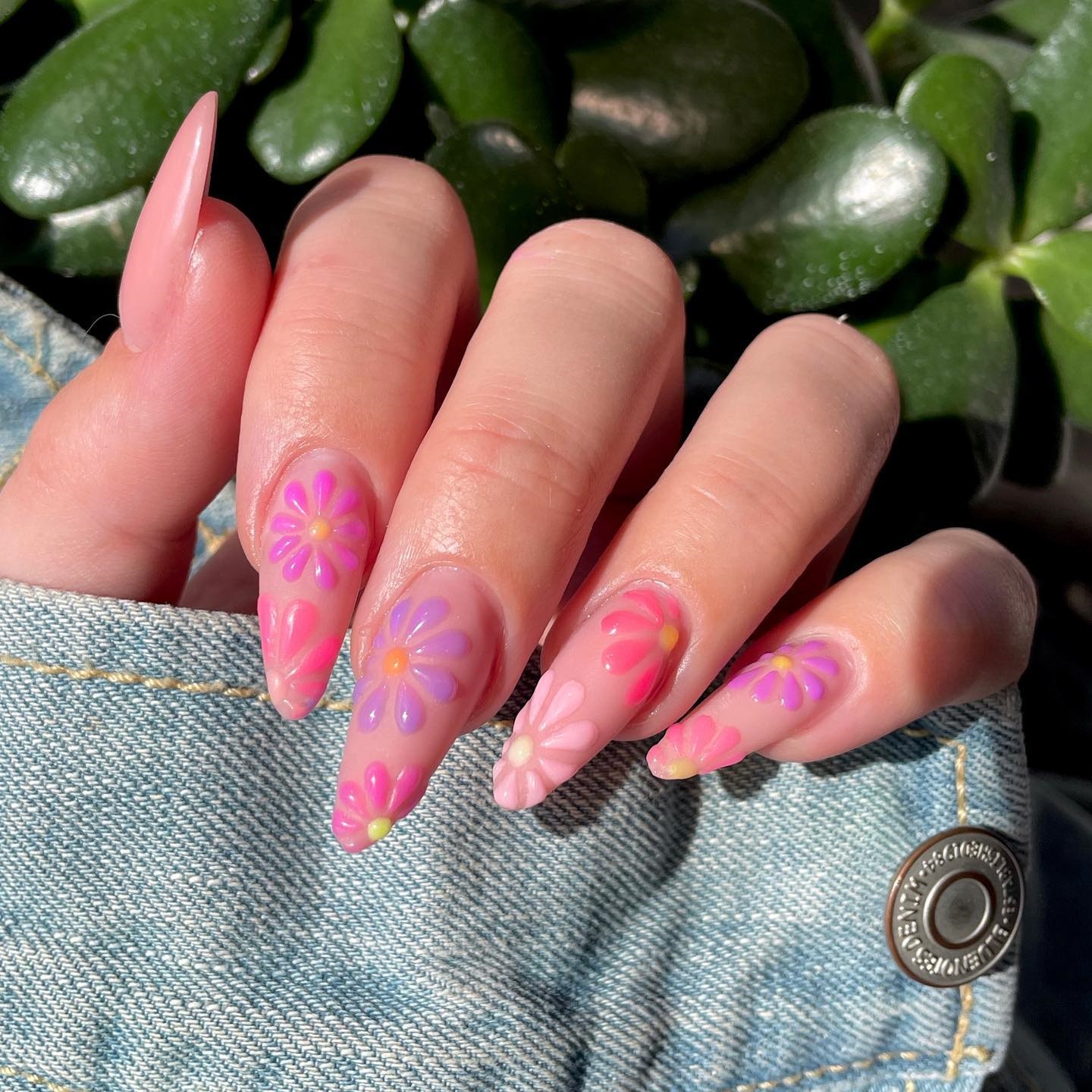 A few carefully drawn strokes with a nail brush, and you've your flowers in pink nail art design ready. It's subtle with all shades of pink and purple, perfect for summer. Oh, also, Coachella!
12. Color Mania
If painting all nails pink is too much, pick this one. The tinge of pink makes for an attractive showstopper element which brings out the rest of the colors even more than usual.
13. Butterfly Fly Away
White nails have always had a way of standing out in a crowd, and what better way to enhance with pink nail art ideas with butterflies? From a different angle, this butterfly nail art also looks like aesthetic floral nail art!
14. French (Pink) Manicure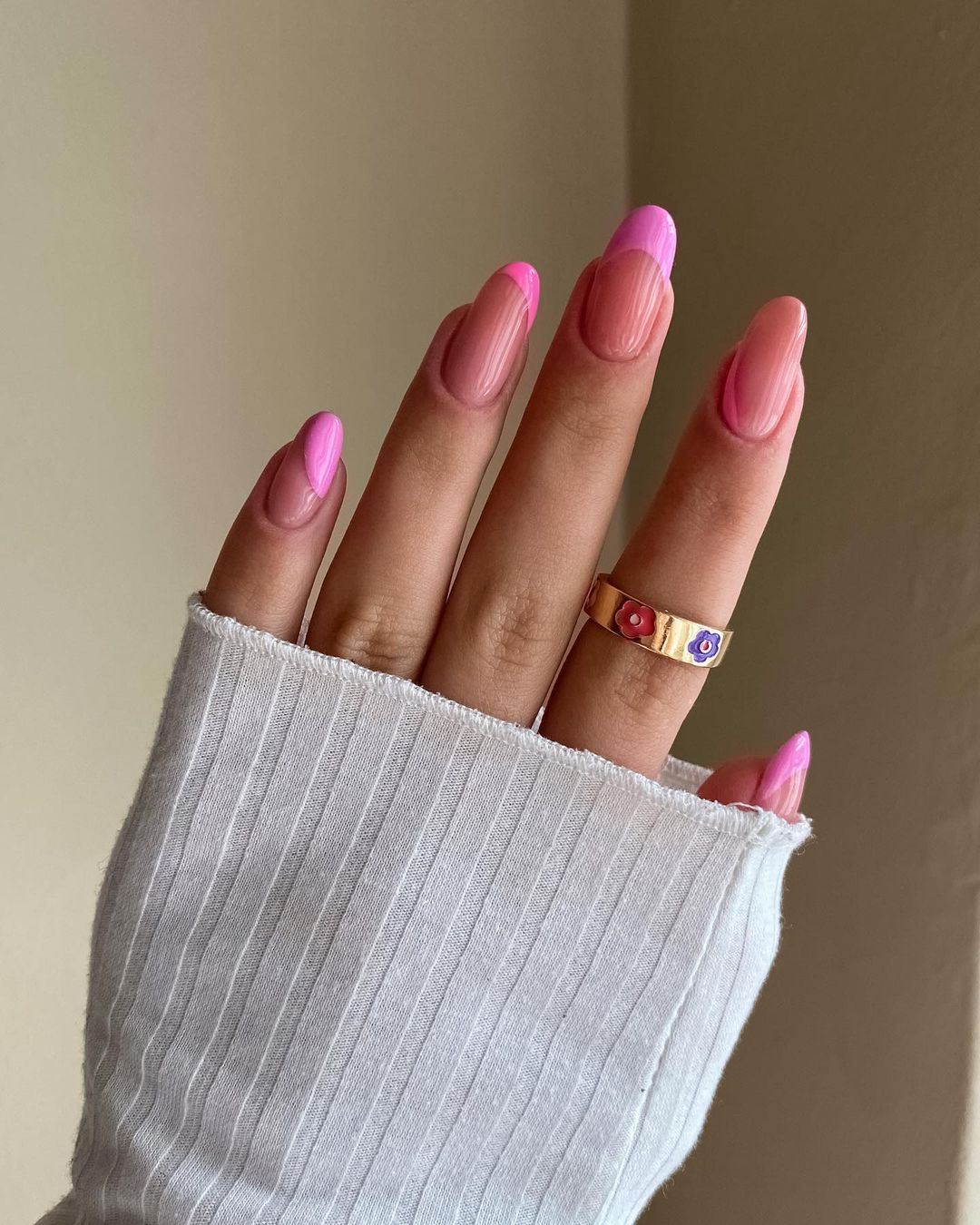 It's unacceptable, not to mention French manicures when it comes to trendy and must-try nail art designs. This hot pink French tip nails with a twist are the perfect example.
15. Pink Candycane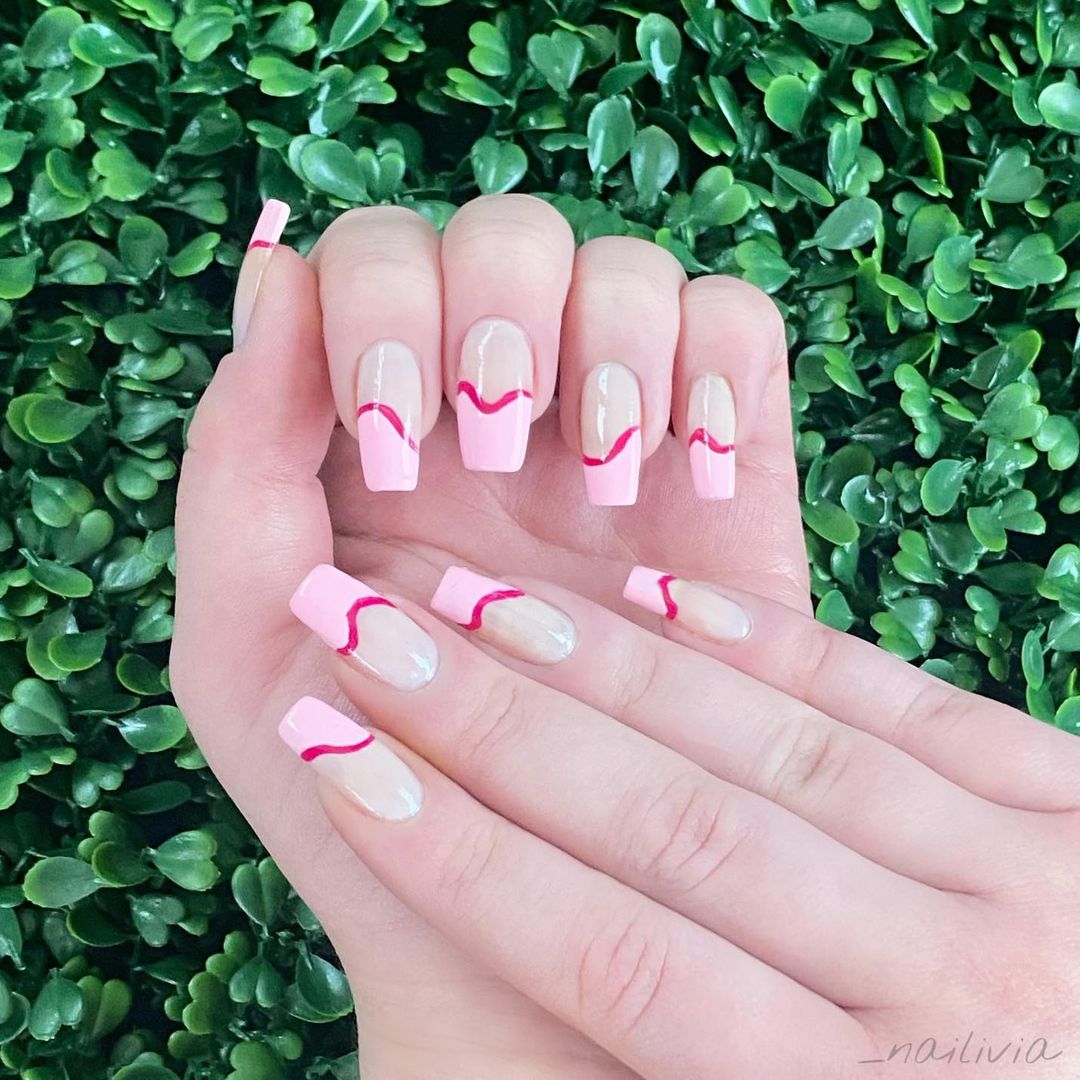 Nails with pink tips or more like Candycane-inspired tips will be perfect for Christmas vibes. Grab a nail brush and make imperfect swirls, and you're good to go!
16. Spring and Pink FTW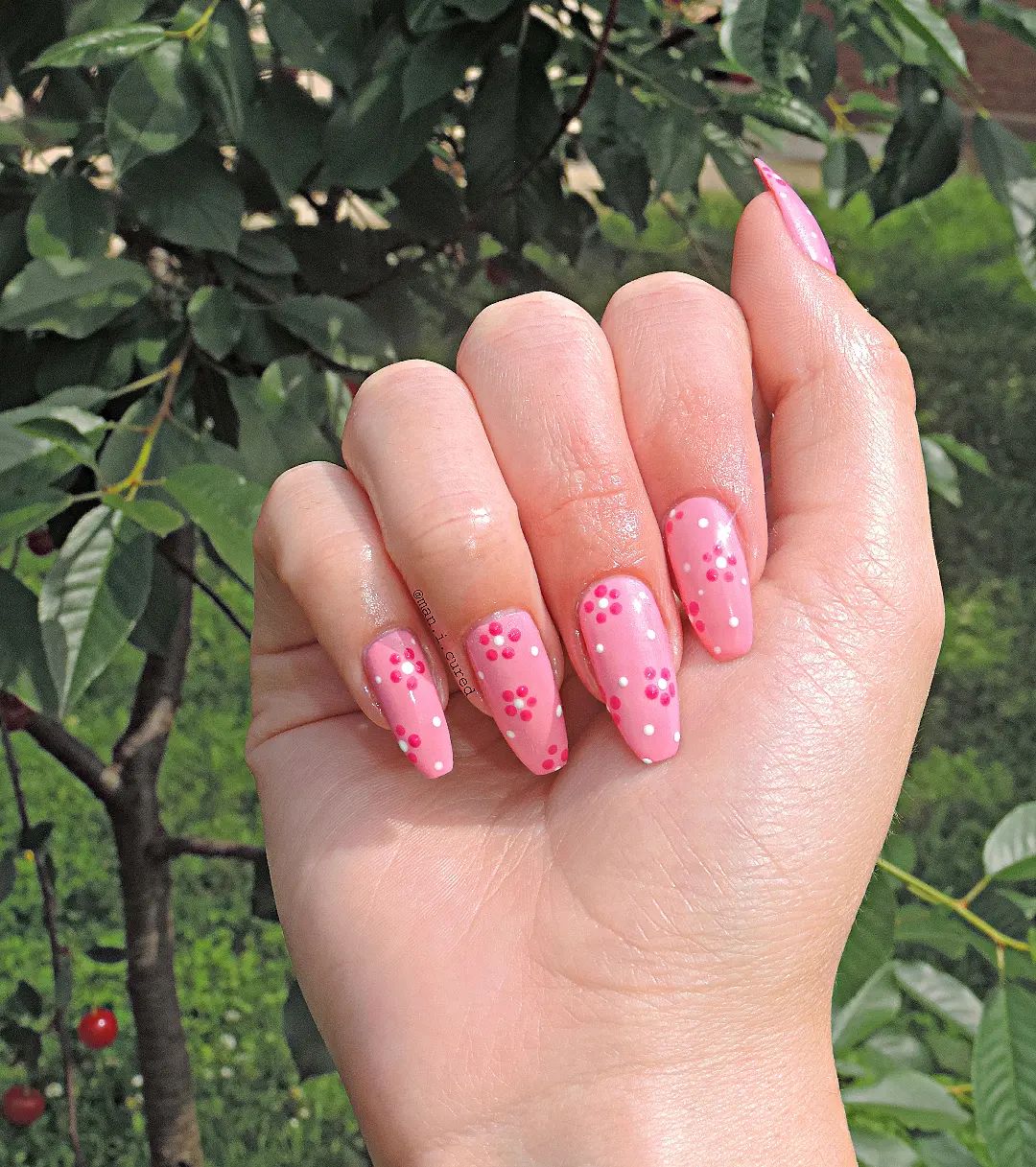 Grab some dotting tools or toothpicks, or bobby pins and achieve this go-to pink nail art for long nails to cherish this spring. Spring is the season of flowers, and this is giving just that!
17. Smiley
I love wearing fancy rings to accentuate the ring finger with the smiley. I have been shown off these nails on Instagram more times than I can think of, and everyone has always adored them!
18. Ombré for the Win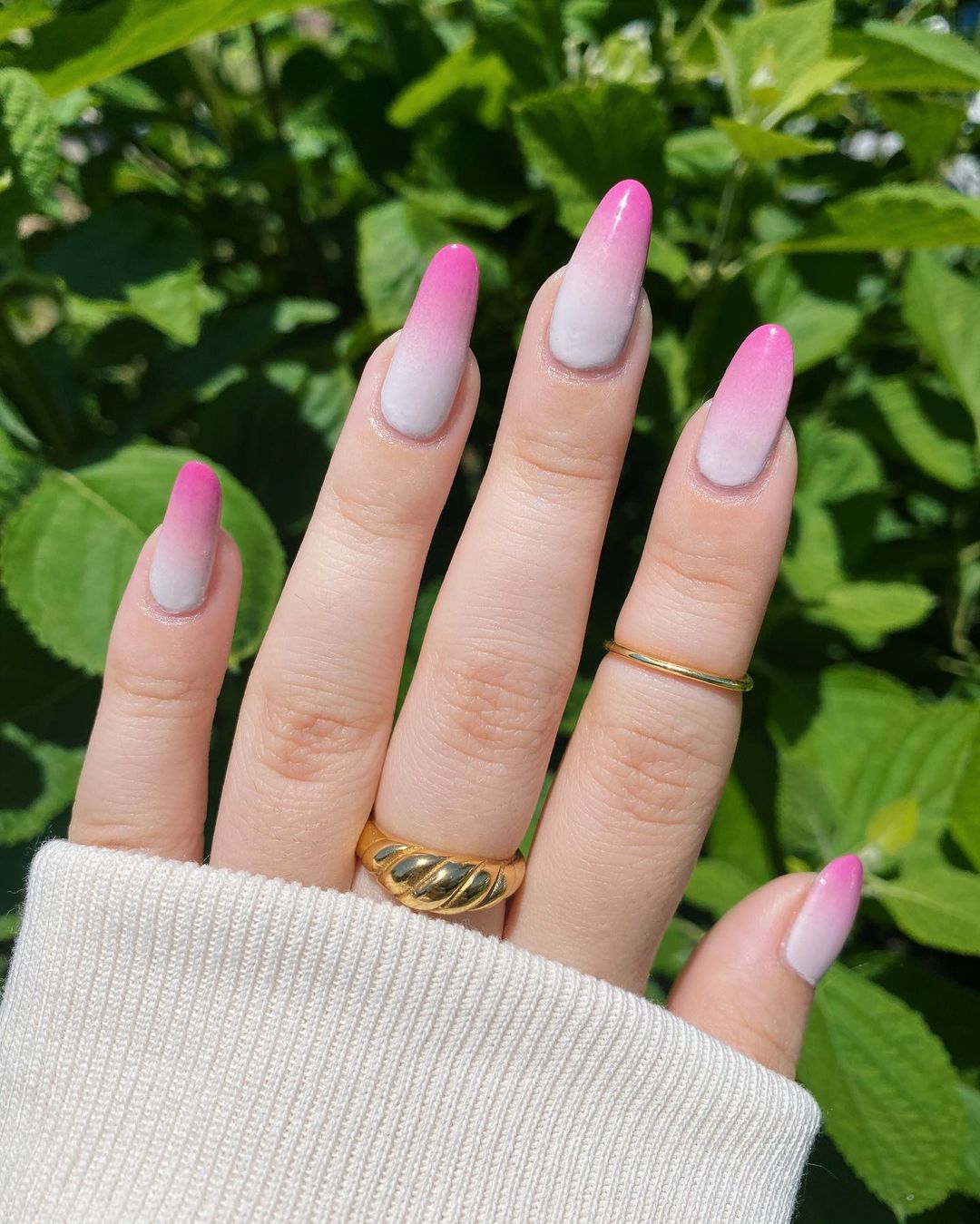 There's just something about the ombré, which is devoted to special occasions only. I think Ombré Nails = Vacation Nails. Period.
19. Lover's Nails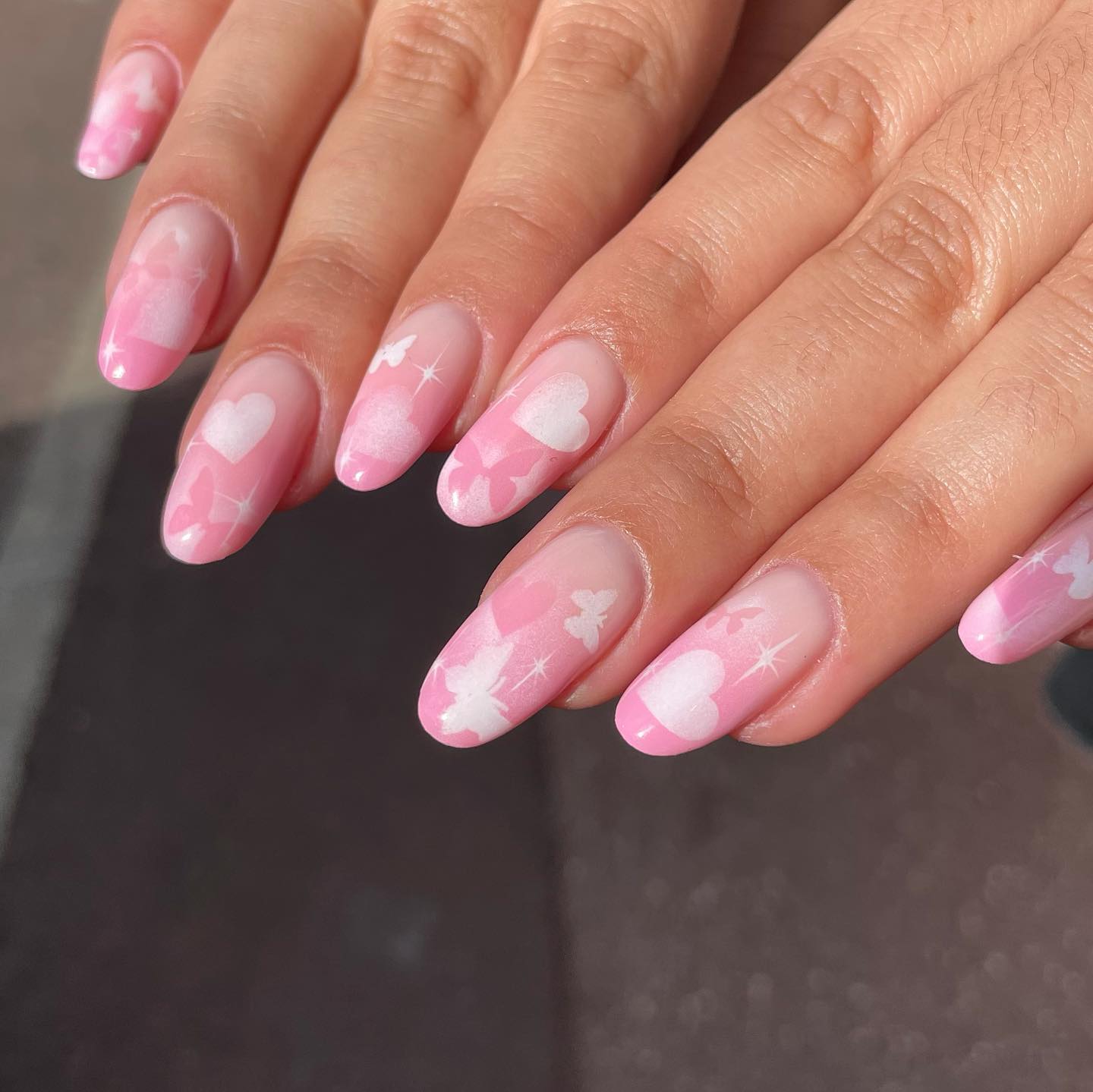 Hearts scream for Valentine's Day Nail Art theme, although it's always a good time to sport light pink nail designs any day, irrespective of Valentine's day. Every day is a lover's day if you want it to be.
20. Tips and Chips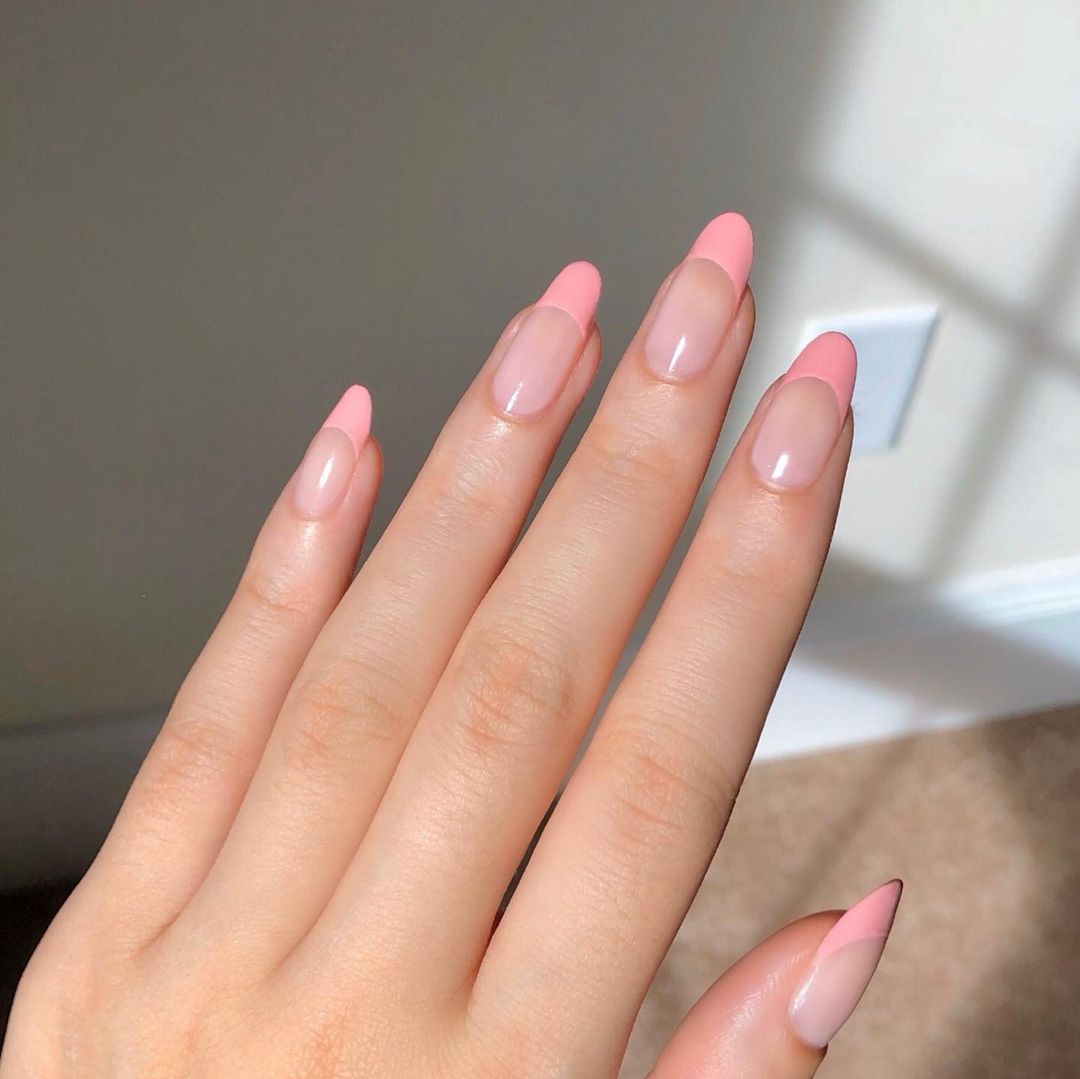 Move over from classic French manicure, it's the season to rock-colored tips. This nude color from OPI is perfect for achieving this look. It is stylish and simple at the same time.
Post You May Like: 7 Best Nail Art Tape Strips in 2023 for At-Home Nail Art
21. Matte and Heart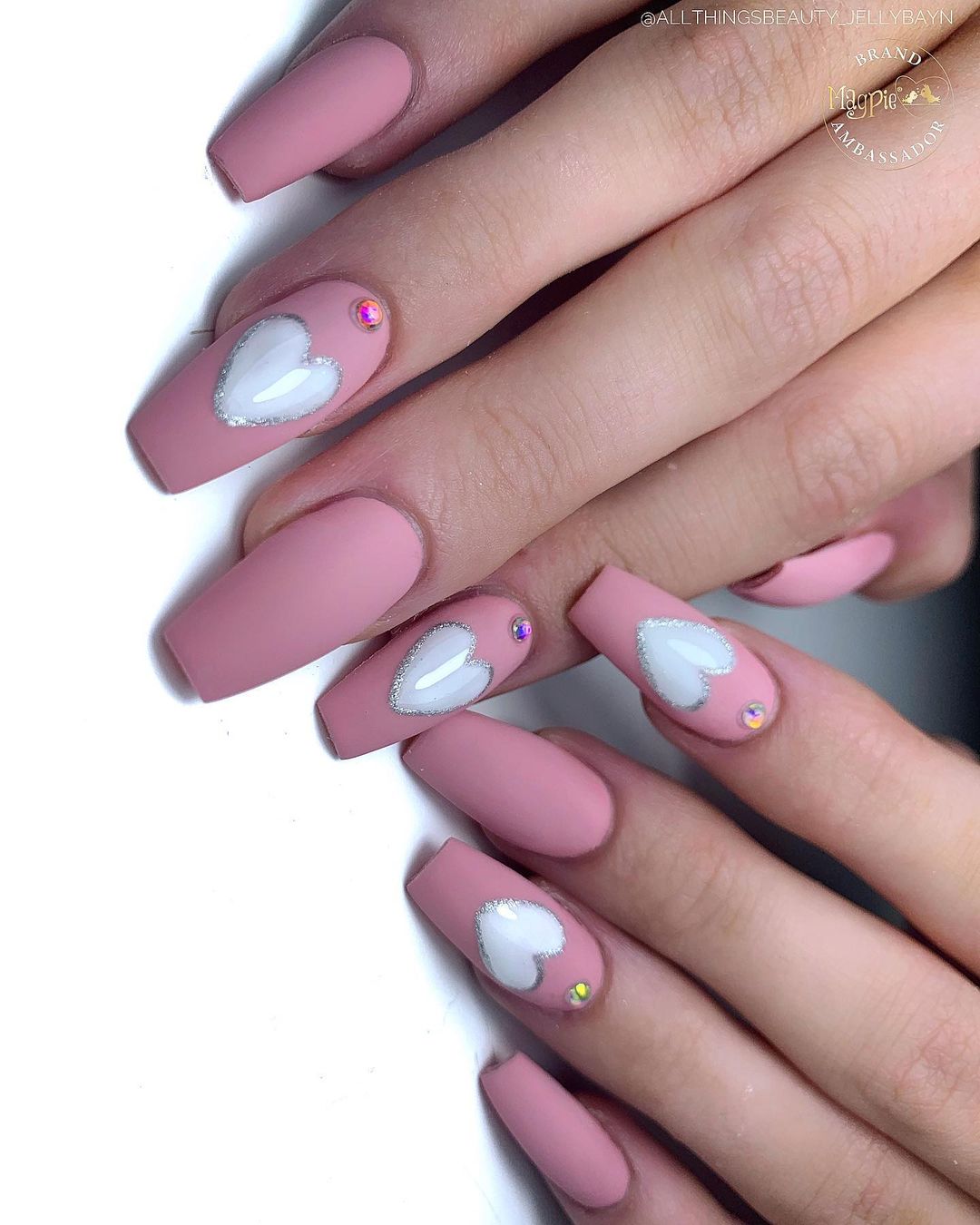 I advocate for matte nails all the time. I feel like once you love matte nails, there's no going back to glossy. If you're like me, this one's for you.
22. All In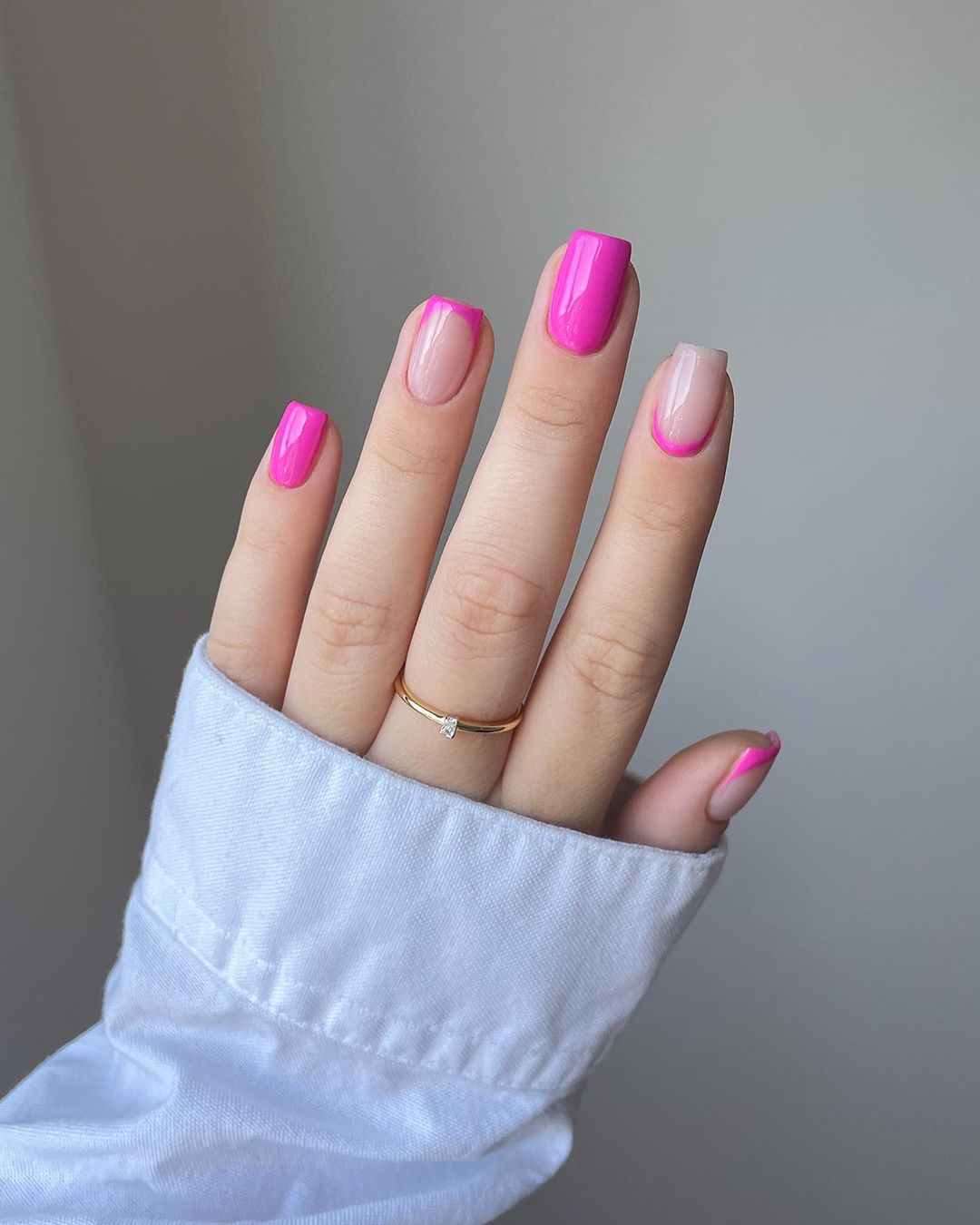 Although shades of pink nails are a great idea, this one's even better. Each nail has its own design, which completes the look everyone is going to copy for sure. Fuschia pink is a hot favorite.
23. Floral Days
All things pink and daisies, grab a tiny detail brush and get set going. You can also make it a DIY activity using toothpicks or bobby pins to make tiny dots for this one.
24. Strawberry Shortcake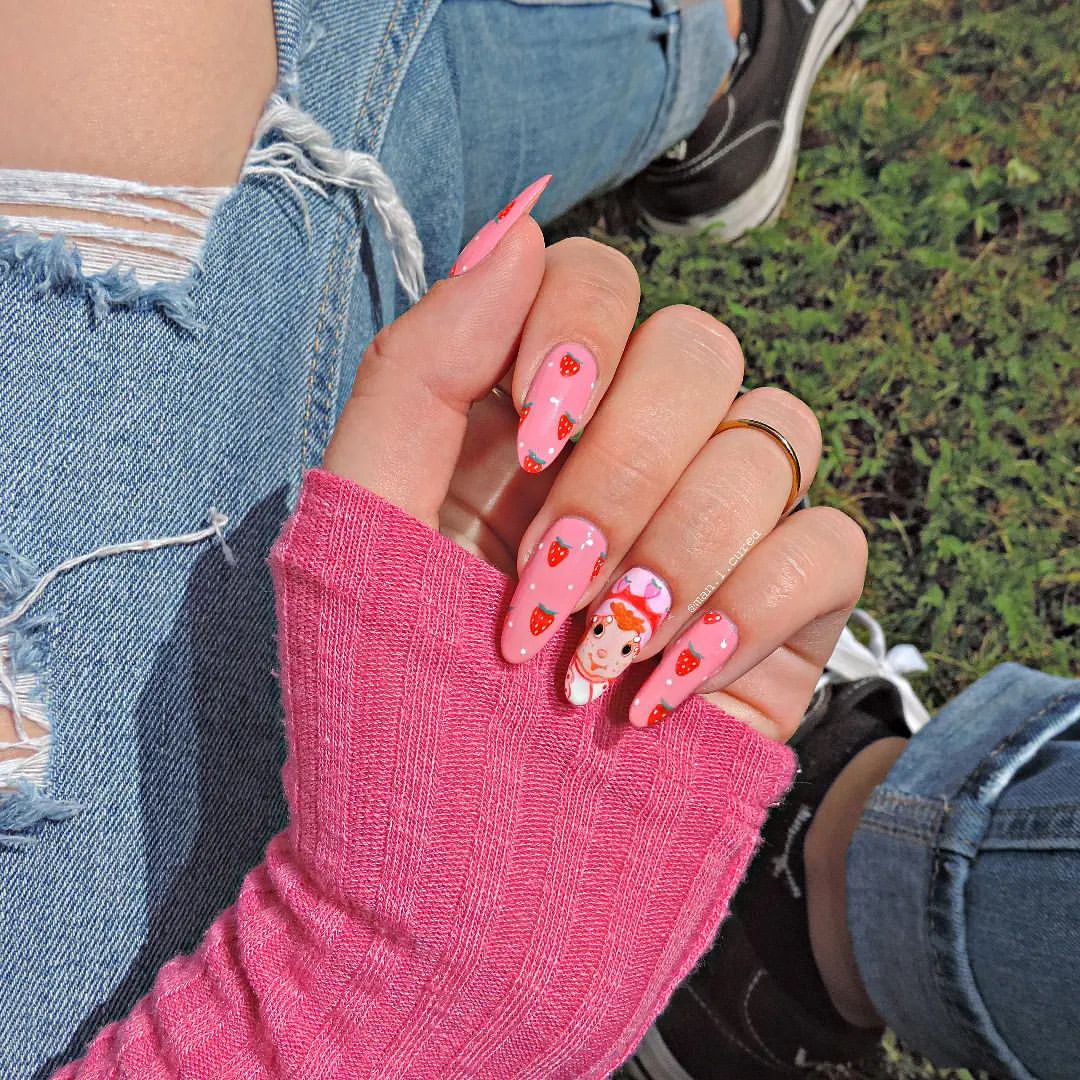 Nail stickers are all the fad right now, and achieving this super cute nail art is a cakewalk. Grab your favorite lighter shades of pink and put on nail stickers! That's it!
25. Fun and Frolic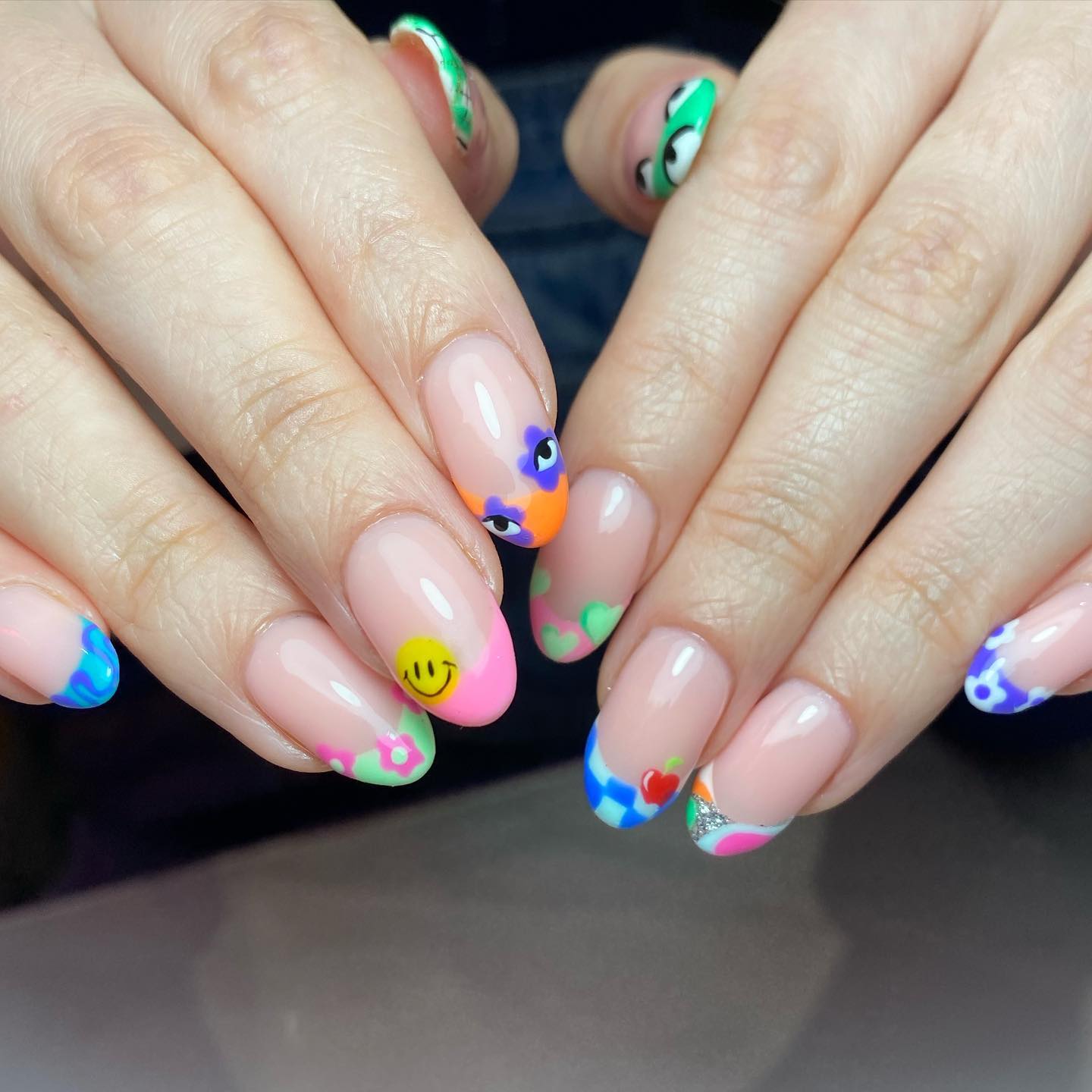 A mismatch is all over right now, and even if you don't prefer pink, you can always choose this nail art for long as well as for short nails. This can be achieved easily with nail stickers!
26. IT Girl!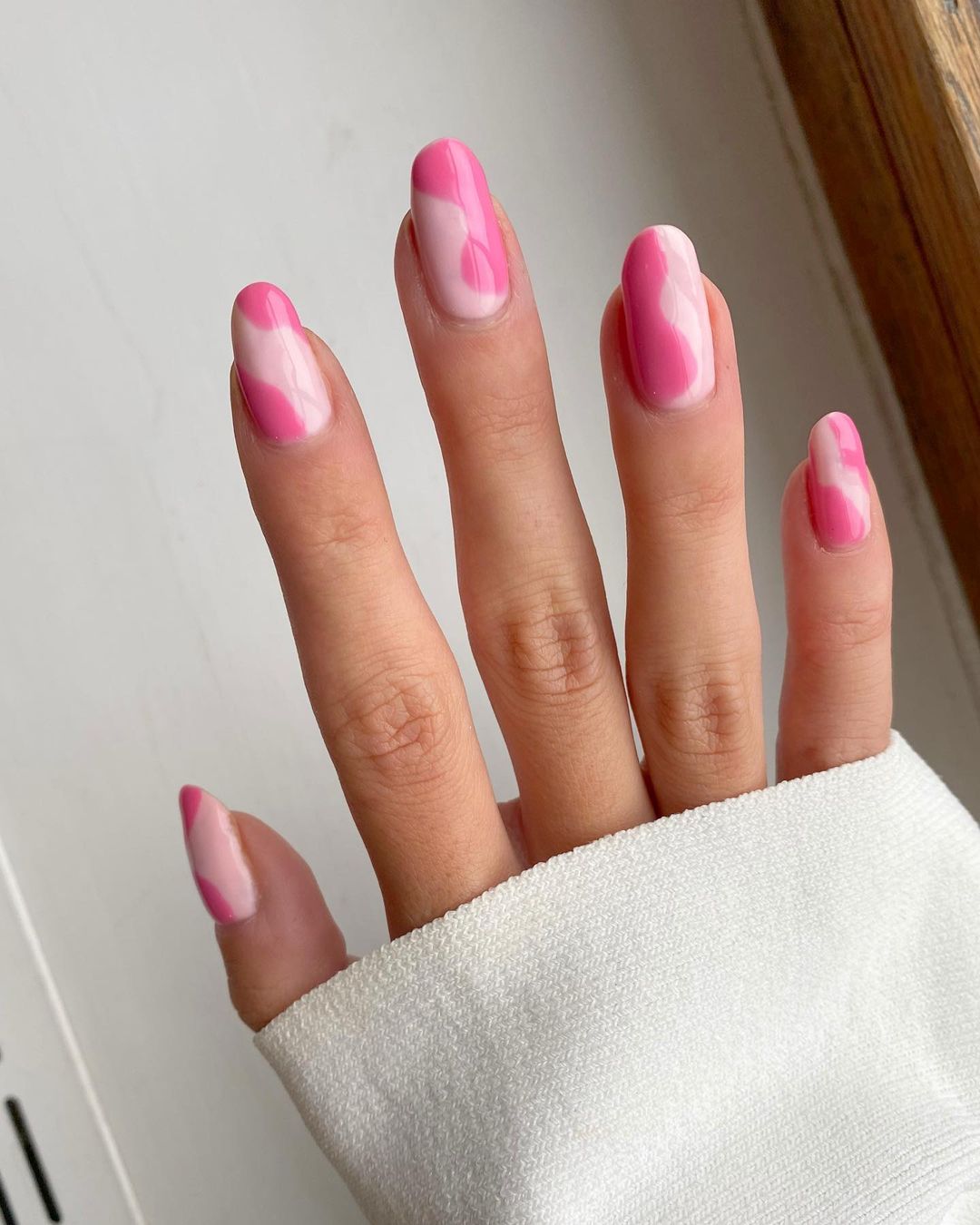 The perfect balance of lights and darks makes it for everyday wear. You can't go wrong with this one. It would literally go with any occasion.
27. Subtle Hues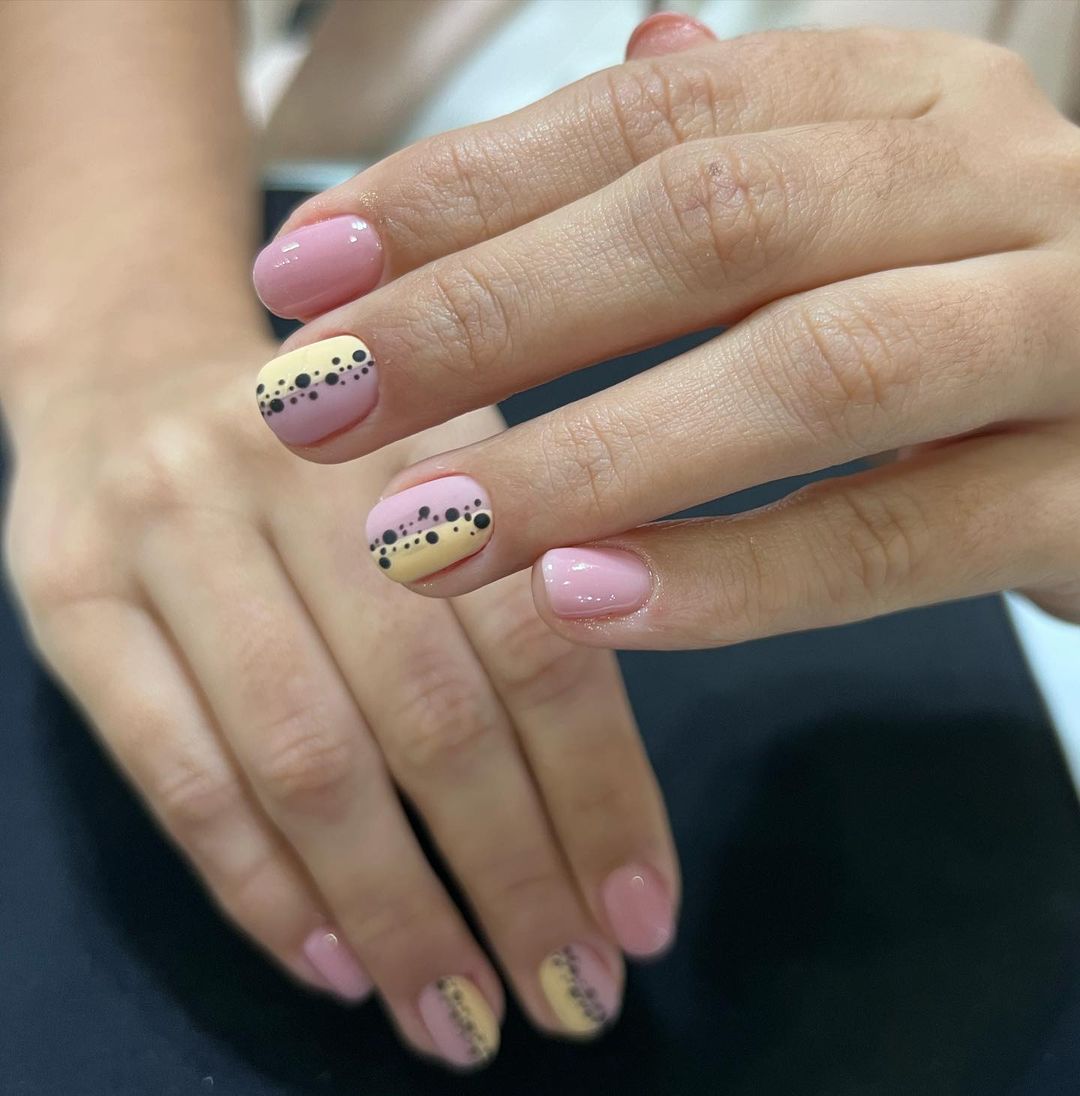 The pink and yellow combination will never fail you. The little black dots and the nude pink nails seem perfect for the next brunch date with your girlies. Sunshine with a touch of pink.
28. Hearty Touch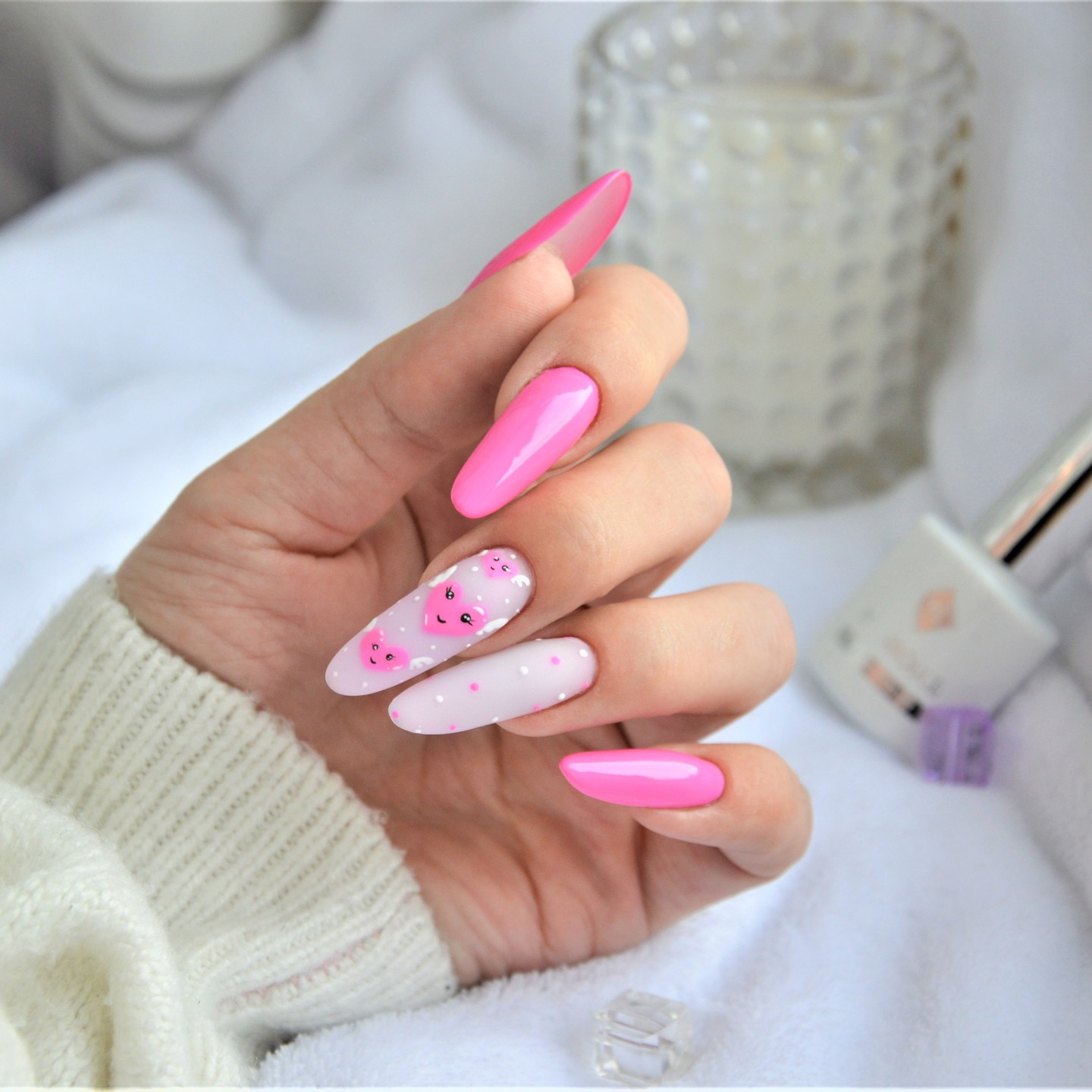 The Fuschia pink and hearts make for the perfect combination for a head-turner. The white tones down Fuschia pink's brightness amazingly well to create this. You can use heart nail stickers if DIY is complicated for you.
29. Zebra Swirls
These zebra swirls are for the ones who can't get enough of black and white, no matter what. If you're one of them, just paint subtle swirls with black nail polish on the white French tips of baby-pink nails!
30. Camouflage Pink
For the purpose of this post, I have established pink complements the rest of the colors but also its own shades. Camouflaging all the shades of pink you have is something to try!
31. Pinky Stoned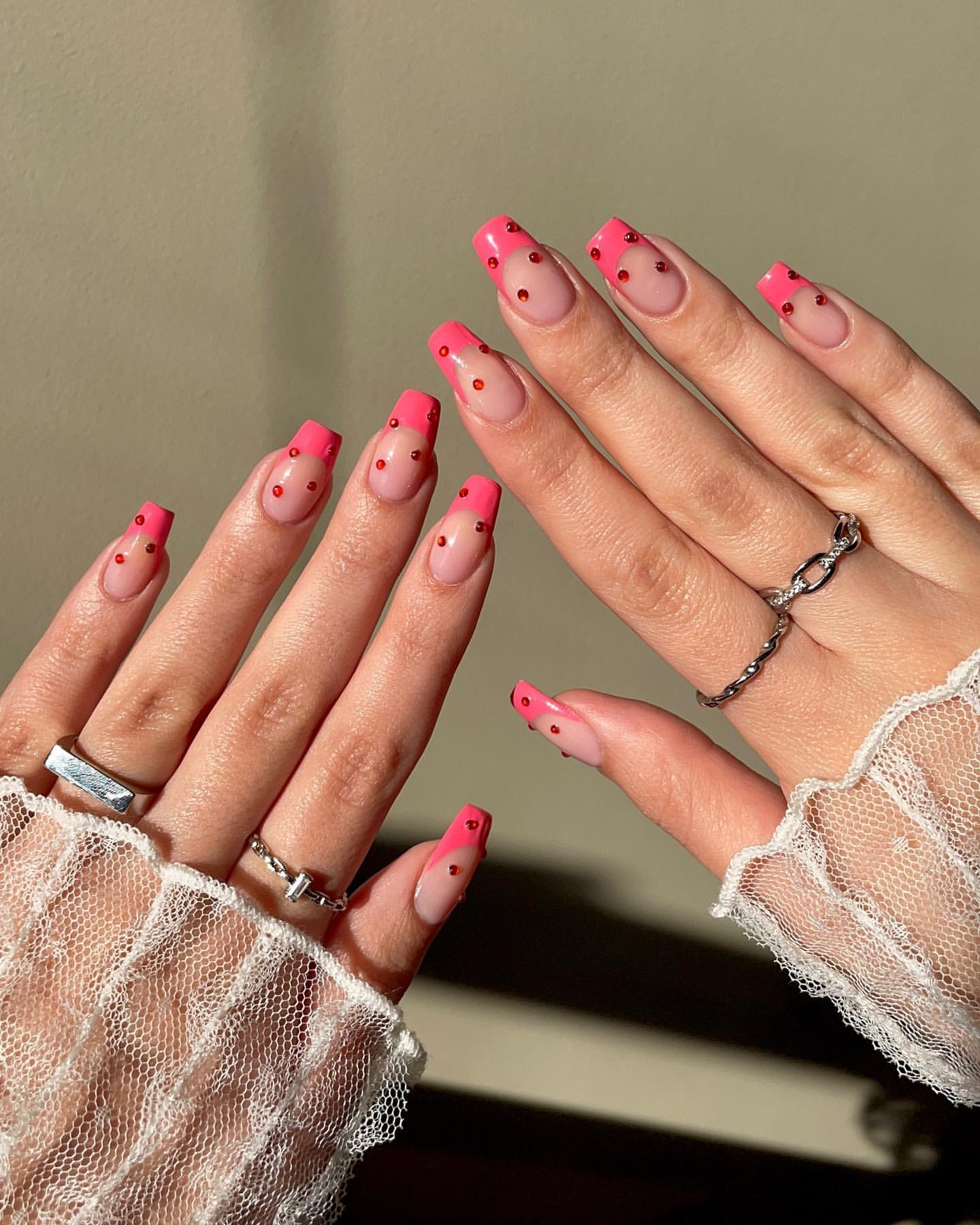 Doesn't it look like candy with crystals ready for a bite? It's just the coral pink nails with red stones pull me to have a crush on it! How about red nail polish with dainty pink stones? I feel this combination would be aesthetically pleasing. Give it a try!
32. Toadette's Pink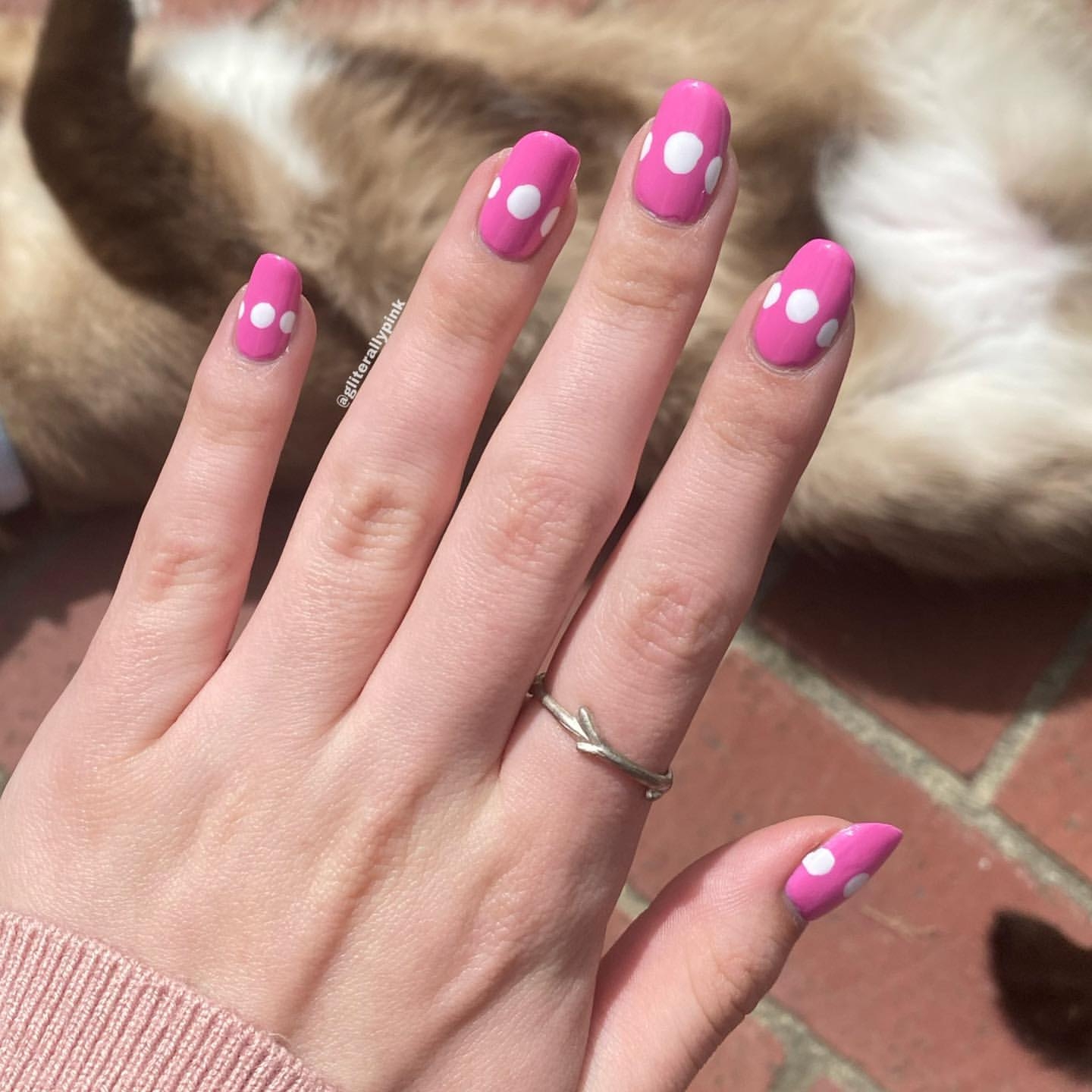 I find the English pink with white spots to be quite playful and fun! If I have an adventurous plan in my schedule, I'm not going to ignore this pretty piece of nail design with pink and white spots that just look like a Toadette!
33. The Kawaii Culture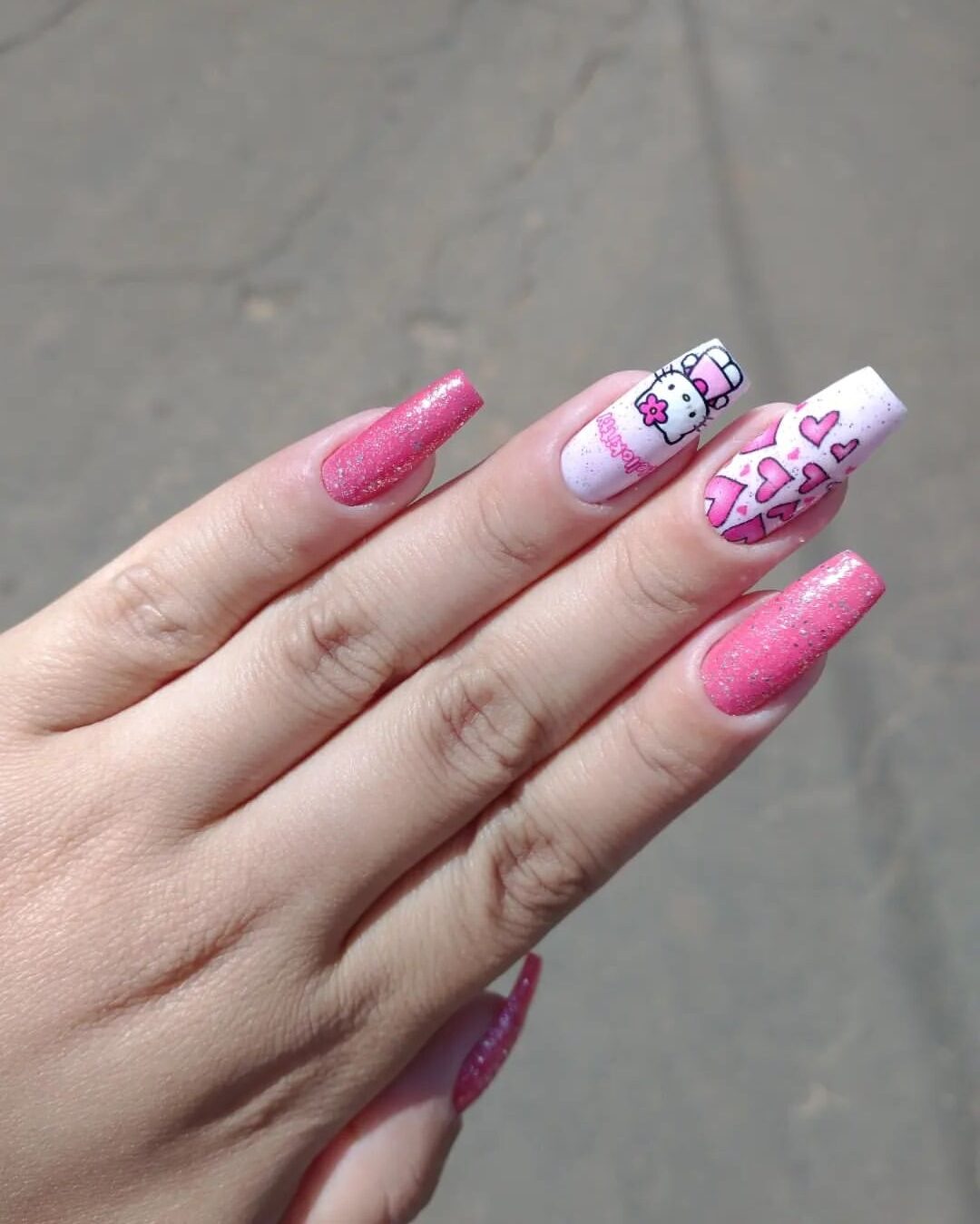 If you are a kitty lover, then this pink nail design with a bunch of hearts and a cute little kitty staring at you is in no way going to disappoint you! Further, Barbie's pink adds flavor to the whole art. Get hello kitty and heart nail stickers for this design.
34. The Striped Wonder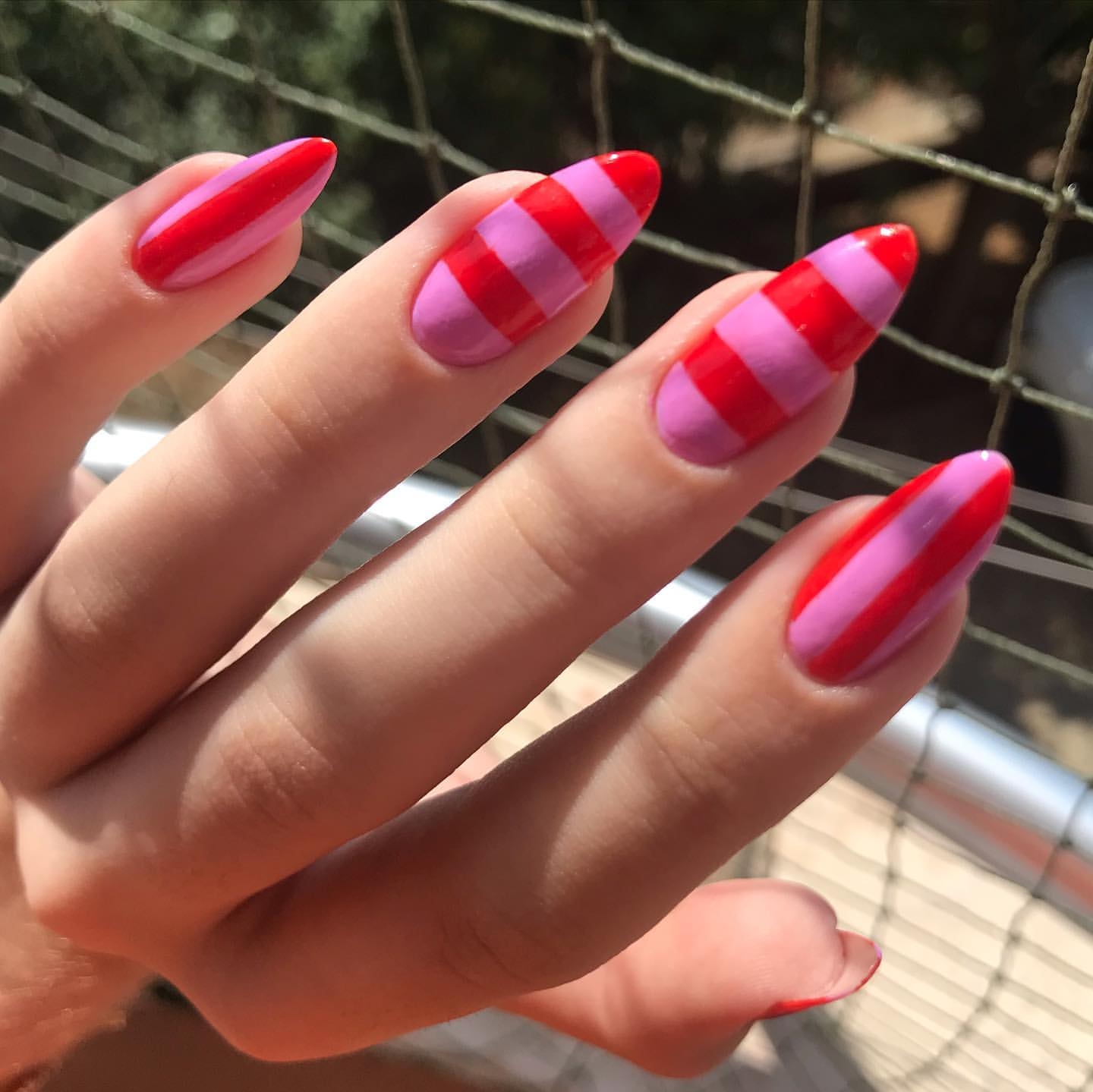 The bubblegum pink, confronted by the bloody stripes sends a beauty wave, mesmerizing the onlookers. This pink nail idea is a perfect companion for your rave parties.
35. Sugar Pinky!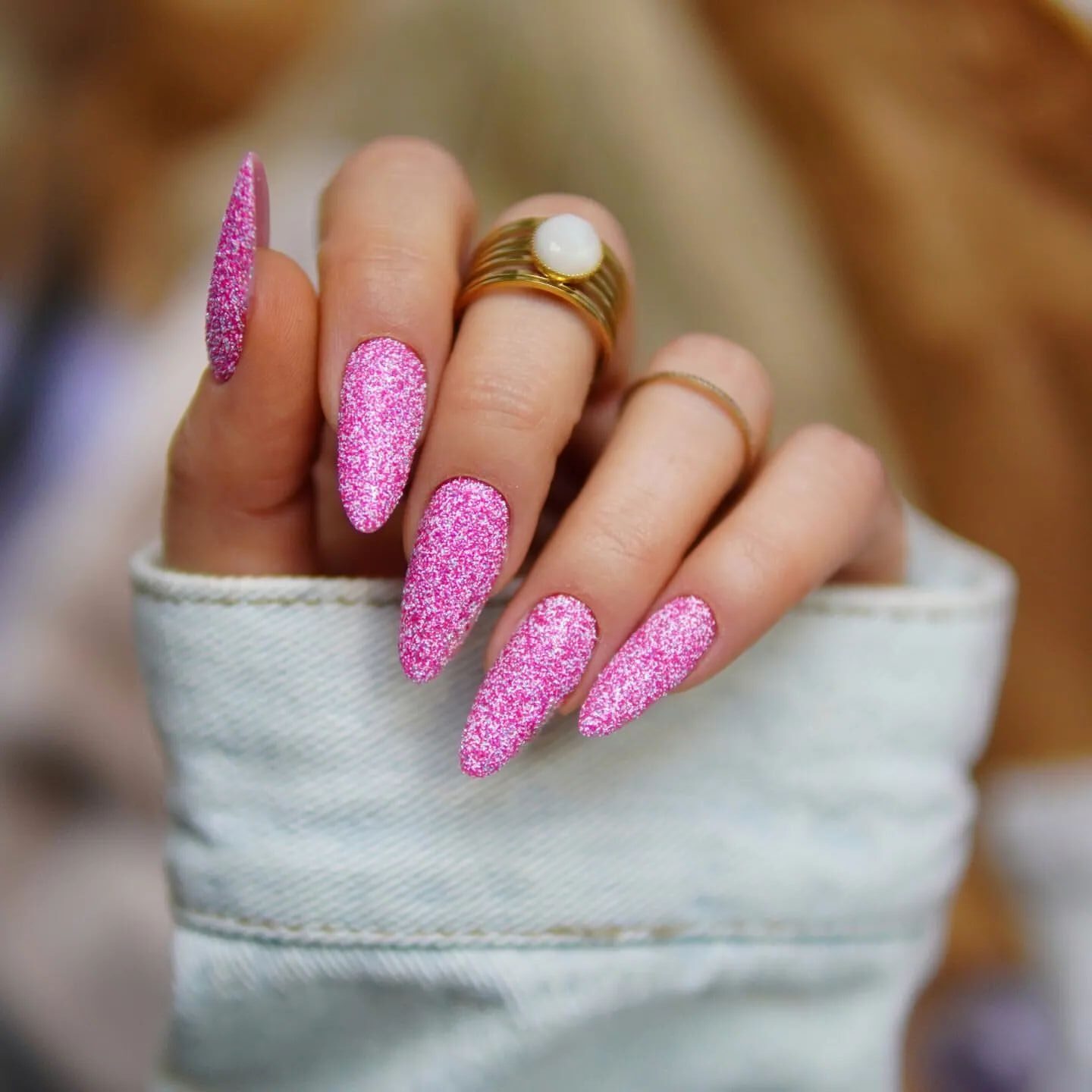 Combinations make life spicy, and this cotton candy pink nail art is all that is needed to say- life is worth living, at least to see these cute pink nail designs and the place it holds.
36. Hallucinate with Pink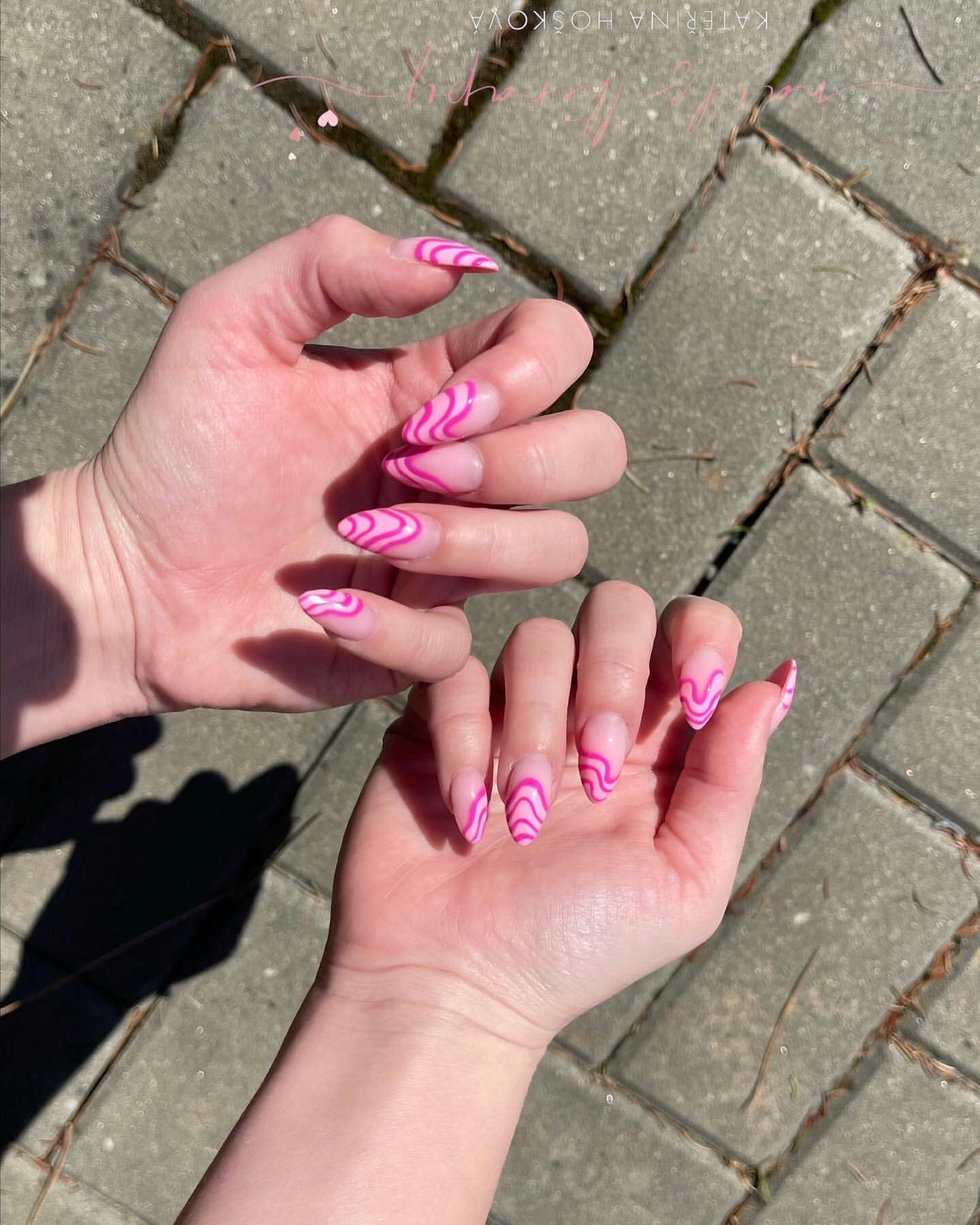 These pretty pink nails (ideal if you are looking for negative space nail art designs in pink) are all set for their hallucination duty. On the flip side, this pink nail art finds a suitable place for office-goers with less pomp and more show!
37.  Splash and Spatter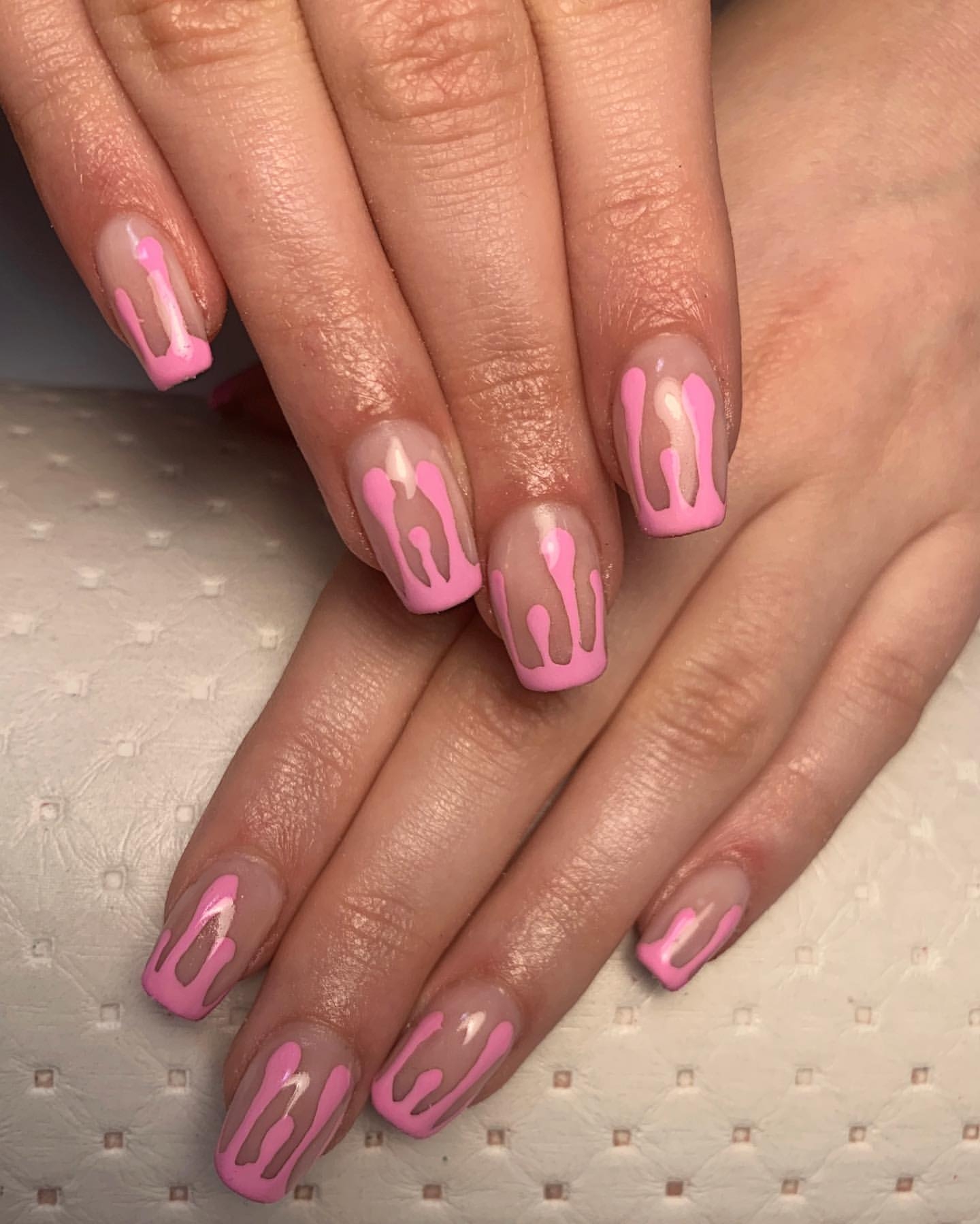 Creativity has no limit, it's just how we present things. This pink nail art feels like dripping pink from a wall. The grace that this light pink nail design encompasses with a minimal effort of DIY is a must-try for all nail art enthusiasts.
38. Sheer Thrills!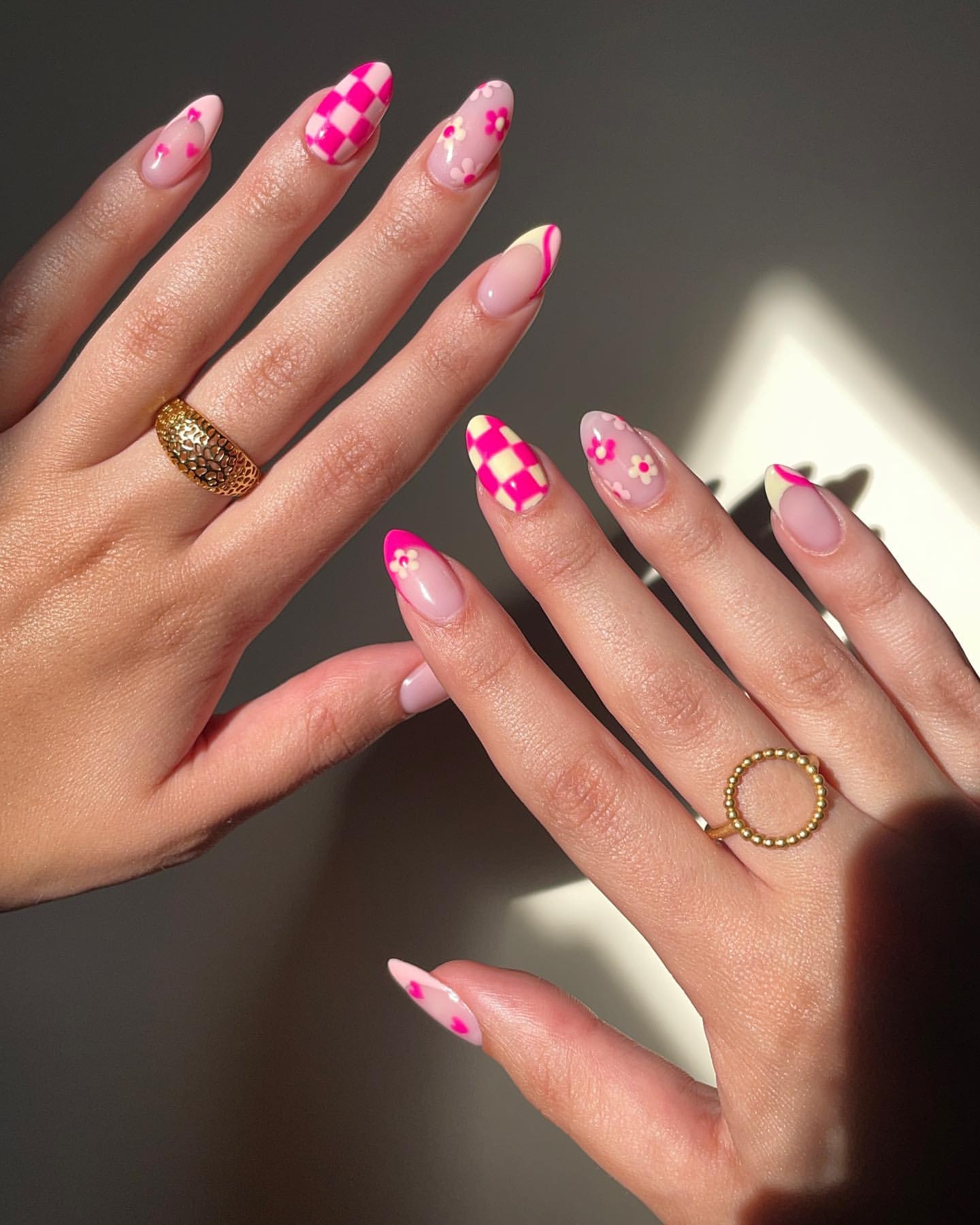 Come on, come on, turn the pinky on, it's Friday night, and it won't be long! Okay! Let me explain. Hearts + flowers + checks + pink = celebration. Without a doubt, this summer pink nail design is the perfect choice for your upcoming summer events.
39. Pink! Let that Sink in!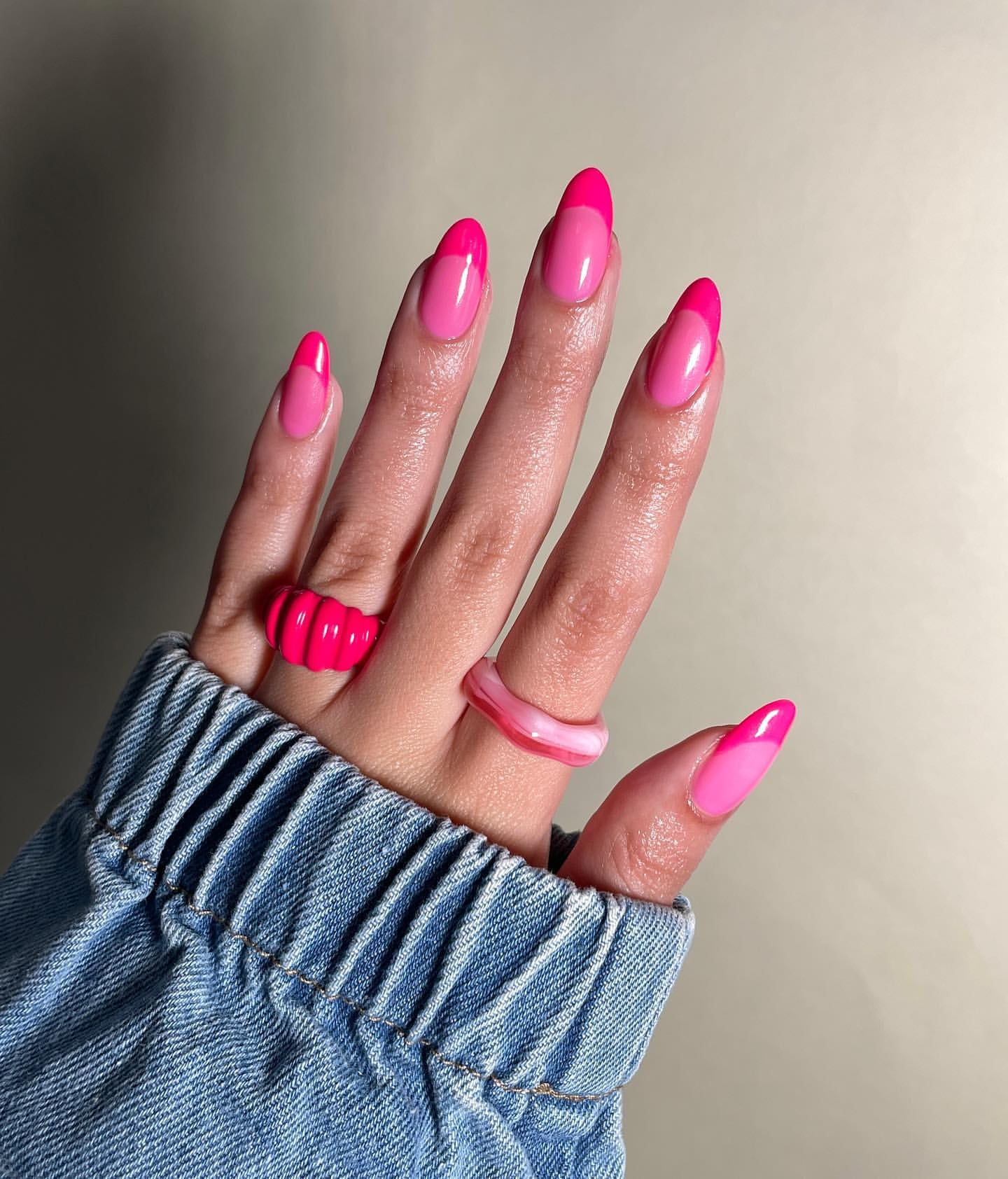 I love the way this hot pink nail design shows classiness. In fact, its bold and vibrant hues are sure to make a lasting impression! Using a genuine base coat during the prep is an effective way to keep such aesthetic nail art last longer.
40. Love me Like You do!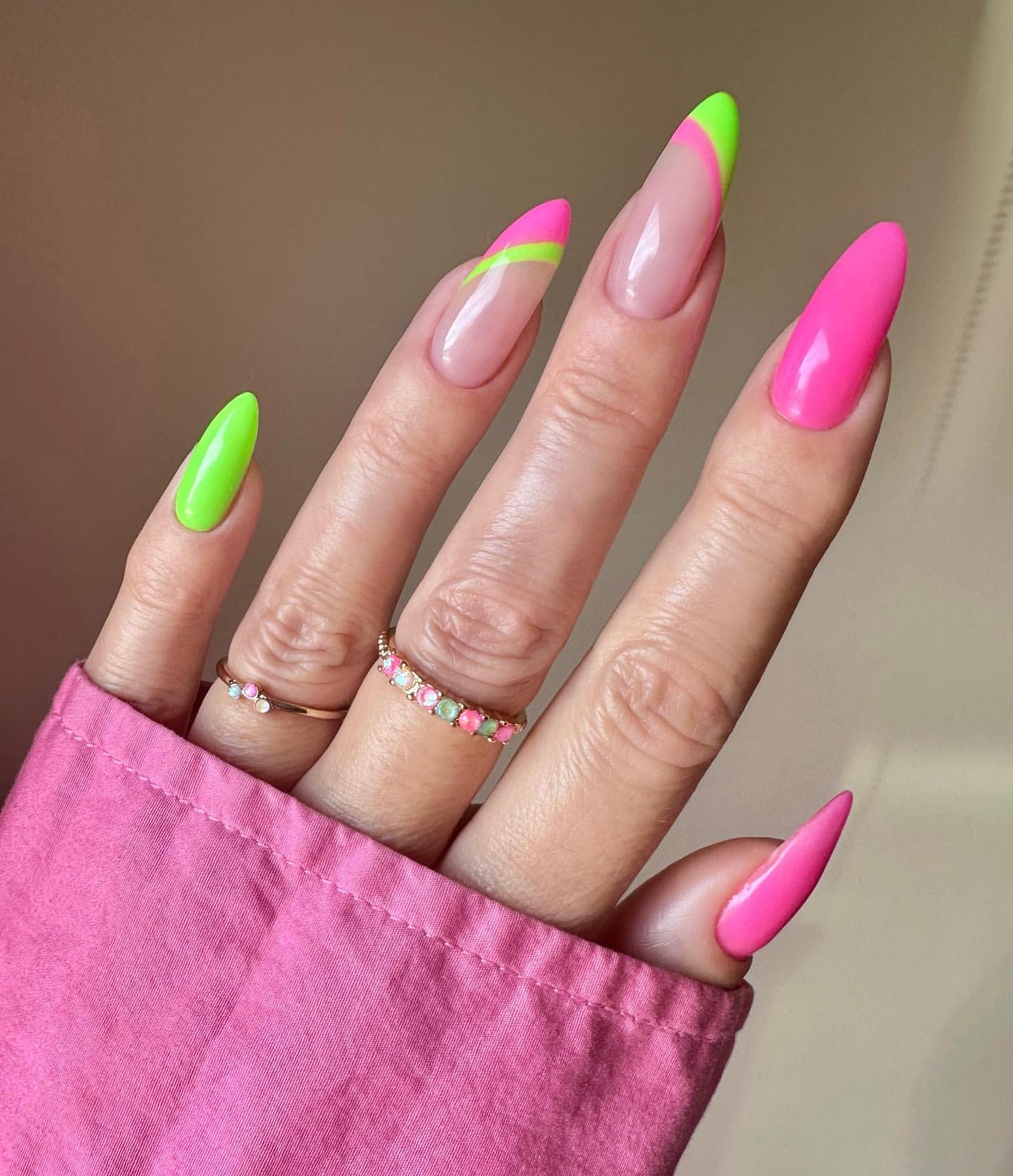 The neon nail polish plunges my heart and persuades me to etch its beauty! These pink color nails with green are perfect for dates! The playful yet sophisticated color pairing is sure to catch your date's eye and leave a lasting impression.
41. Pretty in Pink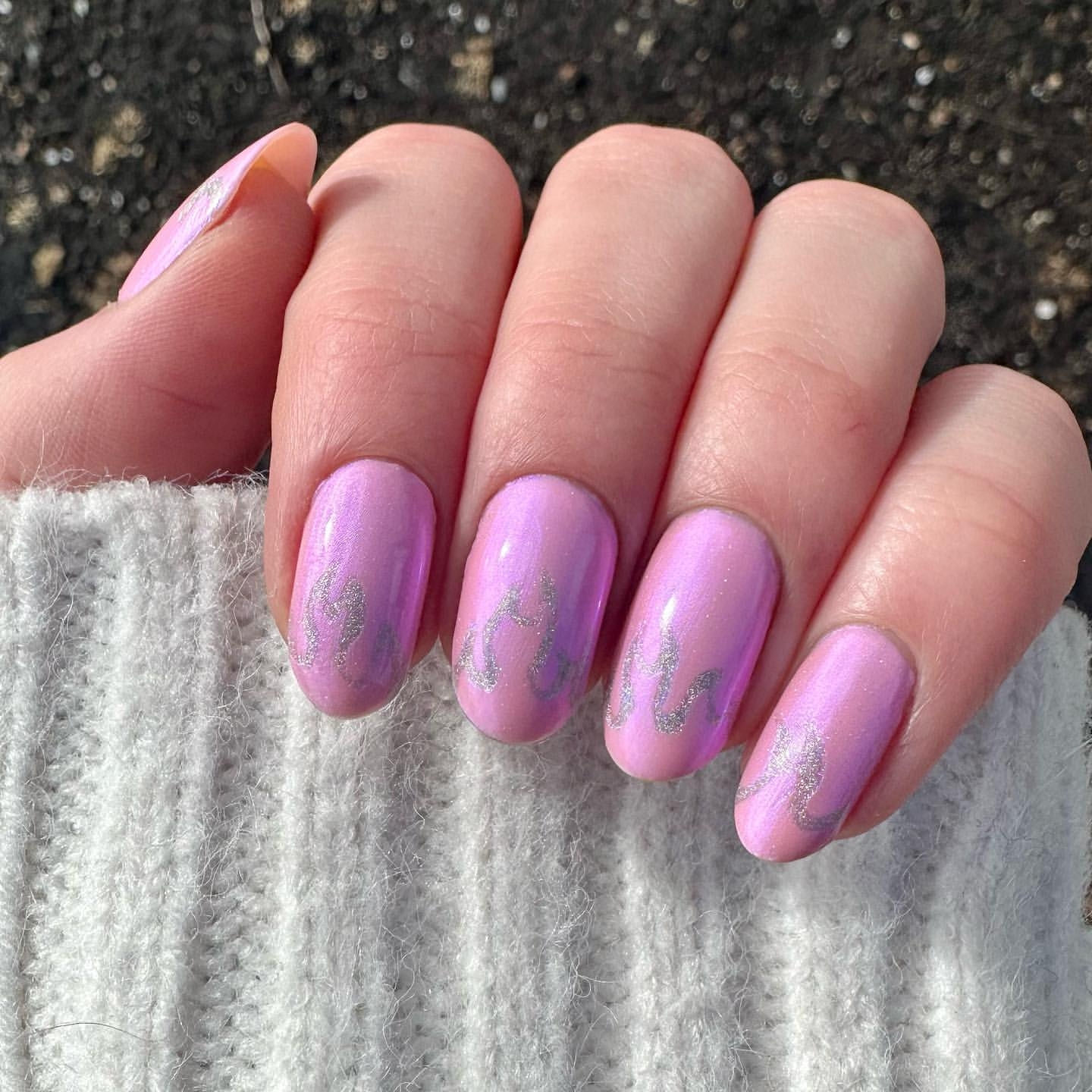 Allow me to introduce you to Ms. Ballerina Pink, whose sparkling pink nails ooze unparalleled beauty. The way she carries herself is simply mesmerizing. Just try this pink nail design, it's sure to leave you in awe and wonder.
42. Love and Love Alone!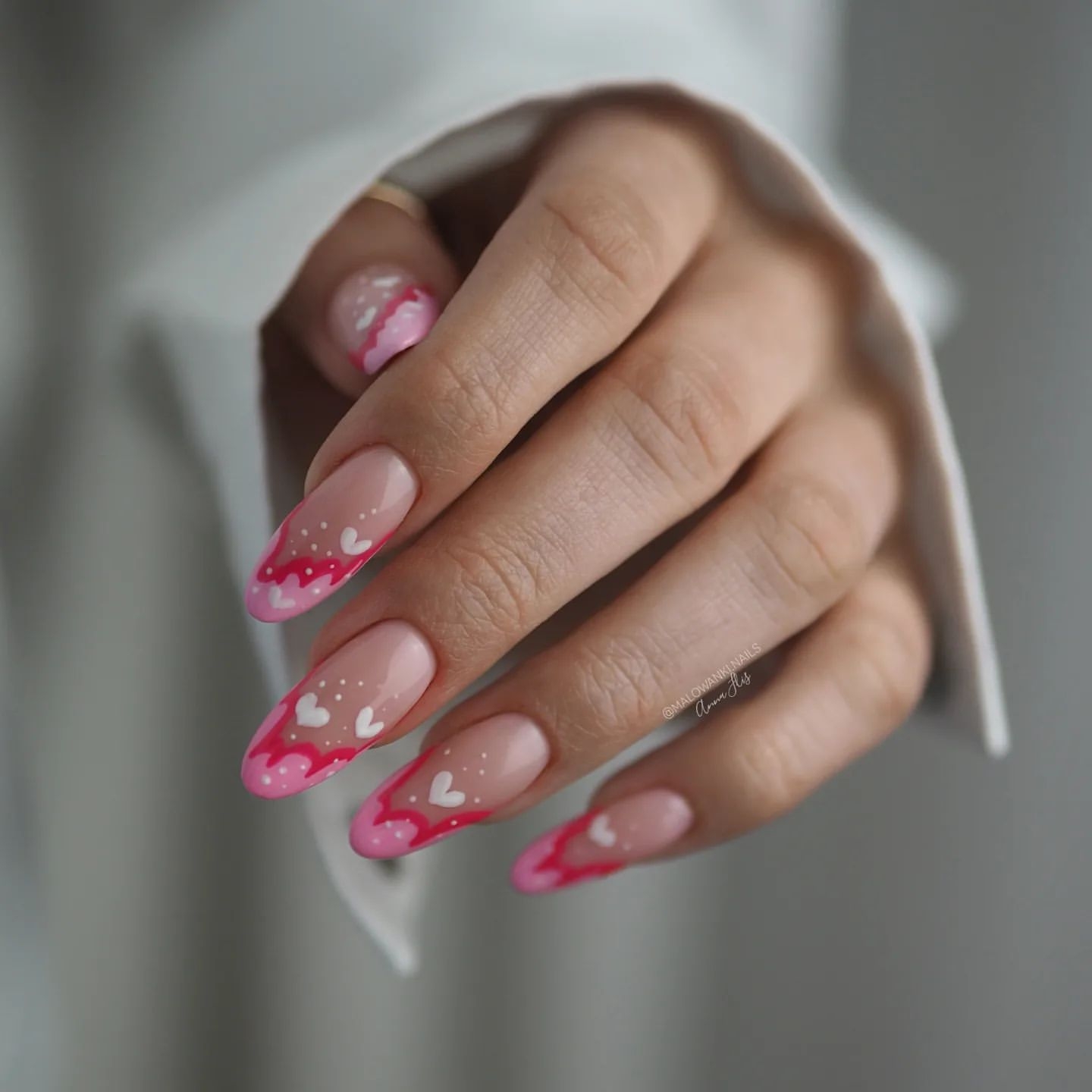 One of the aesthetic pink nail art so far! The way the pink nail tips and red outlines unbox the hearts is a truly fascinating picture to watch. Nevertheless, DIY hearts with white nail polish is going to be a thrill!
43. Keep Wondering!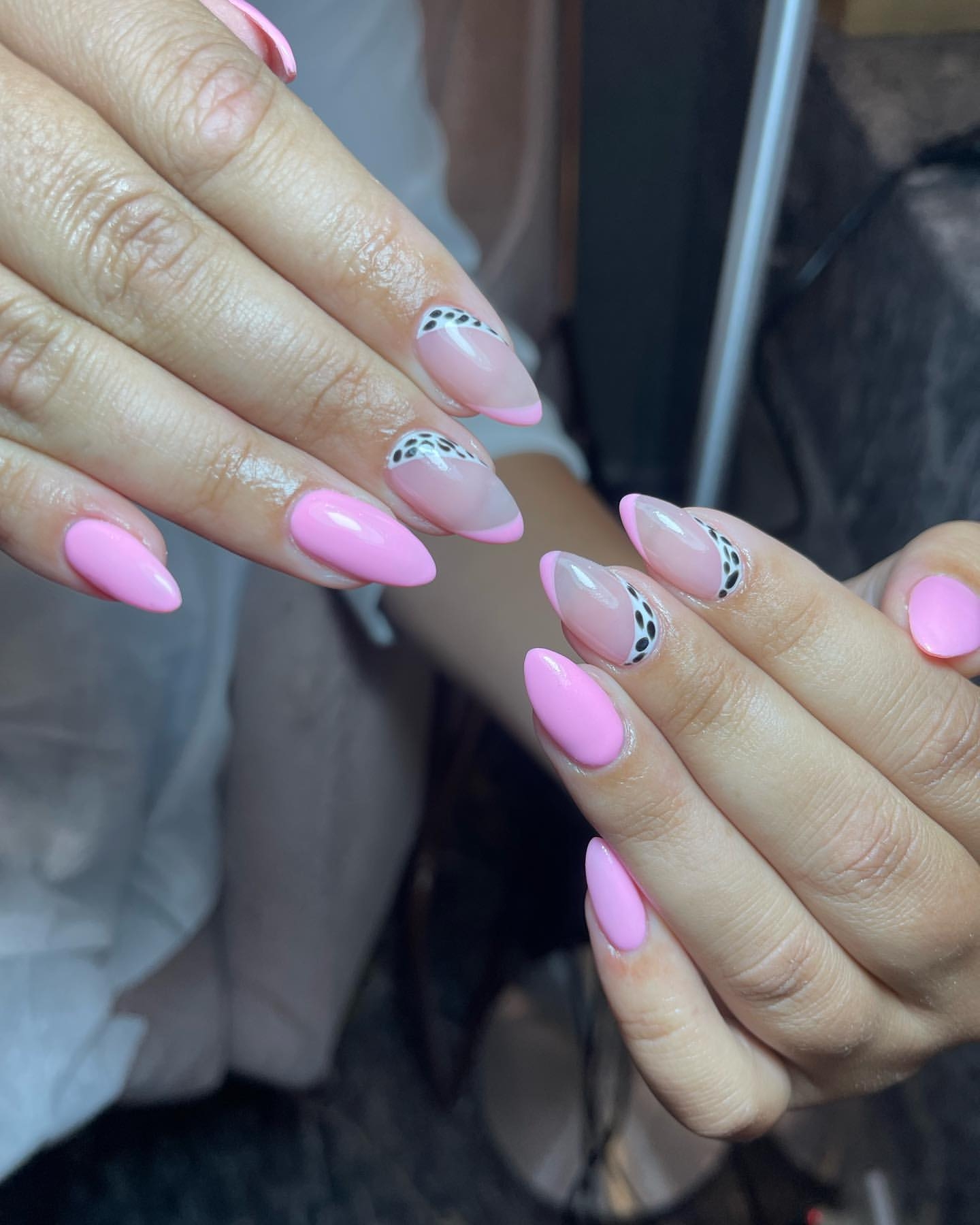 This magnificent pink manicure with black spots leaving some negative space is soothing to the soul, isn't it? For this reason, you should give it a try with the lucky ballet slipper pink nail polish!
44. The Pink Princess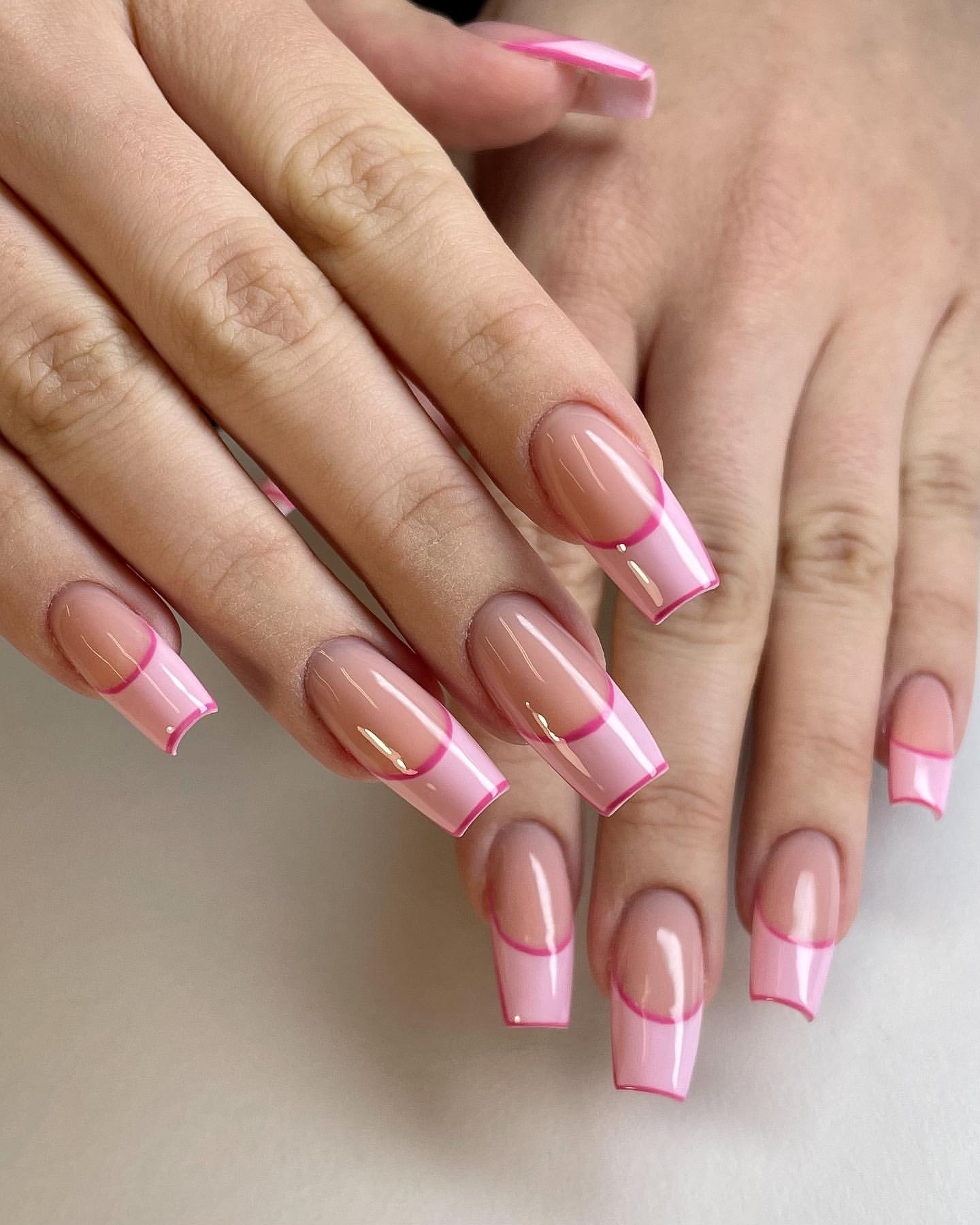 Yes! Princess! – that is what people say when they see nails with pink tips outlined with a red hue. FYI, Soft pink nails are always adored by people of various fashion tastes.
45. Hot, Cold, and Pink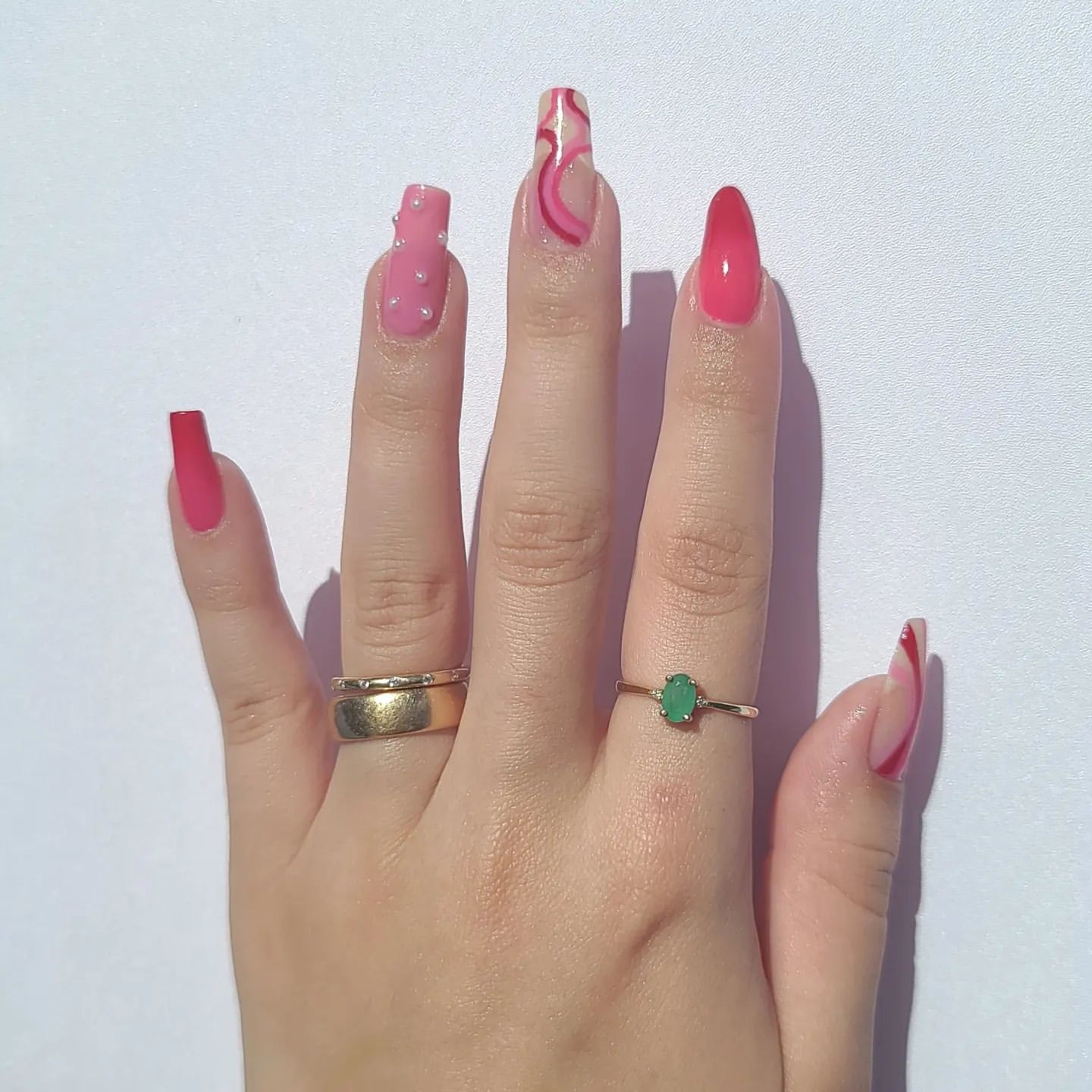 These shades of pink nails are so captivating that they should belong in an art museum! Such is the beauty of this pink nail art. Worth to spend some time to observe the beauty and then replicate it!
46. Mythical Magenta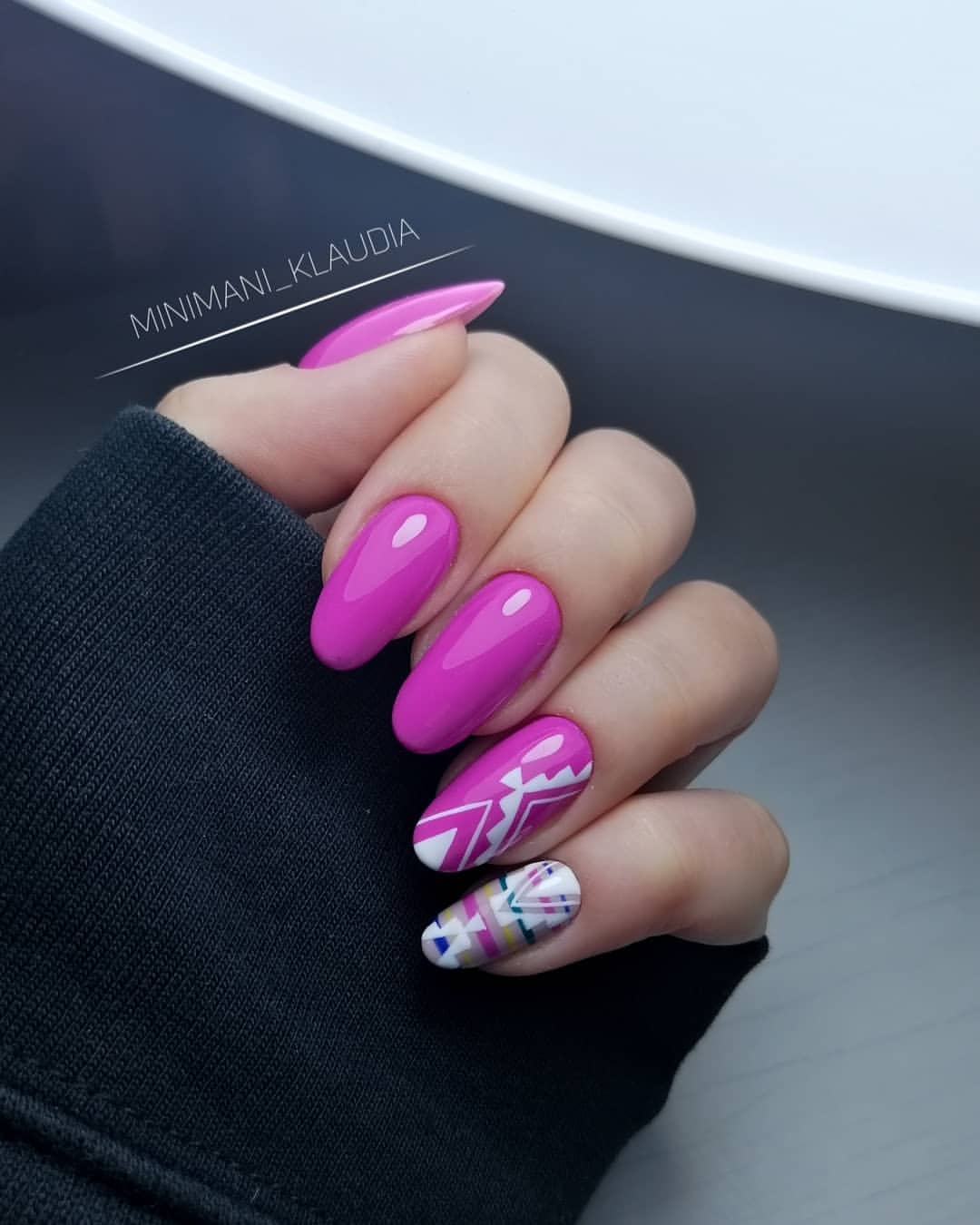 The elegant architectural nature of these pink geometrical nails is a sure one for special occasions. For a flawless look, this pink nail art can be paired with Fuchsia pink or white colored clothes.
47. Pinky Promise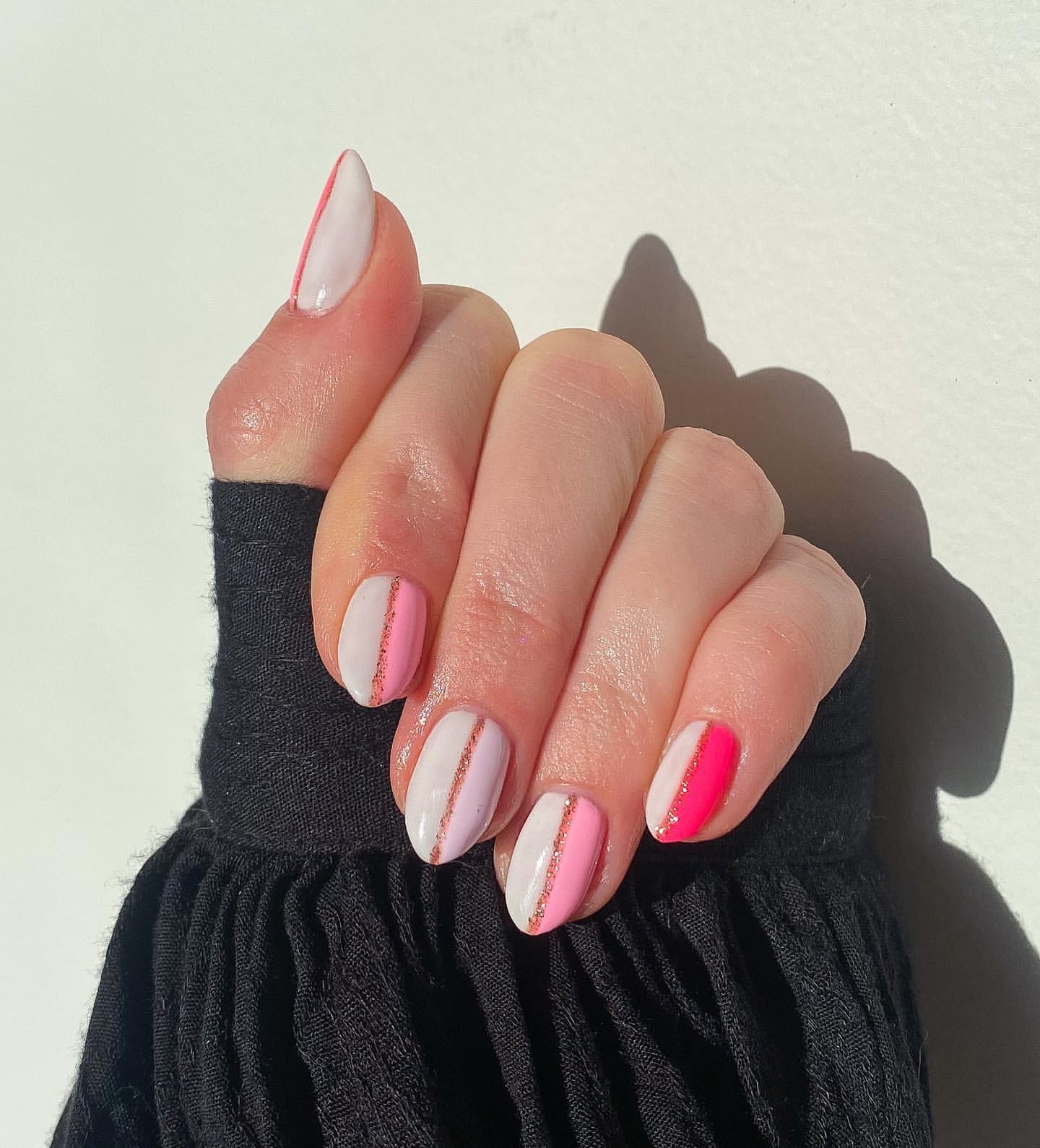 The central gold partition has two worlds of color on either side of the pink glitter nails. Pink has the power to go beautifully well with any of its lighter shades. This attribute doesn't apply to many other colors.
48. Swirl, Create Whirl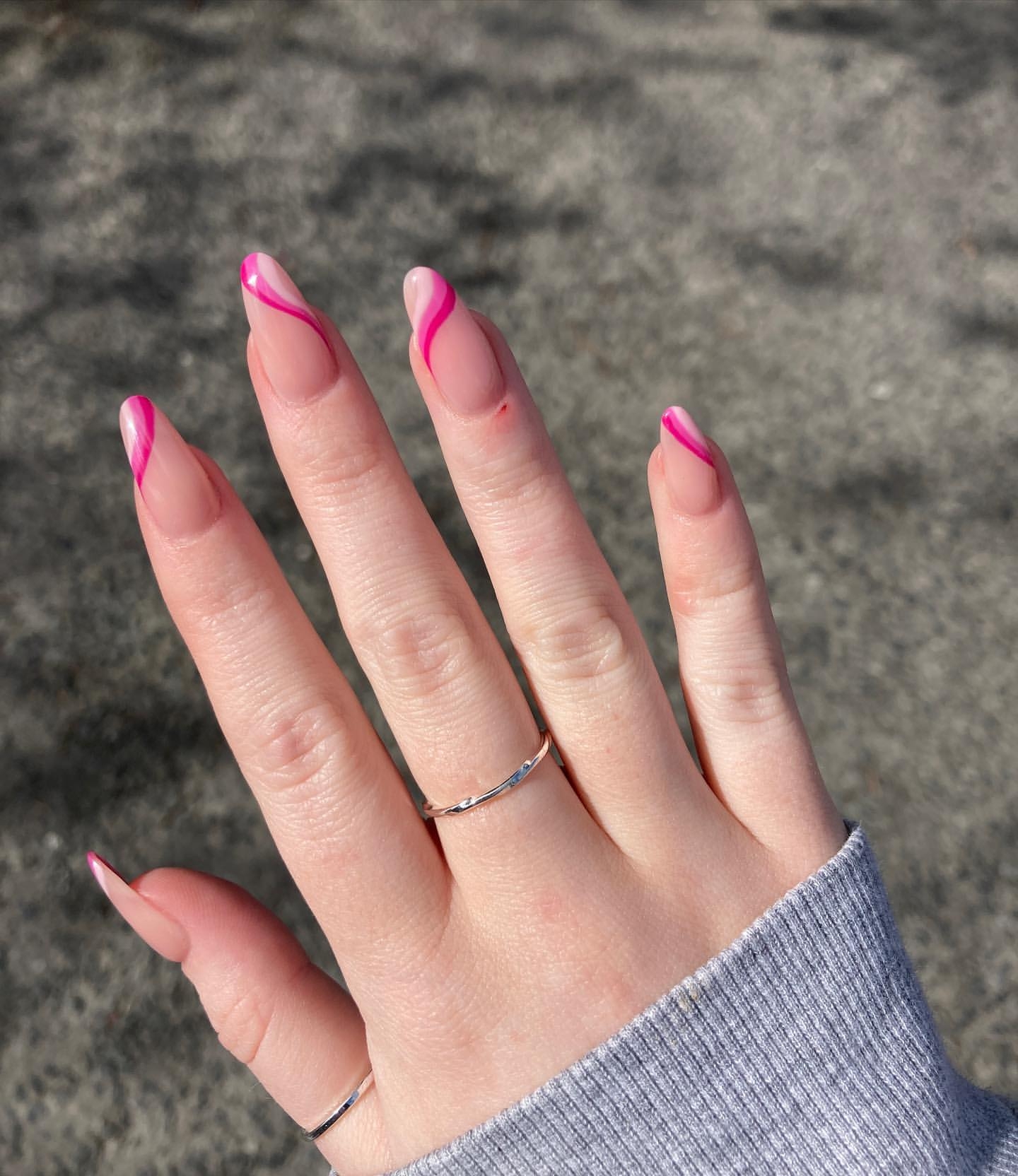 Love swirl nails? Just grab a dominant pink and blush pink and a sturdy nail art brush – your beauty pack is ready. The lighter pink shade can also be replaced by gold. I could picture the pink and gold nails even prettier!
49. Ditch the Ordinary!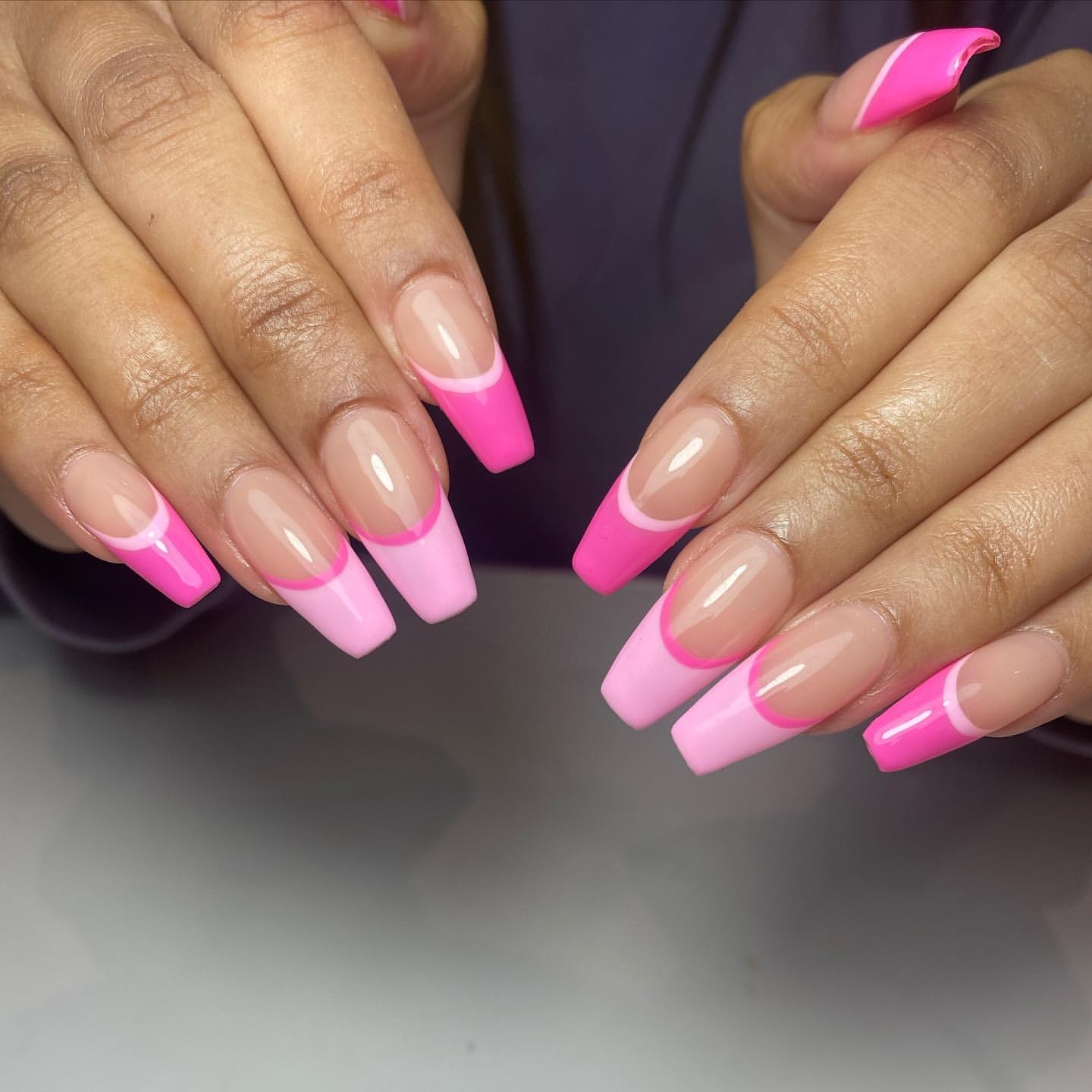 We might have come across these nails, but the uniqueness hovering these French pink tips makes it an extraordinary work of art. I am excited to try this nail design and highly recommend that all long-nail enthusiasts give it a try at least once!
50. Neptune's Pink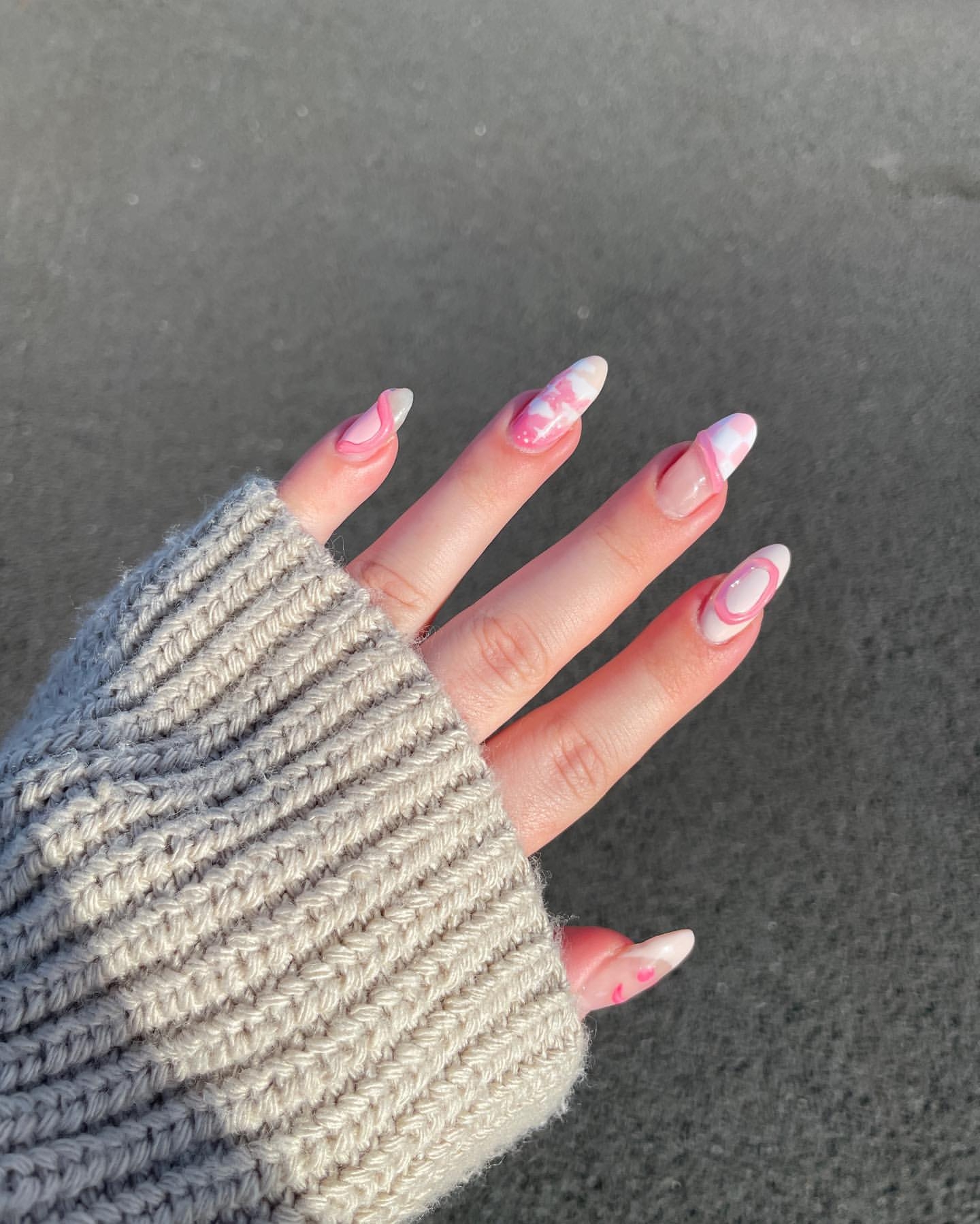 This enchanting 3D white and pink nail design has various surprises stored in it. Each fingernail has a different story to tell. However, the moral of the story is to try them and act like a queen!
51. Pink, Playful, Clown!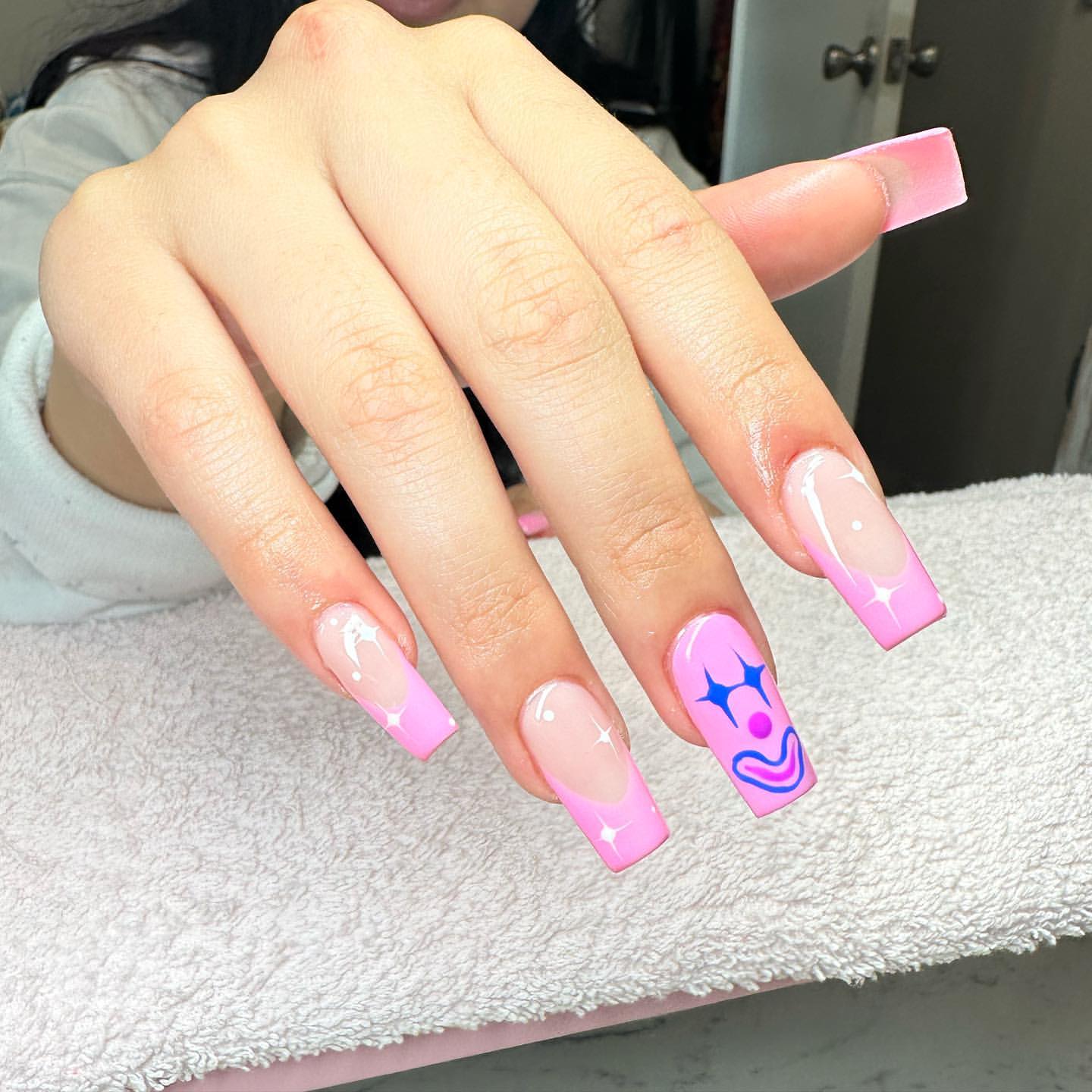 If you are a pinko-clownphile who loves pink with clowns, congrats, you now have this nail art inspo to try. Well, this design is perfect for anyone who wants to add a fun twist to their traditional French manicure by featuring a clown in the center finger.
52. Your Highness!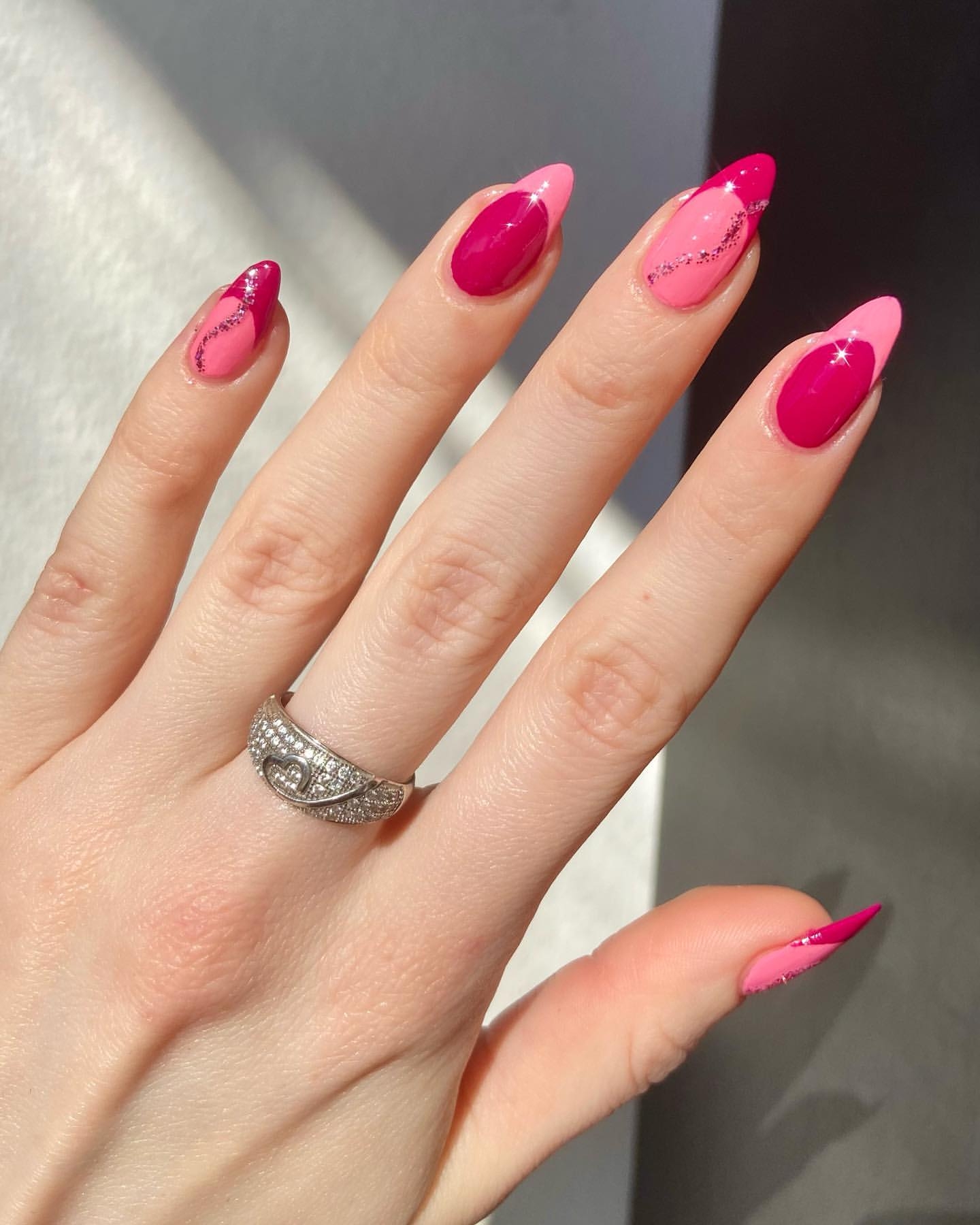 These auspicious hot magenta-pink nails set my spirits high just by looking at them! Imagine the impact if tried on nails! Moreover, this pink nail art not only showcases its beauty but also depicts that you belong to the royal lineage!
53. She Blushed!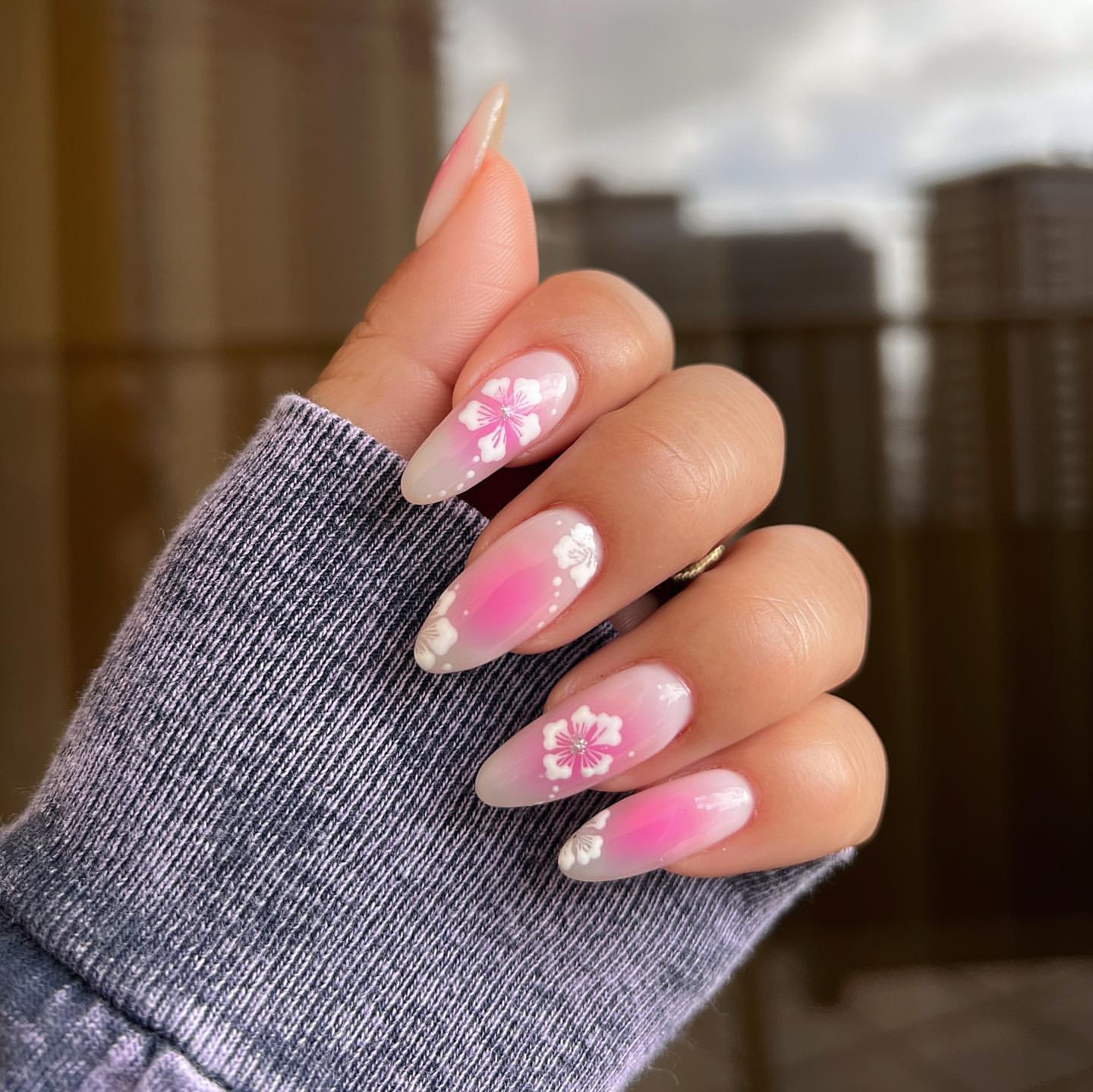 White Hibiscus engraved on blush pink nails! The medulla oblongata just involuntary makes your jaw drop and utter the words, 'How pretty!' This pink acrylic nail idea attenuates friction and influences more nail art enthusiasts!
54. To the Stars!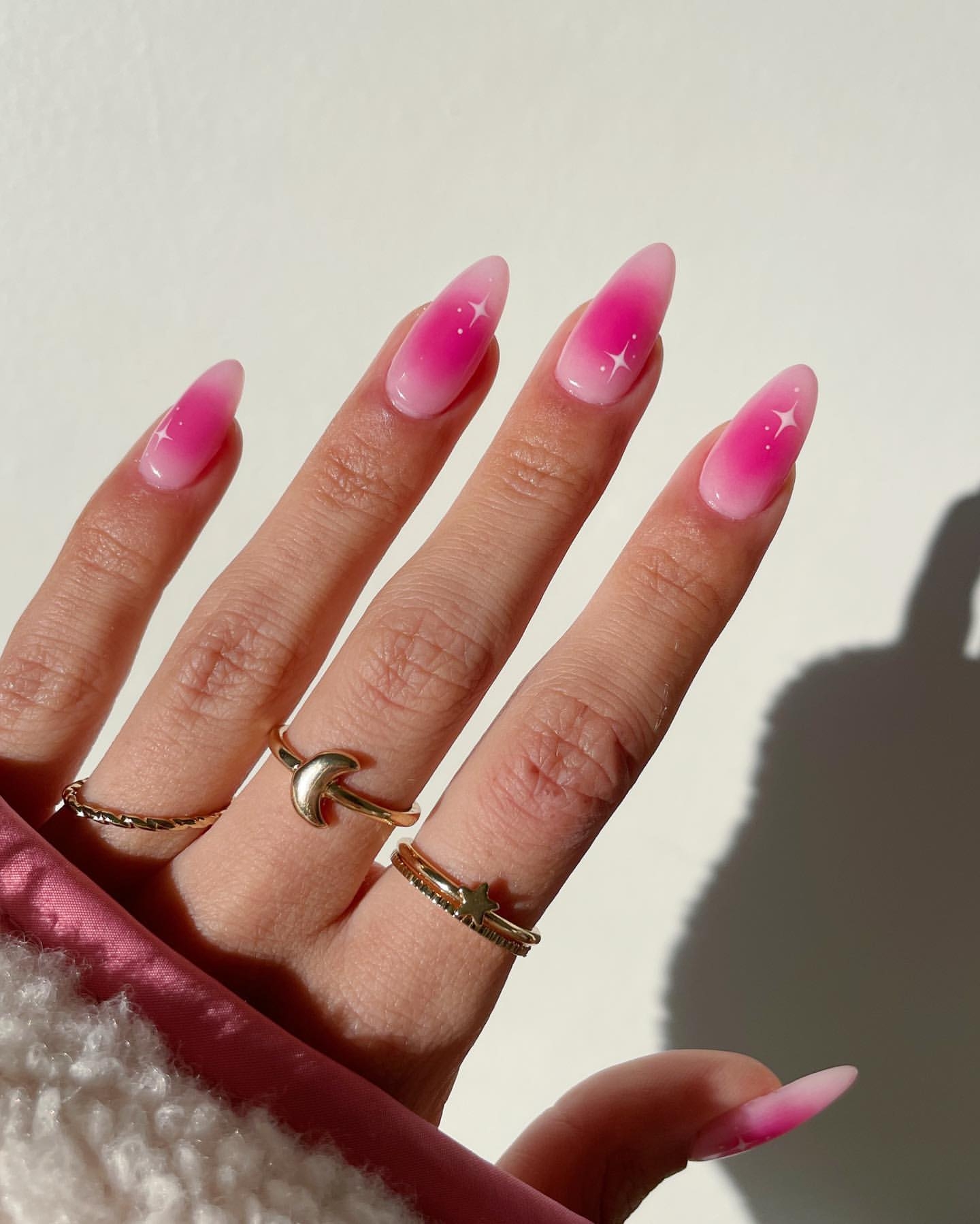 Another blushing pink nail art! But this time with stars! The double-head pink ombré nails make me stun out of no words! This is a special occasion nail art or can be applied when being with the person who makes you feel special!
55. Crocs with Pinks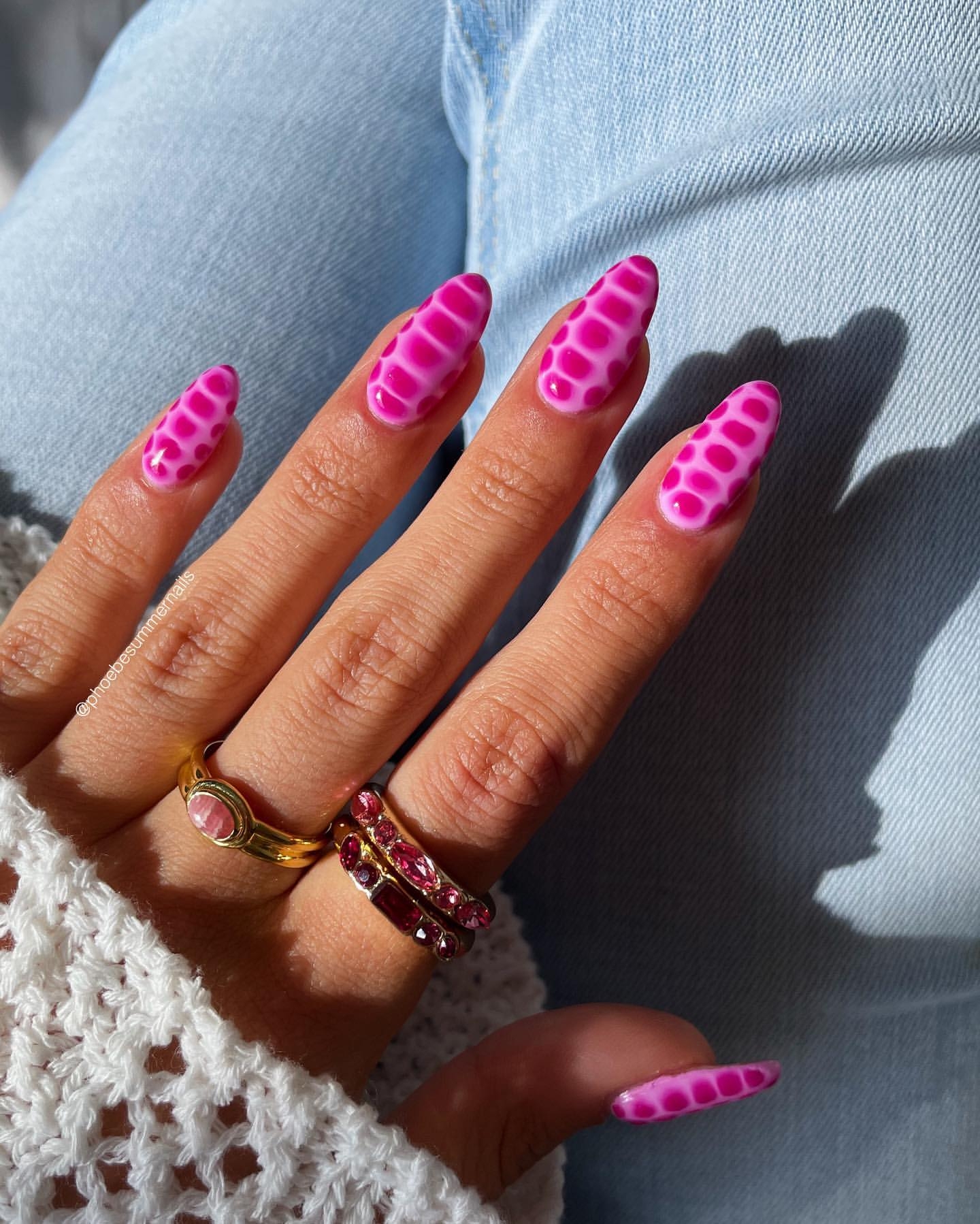 I find this pink nail art to be too exotically charming. The smudge patterns are no wonder a reason to stare at those pink nails a minute longer. Pro tip: apply a top coat to seal the glossy chic look of this heavenly manicure.
56. Pull Me Closer in Pink!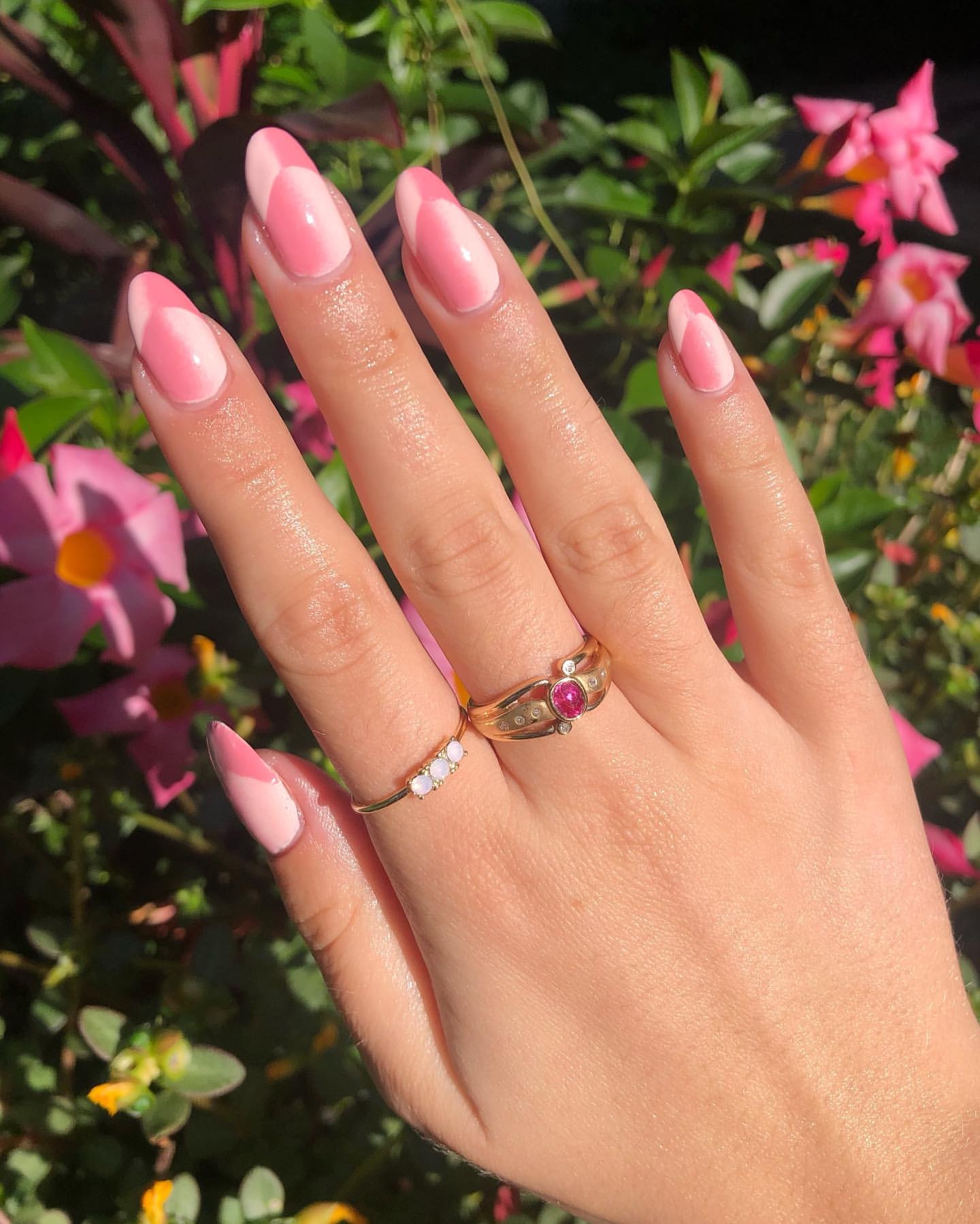 Just a twist in gradation in the usual French manicure to make them worthy of a special photoshoot! I wonder how they discovered this combo of dusty rose pink and pale pink! Surprisingly tranquilizing pink nail art, isn't it?!
57. Hi, it's me Pink!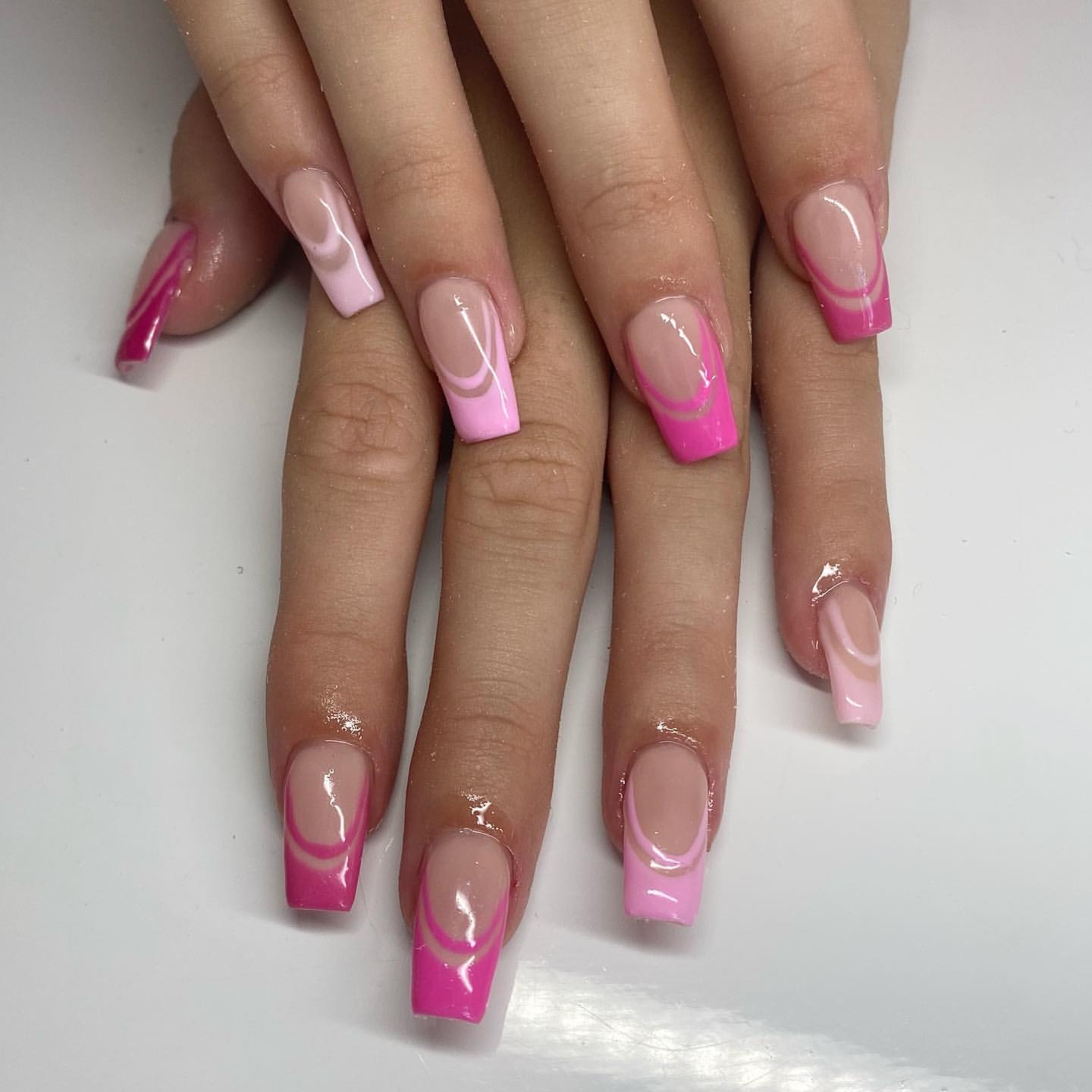 A special touch in the traditional French manicure with two different shades of pink – rose pink and hot pink. If you want some additional spice in your usual nail art, then you ought to try this pink nail art!
58. Treasure Me!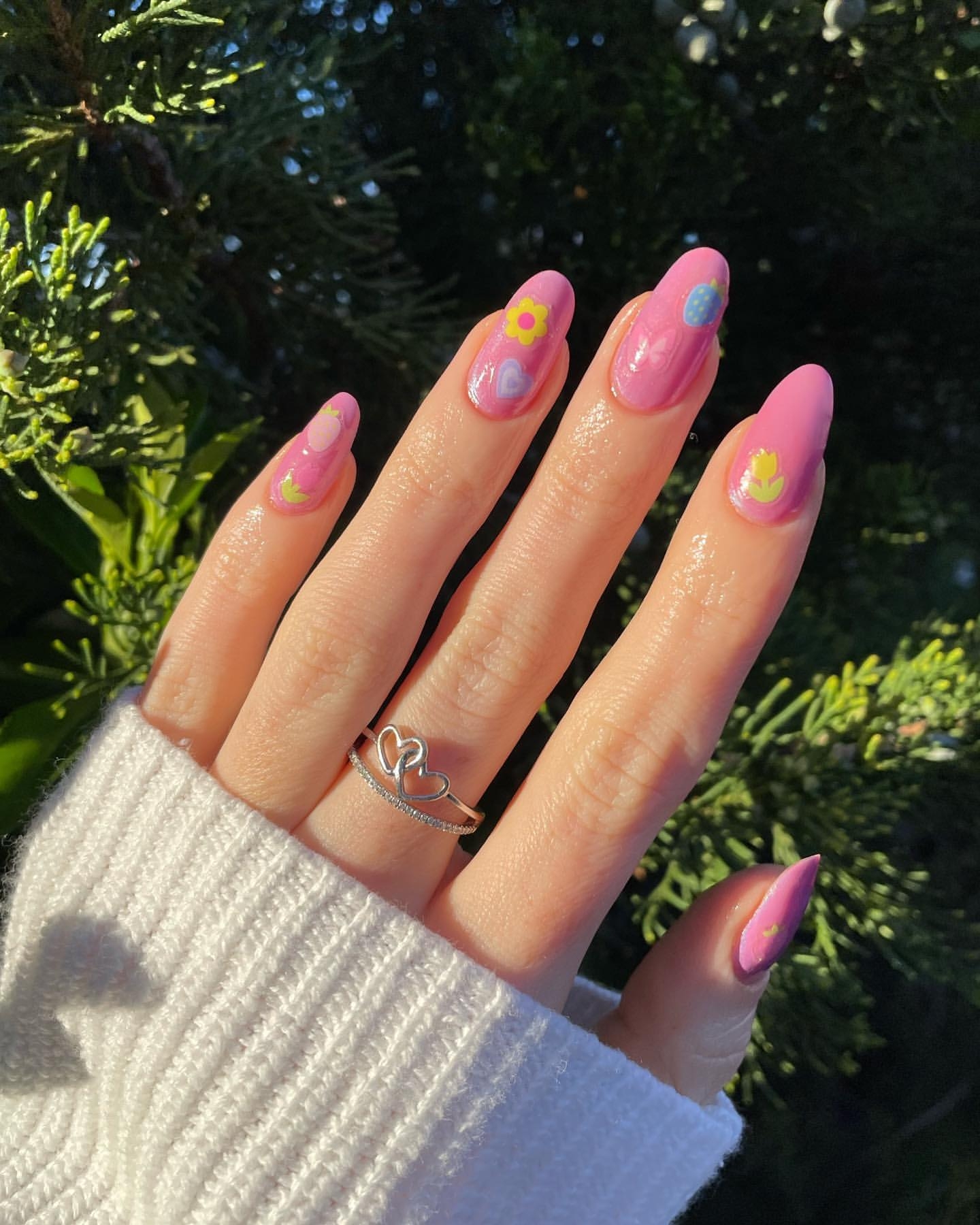 Here's an example of how pink floral nails go aesthetically well along with contrast colors. The incorporation of delicate floral patterns, dainty hearts, graceful butterflies, and juicy strawberries makes this pink nail art irresistible while embracing your feminine side.
59.  Pink-Pong!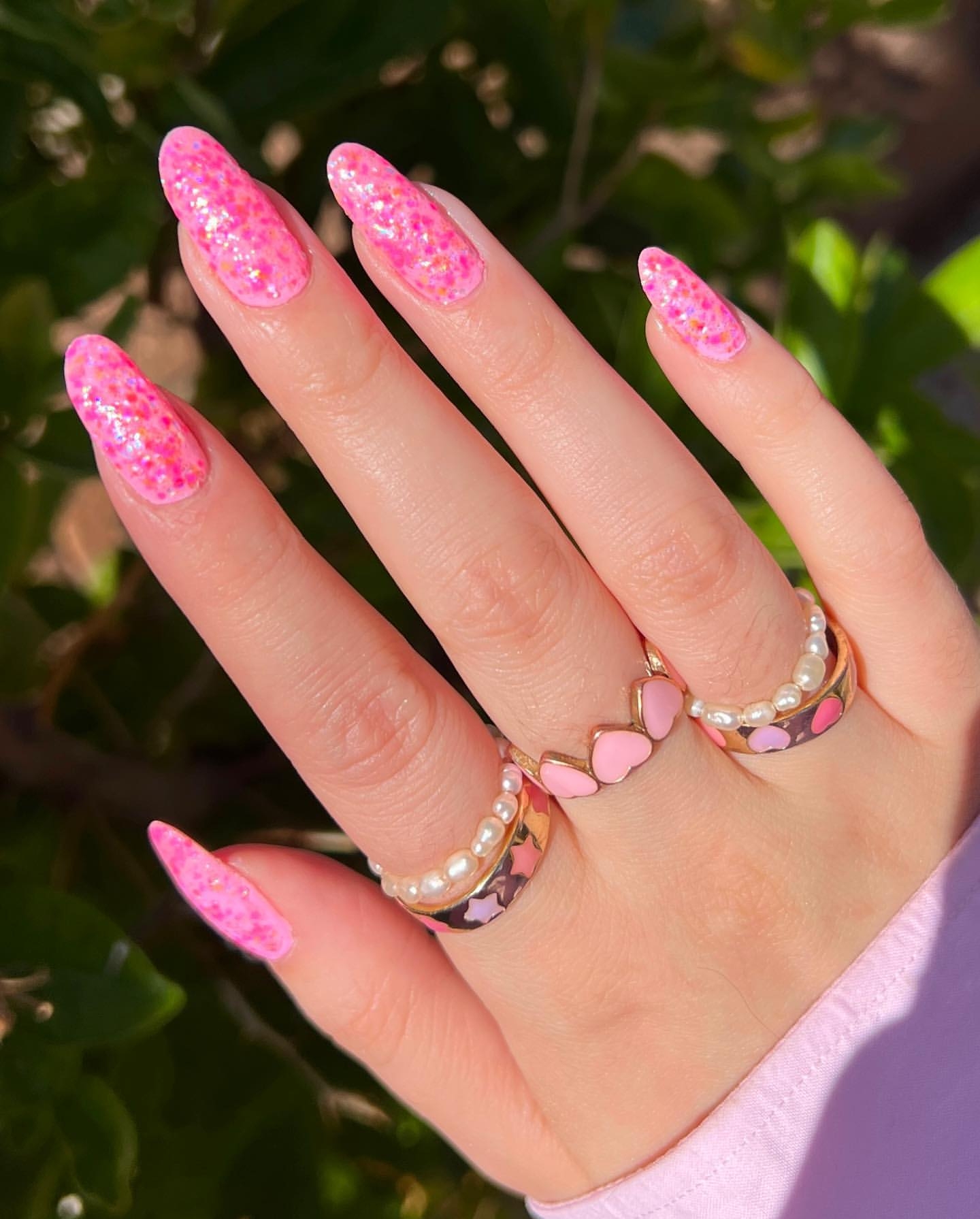 Do you have any special weddings coming up to attend? Then please take a pic of it. This pink nail art featuring glitter sprinkles resembles wedding-themed manicures. Moreover, if your attire is pink, then believe me, this would be the most appropriate one!
60. I am Inevitable!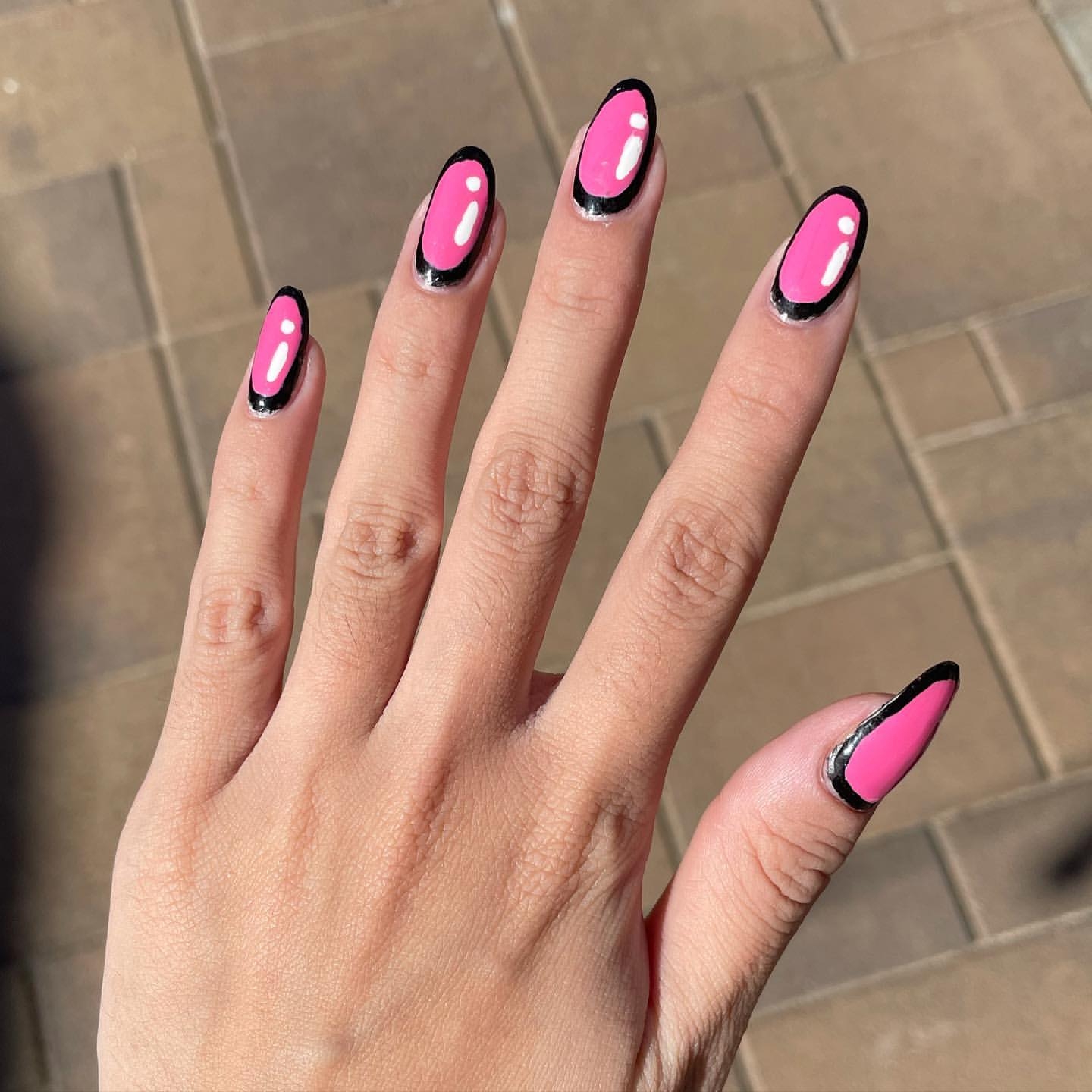 Creative and imaginative people have their names start with 'I'. If you are one such person then try this bold and beautiful black and pink nail design. The outline with black nail polish is the highlight. Try it and swag!
61. Fragrance of Fuchsia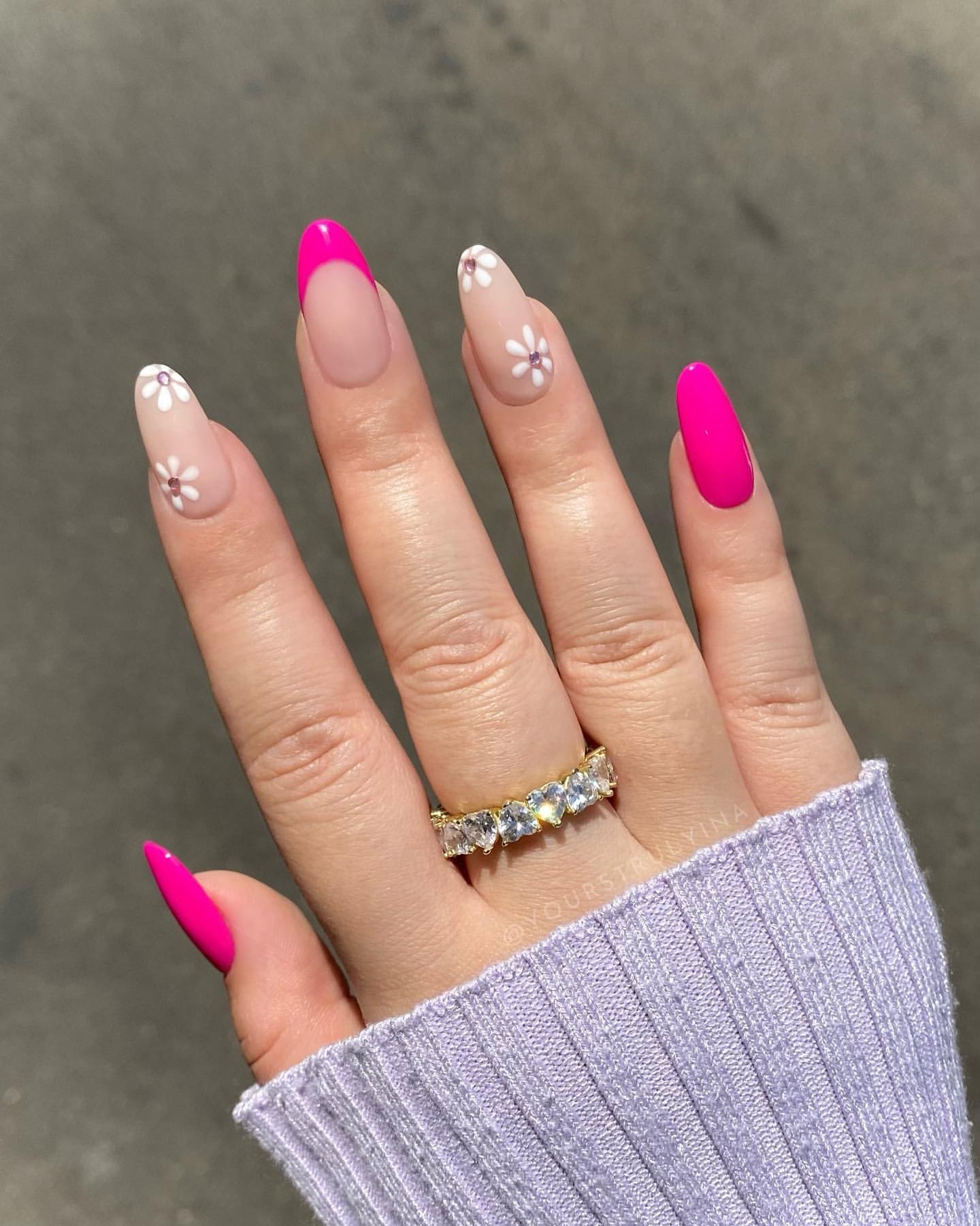 This last but lavish pink nail art soars past the others. In nail polishes, you will need pink and white along with a perfect nail art brush and some rhinestones to create those delicate petals.
Wrapping up:
To summarize, after curating this post, if I close my eyes, I can imagine all the shades of pink I am going to try this year and how I can't get enough of this color. It's the versatility and femininity of pink that makes it a crowd favorite.
Considering I've shifted from the narrative of "Pink" for girls and "Blue" for boys, I will never stop endorsing pink for the color it is and why it will always remain a classic to embrace.
Pink is coming back this season and is set to be the color of the season. From fashion to pop culture, I have got the Valentino Pink and the song "Pink Venom" by Blackpink stuck in my head, and I'd like to rest my case with a completely unrelated statement that Pink is the new Black. I hope you felt the same by the end of this post.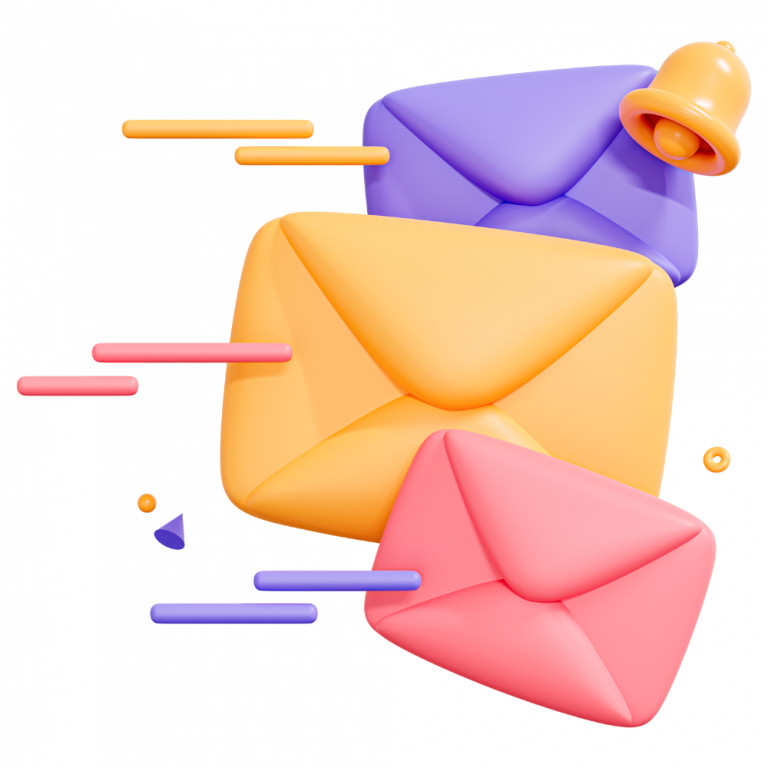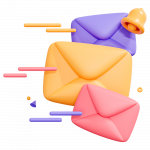 Read related: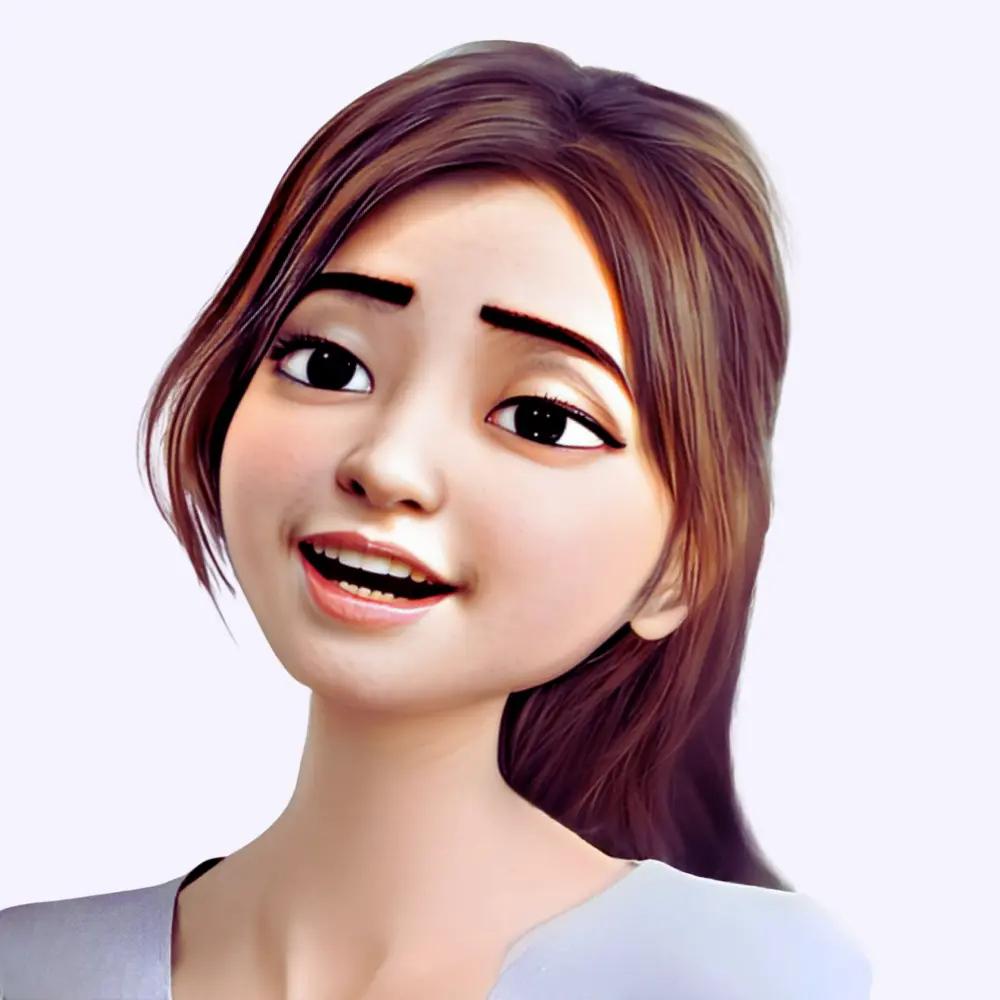 Hey there! I'm Raizy, a makeup, beauty, and manicure enthusiast. My passion for nail art and manicures knows no bounds; it's something I can't quite put into words. Every day, my goal is to dive into the world of manicures and nail art, and I'm thrilled to share my thoughts and expertise with all of you.