40 Eye-Catching Black Nail Art Designs for 2023
Black nail art is alluring to the extent that it is difficult to handle the charm. Black is so heavenly that sometimes I don't understand why it is used to represent hell always. Maybe because it holds a hell lot of beauty. If you are addicted to black but clueless about nail art, read further.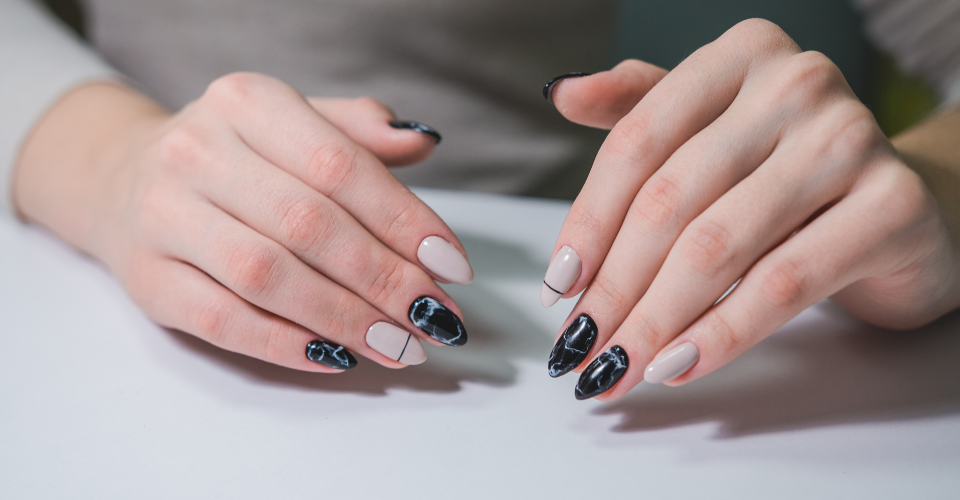 A timeless classic far beyond color theory, black stands indomitable in whatever it pours onto! Do you know black has countless shades within its umbrella? A few that I know are wide black, dark black, pitch black, pastel black, light black, faded black, onyx, soot, slate, obsidian, charcoal, raven, ebony, etc.
And I'm sure, you will judge black differently once you go through these trending black nail art designs for 2023. Whether you run towards black every time, or you want to try some black, consider this list of black nail art a blessing. Slide through, take a screenshot, try the art, and slay.
Remember to analyze the occasion for why you are picking a black design and then prefer to consider the ideal type of end finish (sheen, matte, flat, metallic, glittery, or holographic) for glorious exposure. Correlating the occasion and end finish, try any of the black nail art I have cataloged below.
40 Exquisite Black Nail Art Design Ideas for 2023
You will fall in love with all the 40, and I am sure it will tempt you to try at least once. The mere presence of black on your nails itself is a privilege. And as you embellish with black nail art designs, it will be pure magic. Yes! Welcome to the black magic!
1. Matte Melts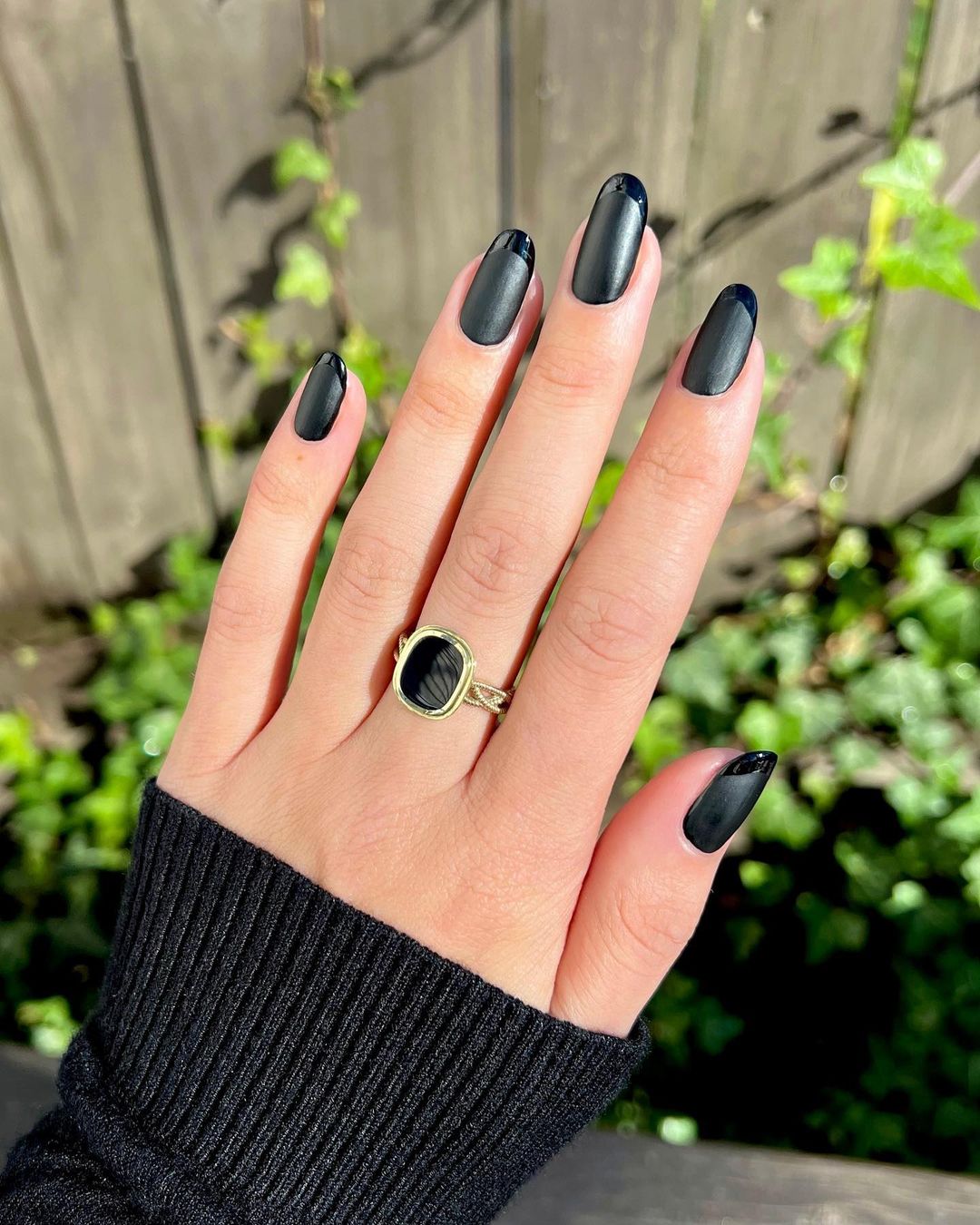 This gothic cum classic black nail art design catches a compliment for sure. If you are a not-too-glossy-but-need-a-titbit type of person, this matte black nail art is absolutely for you.
2. Tulip Treats
Have you dreamt of black flowers? There are 150 species of tulips but not a single black one. But here you can make one! These nails with black tips are minimalistic yet magnificent.
3. Darling Delicates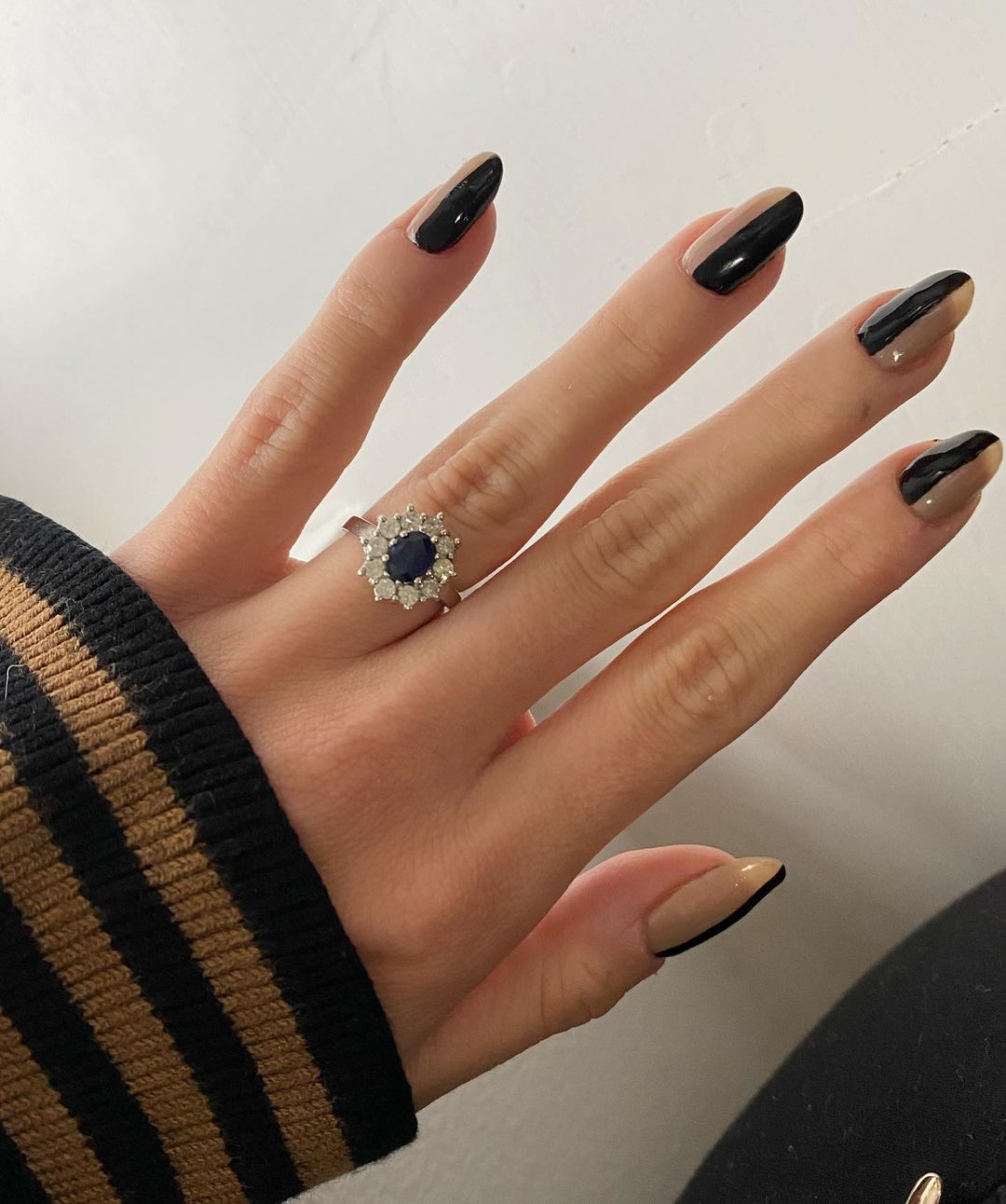 If you have a thing for nude colors yet don't want to miss black, then try this nail art. Part it and sort it. Pair the nude and black nails with similar patterned clothing, and you are going to slay.
4. Here Comes the Witch!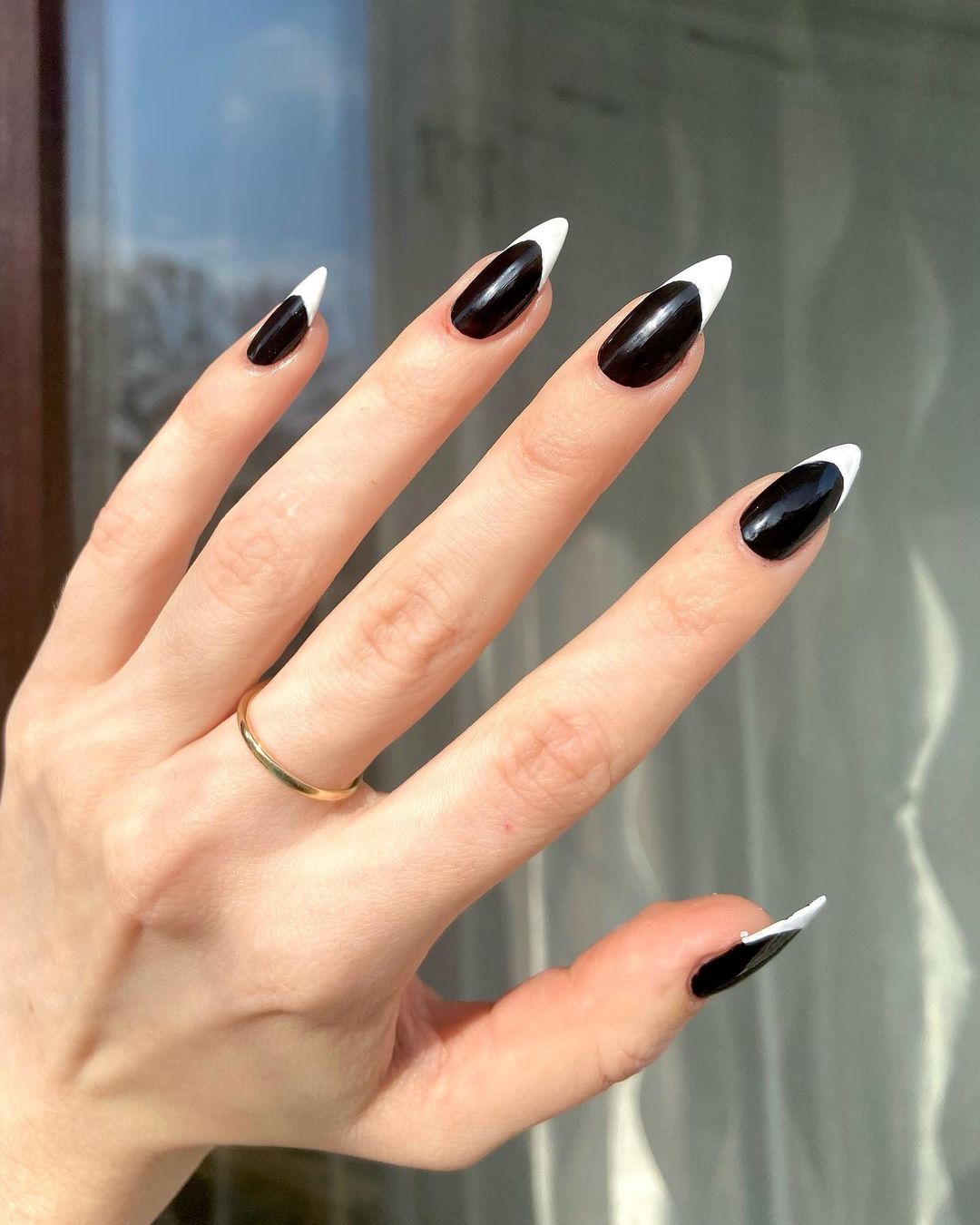 Black nail white tip; have you ever thought of this combination? Now stop thinking! It's time to make it. With a smooth angular turn of the black nail polish, leave off the tips for your witchcraft.
5. Spatter and Splash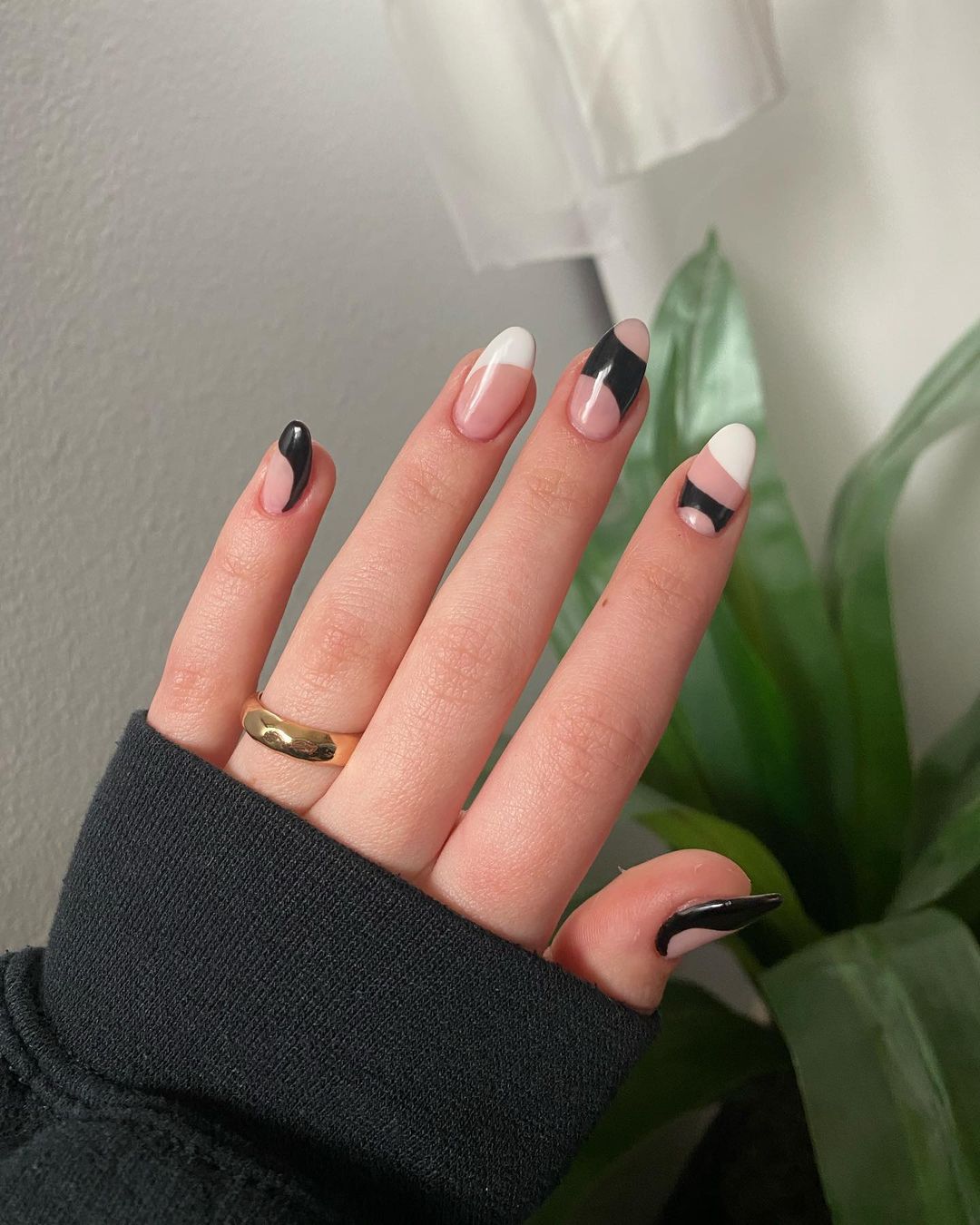 The delicate yet dashing look of the black and white splashes is a quick DIY. Some will say that these are glancing like press-on nails but deep down I know that this white and black nail art design makes you look cool but mysterious.
Post You May Like: How to Make Press-On Nails Last Longer? Discover Pro Tips
6. Hold My Glass!
Any color that enhances black is none other than white. The black nail art with glitter gives a serene look of goddamn beauty. PS: Beetles Gel has a good collection of this glittery stuff.
7. Mystical Black Waves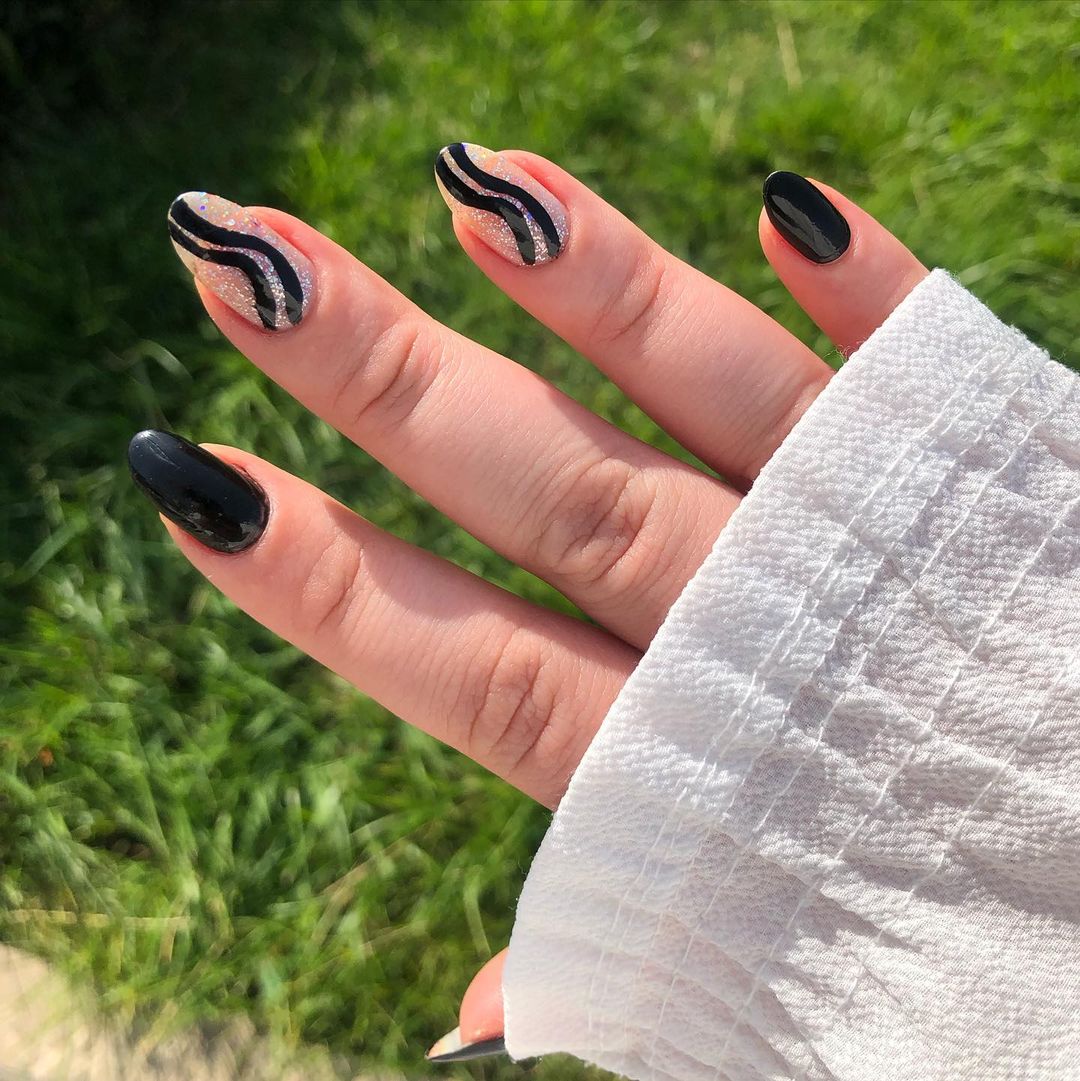 This seamless black nail art glimmers with white glitter nail polish in the middle present underneath the waves. Black bordering the extreme fingers gives an added vibe. Add a glossy top coat as a final touch to seal the look.
8. Little Black Hearts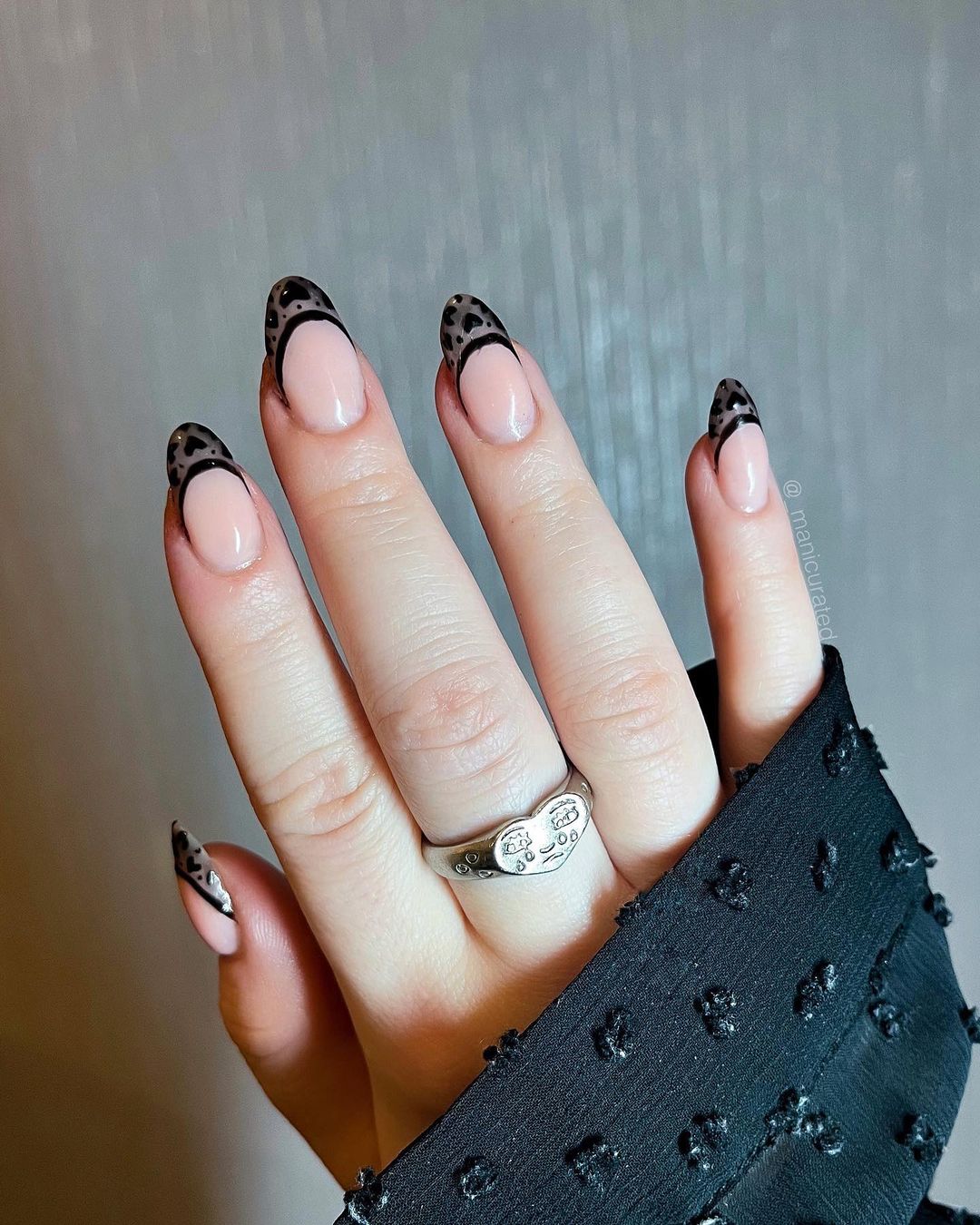 This nail art would be perfect for your date night, clothing the tips with cute black hearts. With a proper base coat, this is going to slay. If DIY is time-consuming, you can look at black nail art heart stickers from IHUKEIT to achieve this look with minimal effort.
9. You Have My Heart!
Bigger hearts steal the heart more. This ebony black nail art might require a salon visit, but it's worth it. If you are a nail techie, get the top-notch dotting tools for this nail art.
10. Like a Diamond on the Nail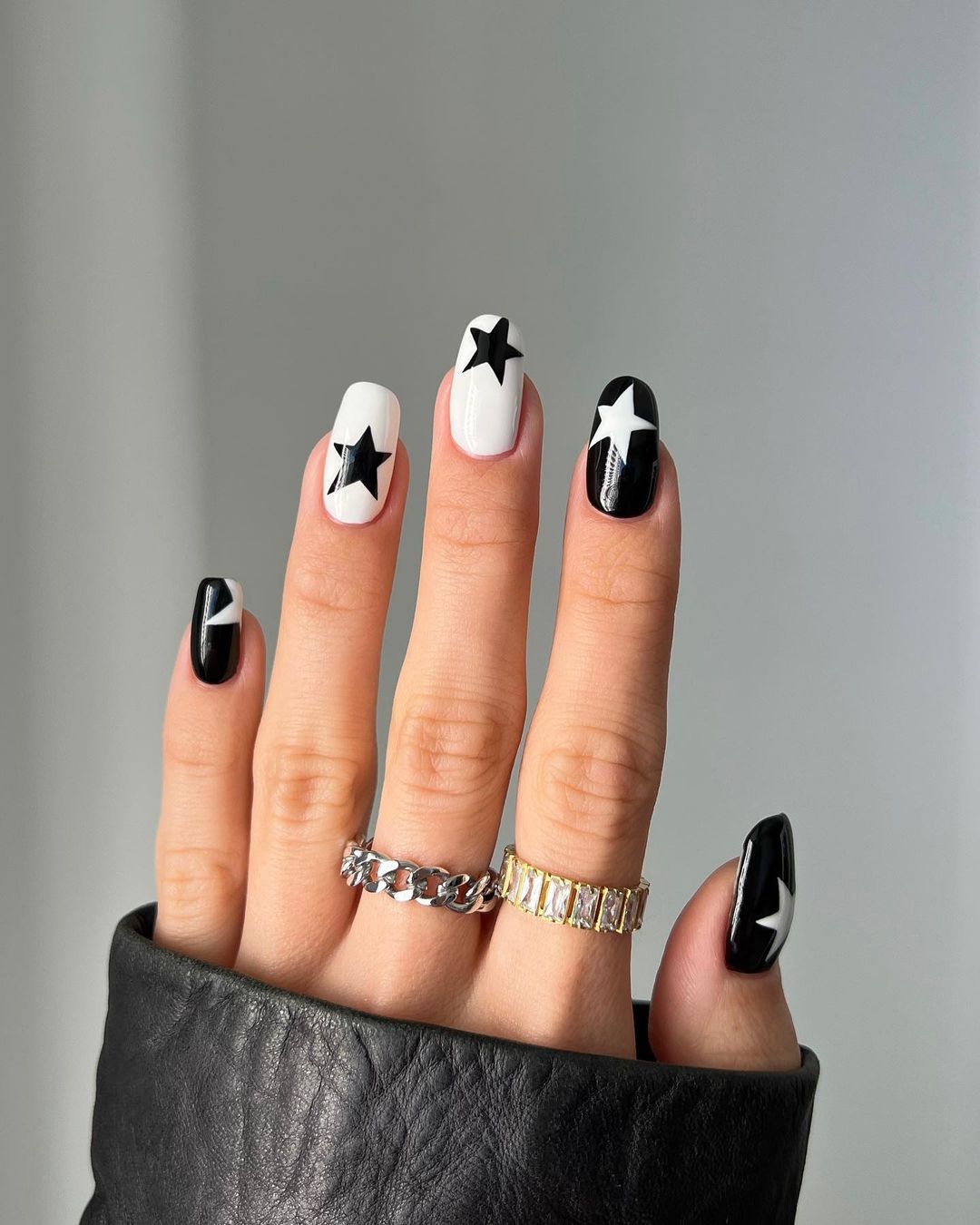 Superpowers don't arrive with armor and helmet, but it comes with black nails with white stars for sure. Get the best nail file and prep your nails for this amazing art; this will surprise you. Savior complex!
Post You May Like: 35 Cute Butterfly Nail Art Designs for 2023
11. Bouquet of Gorgeousness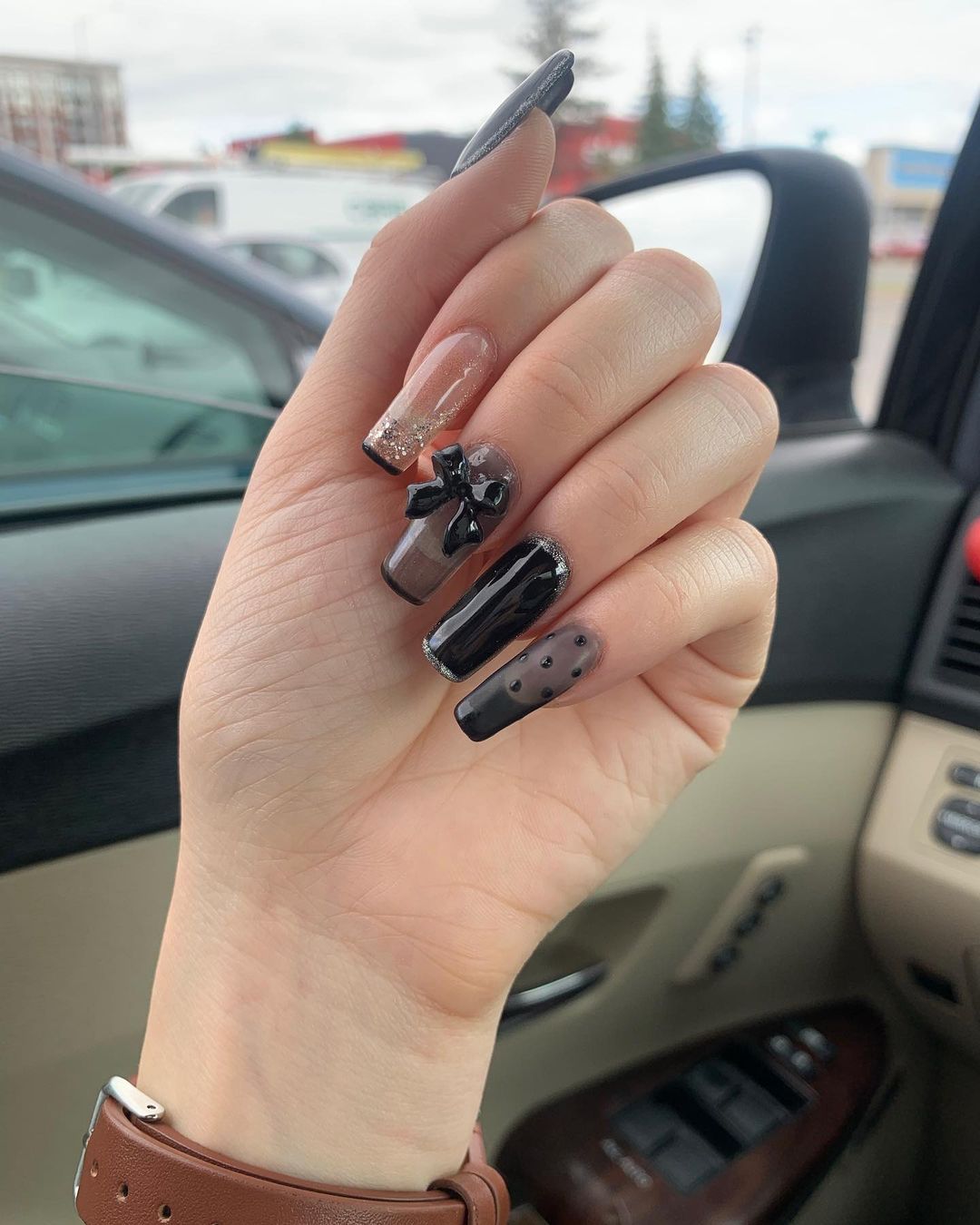 What could I even say about this sheer wonder? I am sure you will feel like a goddess dressed in power. Such a black square nail design is a sure treat to the eyes. Nail design enthusiasts! Here's your cup of tea.
12. Dots for Ms. Damsel
A single coat of sheeny translucent black nail polish on which lies the delicate dots. Delightful as it looks, it goes well with black party wear. All you require is a perfect dotting tool and a thick nail art brush and this artwork is all yours.
13. Zebra Zings
This minimalistic black and white nail polish suits you well for office and uni goers. Beginners can start with this mysteriously beautiful nail art. Trust OPI's black-and-white liquor for this and you will never be betrayed.
14. Venust Vs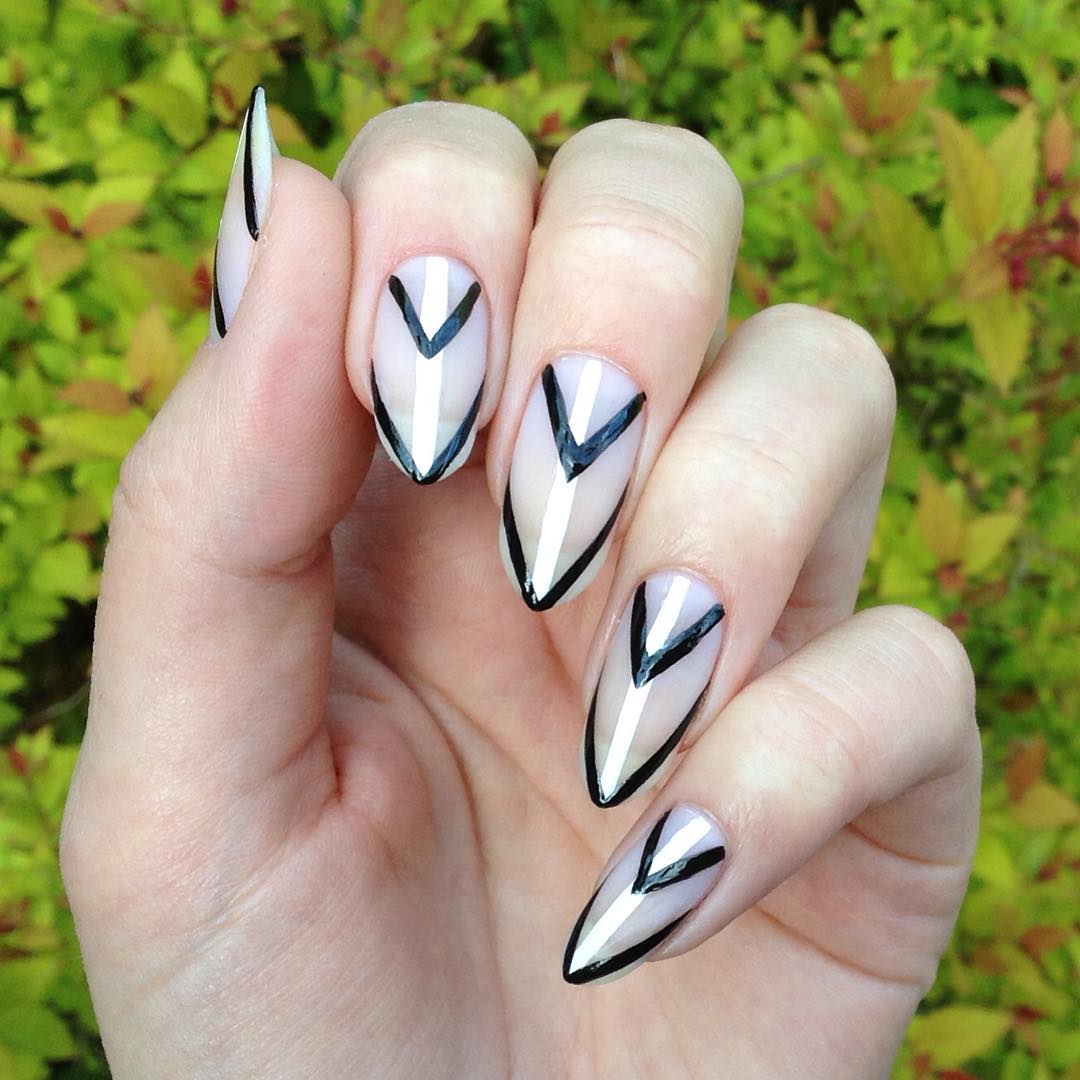 The pointed black V's can be effortlessly done in this black and silver nail design, the output being enviously elegant. Just a prep and base followed by a V shape. PS. You can create V shapes with nail art tape strips for a more perfect look.
15. Dread the Demon
Is it fires or ghosts or horns? You cannot conclude. But one thing you can be sure of is the dreadfulness and beauty it encases. This black nail art for short nails is an absolute masterpiece!
16. Dunes of Decor
This nude skin color at the tips, bordered with thin streaks of black is such a treat to the eyes. You can try on this nude and black nail design to make your boring day slightly interesting.
17. Ghostly Welcome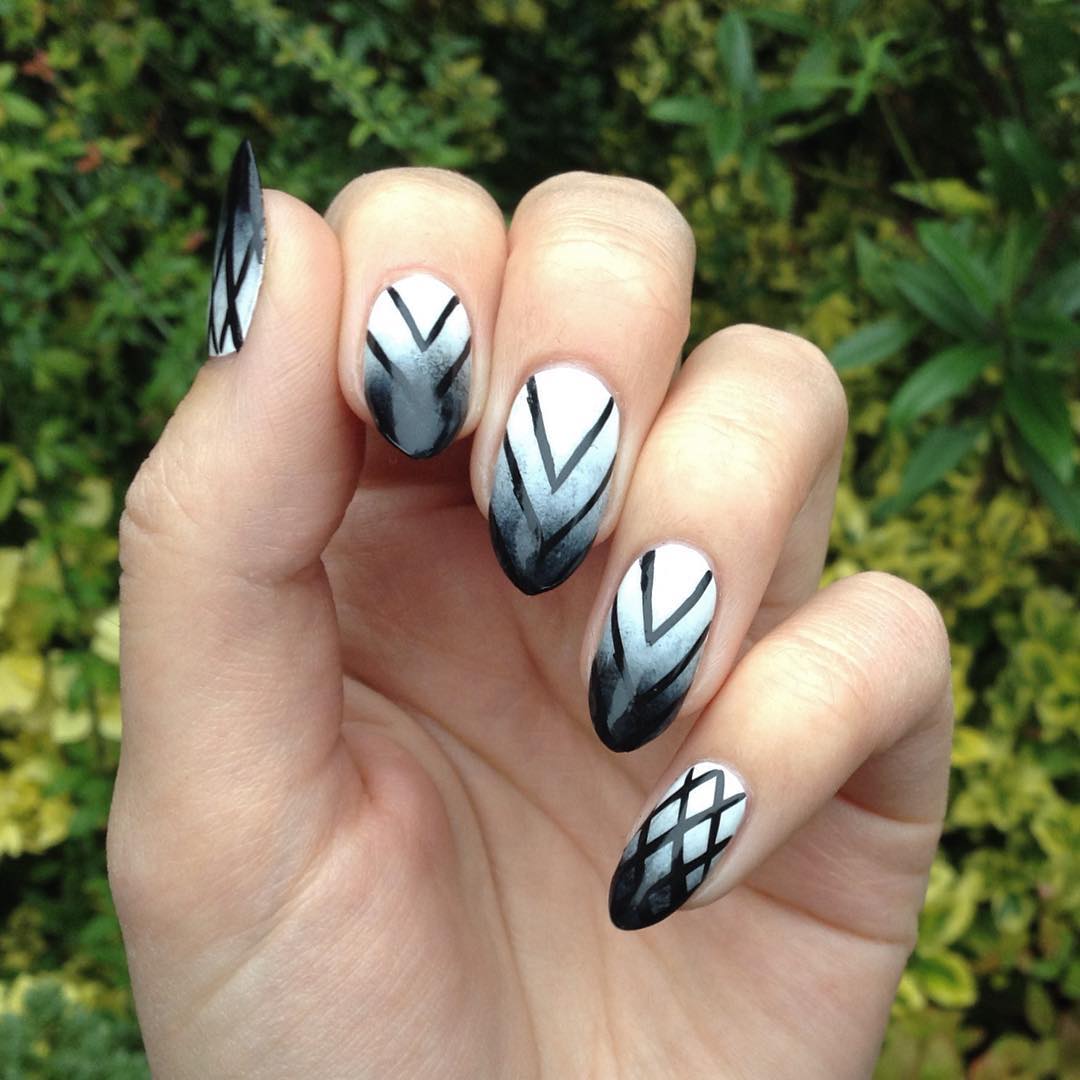 The spine-thrilling white and black nail art is best for Halloween nights. With a thin dotting tool and smudged art, I can assure you that it can give ghostly vibes.
18. Flamazing Flocks
This illusionary yet cutesy work of art is mind-blowing. Flamingos be like, can we do the honors, Miss? I bet this black nail art for 2023 is going to be a remarkable one.
19. The Arachnid Witch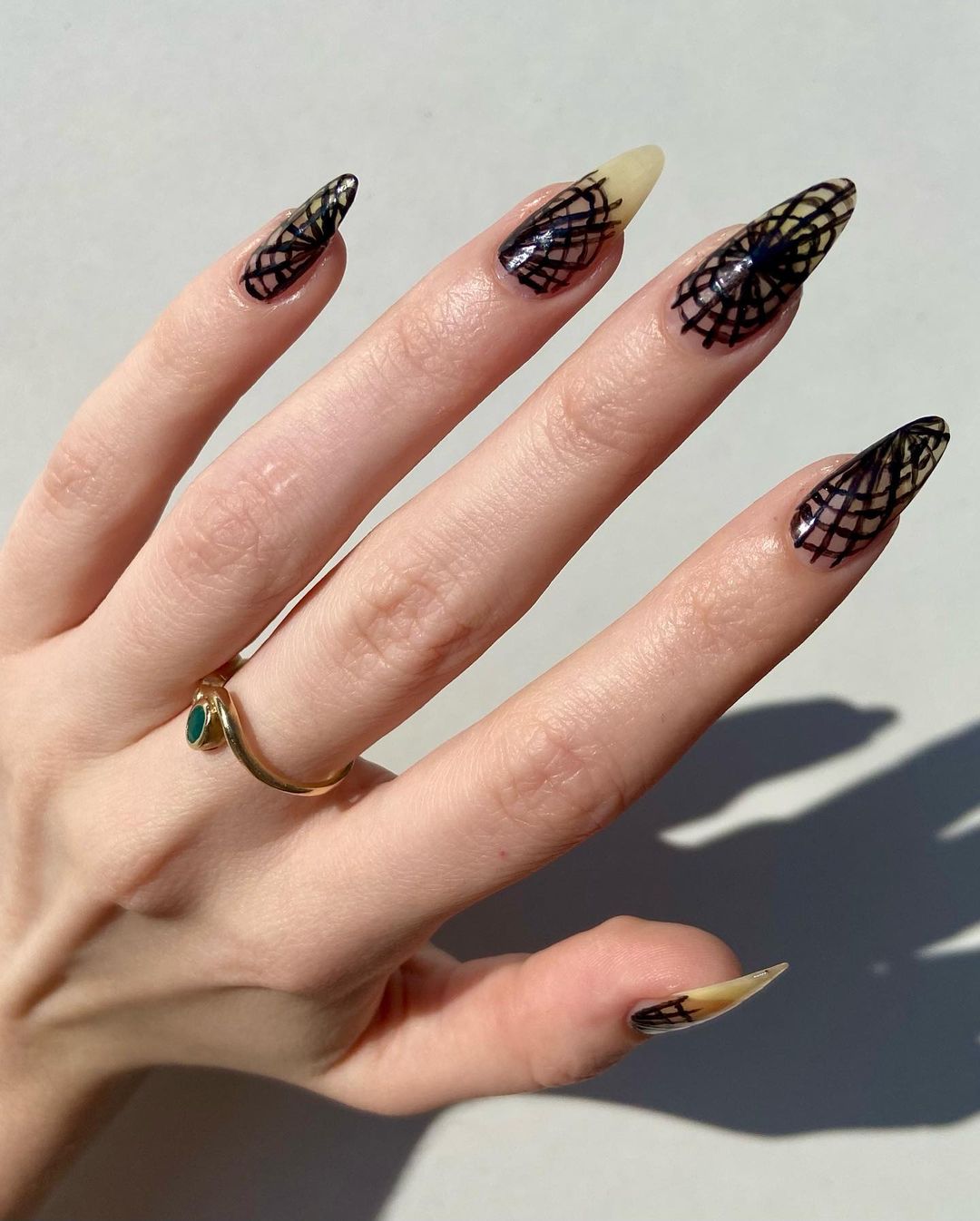 The obsidian spider web enthralls your audience with the tarantula spirits. Spin your web of beauty! Saturate yourself with this black nail art inspo. To me, this is one of the creative nail designs with black lines.
20. I Am Almost There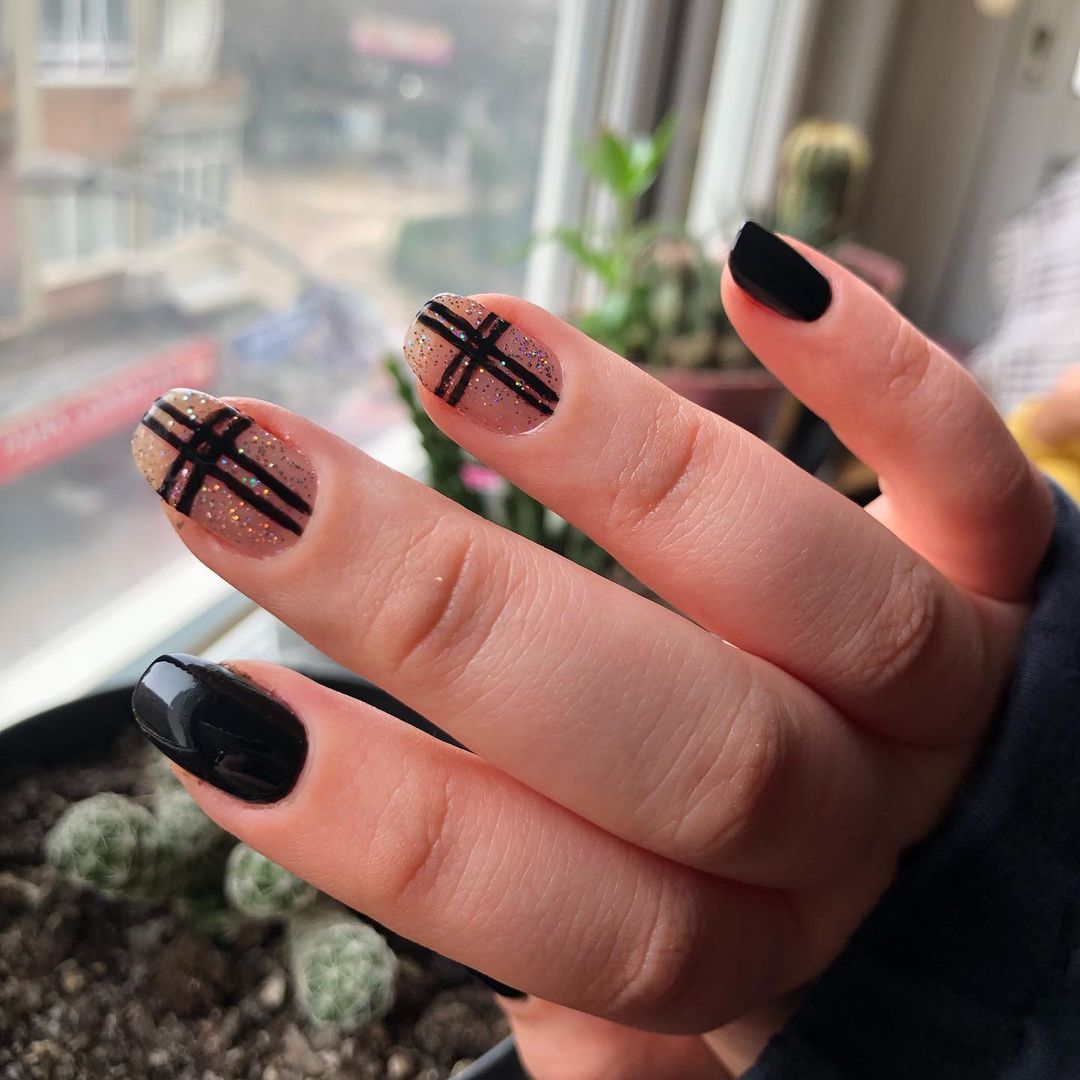 How much ever in a hurry bury you are – this roughly takes 5 to 10 minutes of craft. The glittery base and lines are pretty great for your daily aesthetic lifestyle. And yes, one of the best black nail art designs for short nails!
21. Trippy Flowers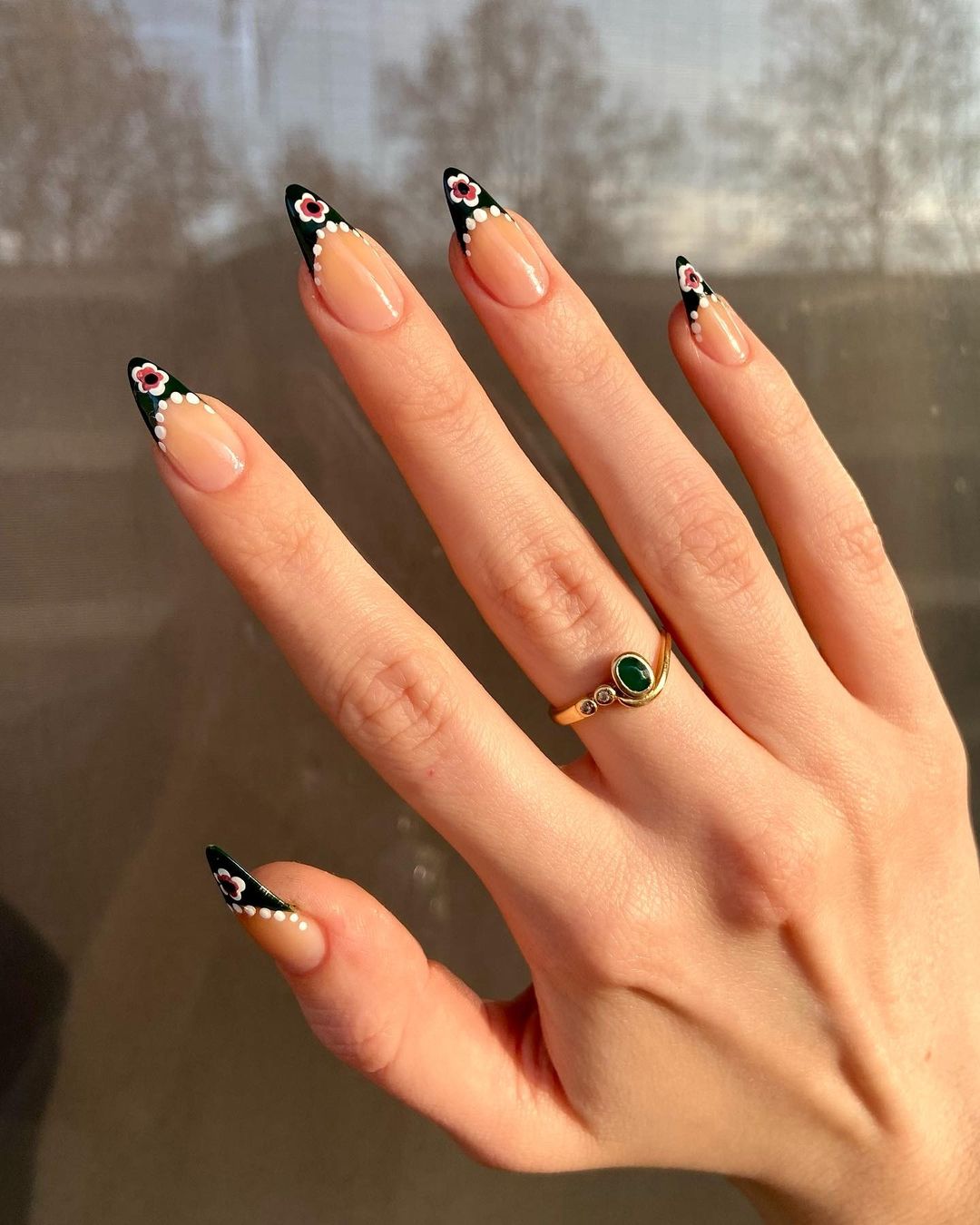 Why be vague by simply polishing the tips alone when you can put a flower in each nail and make it aesthetically trippy? Hmm, what are you waiting for? Take a screenshot!
22. Checkered Mates!
This linen-patterned black nail art on a white base is so artistic that people cannot take their eyes off of your nails. Get the charming vibe from this black nail inspo!
23. Keep it Light
Not a big deal, but just the crescent-based nail art is a wow factor. Using the cuticle pusher and cuticle nipper is important before you start up with this.
24. Gray Contoured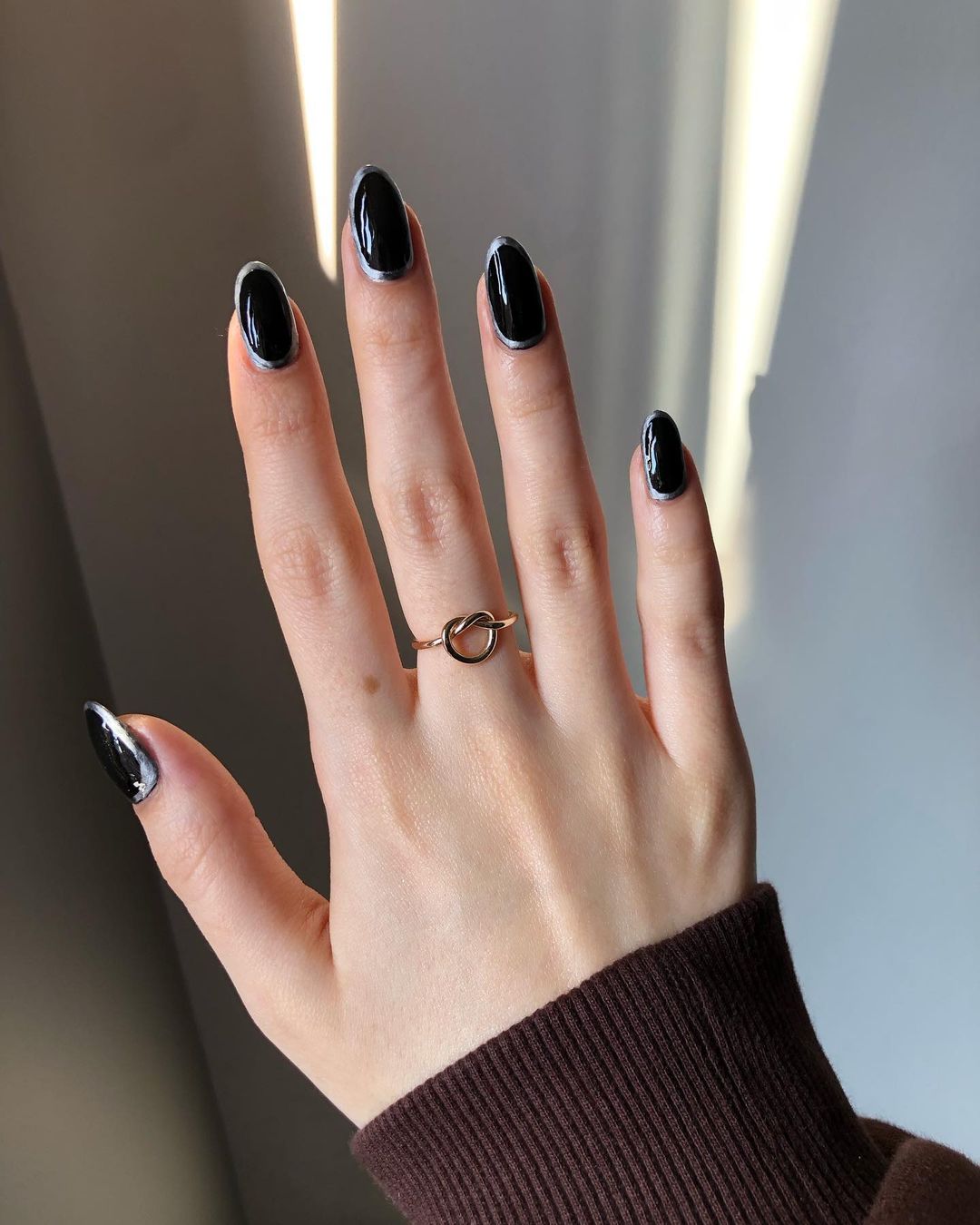 Raven black has its boundaries, which we are bound to respect as we fall for this easy yet purely blackish vibrant nail art. The dark nail design against the silver line will be a spectacular one.
25. You Can Rely on Me
Black goes with anything – any dress or any plan of yours. It can even make you look friendly or ghostly, and this one is the former type. A perfect one for a friend's night out!
26. Not Sparkly Not Glossy
Black becomes even more poetic as you have a place for that glittery aura. This black nail art for long nails is such a piece of class. And being classy is the new black.
27. 1, 2, 3, and Here We Go
Tiny dots here and there as you finish off the tip with a hard push of nail polish! These dark aesthetic nail tips suit those special days in your mundane routine! Nail glue plays an important role here!
28. Your Royal Highness!
This chess motif woven with teal and black nail art is a perfect art with its soul-touching colors. Try this, please! Take your purchasing basket to amazon.com, it's time to shop for some fabulous nail polishes.
29. Beigy Waves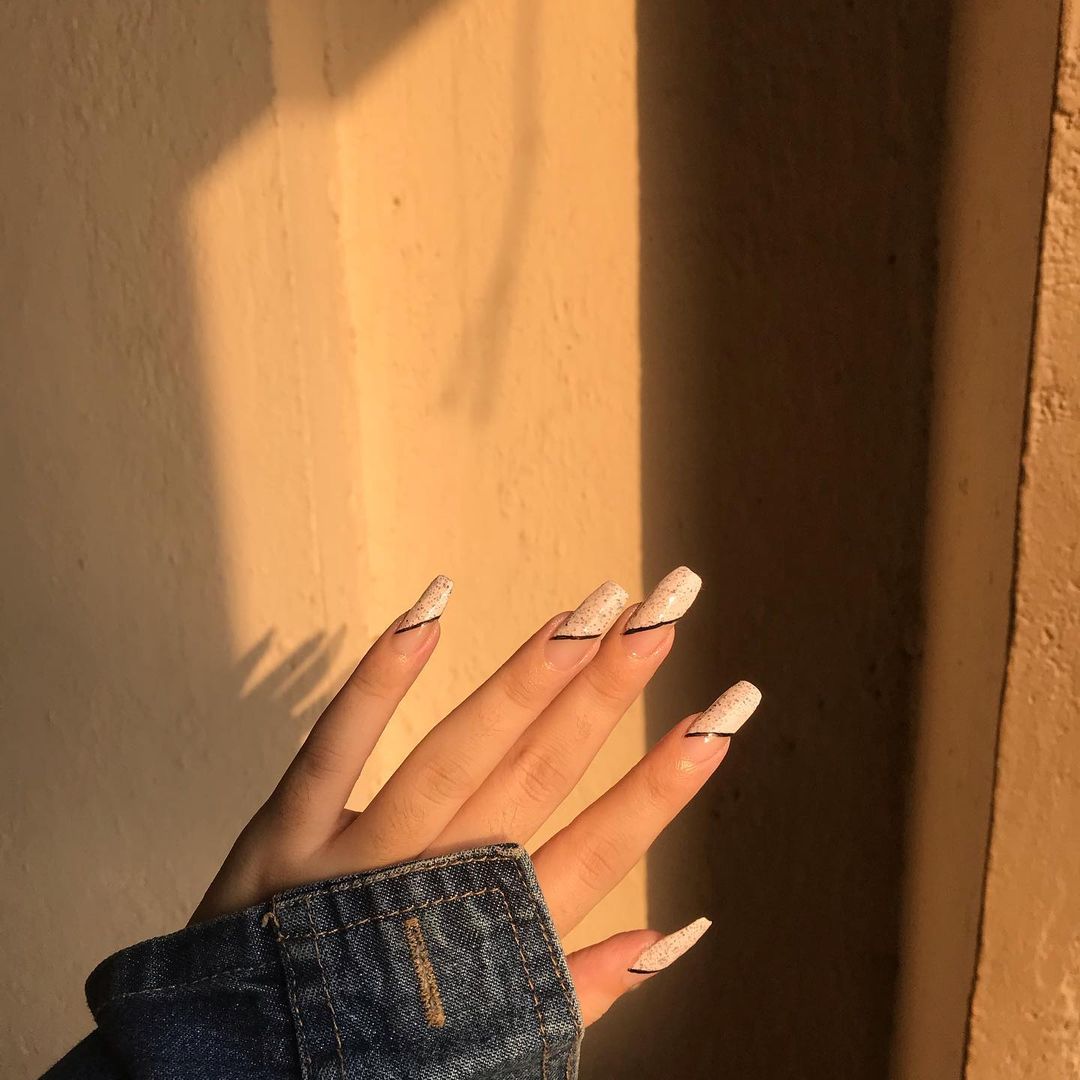 Beige flat nail polish with a black score sways beautifully without much effort. If you want to appear fab but have no energy, try this edgy black nail design. Thank me later!
30. A Good Summer Rain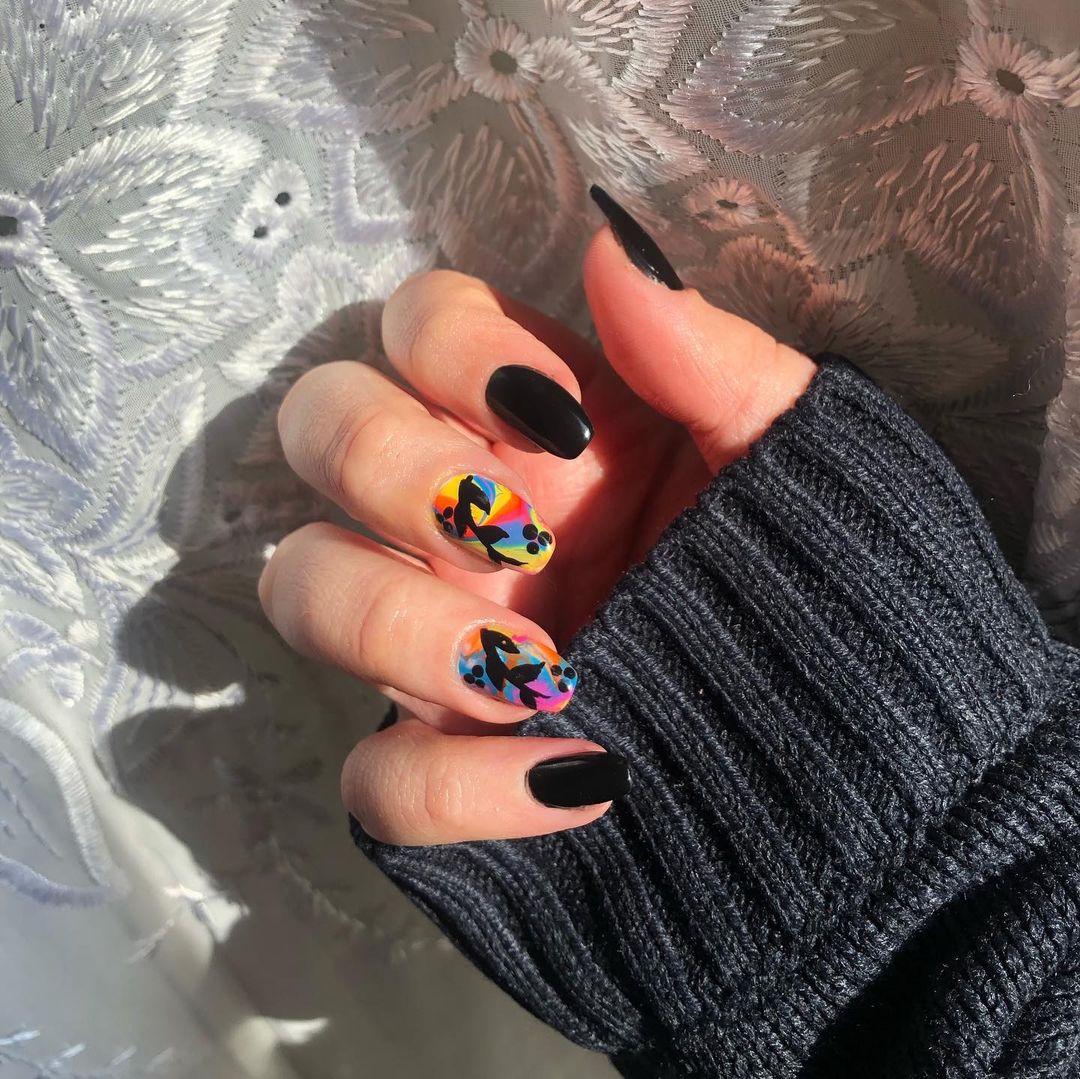 If you are addicted to black and bright colors simultaneously, then this dark nail inspo is for you. This polychromatic nail art is stuffed prettily in between black hues. This nail art is the lovely consequence of purchasing Midnight Euphoria from Beetles Gel Polish.
31. Dreamcatcher
This intricately designed black nail with white design is undoubtedly charming, and to me, it vibes like winter, with snowflakes. For working professionals, this short black nail design is an inspiration to get more creative with their short nails!
32. Majestic Mauves
Mauve goes well with black, isn't it? This holographic round black nails and simple sheeny mauve look sumptuous, especially for ethnic attires. Get a mauve gel polish with glittery black, and achieve this simple black nail art by cracking the basic level of your nail artistry.
33. Hazy Craze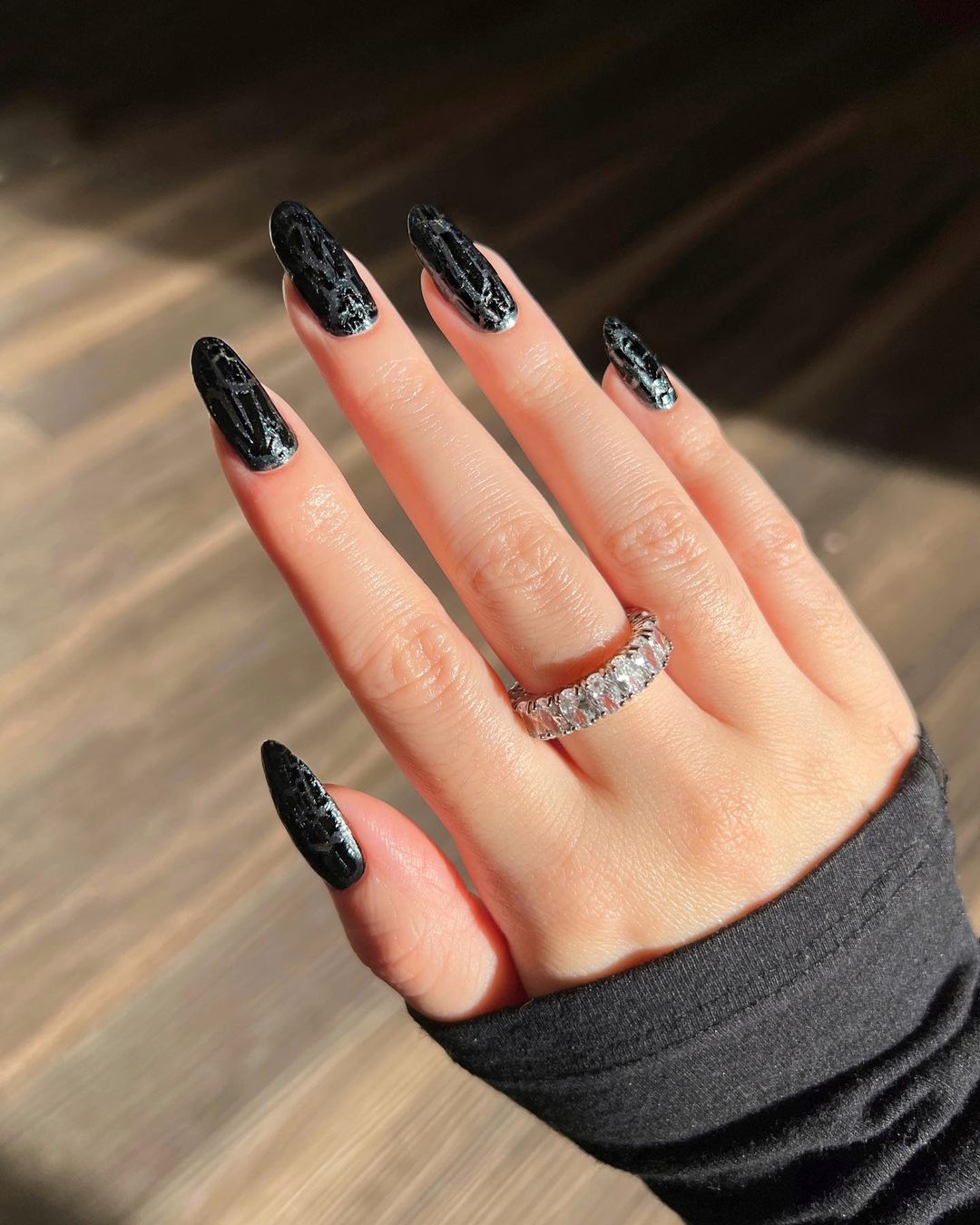 This crazy yet murky black nail art looks so cool and with aesthetic jewelry paired up together, this looks simply premium. Try this long black nail design once, take a pic, and Insta it.
34. For Your Modest Mondays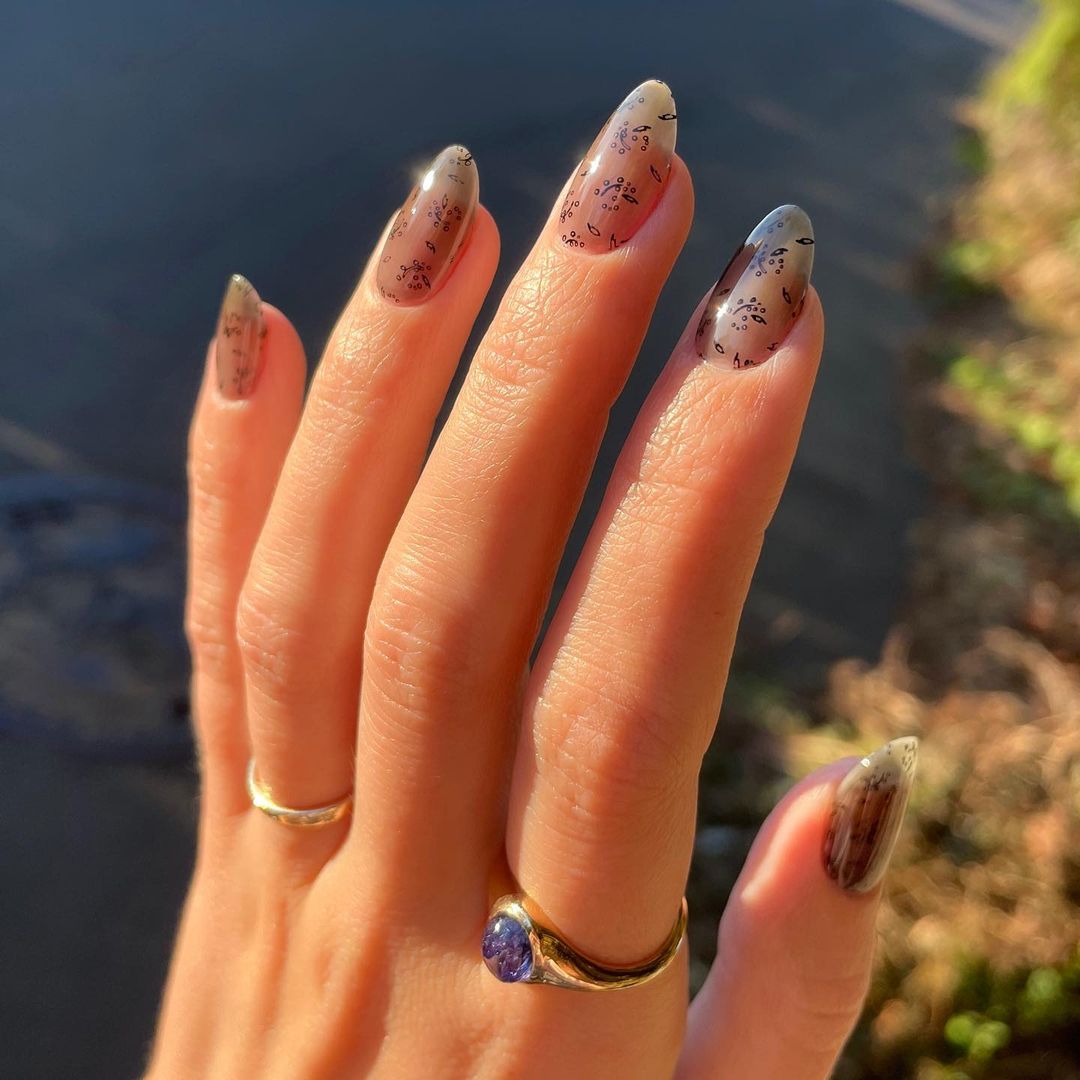 The black ombré with the minimalistic nail design in black is appropriate for your busy Mondays in the office to calm yourself a bit while hearing compliments from your colleagues.
35. Soulful Plunges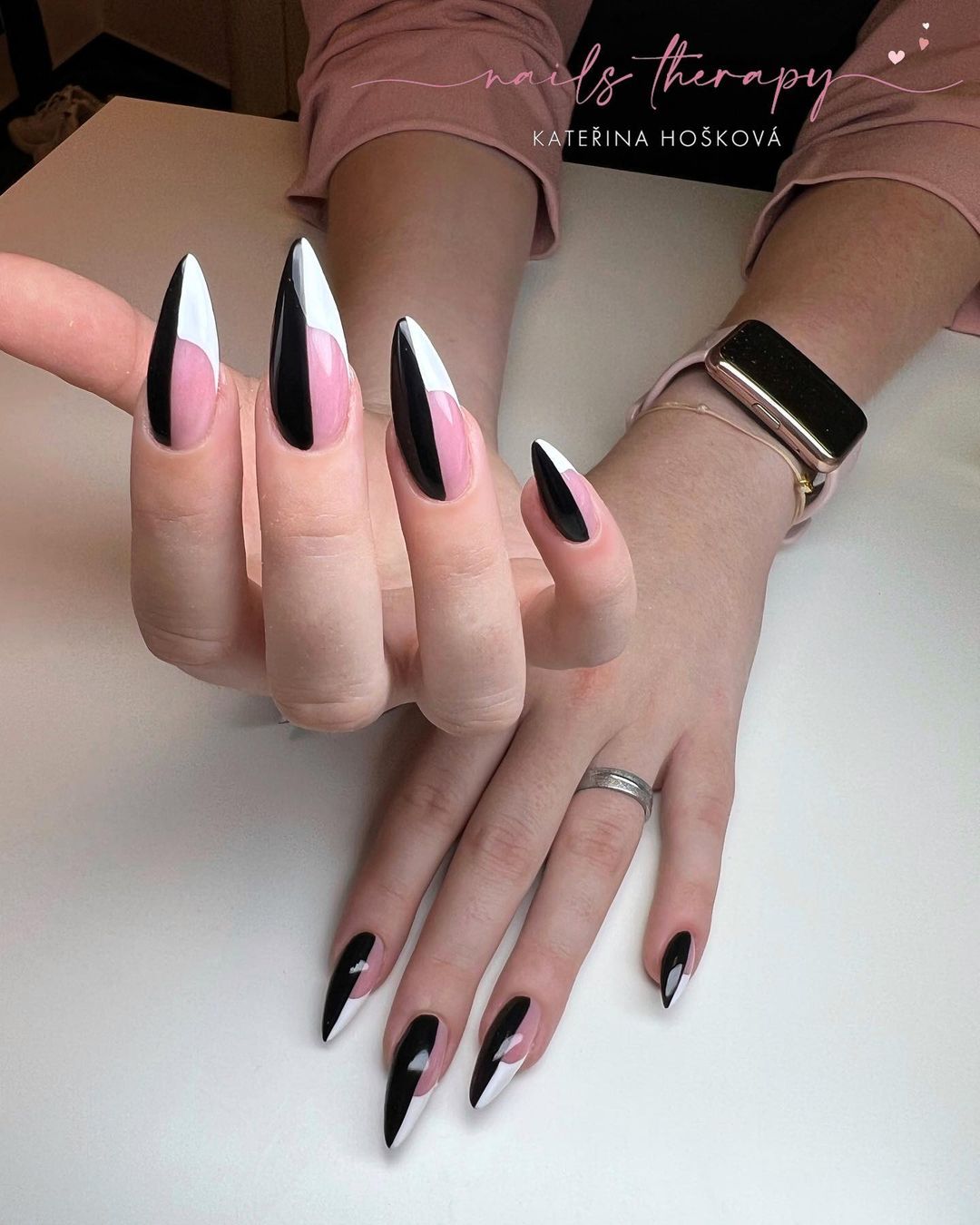 This DIY nail art is the coalescence of black, white, and pink. This easy pink and black nail art is modest yet arrogant, turning all eyes on you.
36. Hush!! Silence!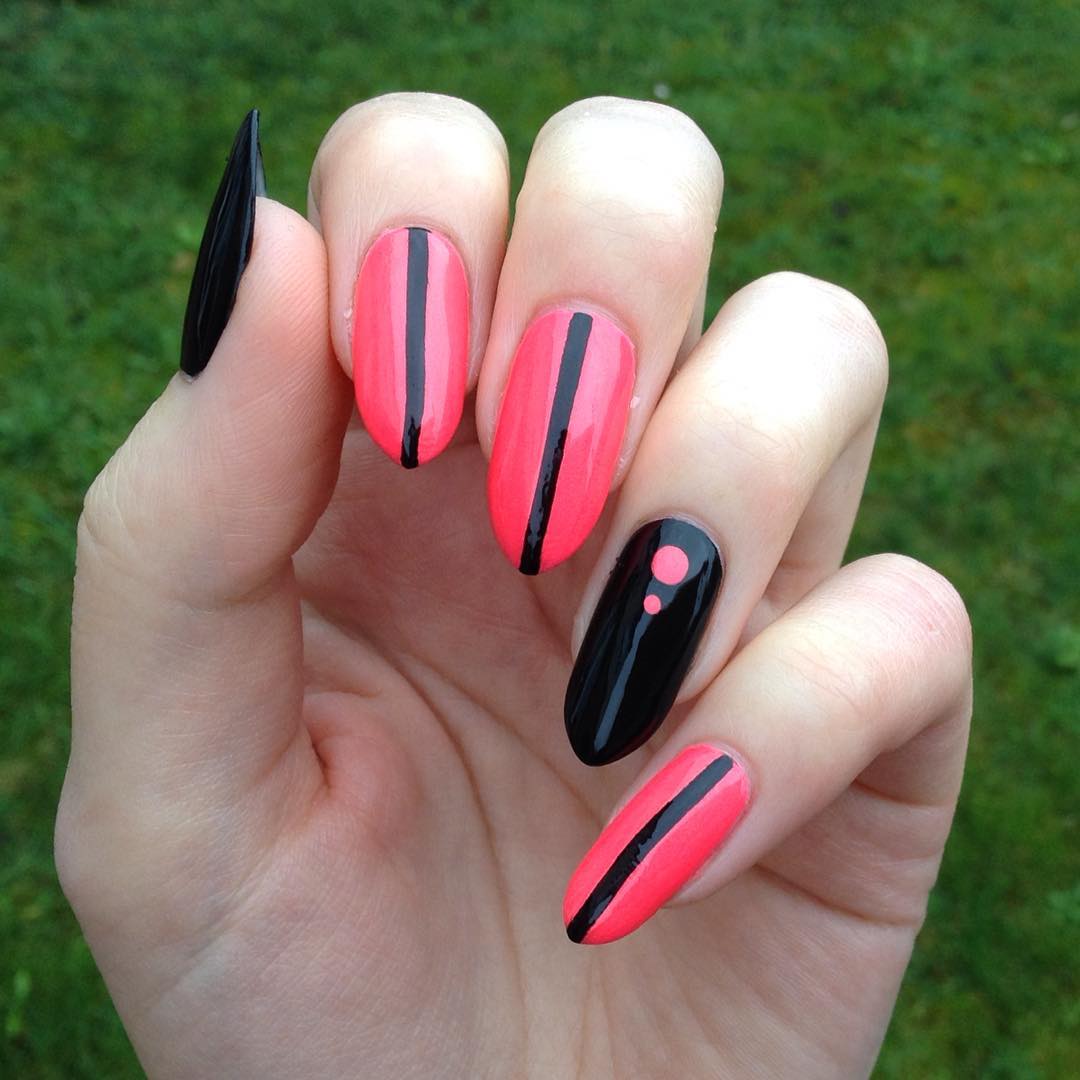 Red nail art has always had a thing for black. The black design nails loudly depict authority and strength. Save this red and black nail design for a perfect execution!
37. Not a Silver Lining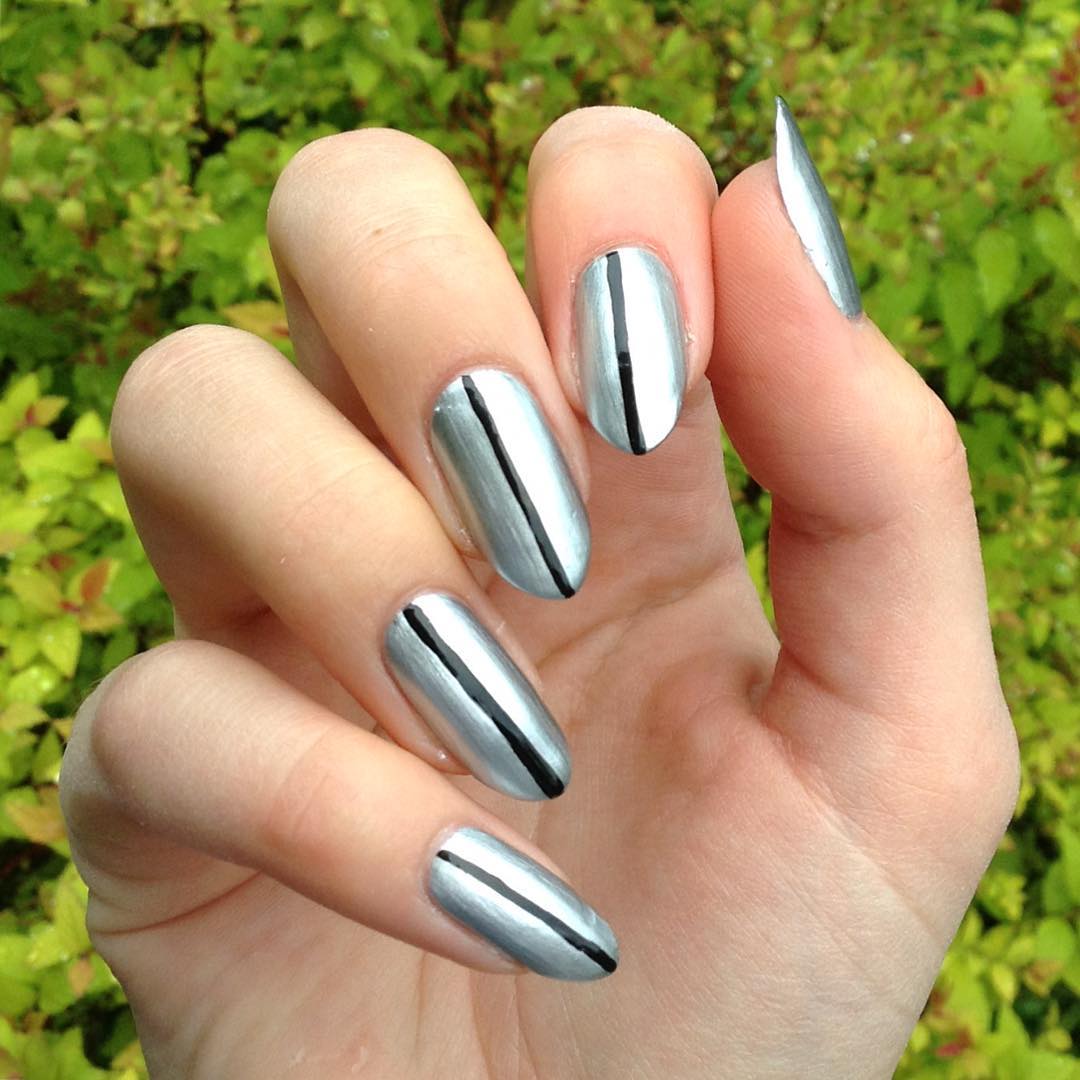 The darkness of night touching the silver moonlight, showing mercy on us, the venerators. Powerful ladies, this one's for you.
38. Graceful Daze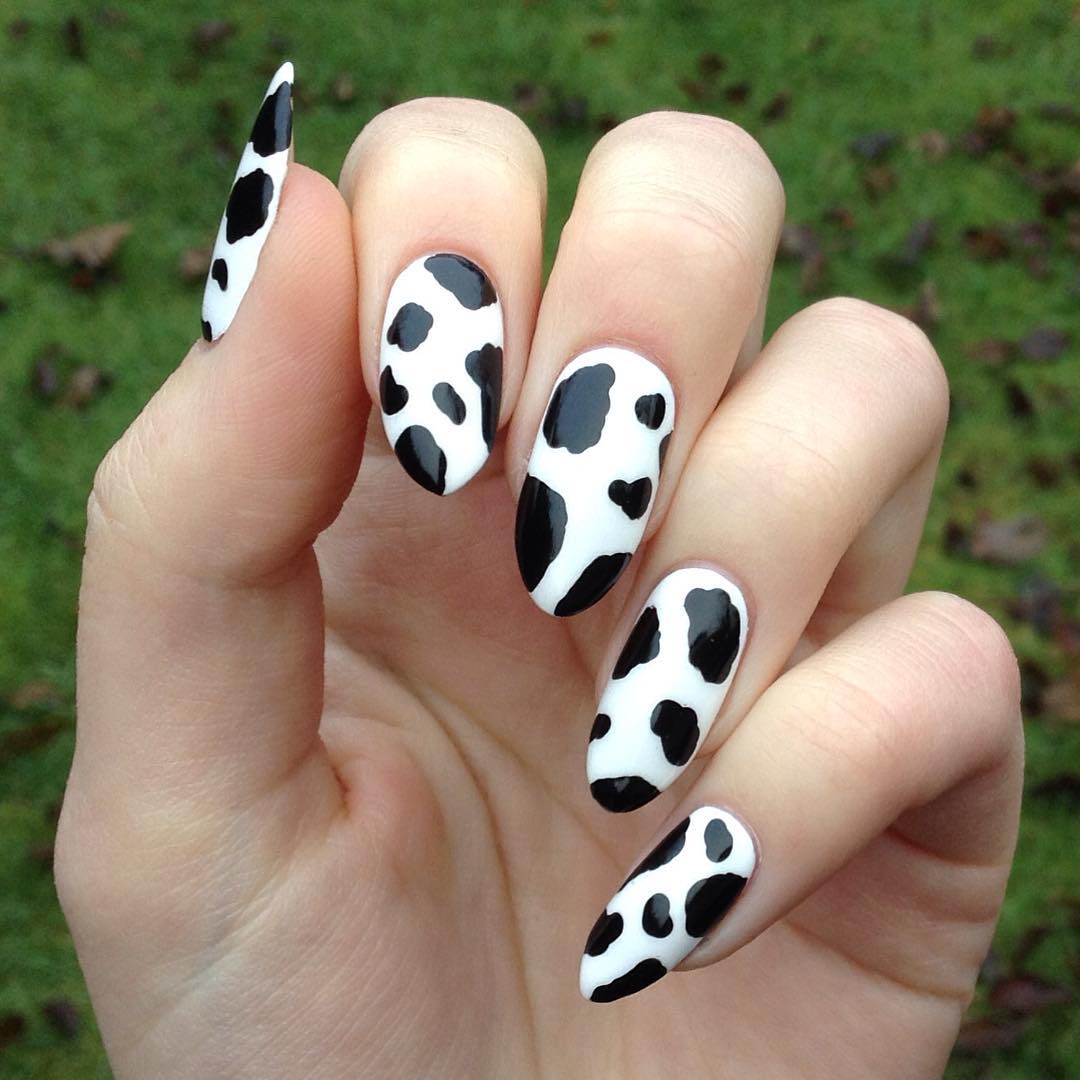 This nebulous black-and-white nail art is so wondrous and yes you guessed it right, the cow print look. Try it once, and you will have a whole set of new vibes.
39. Hearty Welcome
Just with nude and black nail polish, you can create miracles. And this nail art is one such example. With creatively drawn heart shapes, one side filled and the other side empty, it's one of the creative nail art in black designs to make you feel complete.
40. Curves and Moves
This bewildering nail art in black can never be guessed – moon, music, moves. But whatever it is conveying, this is such a lovely work. Diligently, this simple nail design with black lines is a real showstopper.
Wrapping up:
To sum up, I am delighted that I have shared with you the most important topic in the manicure world. The above cataloged 40 trending black nail art ideas would save you from scratching off your heads for the next black nail art. 
My favorite in this series is numbers 25 and 28. I am planning to try them for my next slot. I have always had this thought, 'It is always better in black. If it is not black, put it back.' And I know many of you would also agree with this.
Black portrays each one of you differently –  goddess, witch, etc. all depending on the nail art you do. Wear black and live a colorful life. Wing your eyeliner, paint your nails black, chin up, you got this, and you own this. Have a busy day of compliments with these black nail art designs!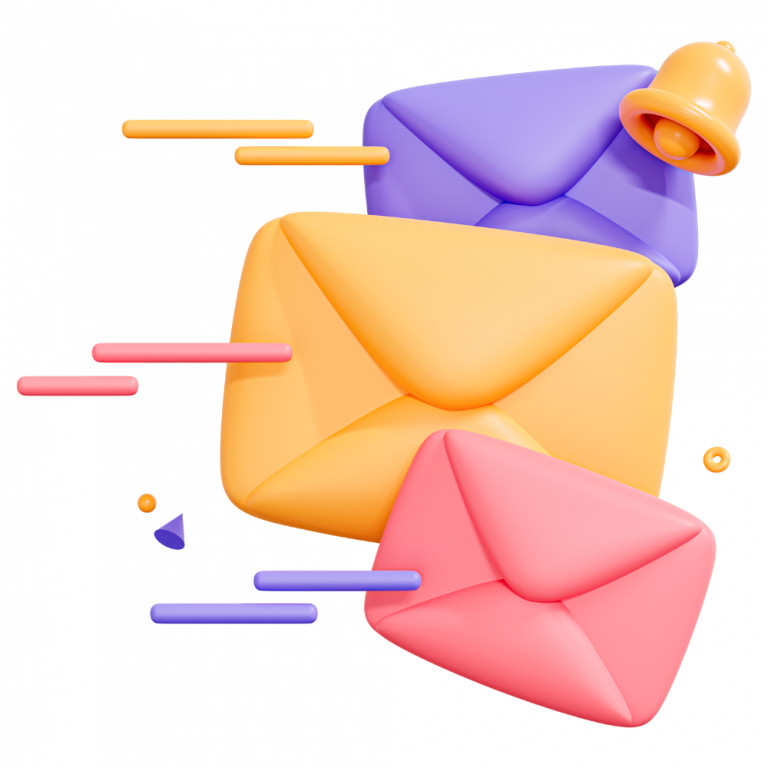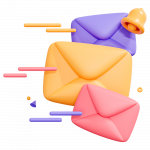 Read related: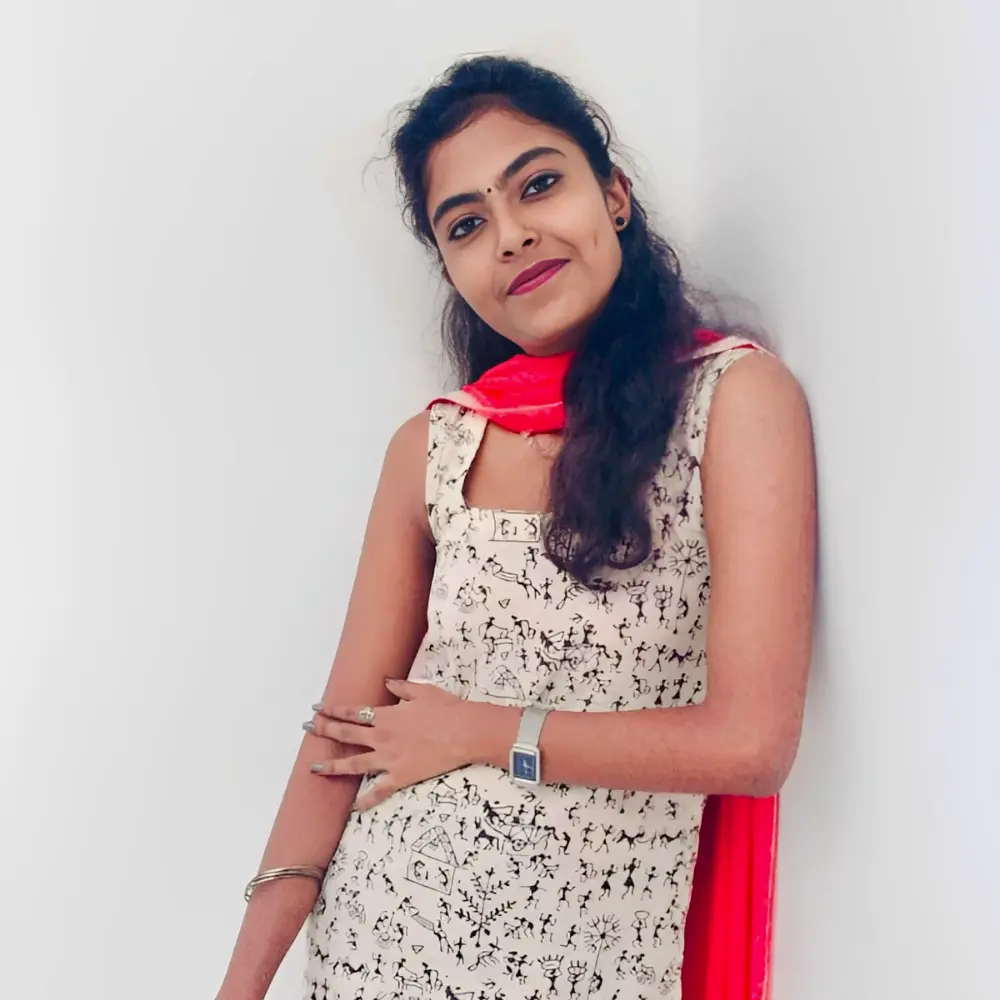 She is a manicure enthusiast and fashion blogger who believes that nail art is a wonderful way to add colors to life. With a passion for learning new nail art and manicure techniques, Jeroline eagerly explores and shares her knowledge through captivating content.