51 Stunning Red Nail Art Designs for 2023
Red nail art has a magical attribute of beauty and bossiness as it goes well with any outfit, modern or ethnic. And the classical and wondrous nail polish, I mean red nail polish, should be a primary color in every woman's vanity box. Why so? Well, read further!
Red is the color of life itself. We are alive because of that red liquid flowing back and forth from a red organ. And the bright and revealing red nail art is a feast for the eyes. Besides, red nail polish has had great value since time immemorial.
Red's position in the spectrum of colors is indomitable. Red depicts passion and at the same time, it depicts danger. And life is all about learning to balance these contradicting characters and this color, red, appreciates these energies and boldness.
Whether it is a red rose or red lipstick or red nail art, ultimately attracts attention and shows that you are a powerful woman.
Out of so many shades of red, such as crimson, scarlet, ruby, wine, apple, rose, cherry, burgundy, brick, etc, you can choose the shade for your next red nail art that goes well with your skin tone. Plus, each shade of red has a wow factor. Nature has all these shades imbibed in it. How surreal!

So, if you are looking for red nail art inspiration, you are on the right page. I have organized for you 51 cute red nail art designs for 2023. Get the red nail inspo here and experience the magic each nail picture brings forth.
51 Stunning Red Nail Art Design Ideas for 2023
It is time for the divine sight of the stunning series of red nail art designs! Check these red nail ideas, try them, and boom with some of the newly designed red nail trends.
1. Fall in Love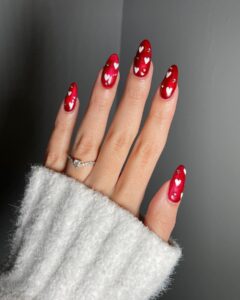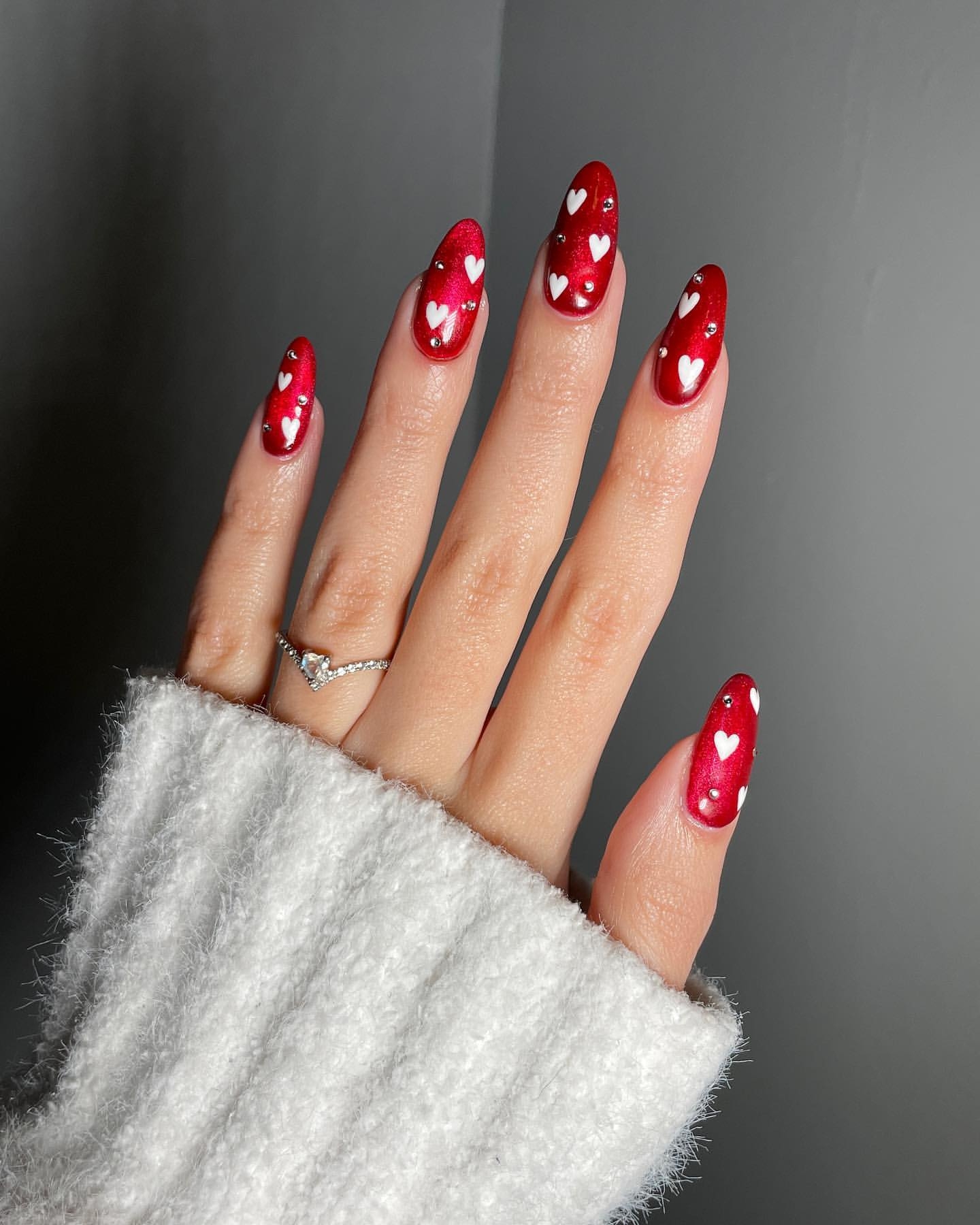 This vibrant red gel nail polish on which lies pretty white hearts and rhinestones is extraordinarily breathtaking. Such red nails with rhinestones suit great for dates and engagements!
2. Wine and Cherries!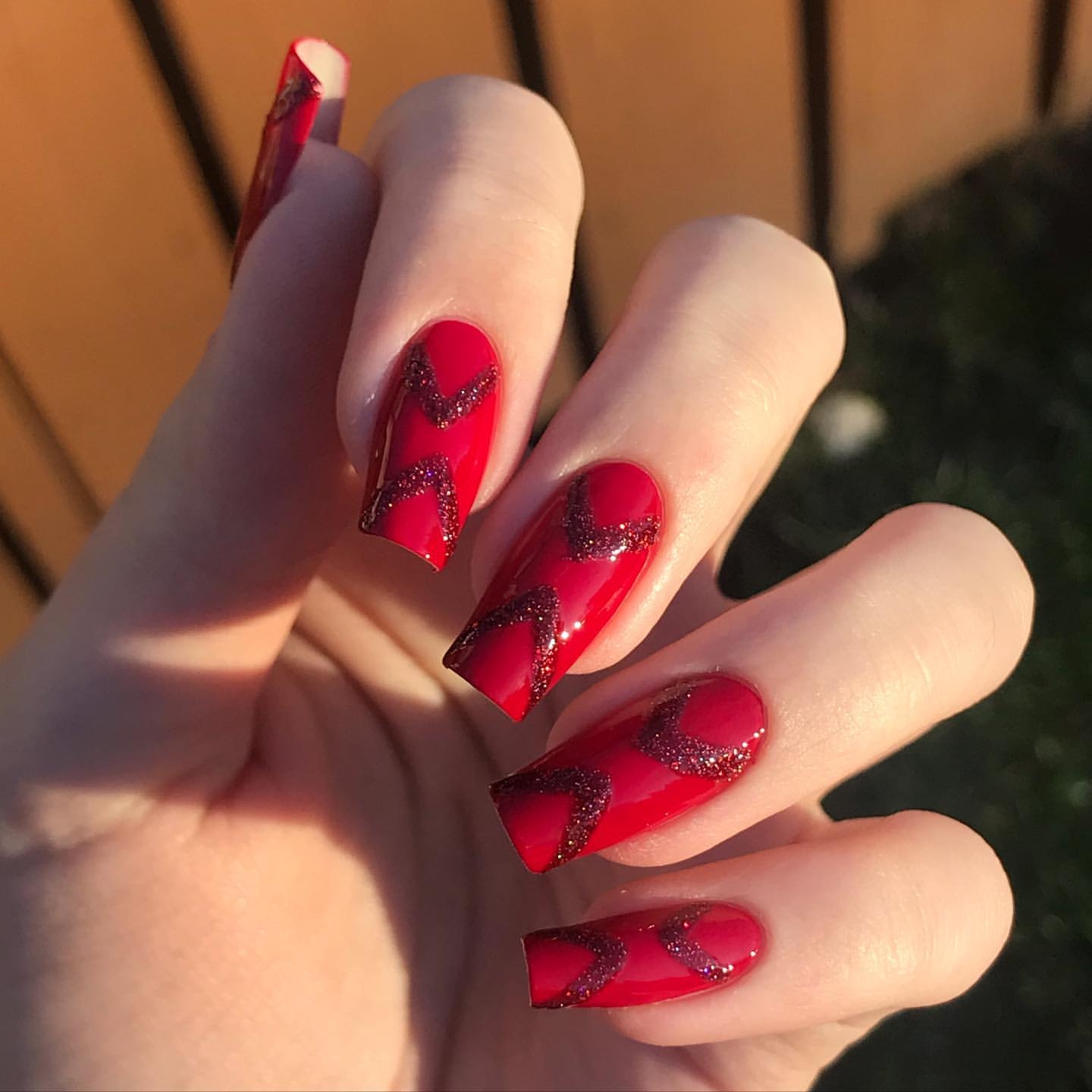 This cherry red nail art combined with the wine-red glittery V's is an ecstatic view. By using a proper nail art brush, this ecstasy can be replicated.
3. Life is Beautiful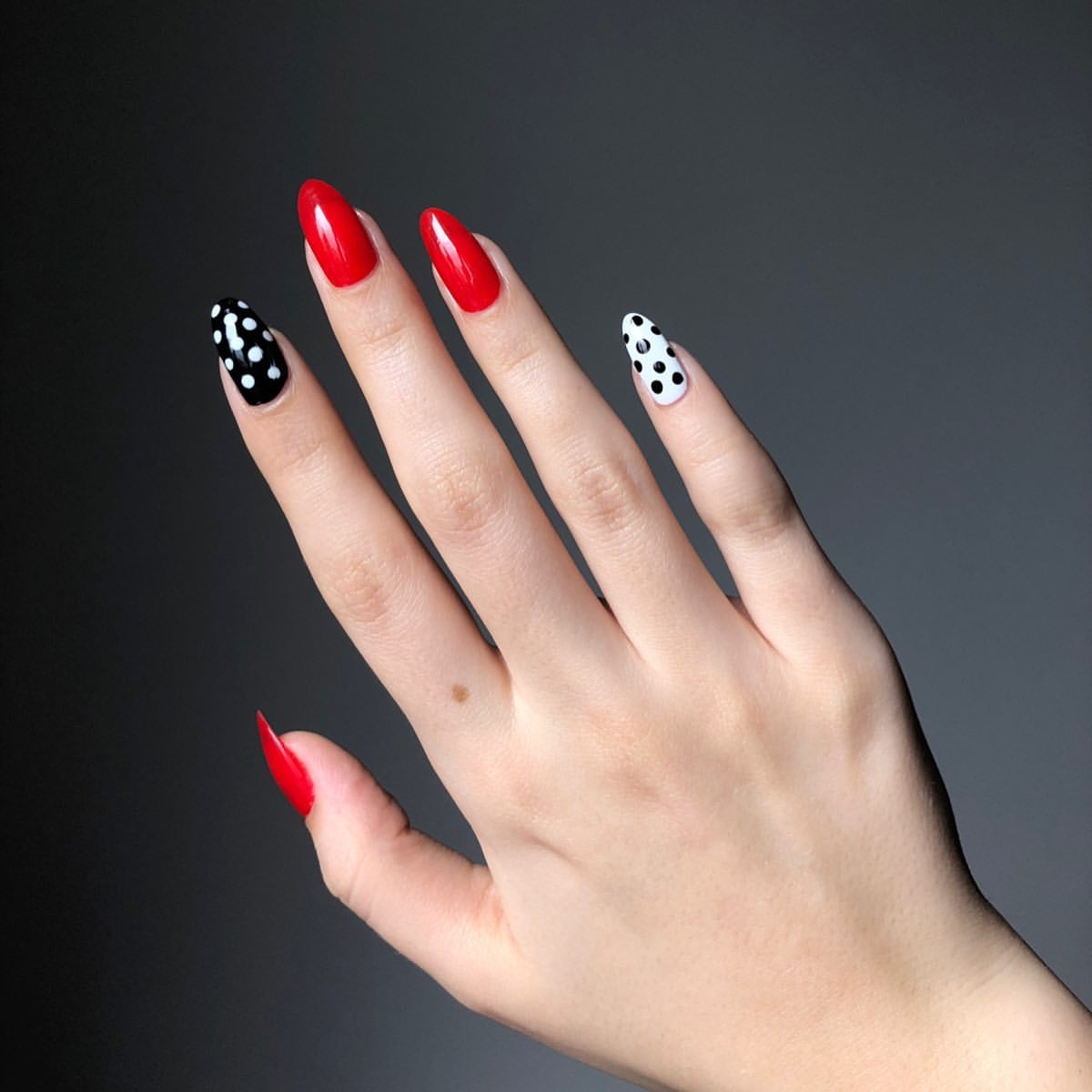 Nail polish colors of red, black, and white – are enough to create a masterpiece! Dazzle with the dots and you will find a spike in attention!
4. Fiercely Independent
This nail in red has numerous gorgeousness attached to it. It's highly suited for office wear. Only thing is, you should file the nails properly with a nail file before the start. There are many noteworthy ones, one among them being Bona Fide Beauty's Glass Nail File.
5. Ramp Walk in Red
The rose-colored nail polish itself is blowing up our minds. And the sliding French art is blowing our hearts! Such red matte nails are a sure try for special days!
6. Checkmate!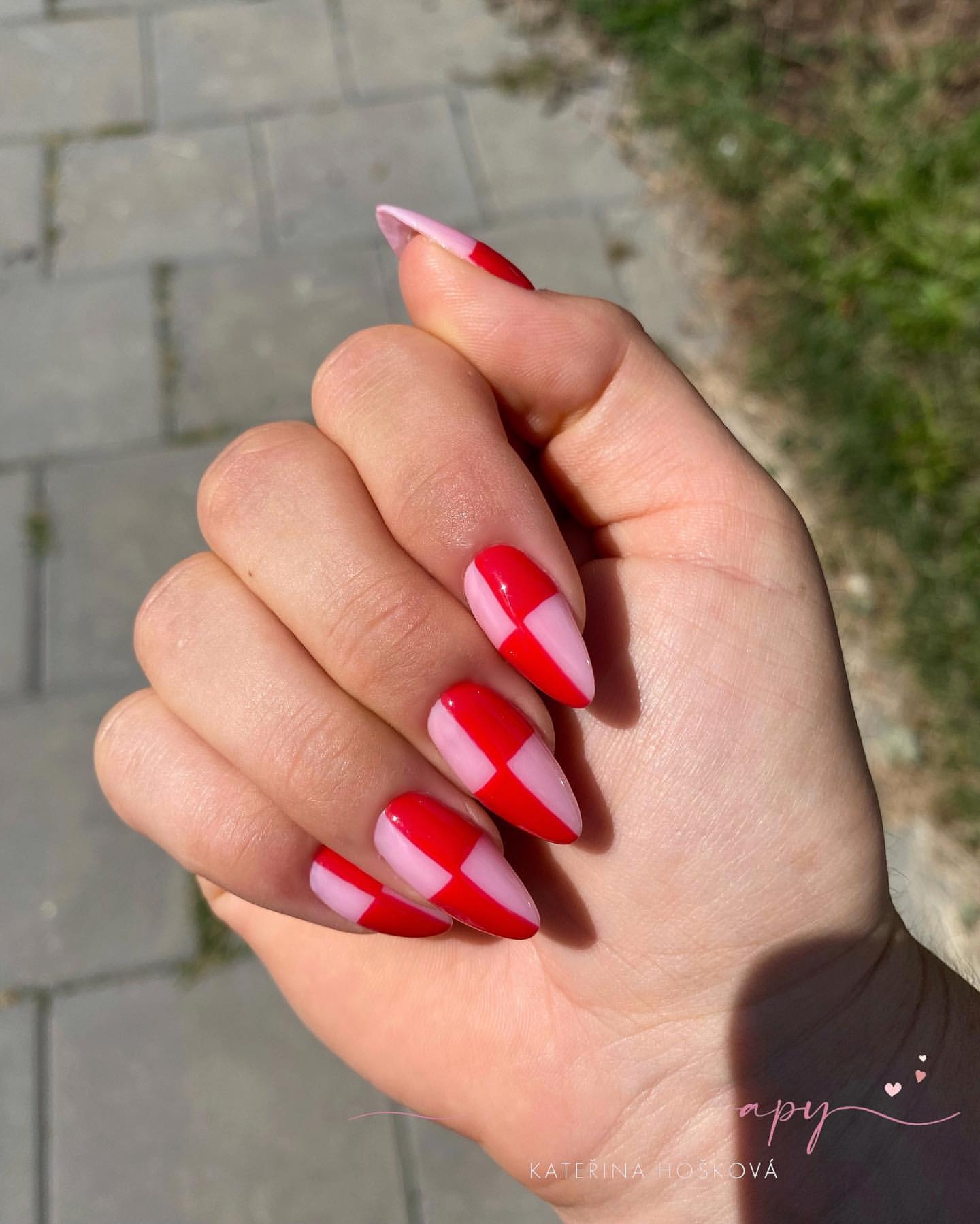 Phenomenal! The pale pink and the topmost red checks are amazing as you crown up as the queen. For a long-lasting manicure, don't forget to prep the nail with a nail primer.
7. Devil's Workshop
Such iridescent long red nail ideas freeze my heart with their red and black magic. Plus, these red and black nails give a trippy vibe. Get entranced!
8. Take a Bite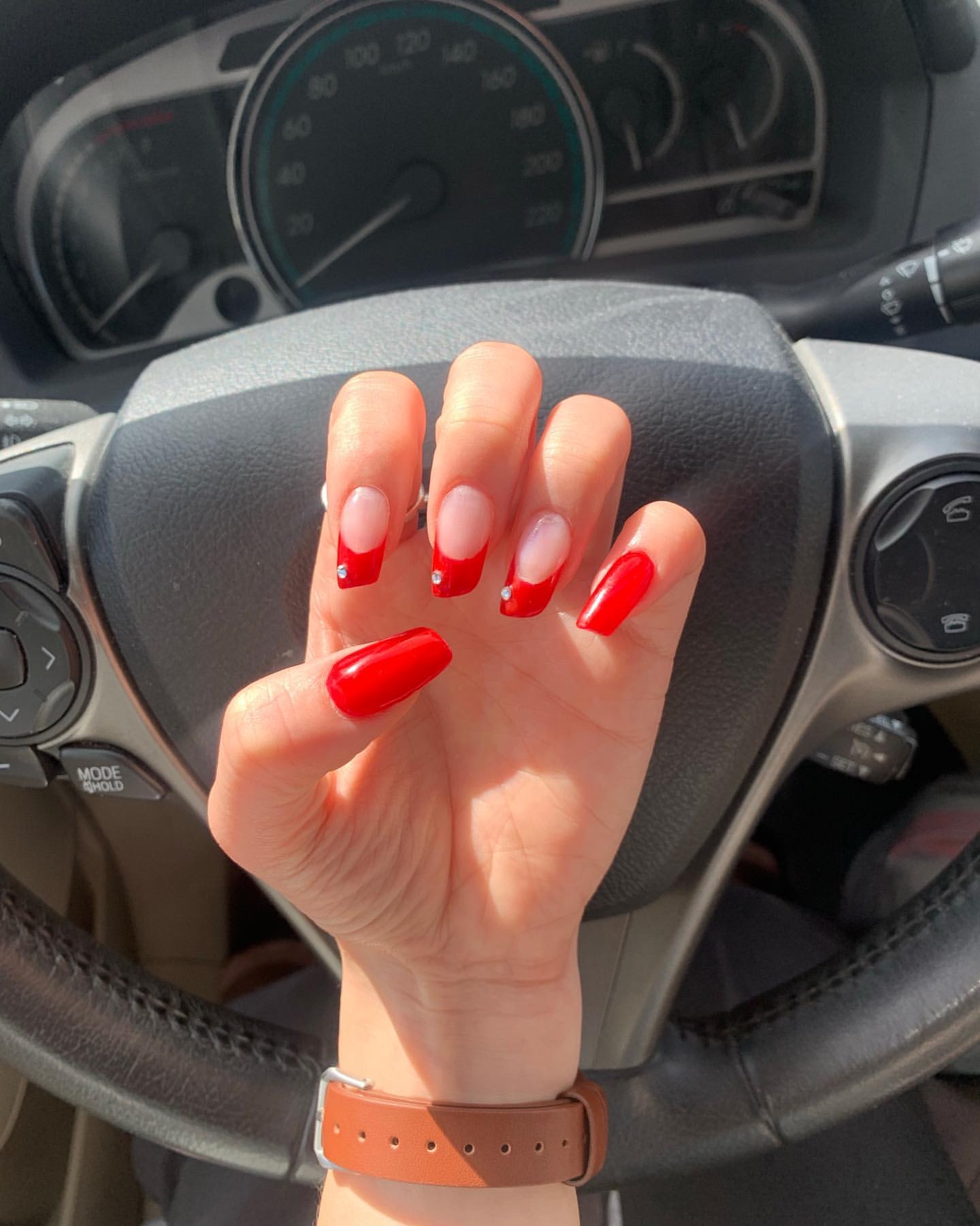 These candy red nails at the tip (resembling the lipstick shape) with a perfect placing of the shiny decal look like a topped candy cake, delicious and delightful.
9. My Heart's Stolen!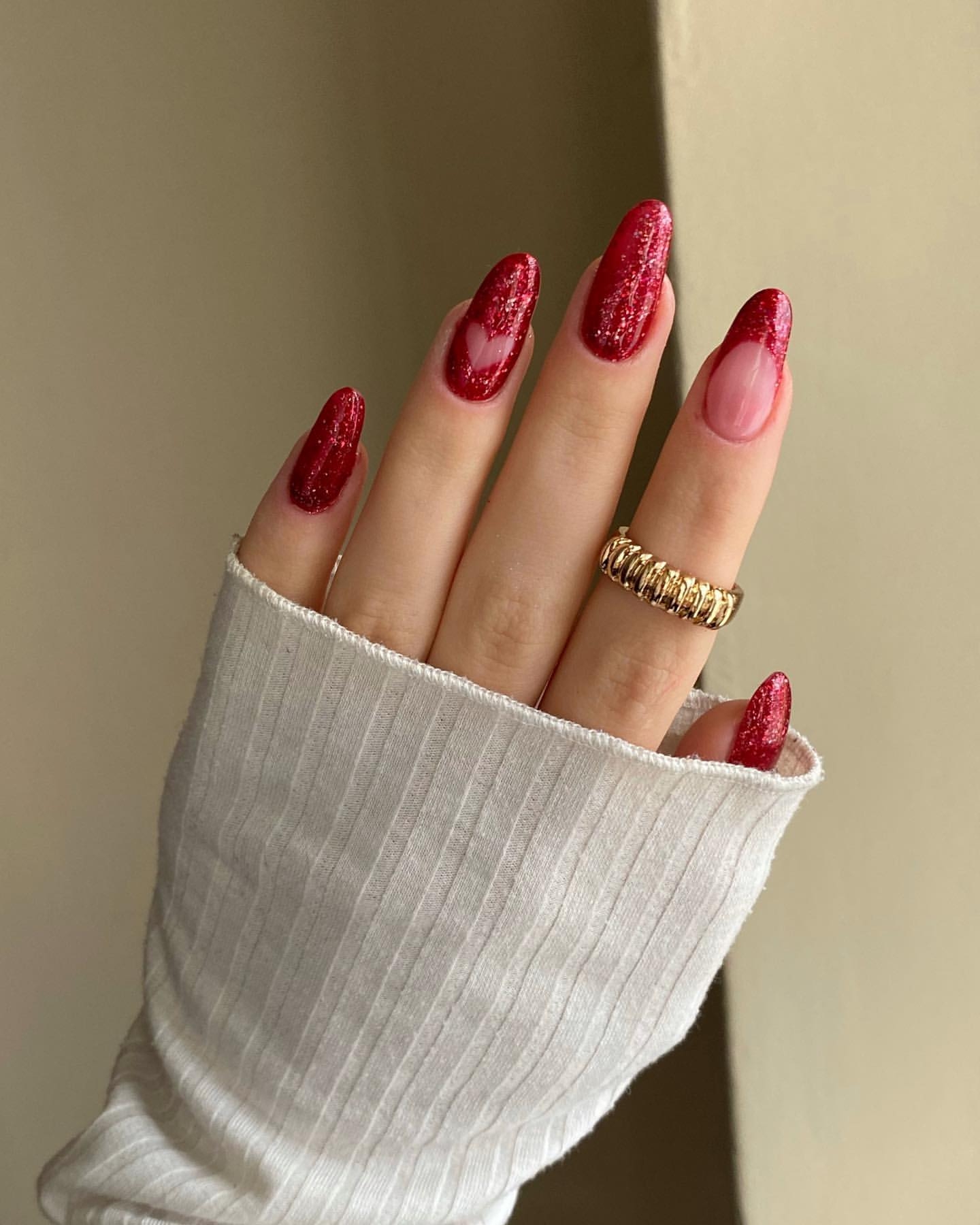 This ethereal red nail art is beautiful beyond human description! And the ruby red nail polish's worth is more than the original rubies!
10. Not a Red Herring Though!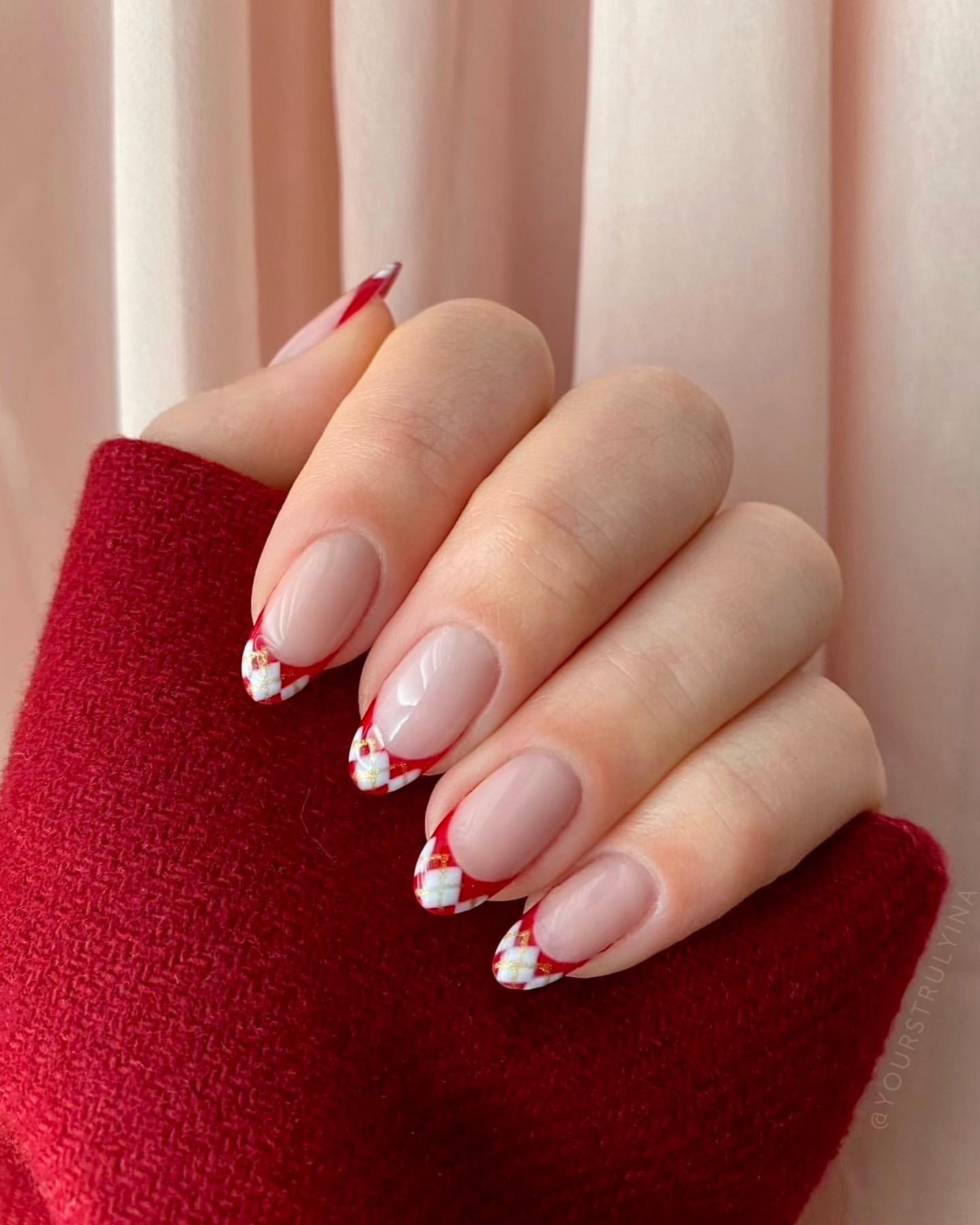 This red nail art is filled with so much charm that it needs to be untapped by replicating it. French manicures of this type are so alluring.
Post You May Like: 35 Cute Butterfly Nail Art Designs for 2023
11. Soaked in Wine
The wine-red soaked nails with a white color of sprinkled confetti are a lovely work of art. Special occasions get honored by this red nail art.
12. Heart Sandwiches
Don't let your heart fly away, keep it safely enclosed within the red carpets of love. Try out this ravishing look and I am sure you will love it.
13. From None to Nifty
The red nail polish drips past your nail as you proclaim your success loudly. From nothing, anything is possible! The red ombré nails stand unique in this whole set.
14. Do You Like Cherries?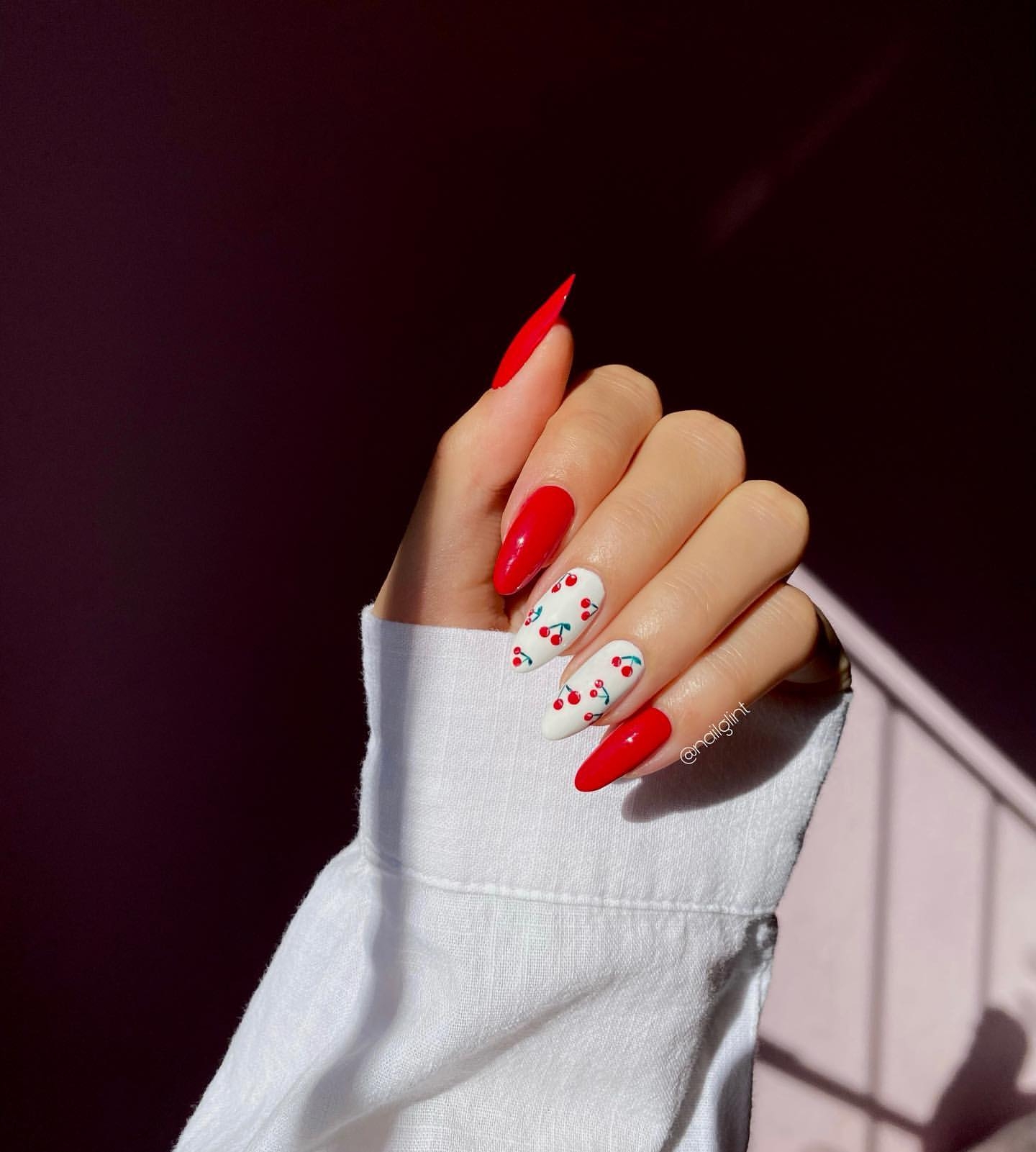 This exquisite red nail art with a bunch of cherries hanging randomly in your red garden is sweet as it is. PS. Snowy white nail polish from Essie is a good one to start with.
15. Knead With Red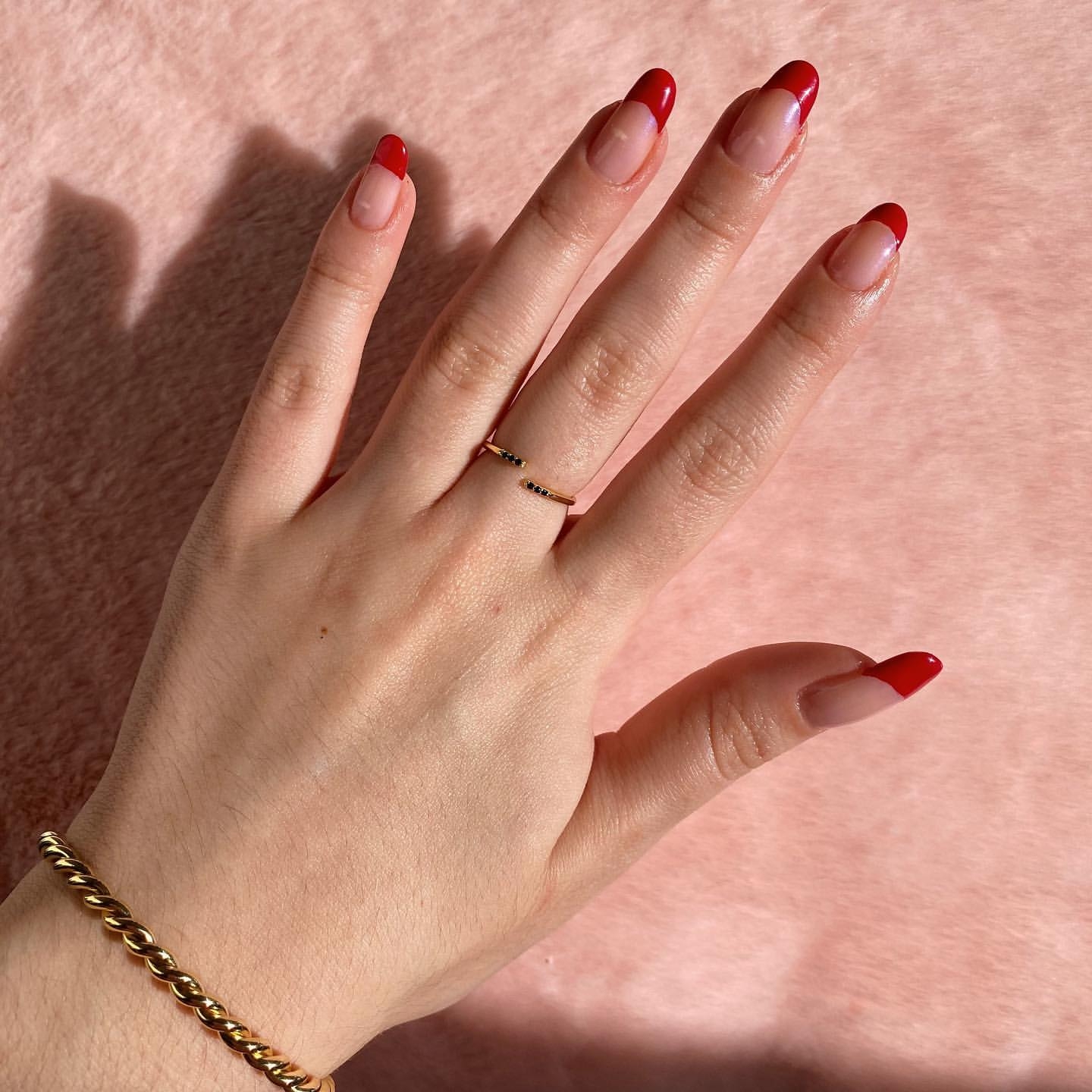 Serene and mystical! The scarlet red nail polish tipped nails suit well for important office days and meetings. Apply a glossy top coat and seal the shiny look for up to a week.
16. You Live Only Once!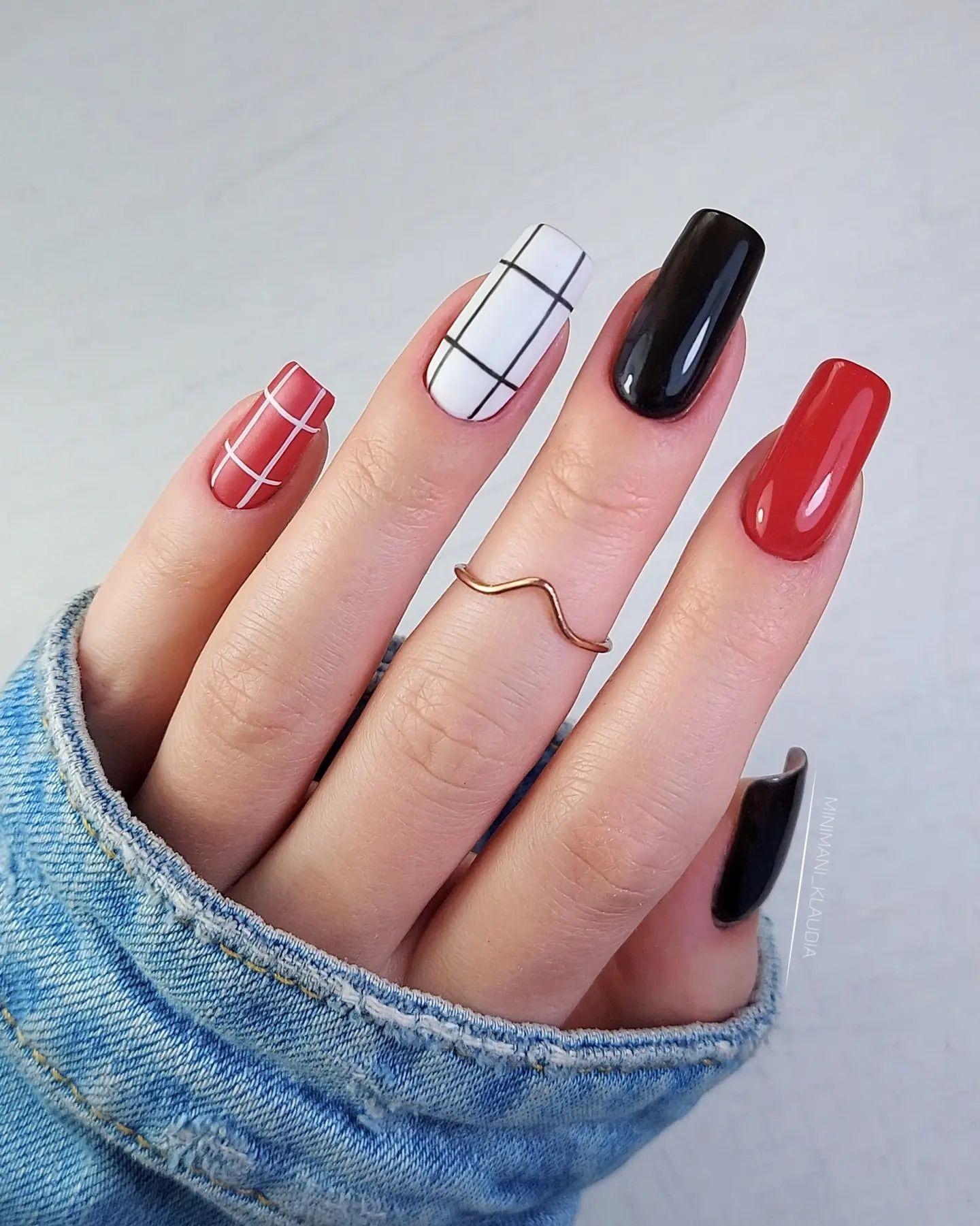 You have no rule of settling with one color when you can try this miraculous red nail design with nail art tape stripes. Explore it once and have a busy day! With pure black gel nail polish and red nail polish, widen your nail art skills.
17. XOXO
The adorable red and pink nails are divine work and you should give it a try. All you need is a perfect nude pink nail polish for this art and for such smoothness, look for a good nail buffer from a reputable brand such as Revlon that I prefer.
18. Razzle-dazzle
Is it gothic? Or is it classic? You never know. But one thing, this drop-dead-gorgeous nail design with red is sure to steal hearts as you pass by.
19. Heart in Heart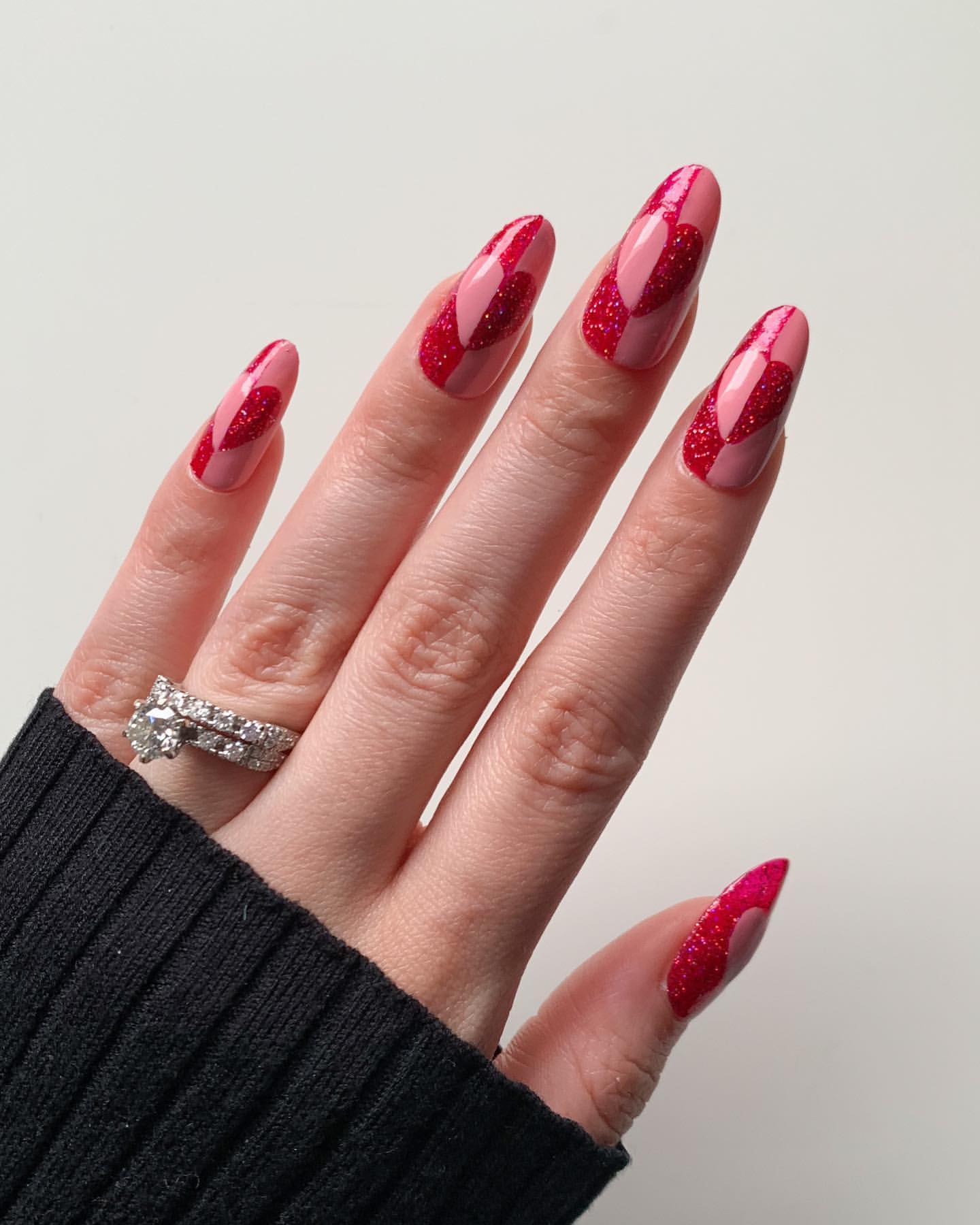 This complements your date nights and wedding receptions. Keep your cuticle moisturizing and hydrating before and after the nail art with toxin-free cuticle oil to make your nail art more appealing.
20. Enchantress!
Red shows its craziness more in the presence of black and this is what it looks like. Be an enchanter with this enchanting red nail art.
21. Teddies, Hearts, and Love
Arctophiles! Check this out! Even if you aren't one, the white and red nail design can be tried upon because of its sheer trait of cuteness.
22. I Am Unstoppable!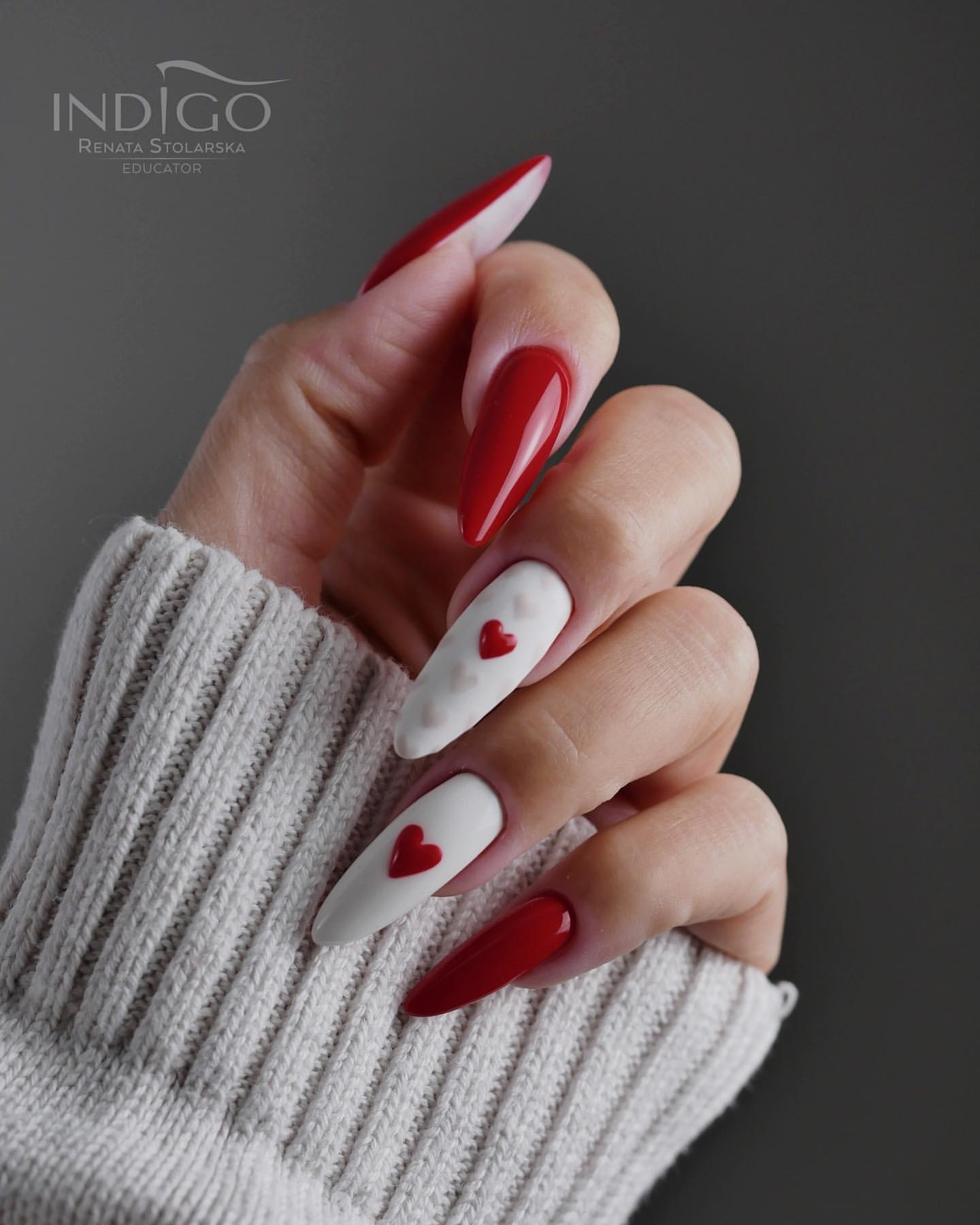 The spectacular view of nail art is itself soothing the soul. Imagine trying it! Most importantly, shield your nails with the base coat before you begin the nail art, for this I prefer Essie's Smooth-E Smoothing, one among the very few good ones.
23. Abstract Palette
The bright red and white French combination and abstract patterned nail art set you as a unique person with a high sense of fashion.
24. Plunging Hearts
Glamorous and glaborous! The bright glitter glam red nail art with its heart at the tip is an awe-inspiring art. Get a wine-red nail polish and a nail art brush to get started!
25. Pacify With Red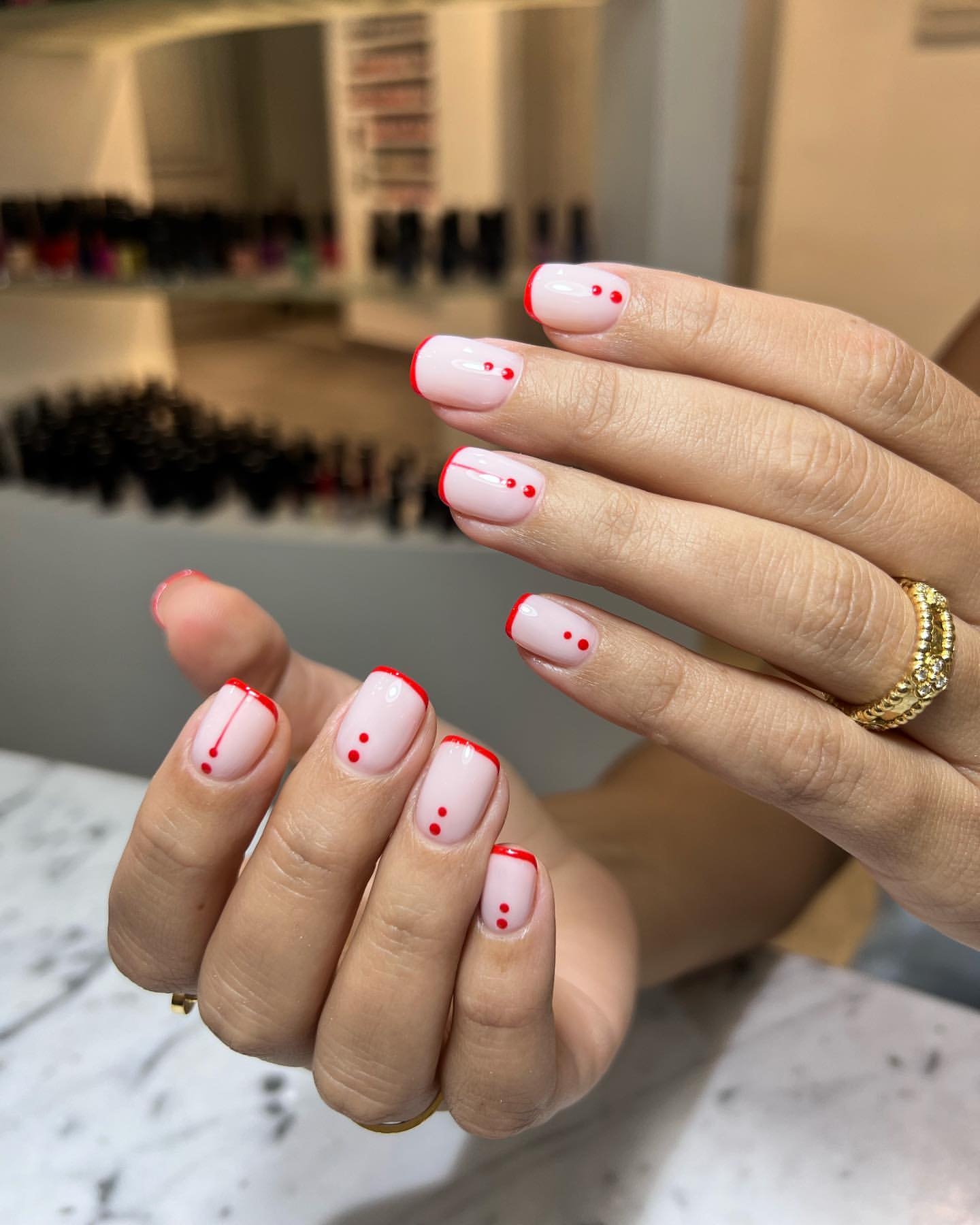 One of the minimalistic red nail designs is this one with red nail tips and red dots at the base. They are super easy to create yet lovely.
26. Hearts that Sparkle
I love these red and silver nails with hearts to the core. You can also skip the DIY process with nail heart stickers! Every heart after hurt and regret deserves this type of welcome on a shiny ramp!
27. Until expensive becomes cheap!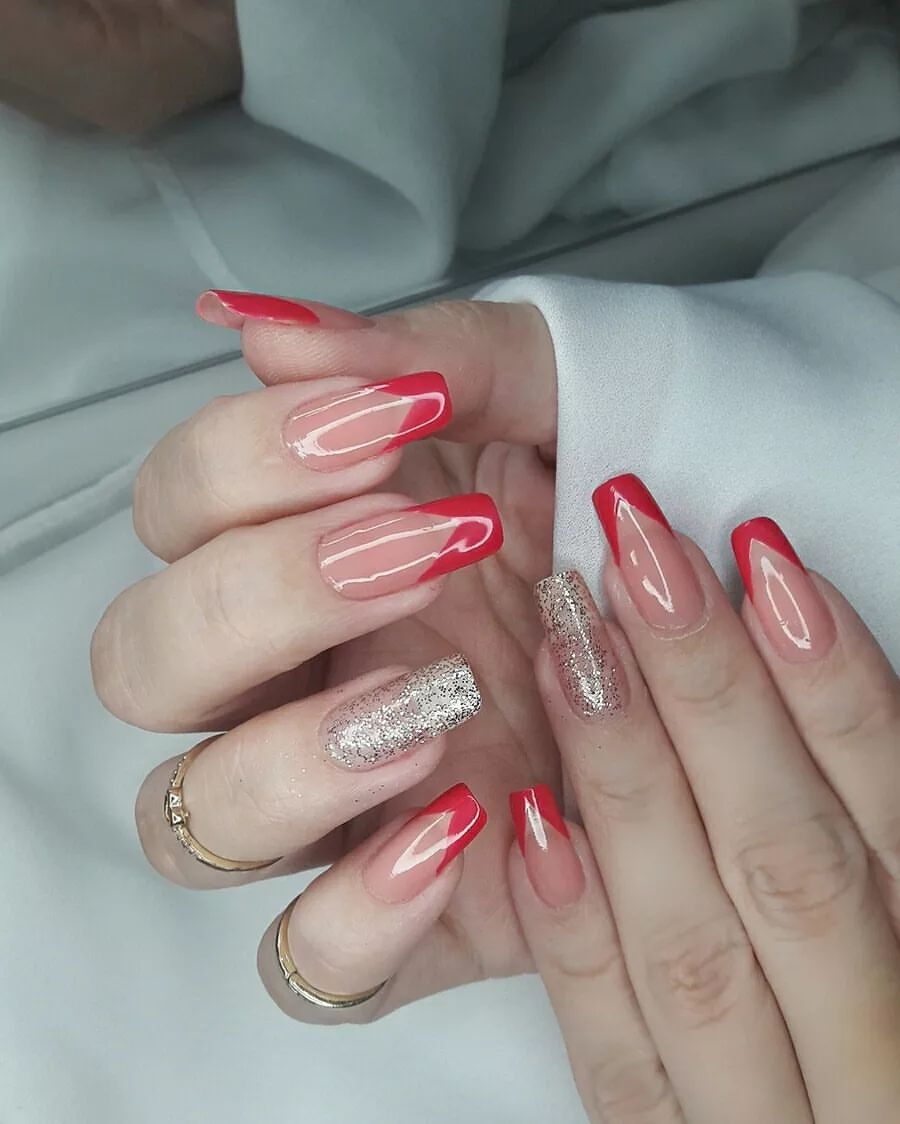 The glistening pearl nail art as it appears is so pretty when exposed to light. Parties when attended with this art become cherishable.
28. Red Springs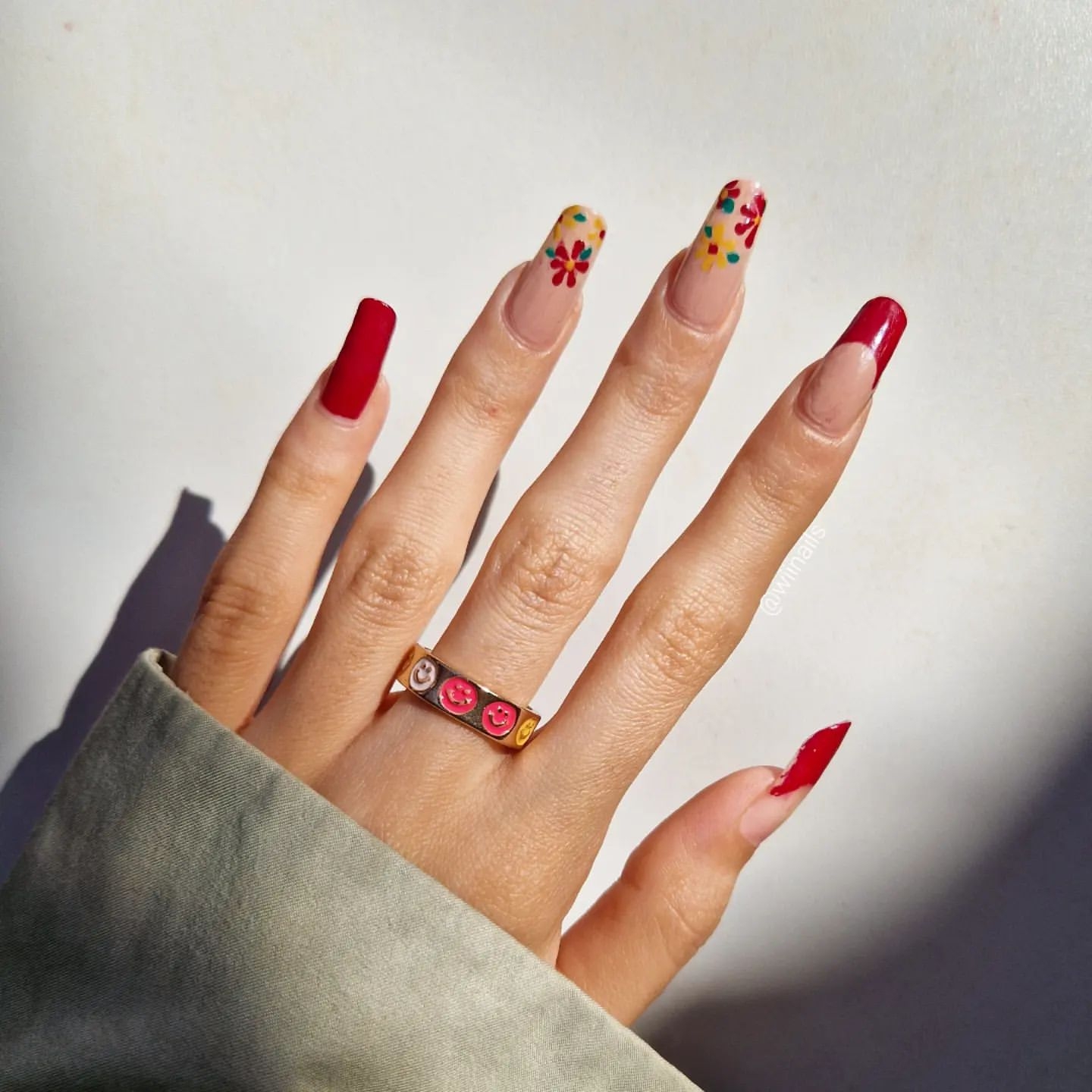 Incorporating floral patterns of daisies amidst red nail art is super charismatic and such classy red nail designs should be a definite try.
29. Uncaged Hearts
The beauty of the nails cannot be concluded with just one feature like others. The Barbie pink nail polish on one hand, red color nail polish on the other and stuffed free hearts say a lot about prettiness.
30. Shades of Love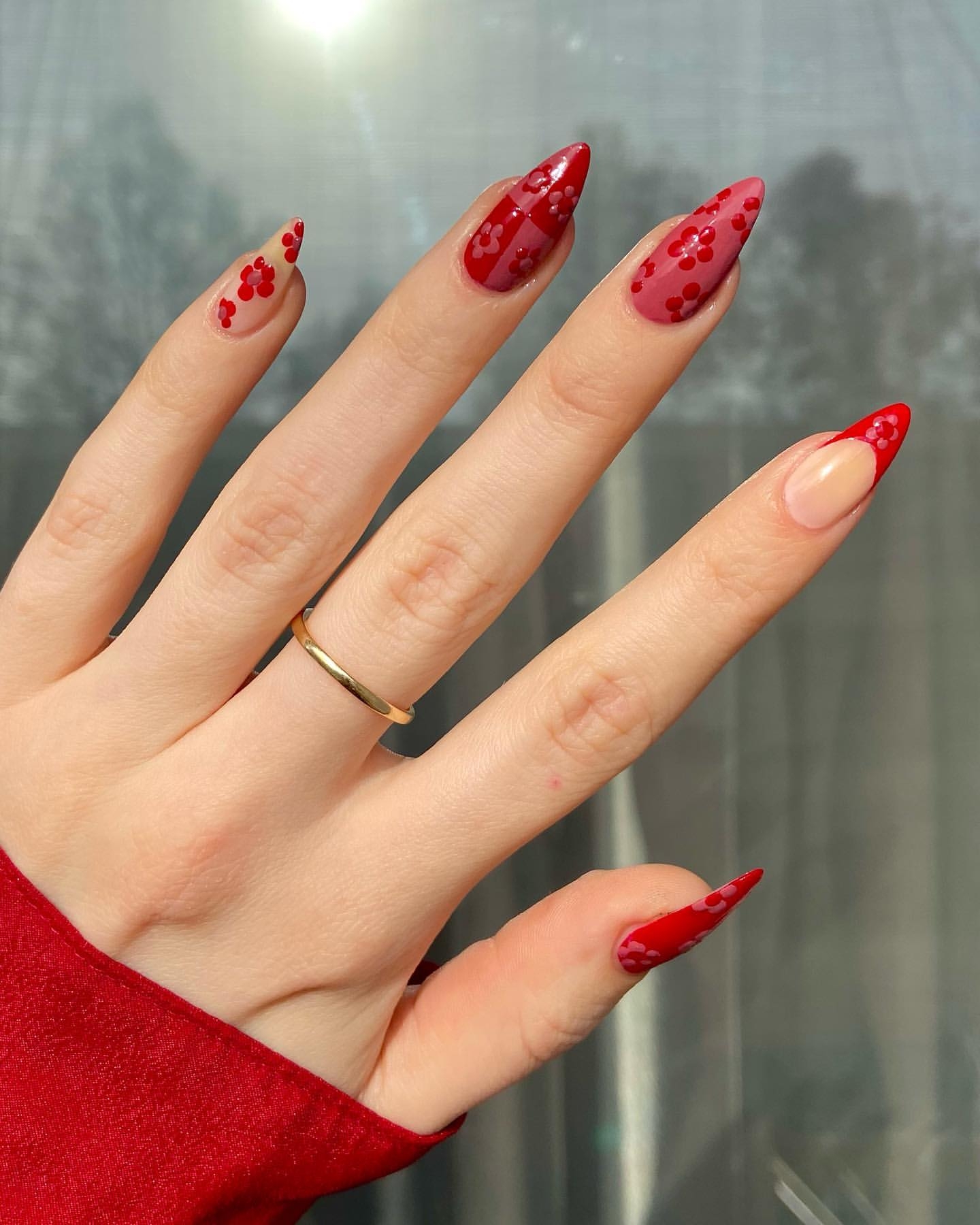 When you love all red nail shades and want to try all-in-one art, then here is the one for you. These red nails with flowers are like a love formula.
31. Perfect Bouquet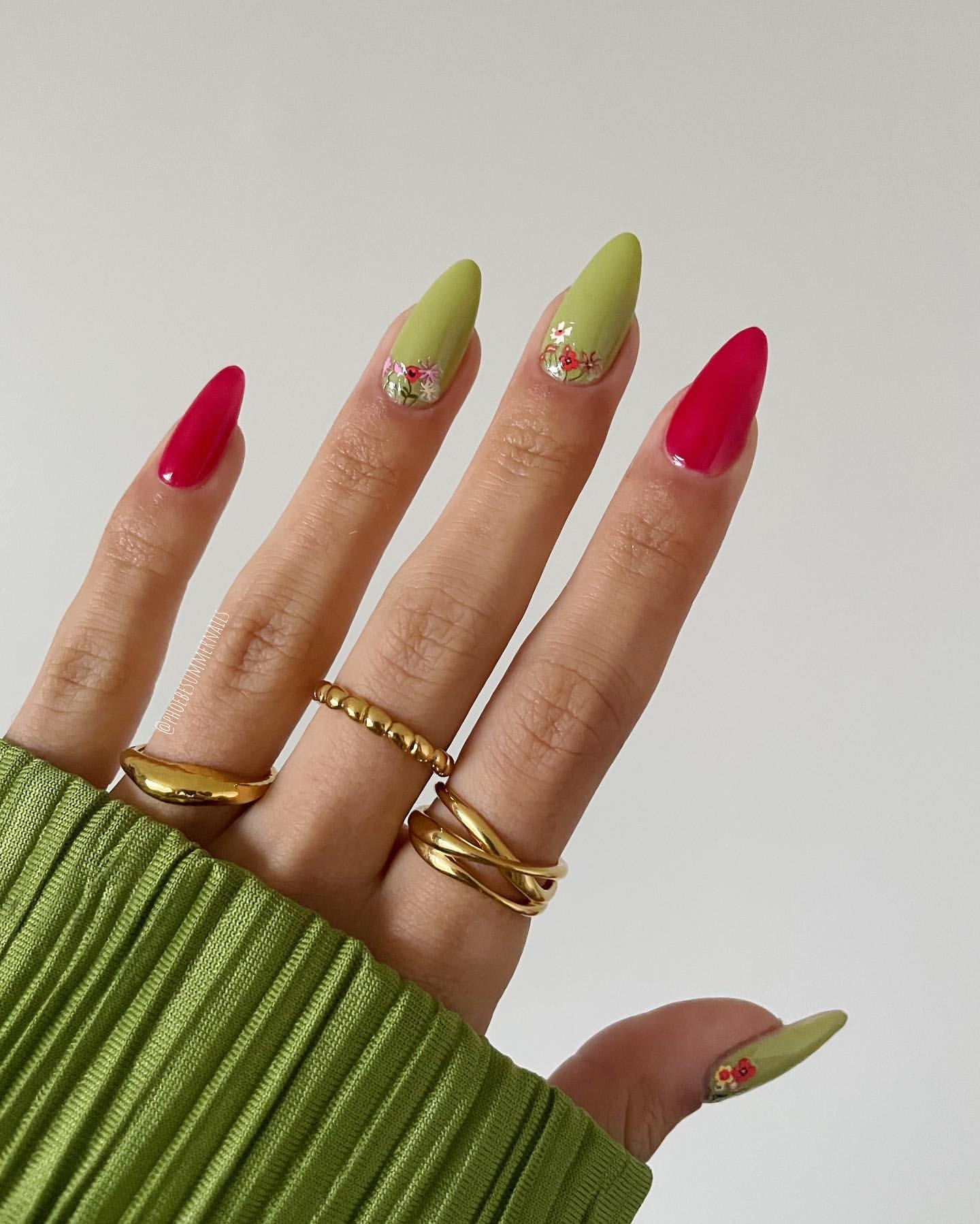 Green also goes hand in hand with red emerging as a euphoric nail art. The tiny bunch of flowers at the base of the red and green nail polish is something I want to recreate for sure.
32. The Midas Touch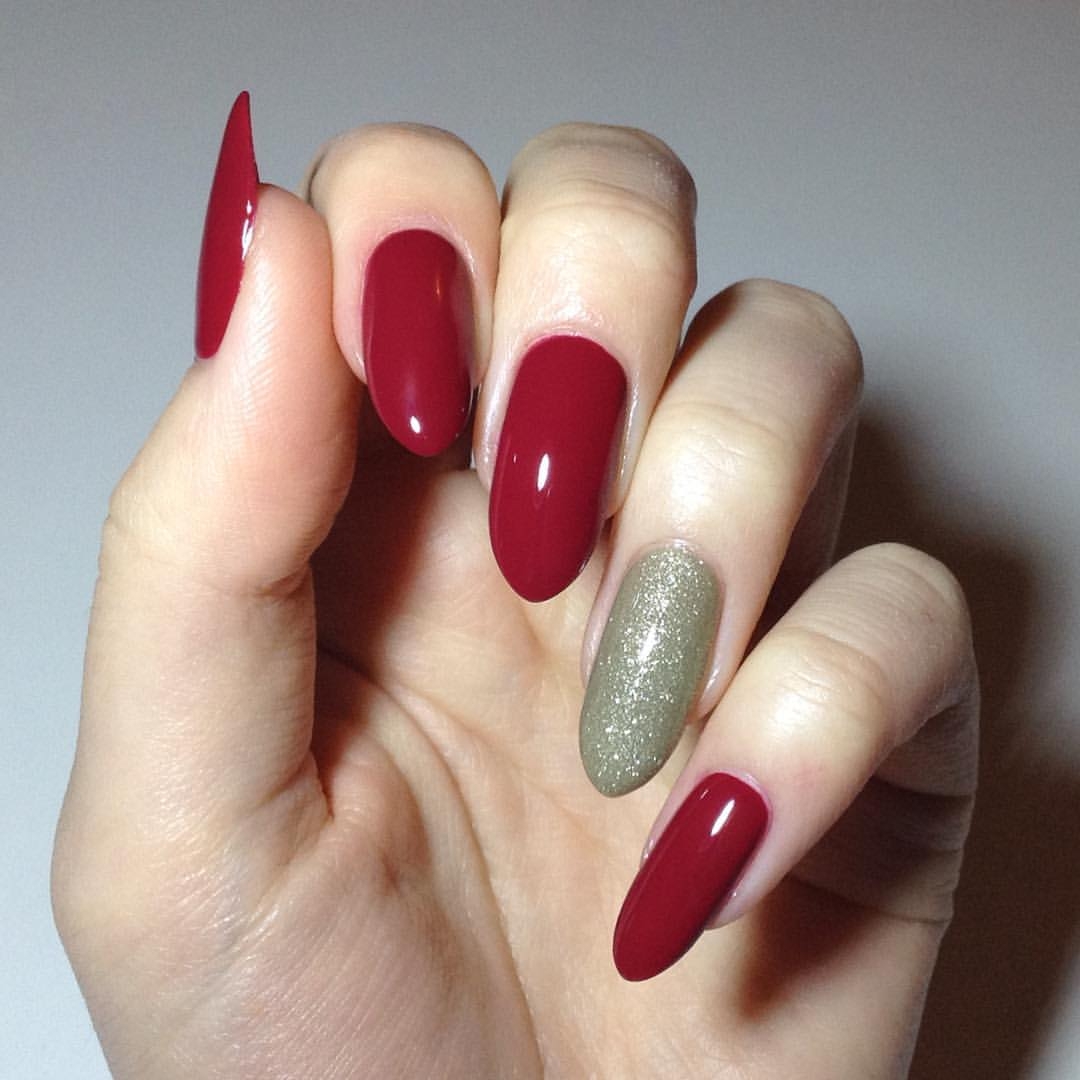 I don't know why, but when I see this red nail art, Marilyn Monroe comes to my mind. Maybe the beauty is as surreal as hers!
33. Red it up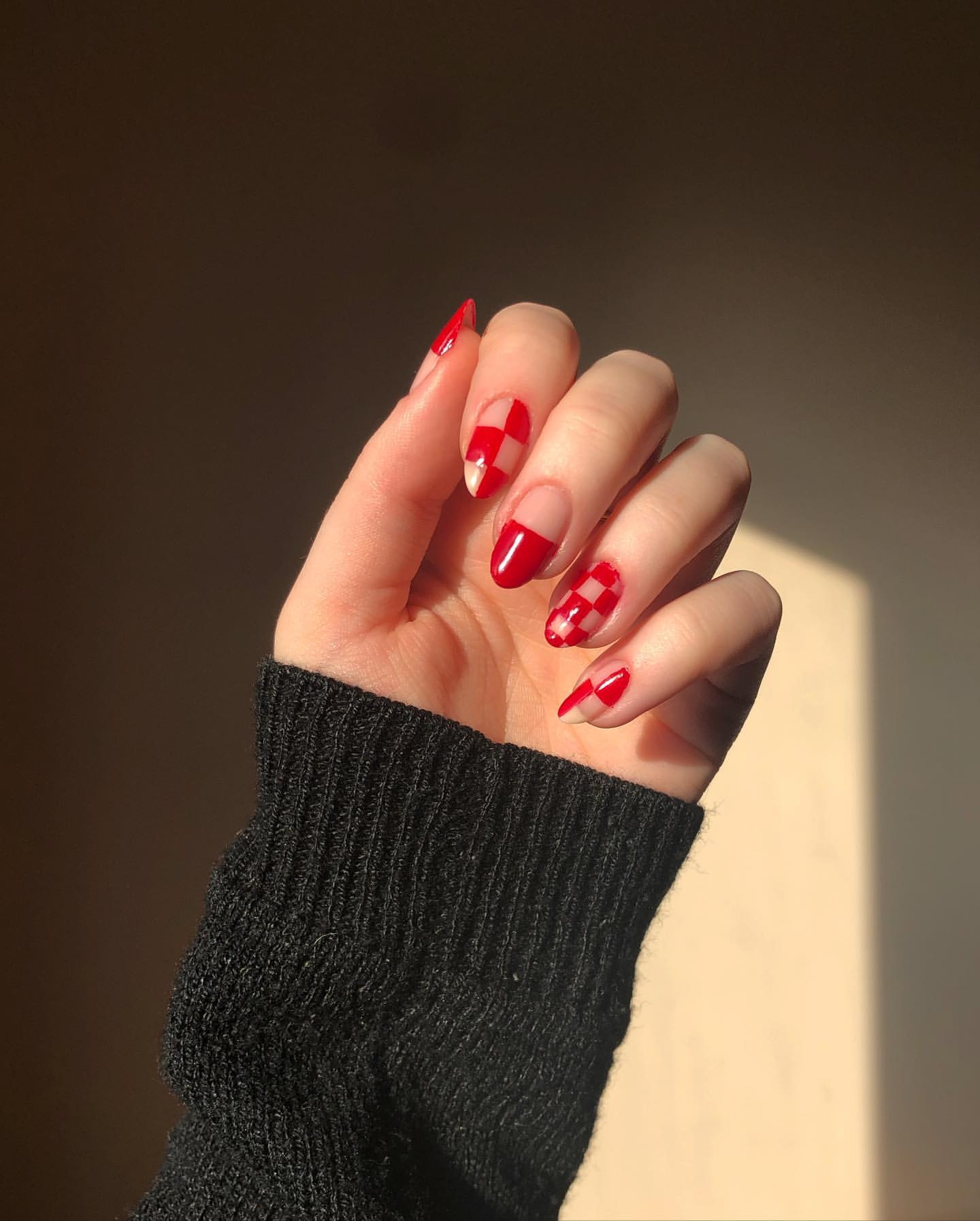 This engaging simple red nail design is noteworthy to try and guess what? It goes well for all sought occasions. Even the subtle elegance of blue nail polish can breathe new life into cubes, infusing them with a captivating vibrancy.
34. In My Garden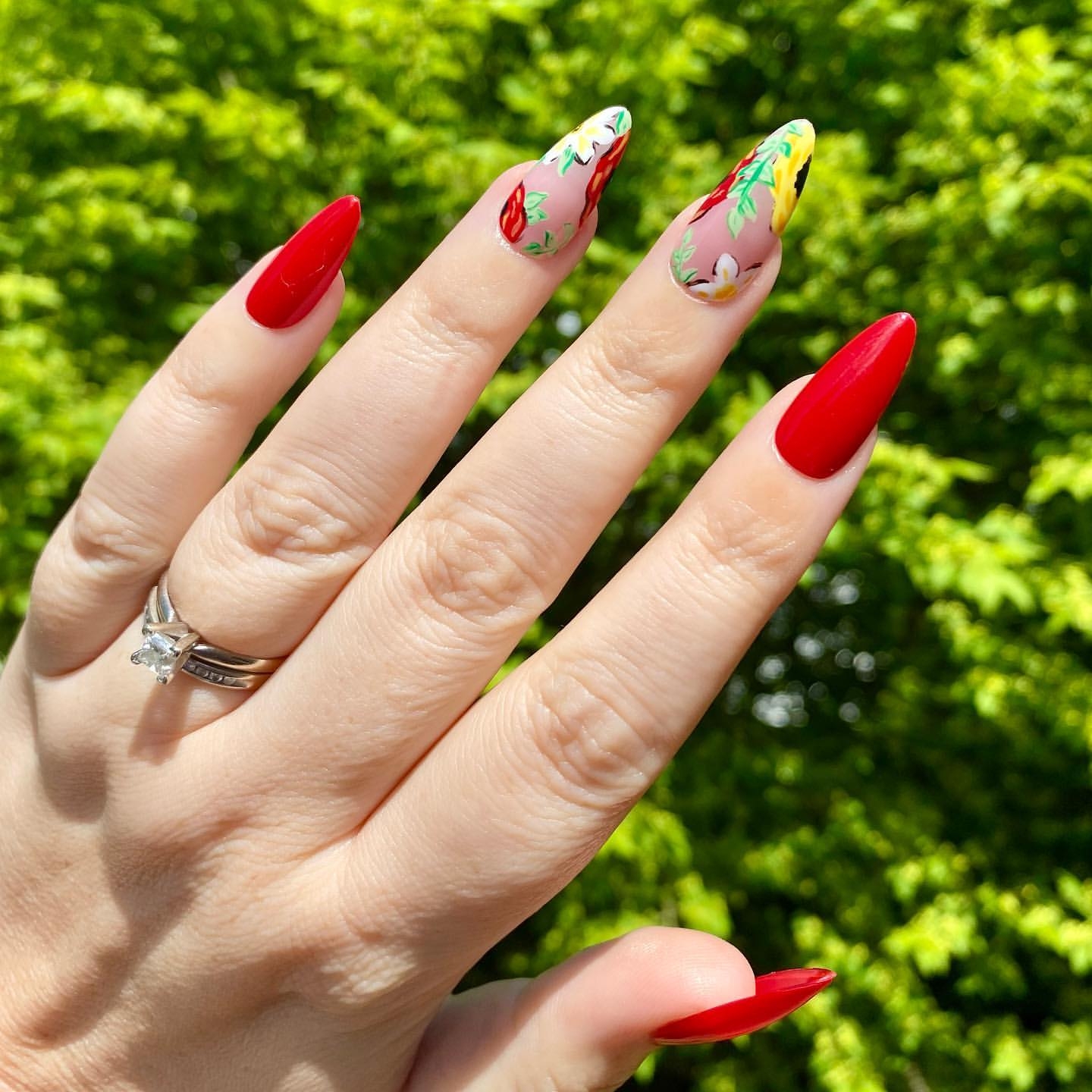 This is magnificent as a painting on a wall. The Fuschia red color matched with the floral pattern of soft colors goes well beyond appreciation.
35. Boundaries Matter!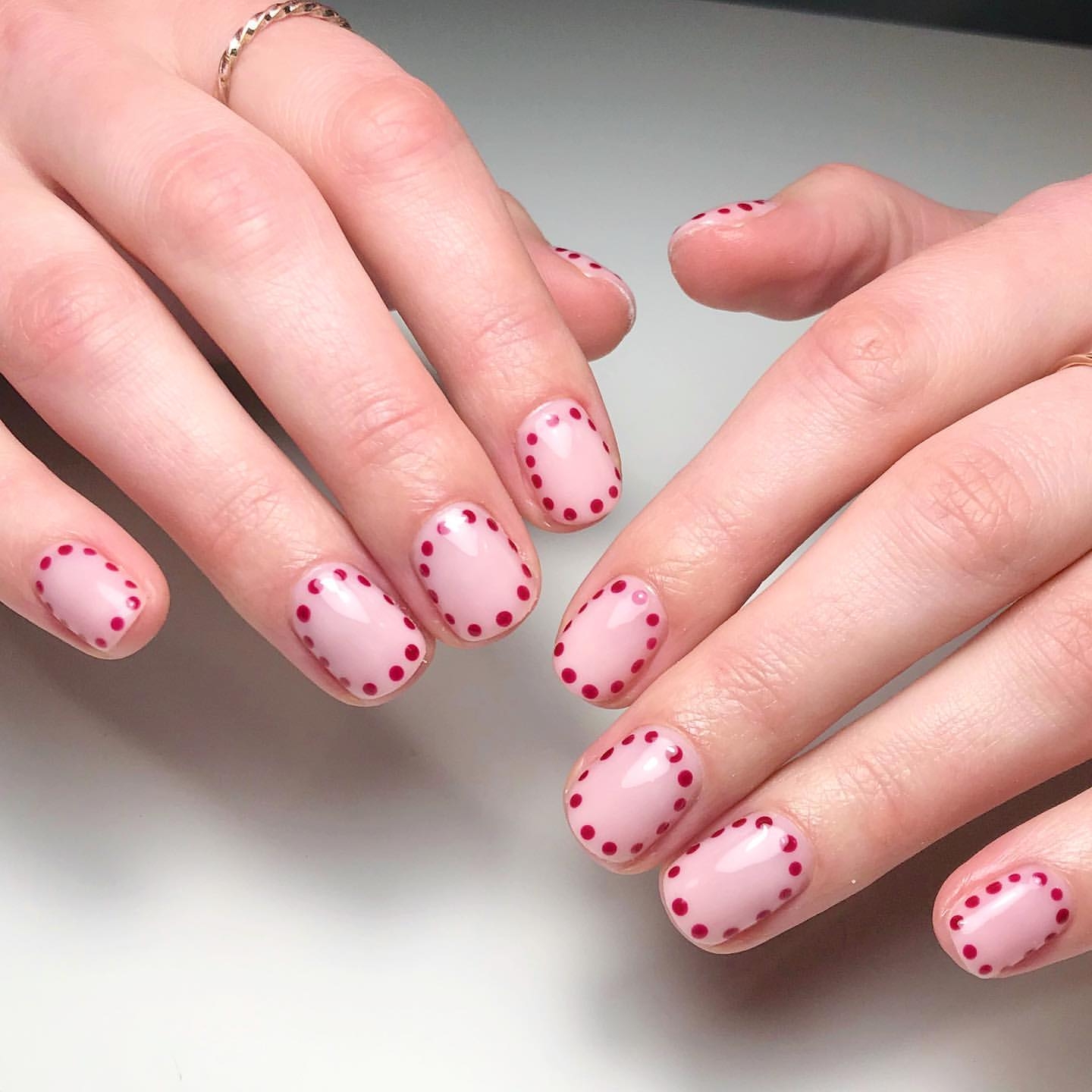 Dot your boundaries with a perfect dotting tool of the required size. A heart sticker in the middle will also be a good move.
36. Blossom With Love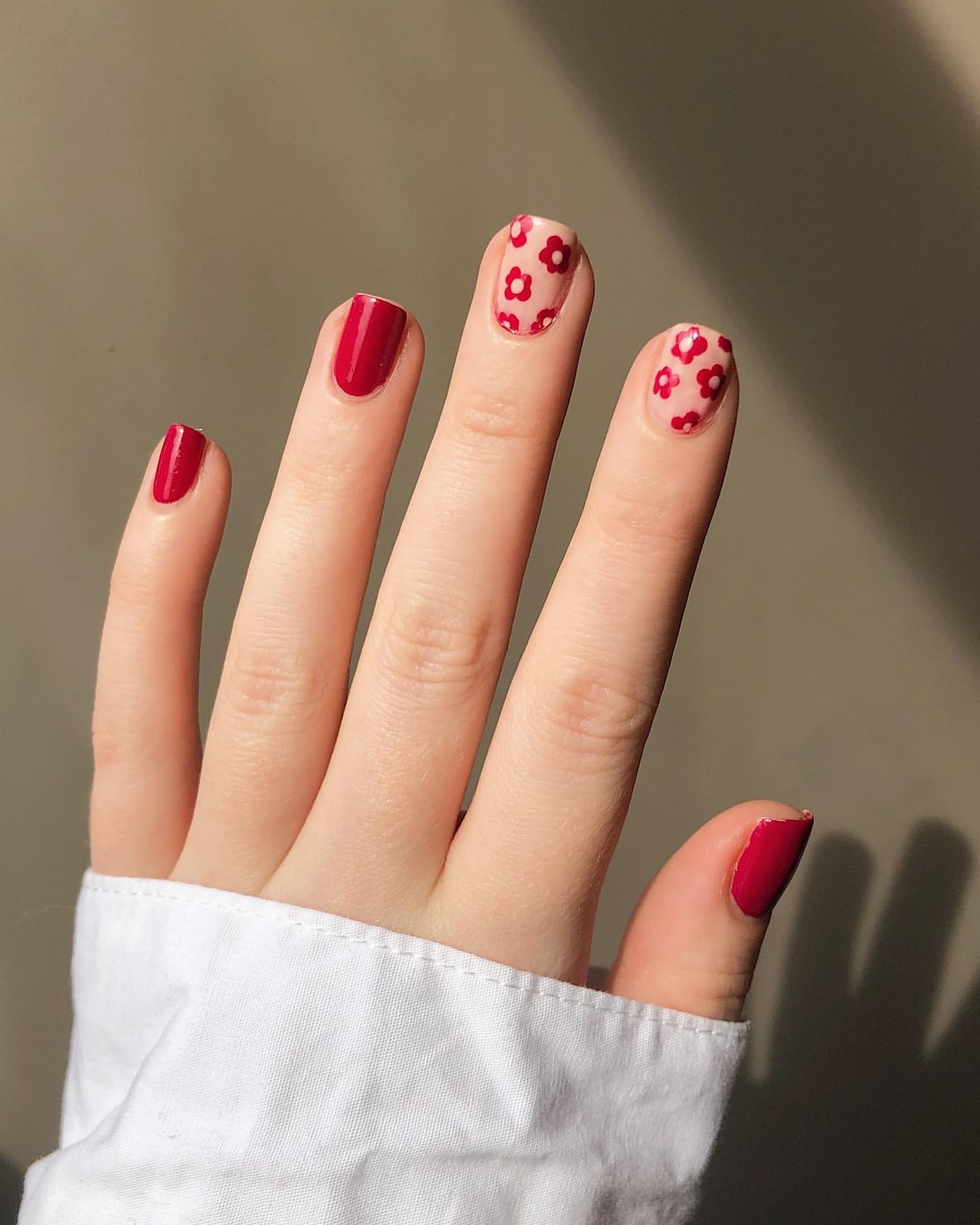 Fresh red flowers lined up give a captivating feeling of beauty. Irrespective of short nails, this looks gorgeous only because of the scarlet red gel polish.
37. Free Hugs Available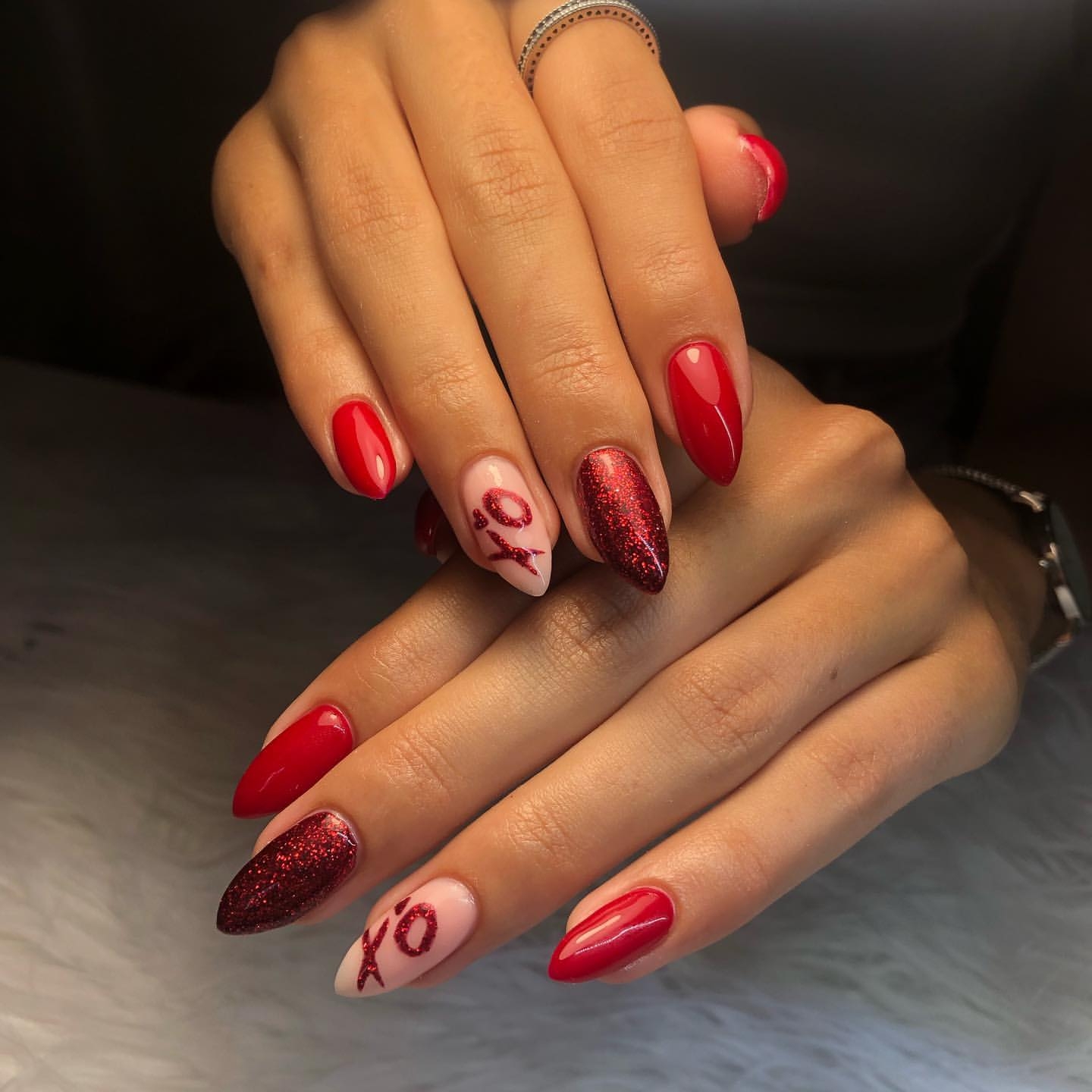 The force with which this almond-red nail design attracts me is greater than gravity. This magnetic nail art attracts everyone.
38. Shy Hearts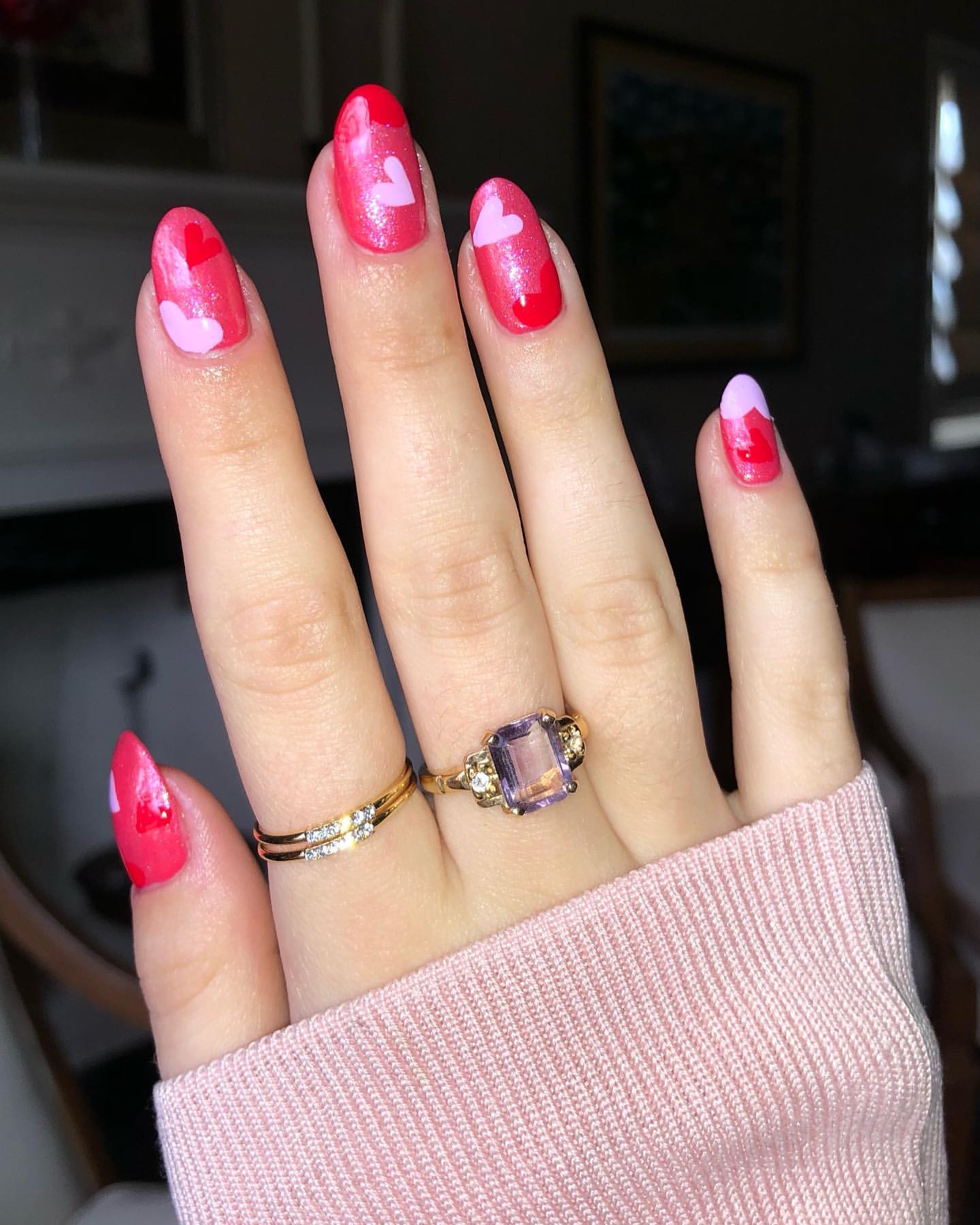 This deep scarlet red with pastel pink hearts that hide here and there is a mesmerizing work of art. Give it a try once!
39. Jigsaw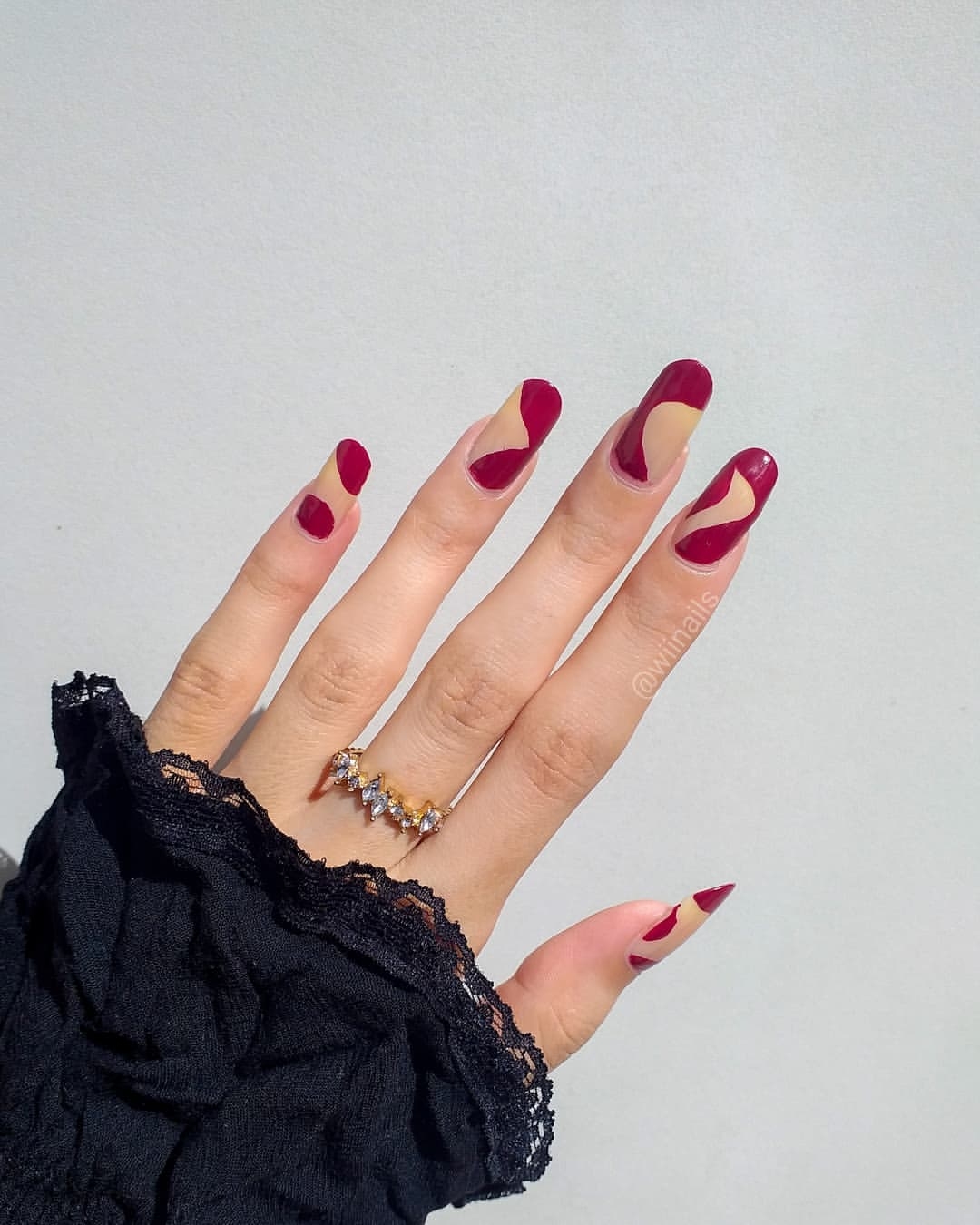 This dark red nail design may look incomplete but it carries the whole beauty in itself through the mere art of maroon tides on neutral beige.
40. Dive Into the Corals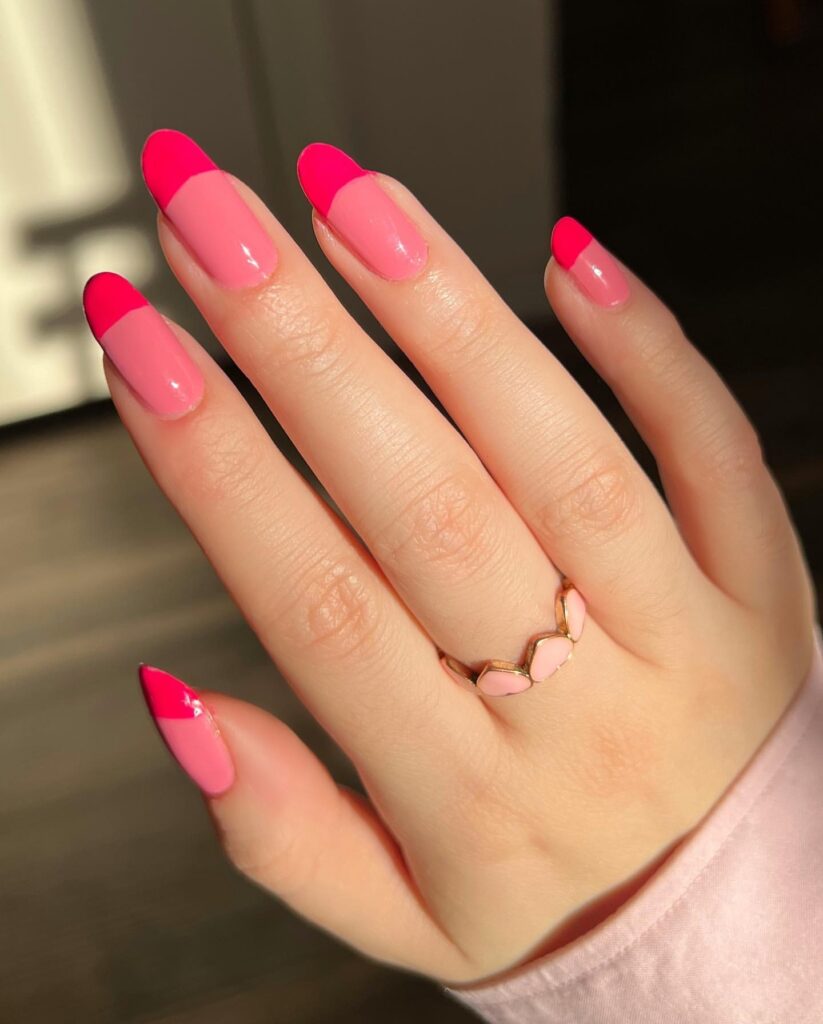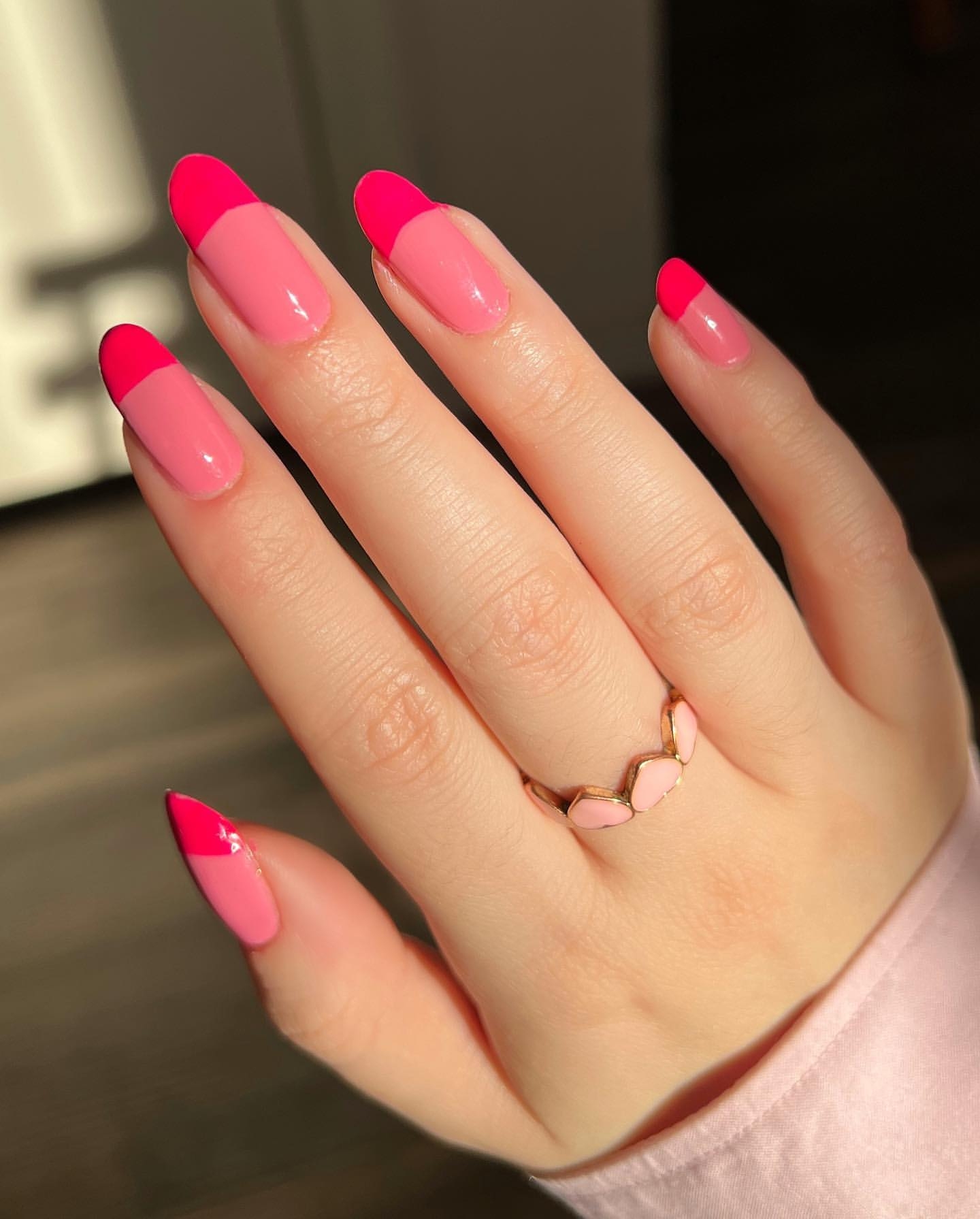 The mix-and-match combination of vermillion red on the tips and coral red on the inside looks vibrantly beautiful. Have a try with gold glitters also!
41. The Crescent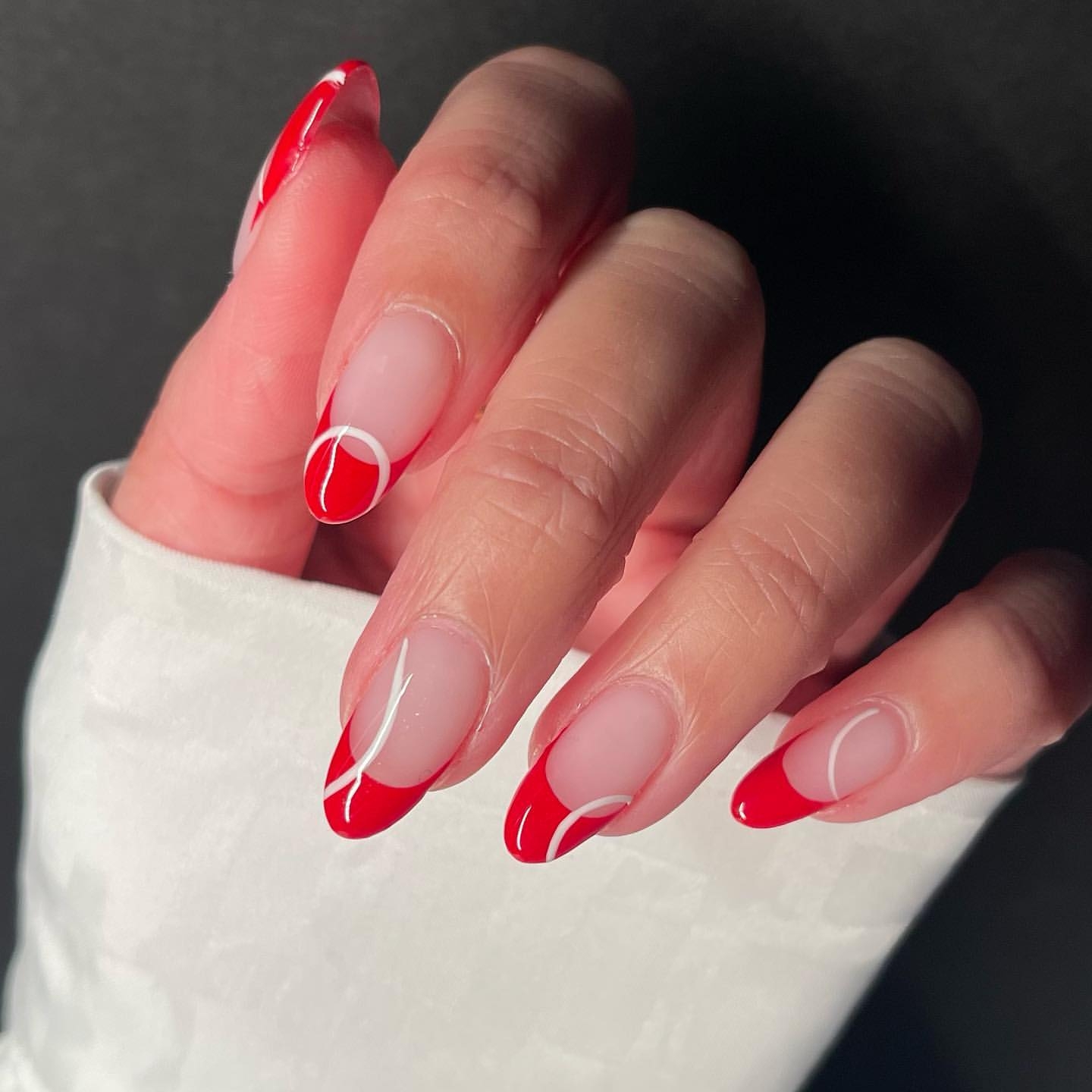 What if you catch the moon and put it on your nails and ask him to stay for a while with you? The glossy appearance of the moon and the soul-drenched in red!
42. Temperature Rise!
No fancy, just pain red nails! Still, the hot amaranth of these red color nails plunges deep into the heart with their fab. Ideal inspiration for red summer nails!
43. Twinkling Tales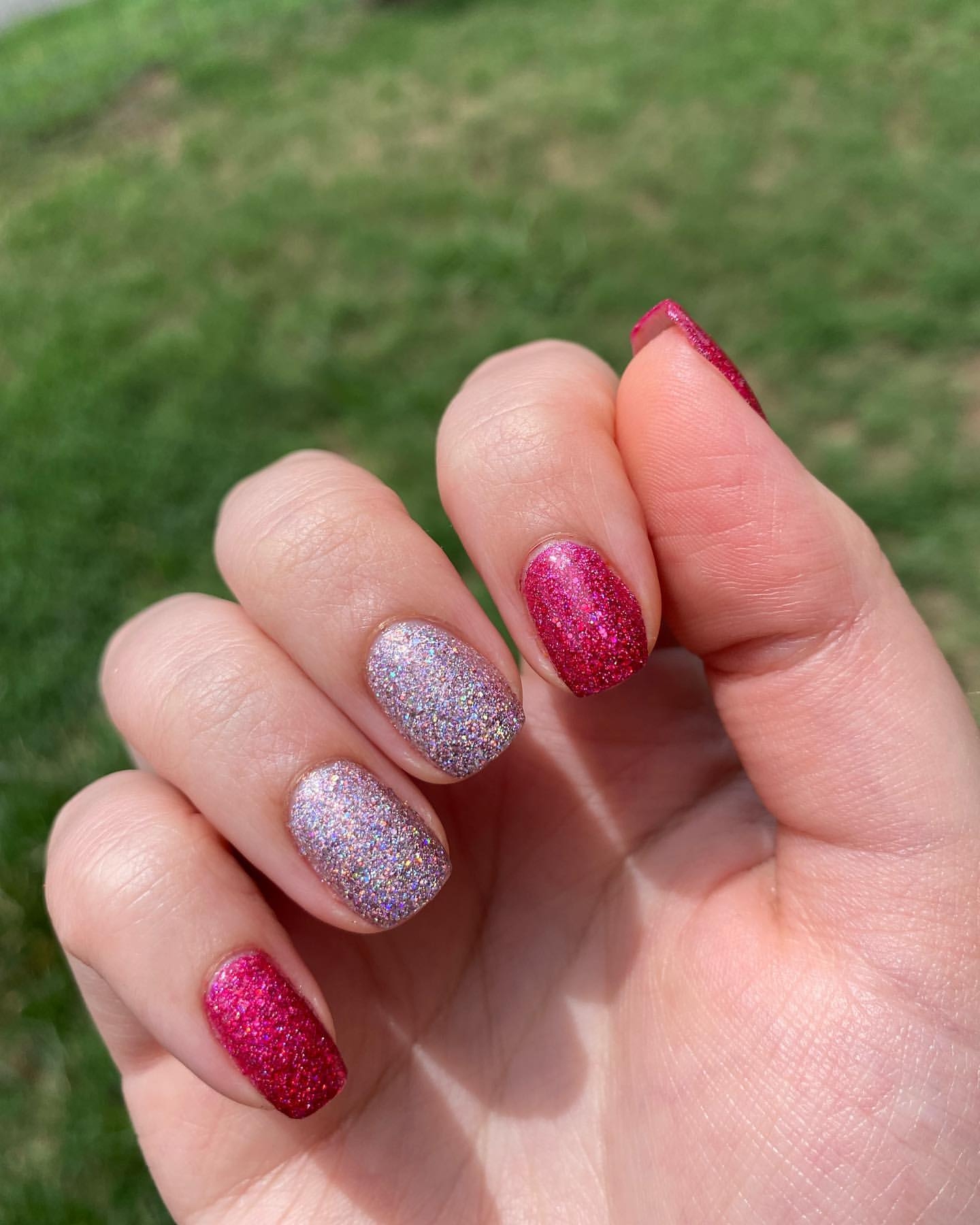 Added to the extra charm of the mere red color, the glitter nail polish makes your short red nail design a look of good manicured ones.
44. Love is in the Nails
These red and gold nails are similar to No. 32 but with a different shade of red and gold. OPI's Nail Lacquer red nail polish is suitable for this replication.
45. Not X-rays but Red Rays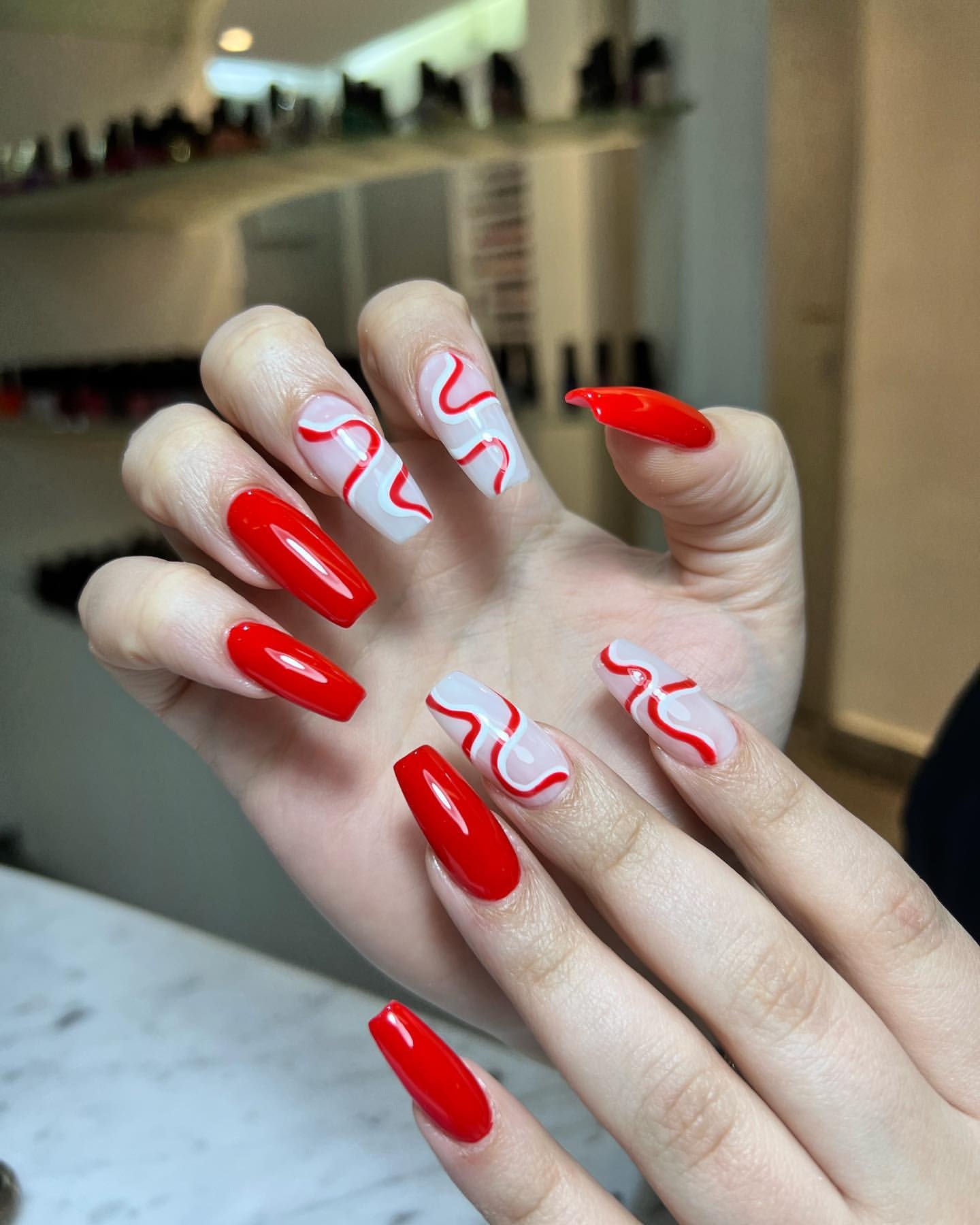 These perfectly polished red gel nail designs with their white and red waves is an engaging red nail art for anyone with long nails.
46. Marooned in Maroon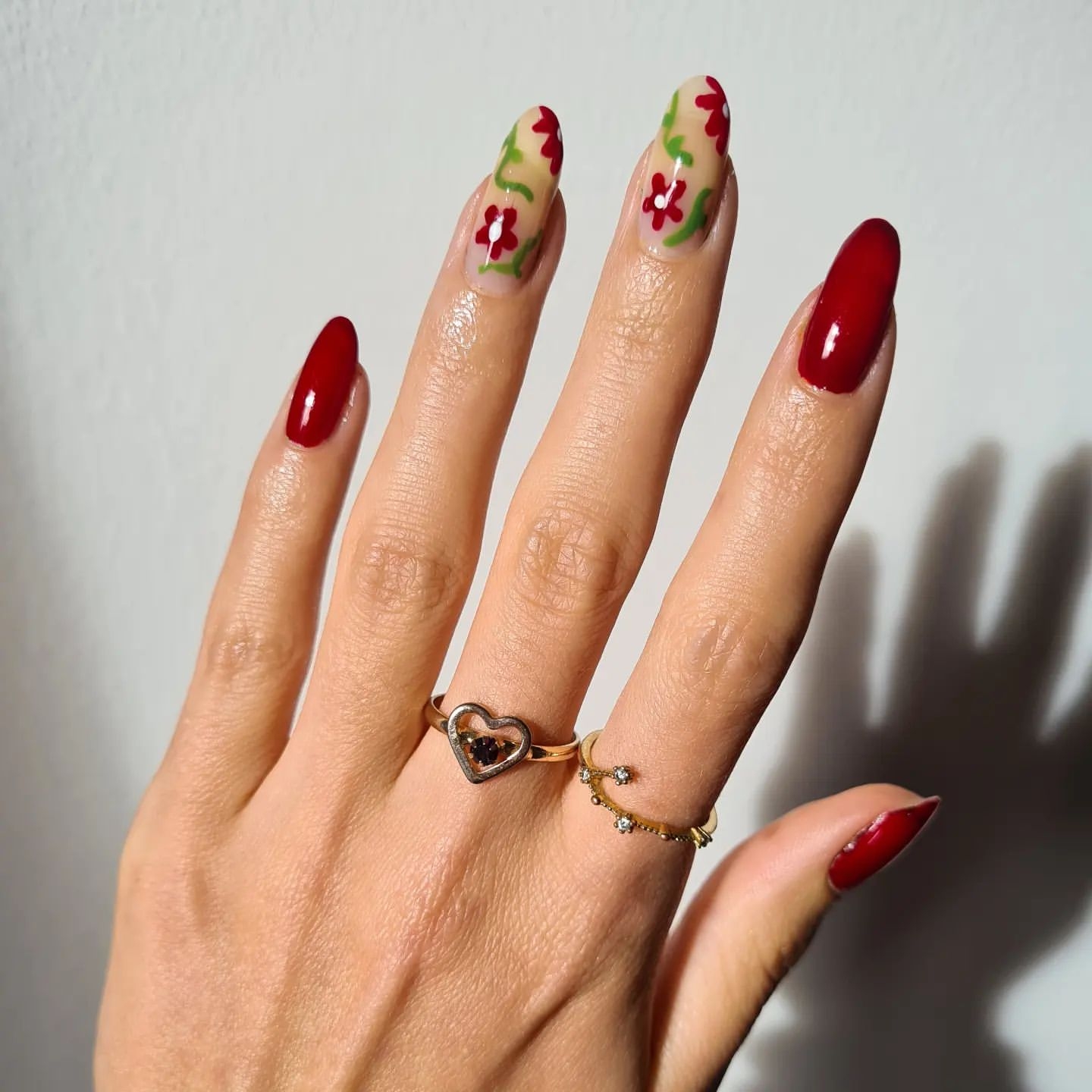 This picturesque dark red nail design is soothing to the soul with its serene flowers and green leaves. For a long-lasting manicure, seal this manicure with a top coat. If you are a beginner and want the best, go with OPI for maximum results.
47. Throw a Party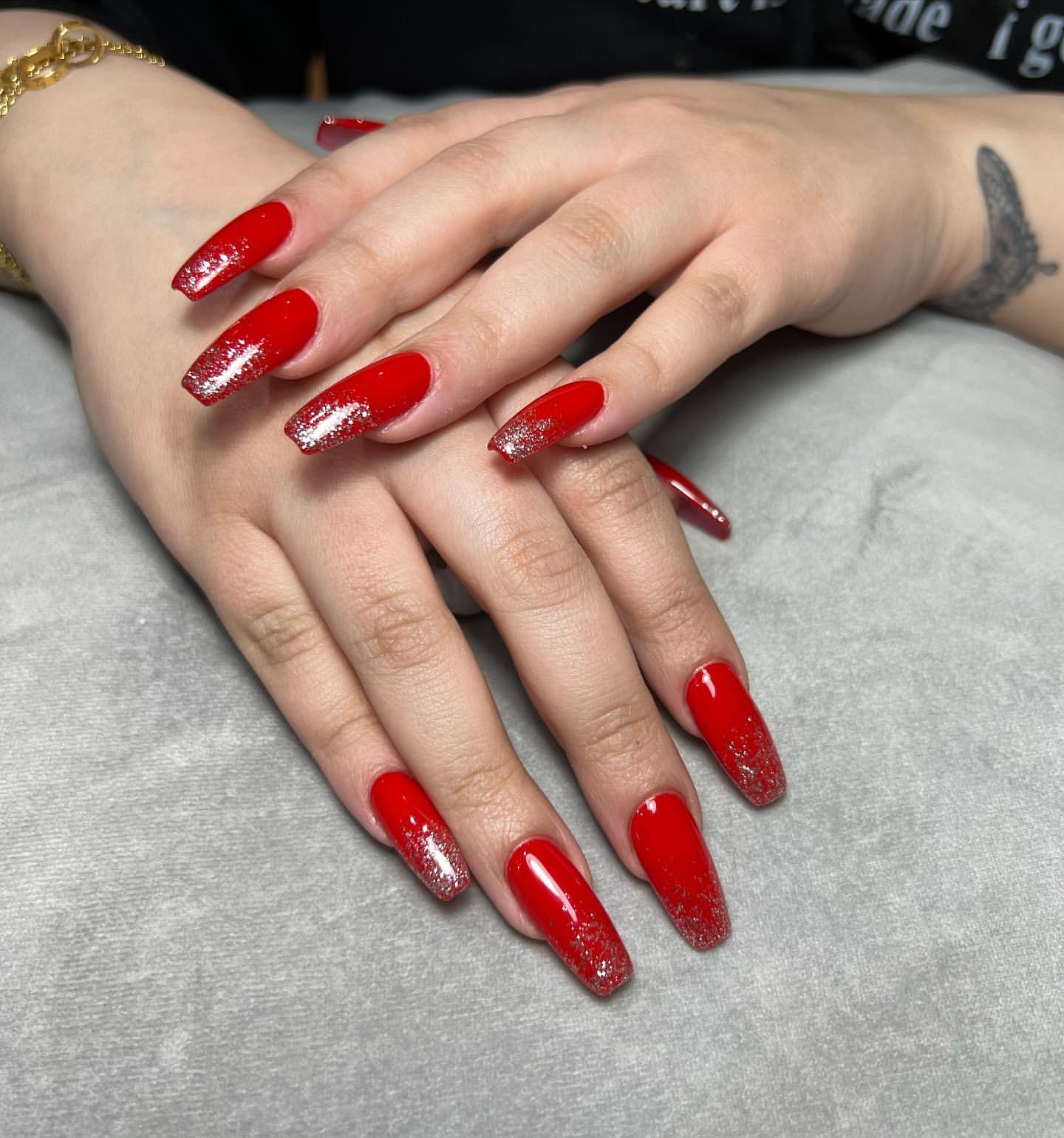 With these red nails with glitter, believe me, you will look like a fairy in town. Such bright red nail polish has been sold by several brands, if you're confused, go with Aiilsa's Christmas red gel nails.
48. Ready in a Minute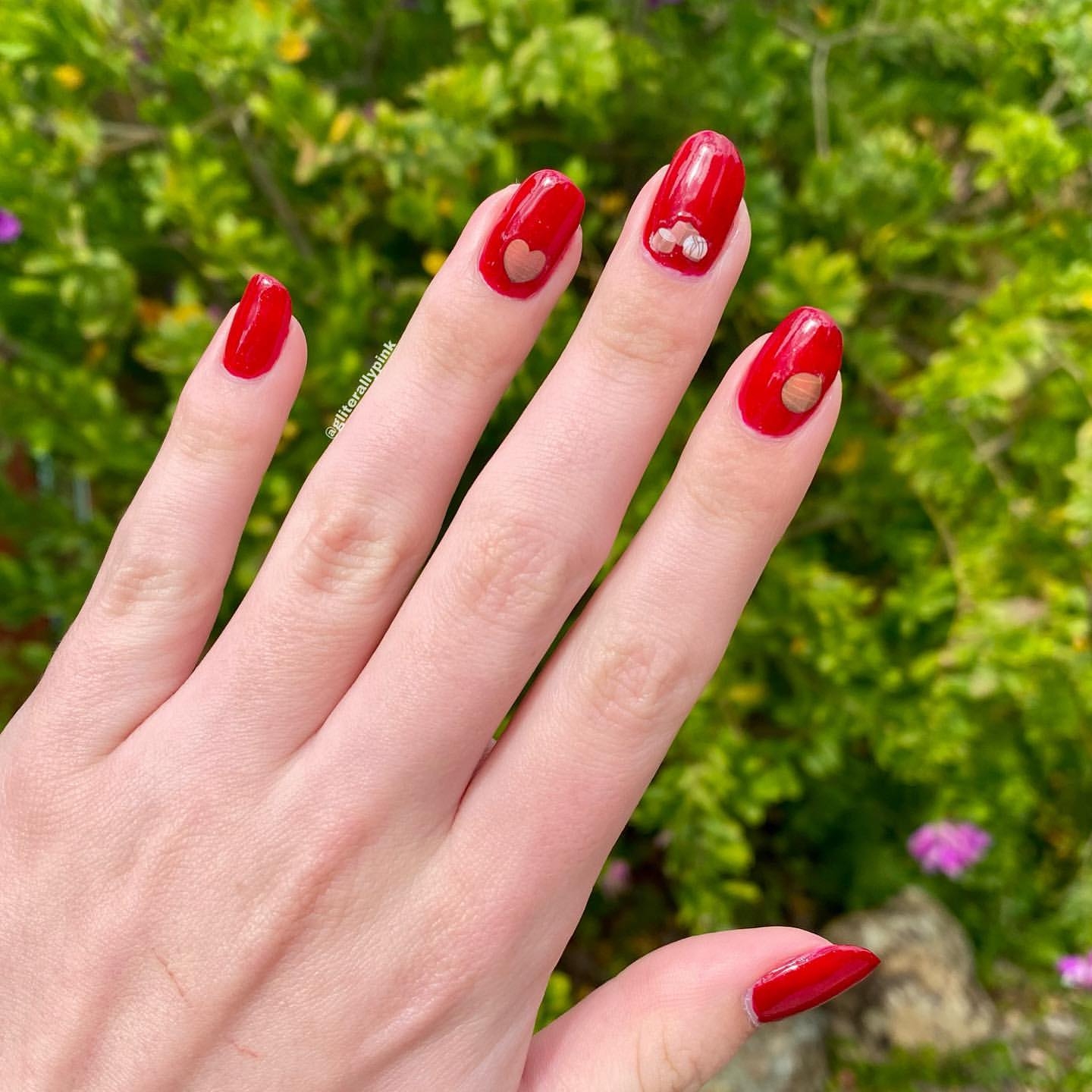 Love can be shown in various ways, and one of those ways is through this red-themed nail art. You can also try it with different themed stickers as well for different occasions.
49. Nothing but Love
In red manicure ideas, such plain red nails are nothing but love alone. Get the perfect color bright red nails. No drama, no regret. Just one color and that's red. Beetles's rich red lacquer can be an excellent choice to recreate this manicure.
50. Starry Mornings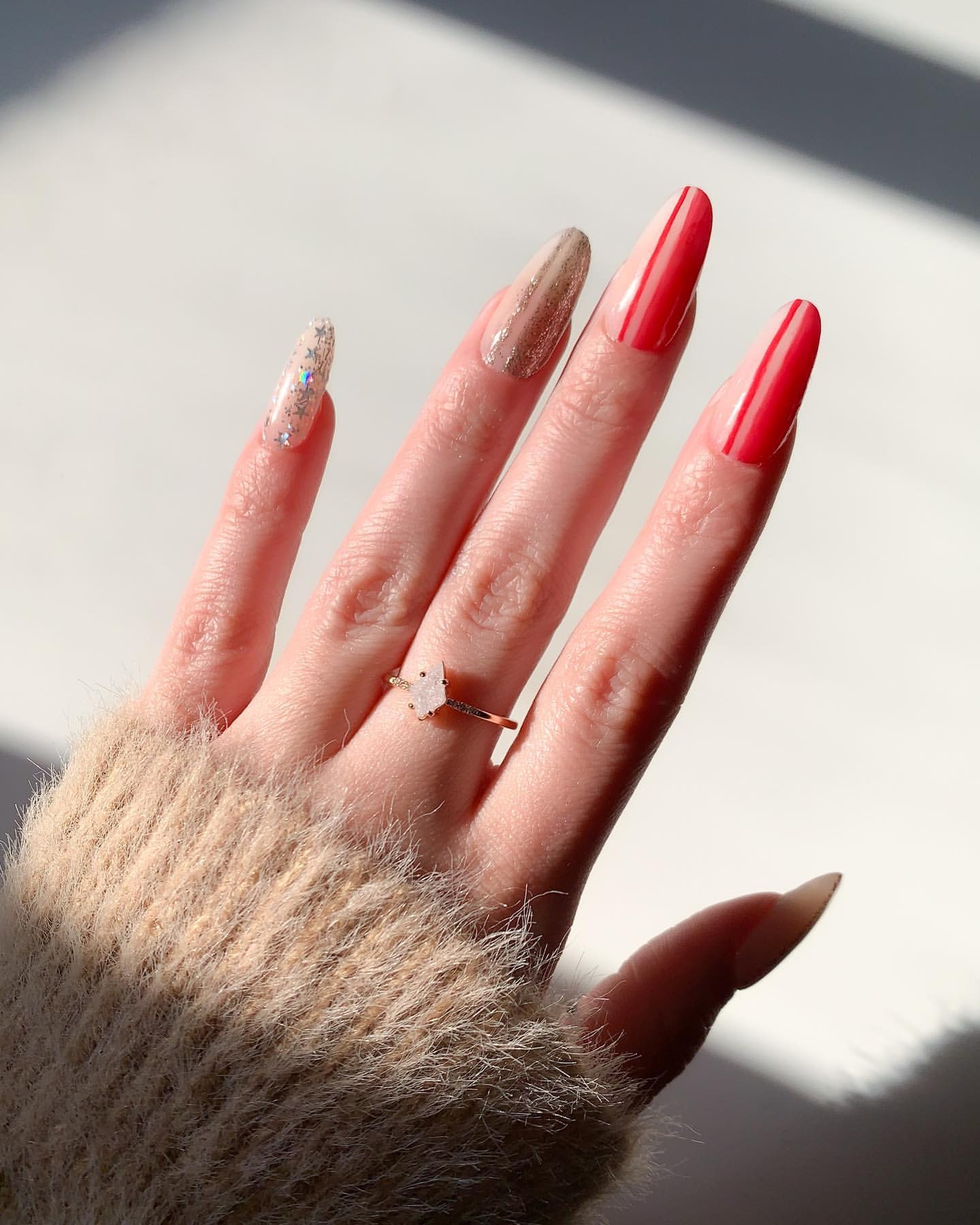 This red acrylic nail design has many things to talk about. Place the twinkling star, paint it with glitter and red, and leave the rest of the side free for compliments.
51. I am coming back!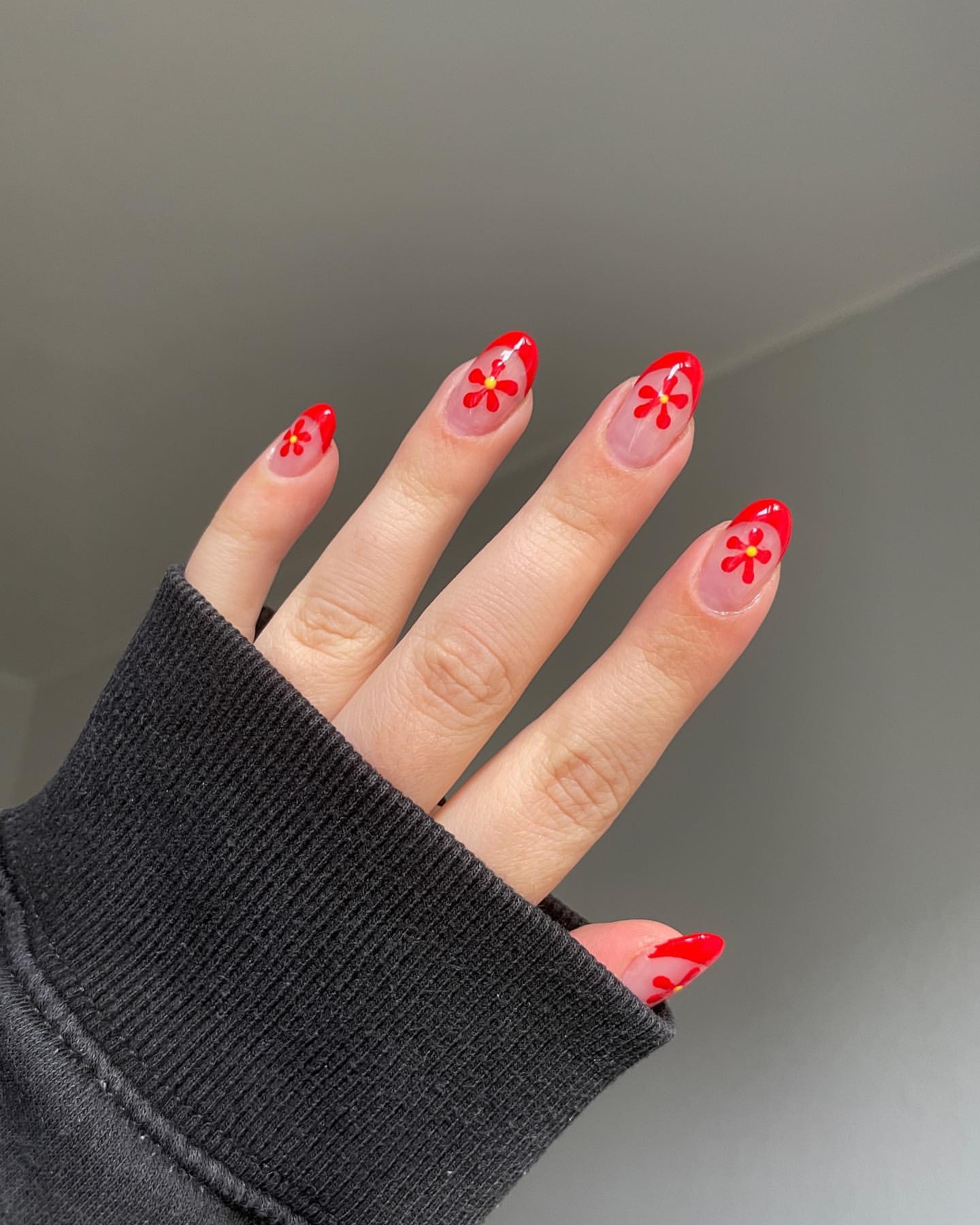 Flowers are nature's way of saying "love." Capture that and put on your nails, sprinkle love wherever you go with these red nails.
Wrapping up:
Red exposure intensifies one's cognitive skills and attention to detail. Plus, it boosts confidence at various levels. Moreover, others look up to people wearing red as super attractive! With subtle red nail art, it is 101% sure that all eyes turn towards you and your nails wherever you go!
Using red to color your life is heavenly. Thus, I feel painting nails with red and or even a simple red nail design is the human way of living life to the fullest. As you see above, I have categorized the cutest red nail art ideas for 2023 and you can try them on various occasions.
The ones close to my heart are No. 32 and No. 46. I am sure that you too would have selected and kept many nail ideas from these nail designs in red. Just like the red riding hood, try these ecstatic nail art designs as you wander in this world showing love always!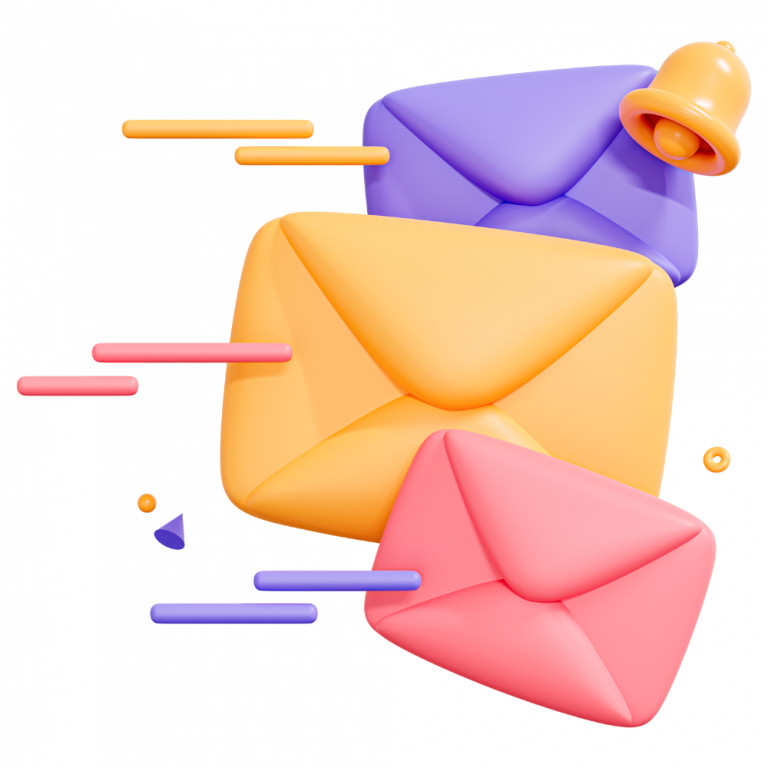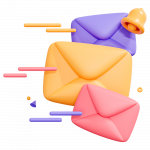 Read related: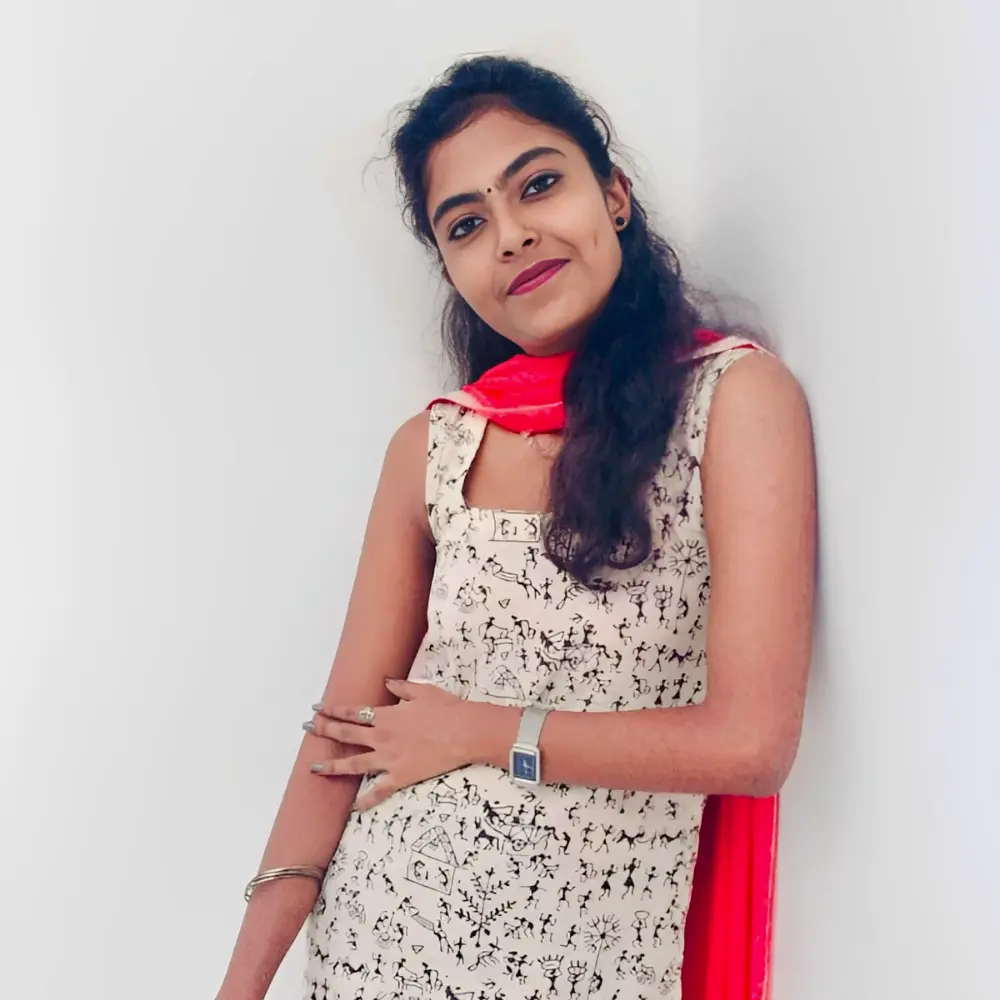 She is a manicure enthusiast and fashion blogger who believes that nail art is a wonderful way to add colors to life. With a passion for learning new nail art and manicure techniques, Jeroline eagerly explores and shares her knowledge through captivating content.