28 Spooky Halloween Nail Art Designs for 2023
Halloween is no joke. If there is one occasion when we can be our absolutely crazy selves, it's Halloween. Needless to say, we spend months brainstorming and perfecting our Halloween costumes, and as soon as it gets over, we start planning all over again. It's a day to unleash our creativity only to scare the brains out of each other!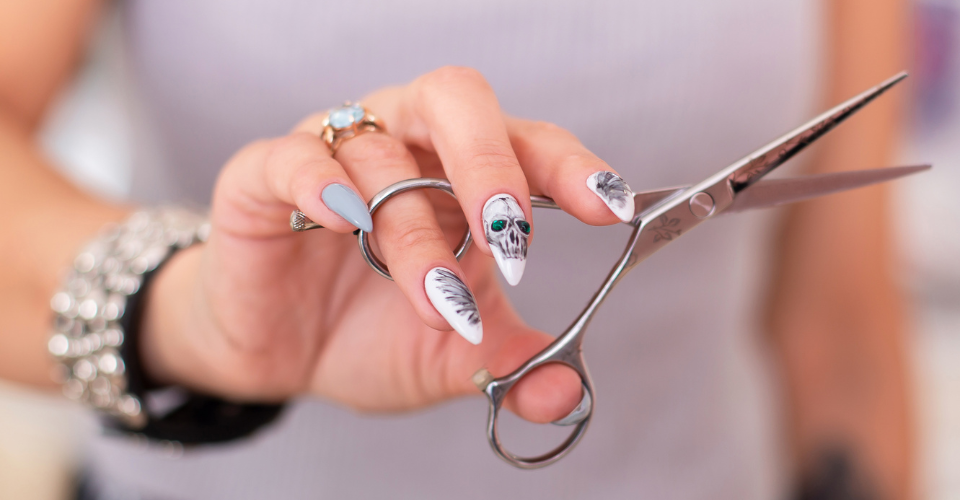 With the ghoulish hair and makeup comes the equally frightening Halloween nail art. Having the perfect Halloween manicure is the ultimate way to seal your Halloween look. If you are reading this, you must have looked everywhere for your perfect devilish claws! Worry not, these Halloween nail art designs have Dracula drooling!
Halloween nail art is not only restricted to pumpkins and skeletons. I have curated a plethora of designs from the burning pits of hell to satisfy your scare factor. From cute jack-o-lanterns to real spooky ghosts, you will have a design for every kind of scary!
These Halloween nail art designs are not only suitable for October 31st but can be worn month-long because, after all, it's Halloween month!
Are you prepared to get your claws all sharp and shiny? Even better, if you are someone who does everything at the last moment, I have picked simple Halloween nail art designs that you can achieve in the shortest time at the convenience of your home. Nothing should stop the Halloween fun!
28 Halloween Nail Art Design Ideas for 2023
From blood drips to phantoms and even plain darkness (for the seriously scary lots), here's a trick-or-treat Halloween nail art! Check out my favorite designs for Halloween nails 2023 and screenshot away the one while scrolling next.
1. Cute Jack-O-Lanterns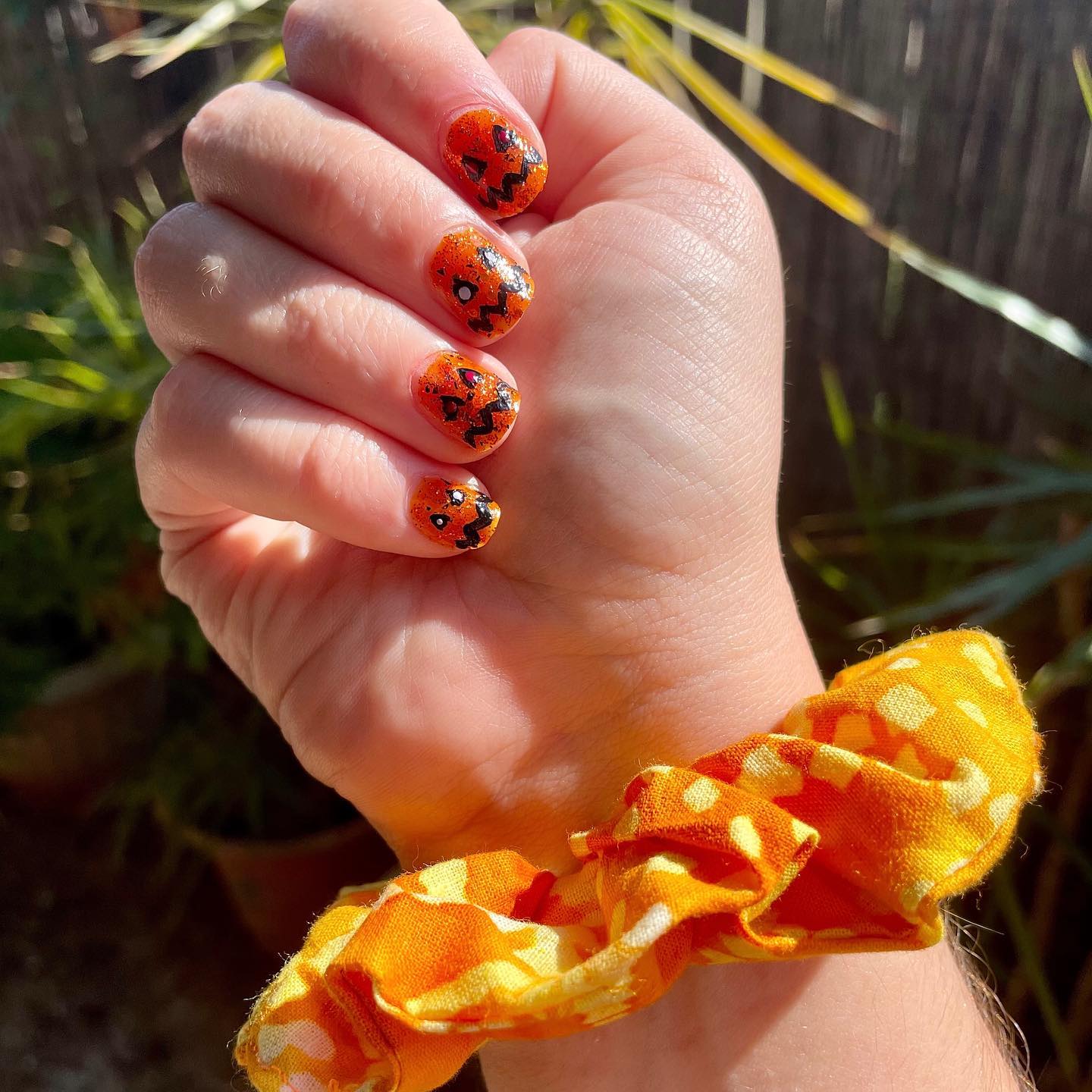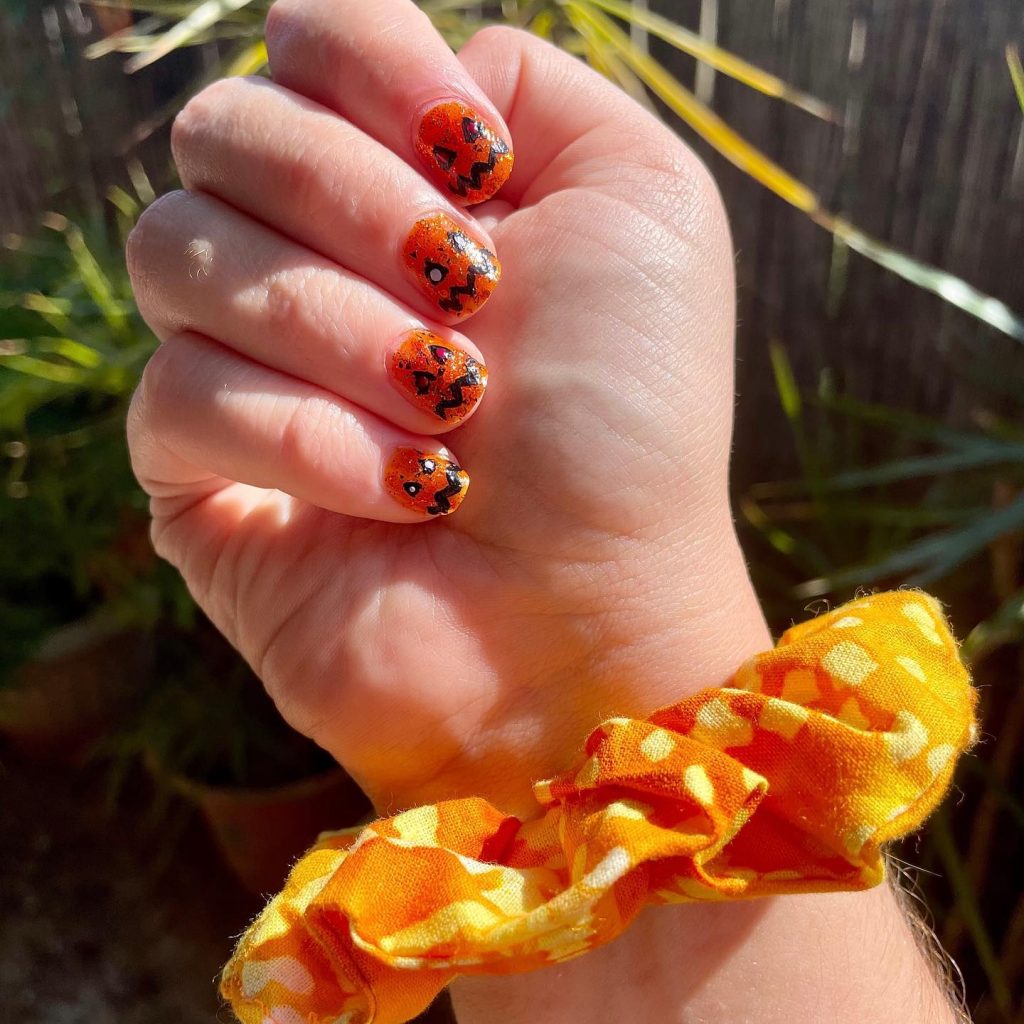 Talk about scary cool! These lack-o-lantern motifs have Halloween written all over them. Moreover, these cute Halloween nails are easy to achieve at home and do not require too much precision. Come on now, get painting!
2. Who's There?
I would be straight-up lying if I say that this Halloween nail art doesn't send a chill down my spine! The accent nail features an ominous apparition combined with a smoky pattern and the color of darkness! Creepy!
3. Ghost Pop-Art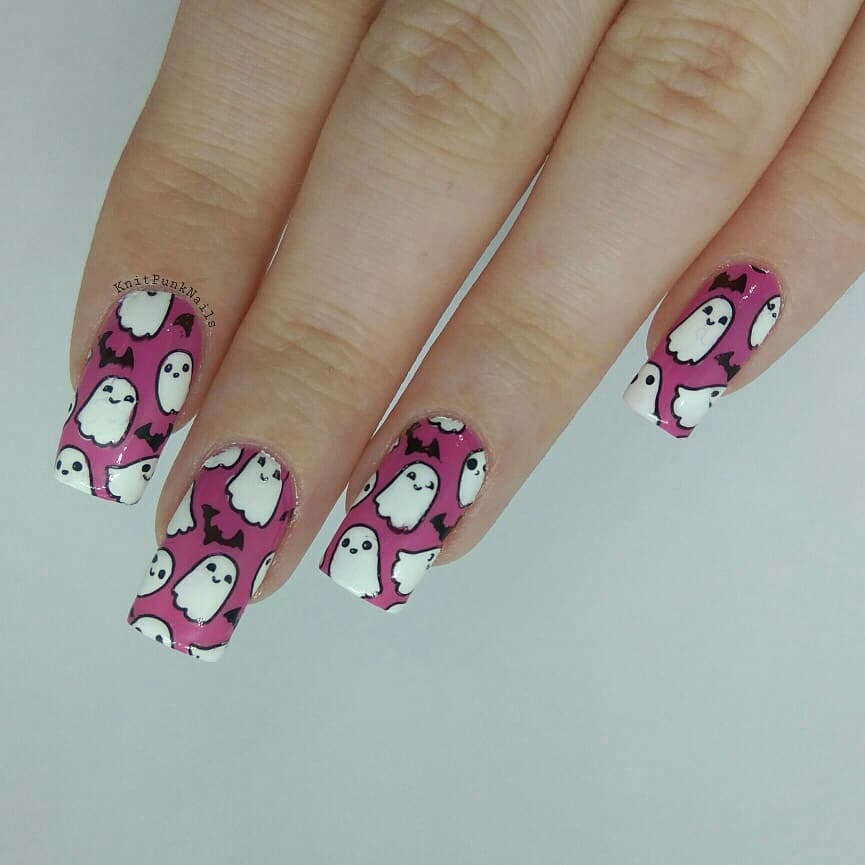 This Spooky Season, make your nails look like they are straight out of a comic strip! This Halloween nail art has a mauve background paired with cute Halloween nail stickers of ghosts and bats!
4. Glam Halloween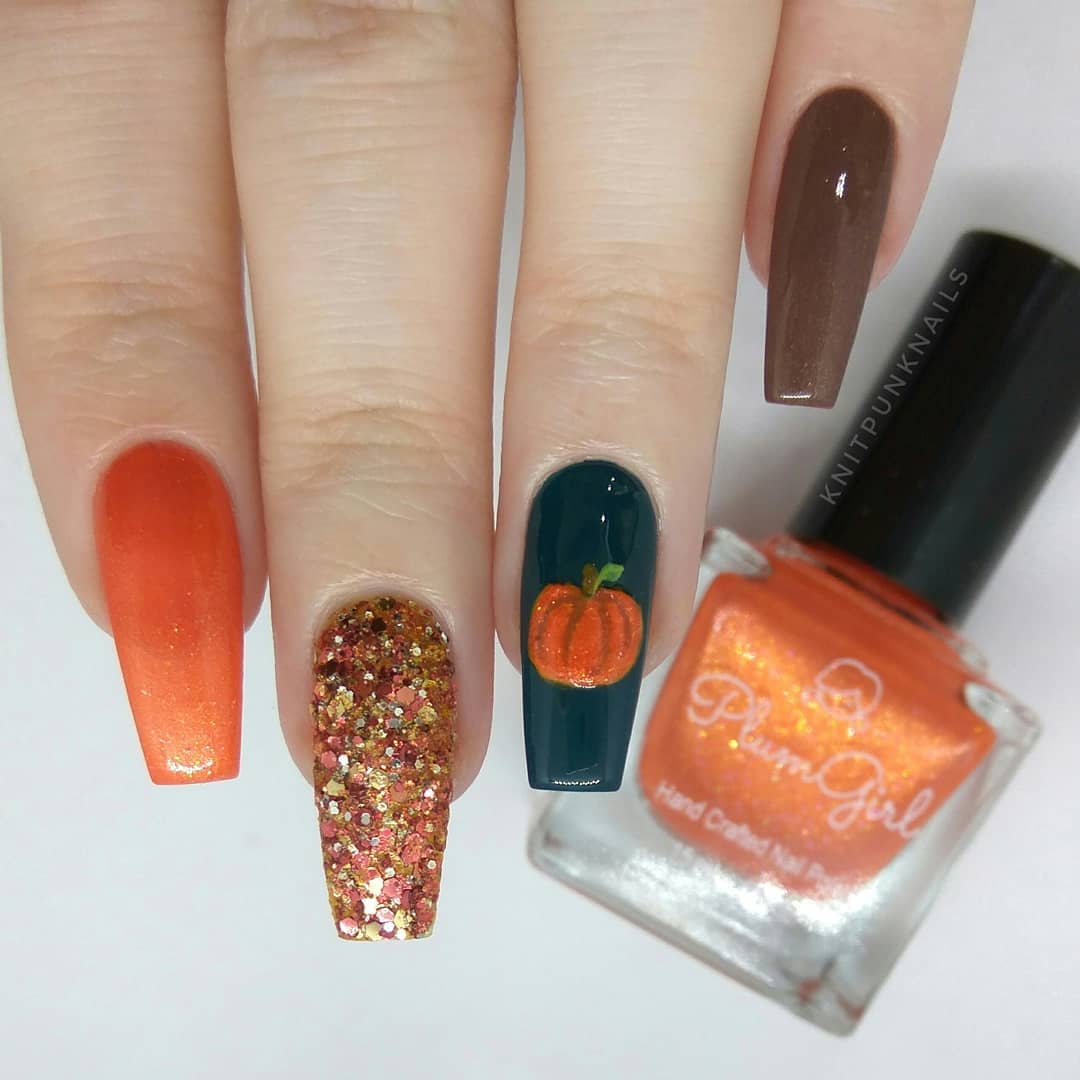 Is glam quotient a must for you? Do you wait for Halloween just to unleash your most wild glam? This Halloween nail art design comes with a glitter-loaded accent nail and a pumpkin to set the suitable themes!
5. Neon Nights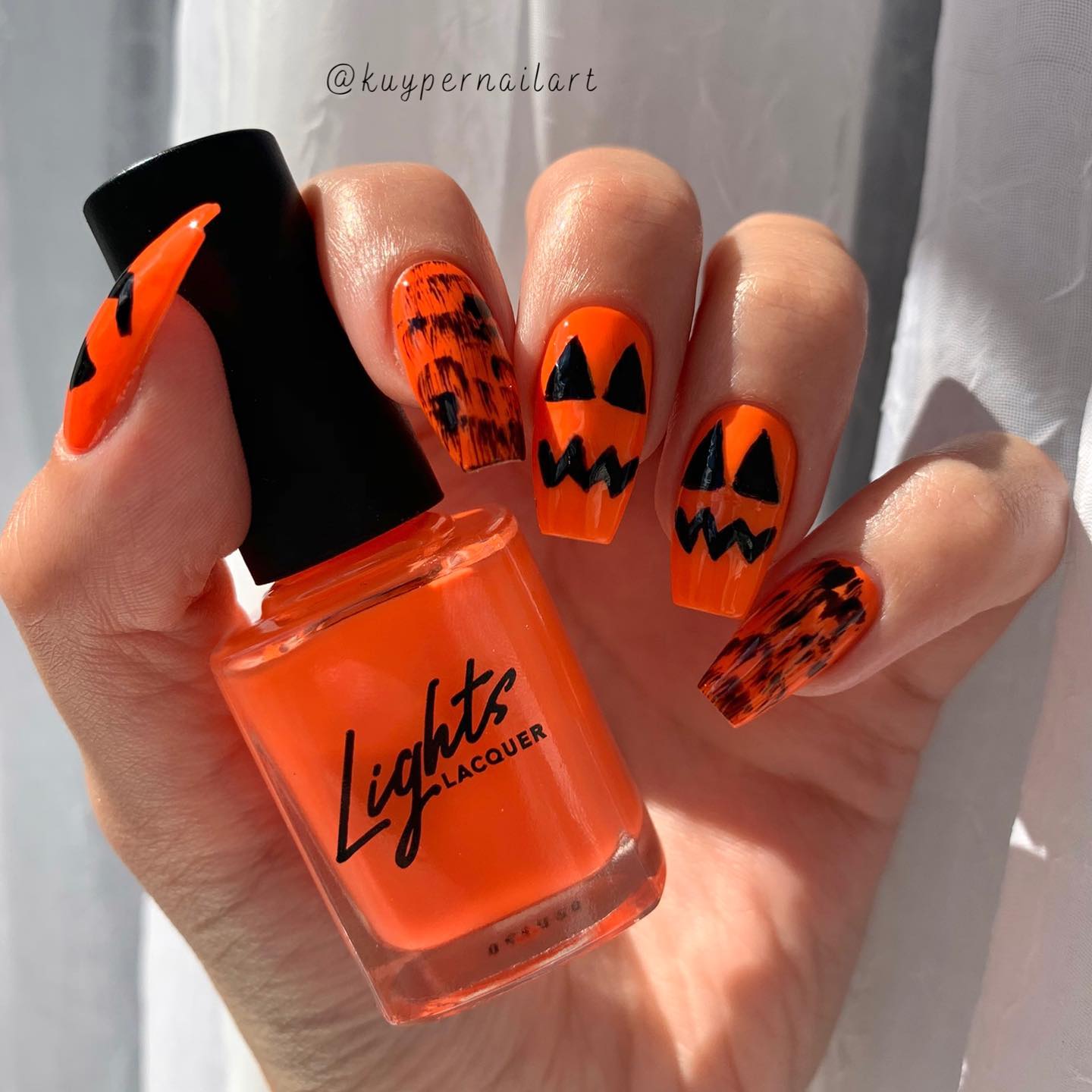 This striking Halloween nail art features a neon orange as a background color. The spooky accents created with black nail polish add just the right amount of scare to the manicure. Moreover, you can achieve this look at home with neon orange nail polish and a fine-tip brush!
Post You May Like: 41 Cute Thanksgiving Nail Art Designs for 2023
6. Frankenstein Nails
Is Frankenstein your costume this year? This easy Halloween nail art is your go-to for a simple and spooky French nail, with a classic jack-o-lantern as an accent nail.
7. Dripping Darkness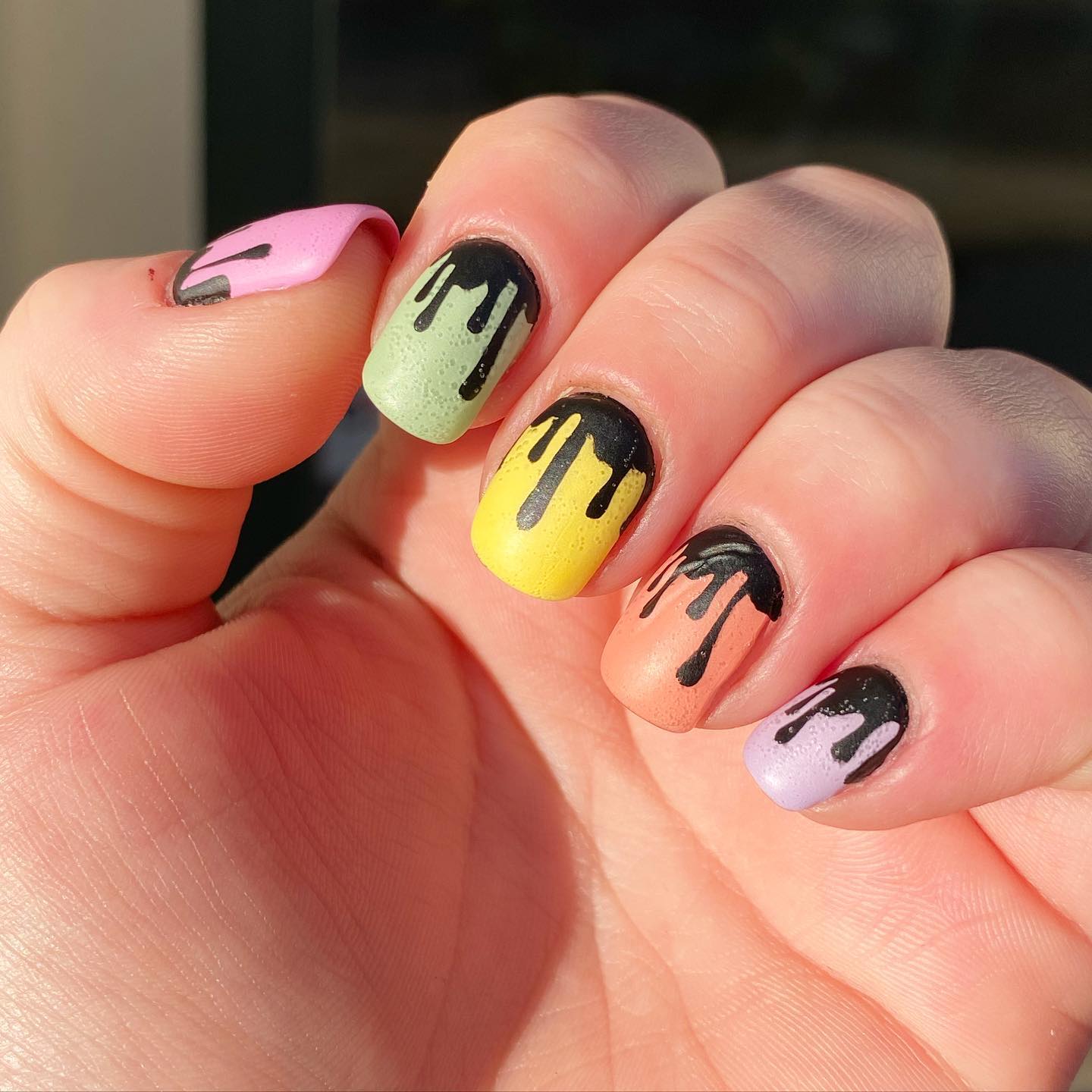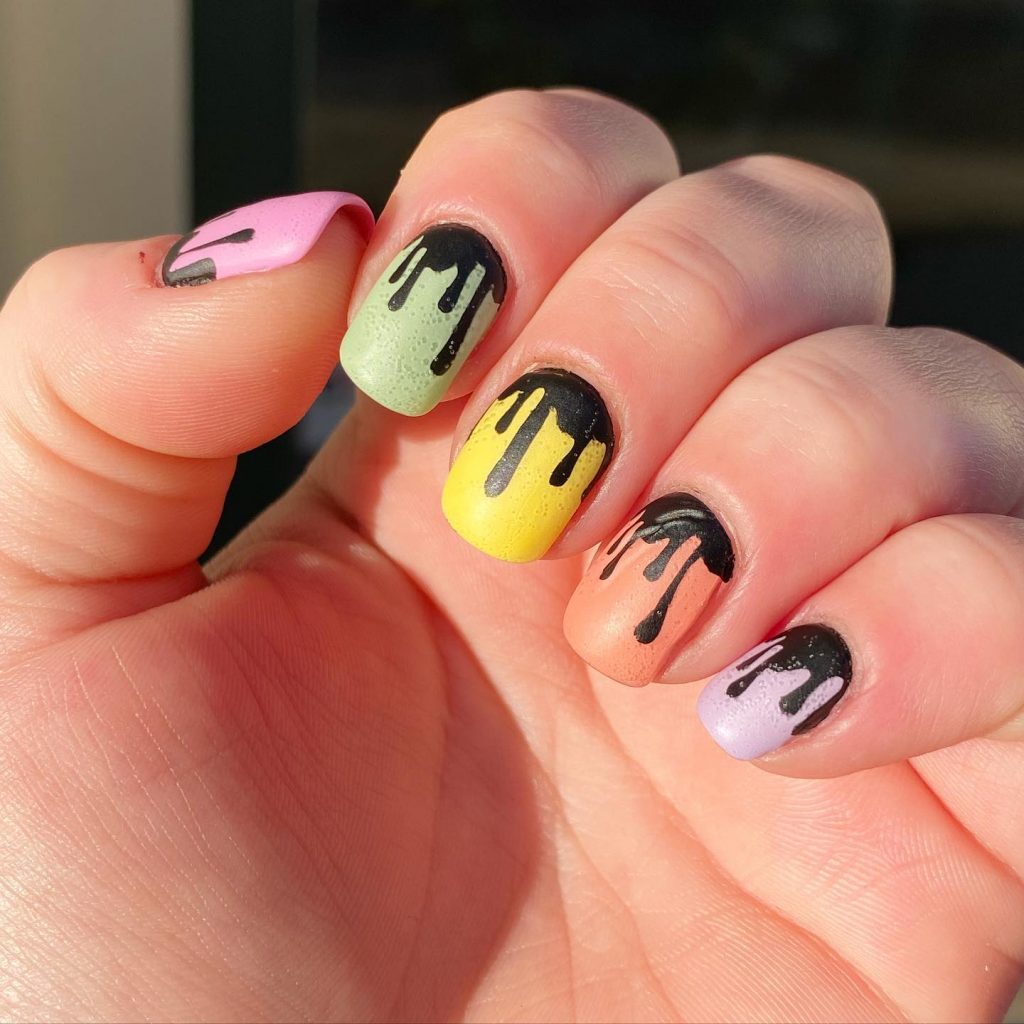 Add an edgy twist to a colorful manicure by adding black dripping accents to indicate the approach of the all-hallows night! You can achieve this by applying nail stickers or with a very steady hand!
8. Pink and Scary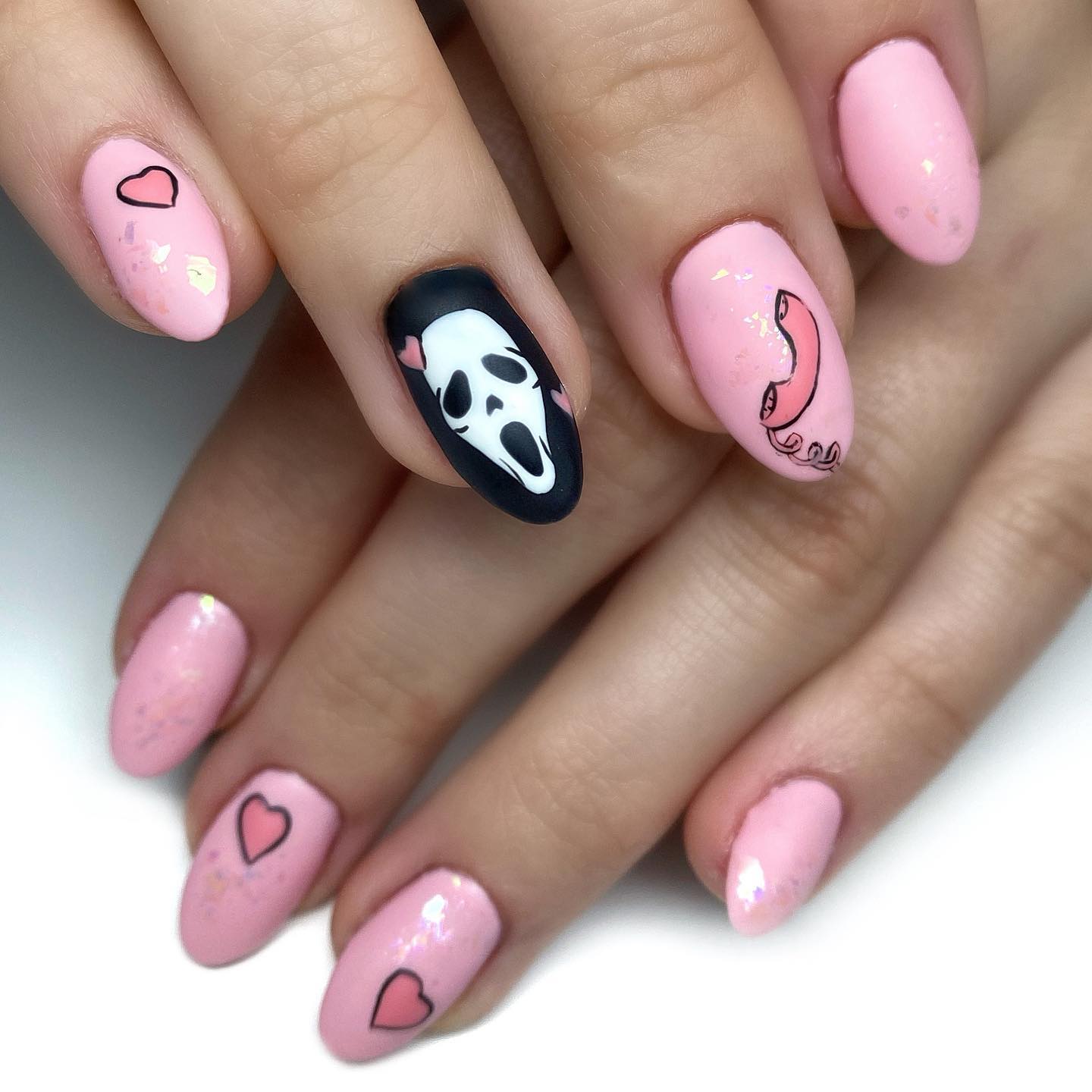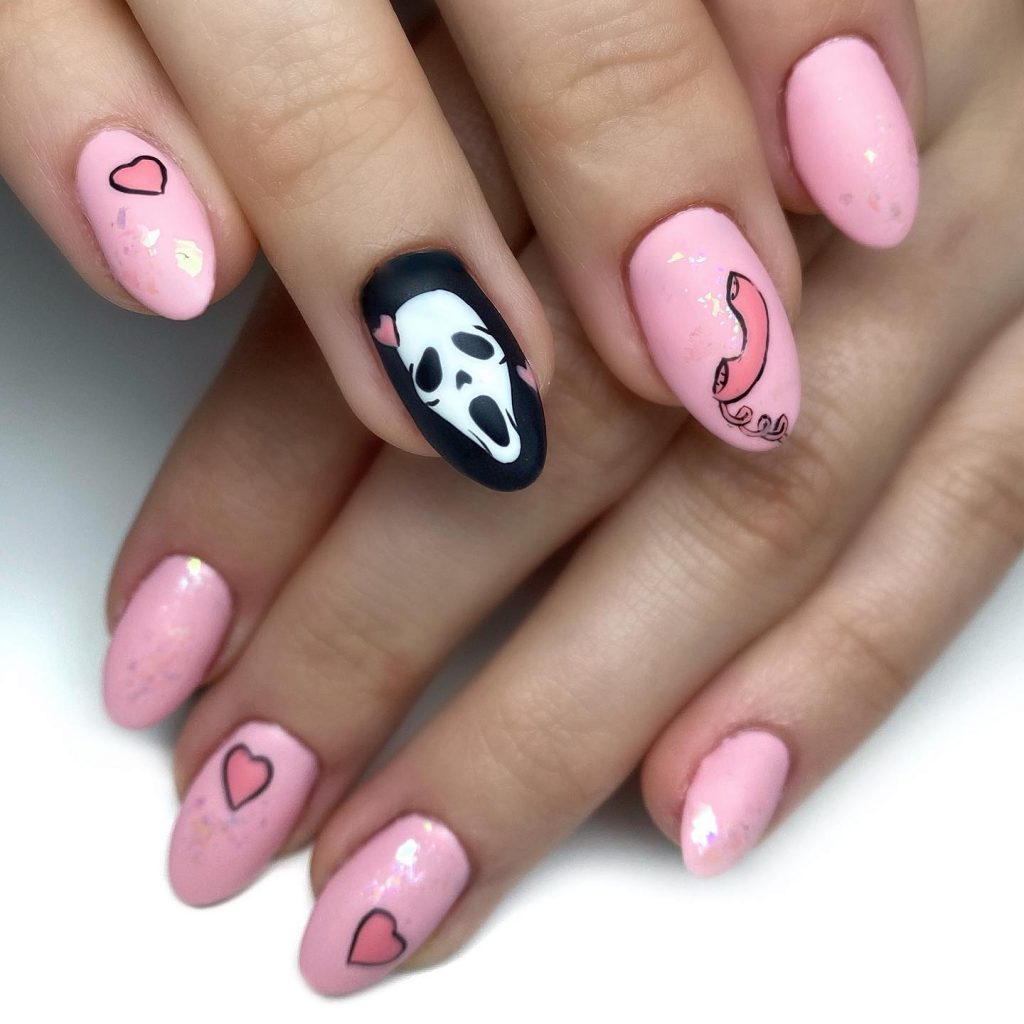 Balance the pretty pinks with the super-creepy masked accent nail. This Halloween nail art combines two opposite aesthetics seamlessly and creates a mysterious nail art, which is just what you want on Halloween!
9. Evil, Be Gone!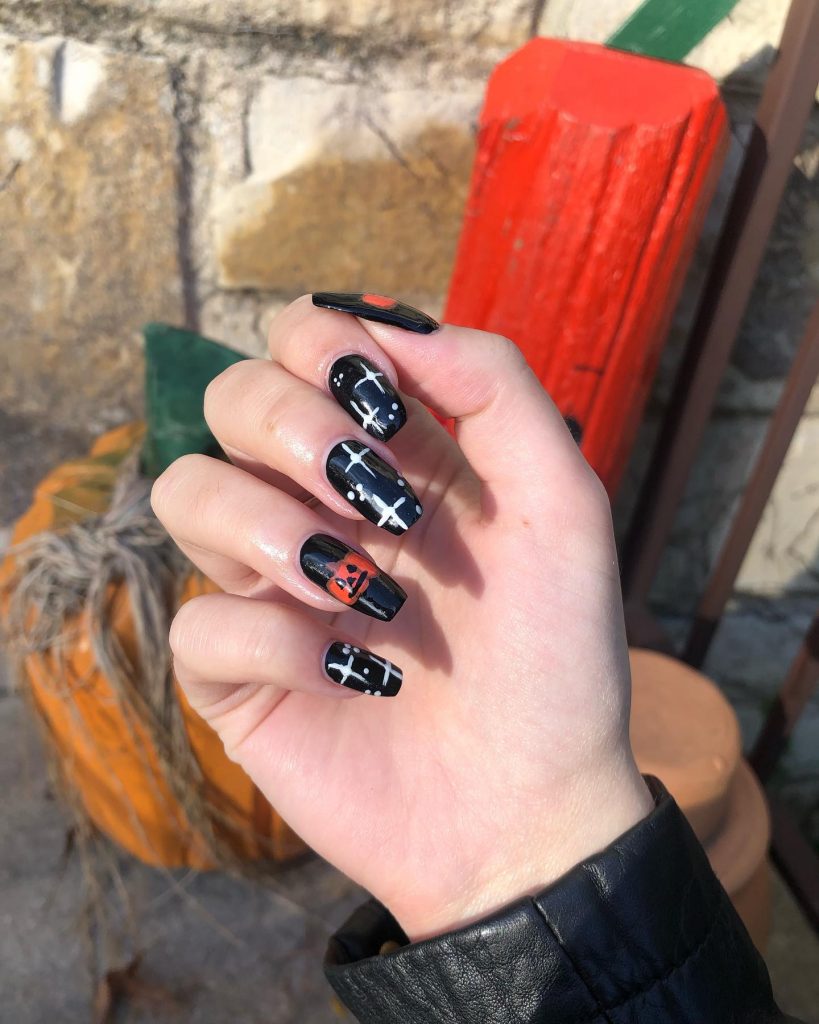 Another iconic Halloween design, this design boasts creepy crosses on a black background. The accent nail has a classic Halloween pumpkin. Is it a graveyard? Is it a cross to drive off evil? You decide!
10. Classy Cobwebs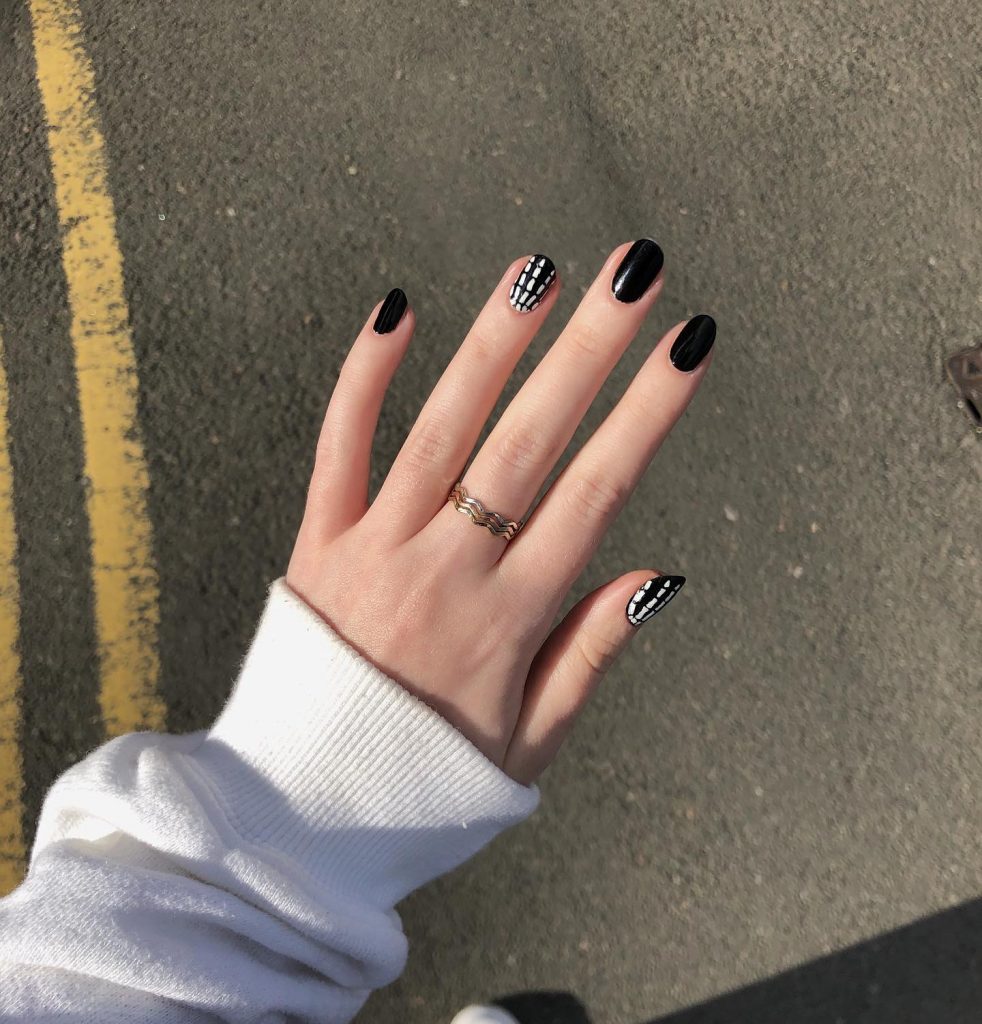 If you are someone who doesn't like going over the top yet relishes Halloween, this Halloween-themed black nail art is perfect for you. Wear it all month for a subtle Halloween reference!
Post You May Like: 27 Cutesy Polka Dot Nail Art Designs for 2023
11. Bloody Beauties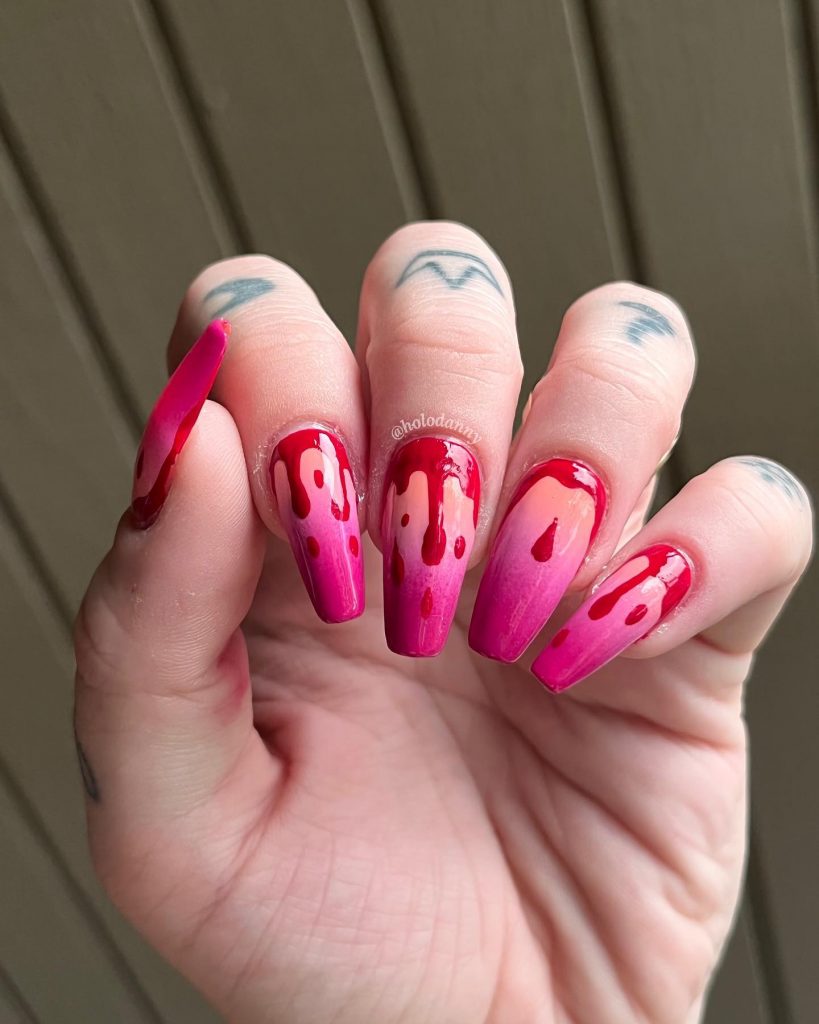 Do you dare to donne these realistic blood drip nails? They are sure to take your Halloween costume a step further! Grab a fine-tip nail polish brush and red nail polish, and get going to get the spookiest claws!
12. Abducted Nails
This one is for all the alien freaks out there! Neon nails and monster face motifs are bound to turn heads this spooky season. Claw-shaped nails add a feather to the hat!
13. Eyes Everywhere!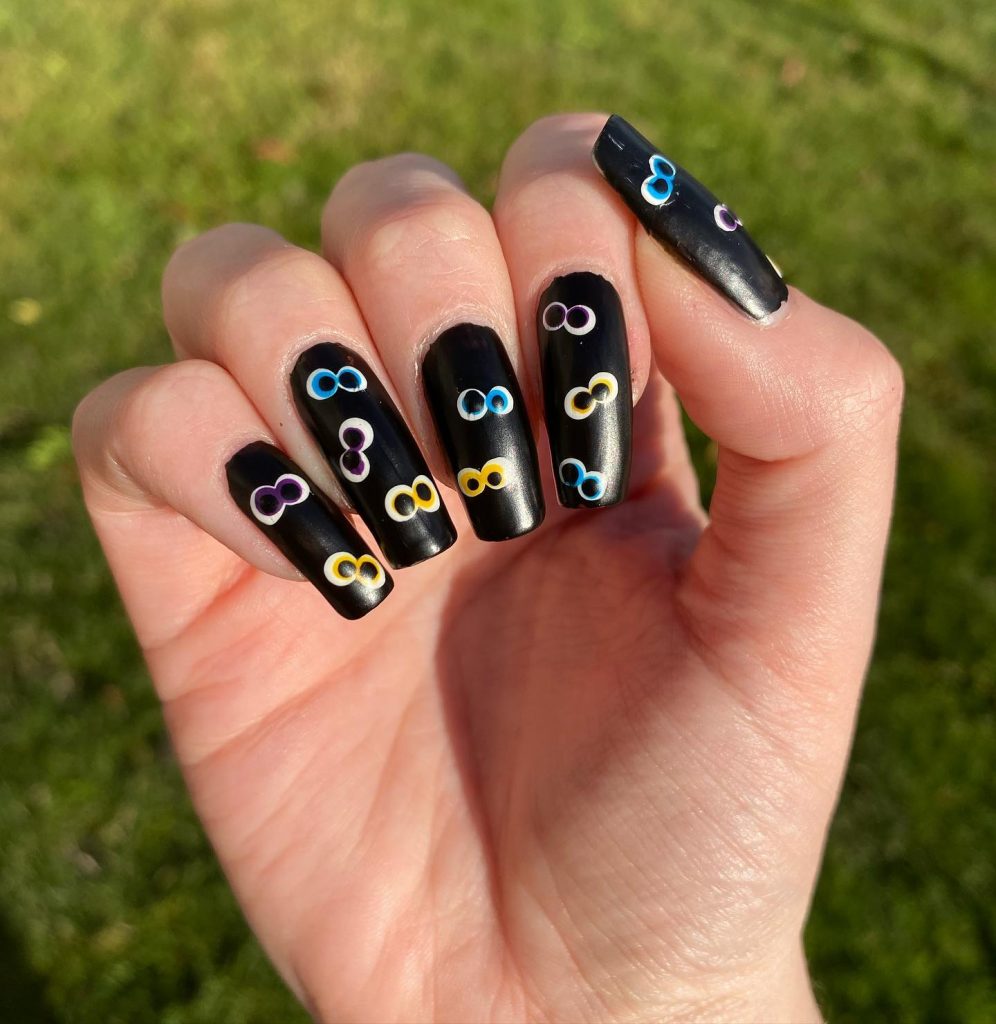 This fun black Halloween nail art looks like a bunch of cat eyes staring from the darkness. The blue, yellow, and purple stand out from the black and create a magnetic and interesting look!
14. All-in-one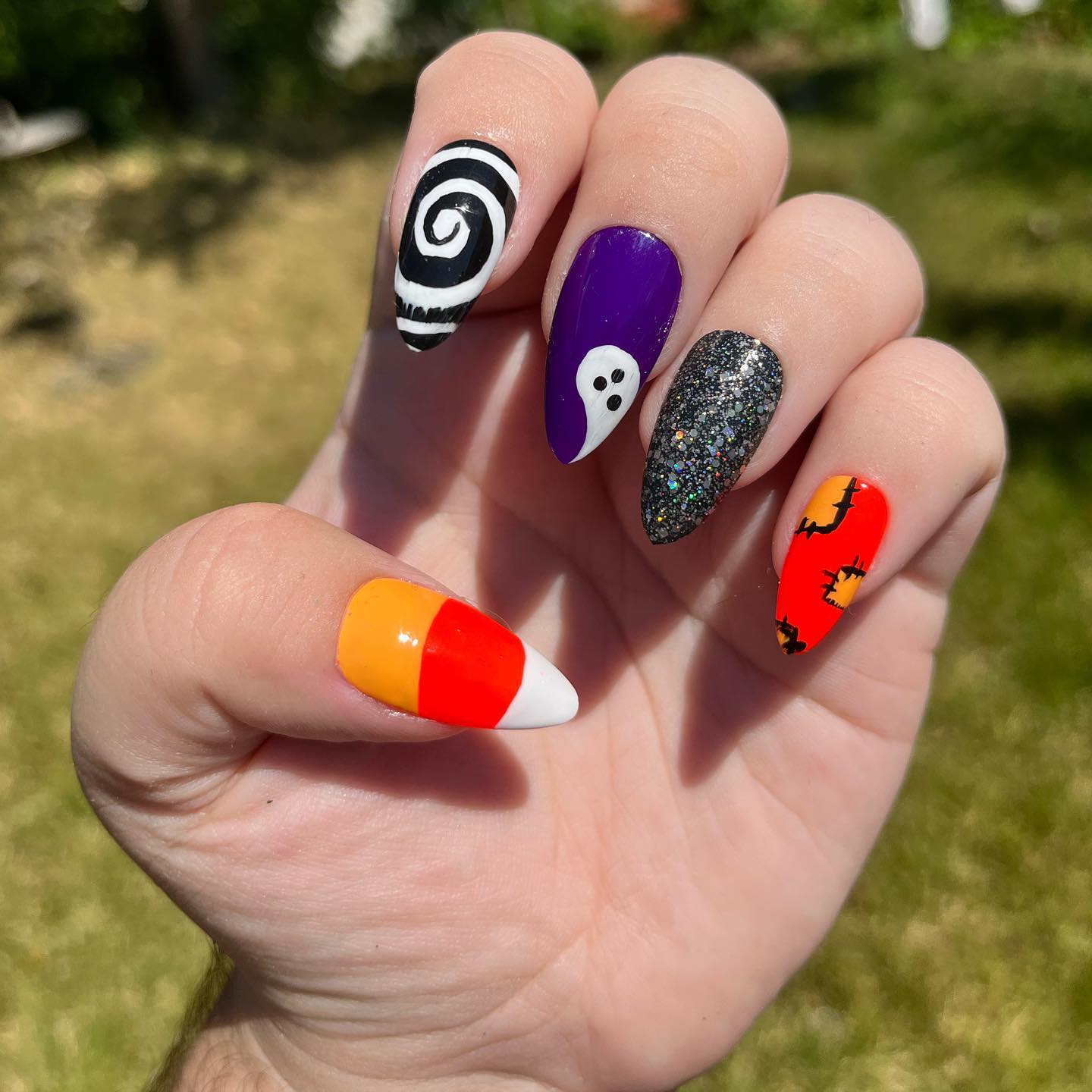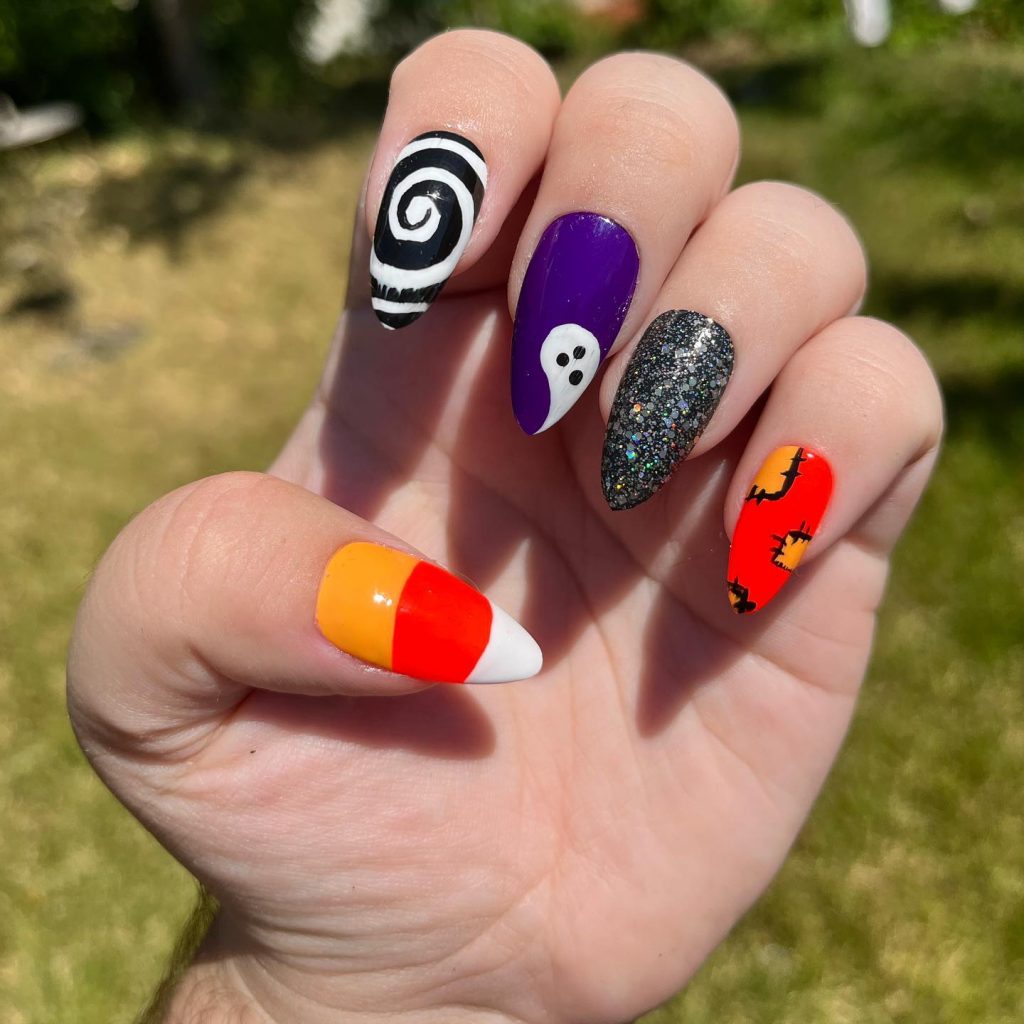 All the elements of Halloween are fused into one nail art! If you are a sucker for Halloween and obsess about it all year long, this adventurous Halloween nail art is definitely your cup of tea!
15. Adorable Spirits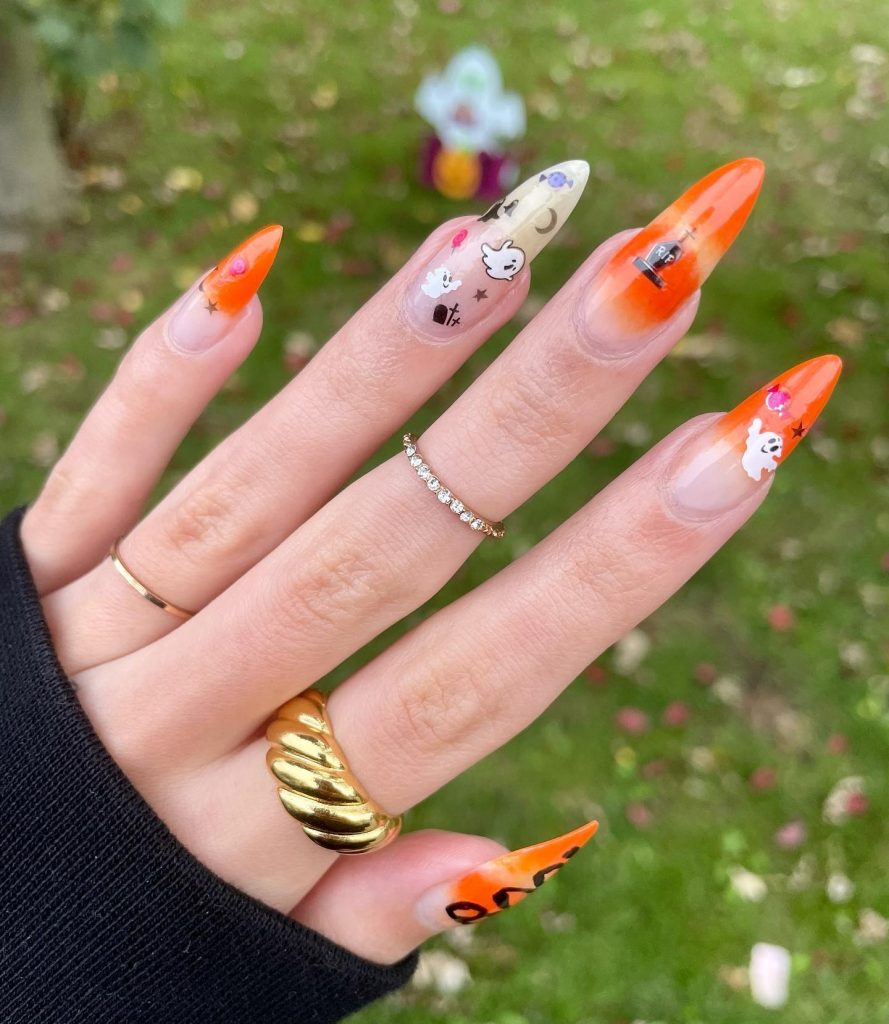 It's hard to imagine Halloween nails without the statement orange. This subtle and fun Halloween nail art has a beautiful ombré background sprinkled with delicate, adorable ghosts for extra cuteness!
Post You May Like: How to Get Hailey Bieber's Chocolate Glazed Donut Nails?
16. UFO Sightings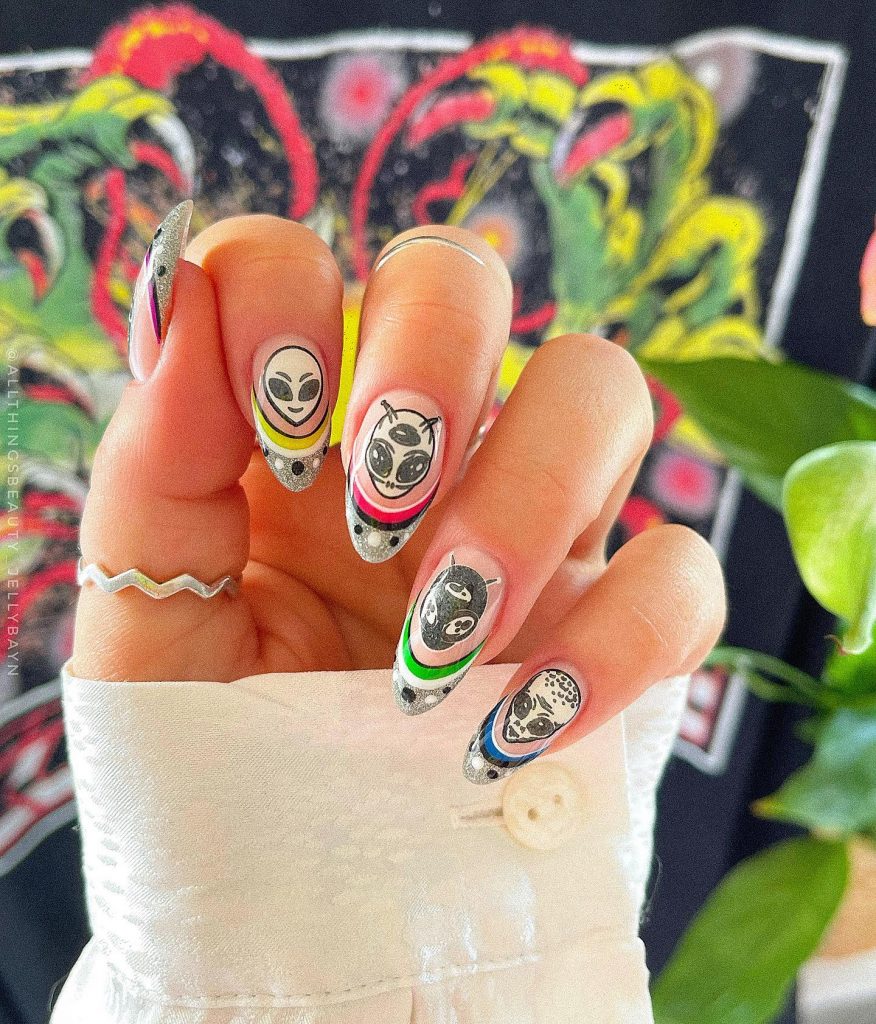 These nails are as creative as they are creepy! The alien stickers lend to your manicure an intergalactic feel. Moreover, the light touch of colors and the static accents make this Halloween nail a true work of art.
17. Boo!
Jazz up your scare factor with this glittery Halloween nail art! Halloween is not bound to oranges and blacks. It is anything you want it to be as long as it is not of this world! Try out this manicure for a chic and glittery look.
18. Trapped Souls!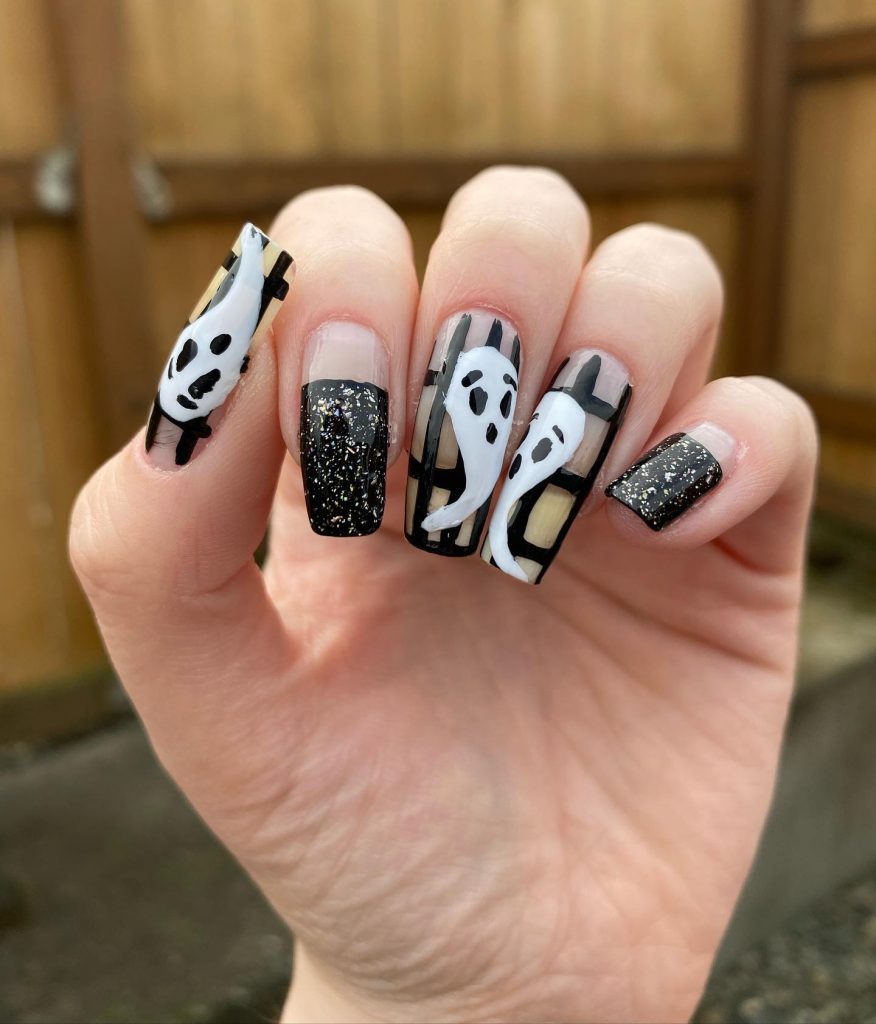 Trap the soul of Halloween with these startling ghosts! A mixture of black checks and pop-art ghosts, this manicure hits the spot with the right balance of eeriness and art!
19. Graveyard Monsters!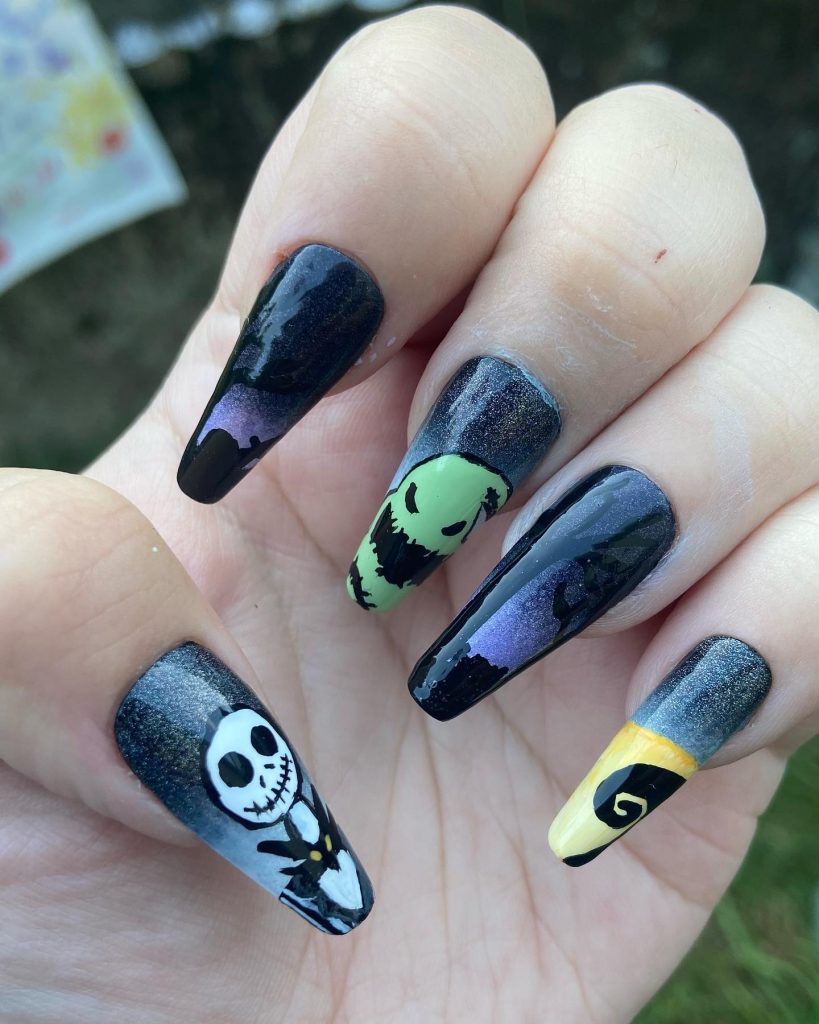 This nail art proves that Halloween motifs can be as magnificent as scary. This gorgeous black Halloween nail art features an intricate night sky topped with monsters from different realms! You'd want to wear this one all year long!
20. Peter Pan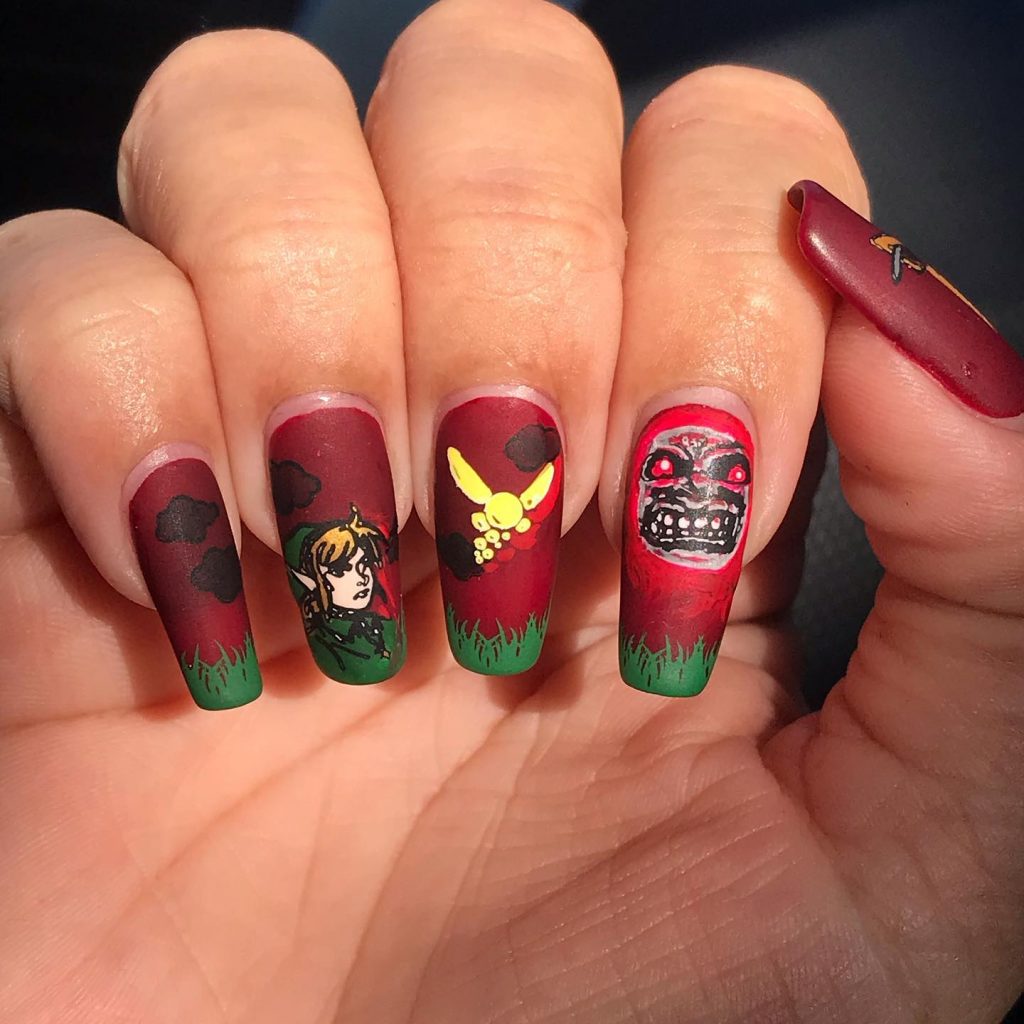 Here is another gorgeous piece of art from the tale of Peter Pan. To achieve this look, it is advisable to visit a professional manicure artist, as it requires a lot of skill and precision to achieve this level of mastery. This one really steals the show!
Post You May Like: 7 Best Nail Art Tape Strips in 2023 for At-Home Nail Art
21. Rave Ghosts
If you have ever wondered what partying in the ghost realm looks like, this is it. Holo Taco has one of the best holographic and chrome nail paints. Add some raving ghosts to it, and you're all set for the Halloween party!
22. Ghosties
Here's a Halloween nail art that you can get with your girl gang! Just like the different ghosts in the nail art, your gang has different personalities, which is what makes it awesome! Why wait? Ring up your ghost besties- ghosties!
23. Mjolnir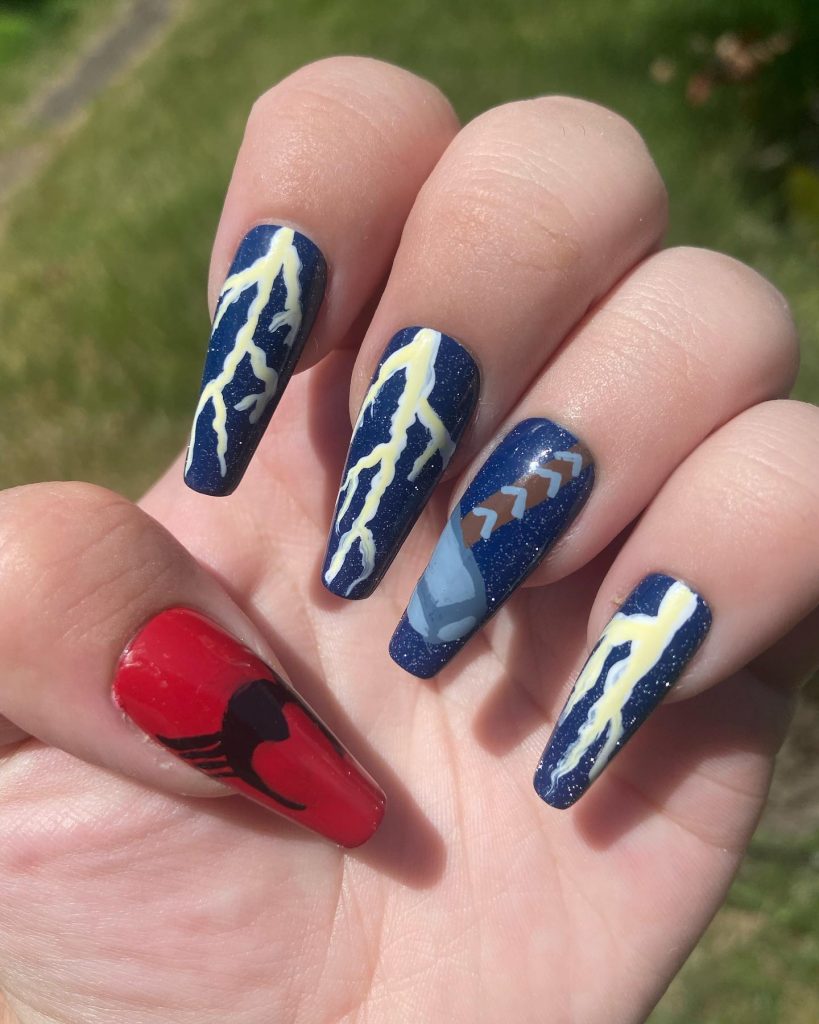 Halloween isn't just about ghosts and ghouls, you can opt to dress up as your favorite Marvel comics character and flaunt this beautiful Mjolnir (Thor Hammer) manicure!
24. Gaping Void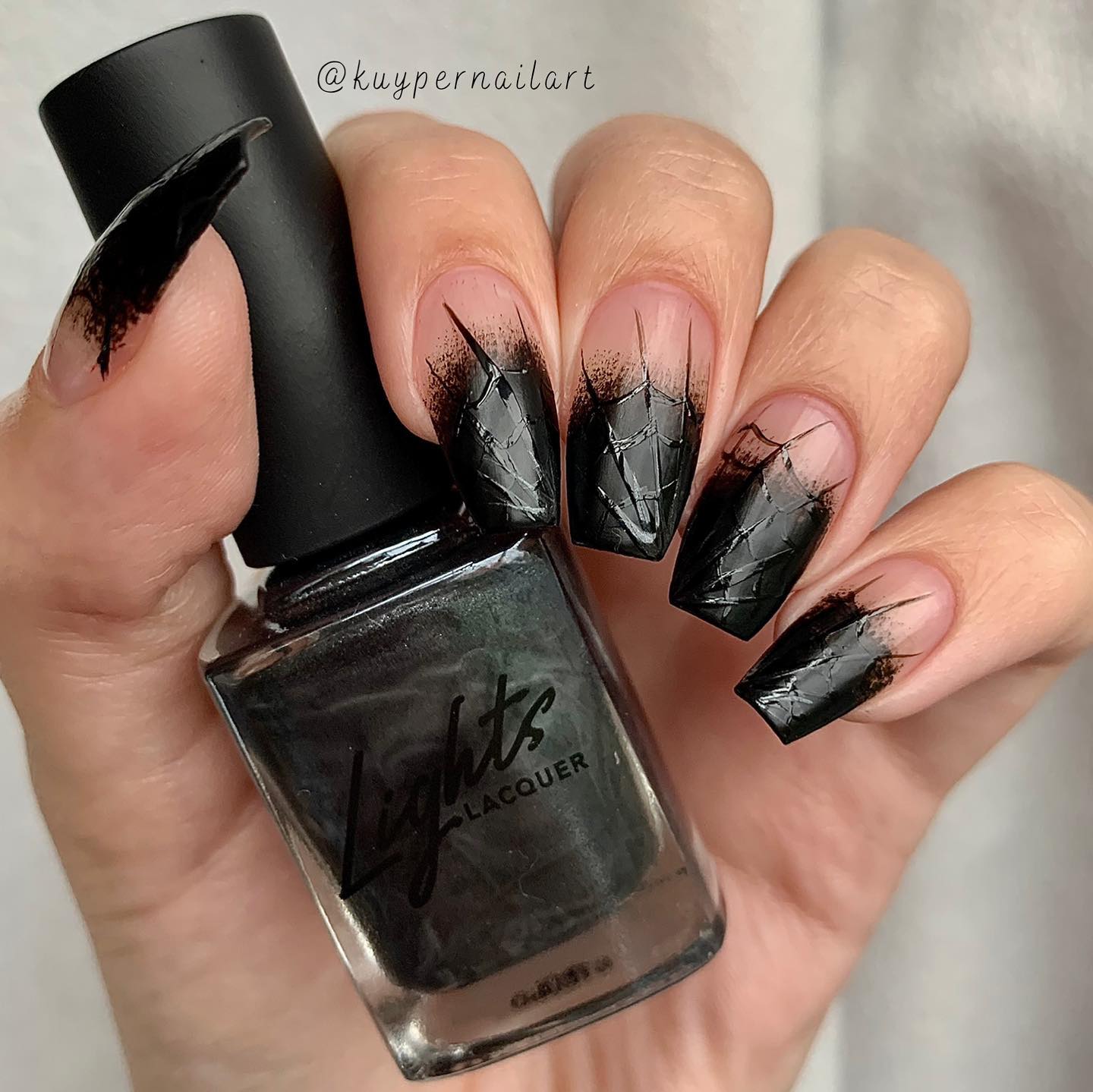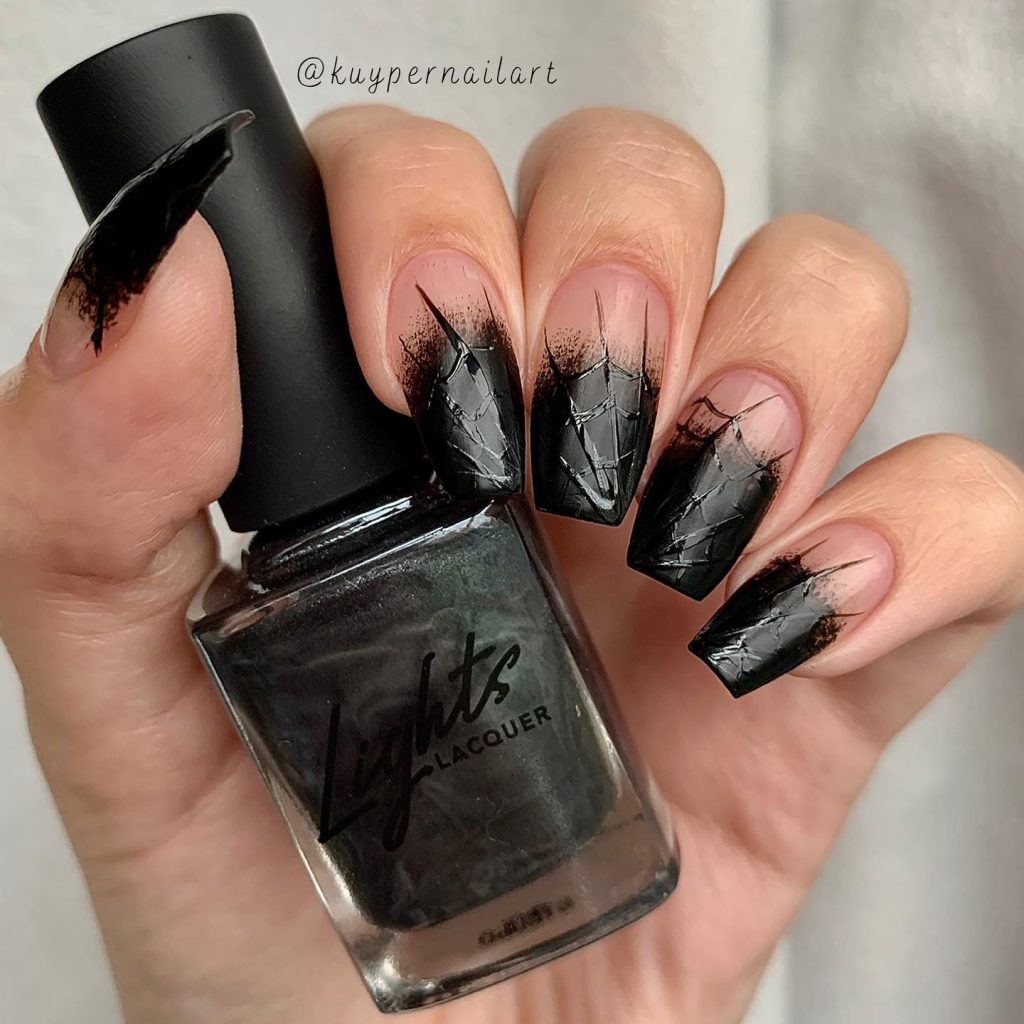 Black ombré and cobwebs-mmh! This one really steps up your Halloween game. Just look at the ominous vibe that the spreading cobwebs give! Classy and equally creepy, this black Halloween nail art is a no-brainer!
25. Smoky Apparitions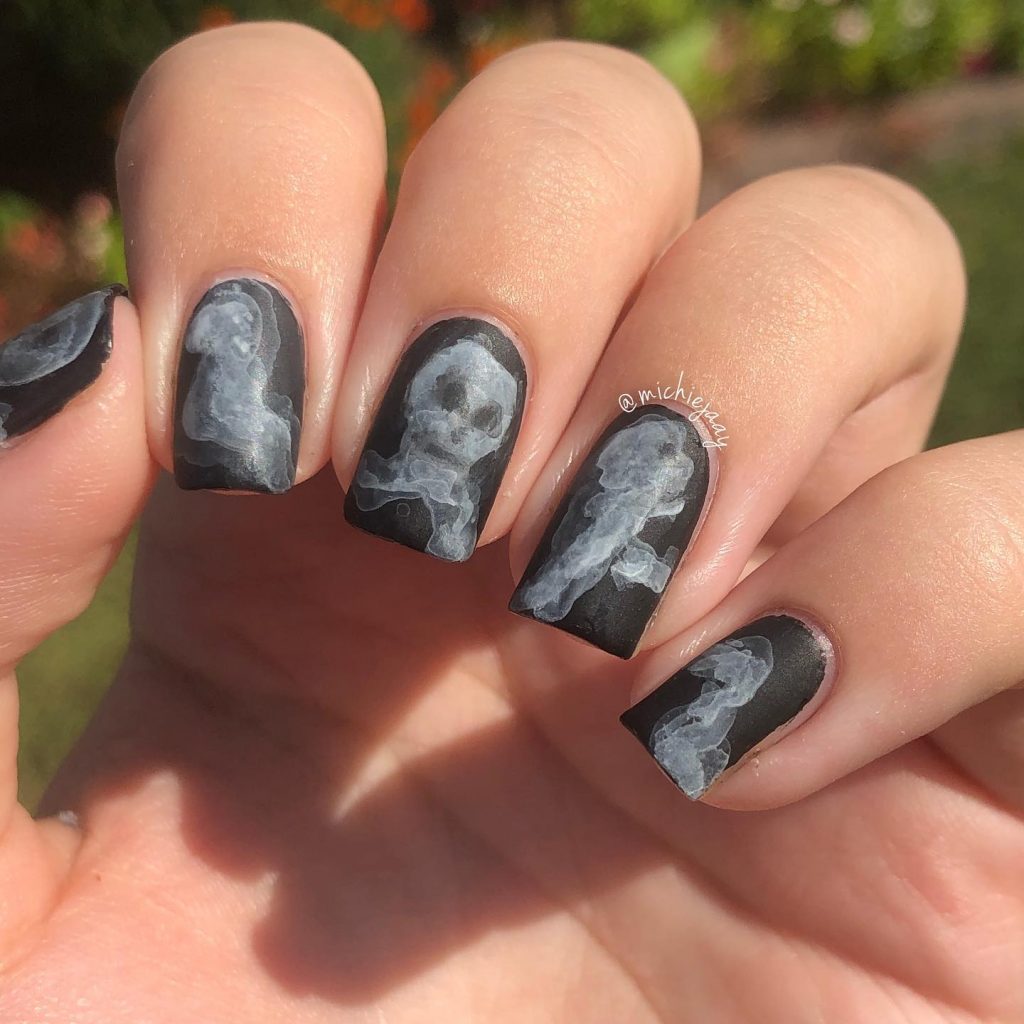 I get it, you're all about paranormal activity, and you relish true horror like chocolate ice cream. This nail art is a really scary one as it has smoky, hazy apparitions resembling ghost pictures from old photographs!
Post You May Like: 30 Cozy Cable Knit Sweater Nail Art Designs for Winter 2023
26. Halloween Joy!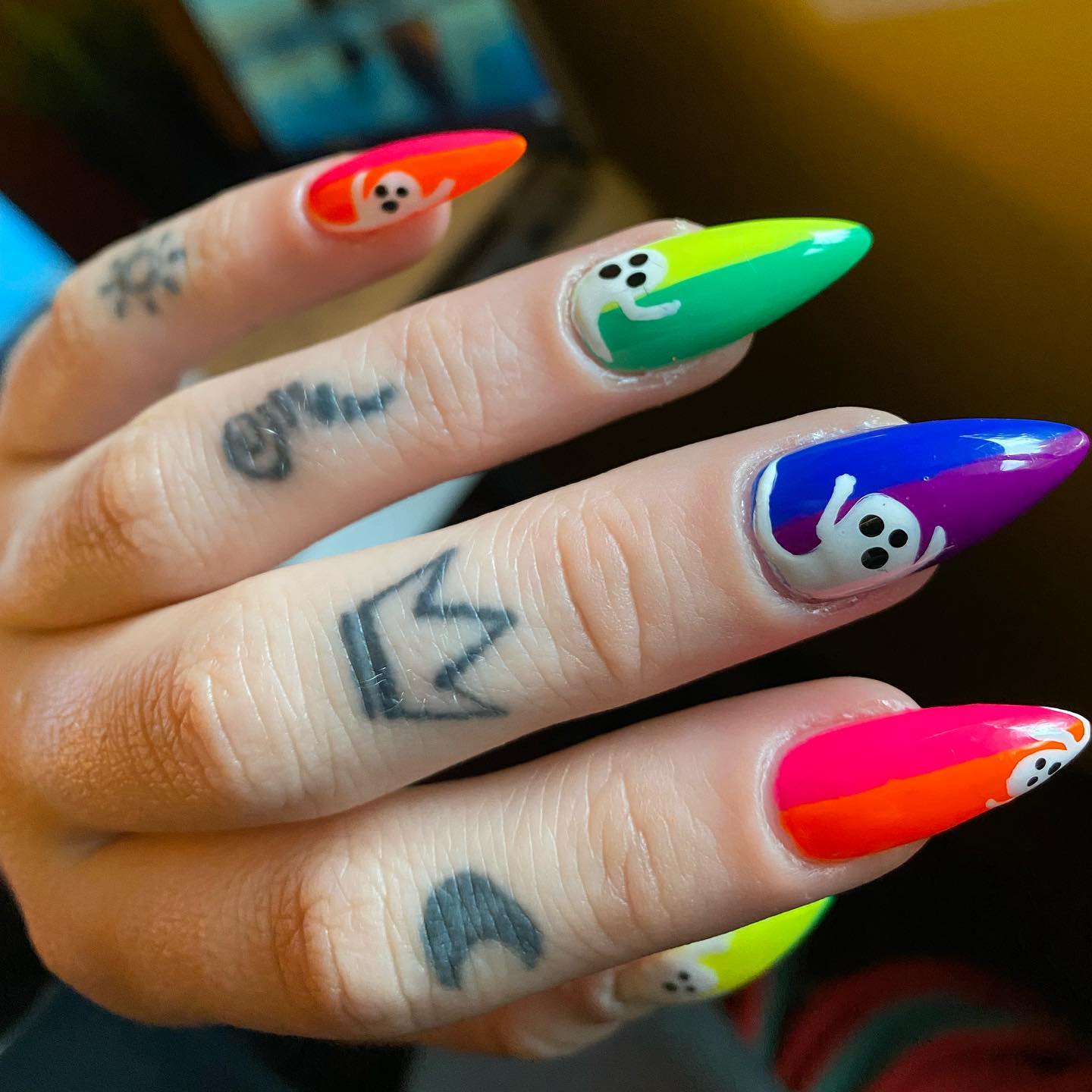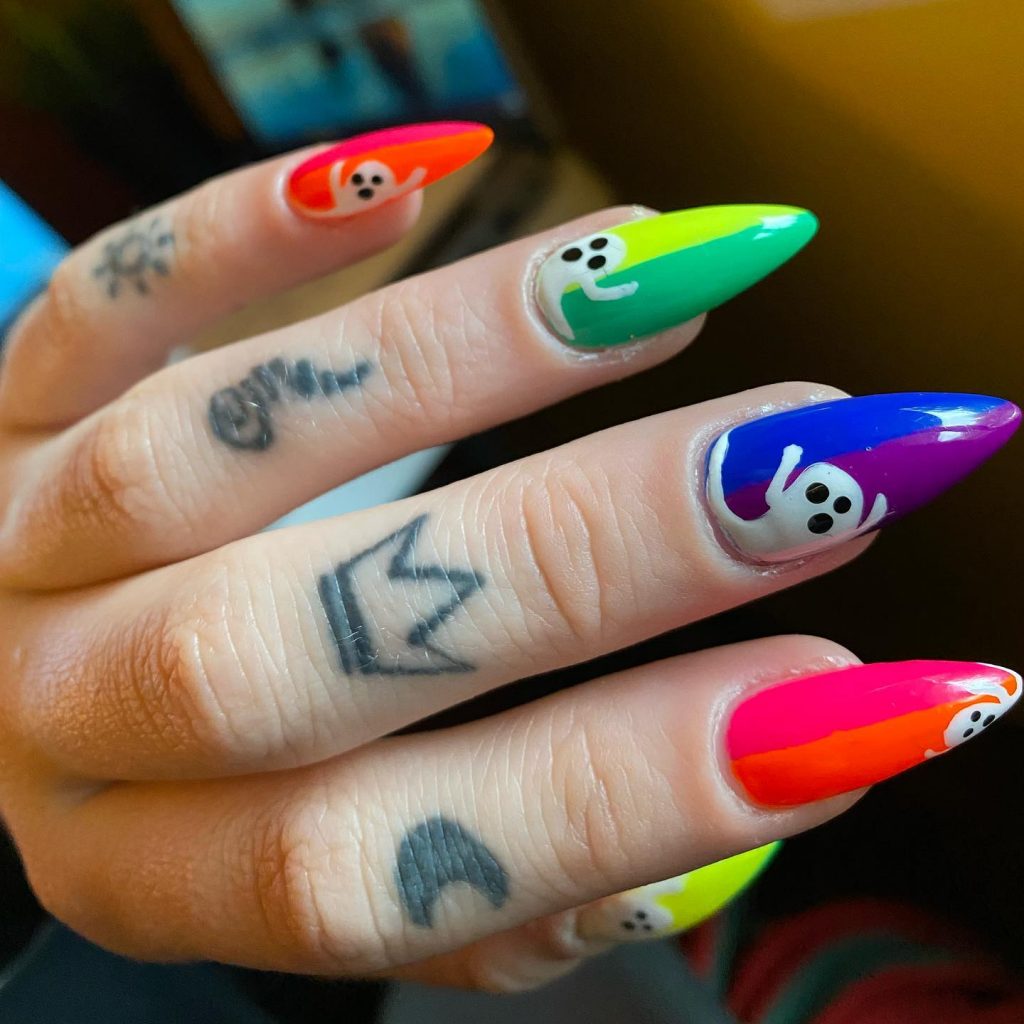 Who said Halloween couldn't be colorful?! This nail art is easy to achieve at home. If you have a bunch of colors lying around for a while, try this one out. If hand painting the ghosts seems like a task, you can always go for Halloween nail stickers.
27. Simply Spooky!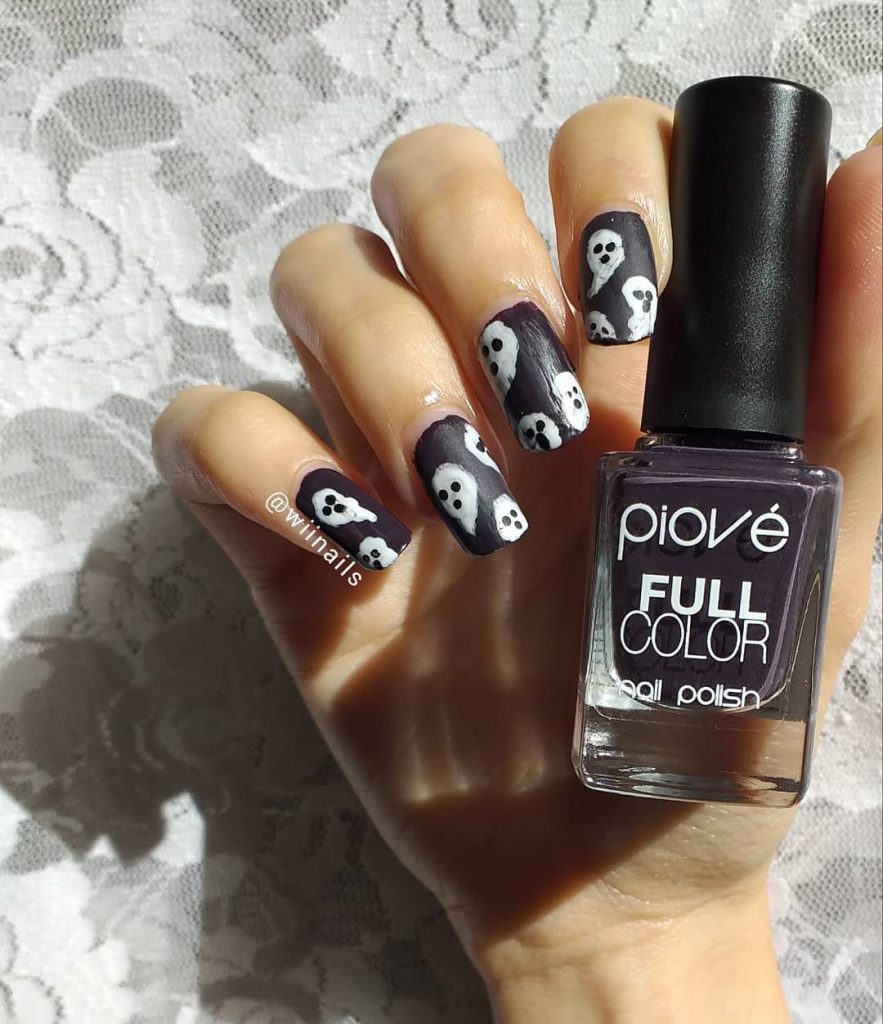 This is as easy as it gets! This one is for the last-minute procrastinators who just want to get their nails done as fast as possible. It's simple, efficient, and ghostly; what more?
28. October Barbie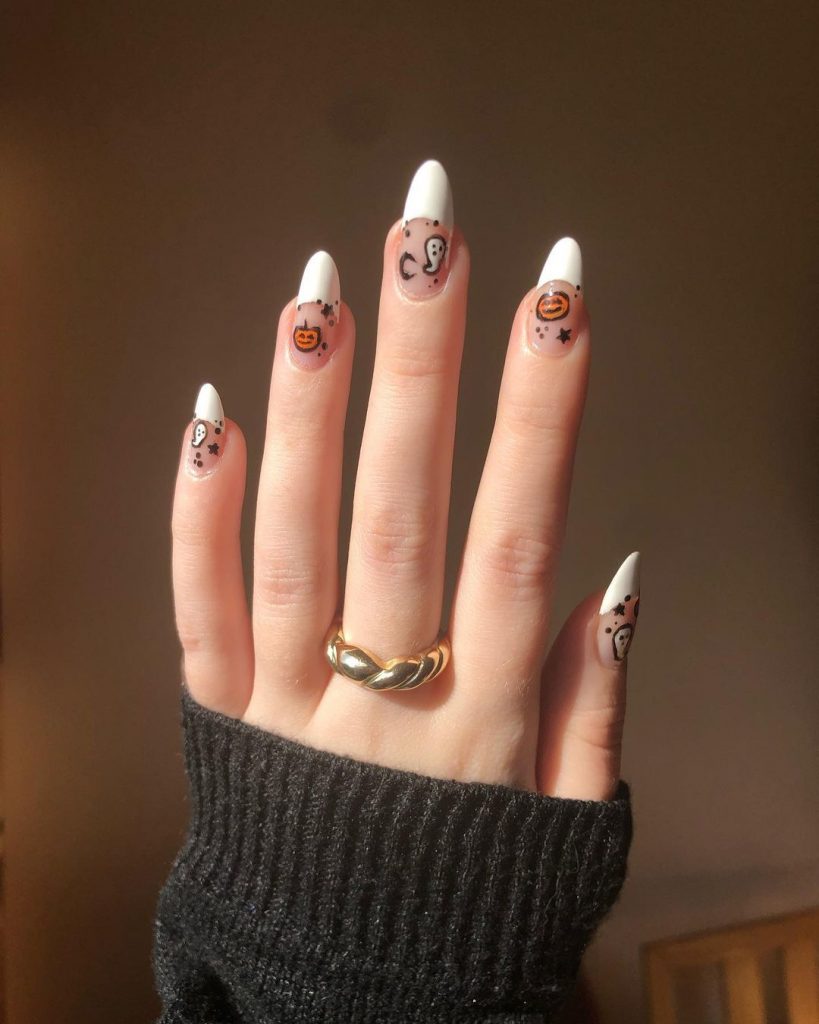 Want to make your French manicure pixel-perfect for this Halloween? Simply get these cutesy barbies on your French manicure to shine with a spooky nail design while preparing for Halloween.
Wrapping up:
Now that you have a selection of Halloween nail ideas to choose from, you can finally decide which manicure to get! Phew!
Most of the designs can be achieved at home, although the more complicated and detailed ones are best left for the professionals. Halloween nail colors range from the traditional orange and black to green, purple, and even holographic nails.
With changing and evolving culture, the manicure world has also experienced a lot of transformation. Nail designs are slowly getting rid of stereotypes and giving way to more creative and inclusive designs! Grab the costumes and get the scare game on!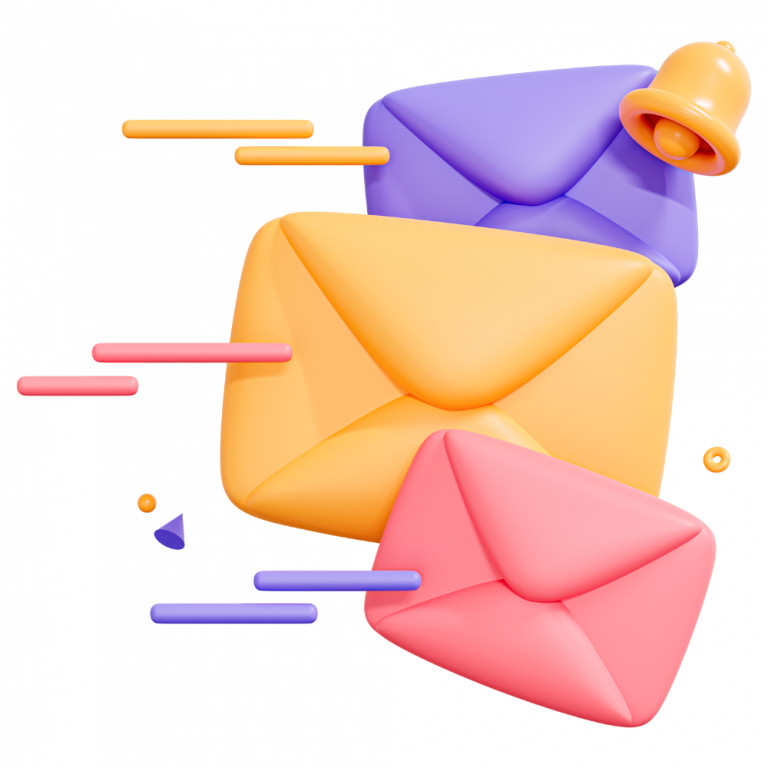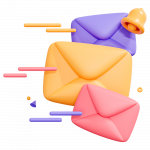 Read related: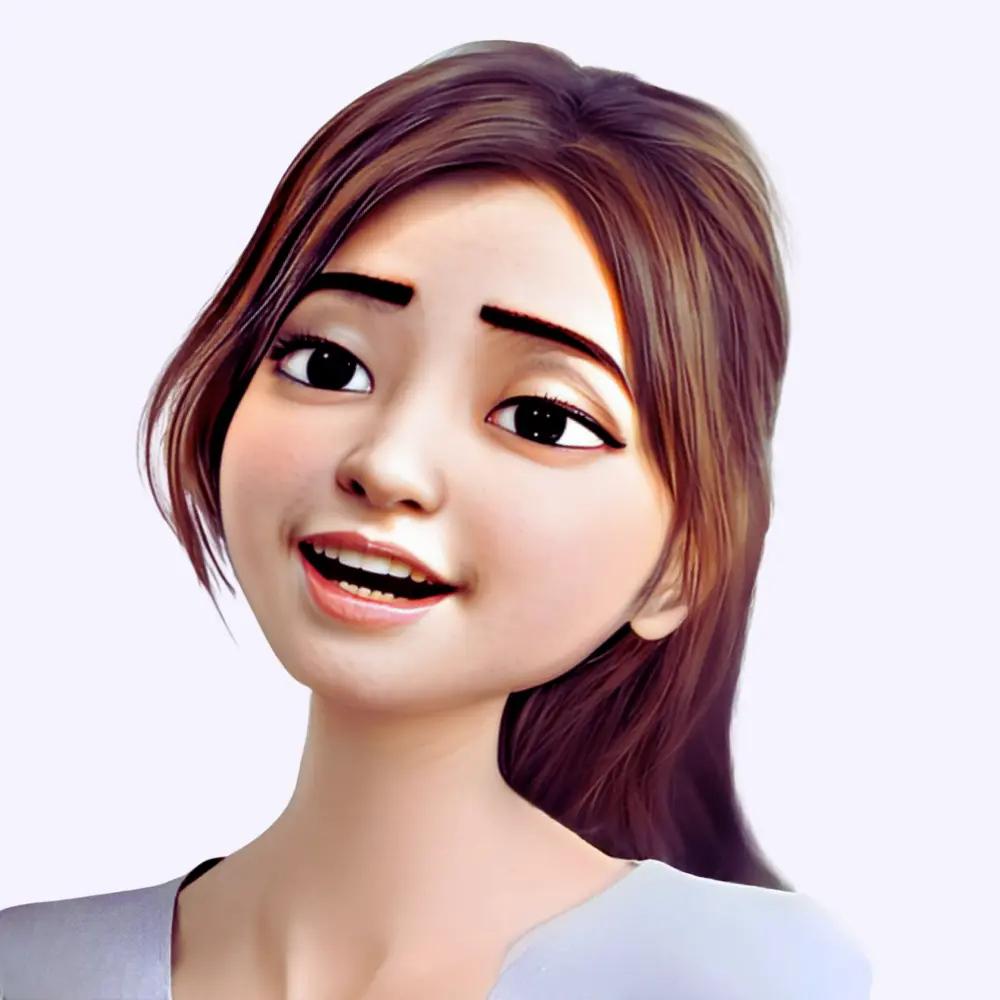 Hey there! I'm Raizy, a makeup, beauty, and manicure enthusiast. My passion for nail art and manicures knows no bounds; it's something I can't quite put into words. Every day, my goal is to dive into the world of manicures and nail art, and I'm thrilled to share my thoughts and expertise with all of you.