41 Cute Thanksgiving Nail Art Designs for 2023
Make all the pies and pastries that you want, but those nails should never look worn out! This holiday season, we're thankful for a lot of things, food in our bellies, shelter over our heads, and stunning nails that glow in the autumn sun! Thanksgiving nail art is all about representing the festivities and the mirthful times with our close ones.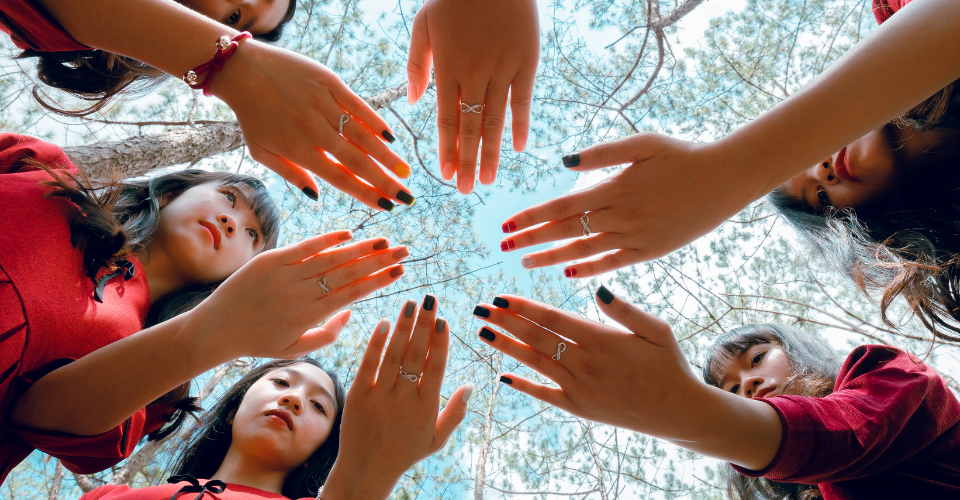 Choosing a perfect Thanksgiving nail art is as important as finding the best dress for the occasion. Although most prefer warm, sultry colors, you can experiment with a myriad of Thanksgiving nail ideas. Needless to say, having the perfect nail length and shape contributes a lot to the beauty of the finished product.
There are short nail designs for the functional and independent ones and long nails for the queens! Either way, there is a tonne of hues associated with the occasion of Thanksgiving. Intricate lines, turkey nail art, cool neutral tones, warm tan shades, classic hearts, and rainbows to stunningly bright yellows and fluorescents, we have a nail design for everyone!
If you have been incessantly looking for Thanksgiving nail art ideas all over the internet, consider this as a sign from the universe that you have finally found the right place!
41 Cute Thanksgiving Nail Art Design Ideas for 2023
These Thanksgiving nail ideas are not only beautiful but many of them can also be achieved in the comfort of your home to save a few bucks and get another turkey! Tighten your seatbelts for a wild manicure ride down the Thanksgiving lane!
1. Hearts and Shimmers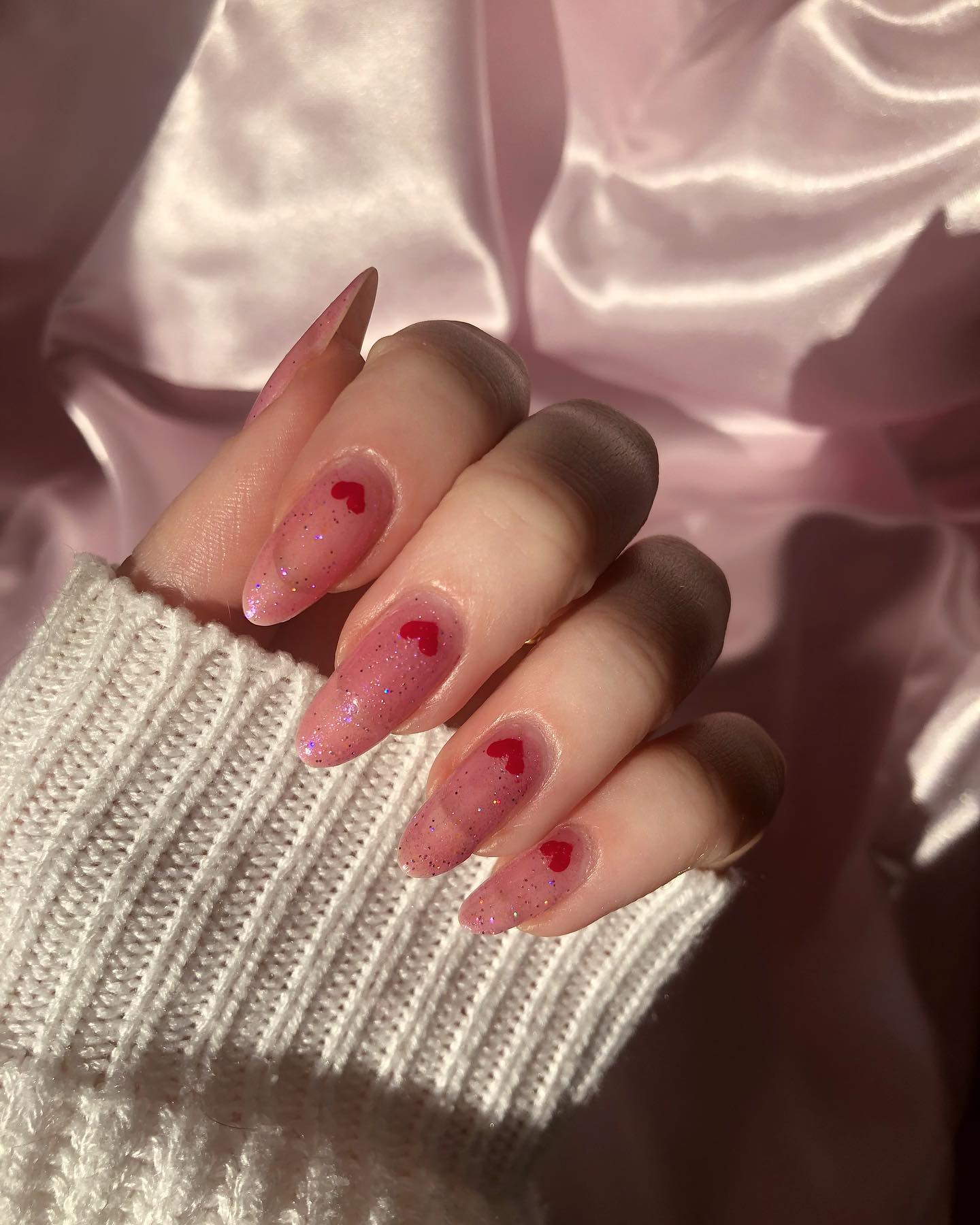 This Thanksgiving nail art with dainty hearts on a glittery transparent pink base adds just the right amount of romance and warmth to your festivities. Get ready for a cookout in nature with the shimmer on your nails!
2. Rainbow Tips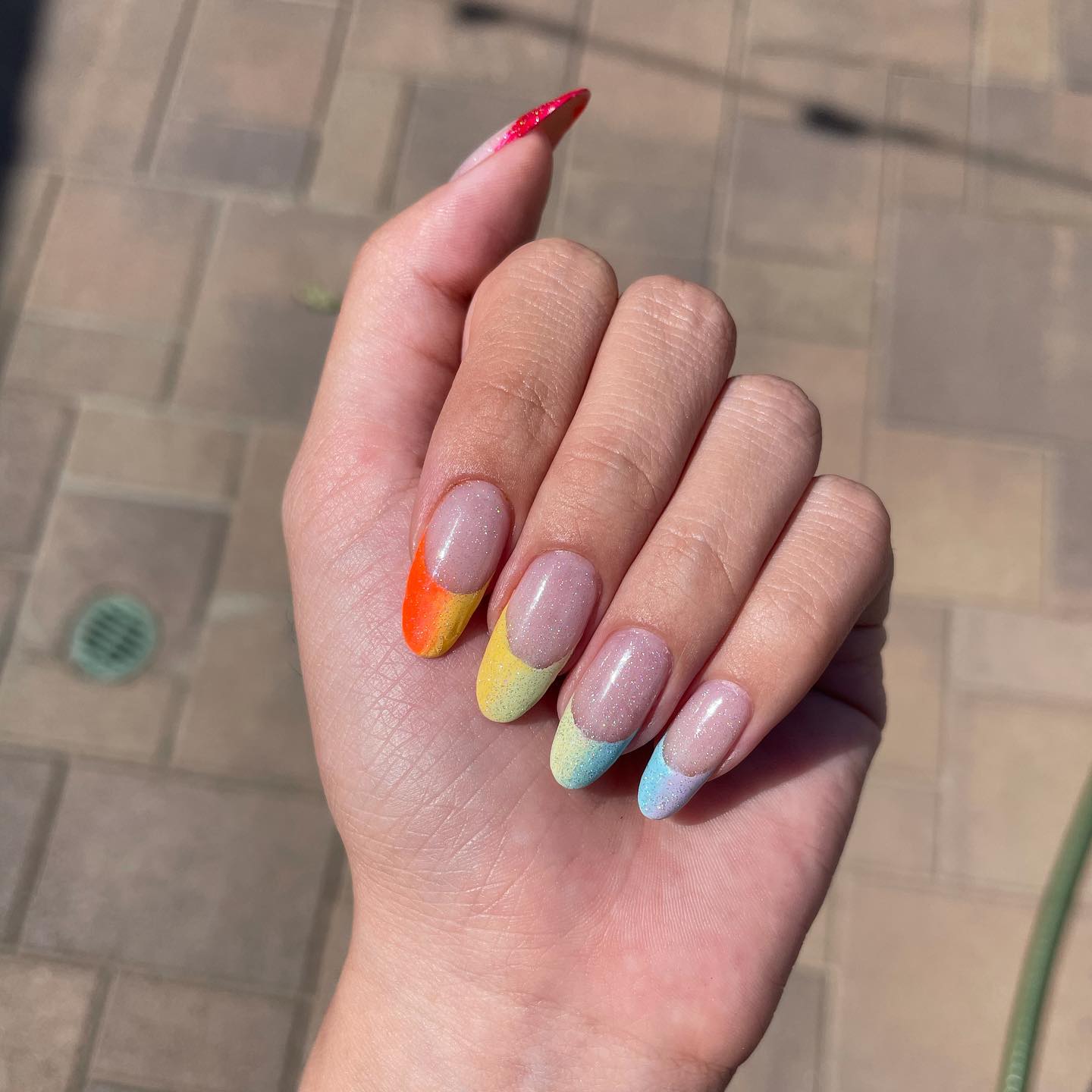 Just a glance at this Thanksgiving French tip nail design makes us squeal with joy. The matte rainbow tips, combined with the shimmery body, add elegance and sophistication to your nails!
3. Little Red Dress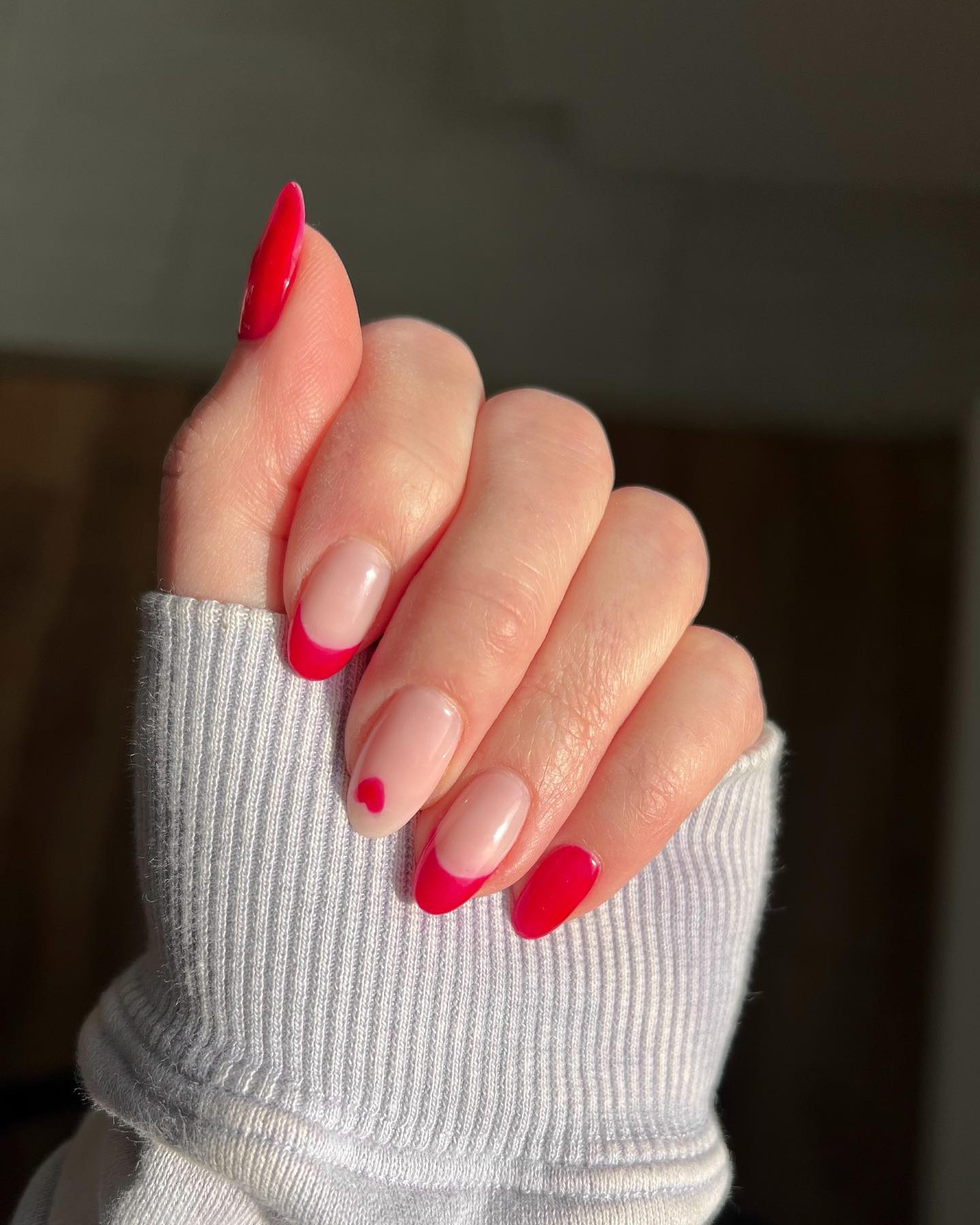 It's understandable why red was the color of Monroe. It's just so iconic, isn't it? This easy Thanksgiving nail art combines French tips, block nails, and a cute heart motif-all in red to keep your holidays vibrant and dynamic!
4. Artsy one!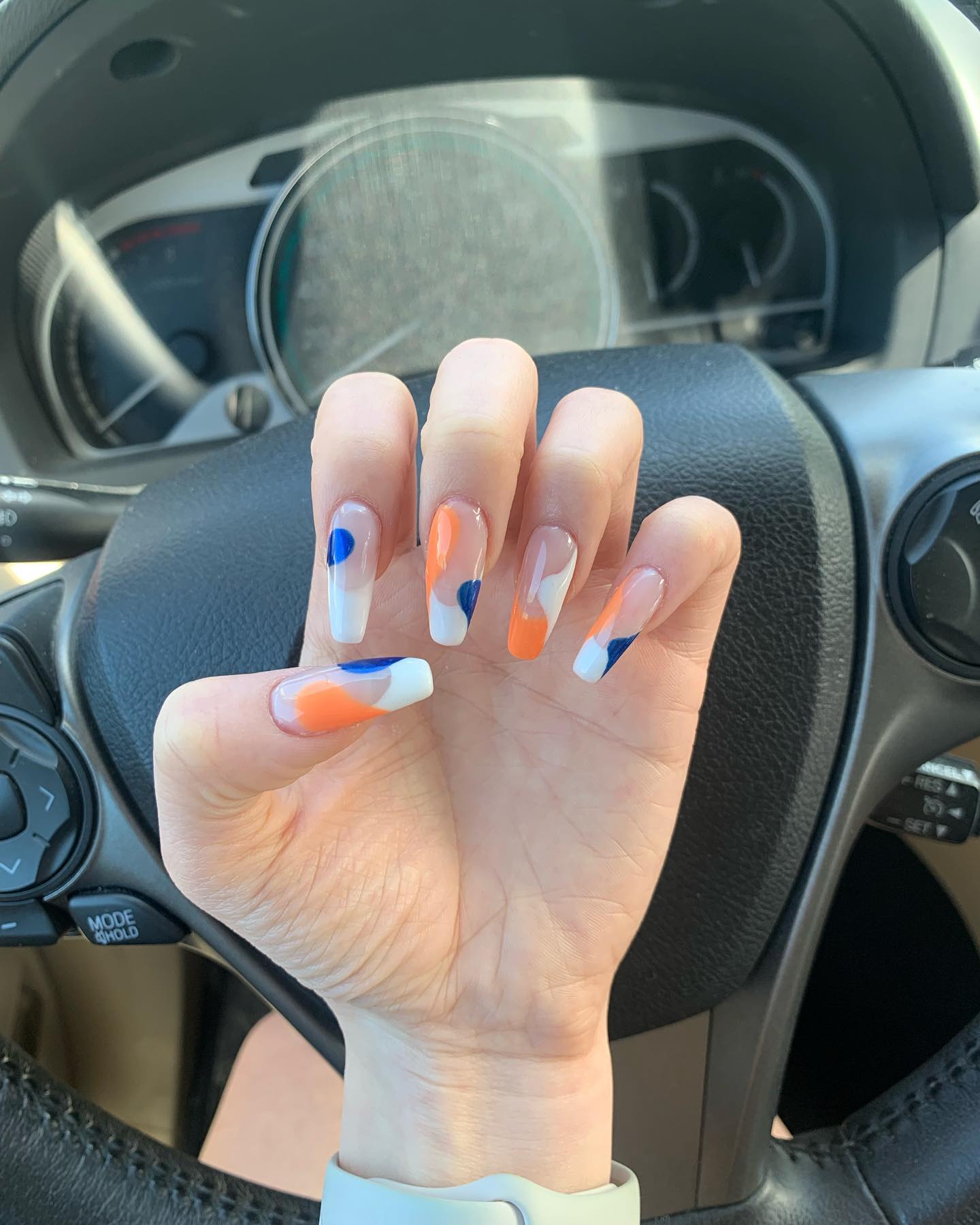 This Thanksgiving, nail art screams art major! Blobs of orange and blue nail polish, paired with a regular French tip, are exactly what you need for abstract yet attractive nails. You can experiment with different colors for a different aesthetic!
5. Princess's Nails!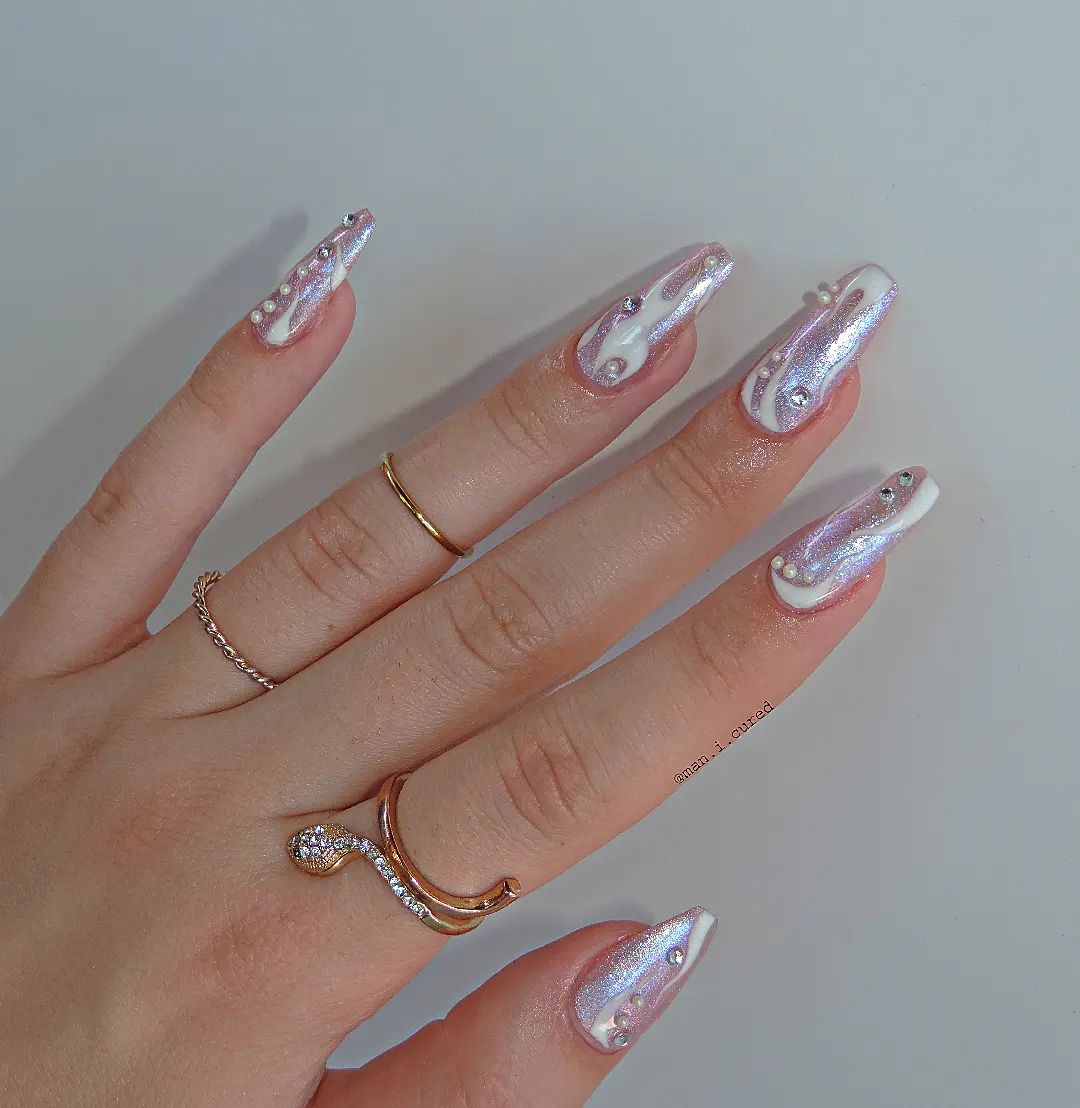 If you love holographic nails and want to add a gorgeous and festive touch to them, go for this stunning Thanksgiving nail art. The pearls and iridescence add a royal and gorgeous look to it!
Post You May Like: 30 Cozy Cable Knit Sweater Nail Art Designs for Winter 2023
6. Glittery and Fabulous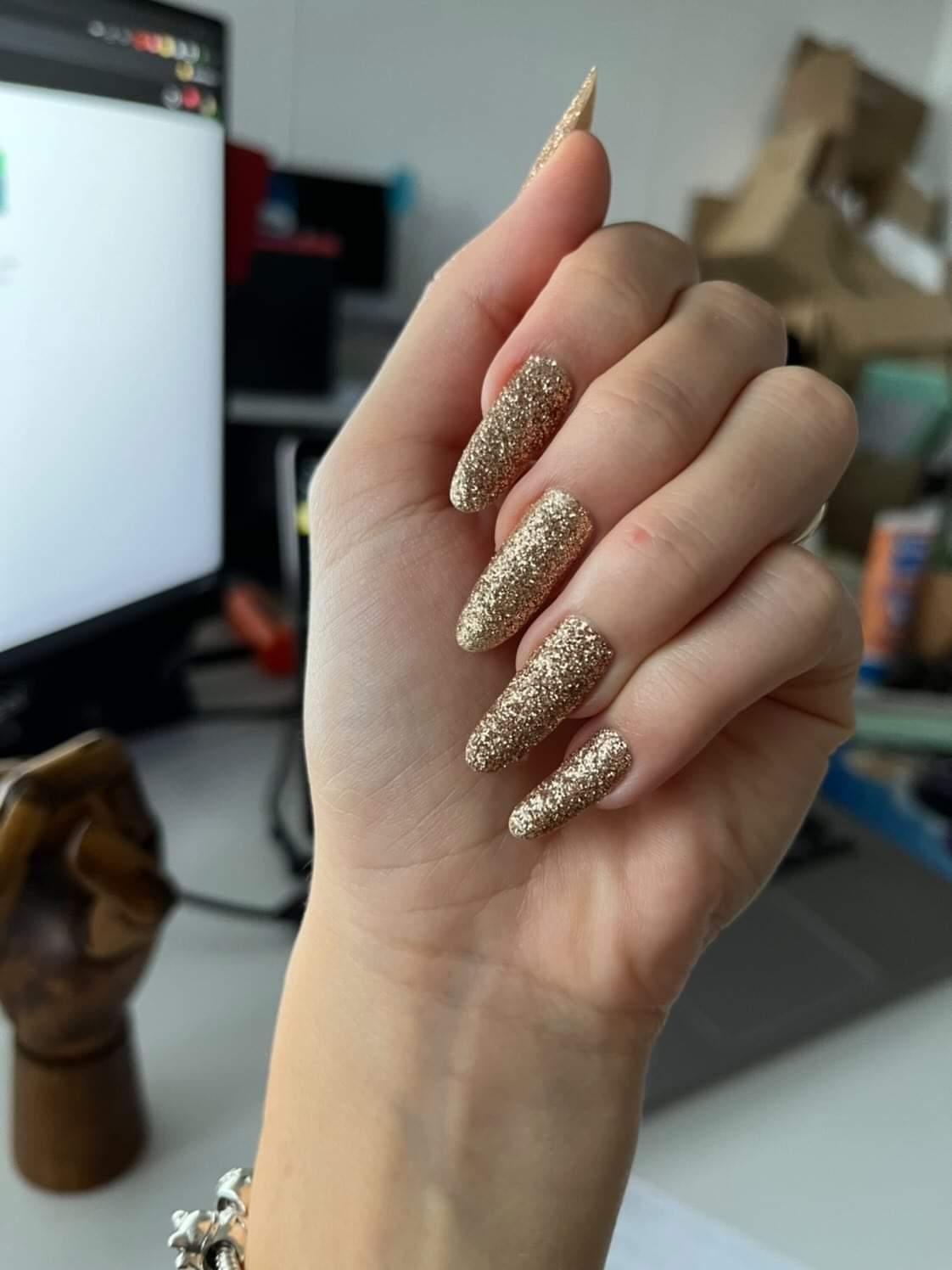 This is a foolproof Thanksgiving nail art that can be easily achieved at home to perfection. Just grab a gold glitter nail polish and get painting. Top it with a high-shine top coat for extra oomph!
7. Hope Is All We Got!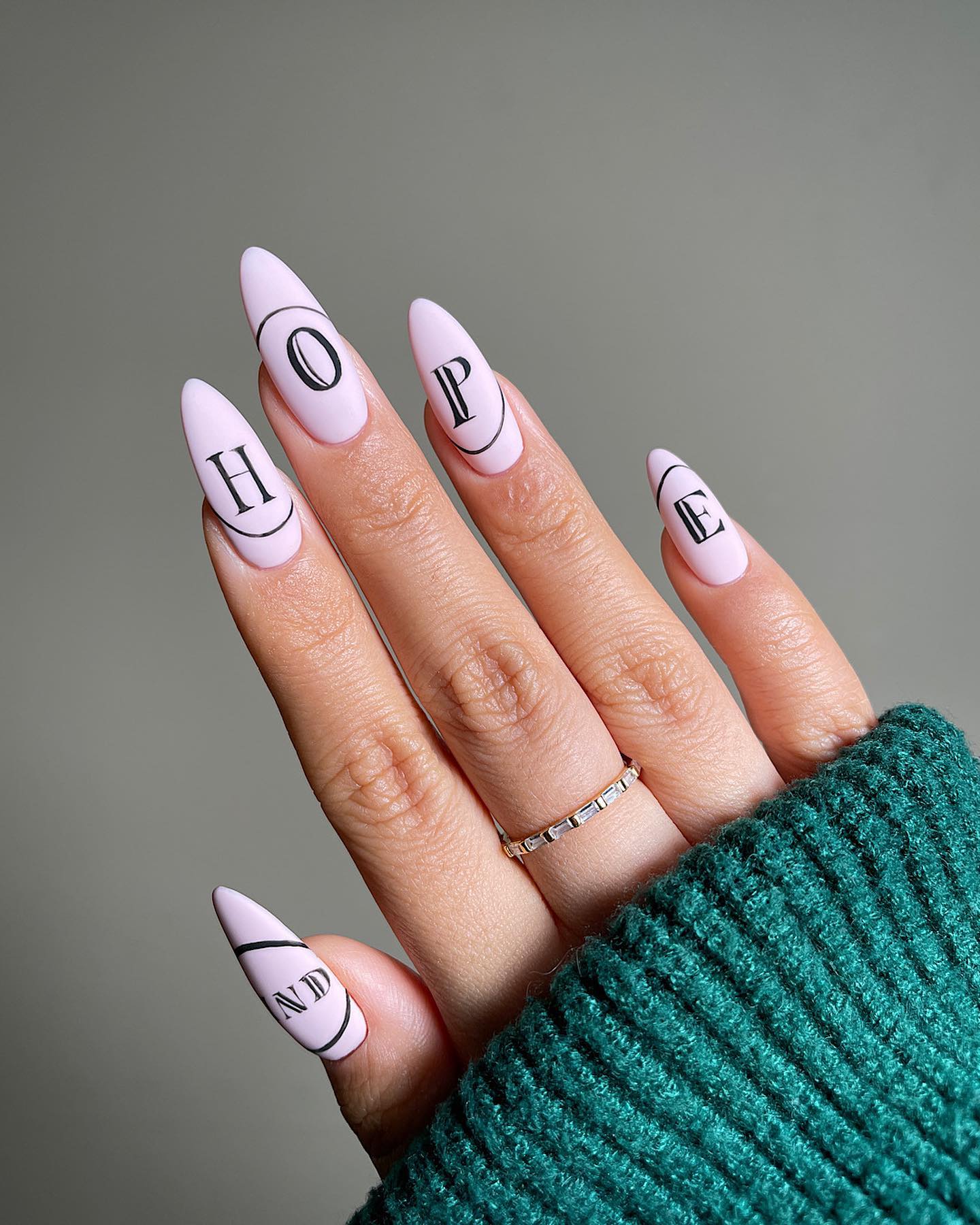 Thanksgiving nail ideas are supposed to express the values of the occasion, which is exactly what this manicure does. H-O-P-E, you love this manicure and the pretty pastel pink background!
8. The Wine Addict
Among a plethora of Thanksgiving gel nail designs, this is for the ones who are always seen walking around with a wine glass. The beautiful maroon-to-red ombré has a sophisticated and classy touch to it.
9. Pretty in Pastel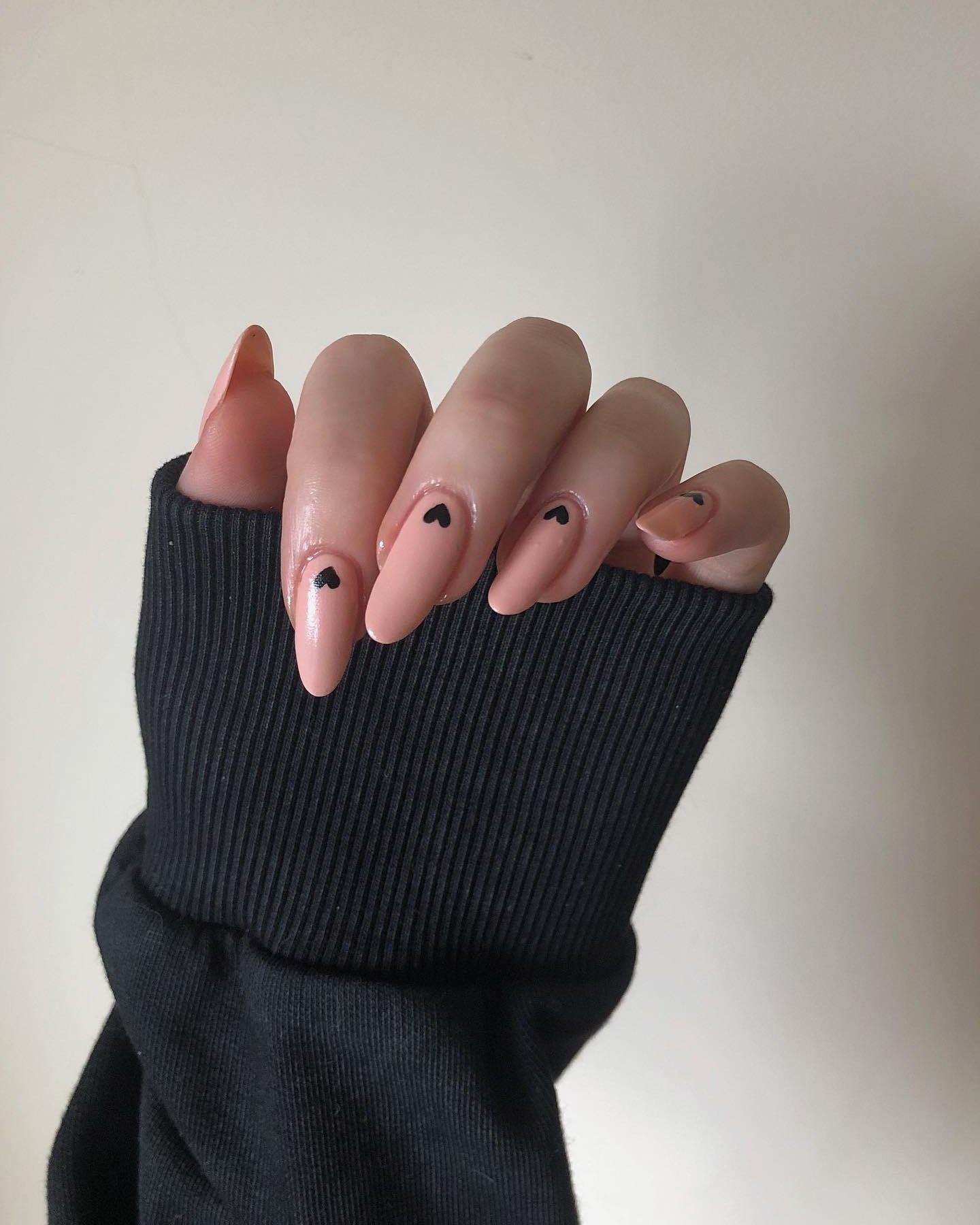 This Thanksgiving nail design for short nails is as pretty as the long ones! This pastel nude pink nail art with black heart nail stickers proves that minimalism is here to stay! You can wear this one on any nail length and shape, and it will be equally pretty!
10. Smiles Everywhere!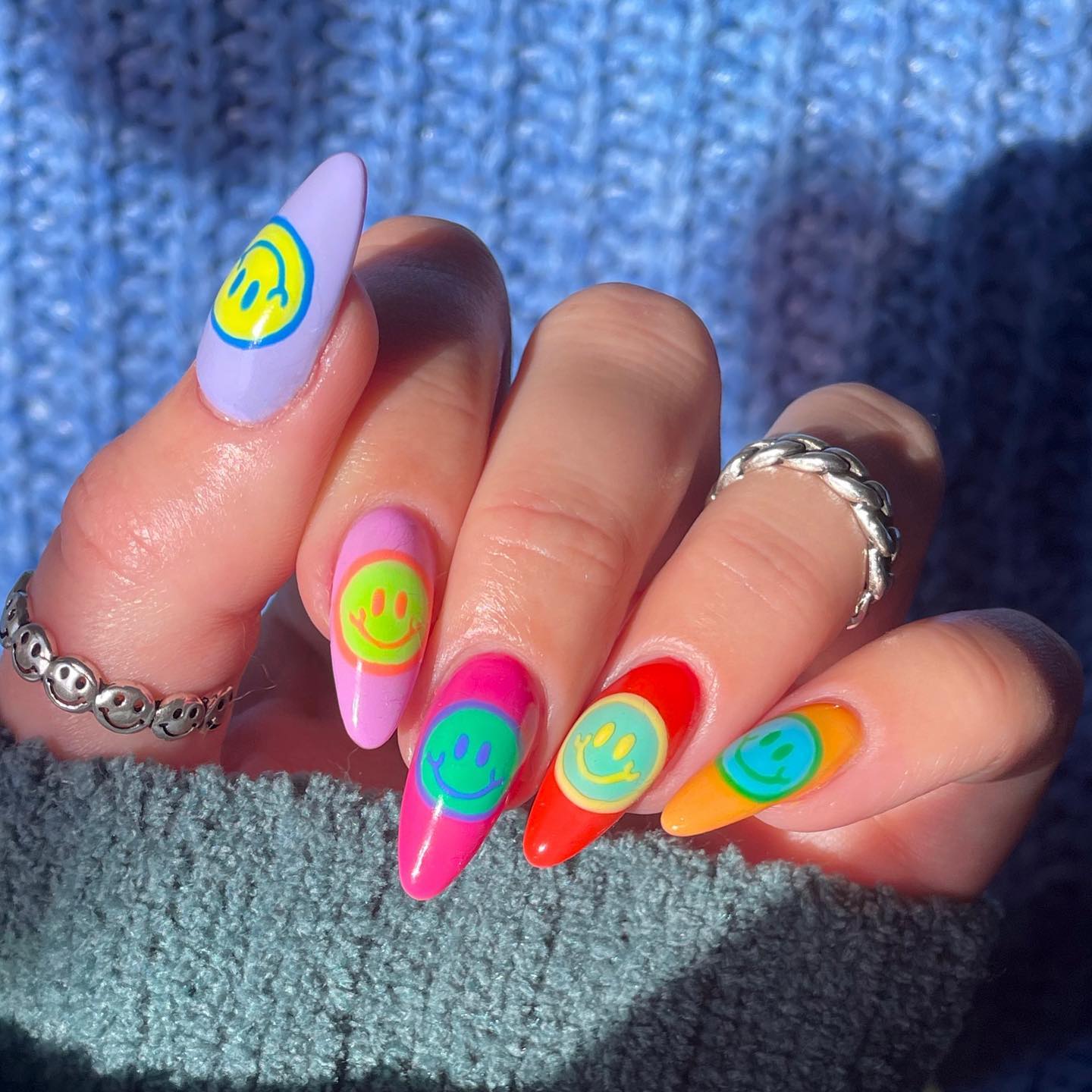 This Thanksgiving nail art is all about neon smiles! The strikingly bright manicure is achieved by Thanksgiving nail art stickers. It can be an easy DIY Thanksgiving nail art if you have neon colors at home. Just apply the stickers and add a top coat, and you're good to go!
Post You May Like: 24 Trending Lipstick Nail Shape Designs for 2023
11. Googly-Eyed Hearts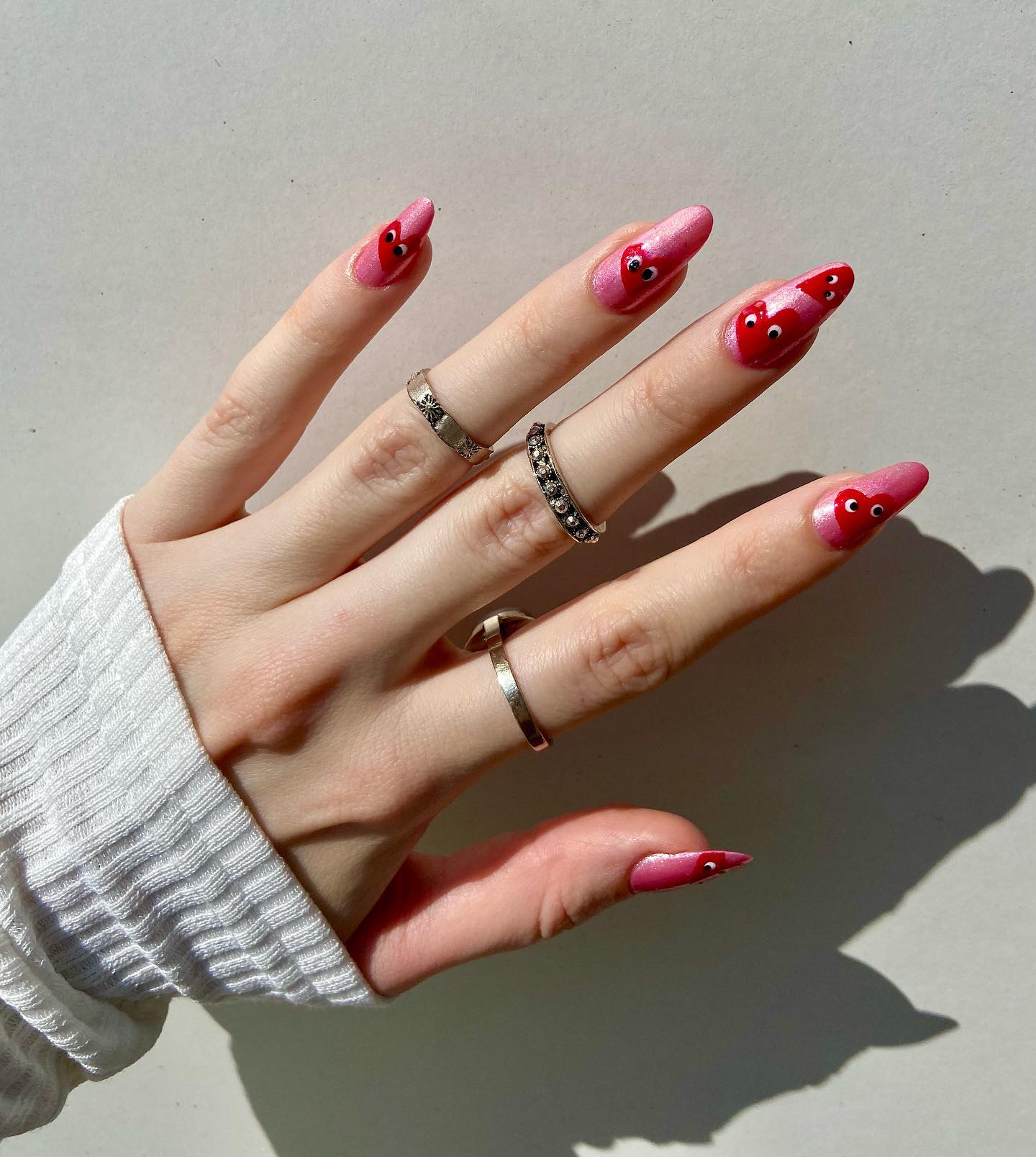 Thanksgiving nail art is always better with some hearts. Even more so if they have eyes on them! This totally adorable manicure has hearts staring at you! The classic combination of pink and red never fails to deliver!
12. Flowers and Squiggles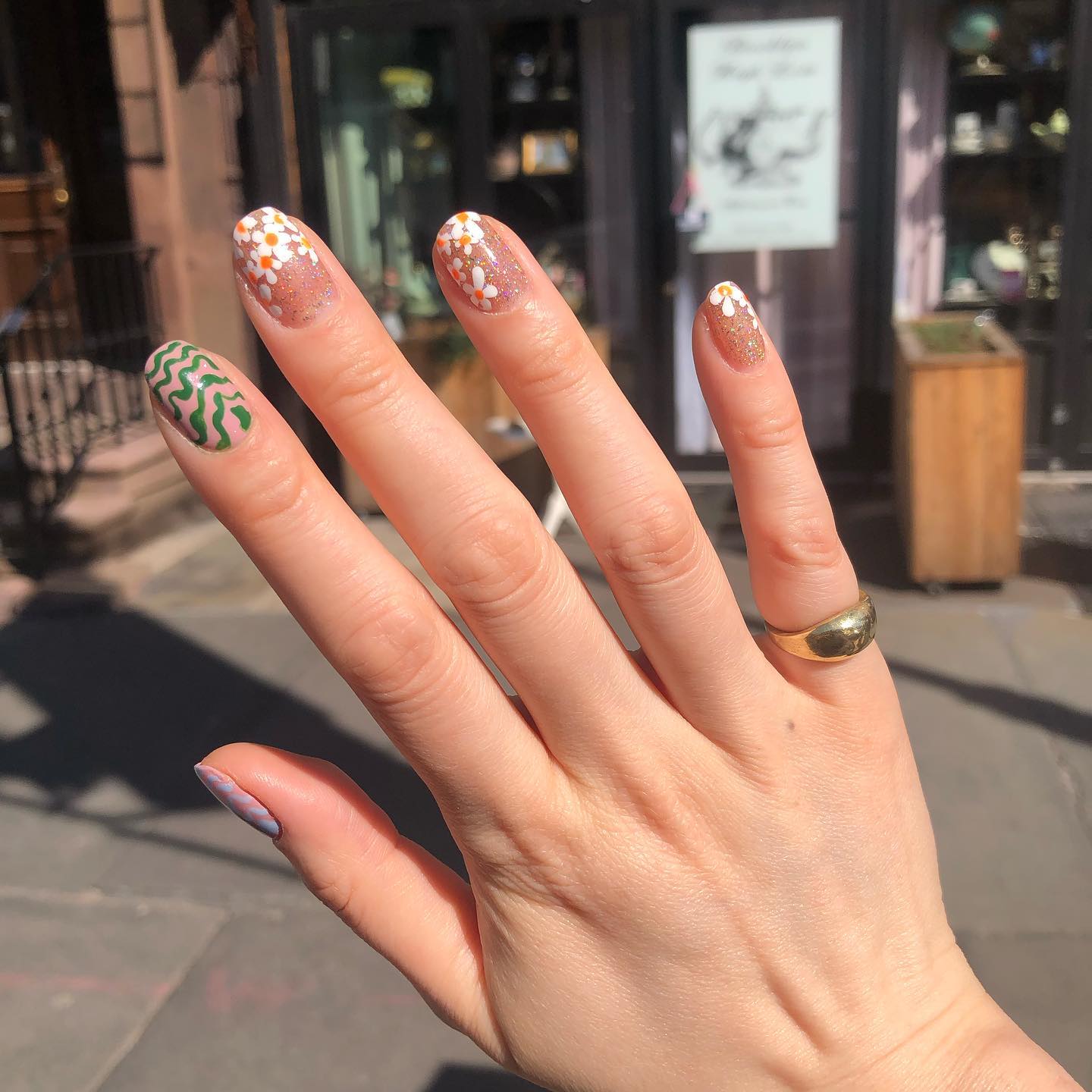 Thanksgiving nail ideas must have some flower manicures for the cottage-core ones! This pretty nail has daisies on a shimmery body and an accent nail with green squiggles. We're here for creativity!
13. For The Corporate Lunch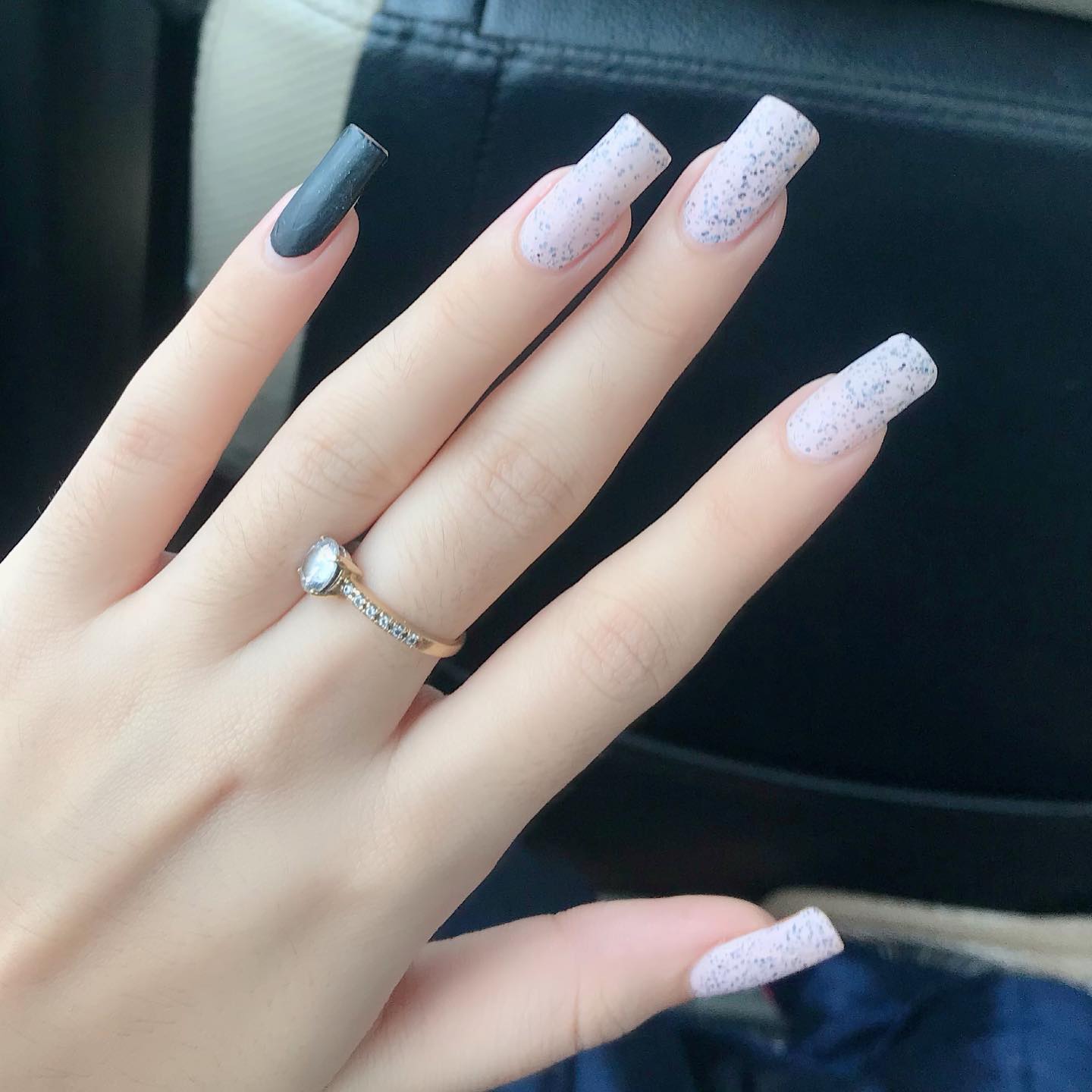 If you're spending your Thanksgiving with your workmates, I totally get it! This Thanksgiving nail art is for them, work-a-holics, who prefer to have a classy set all the time. The white nails are subtly dotted with black for enhancement! For such effects, try using a bobby pin or a dotting tool.
14. Gem of The Oceans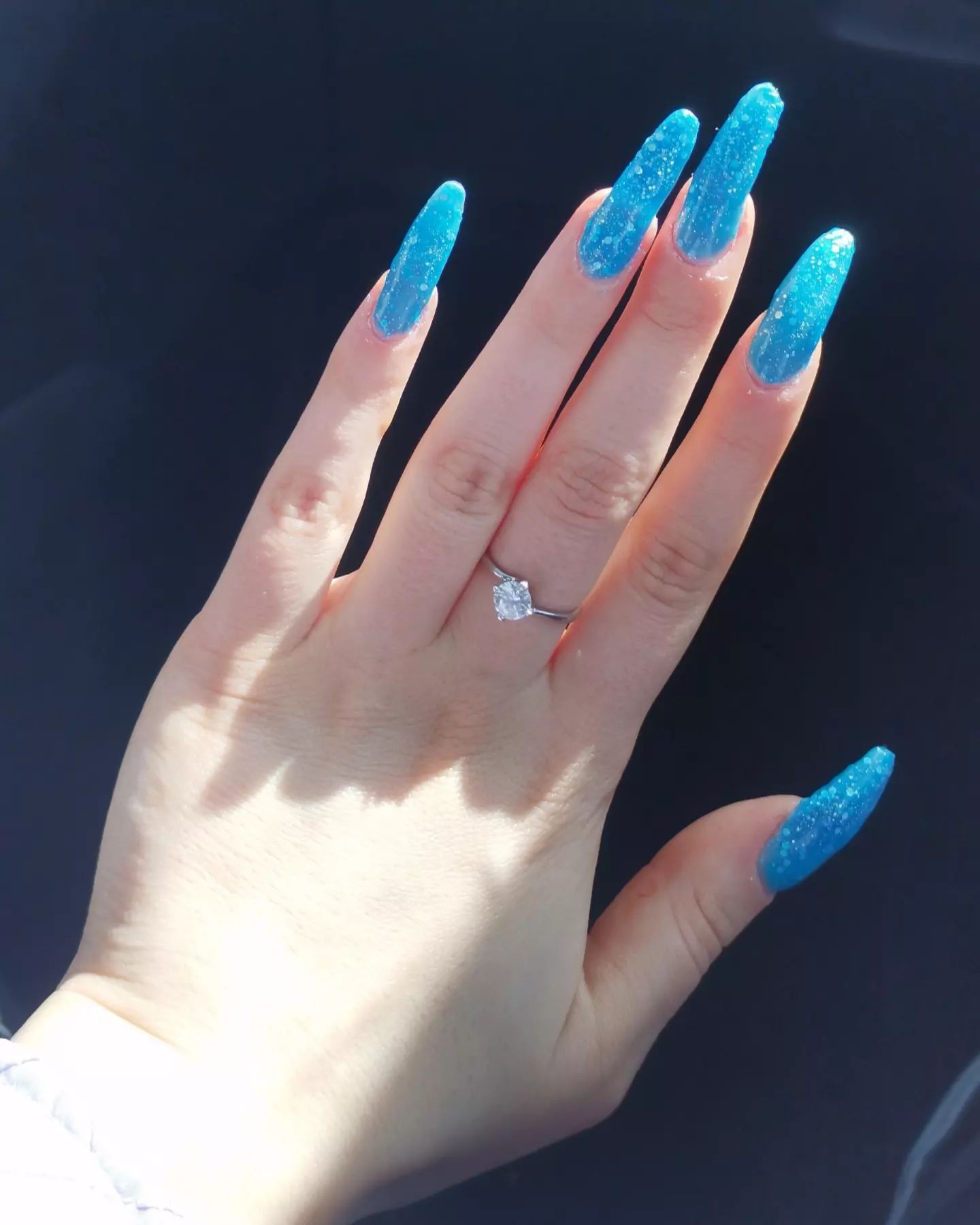 All packed for the Thanksgiving weekend to the beaches? This Thanksgiving nail art is your perfect fit for the easy-breezy ocean-y holidays. The beautiful blue is topped with chunks of glitter to reflect the beach sun!
15. Cookie Crumbles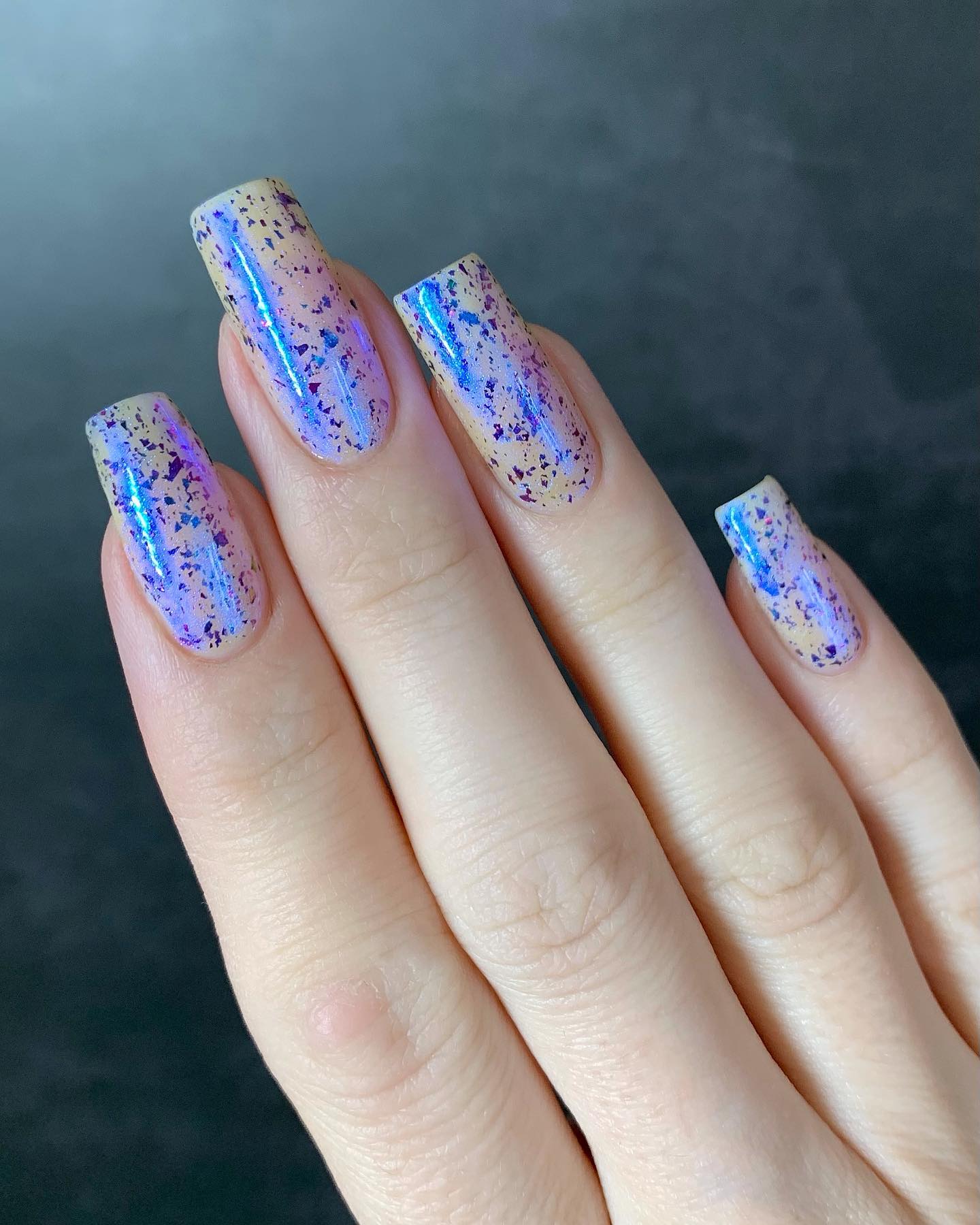 Thanksgiving is incomplete without some food-themed manicure! This Thanksgiving nail idea portrays subtle cookie crumble nails with a high gloss top coat to reflect the lights of the world. They look so tasty, you could almost eat them!
16. Minimalism at its best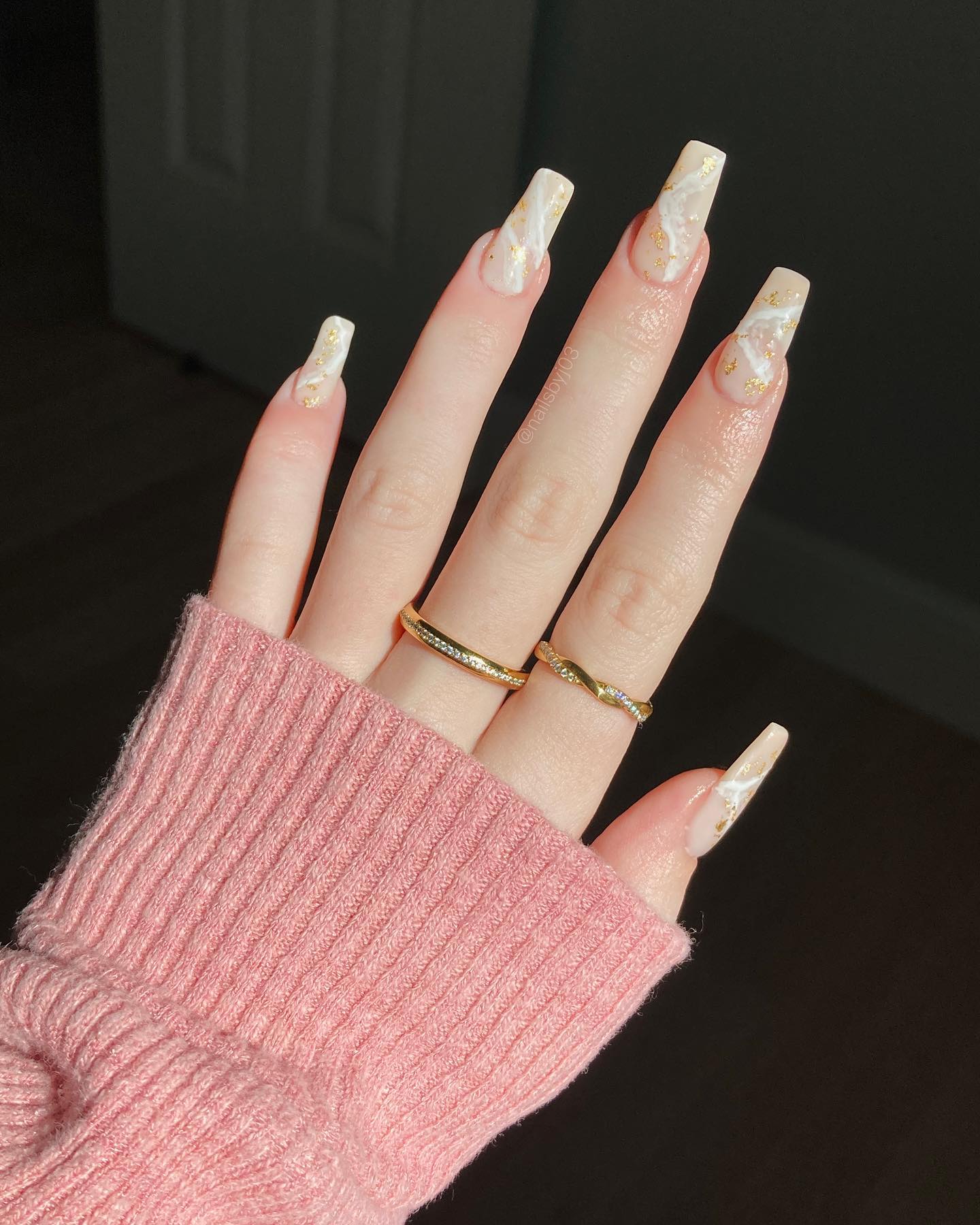 Agree or not, subtle nude nails have something very glamorous about them. Especially this Thanksgiving nail art that features a nude base with white marbled veins to create a marbled look. The gold leaves add the necessary magic to it!
17. Hearts On Sleeves!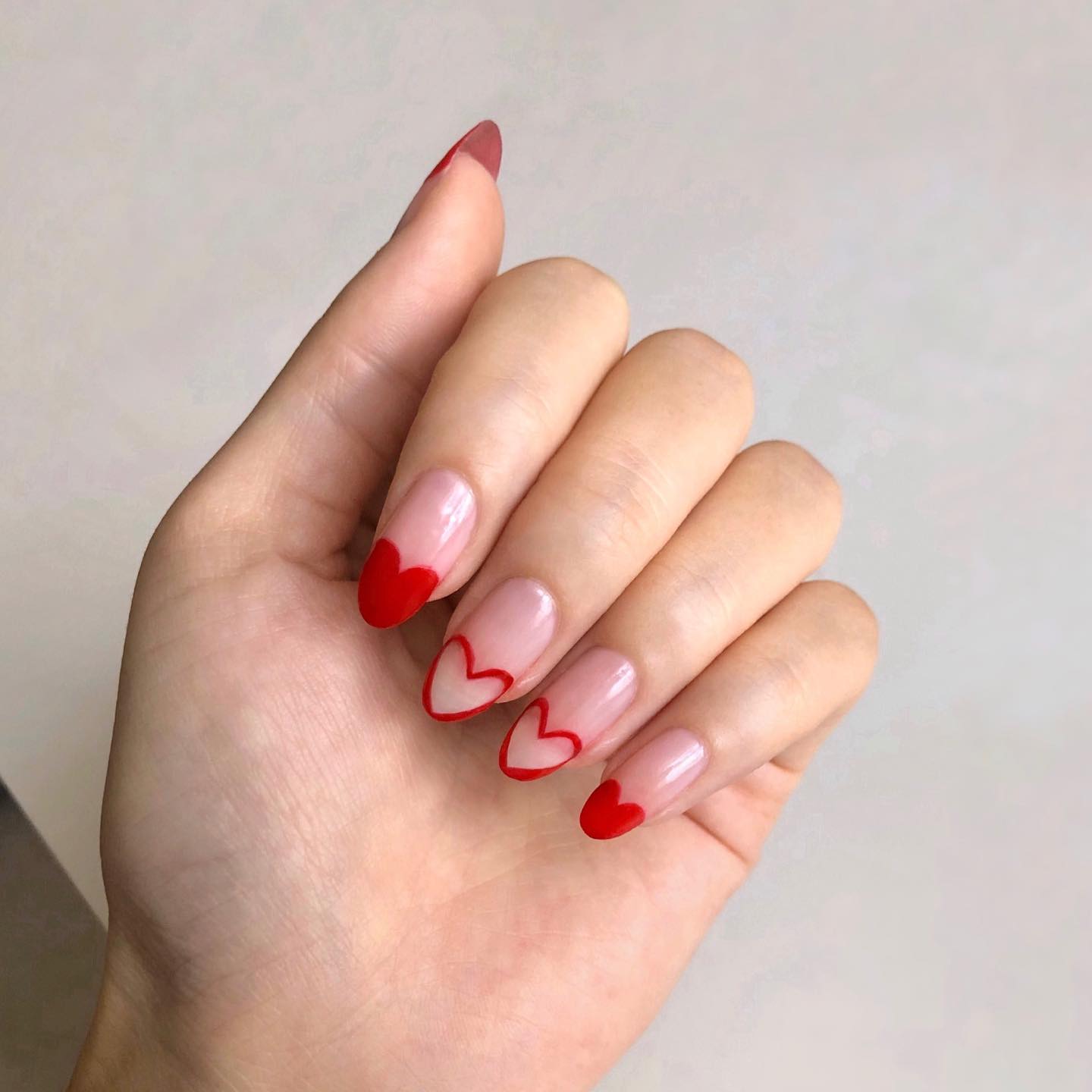 Here is another classic red-themed look for a romantic Thanksgiving dinner. This Thanksgiving nail art is perfect for any length of the nail, provided it has an almond tip for that perfect heart shape. This DIY Thanksgiving nail art can be very easily achieved at home with a fine-tip nail paintbrush and some classic red nail polish.
18. Checkered Beauty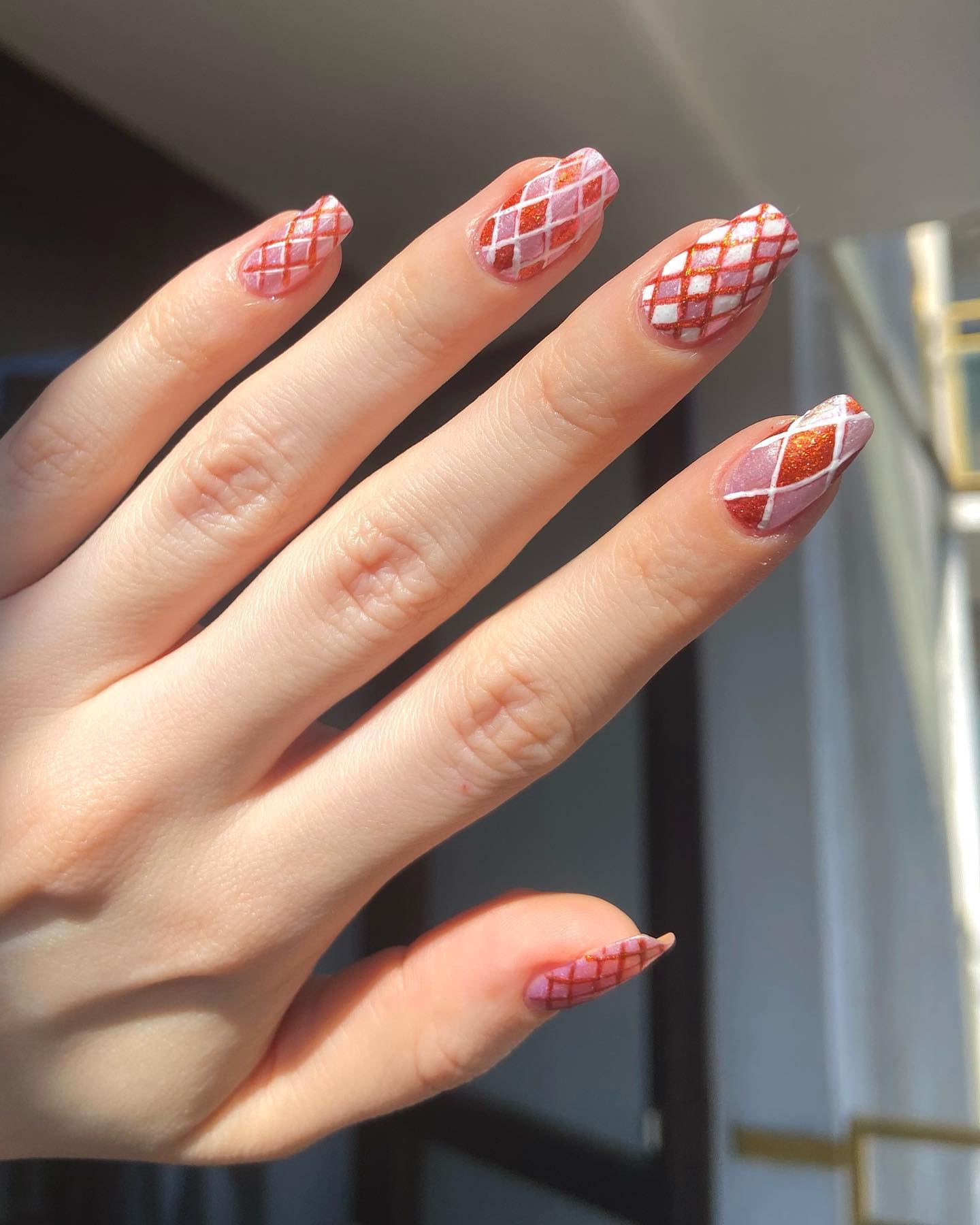 Is it still too hot for a sweater? Worry not! Wear them on your nails. If you wish to wear this Thanksgiving nail idea, it is best to get it done by a professional manicure artist, as it is quite an intricate one. Else, you can try nail art tape strips to make such designs at home.
19. All That Glitters!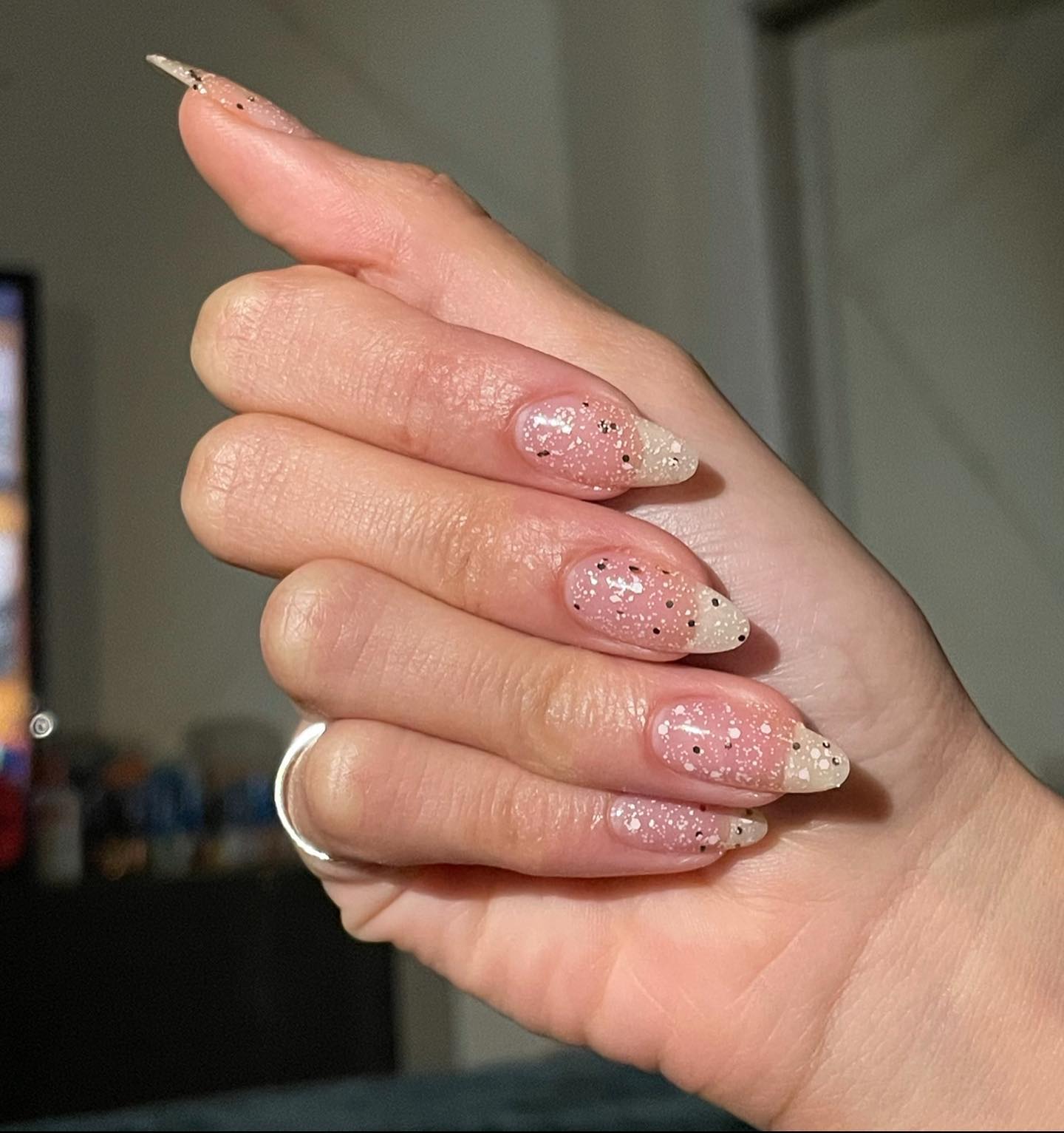 This traditional nude nail achieves a dimension with unique glitter specks. Achieve this Thanksgiving nail art easily with a glitter gel polish and a high-shine top coat.
20. Lines and Stripes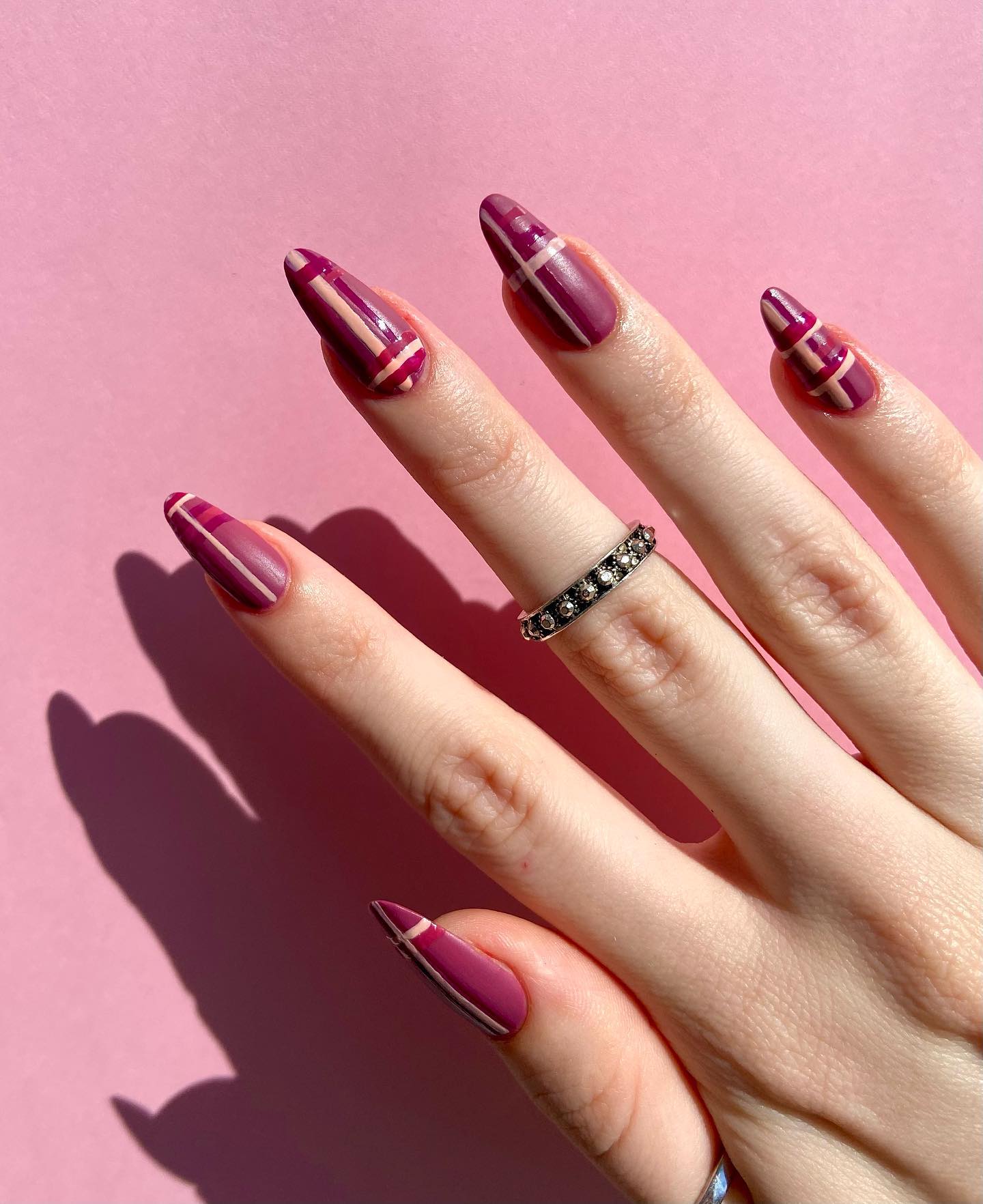 If I say mauve isn't the most gorgeous color, I'd be lying. This Thanksgiving nail art adds a classy touch to it by adding contrasting stripes and finishes. You can wear this the entire month and collect compliments!
Post You May Like: 38 Stunning Easter Nail Art Designs for Spring 2023
21. Sunshine on My Shoulders!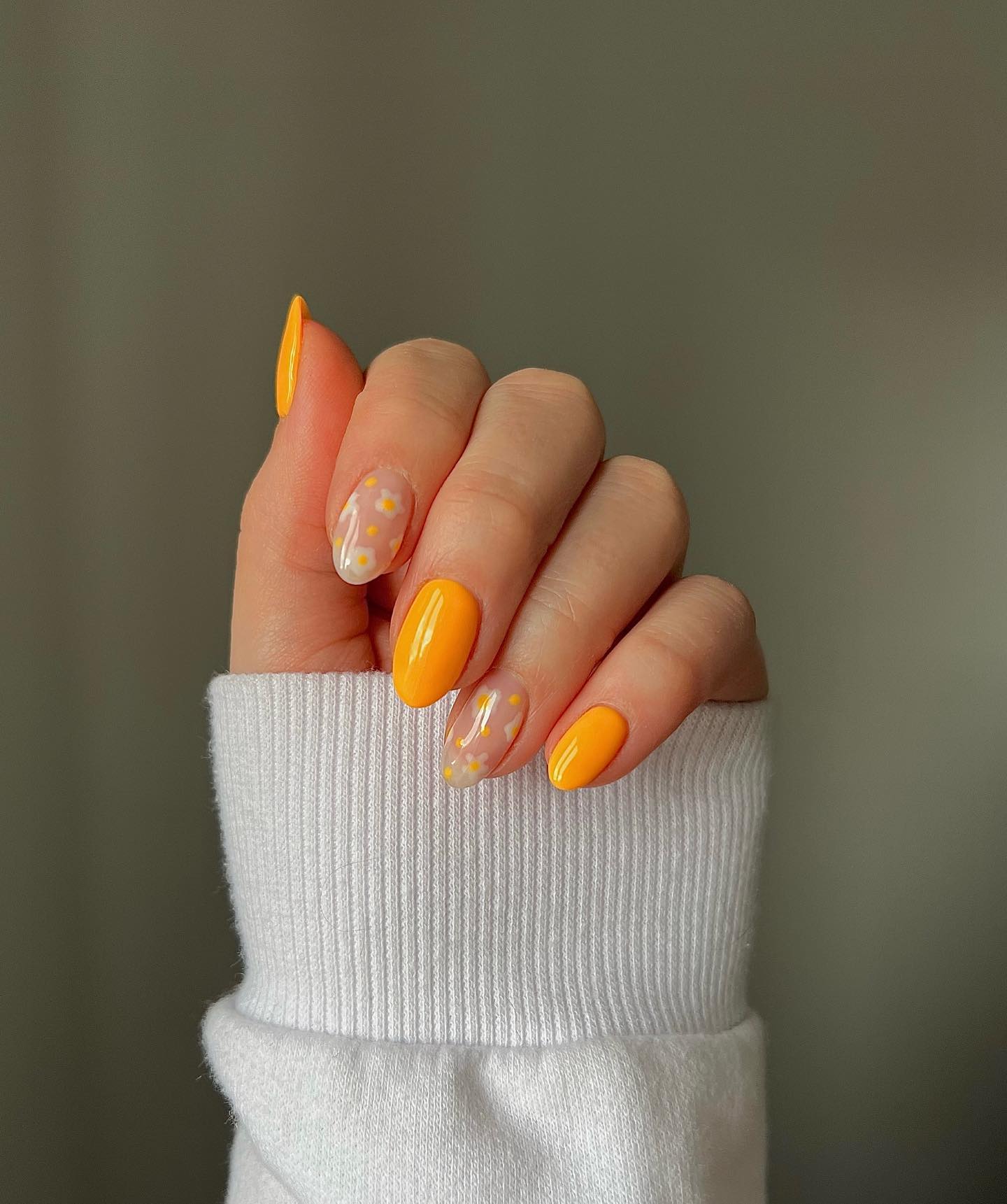 Thanksgiving nail designs for short nails never fail to amaze us with their creativity. This delicate yet bright nail art is indeed a show-stopper. The daisies on a nude nail and the bright orange-yellow are the perfect contrast to your light autumn sundress!
22. Levels of Love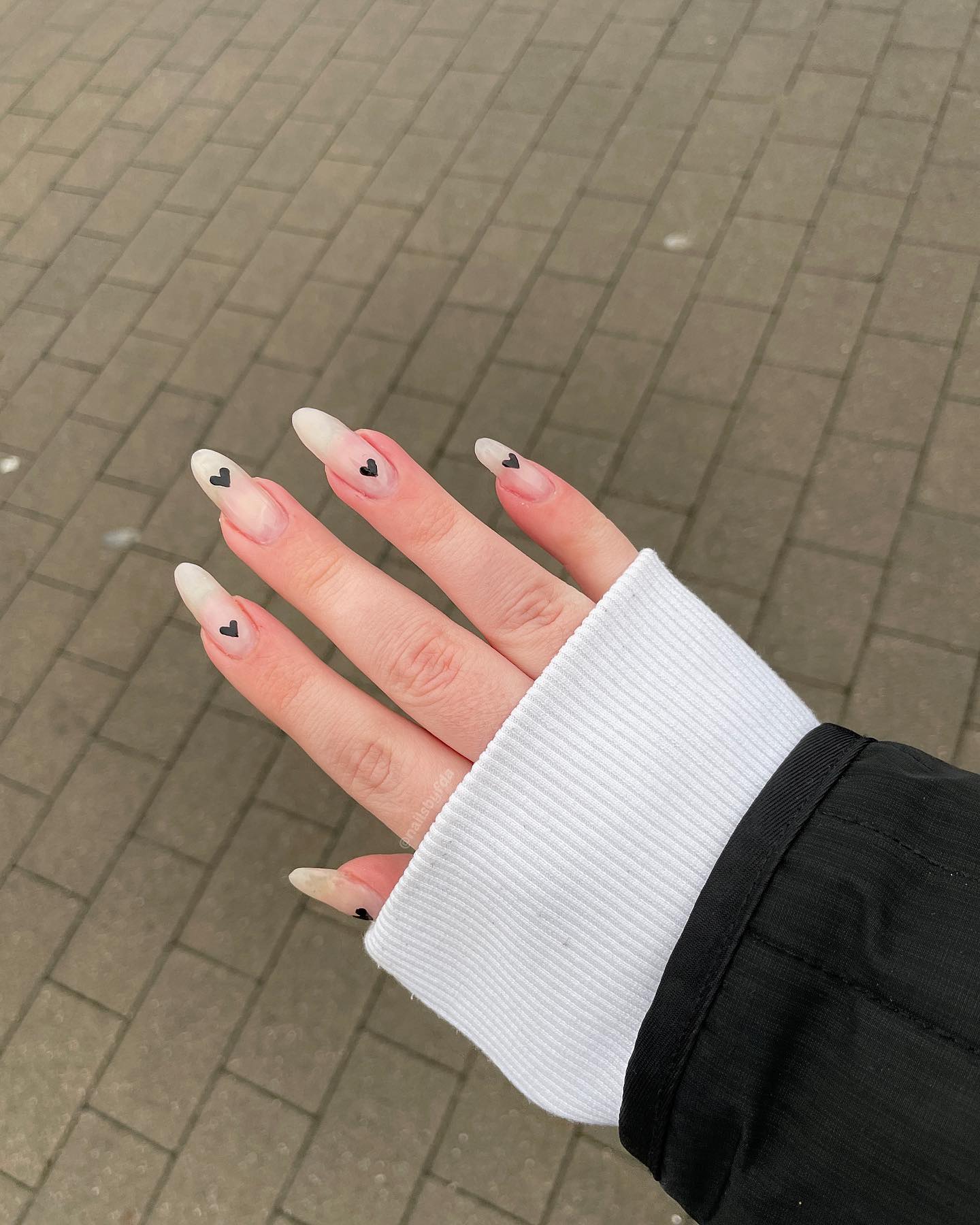 This cute, matte Thanksgiving nail art can be easily achieved at home using heart nail stickers if you don't want to paint the hearts on your nails. The delicate black hearts are placed at alternate levels. Add a matte top coat, and you're all done!
23. Specks of Color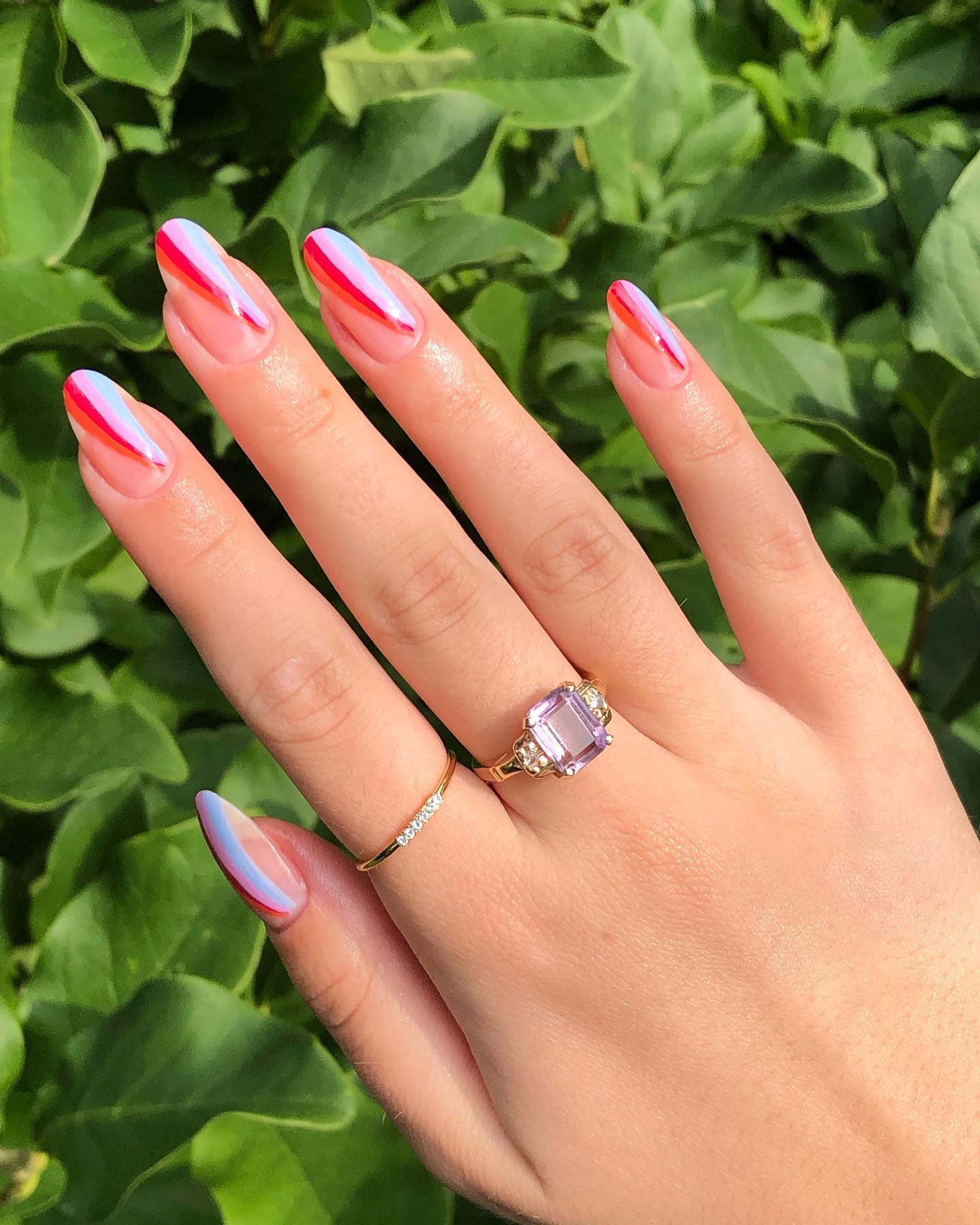 This easy and attractive nail art ranks high among the DIY Thanksgiving nail art. The beautiful specks of red, blue, and orange perfectly stand out against the nude base.
24. Galaxies and Constellations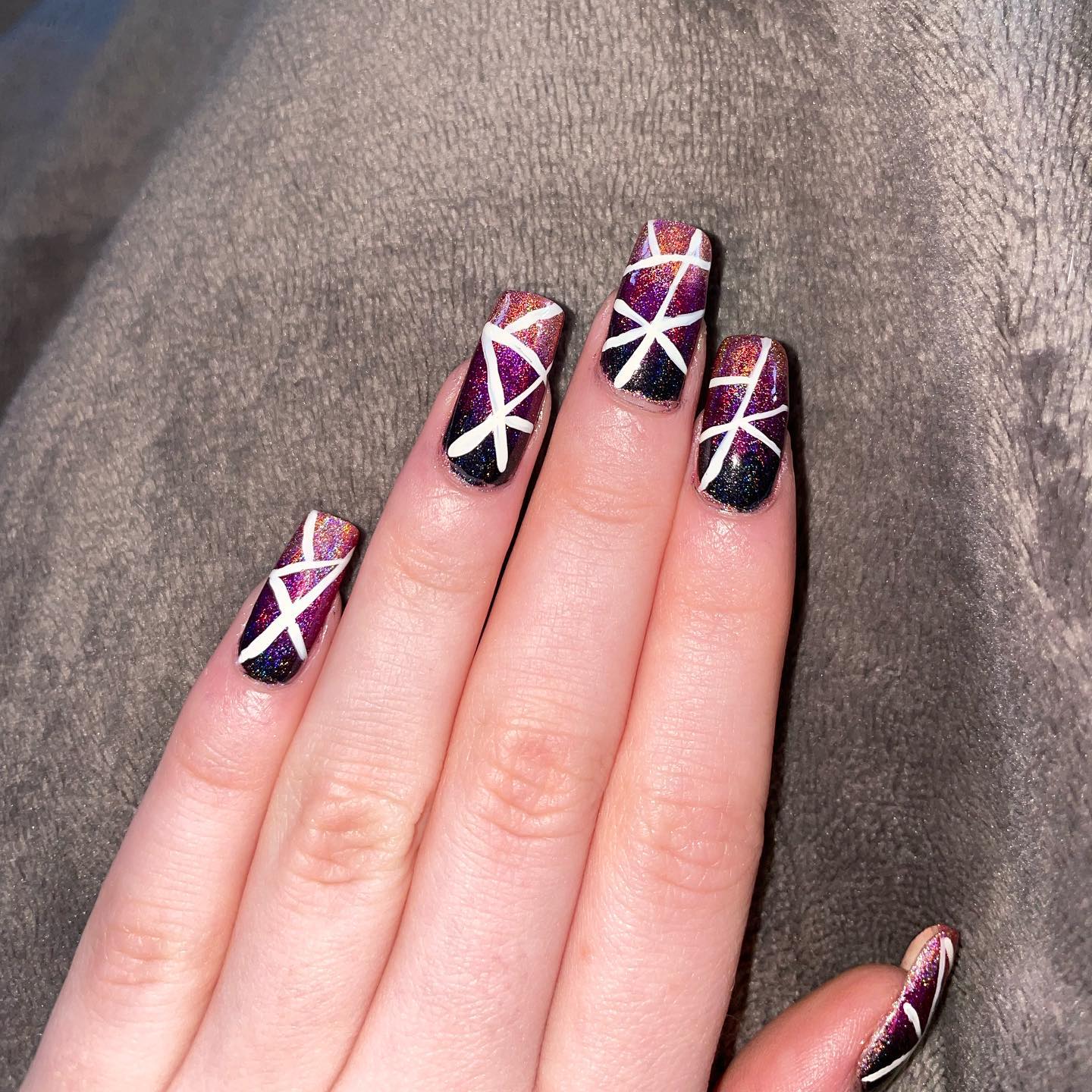 If you're always in awe of the night sky, this gorgeous Thanksgiving nail art is for you. The base perfectly imitates the starry night sky, and the white lines look like falling stars!
25. Pop-art Rainbows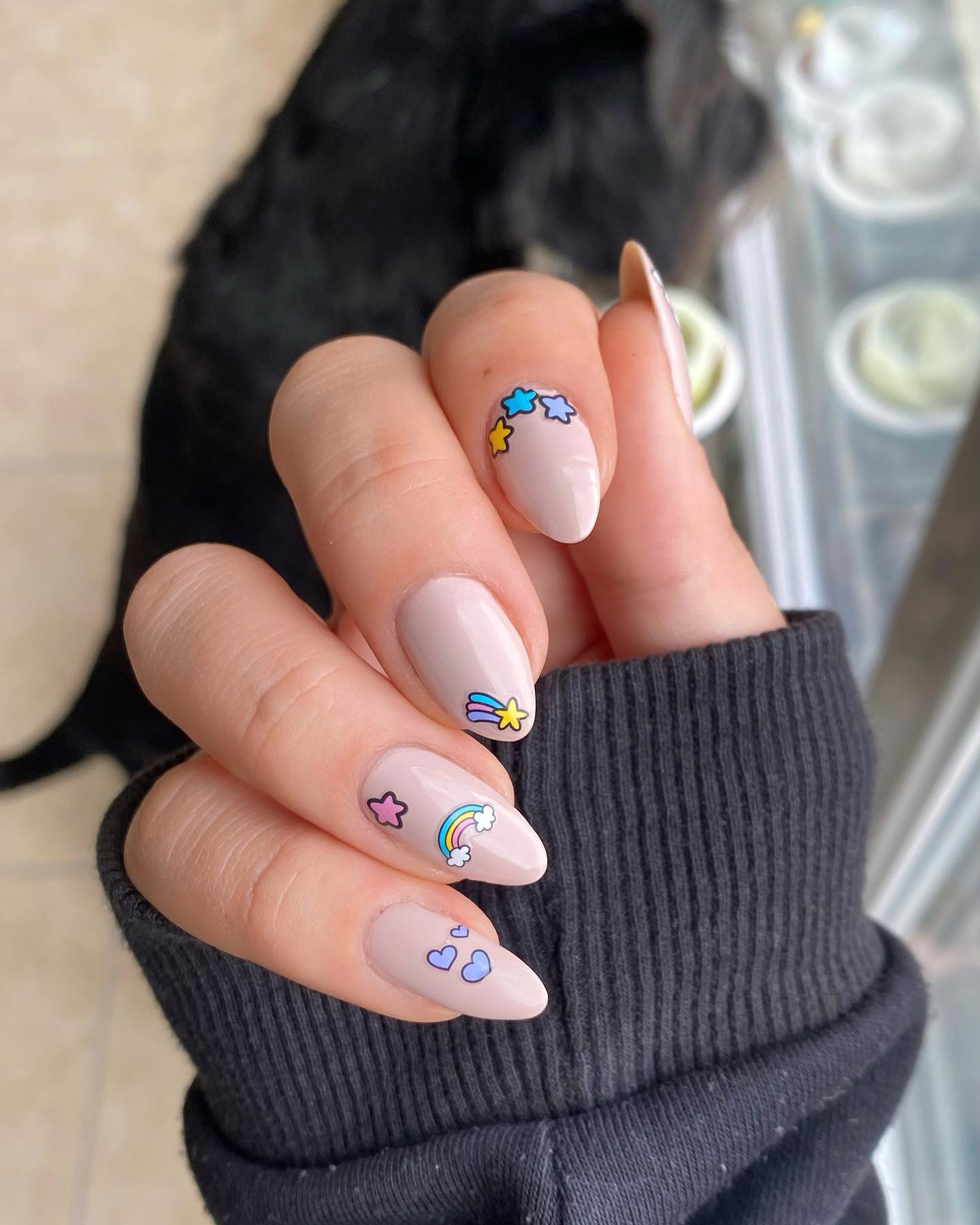 Make your nails look like a page from your sticker diary with these beautiful Thanksgiving nail art stickers. The pastel beige base acts as the perfect background for these pretty stickers!
26. Frosted Glass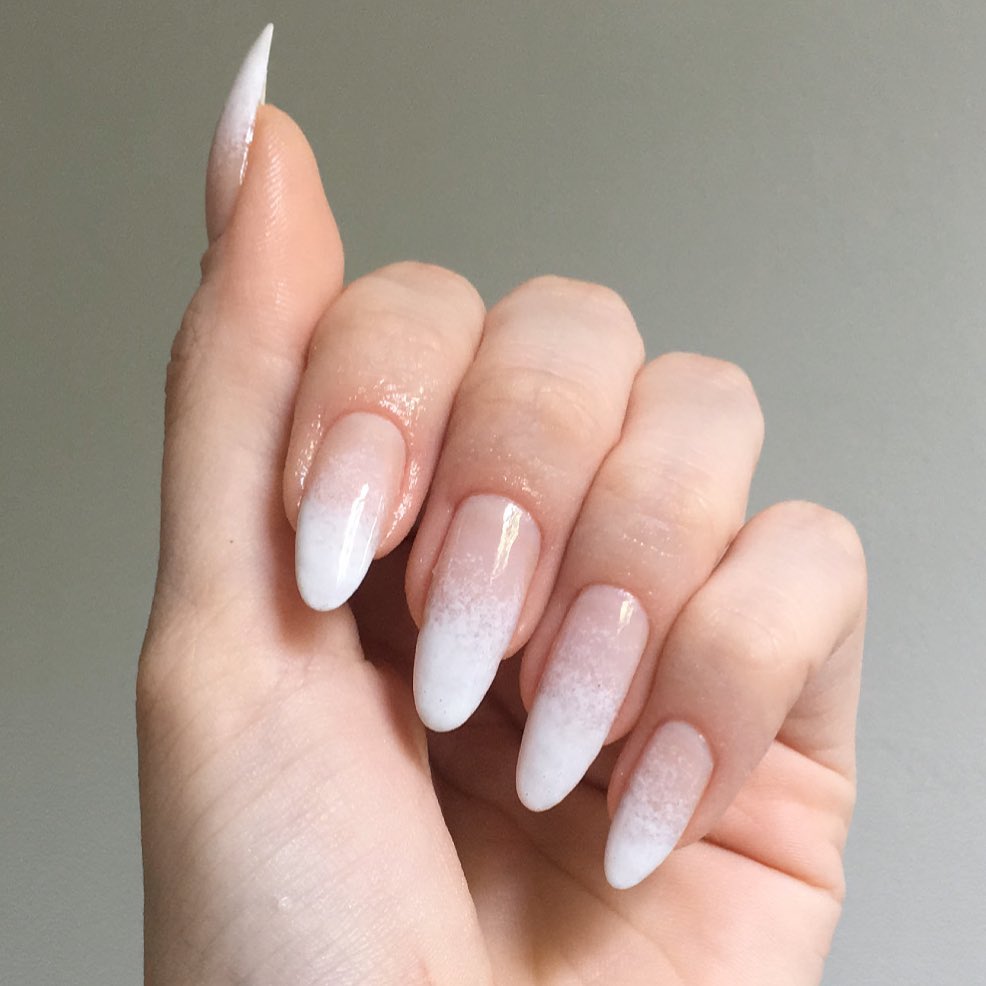 French tip with a twist! This Thanksgiving nail art is beautiful, serene, and classy. The captivating transition of white is a delight to the eyes!
27. Shimmery Blobs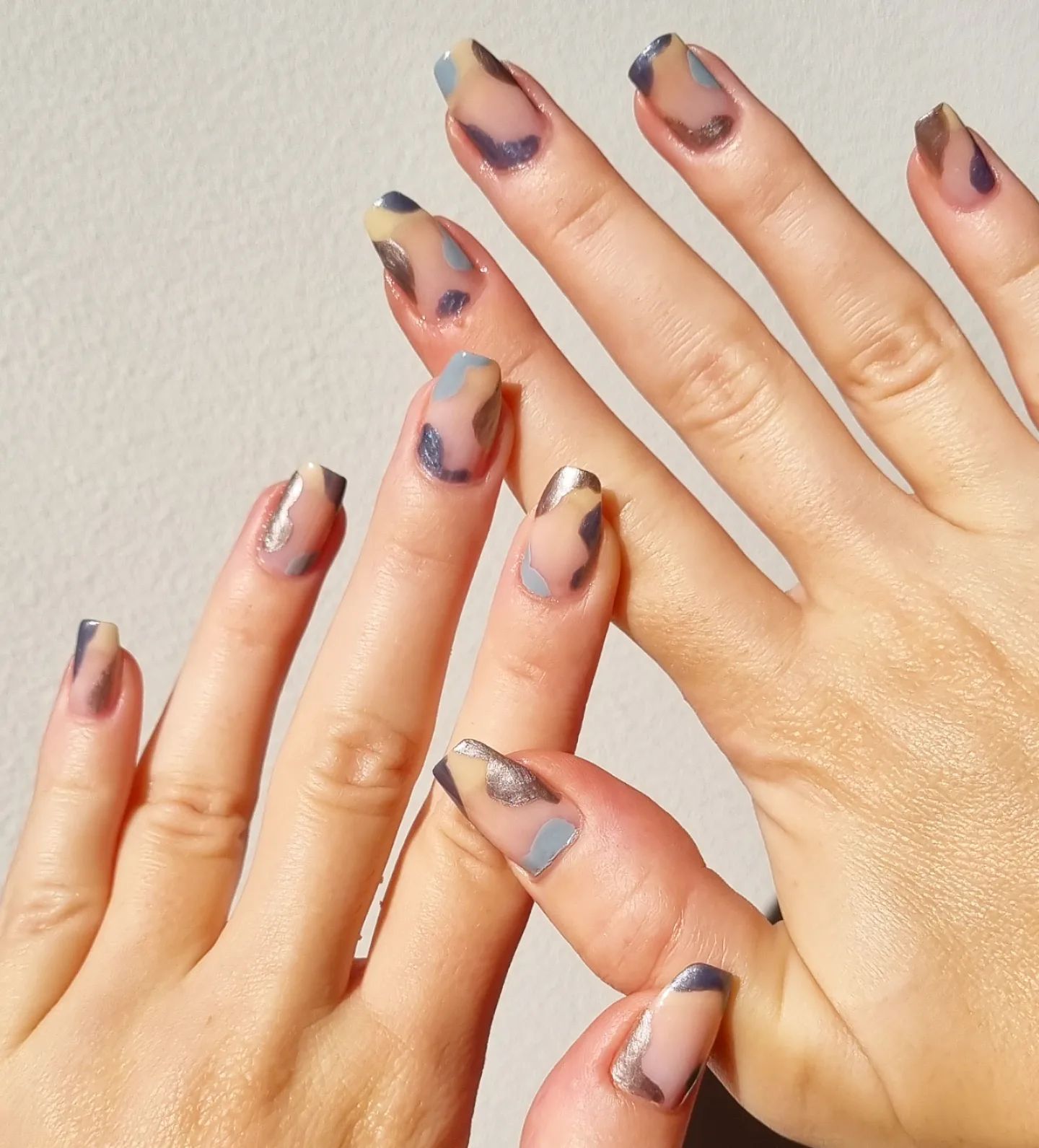 The beauty of this Thanksgiving nail design for short nails lies in the neutral blobs of color added on a nude base, giving it a creative and artistic look!
28. Blocks and Squares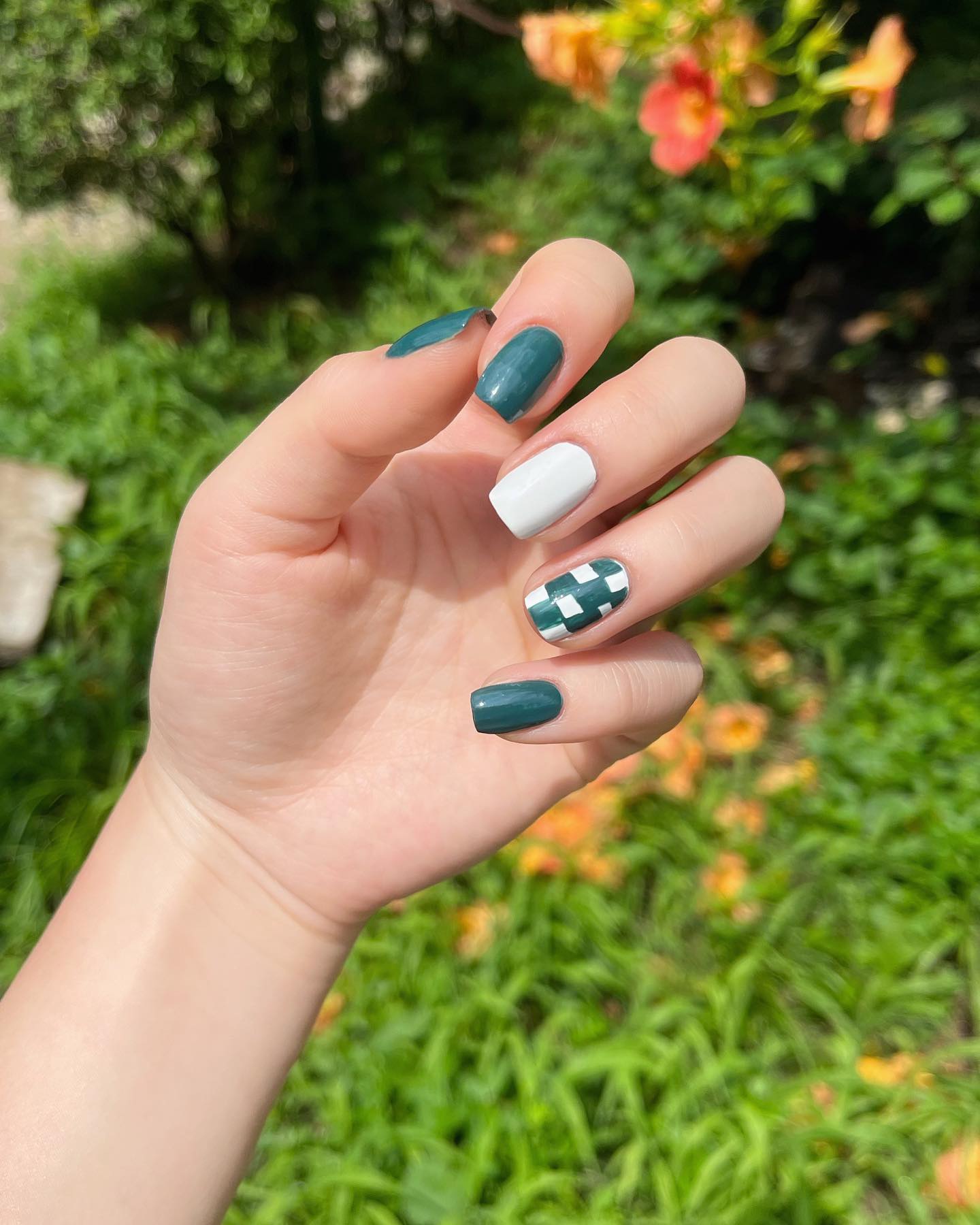 This beautiful Thanksgiving nail art boasts of striking contrast between a deep emerald green nail polish and an opaque white nail polish. The accent nail amalgamates the design by weaving the two colors into a box-check pattern. Wear it all month for a statement look.
29. Marbled Nails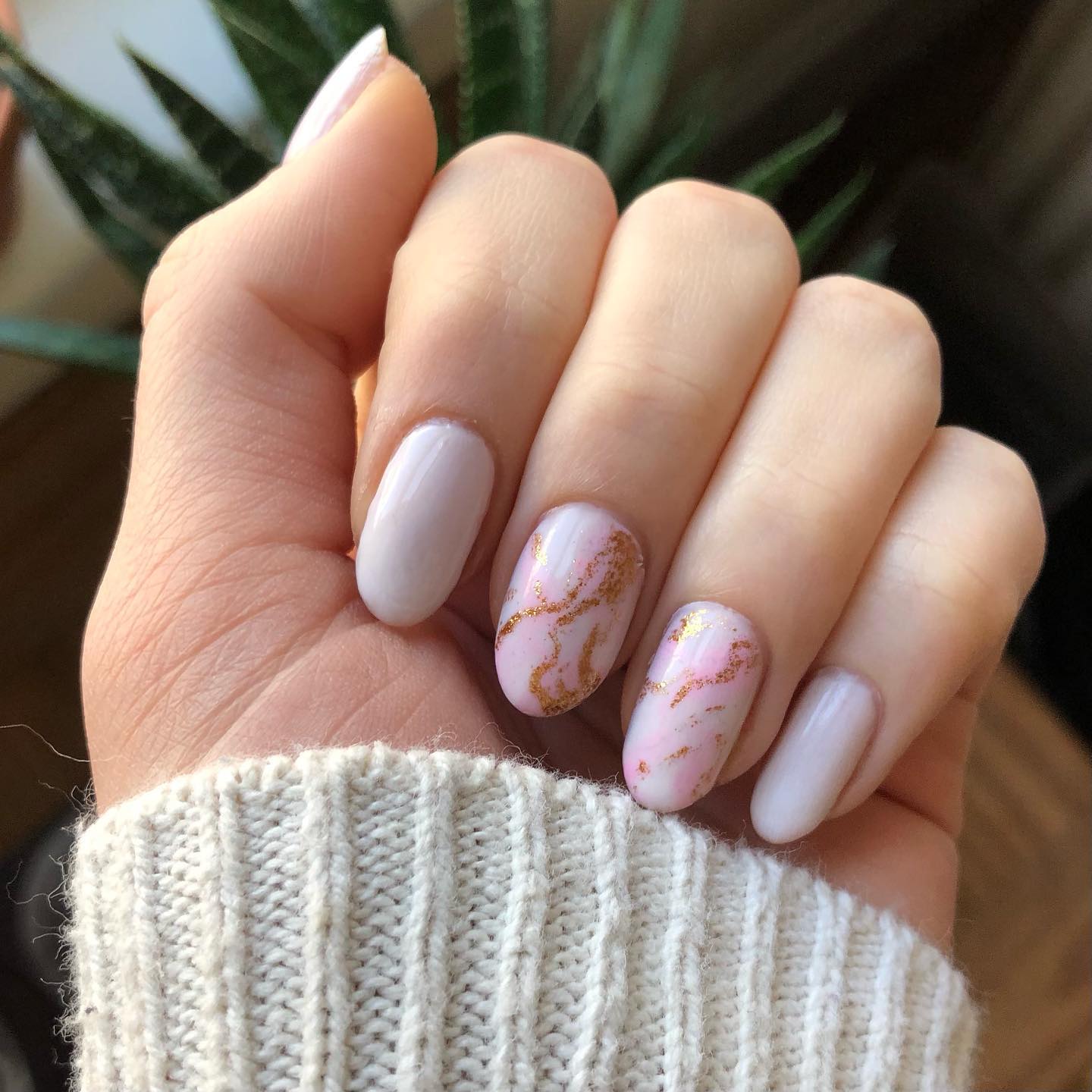 Thanksgiving nail ideas are bound to have some marbled designs, such as this one with pretty pink and gold veins. Bask in all the glory of these nails! Pair this nail art with a light green outfit for a classy look.
30. Party Nails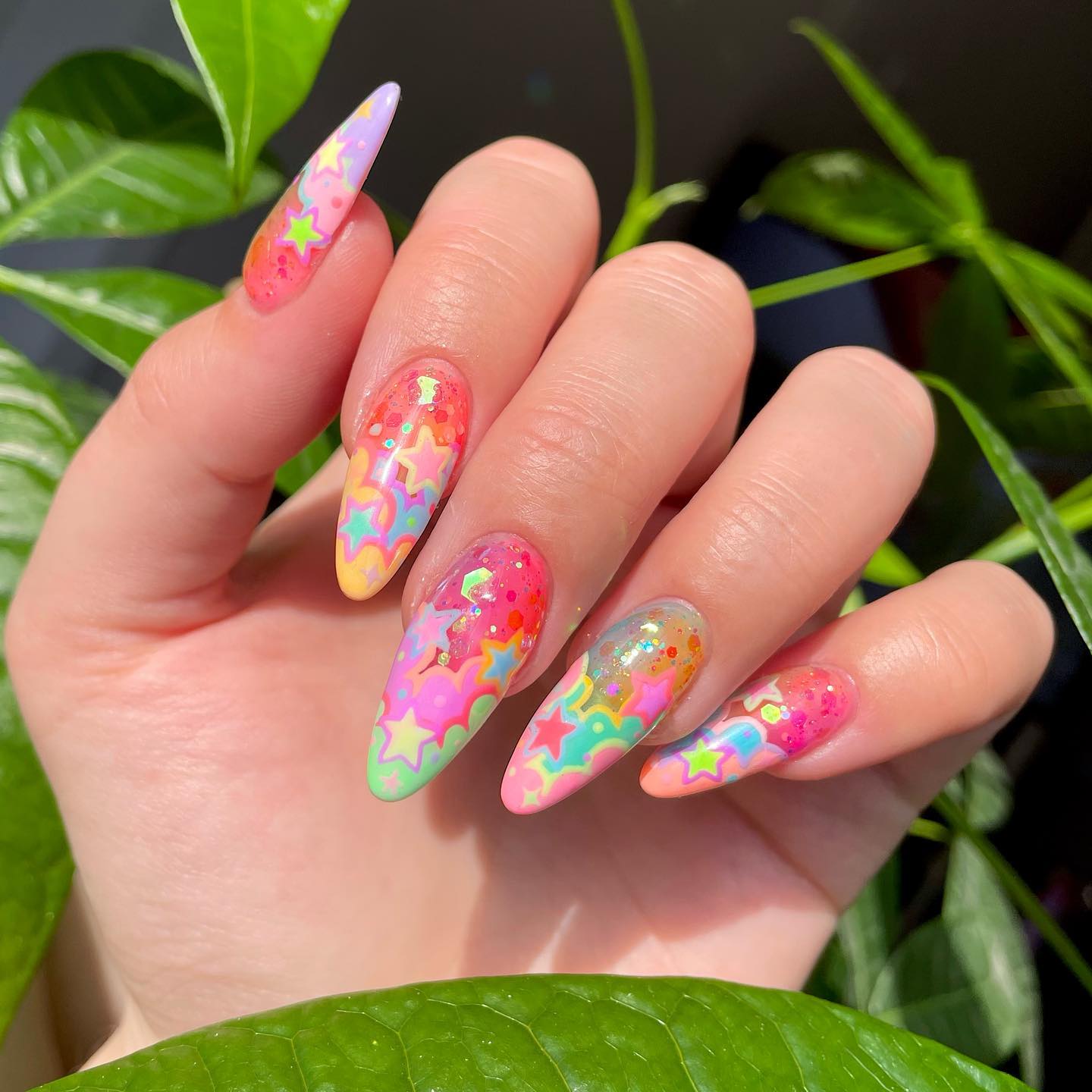 Thanksgiving gel nail designs like this one are popular for their beauty and longevity. The matte nail stickers perfectly contrast the jelly-like glittery body. Wipe off the neutrals!
Post You May Like: How Much Does It Cost to Get Your Nails Done in 2023?
31. Hints of Autumn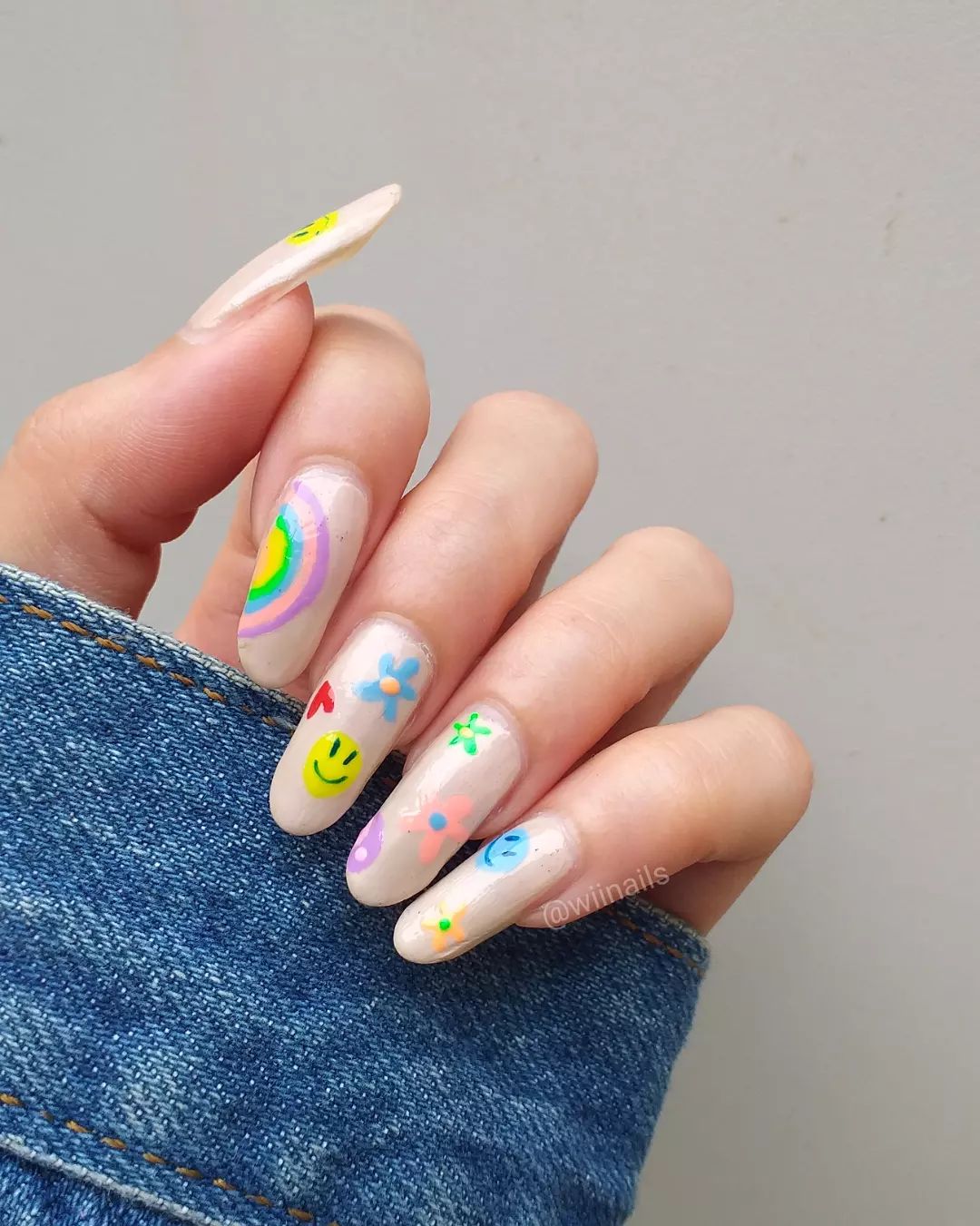 Rainbows, smiles, and flowers. Everything you wish for in the festive season. Minimalistic nails can also portray the spirit of the season, such as this one.
32. Chocolate and Berry Swirls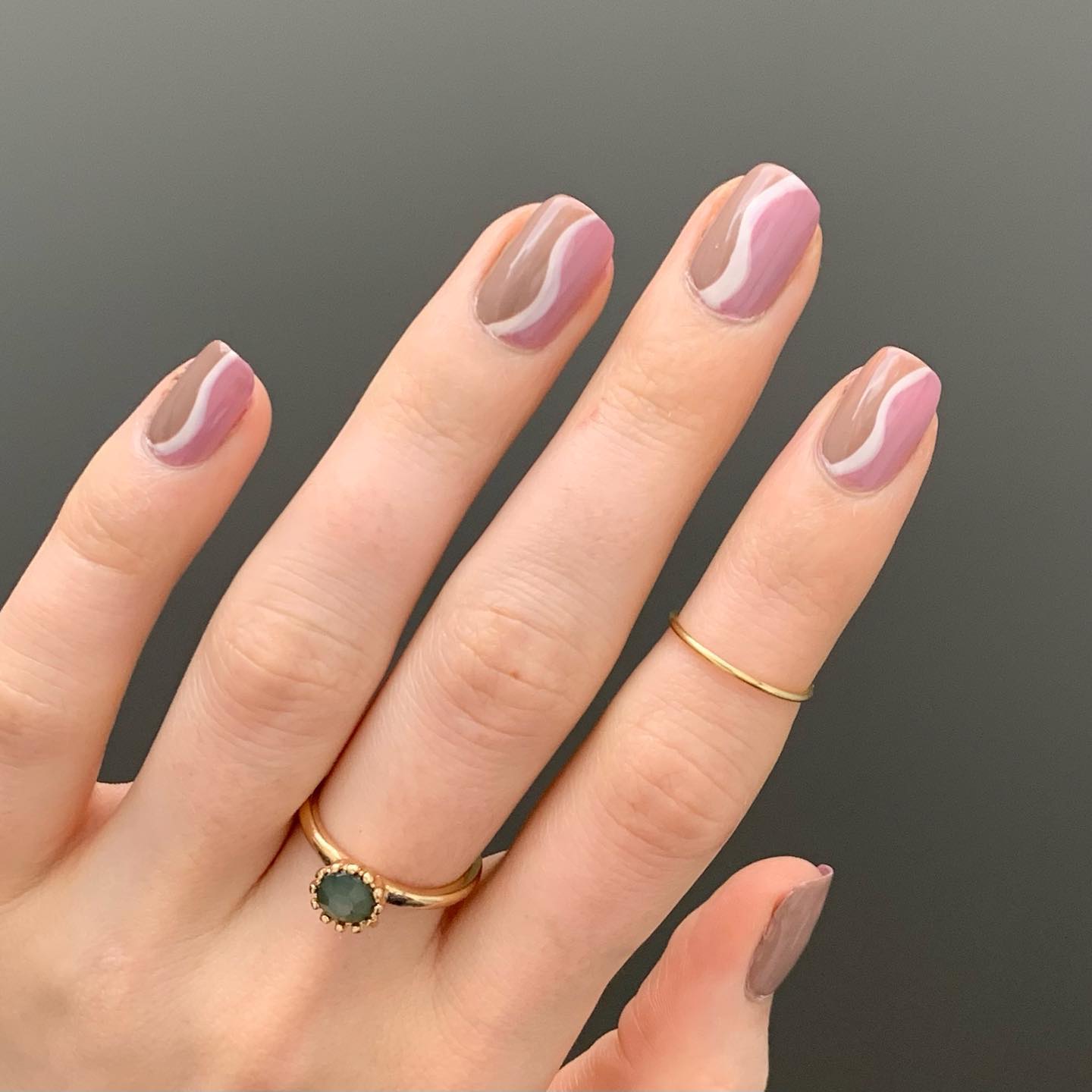 Here's another cute Thanksgiving nail design for short nails that closely resembles the tasty ice cream swirls of chocolate, vanilla, and berries! Yum! If you want a variation in this design, consider trying Chocolate Glazed donut nails.
33. Diva Nails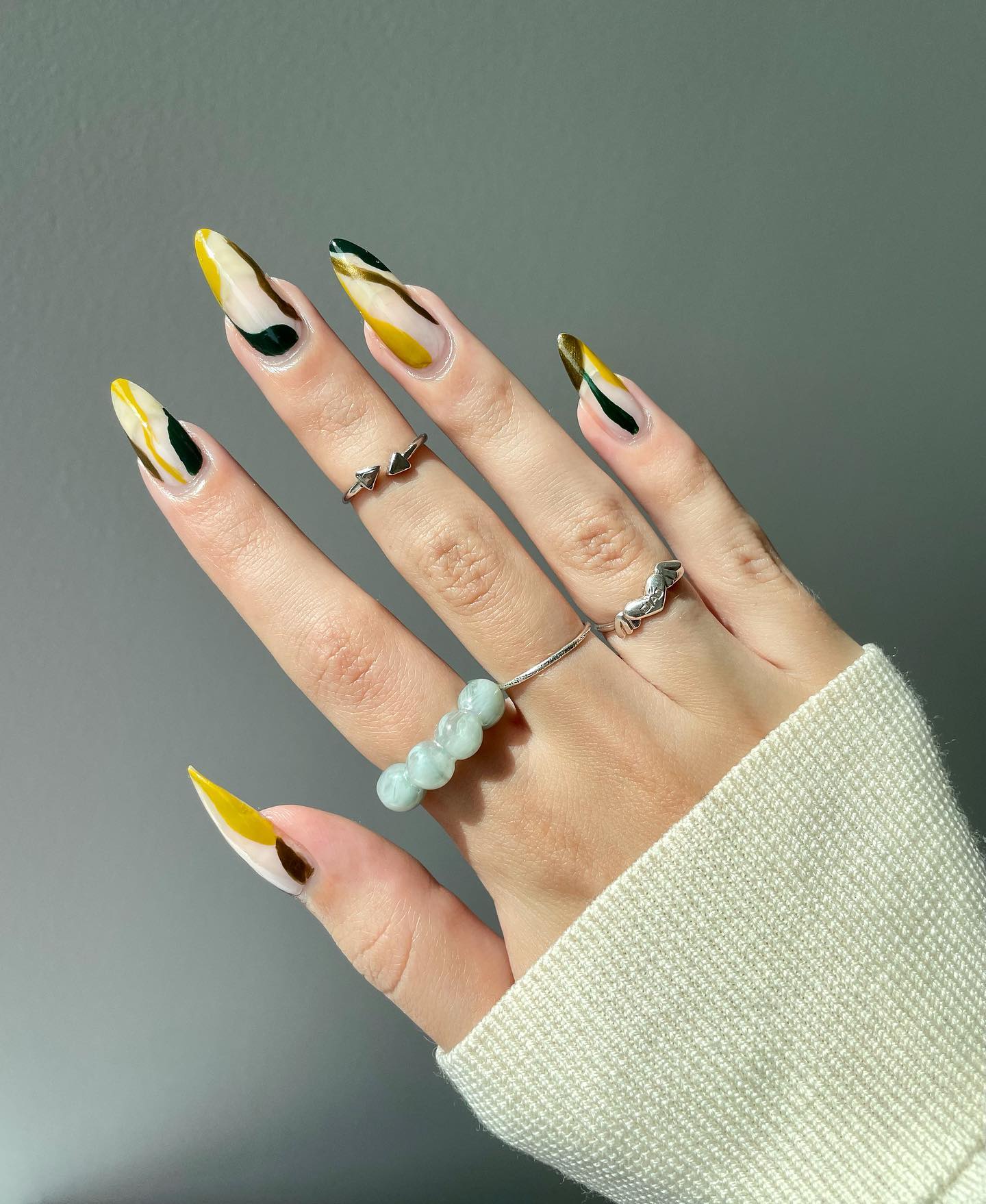 These irregular waves of gold, black, and bronze on a nude base create an alluring and reflective manicure for the queens!
34. Glitter Accents and Hand-Painted Beauty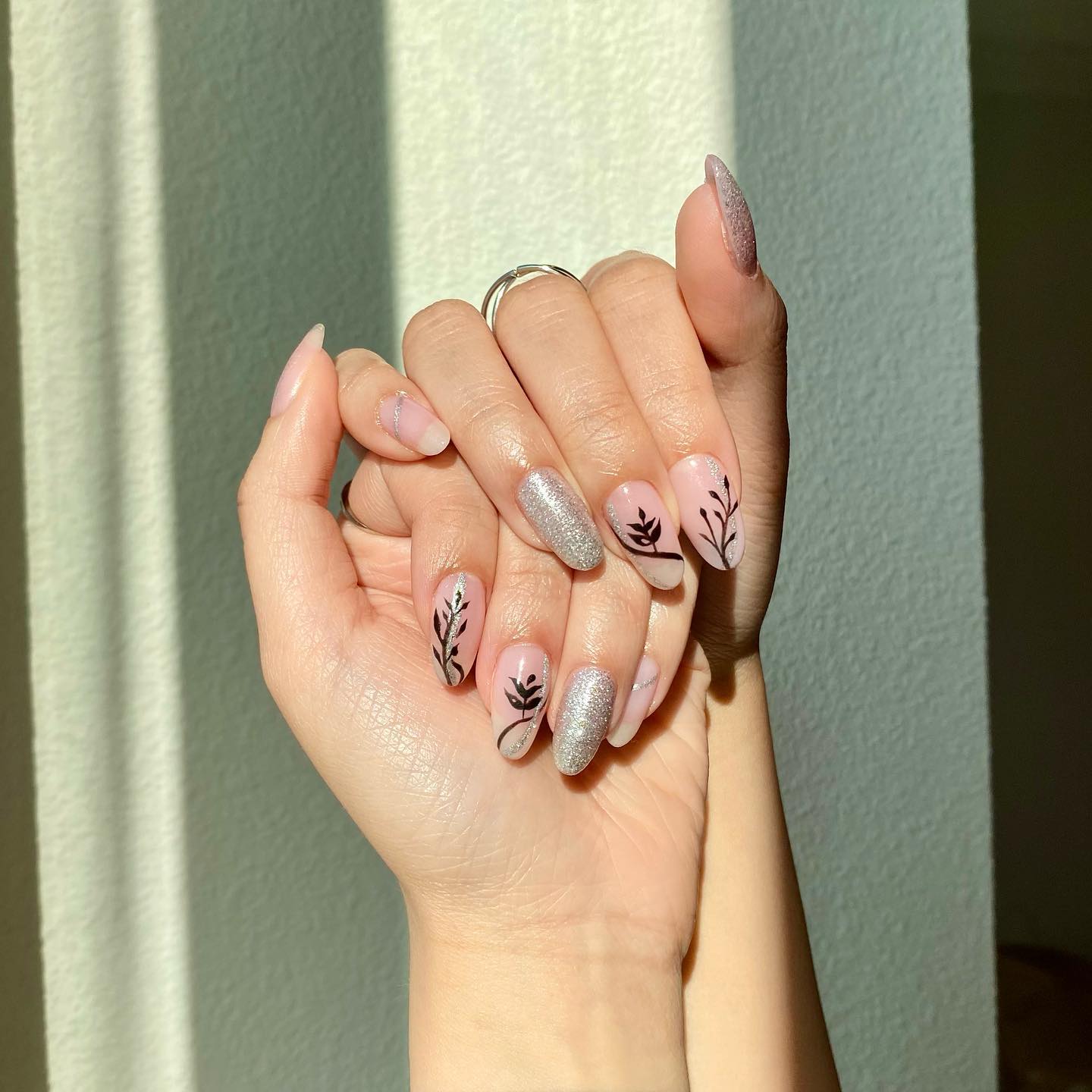 This pretty and classy Thanksgiving nail art is a feast for the eyes. The cherry blossom pink nails, black leaves with a silver shimmery nail as an accent nail. What's not to love?
35. Yin and Yang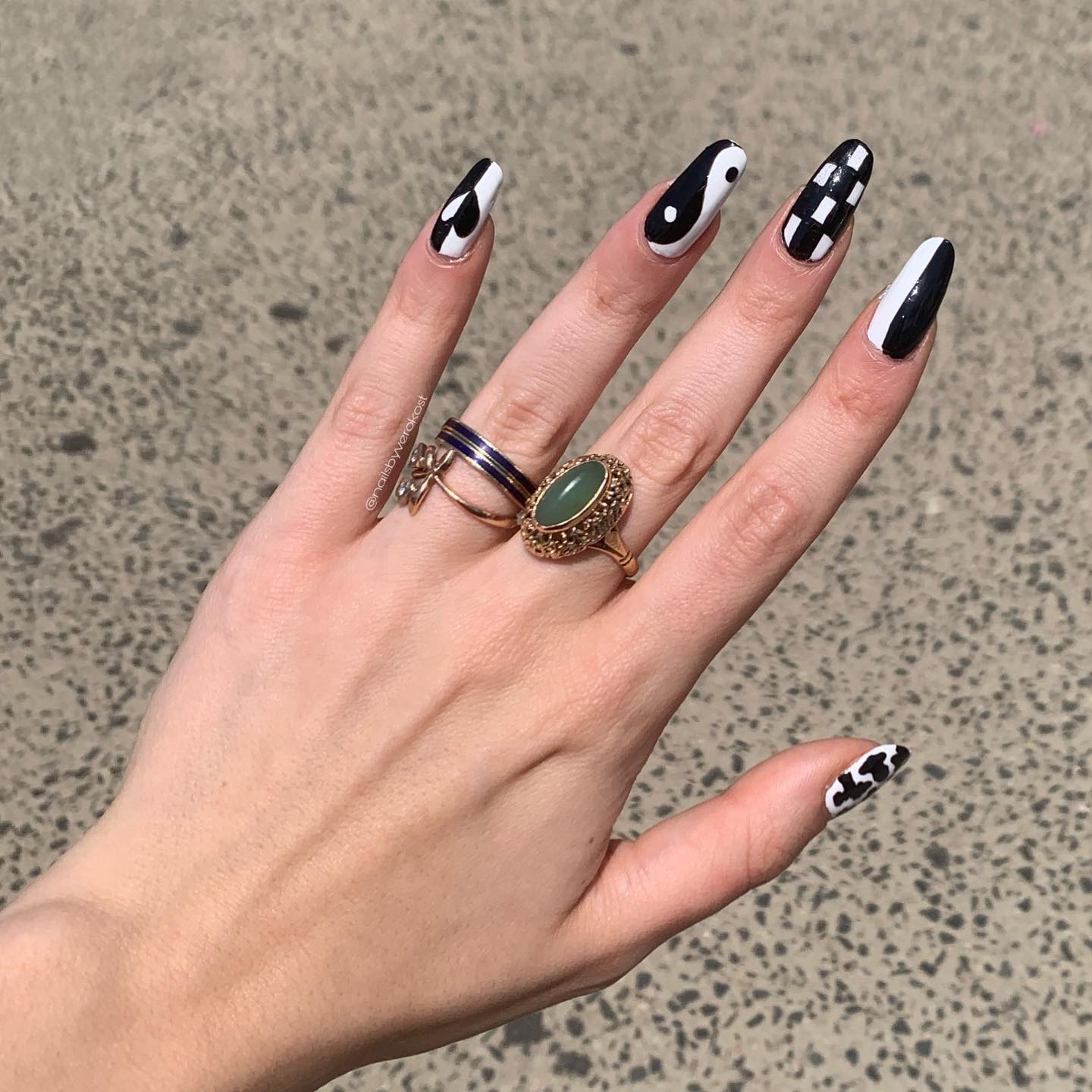 When the two extremes of the color wheel meet, it is bound to create some magic. This stunning nail concept features a black nail art design on a white background. It's a duo chromatic heaven!
36. Autumn Rays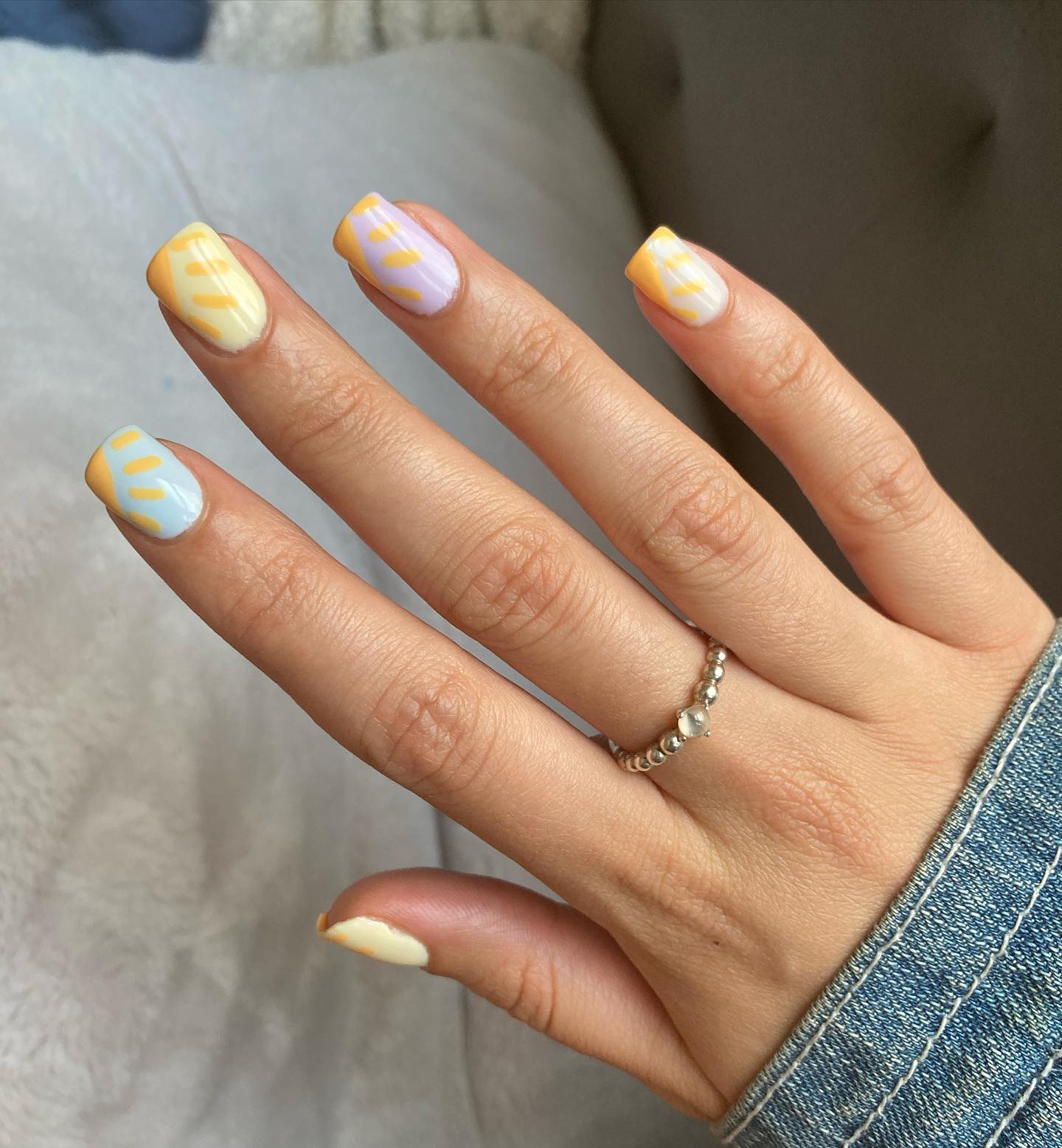 The beautiful sunny nature of autumn is portrayed through this cute Thanksgiving nail art of sun rays. The pastel nails create a subtle yet perfect base for the bright yellow sun rays that brighten up your mood!
37. Soft-Swirl Tips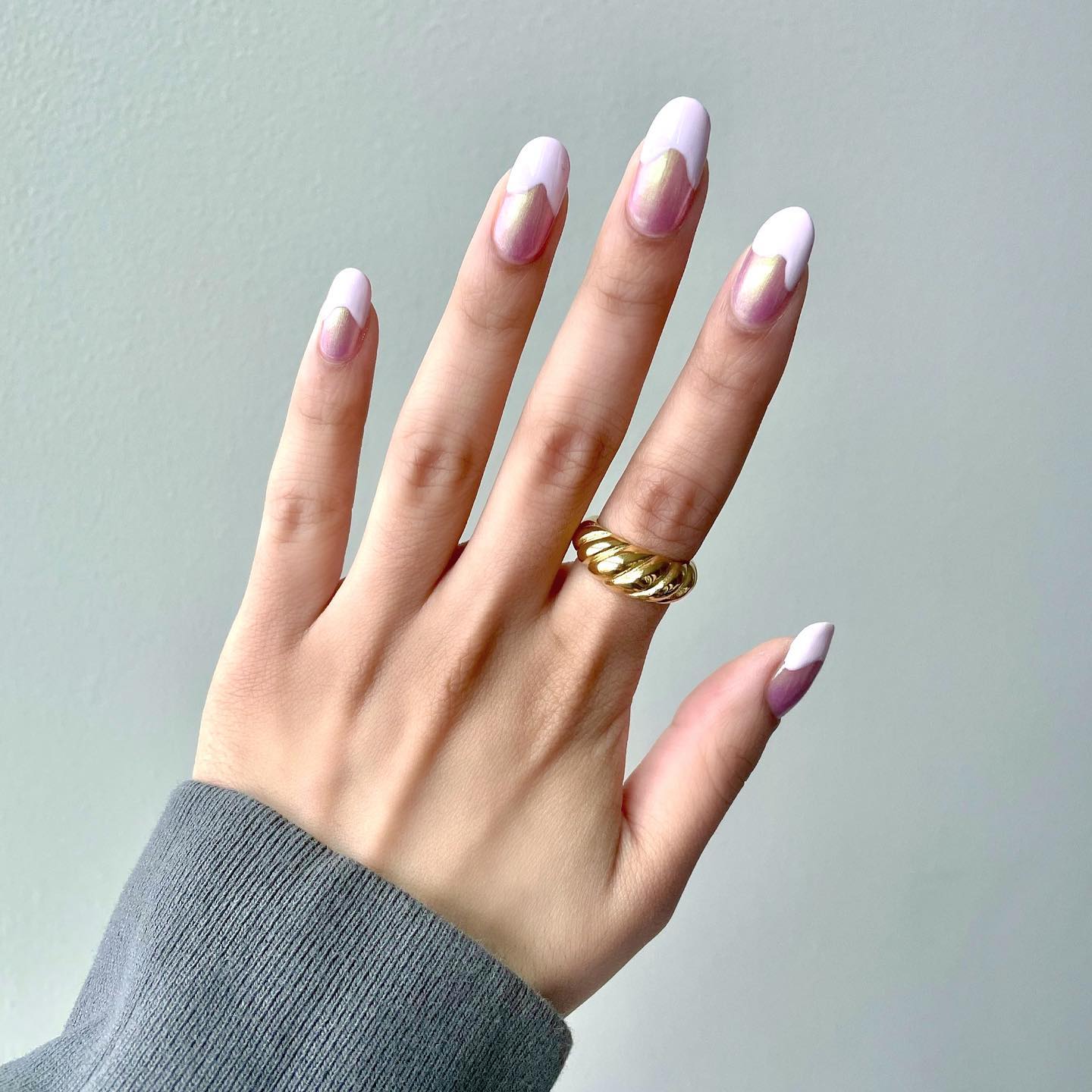 This succulent Thanksgiving nail art has a holographic base topped with a pastel shade resembling a tasty dessert. Get your Thanksgiving appetite on!
38. Eccentric Green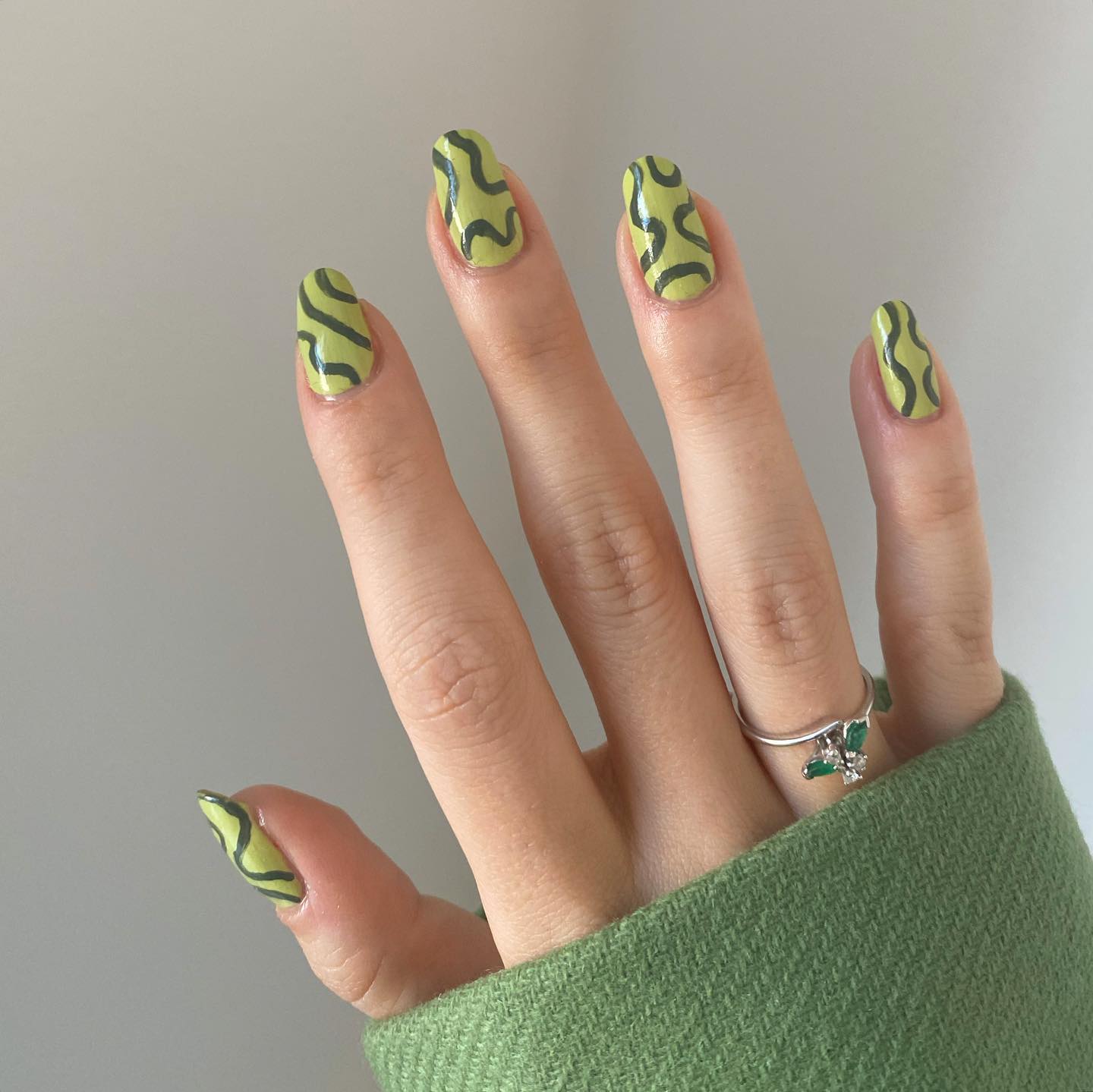 These shades of green make our hearts flutter! The deep green squiggly line perfectly contrasts the light and neutral green of the base. This is not only a manicure, it is an artistic perfection!
39. Green and Beige Chessboard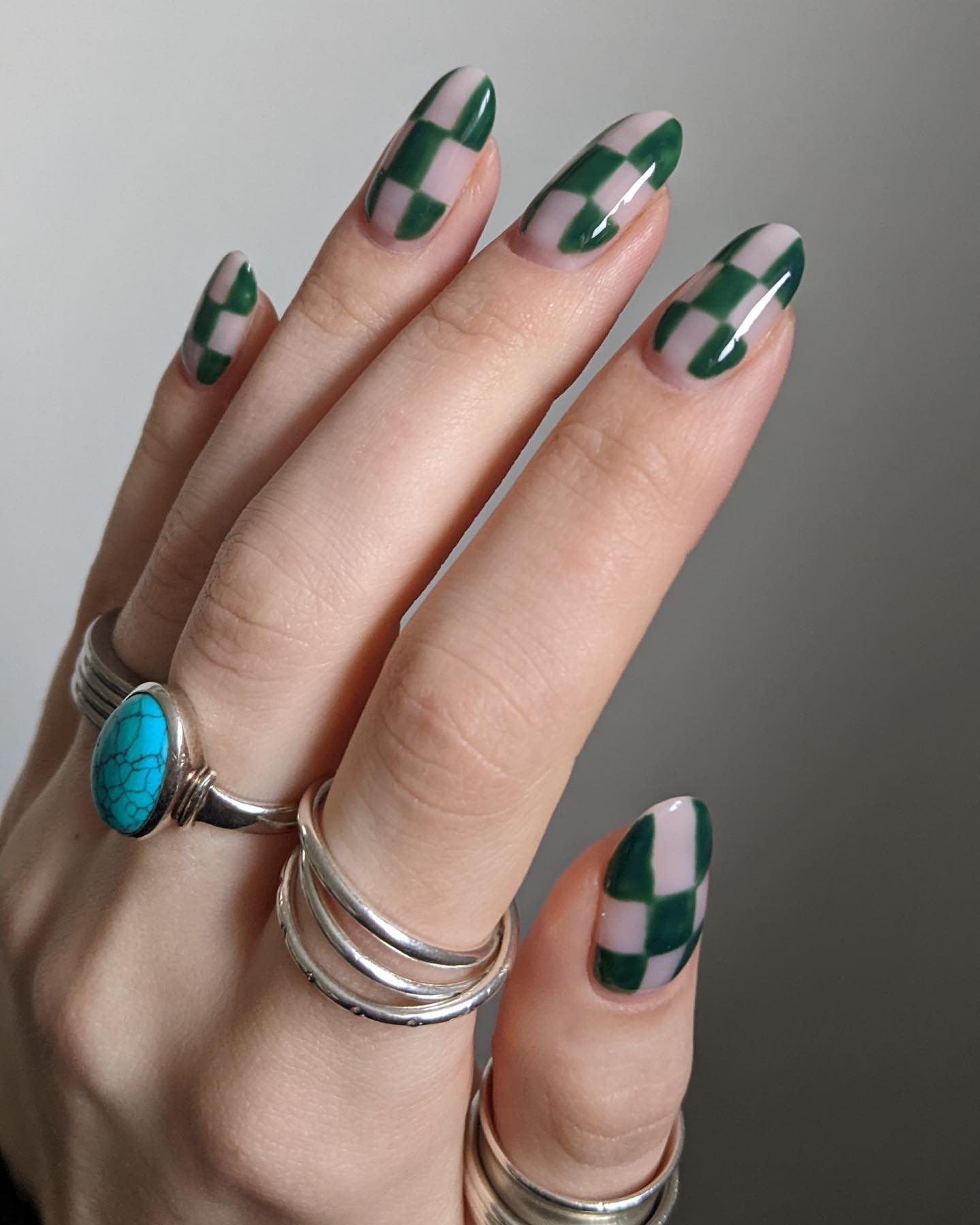 This is giving Slytherin Vibes! The green checks are a good complementary color to the nude base. Wear this with a deep green turtle neck to unleash the magic!
40. Basketweave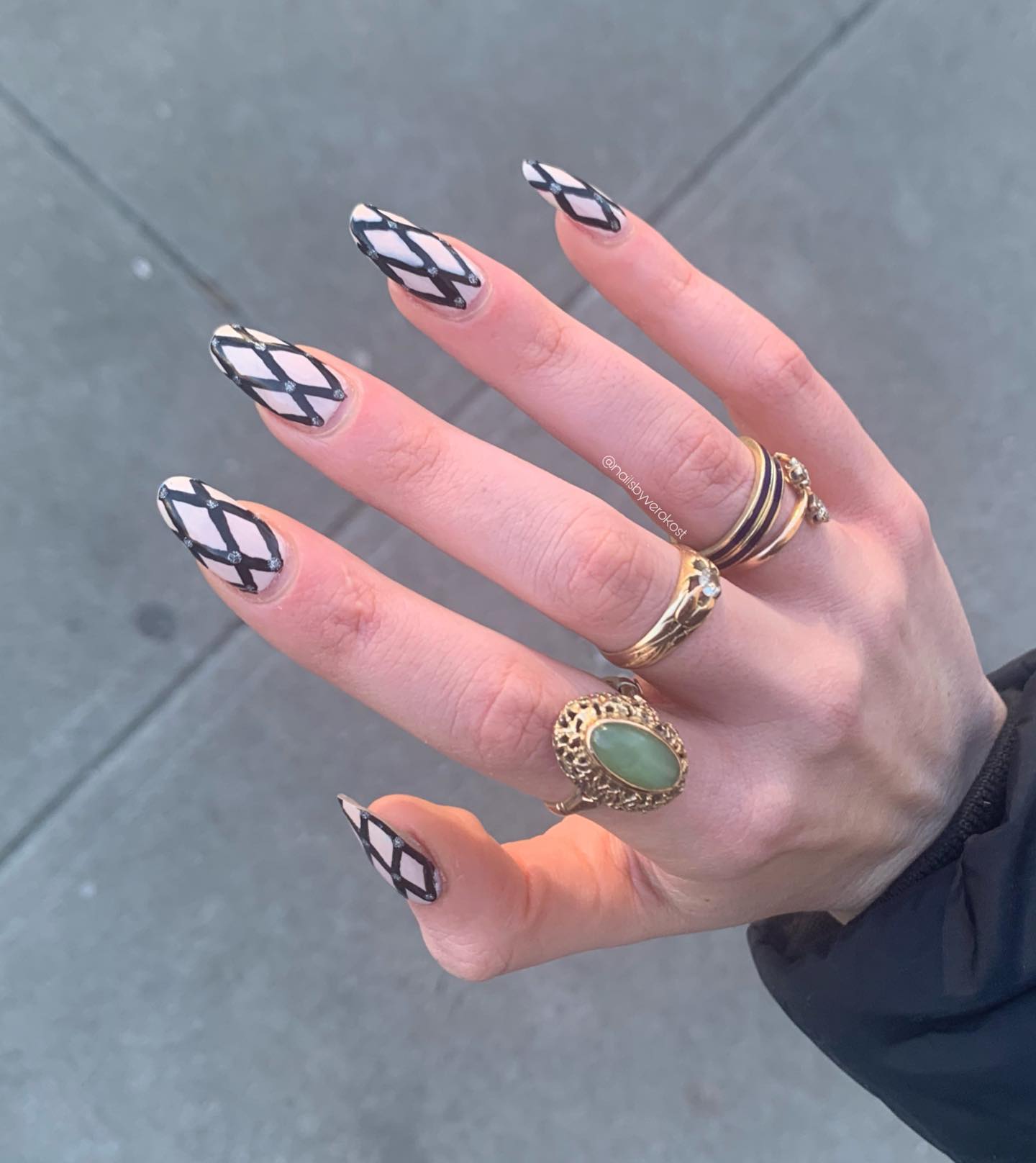 Checkered nails have always been hailed as the epitome of symmetry and beauty. This gorgeous Thanksgiving nail art has diamond checks created with black nail polish on a beige base, for a show-stopping look!
Post You May Like: 27 Cutesy Polka Dot Nail Art Designs for 2023
41. Colorful Tips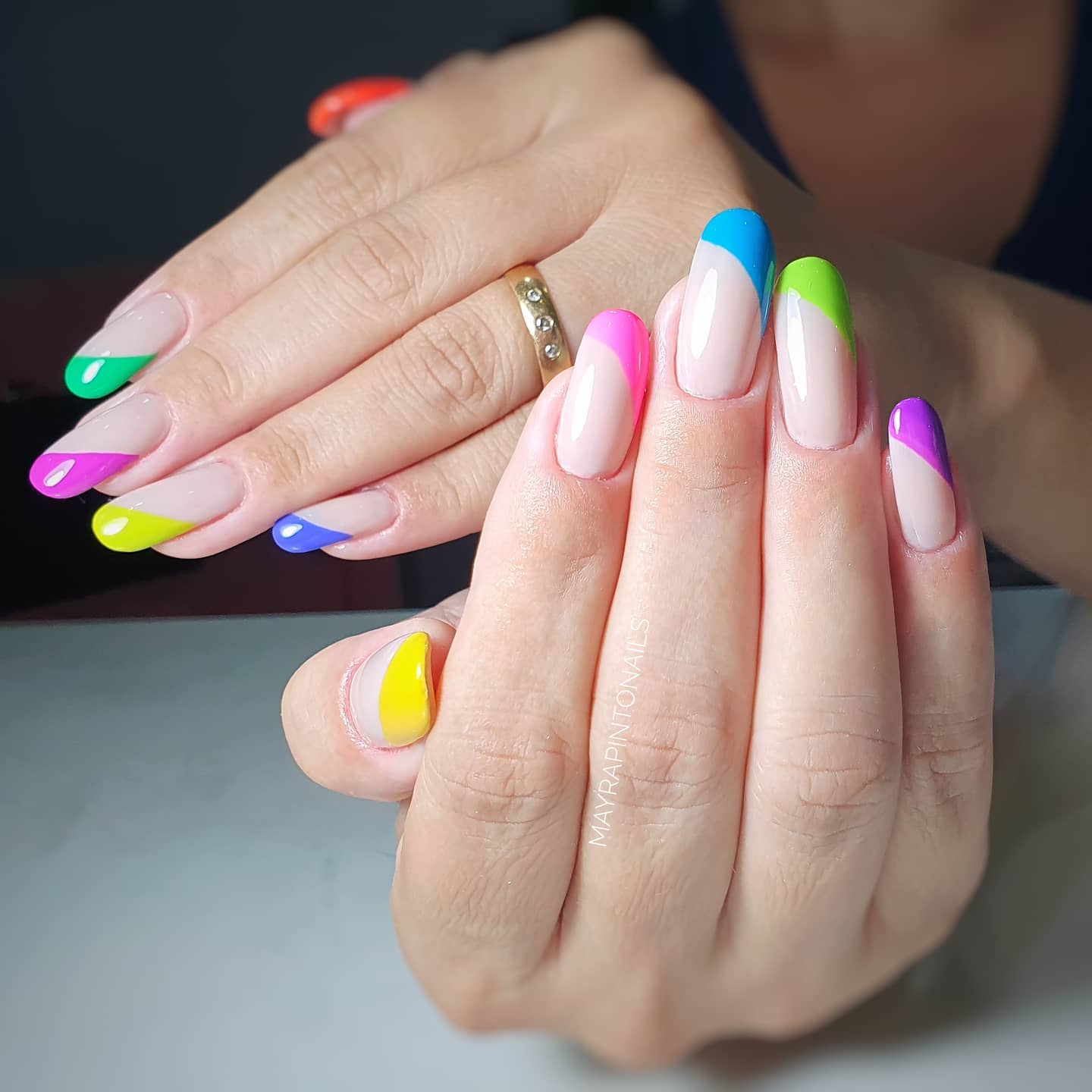 Perfection has never been simpler! These colorful slanting tips are an easy design to choose if you're confused with a million Thanksgiving nail art designs.
Wrapping up:
Thanksgiving is a time of enjoyment and liberation. It brings back families from different parts of the world to the same dining table. There is a design and color for everyone in the room, notwithstanding your preference for a subtle or glam manicure.
Autumn is not restricted to warm nude and latte tomes, it is anything you want it to be, as long as it makes your nails look fabulous. Although many of them can be done at home, it is always advisable to visit a professional manicure artist to get the perfect set of nails before the festive season! After all, it's Thanksgiving. A little preparation is obvious.
Moreover, you definitely deserve it. These designs are not overtly cheesy and can be worn month-long without receiving cheeky taunts from aunties! Make your hands gleam with these head-turning designs, and do not forget to express gratitude for those stunning nails! Happy Thanksgiving!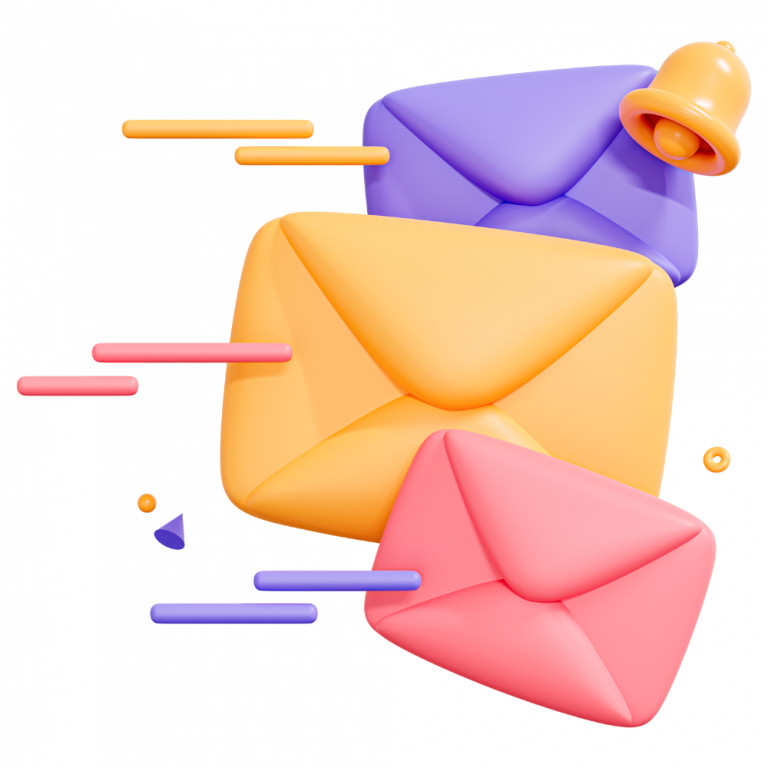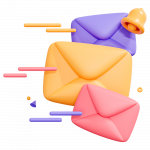 Read related: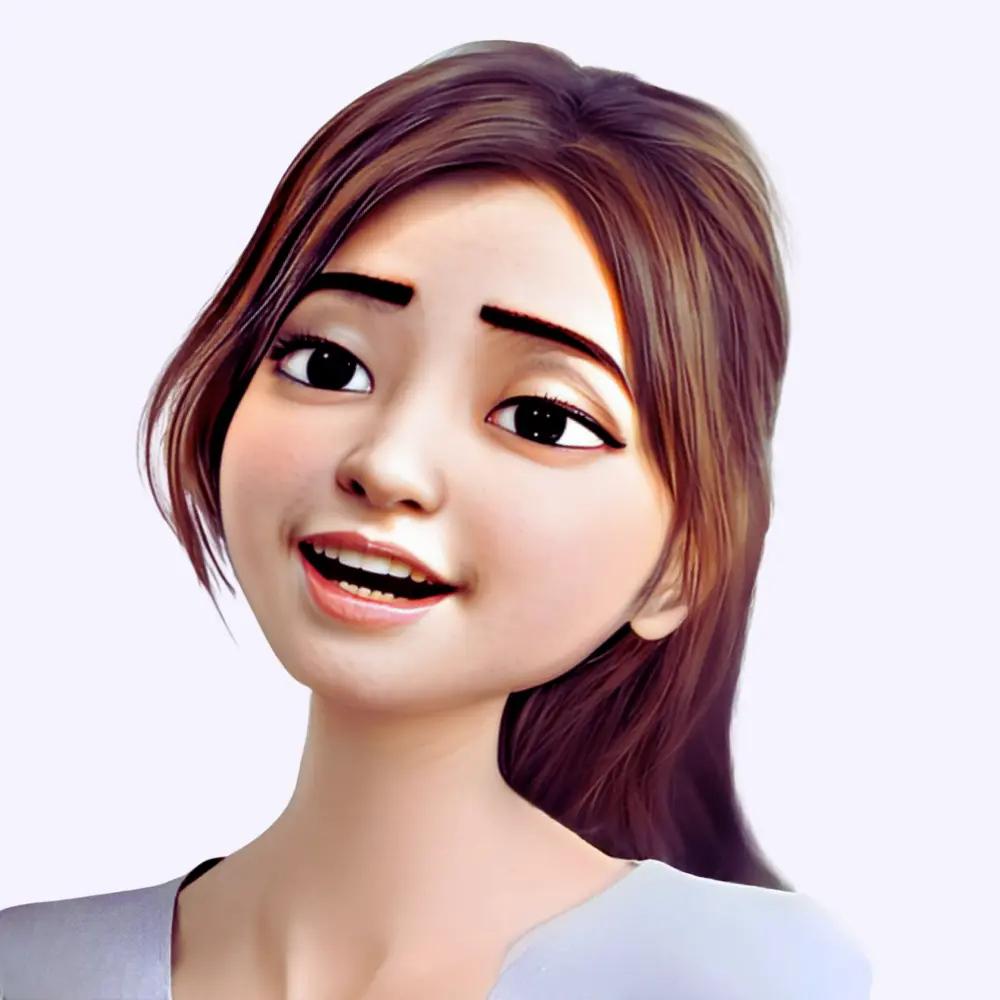 Hey there! I'm Raizy, a makeup, beauty, and manicure enthusiast. My passion for nail art and manicures knows no bounds; it's something I can't quite put into words. Every day, my goal is to dive into the world of manicures and nail art, and I'm thrilled to share my thoughts and expertise with all of you.