31 Coolest Blue Nail Art Designs to Dazzle in 2023
The year 2023 has been about vibrant hues and tones paired with confidence and charm. In the midst of it, don't let your manicure game fall back with last season's trends of blue nail art. With so many different shades of blue, they are just the perfect match for your color-rich fits this year.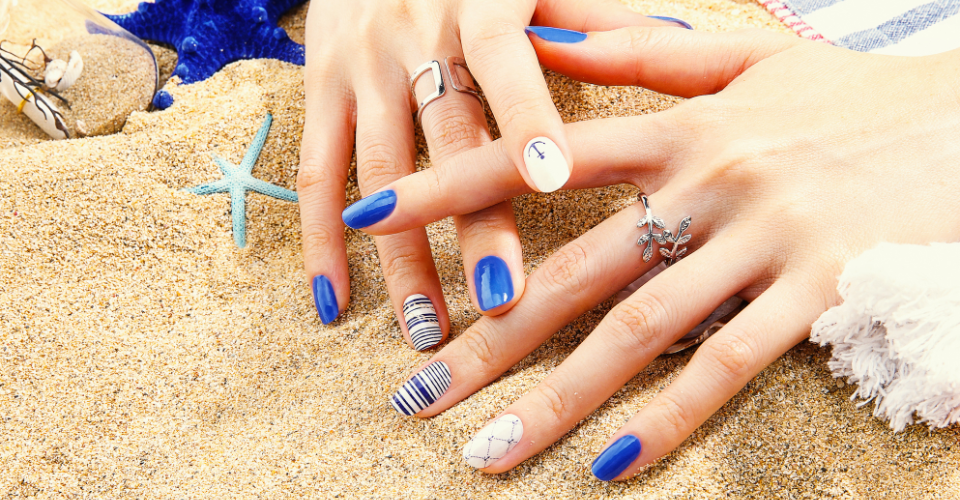 Blue is not so blue after all. Blue is the warmest color of all. Can you deny a good shade of blue ever? No. And no way when it comes to blue nail art.
Nails are an empty canvas and when you start experimenting, you start experiencing the magic. However, the same blue nail art can be tricky at times.
There's a yank to the blue nails, when you pick the right style, it can be your best friend for the season. Be it the navy blue nail design with glitter for fall or the summer blue nail designs with a floral touch. All in all, the right pick of blue nail art will be a life-savior.
Well, if you are wondering how you can pick the right nail art design for the upcoming season or how to figure out the best blue nail art, I've got your back. Blues are my personal favorite and it would be a shame to let my love for blue nail art go in vain without helping you to find your best blue manicure for 2023.
31 Cute Blue Nail Art Design Ideas for 2023 – Get Inspired!
Dive into the trendiest blue nail art ideas! Discover 31 captivating blue nail art designs to elevate your style in 2023. Get inspired today.
1. Wave it like the Ocean
Ombré swirls in blue is your beach essential. Swirls, waves, and blue go together hand in hand. Above all, the ocean demands a chic and cheerful nail aesthetic.
2. Swirl-Twirl Azure Design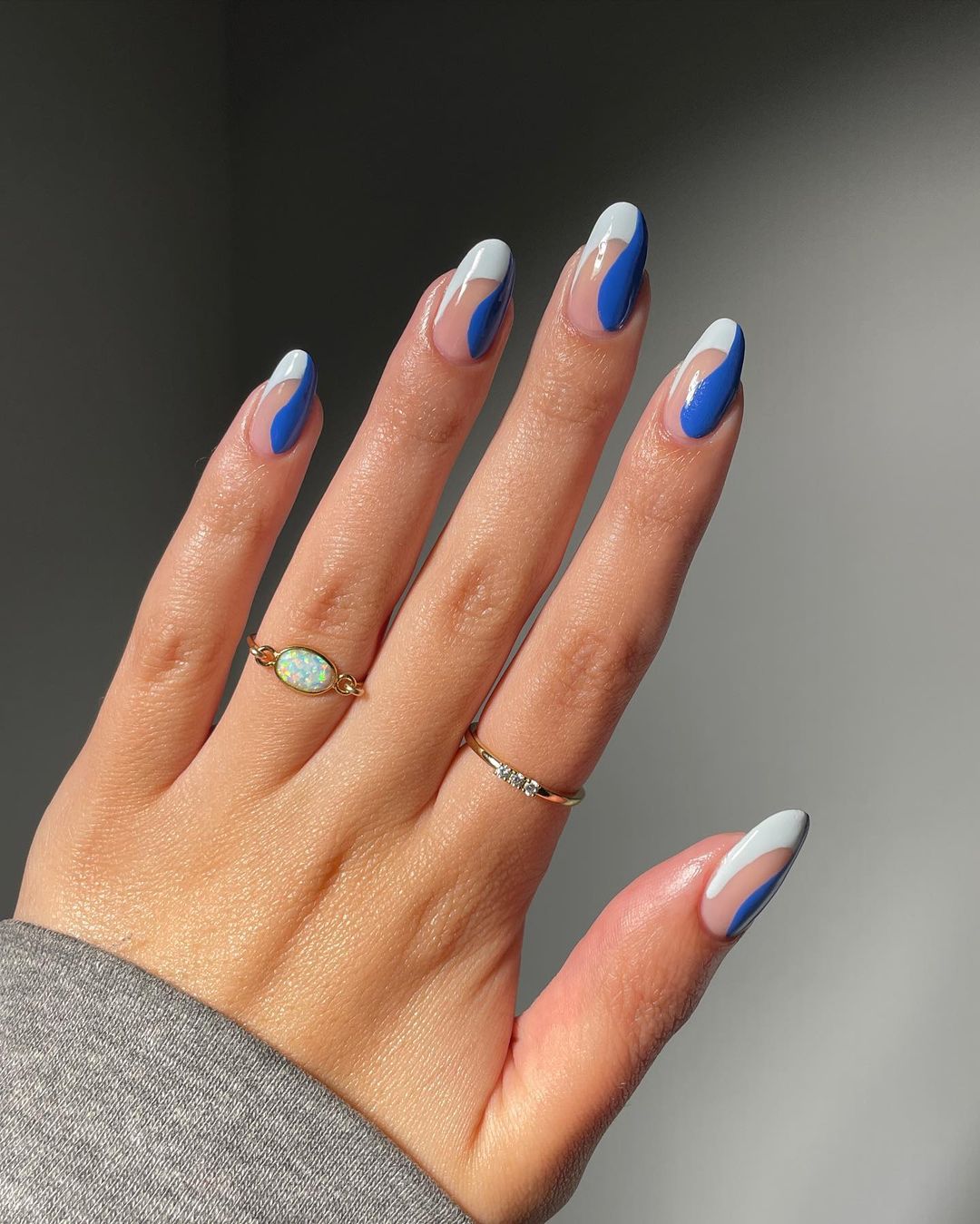 Swirl twirl is a great way to pull off blue and white nail ideas. The classic color combination of blue and white is every bit classy and sassy. This is perfect to go along with your day-to-night look.
3. The Mosaic of Indigo
Going extra never goes out of style and the Moroccan aesthetic nails are proof. The allure of intricate design on the nails in the blend of indigo and white has me swooning.
4. The Dotting red dwelled into Blue
A fun and bold way to make a statement with your blue nail art design is by picking up your dotting tool and turning your basic nail art into the best summer nail art design.
5. Ombré French Wave
Do you want light blue nail designs but don't wanna go all the way in with blue? Well, a touch of swirls in white to blue gradient is your best match.
6. Blue Abstract Swirls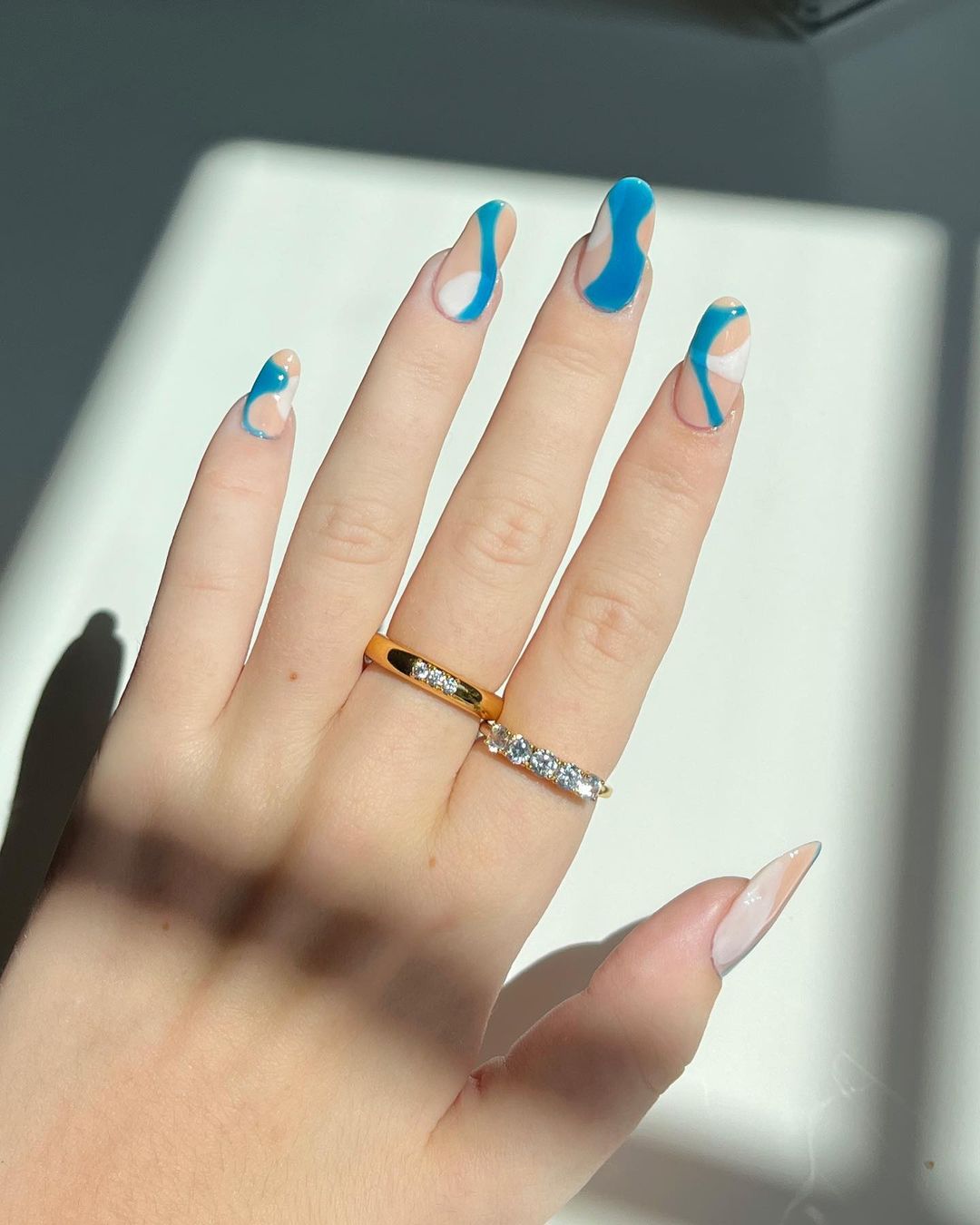 To the artsy spirit in you, bright blue nail designs in swirls with white are the ultimate nail trend you gotta try. Call it white nail art or blue; It is all things pretty!
7. Smiley Face Blue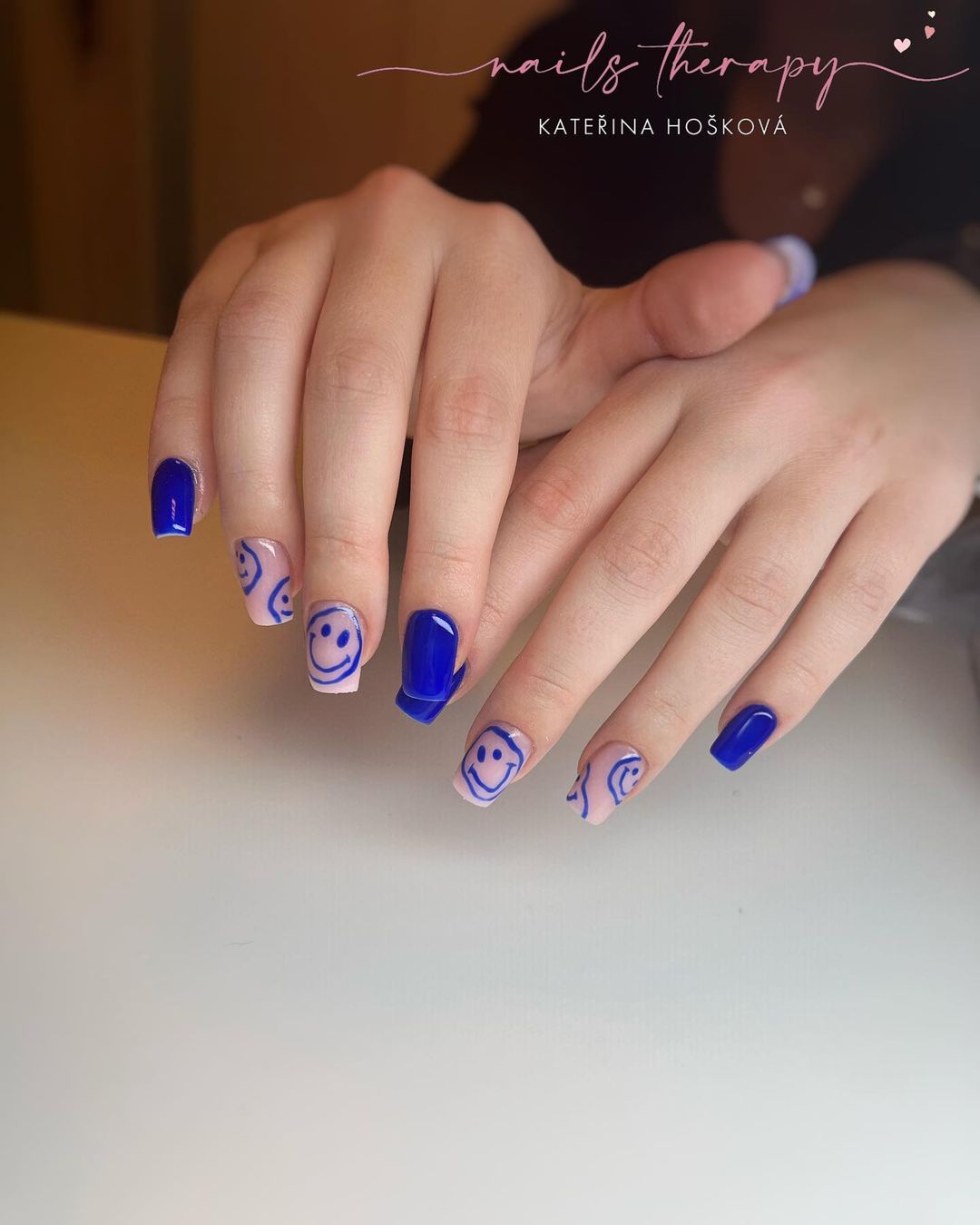 By far this is the coolest of the blue nail designs for short nails. The smiley nail art with electric blue is the exact amount of bold+fun aesthetic you need.
8. Strip the French Tips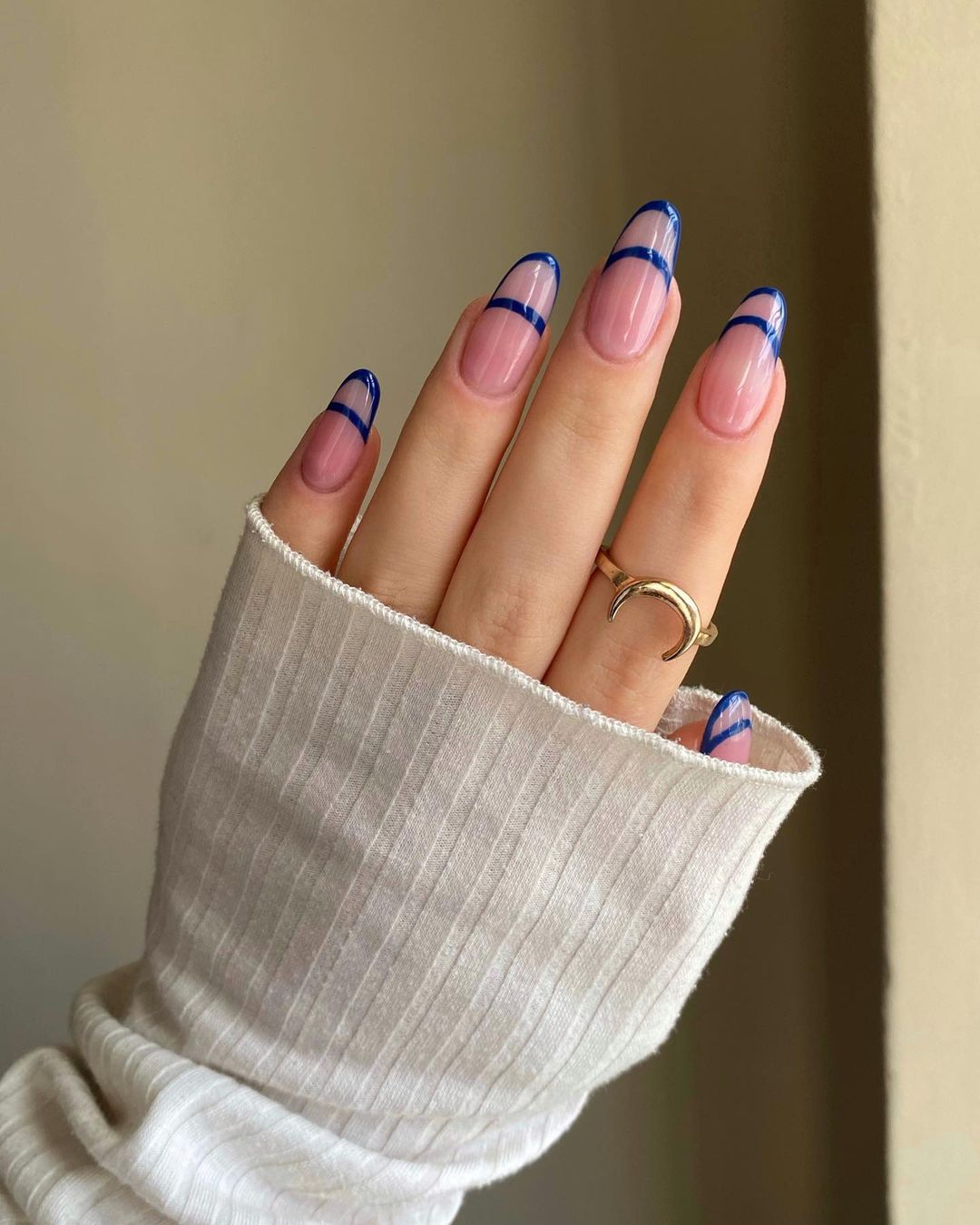 Nail art tape stripes in electric blue finished off with a glossy top coat will be a minimal & eye-catchy touch to your outfit. If you don't want to overdo your nails but still want something fun, this is it for you.
9. Marbellous Jade Nails
Almond nails jaded with blue and green nail polish in a marble effect is the trend of the season. It is pretty, attention-grabbing, and yet polished everything in one.
10. Electric Flora in Summer
Find yourself emerged in the charm of the blue and white nail art of electric flora. Your summer nail idea is here and it is going to make people go gaga over your nails.
11. Summer Tea Party Blue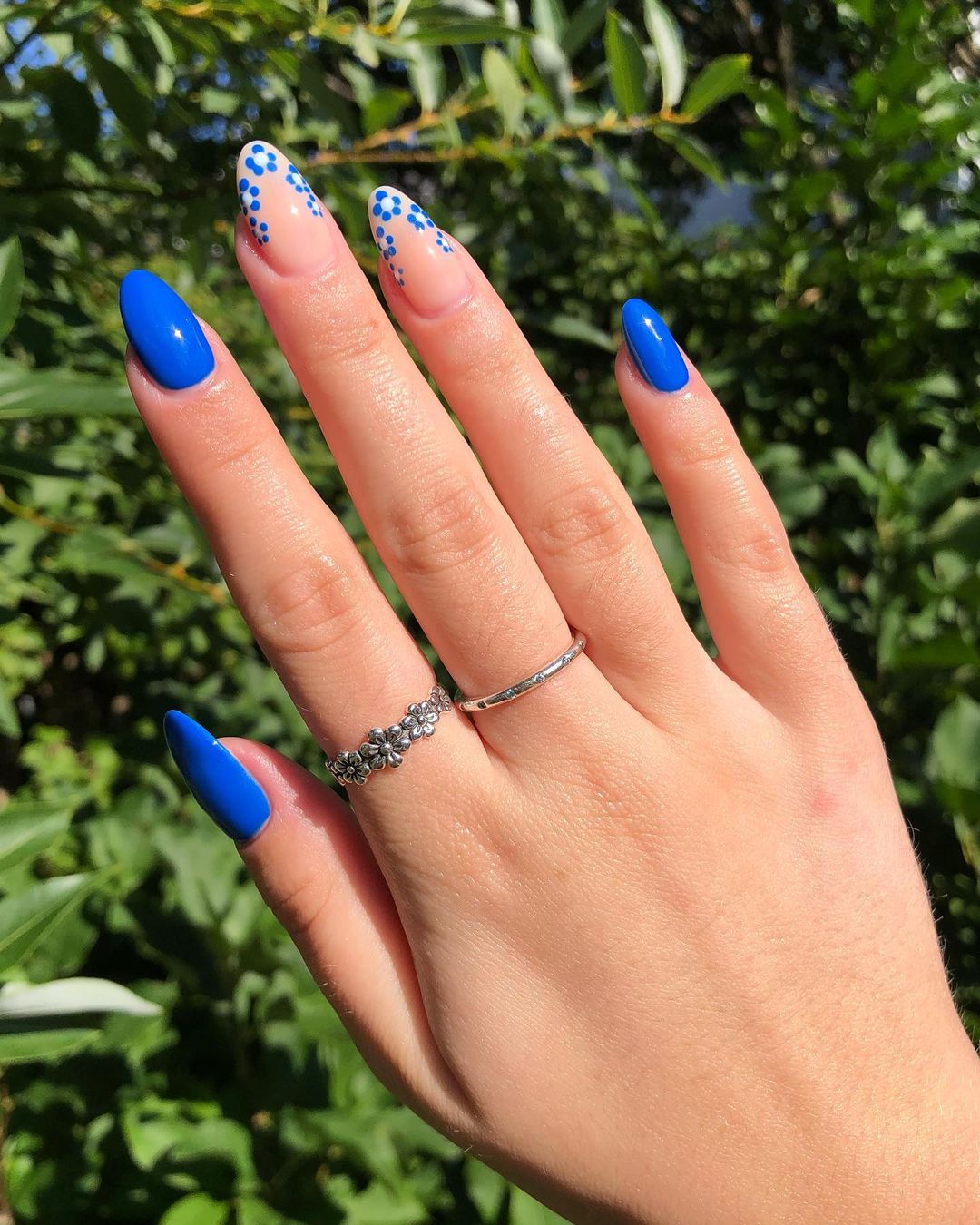 How amazing it is to find something as simple as blue nail polish paired with pretty flower nail art! To be honest there are never enough floral nail ideas for me.
12. Bedazzled by Azure
When you have adorned your nails with nail jewels like rhinestones, it becomes a task to take care of them. However, this nail art is the most ideal and low-maintenance nail art look for you.
13. Glitz 'n Glam Shine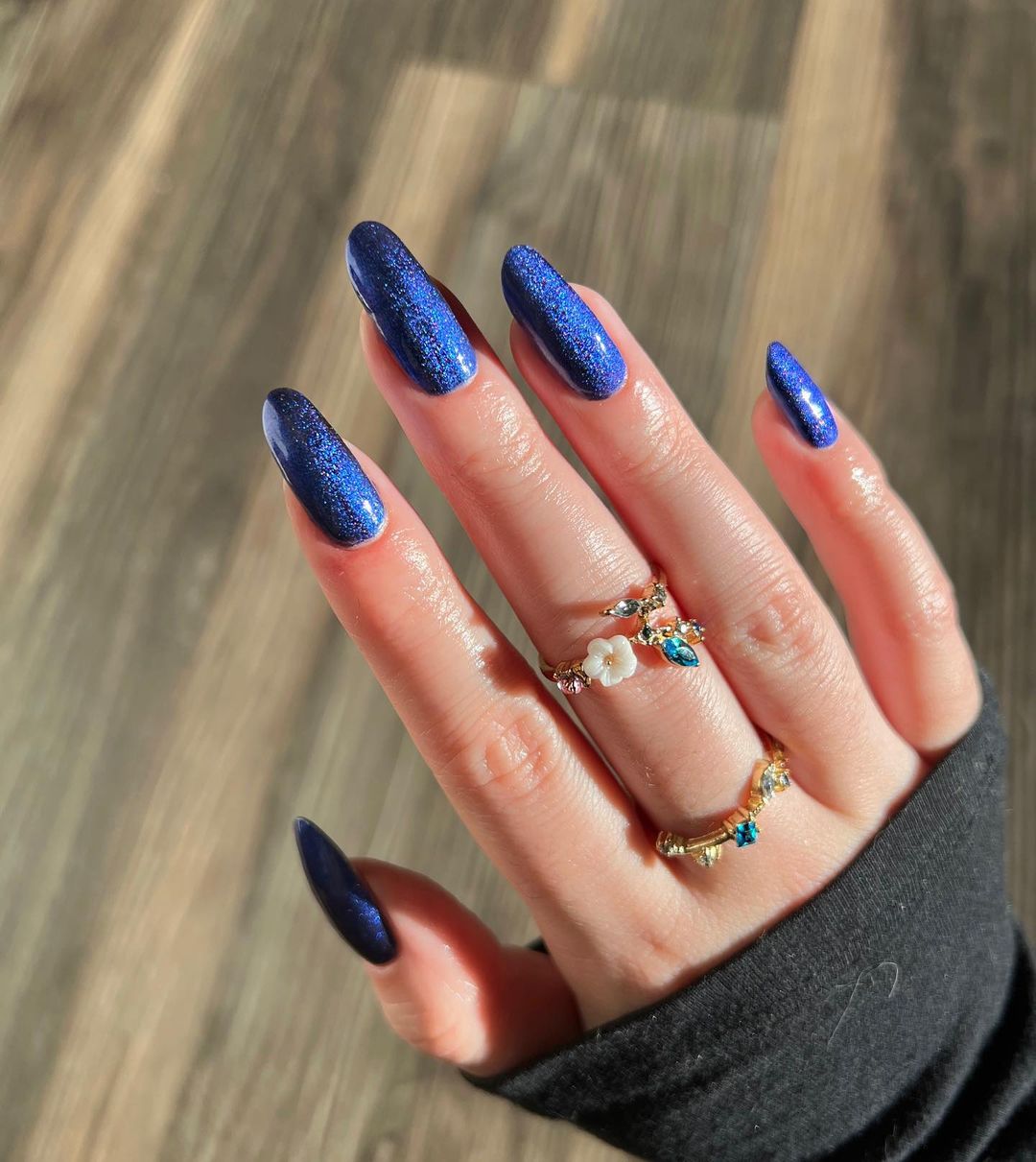 If the little girl in you is still obsessed with glitter nails, the glitz n glam blue nail art design is going to up your game and make just the right glitter nails.
14. Summer Twist Espionage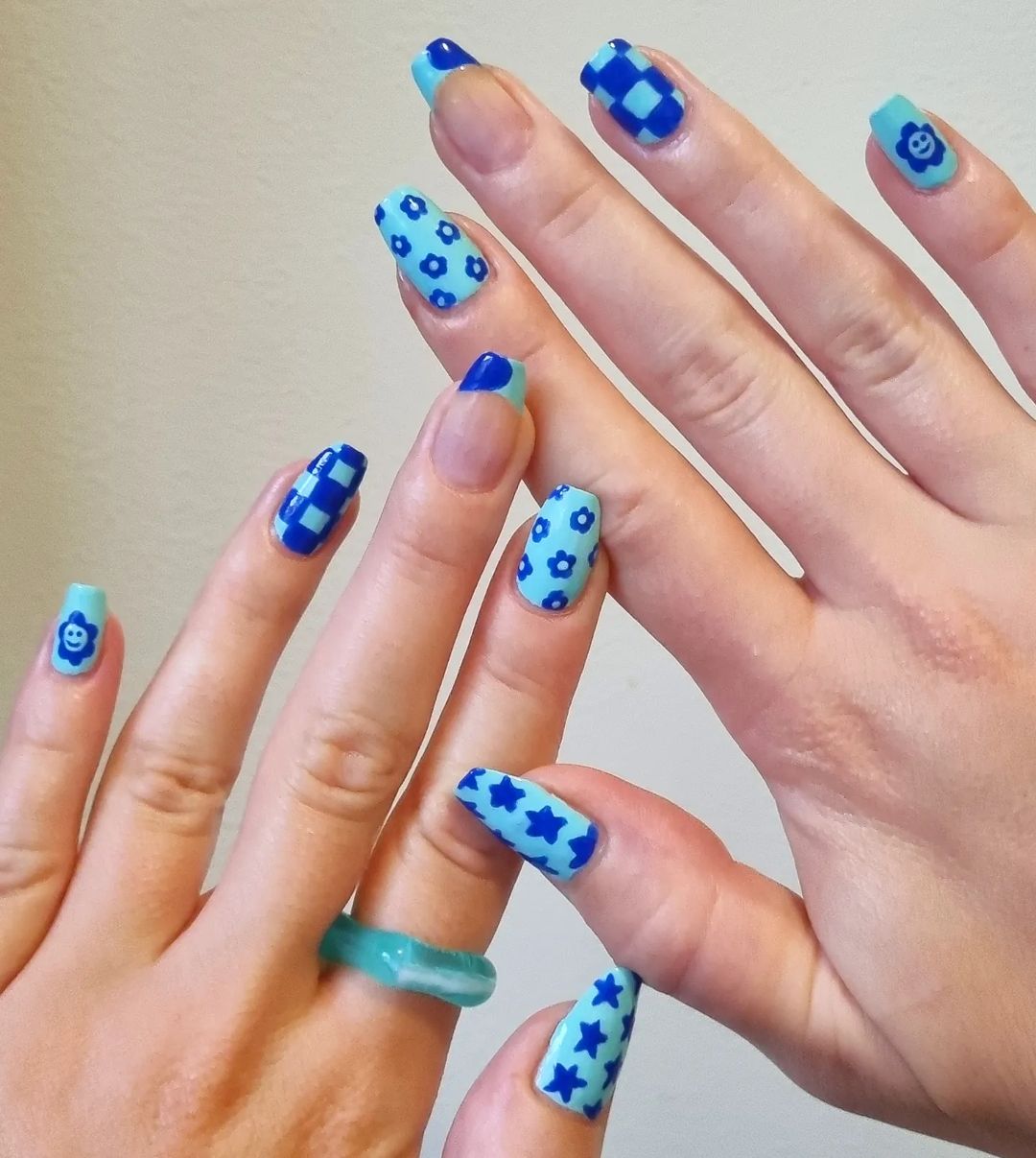 Doodles and checkered prints, flowers, stars, and two-color French tip; it's a full-house for nail enthusiasts. The heavenly twist to your summer nails is all you need to cheer up your everyday fits.
15. Hey Ditsy Daisy Blue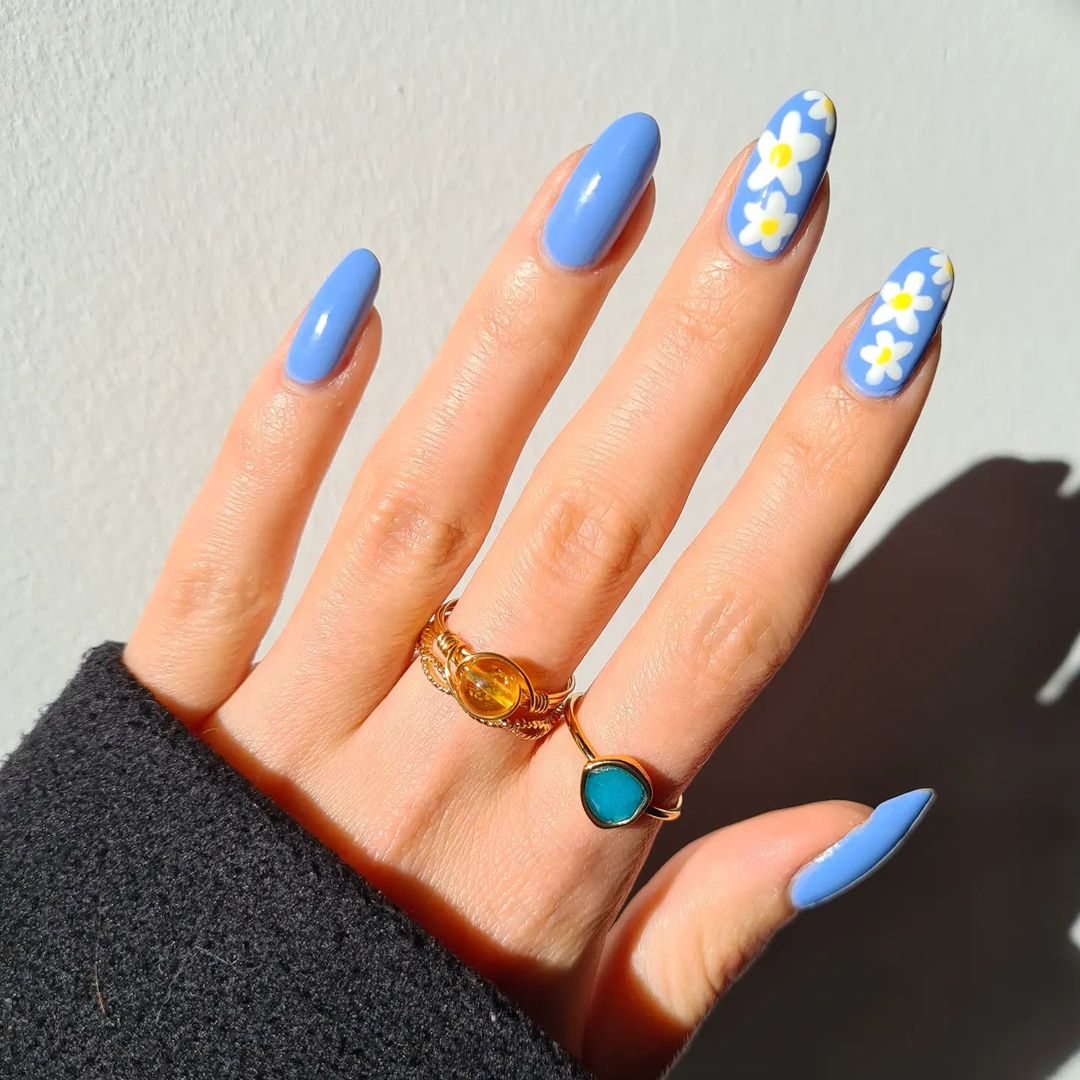 To the soft cottage core aesthete in you; I've found your perfect match for the season. The floral nail art with a hint of yellow is a match made in heaven for your summer dresses.
16. Candy Pink Smileys for the Summer
Bring a twist to your basic blue gel nail ideas and add the happy smileys in pink to your nails. The color duo of blue and candy pink will never fail to make you happy about it.
17. Blue Monochromatic Flair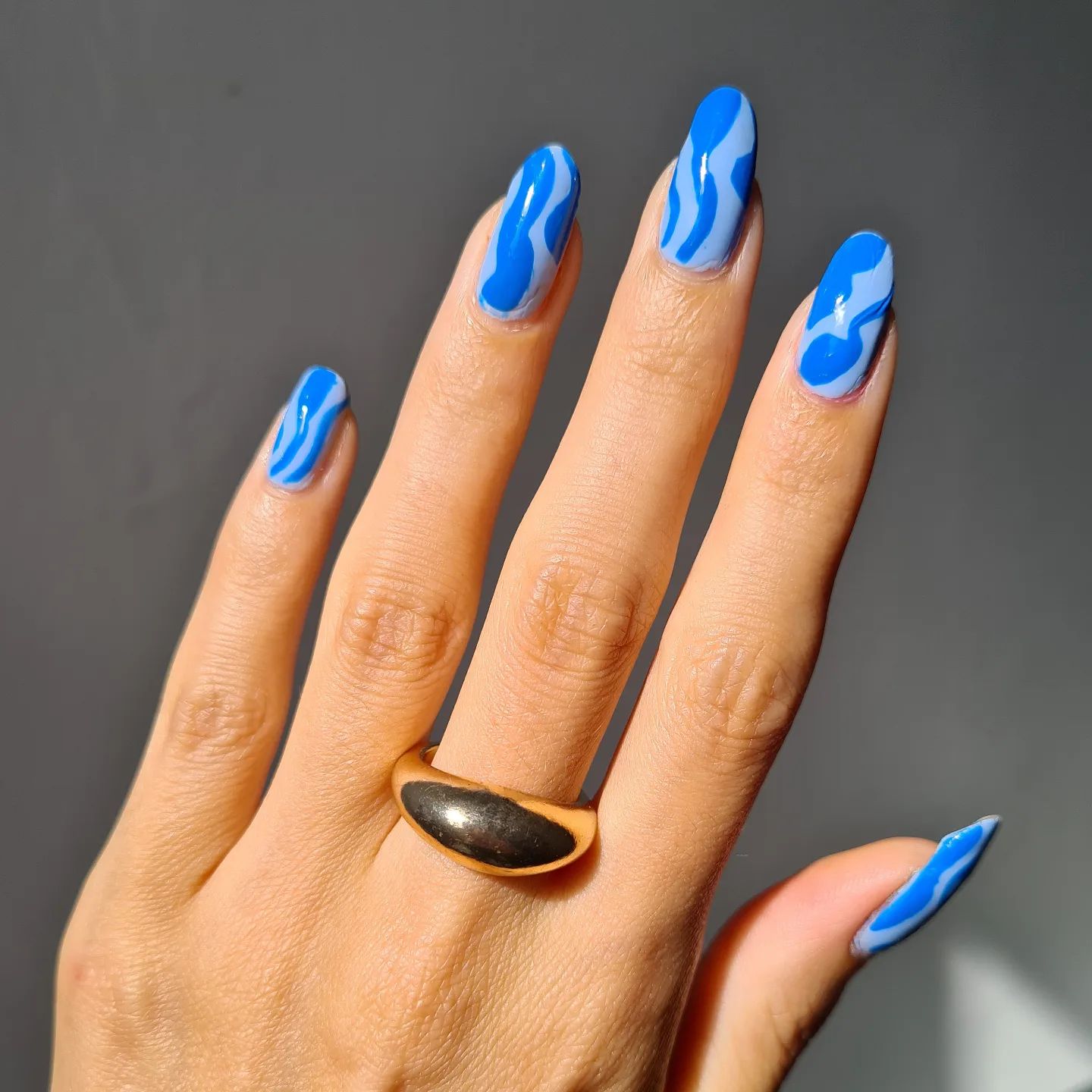 Not in the mood for something new and avant-garde? Then a blue monochrome swirl nail art design is the classic idea for you this season.
18. A Pearl-Studded Affair
Mermaidcore has taken over the internet. From clothes, and accessories to footwear and Manicures. Adorning pearls with glitter and a blue French tip is a super cute summer nail idea.
19. Blue with a chance of a dreamy cloud!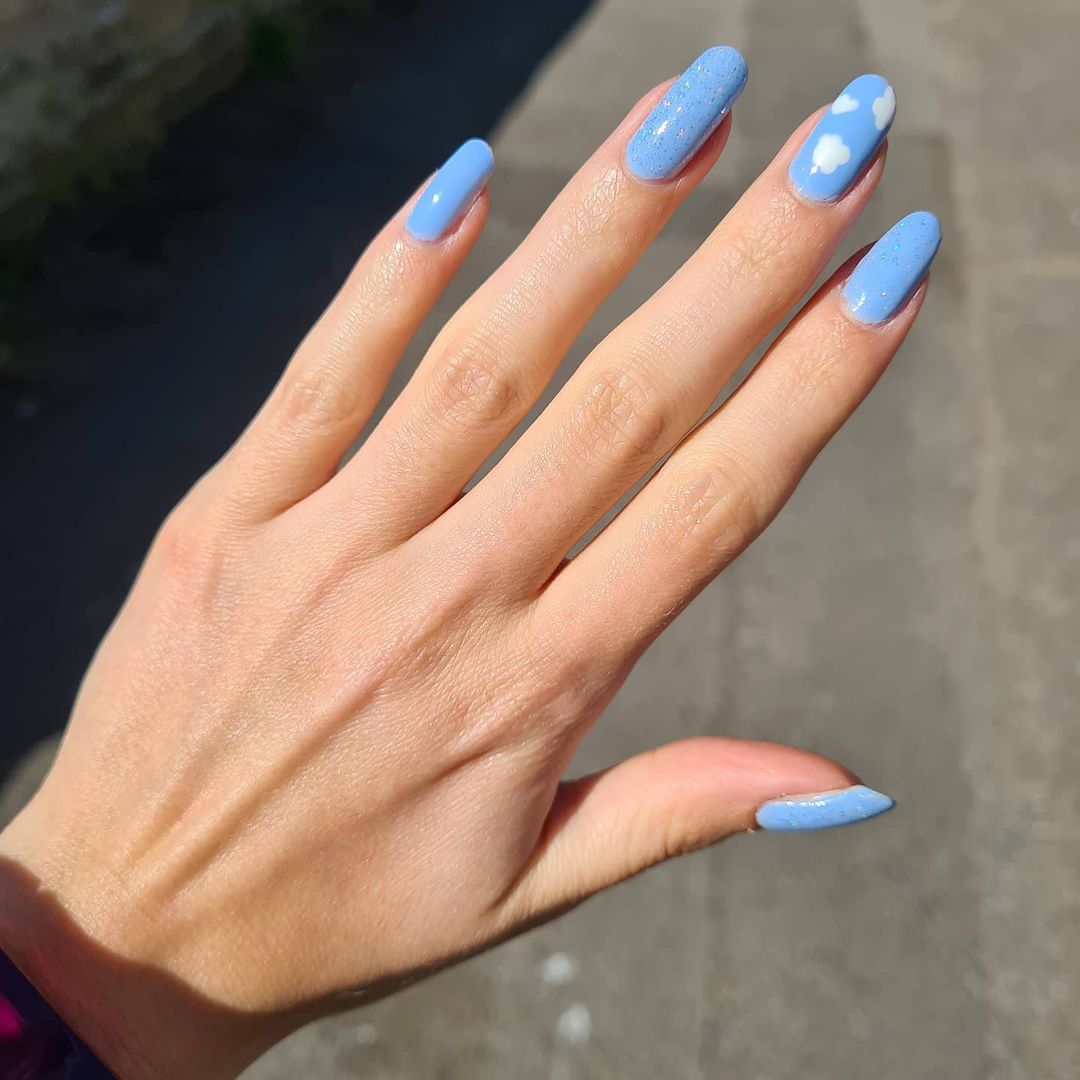 The classic sky blue nails are a part of everyone's vanity. Here's a chirpy idea to make it
fun with some shimmer and cloud nail art in white.
20. The Sapphire Moon Finish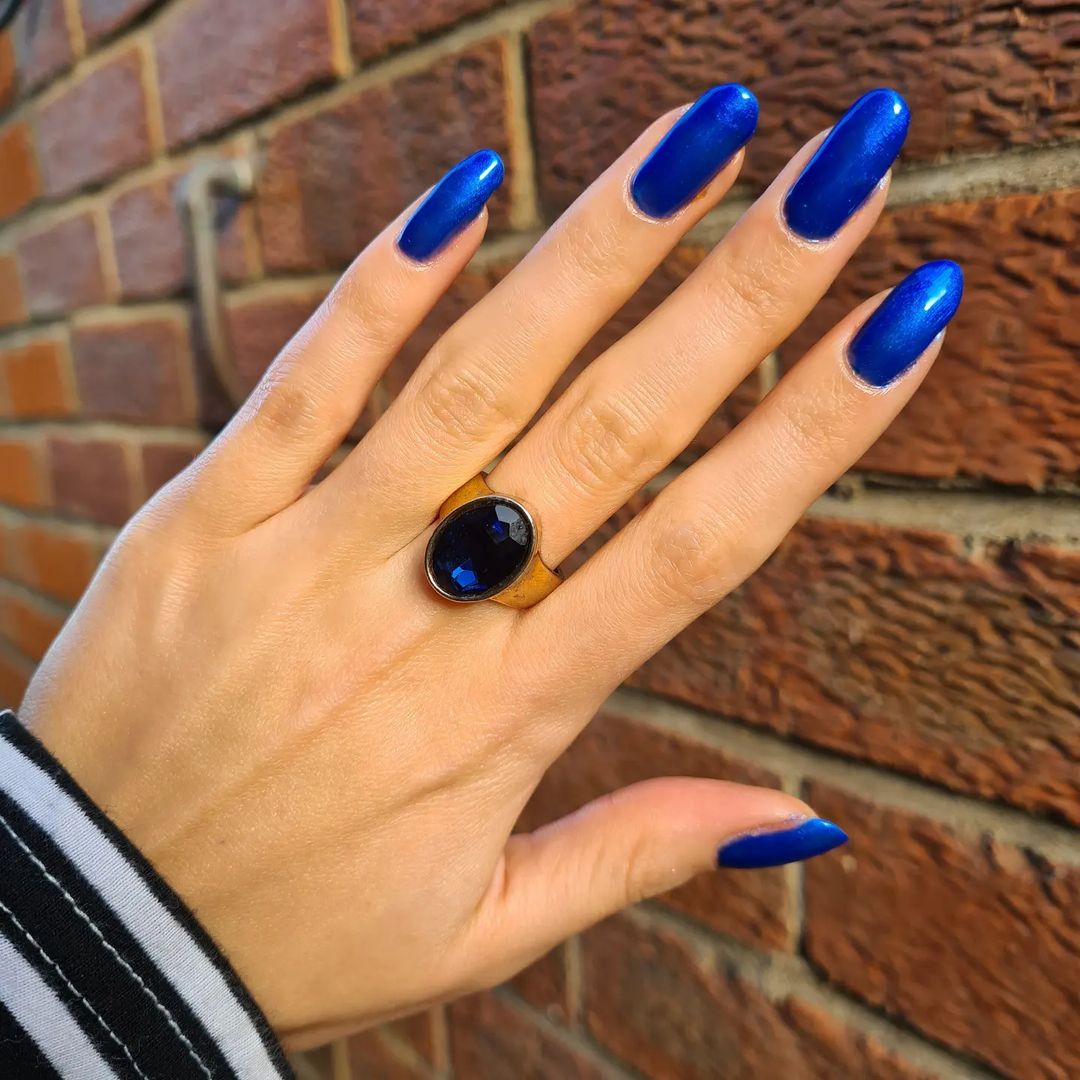 Sometimes all you need is a manicure with simple blue nail designs to rock every outfit you gonna wear. The sapphire finish will go great for both long and short nails.
21. The Reverse Ombré French Tip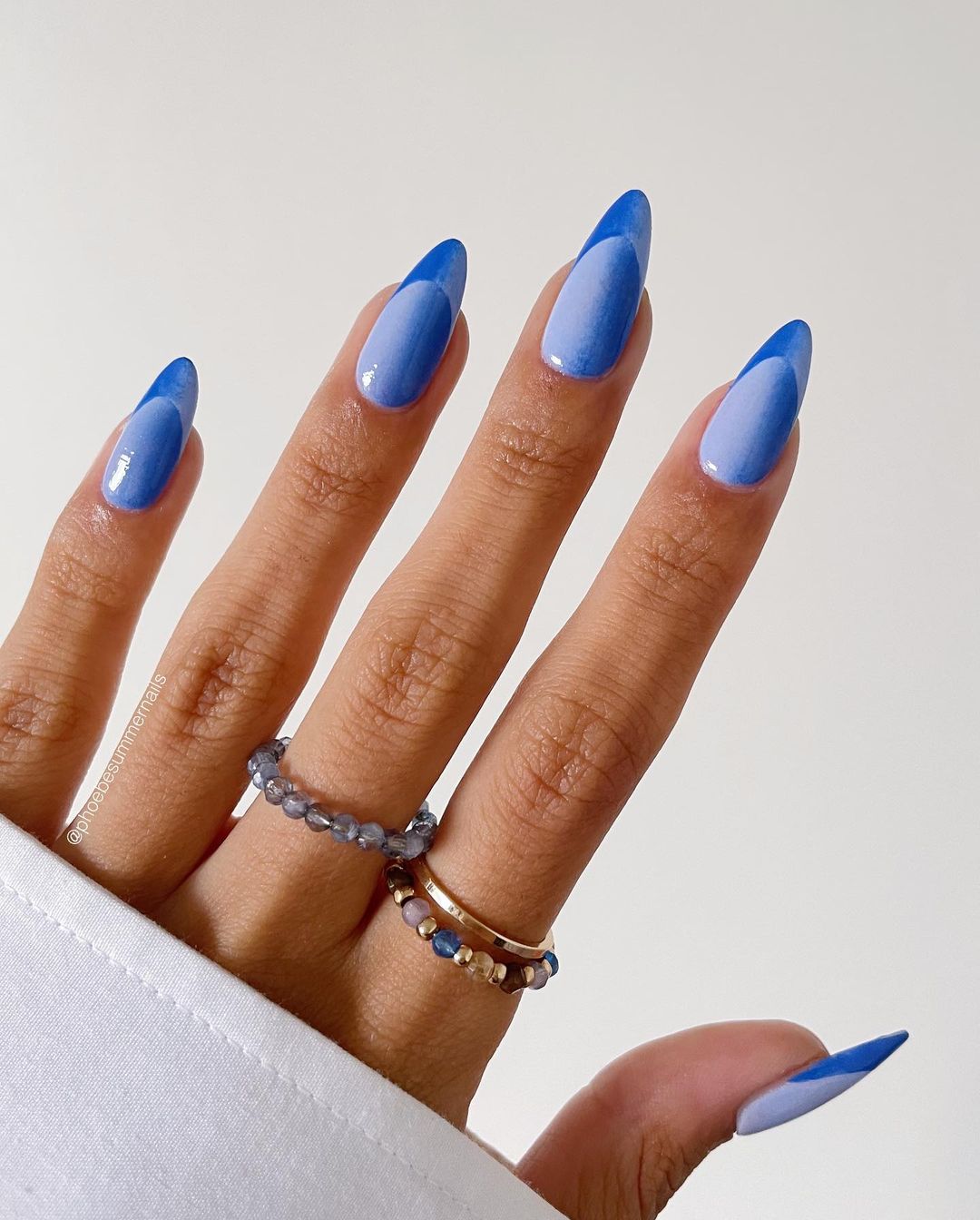 I have brought to you the best grey and blue nails idea for the season. The two-way gradient effect with French tips is an effortless look you can pull off for every occasion.
22. Starry Night Gradient Dance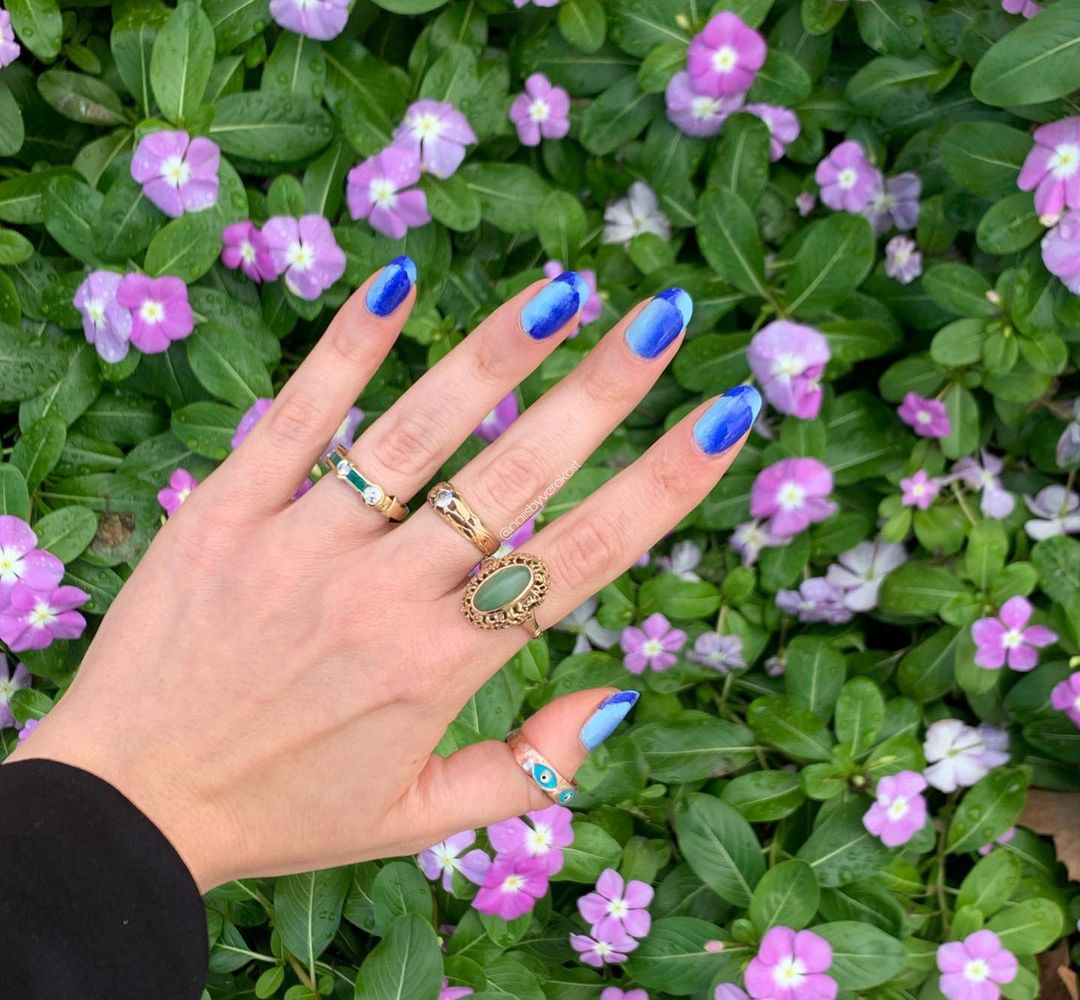 Another gorgeous gradient nail art idea with French tips for the summer! The playful shades of blue paired with vintage rings is your sign to try it out right away.
23. Glittery Divide n Rule
Looking for blue and white nail ideas at the same time and want something sparkly? I've got you. This nail art design is proof that every shade of blue fits perfectly with white.
24. Color Block the Blue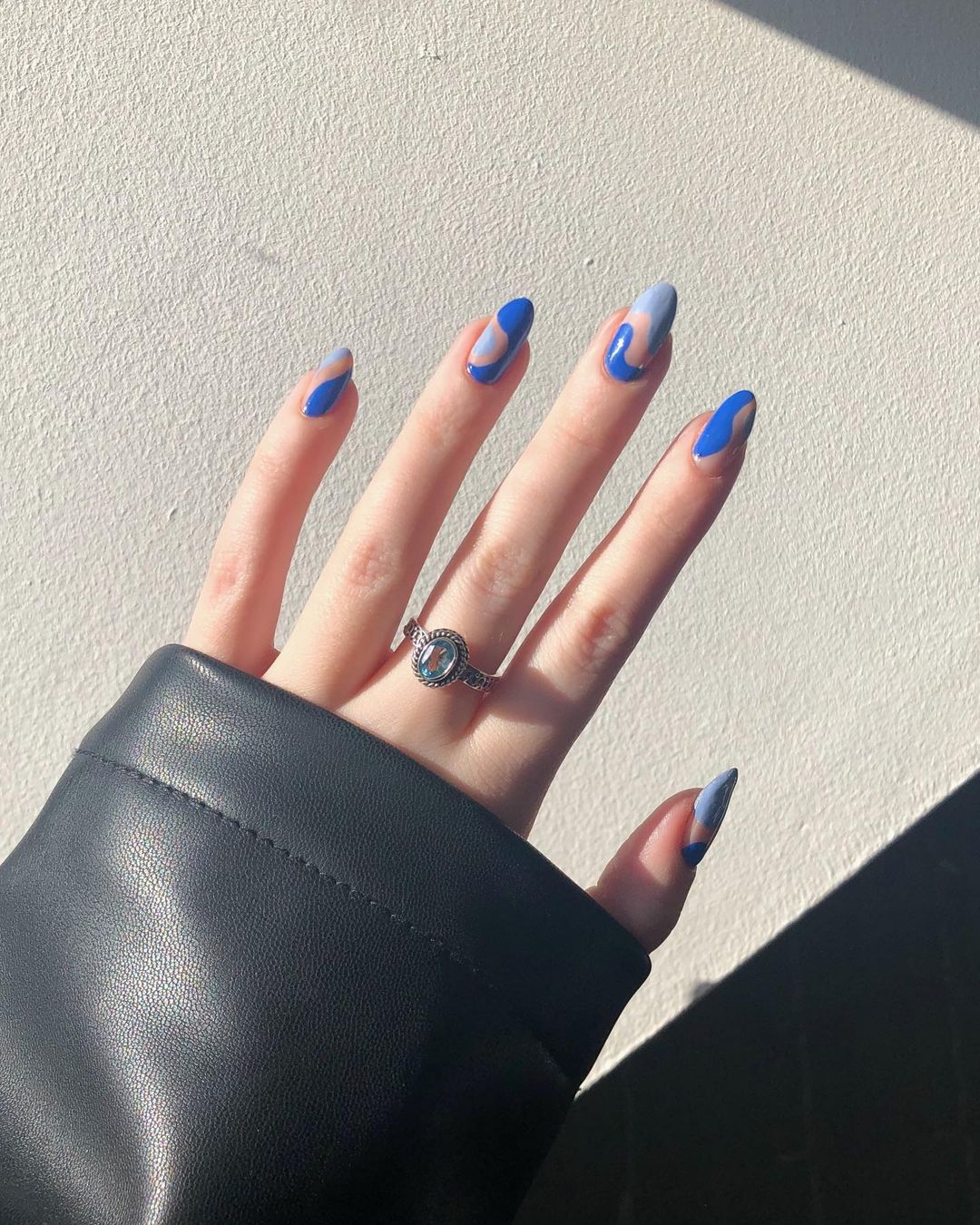 Another idea, another swirl. I can't get enough of the swirls. This nail art trend is going places this year. It is a refreshing and classy touch to your manicure.
25. Flames Game Supremacy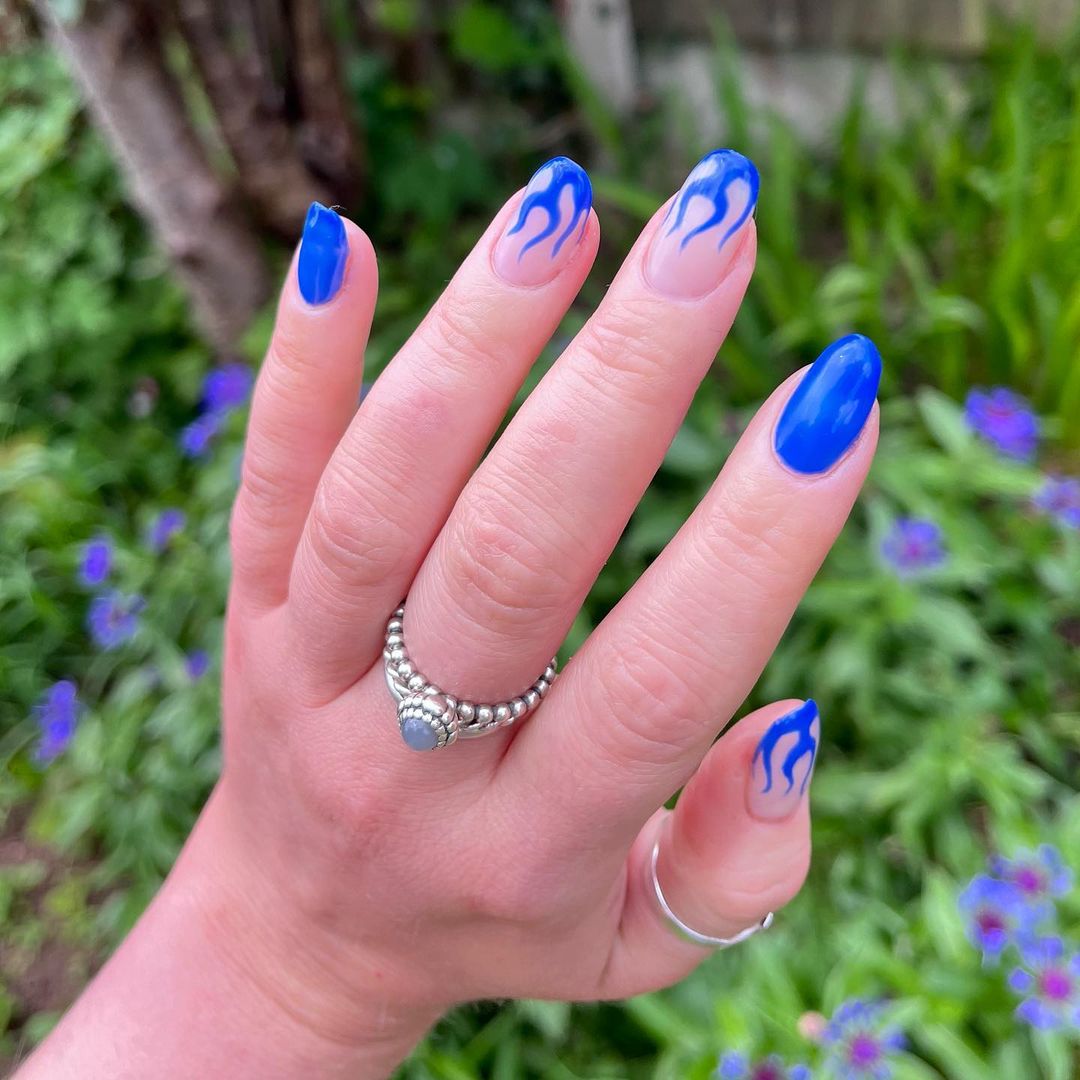 Let the fierce side of you reveal through your nails. This flame nail art in blue will be a reflection of your two opposite personalities – the fiery flames and cool blue.
26. When Mimosa Met Blueberry Mojito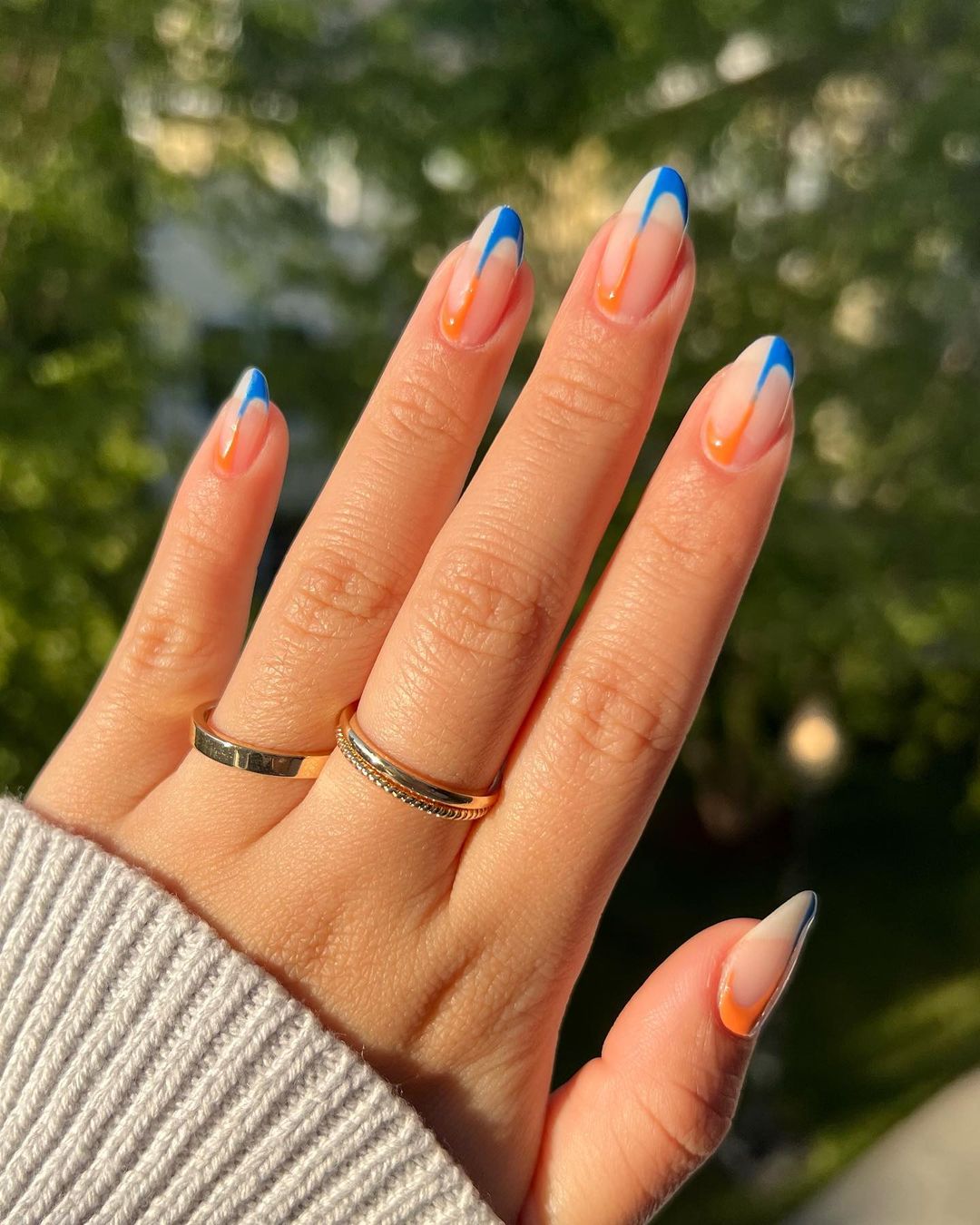 Just like how you would blend in two of your favorite cocktails, this blue nail idea is the most subtle of all in aesthetics. Simultaneously, the detailing and the subtleness is a deal-breaker.
27. Blue Shimmer Ball
Something blue for the Wedding. The Blue shimmer ball is a must-have idea for wedding nails. If you're the bride this would be a compliment to your white outfit, especially for a winter wedding.
28. Fall Ice Princess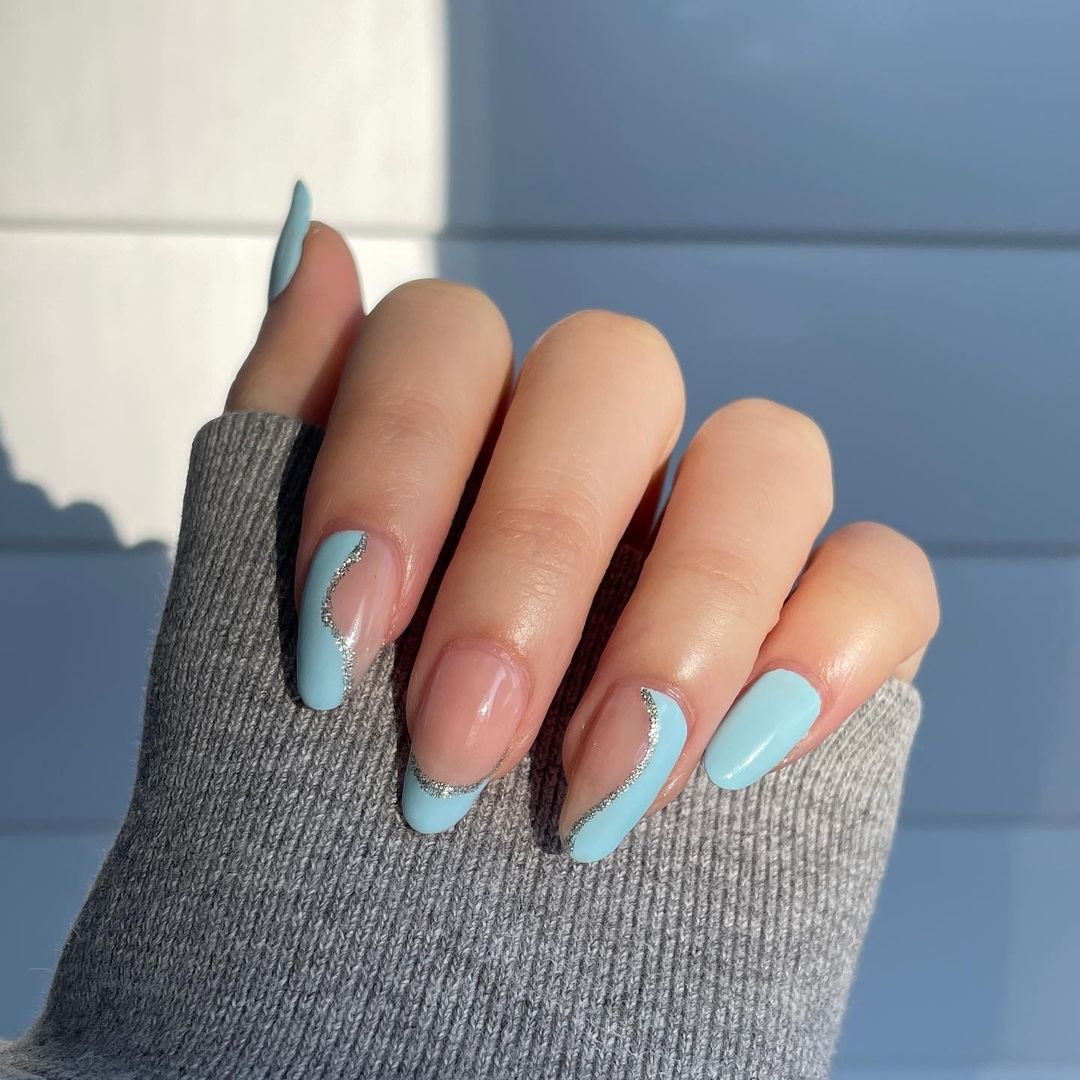 Want something in pastel colors, why not go for pale blue nails like the ice princess? This is the perfect fall nail look in pastel colors. The glitter swirls are a magical look and will be a refreshing touch to the fall.
29. 00s Ombré Night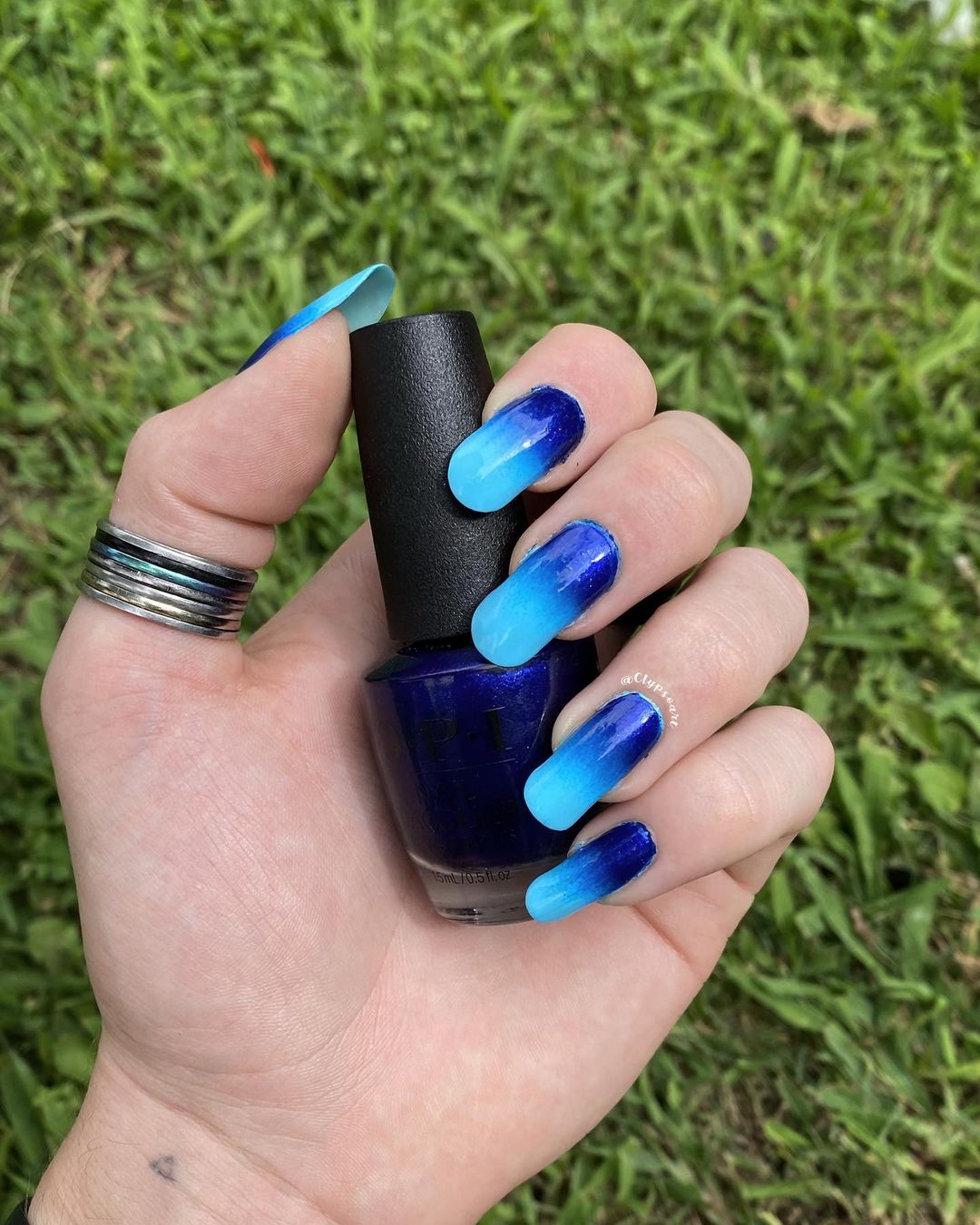 The original style of doing ombré nails is back! Long nails in blue ombré tones are a spicier touch to your mundane way of things. Try OPI's blue nail polish collection to recreate this aesthetic.
30. Blue Full House Extravaganza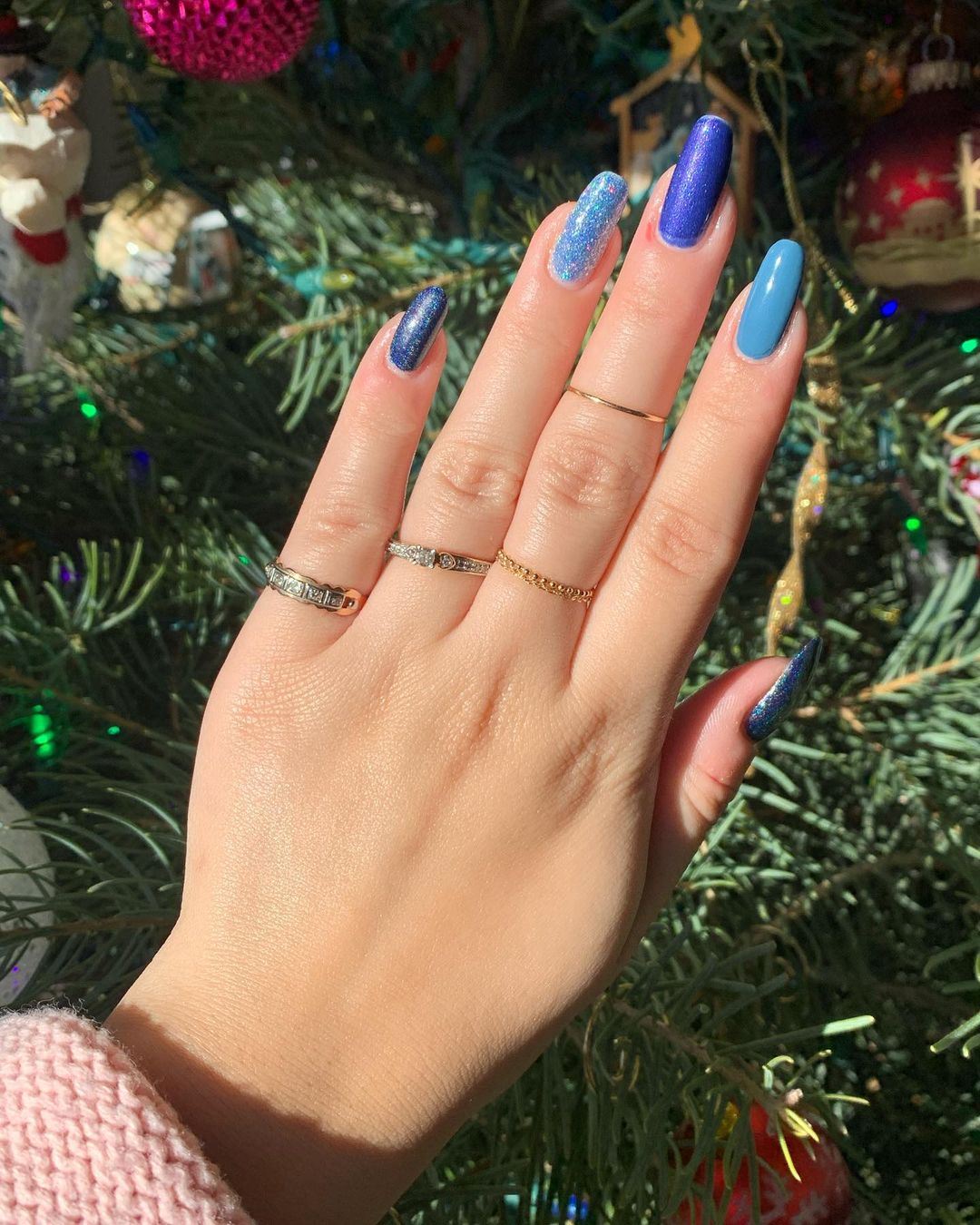 Can't decide on one style? Why not pick each one? Enhance your long nails with this extravagant blue nail art – a mix and match of tones, shades, and glam. Indeed, there's beauty in chaos.
31. Blurred Blue Sky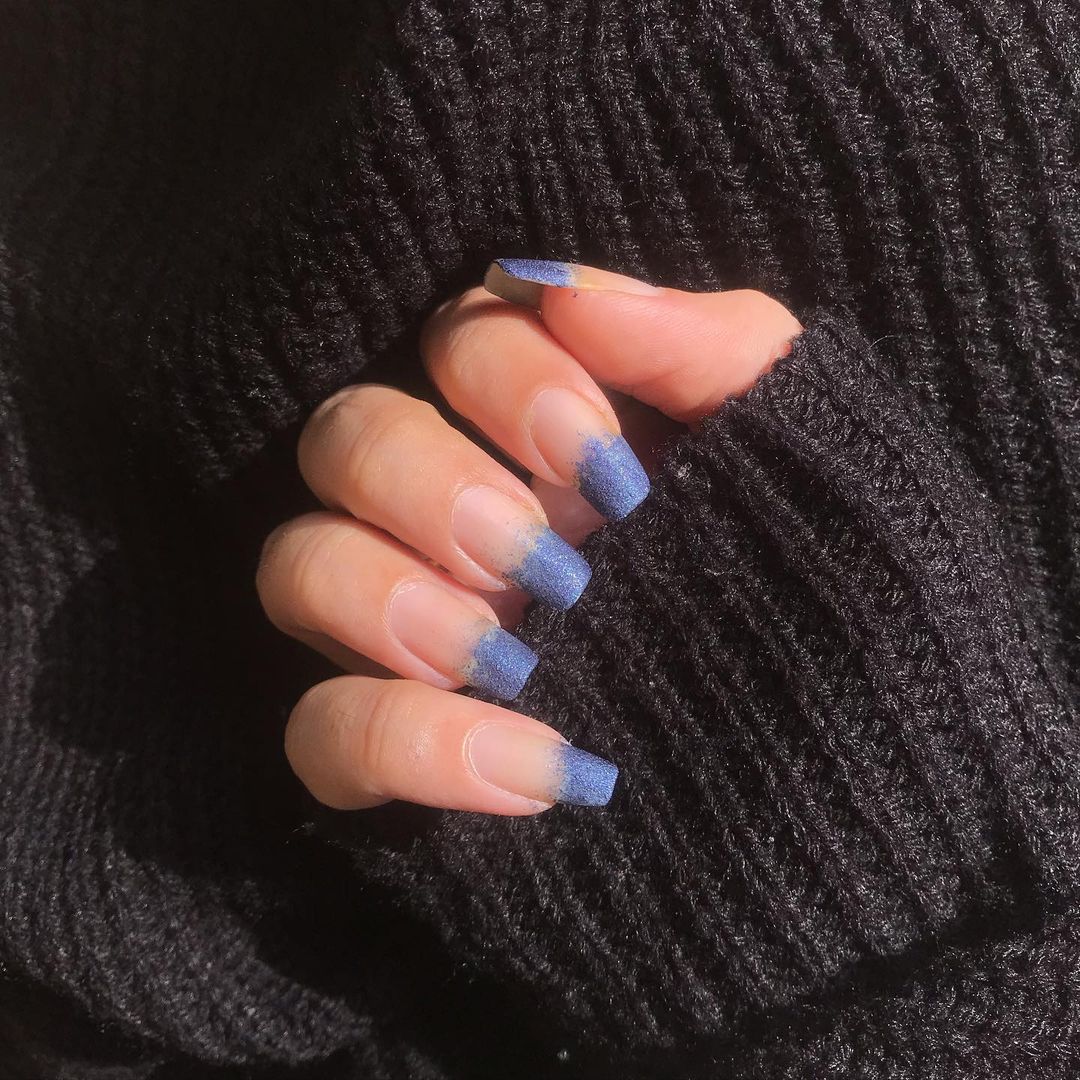 The gradient from nude to blue glitter nails should be your next fall nail idea. The almost French tip in cobalt blue glitter is for you if you've got short nails that grow quite wonderfully.
Wrapping up:
The obsession for blue nails goes on and it's not going anywhere. Blue may be an unusual color but at the same time, it makes you appear fun and courageous. The list above has a nail art trend for every style, every taste, and every mood.
Be a bit more bolder and confident with these blue nail art ideas and incorporate a modern aesthetic to your looks. These nail art ideas are just right for every season, be it the summer or winter, or fall. They can easily go from your everyday casual and formal outfits to special occasions like celebrations and weddings.
There's a shade of blue for everyone out there and then there's a nail art idea in blue as well. The versatility of blue makes it the color of the season. Pick your favorite and try on some of these amazing nail ideas for the year 2023.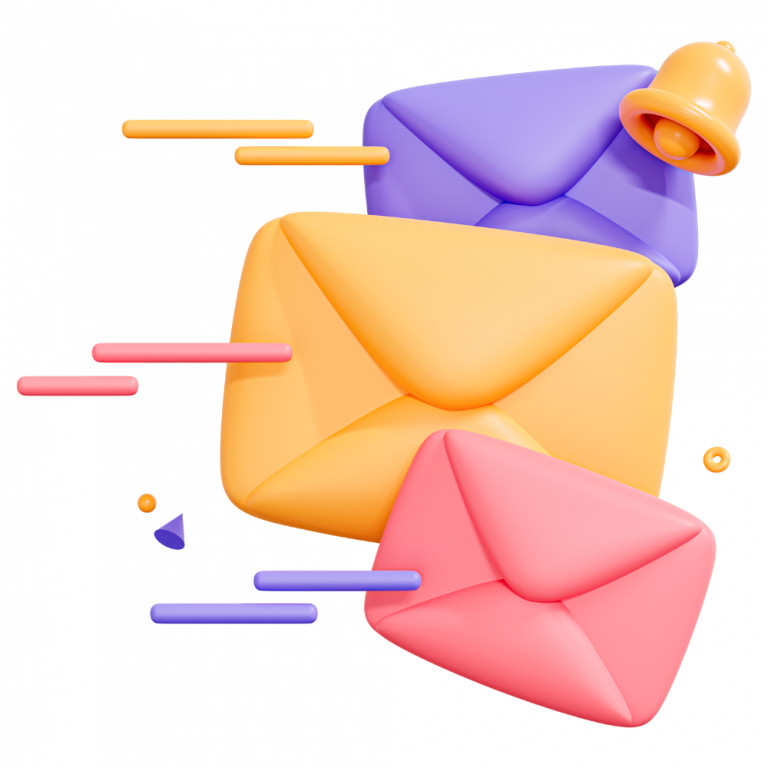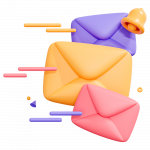 Read related:
She is a bold writer, photographer, and fashion enthusiast with a strong passion for nail art. Her work is a blend of all things creative, and energetic with a hint of aesthetics, just like her. Bringing together her love for nails, colors, and content she writes wearing her heart on her sleeve!