Here's how your long nails can be broken!
Long nails tend to break very easily. The process of growing them long is very time-consuming and then standing in this position for a maximum time sometimes becomes just a nightmare.
How your long nails can be broken? The longer your nails the more chances of breaking.
The fact is that you spend two to three months taking care of your nails every single minute to grow them to that length of your desire. When you finally reach that length, then it's time to enjoy your long nails.
Right?
Like, painting them with the best nail color picking from your nail rack, designing them with so many different nail arts, showcasing them to your friends…
But wait, how long do you think you can keep the desired length of your nails that way?
You must have noticed that the last time you've had broken your nails at the length you desired.
But this is the case of most girls who admitted that the pick point of breaking their nails was when they were at their desired length.
Isn't it a heartbreaking feeling that your effort of two to three months just goes in vain in a fraction of a second?
Of course, it is!
Even I have noticed, that one of my friends, just took a swear of God that she will now never grow her nails just because her nails broke when she had them at her dream length.
She said that it took her three months and she had sacrificed a lot of things to maintain the process of letting her nails keep on growing. Now she's done with it.
She can't now think of again growing them from the beginning. She has feared what if a similar case again happens this time?
And then she chose to proceed with fake nails ultimately.
Might be you can also relate to her with any of your past experiences with your long nails.
I know breaking nails when they are blooming is unfair.
I have experienced a similar case. I had also broken my nails when they were glancing. It's really painful from the heart.
And the unsatisfactory fact is that, with one nail brake, you need to cut all of your nails with it.
Sad!!!
You know how to grow and maintain your long nails. But if you get to know how they can be broken, it will be then very easy for you to keep up styling with your long natural nails without breaking them.
Let's get started to know how your long nails can be broken…
Here is how your long nails can be broken
Mostly your long nails can be broken while doing your daily activities.
So here while doing your daily activities, you need to pay a little extra care to your long nails.
I know you are careful with your long nails. But still, your long nails get a break in this way.
Now sometimes, with long nails, you couldn't be able to do a particular activity with the generalized pattern. If you do so, you may end up breaking your long nails.
So here you need to practice different patterns and adopt them gradually maintaining your comfort.
Here I have listed out some common activities that we all do daily and with long nails, we need to do such activities a bit differently.
Zip of your jeans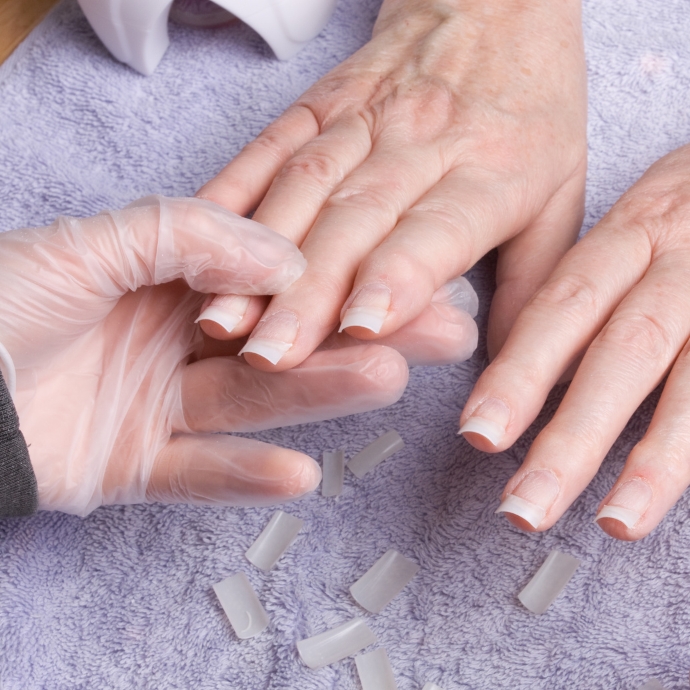 The zip of your jeans can cause your long nails to be broken.
Every time you zip up your jeans, you have to carefully hold the zip in such a manner that the tips of your long nails do not touch the metal form of your zip while zipping up and down.
Opening up a can
Don't forget to open up the can with a can opener. Most people open up the can with their fingers. But you are having long nails.
So you, just don't use your long nails or your finger for this task. This is how your long nails can be broken in a sec.
You can instead ask for help from your friends if no can opener nearby but opening a can with long nails is a big NO!
Opening up a door or a window
The majority of my known had broken their long nails while opening doors and windows. So, you should make a safe posture before opening a door or a window.
As they are hard and you need to push them, you can here use your palm or make a fist 👊 and use your knuckles to push the door or the window.
This is a safe way to save your long nails.
Removing ATM cards from ATM slot
Removing ATM cards with long nails can be a big painful task. And also the risk of breaking them does exist here.
What I do to set free myself from this issue is use ATM Cards Pull Tabs to take my cards out of the ATM slot.
I recommend you do the same in this activity. 😊 Check out some cool ATM card binder clips here.
Wrapping up
If you break any of your nails, don't worry, you can still repair that nail instead of cutting all of your nails and make the mindset to do a fresh start.
If you don't know the process of repairing your broken nails, you can simply get it done by a nail salon. You can get the cost idea from this article: Repairing Broken Nails Costs.
Now that you know how your long nails can be broken, make sure you care for them properly and enjoy their presence all the time.
Read related:

A Nail Technician and a Fashion Blogger who also love traveling, exploring, reading, and of course, Disney characters.