How to write with long nails? [5 Effective ways]
Love to keep long nails but wondering how to write with long nails faster and comfortably?
Well, that's, of course, a bit difficult to write when your nails are long. And the longer they are, the level of difficulty that high.
Long nails are no doubt the prettiest part of our hand that enhances the overall beauty of the hand. But there are a lot of activities where we face difficulties while performing when we have long nails. And writing with long nails is one among those.
If you are a student, then writing is one major important part of your study that you can't avoid, right?
You need to take notes of your school's or college's lecture, that too is pretty damn quick. And with long nails, it becomes way too difficult. As a result, many students used to trim their nails while they are in their academic life.
Another most crucial part of academic life is the exams, yes! You have to complete the exam in the allocated duration. And if you have long nails, they might sluggish your speed of writing. And as a result, you might lose a lot of questions to complete during that time period.
How to write with long nails?
Now the question is, should you trim your nails when you need to write a lot daily?
Not at all, but I will suggest a few things on this problem that may help you in that scenario.
By the way, are you confused about what color should you paint your nails? Check our recent post: What color should I paint my Nails?
Keep your Nails Medium Long
If you need to write a lot of things daily, this question will be on your mind about how to write with long nails all the time.
You better keep your nails long in such a way that you can grip the pen with your fingers comfortably and the nails of your thumb and index finger will not touch the body of that pen.
It will be only possible if your nails are 3 mm or 4 mm long.
Prefer to keep one hand's nails long only.
This will solve the issue of writing with long nails completely. Many working girls used to only keep their left hand's nails long and their dominant hand's nails totally short. This may feel to you weird but it's okay when you need to work hard and at the same time, you wanna enjoy long nails.
Keep your thumb-nail only short.
If you deeply focus on your fingers when you grip a pen and start writing, you will notice that your thumb is used to grip the pen inclinedly. But your index finger used to stay vertically with the pen. That means only your thumbnail can be an effective element to create uncomfortable when you will write.
Keeping this thumbnail a bit shorter in such a way that it doesn't touch the pen body can be a great job.
While the index nails can be longer up to a great extent until it touches the paper or your note copy's surface. So here you don't need to think of your index finger's nail length.
Practice adopting a different Pen Holding style.
Now here the fact is how to hold a pen with long nails so that it won't create any discomfort? You know the way we used to hold the pen if we can slightly change this and adopt a new style of holding in such a way that the long nail of your thumb does not touch the surface of the pen.
Well, everything depends on us. If we can practice we can make it. So yeah, you have to find out which will be more fitted for you.
Here is a video for you to get an idea of how you can hold your pen and write with your long nails.
Try practicing to write in that new style and over time you will notice that it isn't making an issue in writing. And also you will see the progress in the speed of your writing with long nails.
Try getting fake nails for a short time period.
If you are a student and wondering how to write with long nails comfortably and you can't find any of those mentioned options fit for you, you can try getting fake nails for a shorter period of time.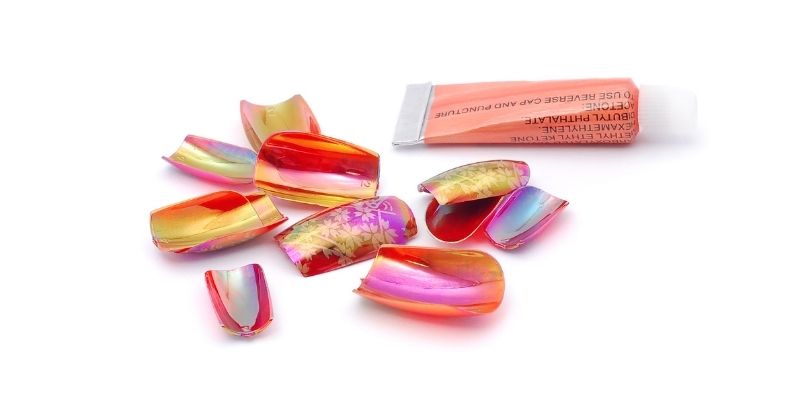 Like, for an occasion or for a reason you wanna adore your nails, you can go for that. It's quick and you can wear and remove them anytime.
Here are the best fake nails that you can do on your at home. This Nail-tip kit consists of 500 pieces of 10 different sizes of nails. You can easily put them and do any sort of nail art or nail design.
You may like this post: 45+ Stunning Easter Nails Art Ideas for Spring 2022
Last update on 2022-07-03 /Affiliate links/ Images from Amazon
Check the top 5 Bestseller Fake Nails on Amazon that you can try on!
Last update on 2022-07-03 /Affiliate links/ Images from Amazon
Wrapping up:
Doing some particular work can be a bit uncomfortable with long nails. And we, with long nails, sometimes tend to avoid those work to perform. But writing is one thing we just can't avoid, right?
So, here I mentioned a few steps that can be quite helpful for you to write with long nails. Let me also know if you have got any new ways to deal with it and how you used to write with long nails.
Read related:

A Nail Technician and a Fashion Blogger who also love traveling, exploring, reading, and of course, Disney characters.