30 Cozy Cable Knit Sweater Nail Art Designs for Winter 2023
Winter is coming! Should we not be ready for it well beforehand? Yes, of course! As the chillness begins to envelop us, we should better start to keep ourselves warm by wearing sweaters and our nails with sweater nail art.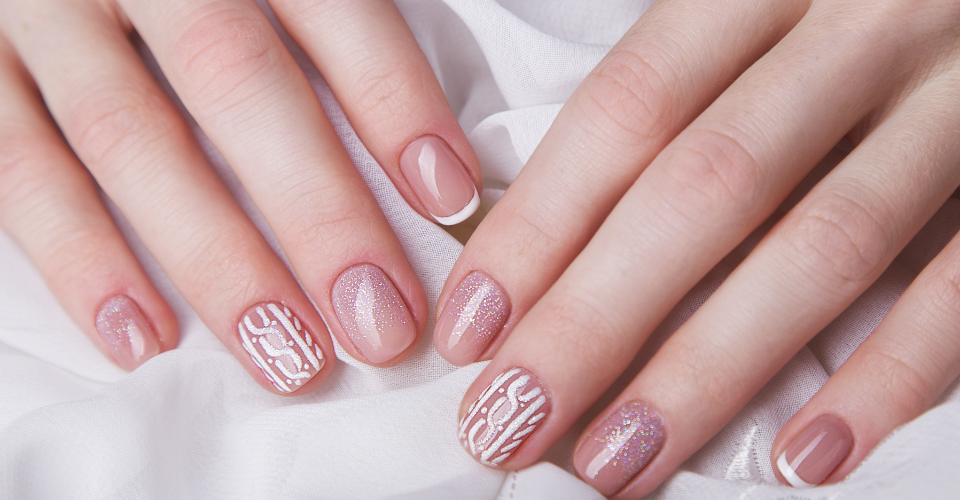 I consider being ordinary to be a sin. Art is all about creating new things. Life is short to keep doing the same usual sober nail art. So, engage yourself in the creation of extraordinary masterpieces of winter-themed nail designs such as snowflakes, Christmas, or everyone's favorite sweater nail art.
Sweater nail art, also known as cable knit nails are blissful artwork accomplished by interlacing loops of creativity that appear like a sweater. The most eminent part of sweater nail art is that they can be done on acrylic as well as on natural nails irrespective of the length of the nails.
Although sweater nail art requires a few tactics and patience, it needs literal inspiration. As a nail art enthusiast, the first two attributes will come in handy for you. But the third one is quite hazy, and this is where I have come to help you.
I know you are searching for season-apt nail art and are tired of not getting the right ones. So, in this blog, I have gathered the greatest of all times a total of 30 cable knit sweater nail art from different angles and architecture in different colors, sizes, and designs just for you.
30 Eye-Catching Sweater Nail Art Design Ideas for 2023
The following sweater nail designs might cause diversion due to their aesthetic and beautiful appearance. Therefore, don't fail to pin the one that you'd love to witness on your nails this winter. Alright, let's gear up for the exciting series of sweater nails.
1. Get Ready With Red
Ok, let's not be too boring this time and have a rock and roll party with red! The aesthetics of this nail art, with its luster, glitter, sweater pattern, and rhinestones, will be the main source of warmth this winter.
2. Hello Winter!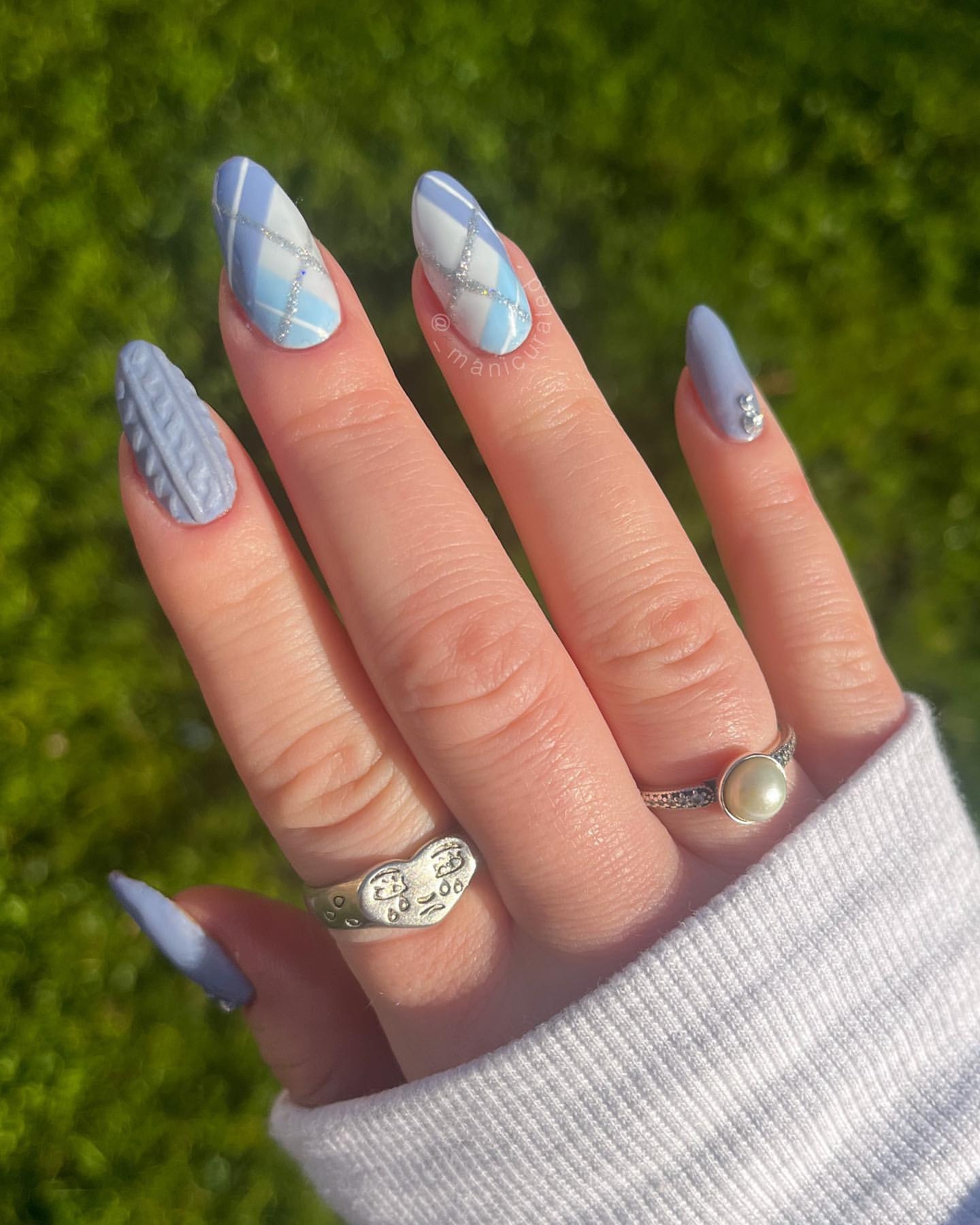 I highly recommend welcoming the winter with coziness on your nails! The warmth this sweater nail art brings with its abstract textures is beyond measure for 2023 winter fashion. And to top it off, the coloration makes me blush!
3. Etched Enigma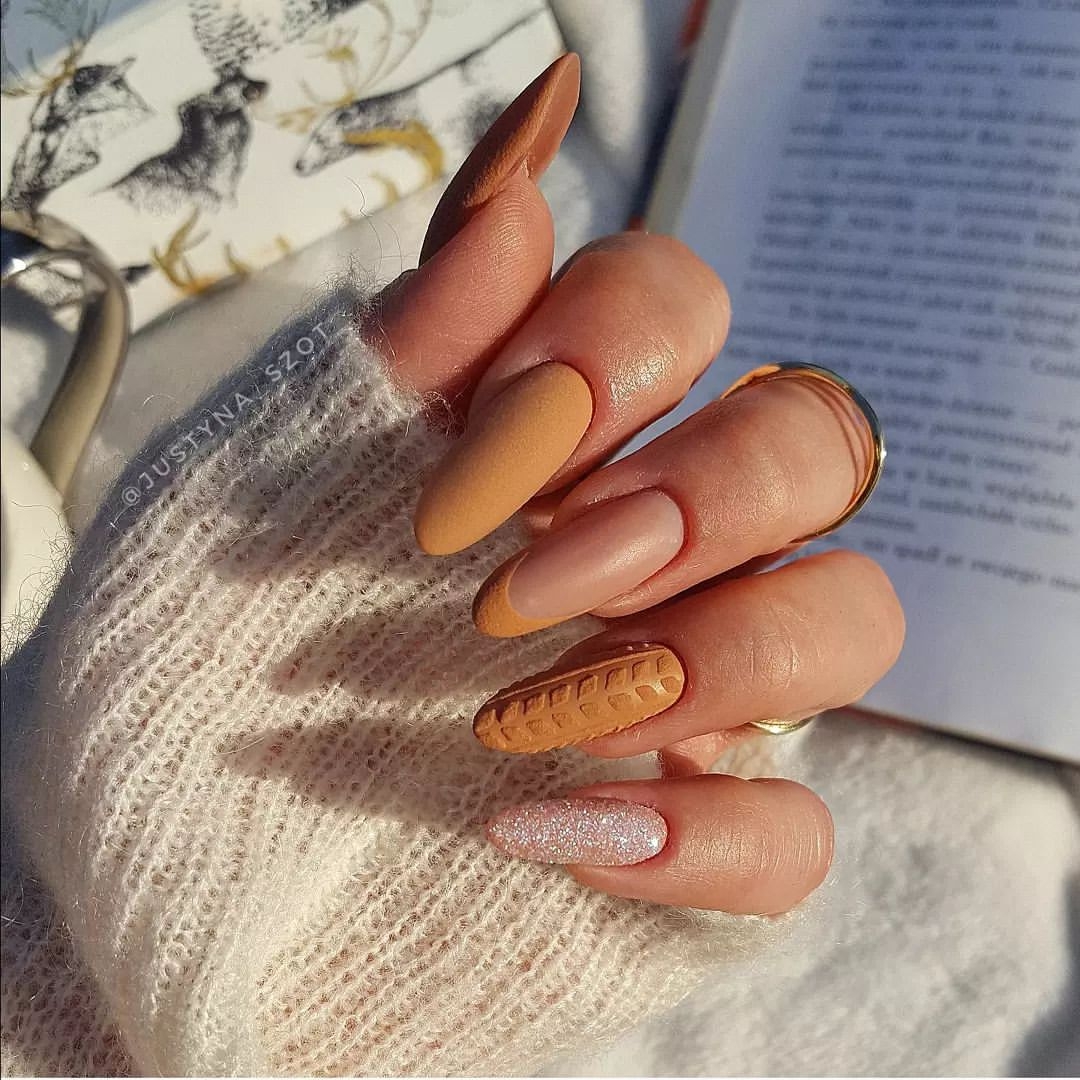 The woven warmth bundle is all set to dispatch for attention and admiration. The mustard matte finish type is a definite try when you want your sweater nails in a chic color. But for a smooth finish, make sure you buff your nails with a 100/180 buffer during the prep.
4. Frosted Confetti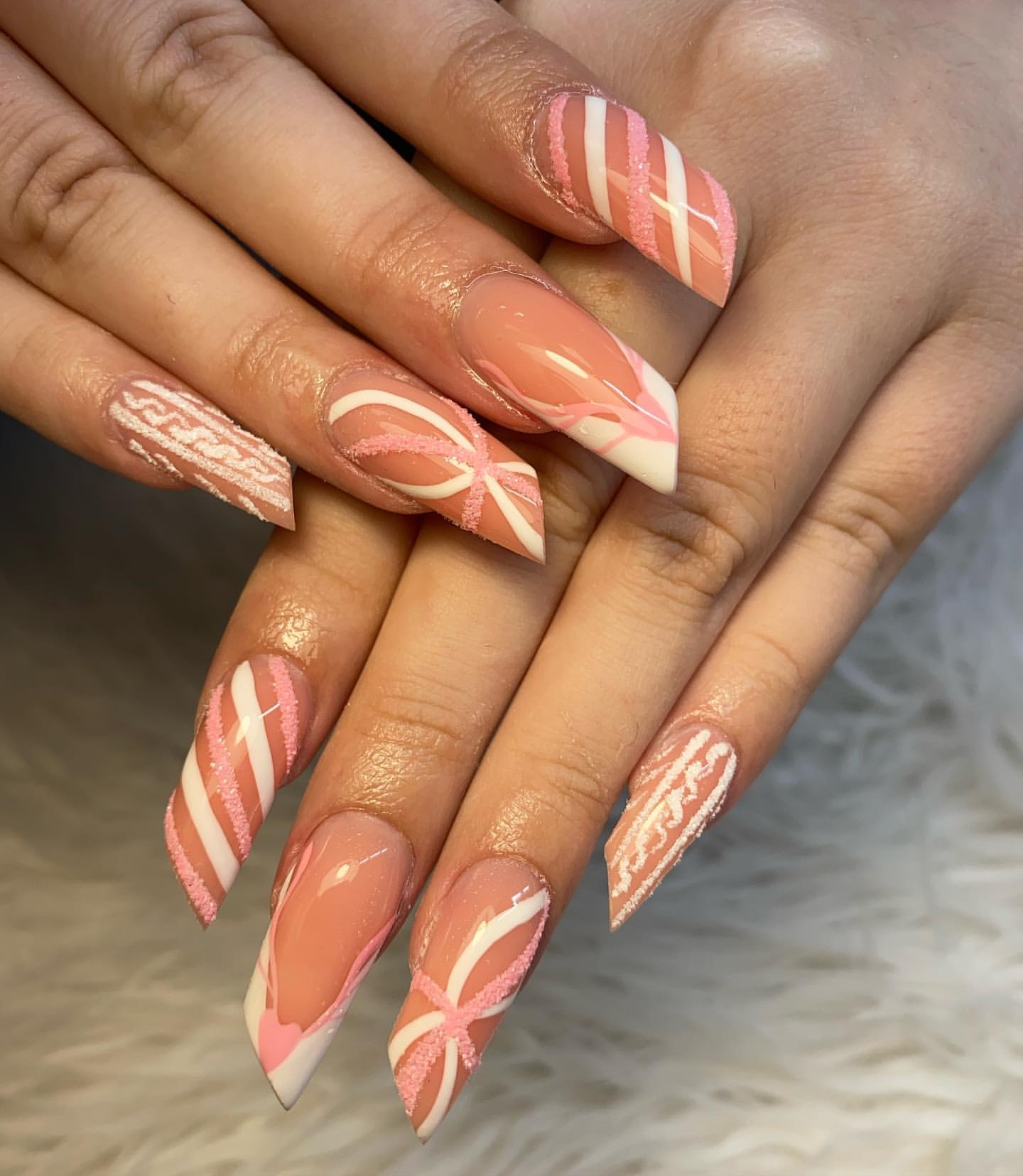 This fantabulous pastel sweater nail design sets the perfect aura for the holiday season. Apart from a nail art brush, you will need a 100-grit nail file to shape the nails like lipstick. Besides, the utopian art of yarn nails is bringing evolution into this nail art.
5. Whimsical Wonders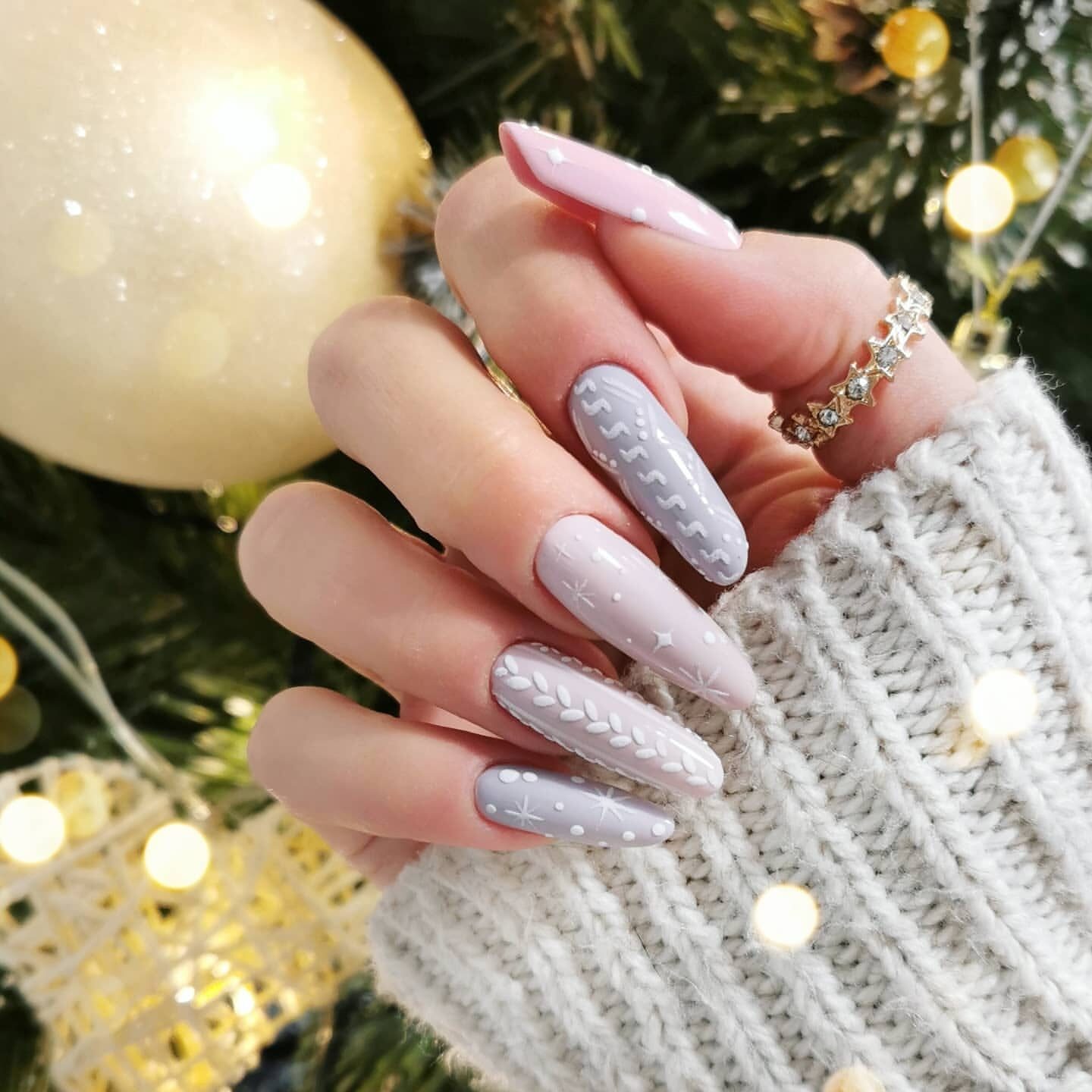 No doubt, this sweater nail art in dove gray and baby pink is a sheer wonder! In addition, the blended cables of art are suitable for whatever you wear and wherever you go. I can assure you of a worthwhile experience despite the time-consuming minute work.
6. Knitted Lavenders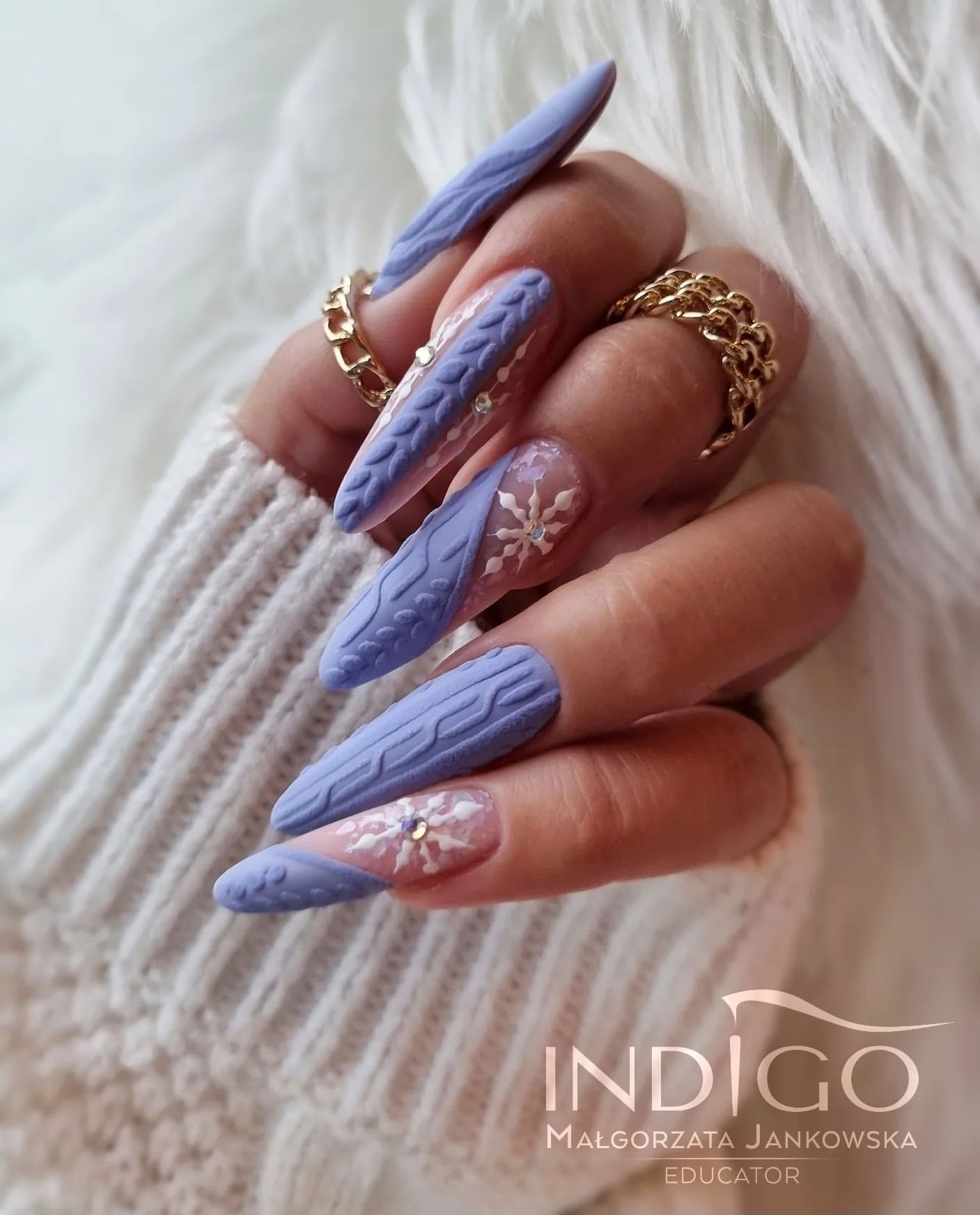 If you are looking for captivating nail art to maintain the aesthetic appeal of your winter Instagram feed, then this sweater nail art is for you. The lavender base of the nail art, adorned with white snowflakes and rhinestones, creates a charming design.
7. Snowflake Kisses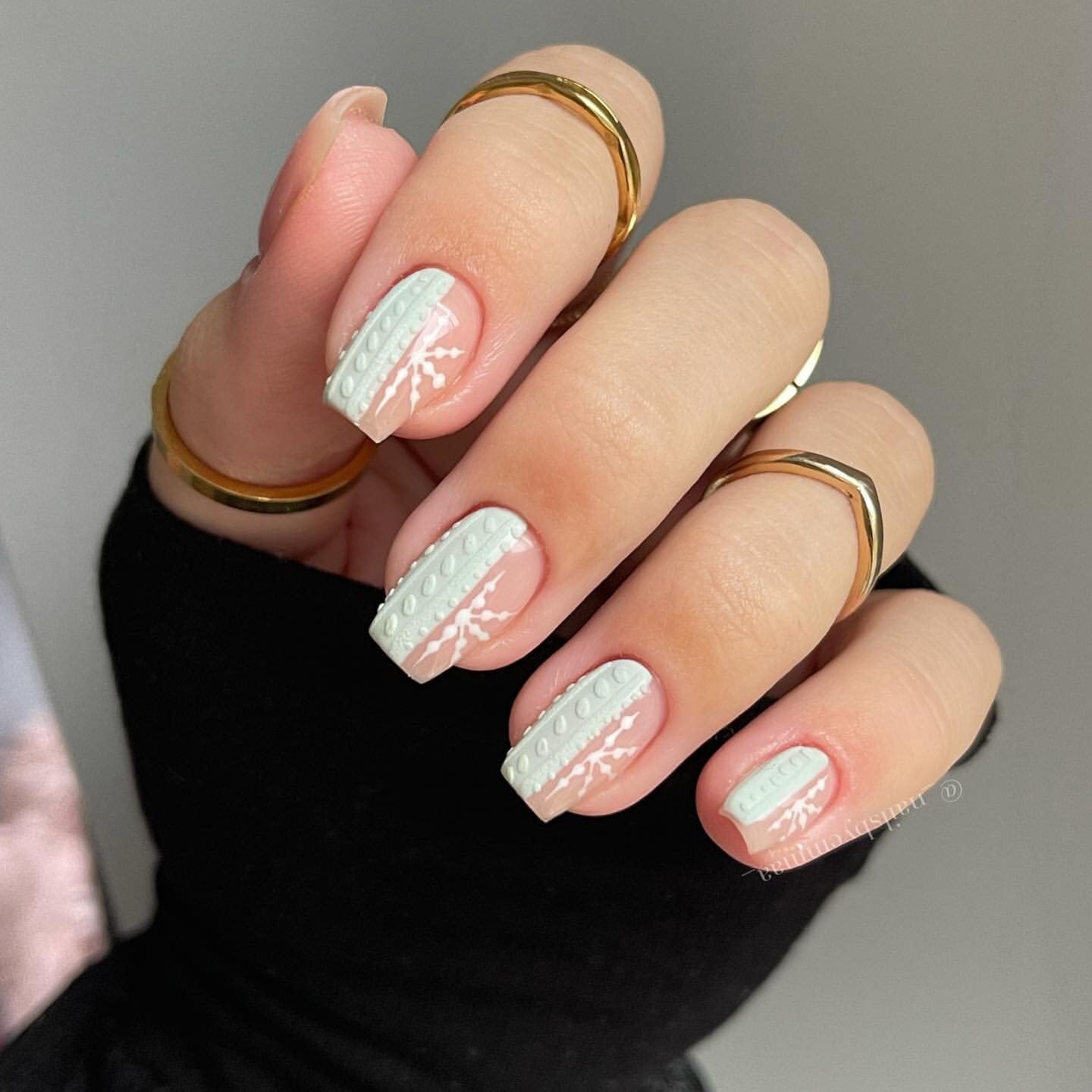 Half of the snow's coldness and another half of the sweater's warmth maketh a wholesome piece of art. This immaculate sweater nail art in the light shade of greenish-gray sealed with an extreme shine top coat is subtle and can go gracefully elegant with any black outfit.
8. Cold but Bold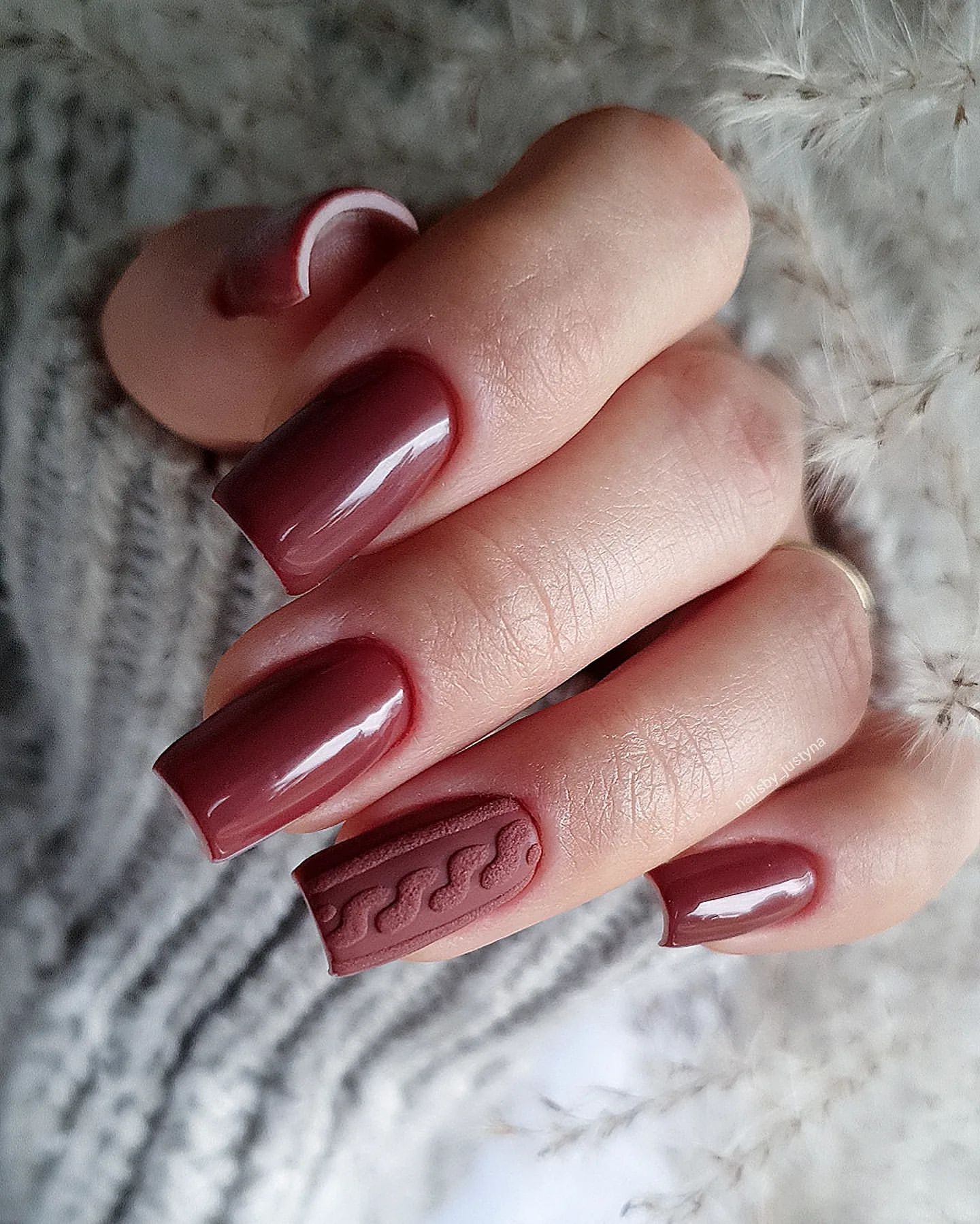 These glossy winter nails are a subtle work of cable knits on the ring finger, making them an excellent choice for any engagement. The bold fair isle design on these nails is truly enthralling and authentic, and I can't get enough of its captivating vibes!
9. Your Majesty!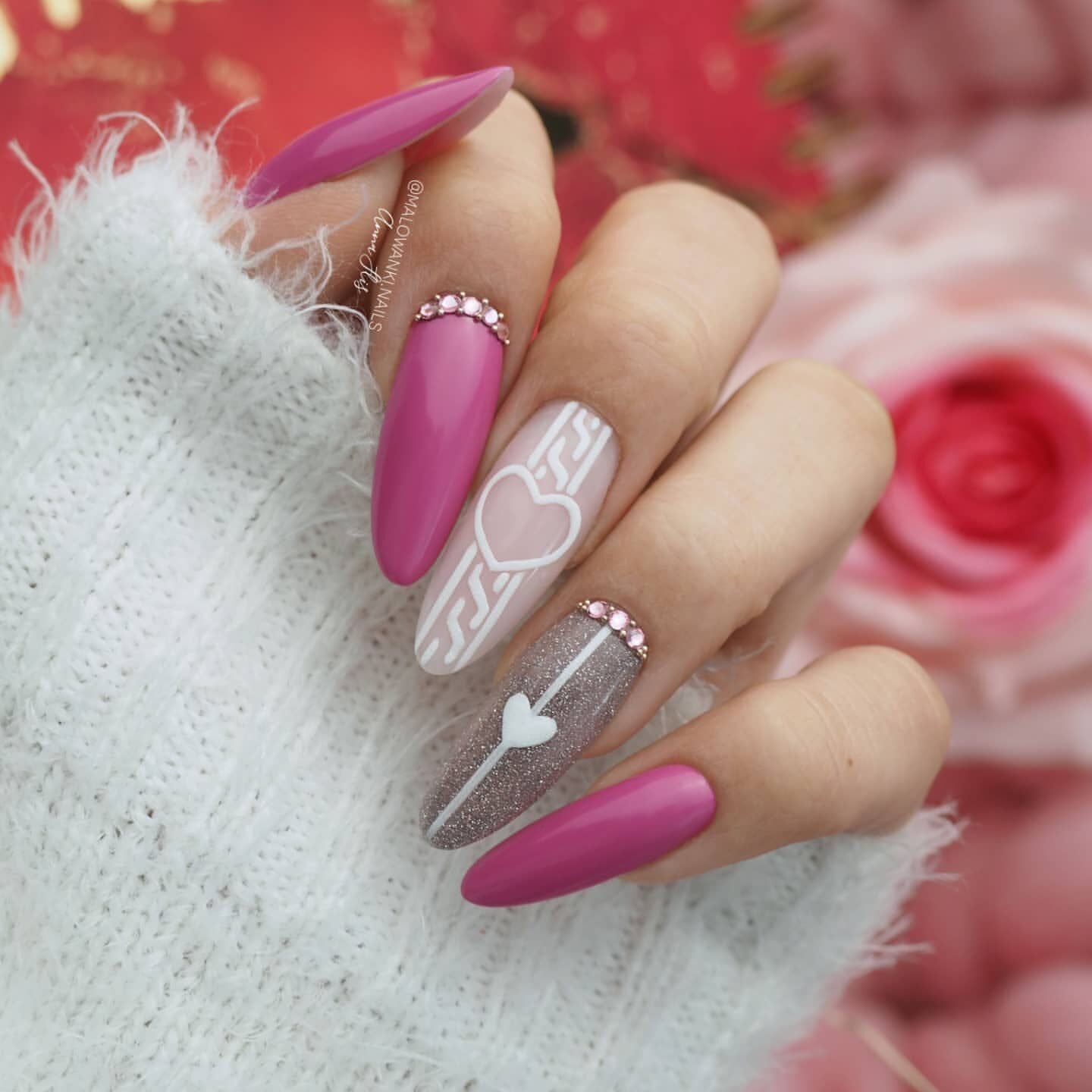 The majestic magenta with the crown of rhinestones is beautifully royal on various levels. The heart sweater nails are a precious gem in this series, and guess what, this design makes it a perfect choice for Valentine's Day nail art as well.
10. Crochets for You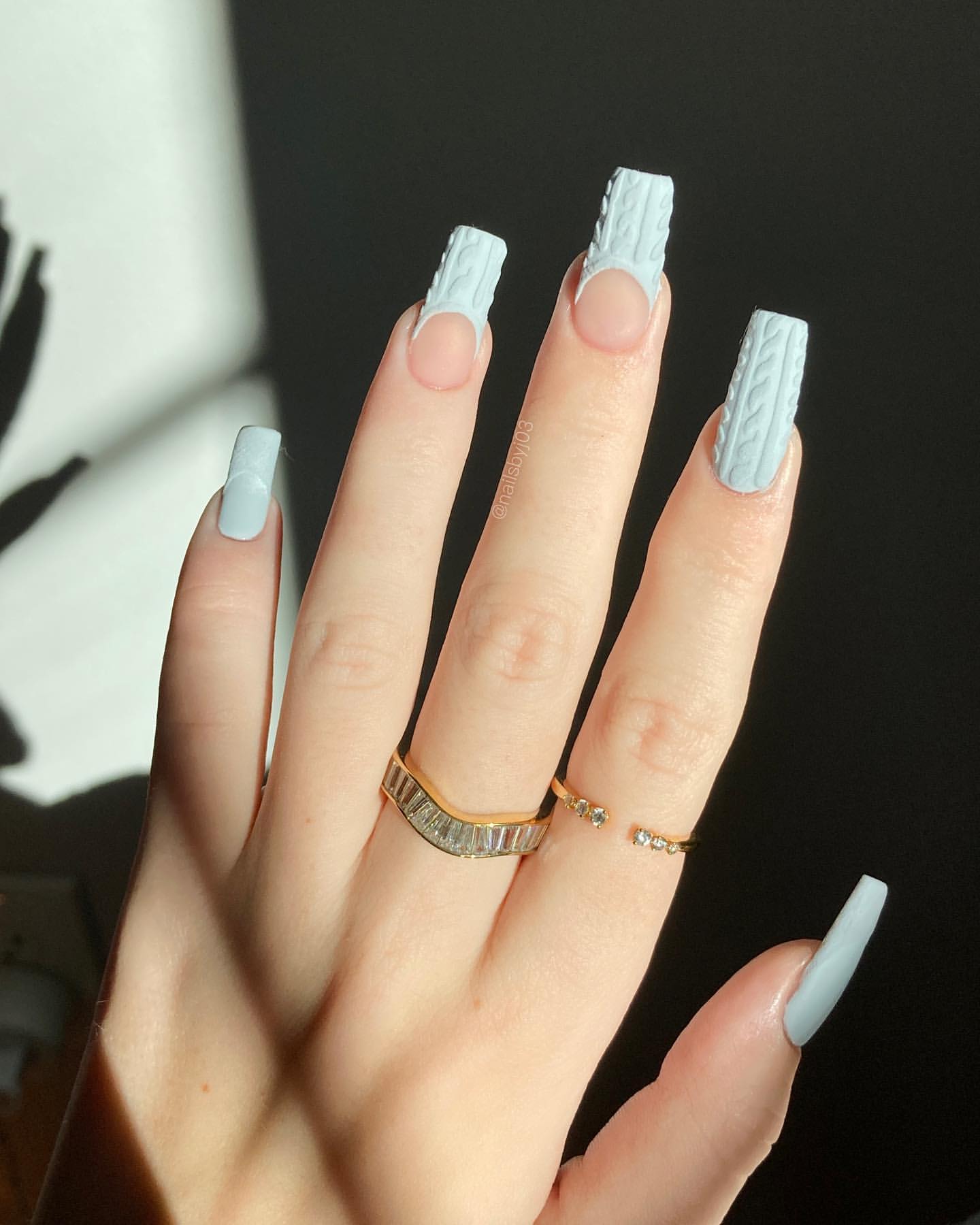 I hereby conclude that these holiday nails created with clear dip powder and matte finish are beyond wordy description and have enchanting nature that cannot be found elsewhere. Try these cozy nails once, Insta them, and look out for the comments.
11. Dashing through the Snow!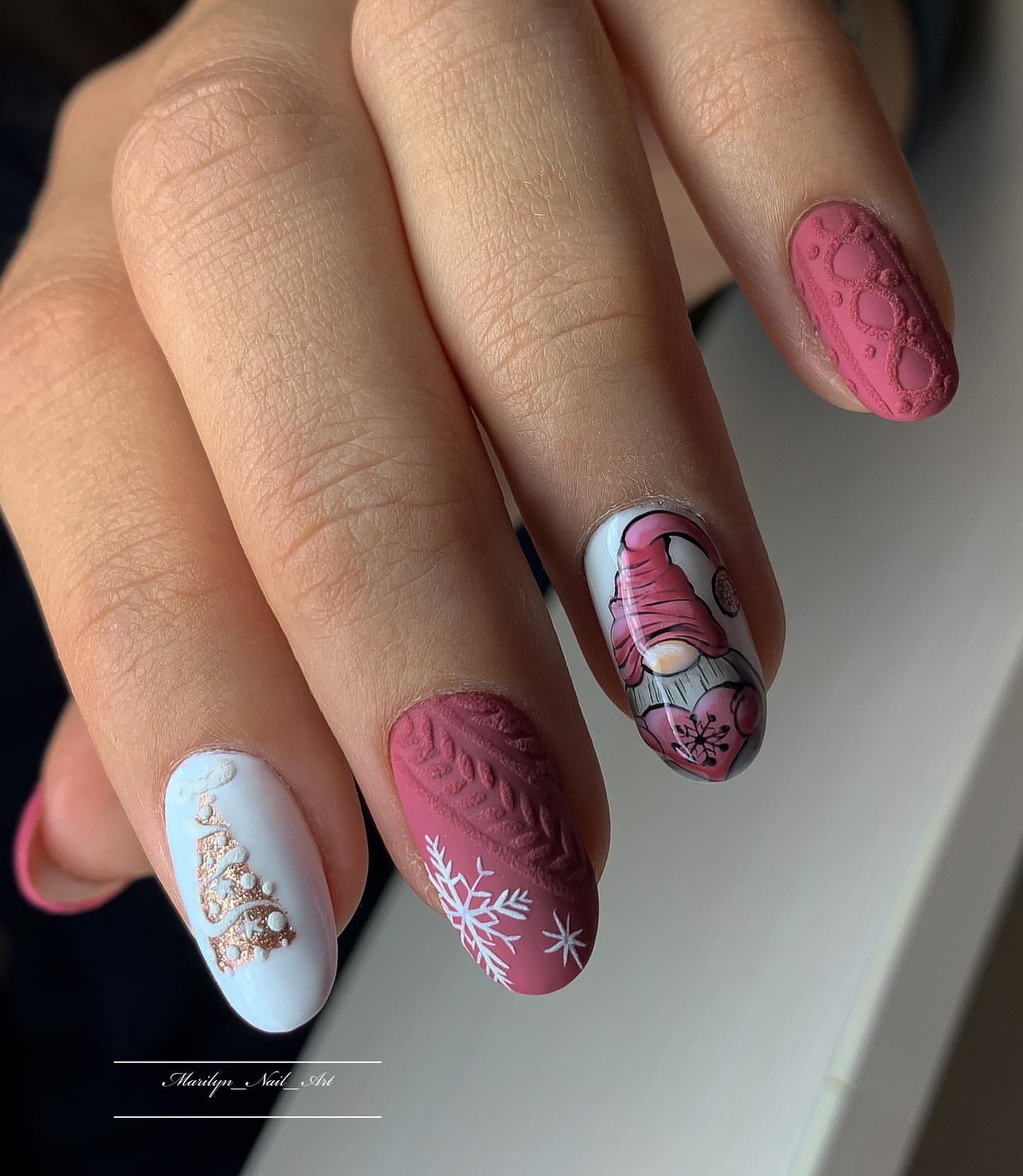 The winter season is also the jingle bells season where Christmas nails are on the rage! But, I'm surprisingly shell-shocked by the idea of Xmas motifs being incorporated diligently into this sweater pattern. I'm going to nail my holiday style with such Christmas sweater nails.
12. Wink and Wander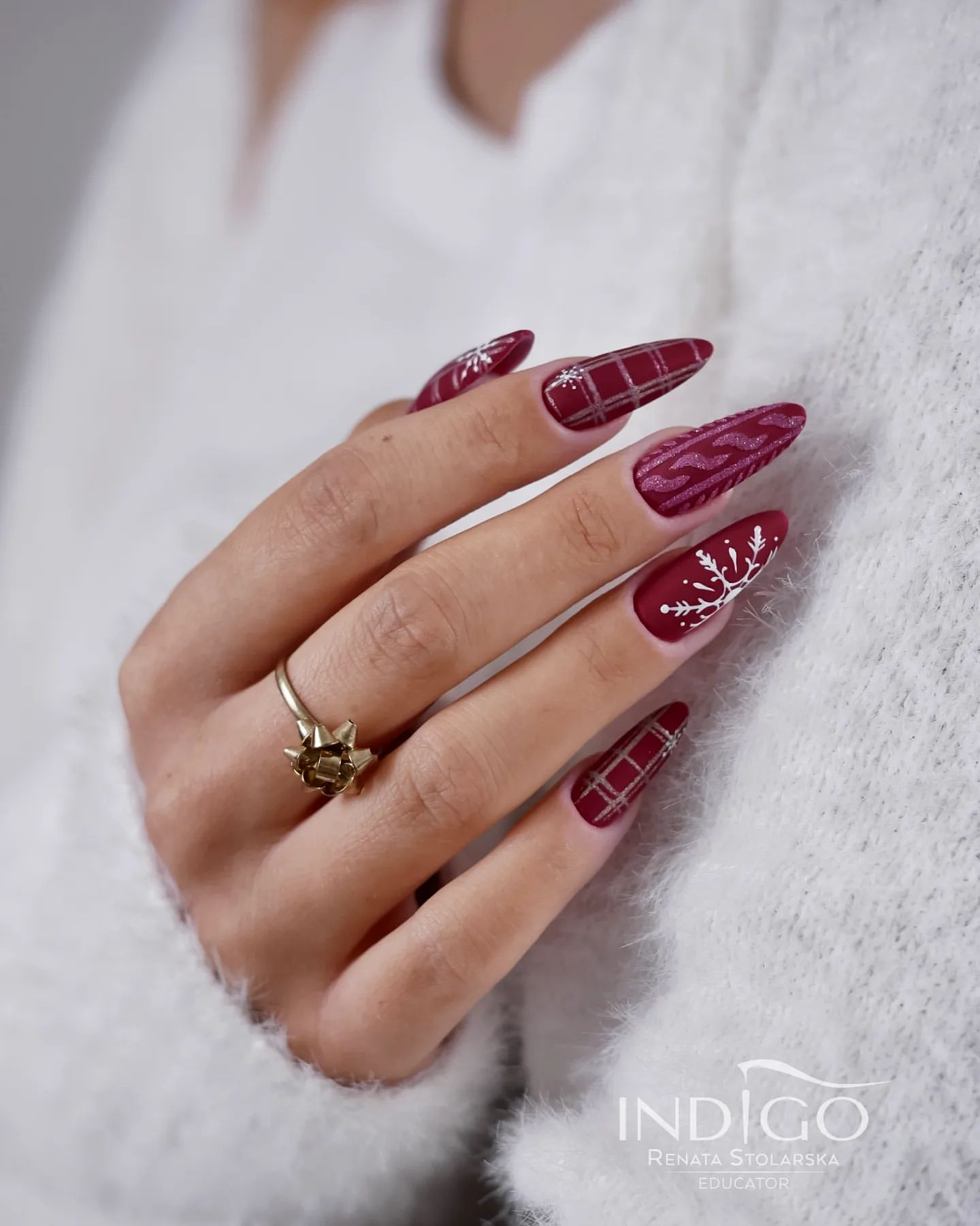 No doubt, this sweater nail art gives a bossy woman vibe. The checkered patterns with contrasting hues of maroon and silver are so classy that one wouldn't take their eyes off the art. The maroon red nail polish has various variations, and zeroing in on the aptest one is important.
13. Knitted Holly Berries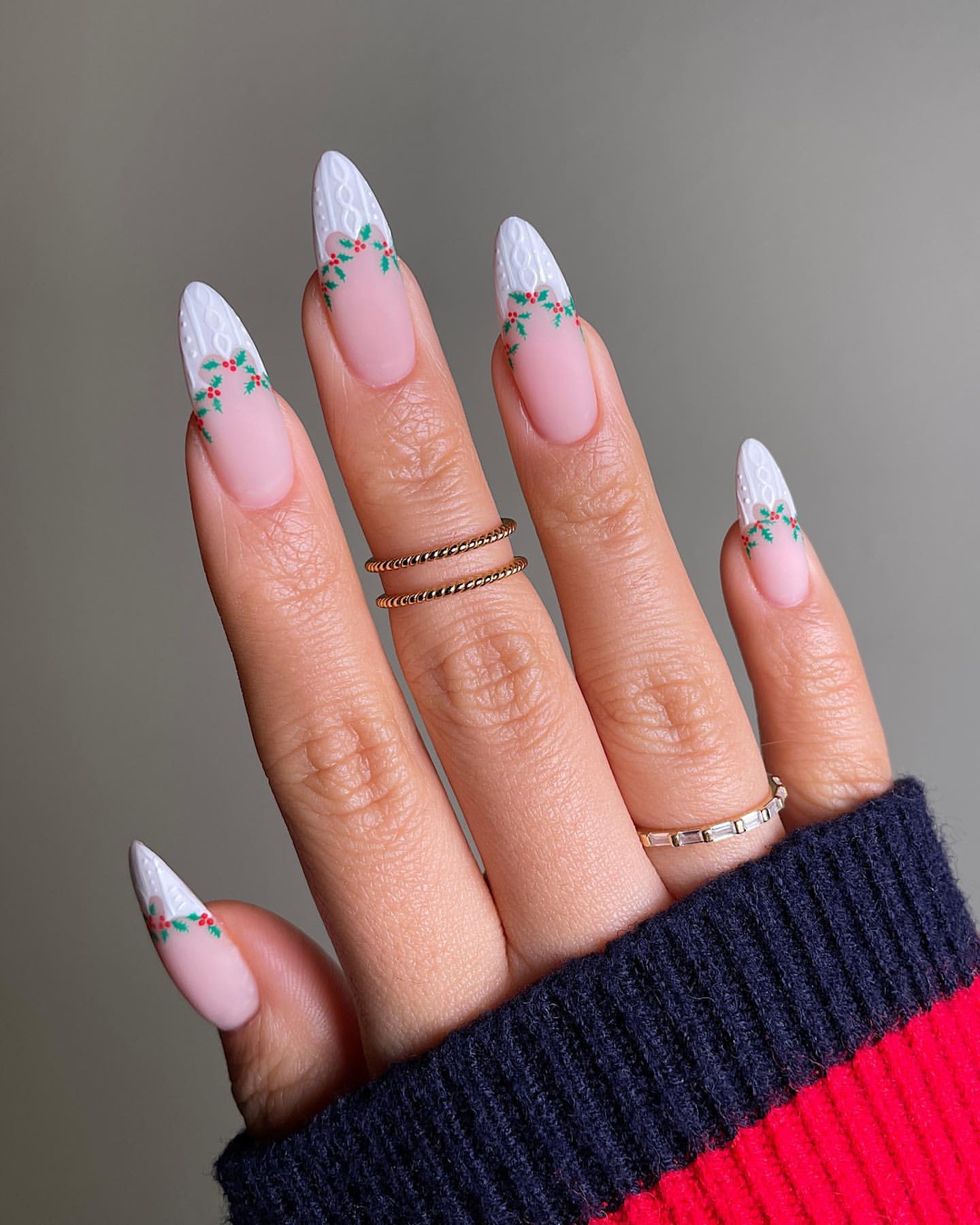 Here's another one for Christmas! The snowy cable knit pattern has the holly leaves spreading beneath it. Heads up, this detailed DIY work in this French sweater nail art is sure to turn more heads than your holiday decorations.
14. Fire and Ice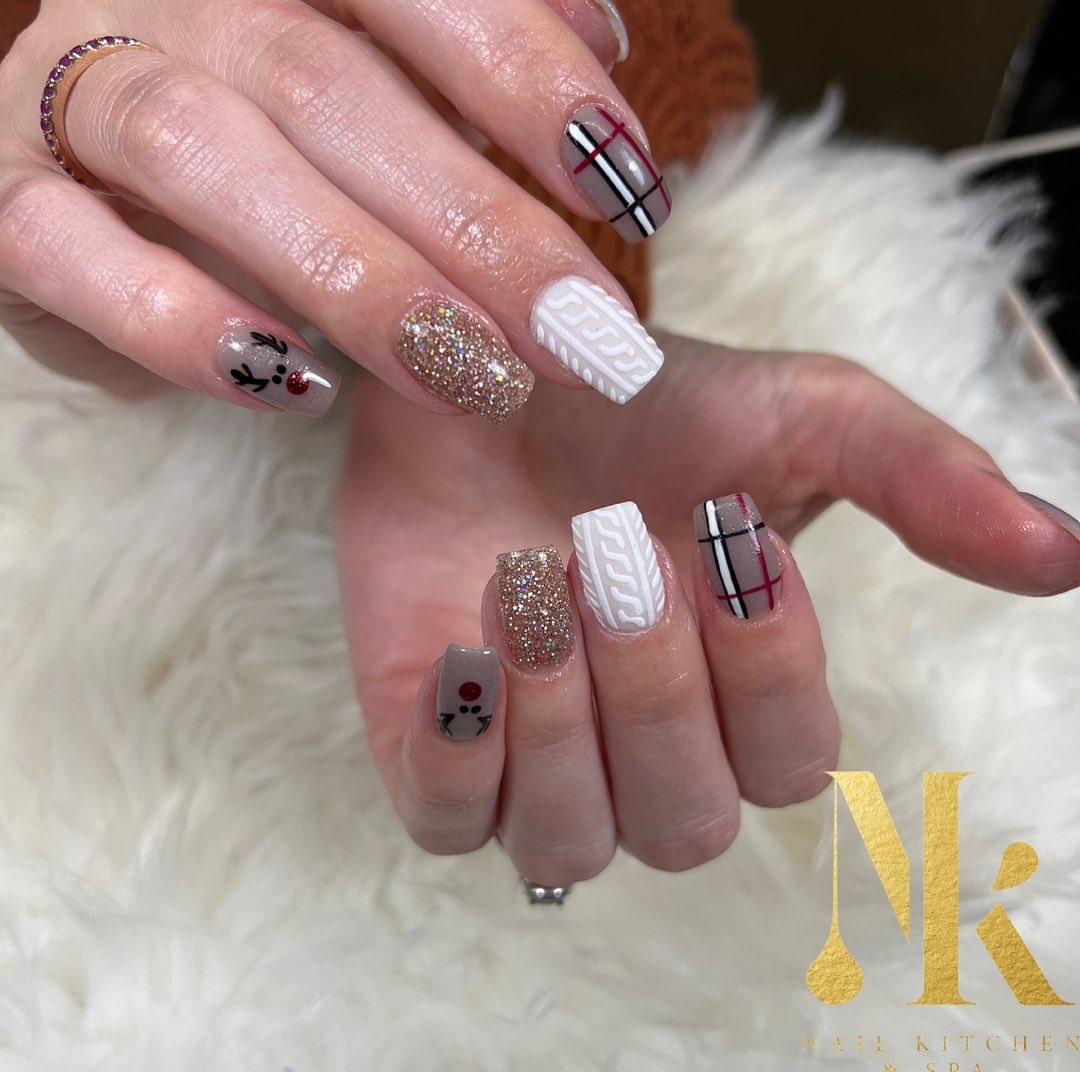 The urge to replicate this beauty with dipping powder as soon as possible is what I'm thinking about! The light gray nail polish protects the inner lure of hot gold glitter while the cool soft snow and the eye-catching geometric lines on the index fingernails make this nail art an iconic choice for winter 2023.
15. Cherries in Winter
Winter parties lose their charm when you fail to go without these red sweater nails, no kidding. So get dolled up with this crimson-red nail art of cable knits with distinct snowflake patterns. You can also try this particular nail art with green nail polish.
16. Beautiful but Cold!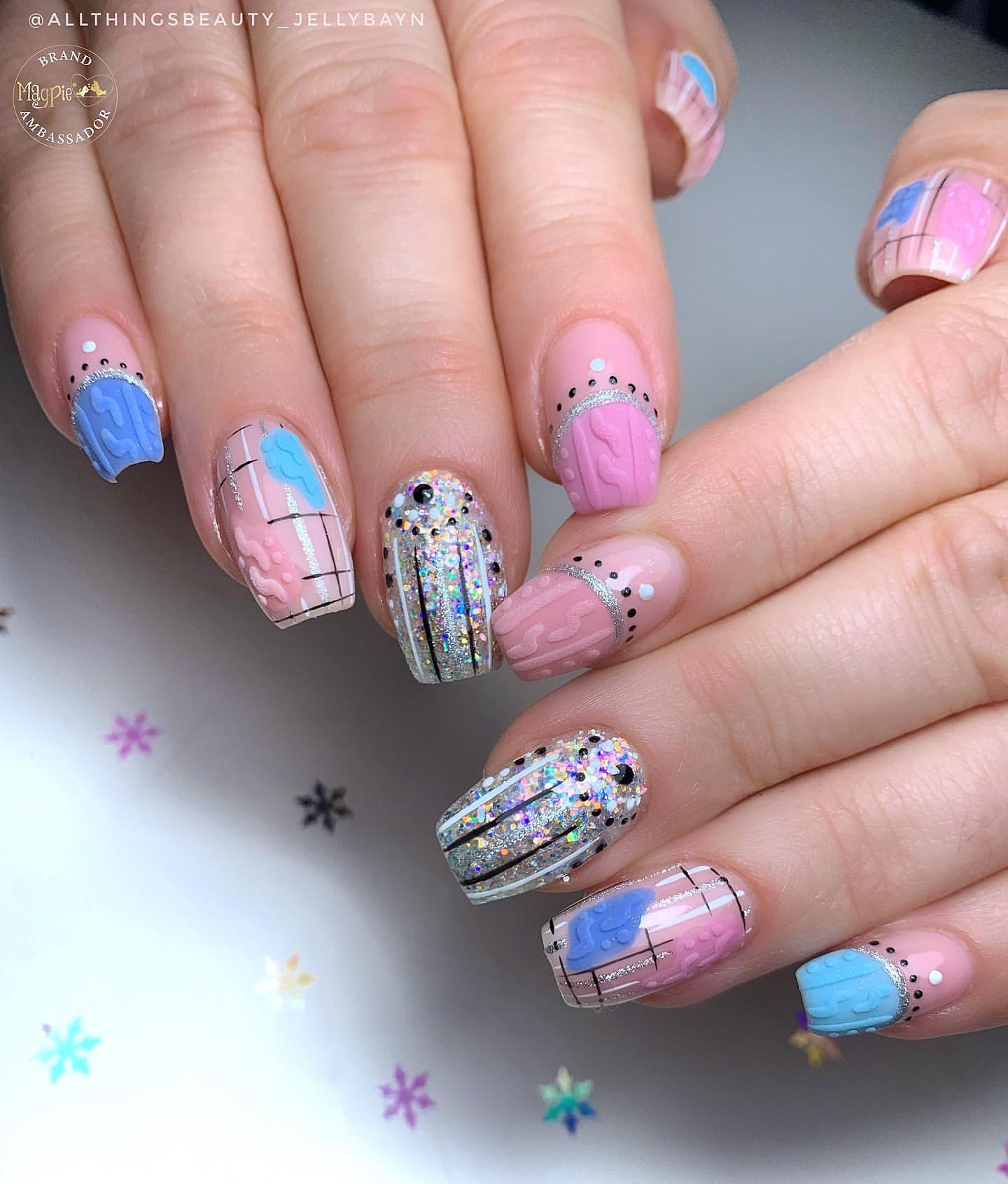 This nail art seeks attention in various ways and I could not concentrate on one particular aspect of it! You just take a look at it and decode it. A glossy top coat plays a significant role here to keep this delightful and bubbling sweater nail art as shiny as jewelry.
17. The Mystic Woman
The glittery shade whenever it tiptoes, makes the place exquisitely magnificent. Get festive with these red and white sweater nails for Christmas and enjoy their beautiful appearance all the way through to the New Year, as you welcome new vibes and fresh beginnings.
18. The Christmas Greens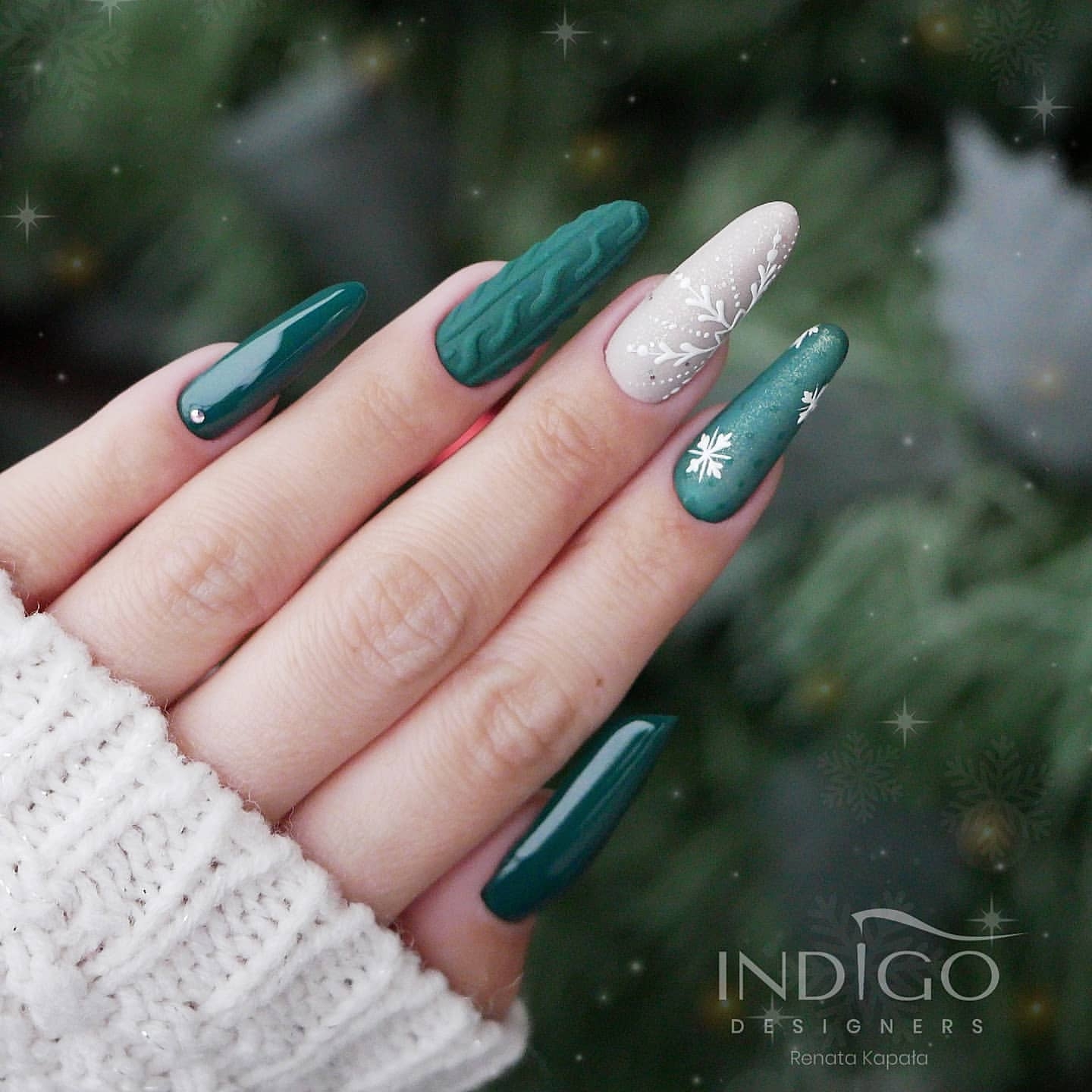 Nail art with teal nail polish stands as one of the best nail art for the winter. Such a worthy shade leaves a long-lasting effect on our hearts. It depicts the season of joy's colors! Go for the surreal beauty and turn one.
19. Wedding Bows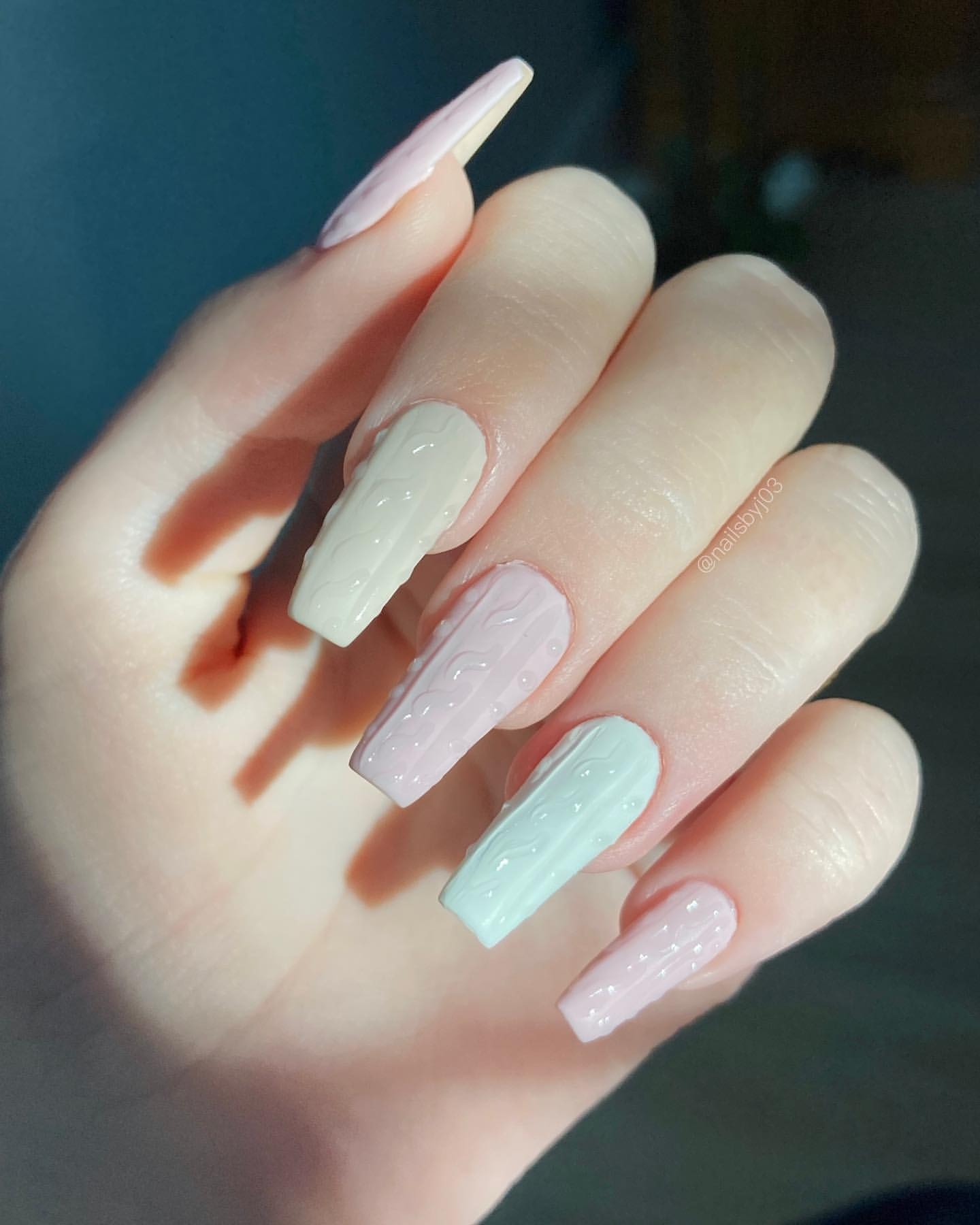 You don't know how much I am in love with the knitted patterns. The subtle color change on each nail is a treat to watch. If you're preparing for a winter wedding, pin this nail art as inspiration for your wedding day nails.
20. Pinky Icicles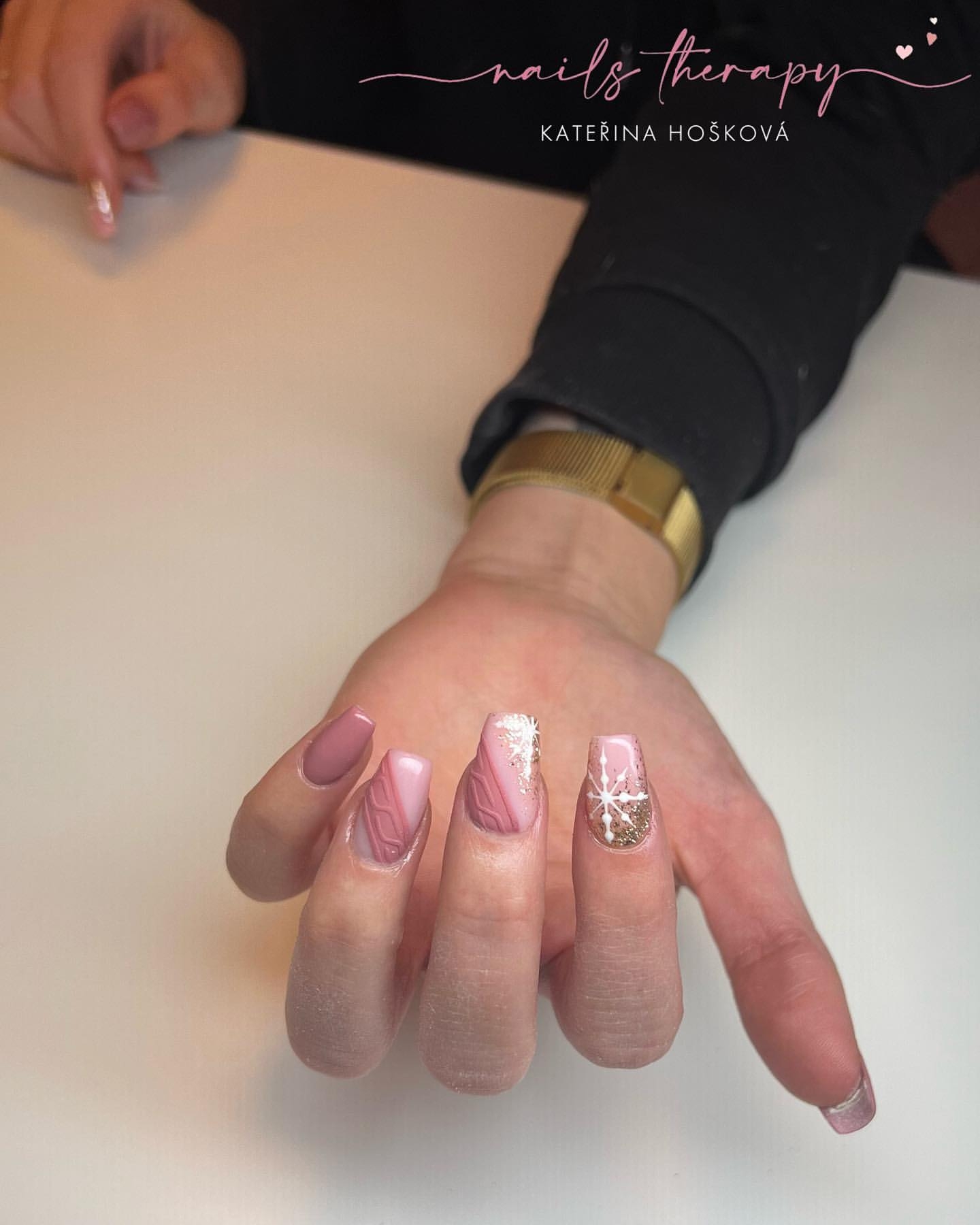 The varied hues of pink and the glitter glams shrouded randomly stands as a splendid piece of art. Elsa's "The cold never bothered me anyway" is the perfect description for these pink sweater nails.
21. Tenacious Teals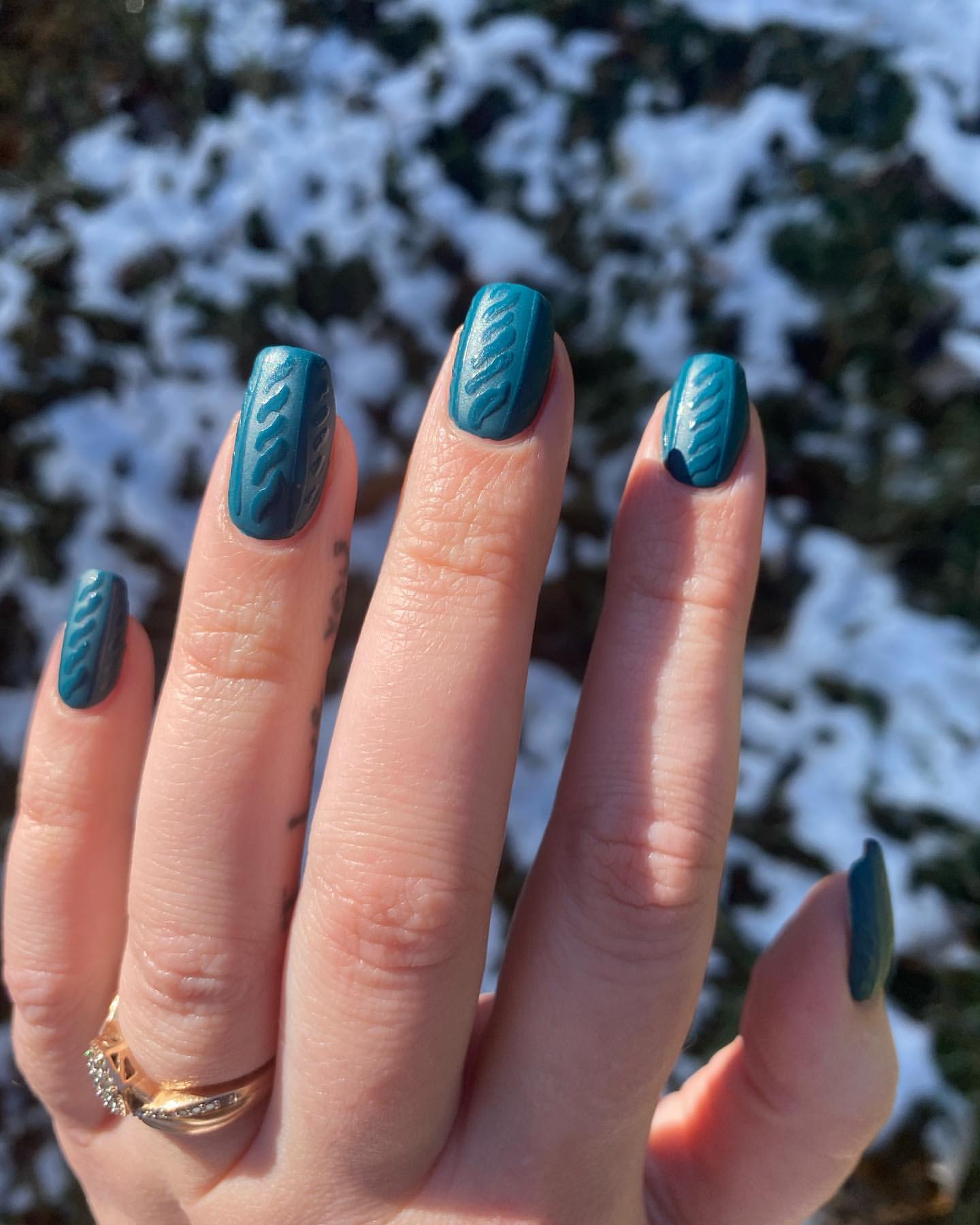 The little amount of acrylic powder and massively beautiful teal color, make the wool nails simply spectacular. Even green sweater nails in a similar design can also go beautifully well on your nails.
22. Knit Me Closer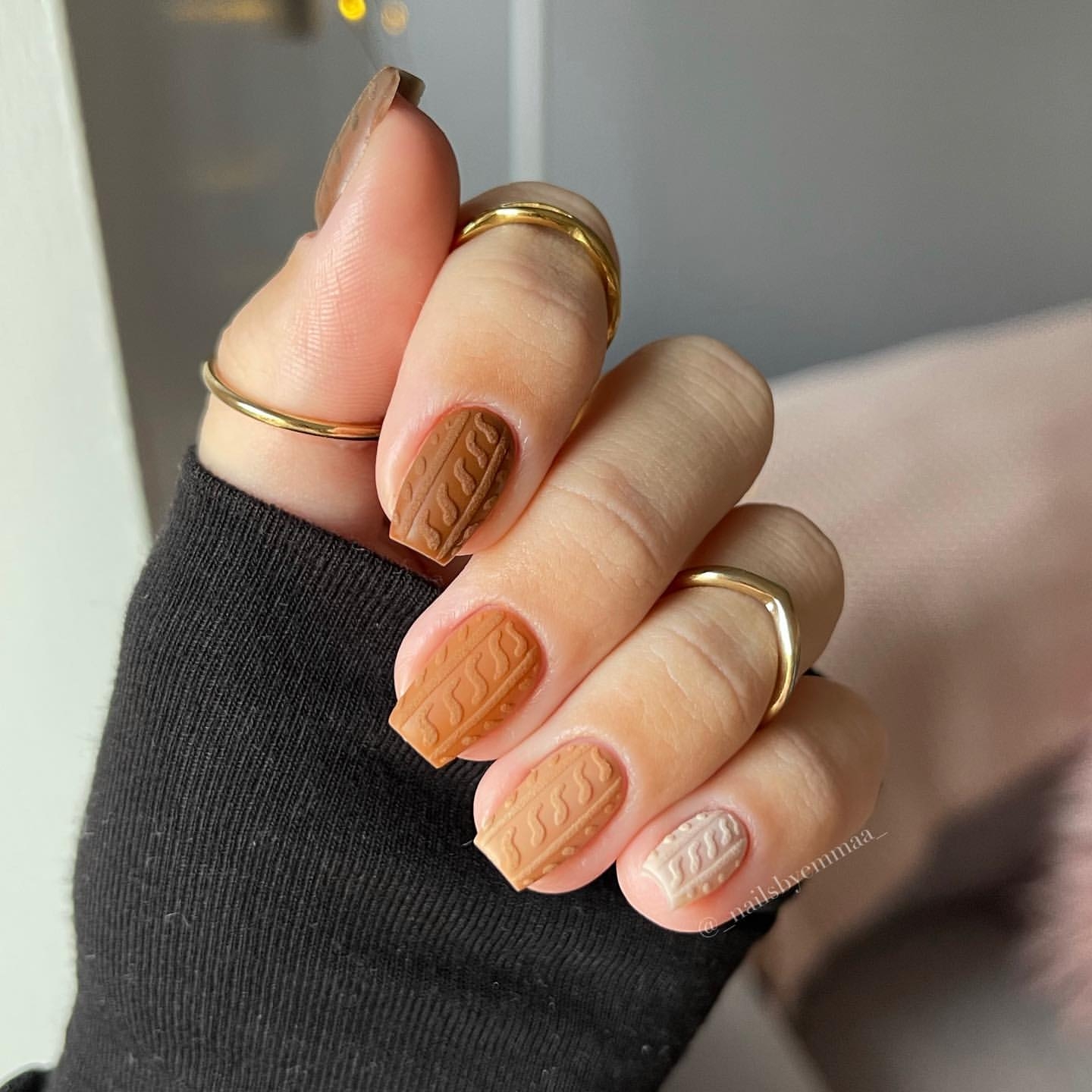 These DIY fall sweater nails are an absolute fascination for all beholders due to their matte finish and graceful 3d effects by acrylic powder. Purchase all the colors along with the acrylic powder and do the magic for the woolen textured nails.
23. Violets and Lavenders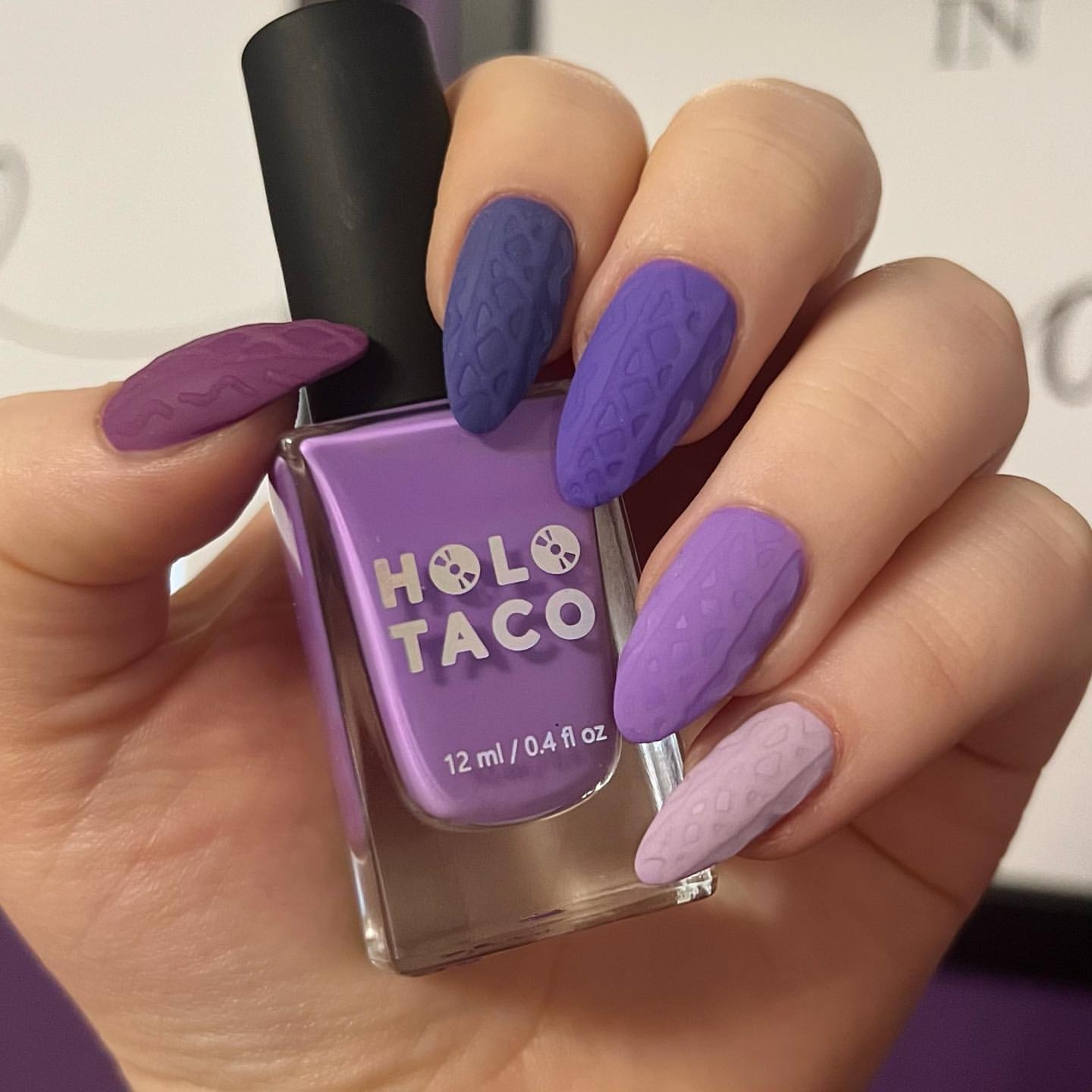 This sweater-inspired manicure has the color of mystery, fantasy, and supremacy! Isn't this simply awe? All those purple and related color lovers, I bet you can't scroll down without taking a screenshot of this sweater nail art.
24. Waiting for Spring
As we look forward to the next season with clear clouds and bright sunny warm days, these spring nails add charm to it. These blue sweater nails created with clear acrylic powder have a serene outlook. To achieve this look, grab a blue nail polish and recreate it.
25. Angels of Snow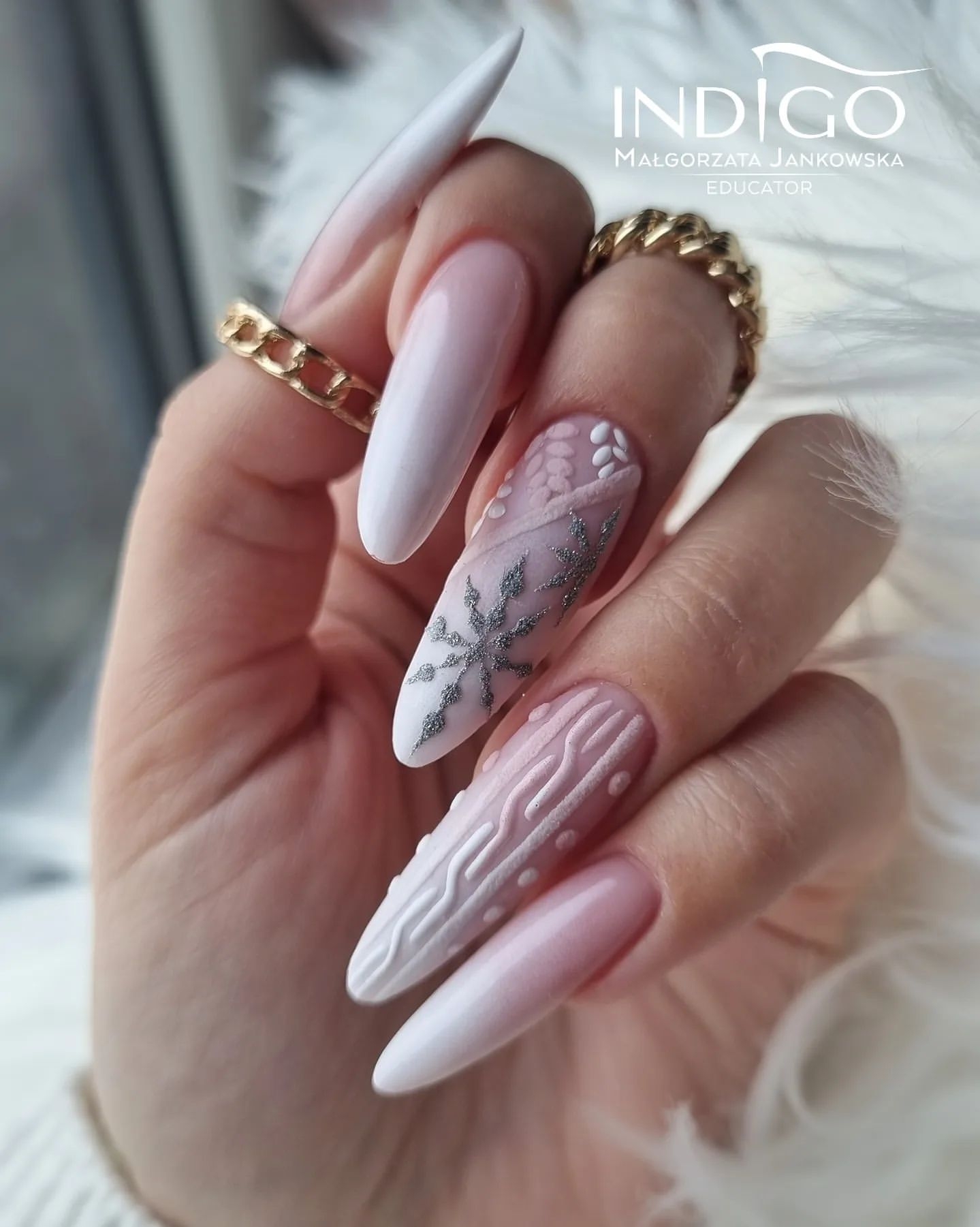 I couldn't find more ethereal nail art in pink than this in this whole series, seriously! This ombré sweater nail art delivers a divine aesthetic that seems as if it were designed by angels summoned by the gods themselves.
26. Hot Cocoa Time
The amalgamation of lustrous chocolate color and the matte pink color is a new striking combo that looks instantly lovely. The cute motifs add beauty to the charm. Remember, the nail art brush holds an important position for creating the lace of gift wraps.
27. French Moon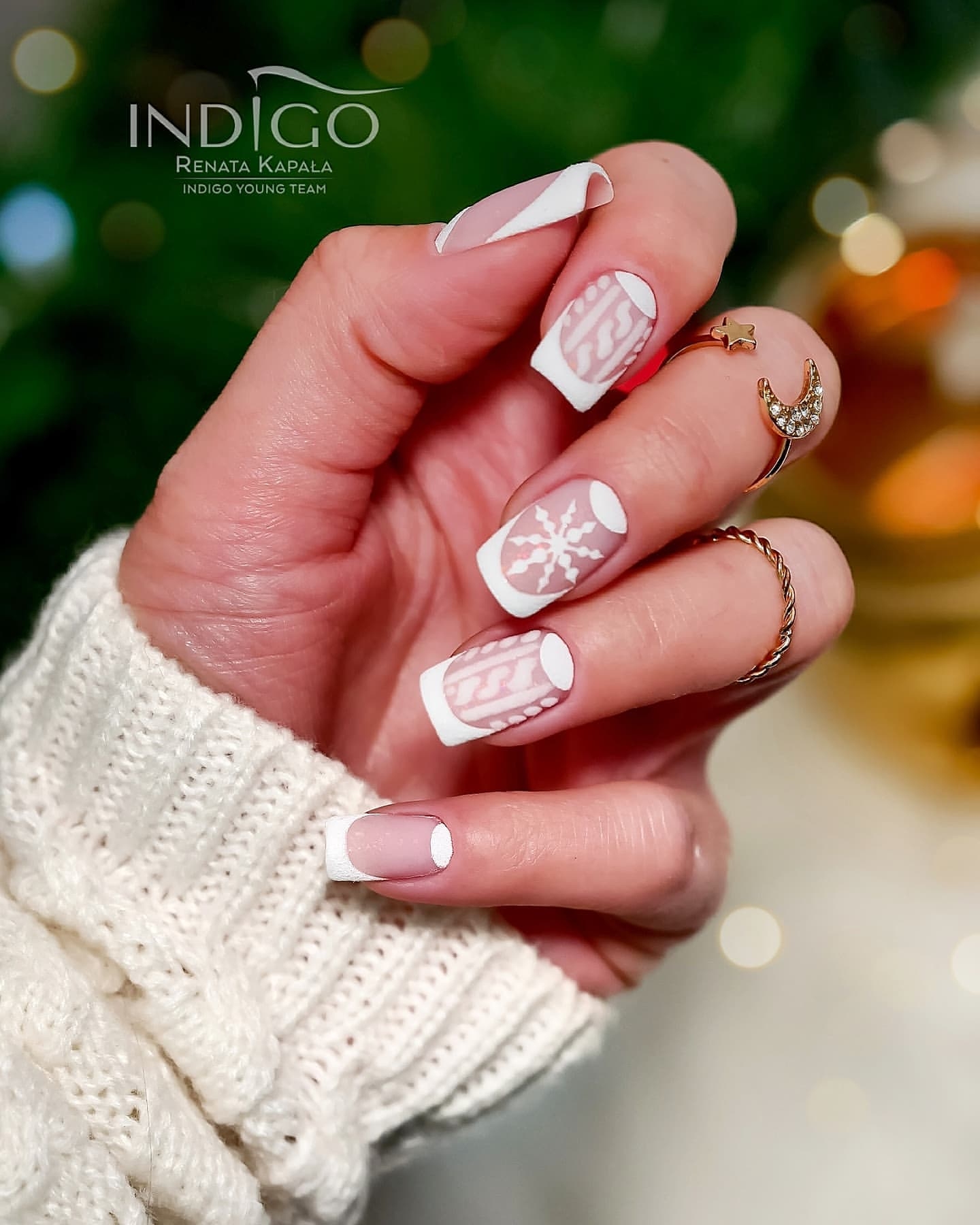 How about adding a frost effect to a French moon design dressed in a sweater? Treat your nails and surprise them with these frozen white sweater nails. These cable-knit Nordic nails of white nail polish are a special collection in this series.
28. Meet under the Mistletoe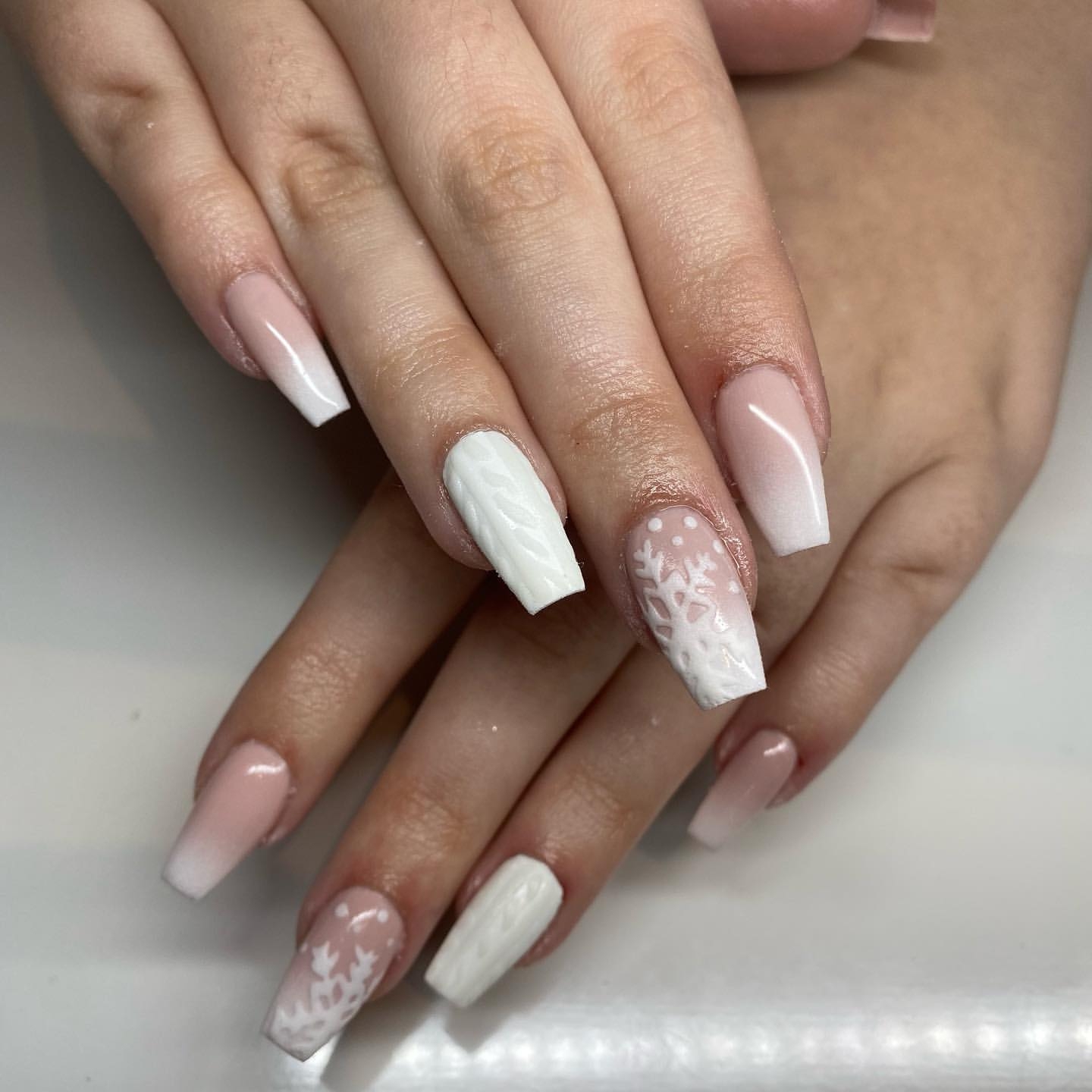 This is another set of wedding nails with an immaculate finish of pink and white radiance. The rink finger frozen with love makes it a suitable one for weddings. If you are going to DIY it, choose the desired size dotting tool for the snow markings.
29. Let it Snow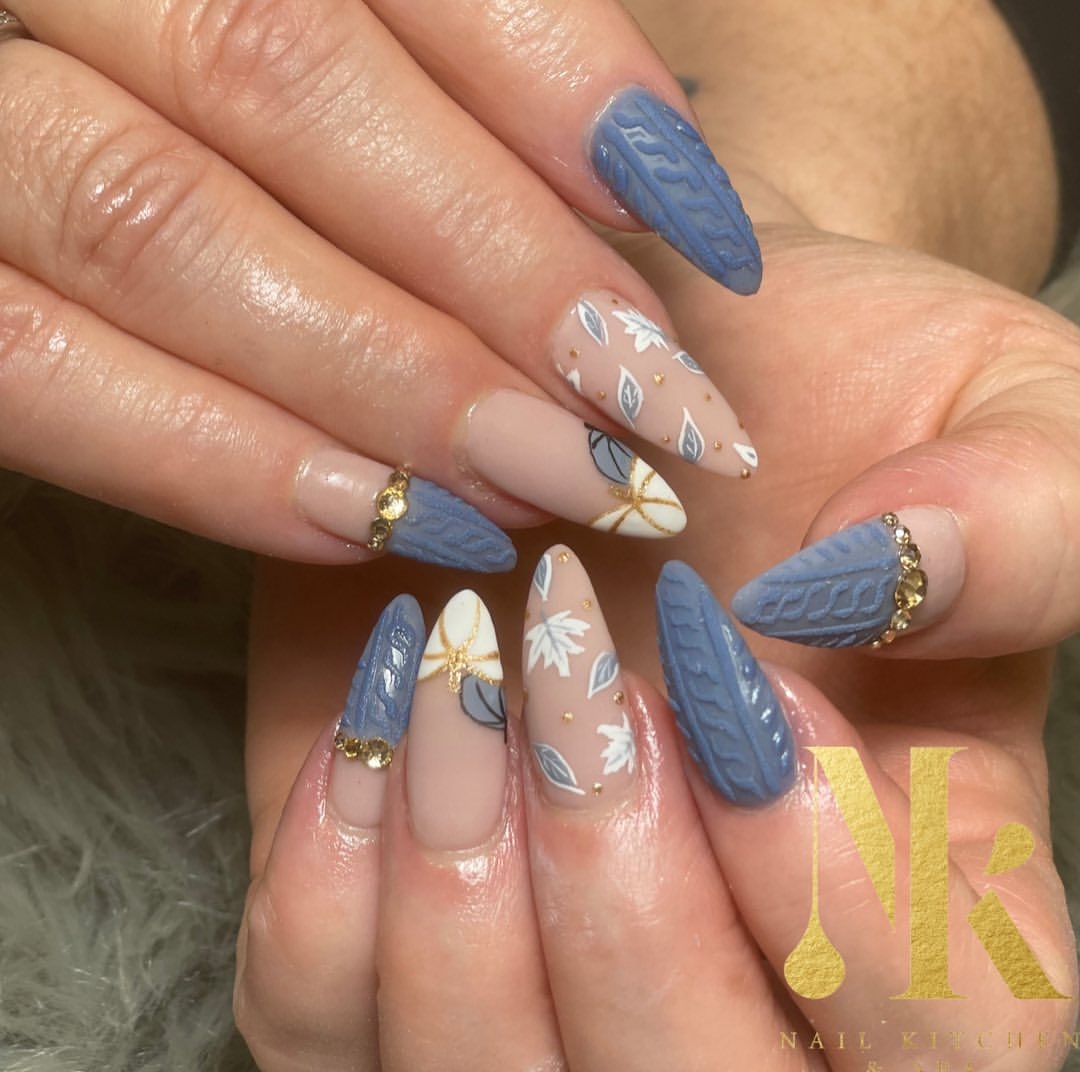 I bow down to these sweater nails. A perfect nail art when the winter is about to end. This seasonal nail art encompasses spring, autumn, winter, summer, and whatnot. A quick tip – you can try black sweater nails in place of this color and check how it turns out.
30. Send a Blizzard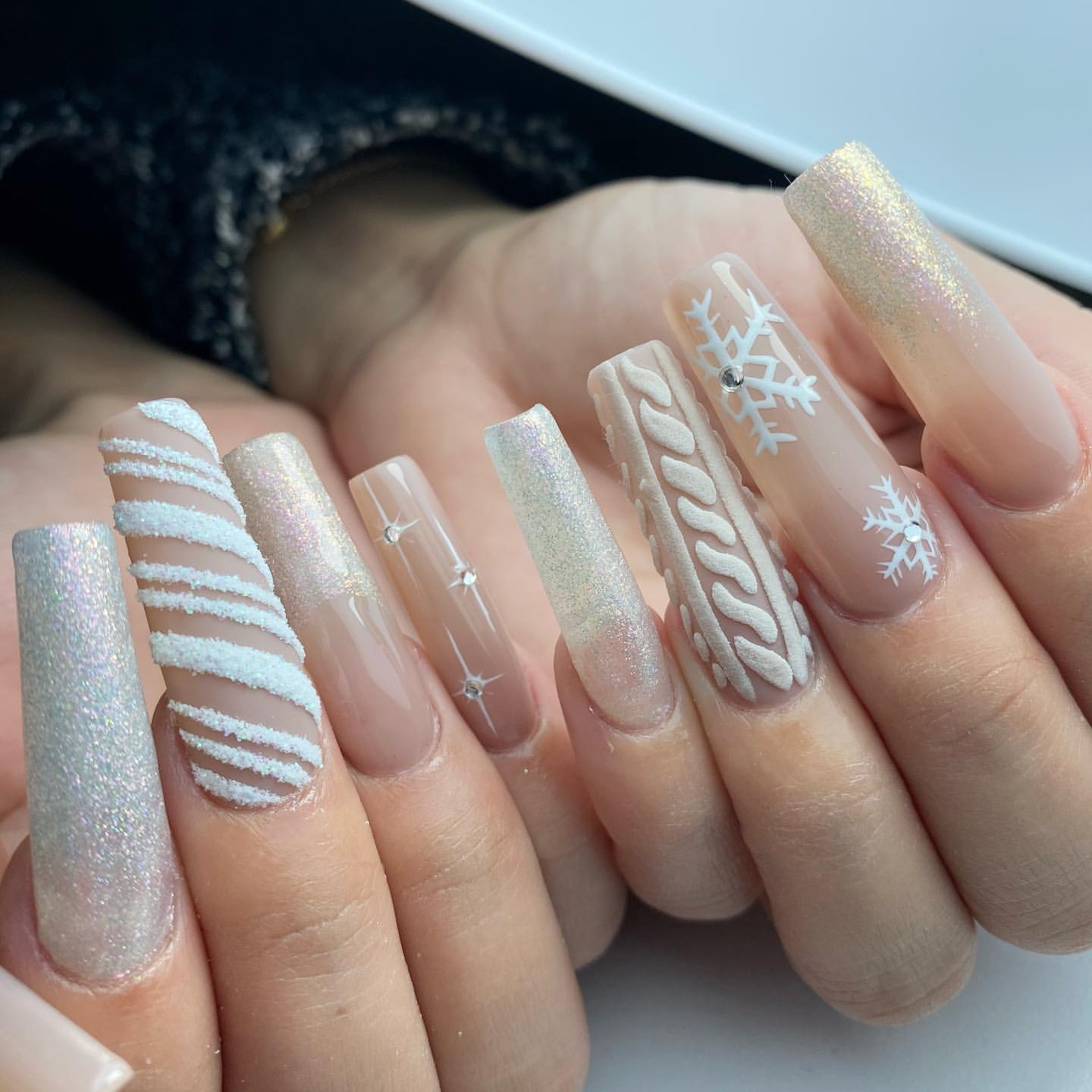 I never knew these square long sweater nails could depict the ferocious blizzard of snow as a very pleasant one. Let your love for long nails take center stage with this stunning design. Give it a try and watch as it adds an extra touch of magic to your holiday season.
Do you want to save this post for later? Make sure to pin the image below so you can find it easily!
Wrapping up:
Seasonal nail art adds flavor to mundane life. And winter needs a special welcome for its cold and calm nature. Since Christmas also plays a big part in this season, we need to be ready with extra red carpets. Sweaters are an integral type of clothing in winter. So do sweater nail art!
I know certain nail arts given above are worth melting for. I melted for the 10th and 16th sweater nail art designs in this series. The coziness and warmth these sweater nails shower on me are so wondrous!
You could even add more of your flavors to the above nail designs with rhinestones, glitters, and nail stickers. This is the season to sparkle! And you should feel the warmth in your heart this winter by enjoying the snow-sparkling and sweater-patterned nails – until spring arrives!
Read related: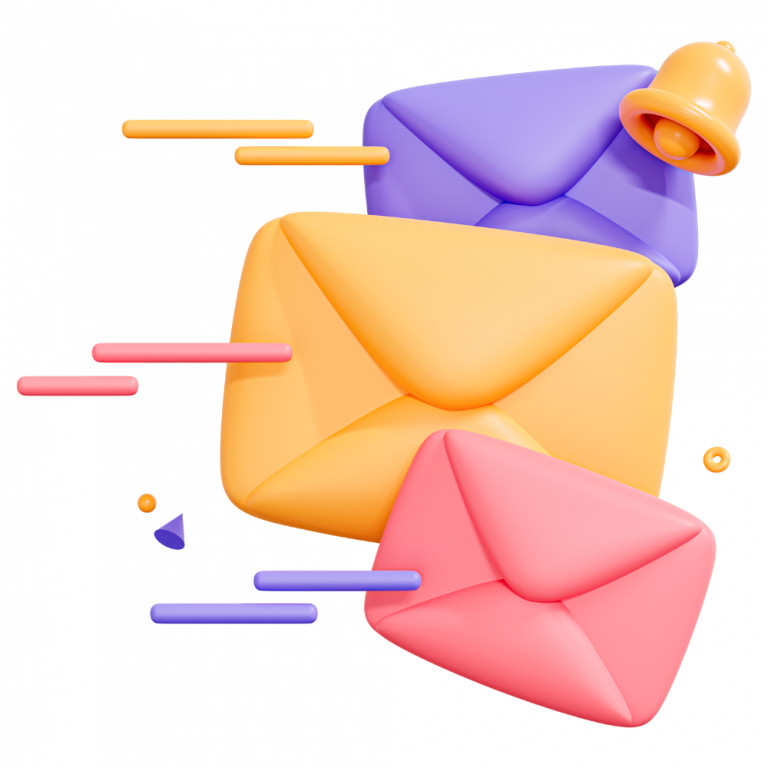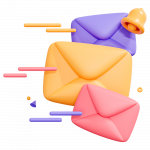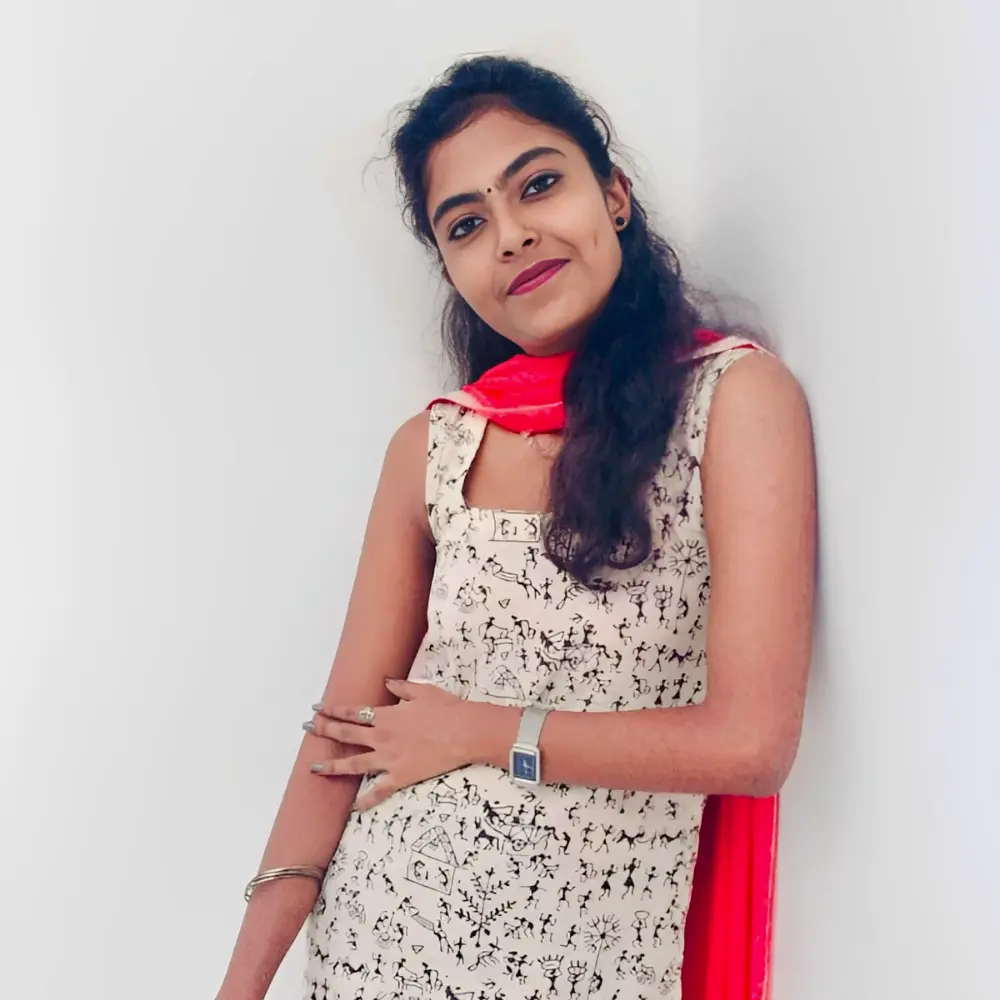 She's a nail enthusiast and fashion blogger who believes nail art is one way of adding colors to life. She learns new methods of manicures and provides content on the same.