What does the Nail Polish Emoji mean?
Out of so many emojis have you ever wondered what does the Nail Polish Emoji mean? Does it have only one particular purpose to define? Or something else!
Well, this may create an uncool situation for you to detect the real intention of the sender if you just receive a text message containing only that Nail Polish Emoji 💅! Is it? Yeah, it is!
But don't worry, after reading this post you will get to know, what does the Nail Polish emoji mean and all of its numerous shades in meaning.
Let's dive into more details about this Nail Polish Emoji.
The History of the Nail Polish Emoji
According to EmojiPedia, the official name of that emoji is the Nail Polish Emoji and it has been approved as an emoji version 1 in 2010 as part of Unicode 6 and as an emoji category, it falls under Smileys & People
The Nail Polish Emoji looks like you are painting your long nails with nail polish so delicately. On different such as Apple, Google, Microsoft, and WhatsApp platforms, it appears differently.
Here is a chart portraying how it appears on these platforms.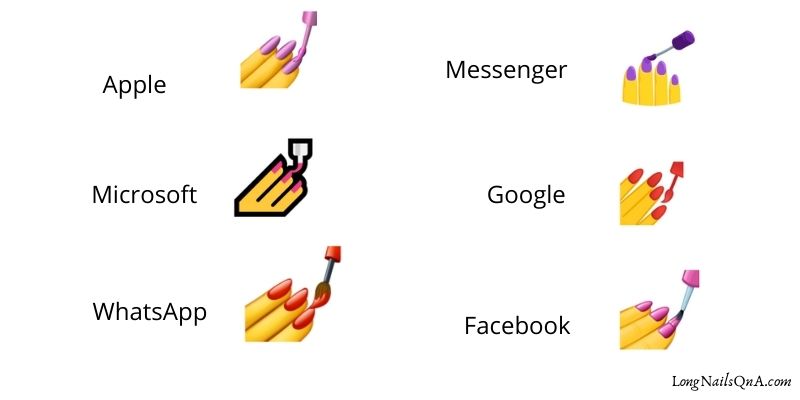 Though the official name is the Nail Polish emoji, most of us even term it as Nail Painting Emoji, painting nails emoji, or, simply Nail Emoji. That's just okay to name it accordingly.
Now you have got a bit of idea about the history of the Nail Polish Emoji. Now let's dive into the next part of what does the Nail Polish emoji mean!
Post you may like: Why Do Guys Wear Black Nail Polish?
What does the Nail Polish Emoji mean?
When it comes to extracting the actual meaning of that emoji, it will be a bit harder to stick to one definite meaning all the time. Hence its meaning can be inferred more from a situation-oriented.
When you receive a nail polish emoji 💅, the sender could mean a situation. Here are a few examples that could be…
I can't text you now as I'm doing my nails.
I'm painting my nails right now.
I just painted my long nails, please wait a few minutes.
I'm heading off to a nail salon to get my nails done.
I'm in a nail salon, going to do my nails.
Have done my manicure.
Going to do my manicure soon!
I have to paint my nails now.
I'm going to put on my makeup now. (this emoji also can be entangled in defining beauty material or activity).
I'm having acrylic nails.
Apart from these fixed meanings of that nail polish emoji, it can also correlate to anything that falls into on beauty essence or makeup category. This emoji can significantly be used to describe anything regarding nail stuff as well as beauty.
As an example,
I'm super excited for tomorrow, 🥰 💅
Okay, so here it may mean that she is going to do (or encounter) something that has direct reciprocity with beauty essence, like receiving a new makeup kit, or attending a party with elegant dress up plus makeup, etc, and also it could be about her nails too.
Check out some attractive Nail Polish on Amazon
Last update on 2022-07-03 /Affiliate links/ Images from Amazon
Wrapping up
The nail polish emoji may not only be taken into use to represent nail and nail polish only, it can drastically be taken into use to represent hand care, beauty, makeup, cosmetics, dressing up, and a lot more related to these scenarios.
After all, it's a beautiful emoji and I like it a lot to use it in order to express those stated situations. This emoji makes me feel more feminine when it plays its terms on text messages. If you are a nail enthusiast you should know all the facts behind this nail polish emoji. Well, if you get anything impressive about it, do let me know! 🥰
Read related:

A Nail Technician and a Fashion Blogger who also love traveling, exploring, reading, and of course, Disney characters.